Bakuriani ski resort: useful tips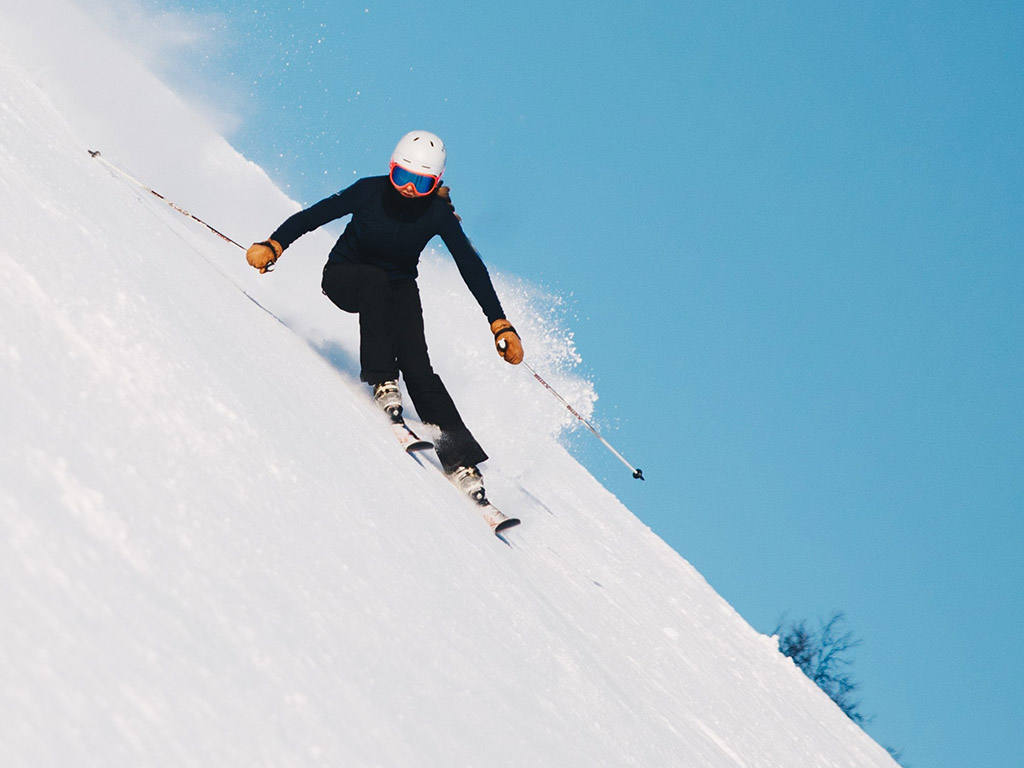 Colorful village Bakuriani – recognized center of family winter holidays in Georgia. How to get to the ski resort? How long the skiing season lasts and how tourists say about the popular complex? Slopes, hotels and excursions, prices for food, ski passes and equipment rentals.
Among the ski resorts in Georgia, Bakuriani holds a special place. The oldest center of winter recreation in Georgia is located 186 km from the capital of the country and is very popular among fans of skiing and snowboarding. Every year tens of thousands of tourists come to the snowy slopes.
The exchange rate is 1 Georgian lari (GEL) ≈ 19 RUB.
Content:
Climate and weather in Bakuriani
Winter in Bakuriani is mild. The weather is usually good: there is always a lot of sun, so you can see skiers in bathing suits on the slopes. Average temperature is about -6. -7°С. Because of the high mountains there is no strong wind. The depth of snow cover reaches 0.65 m. Snow lies thick, and avalanches are a rare phenomenon.
Skiing season starts in late November and ends in early April. February is the sunniest and the most pleasant month for skiing.
Useful pic:
Winter in Bakuriani is mild. Because of the high mountains there are no strong winds. Photo: VictoriaBoroda / Depositphotos.com.
How to get there and how much it costs
The closest airports to the winter resort are Tbilisi (181 km) and Kutaisi (158 km). The way from the capital of the country is the most convenient, because most international flights arrive there. Look for tickets on Aviasales and Skyscanner.
From Tbilisi to Bakuriani take shuttles or cabs. The trip takes almost 3 hours. The buses go from 7:00 am to 6:00 pm from bus station, located near Didube subway station in Tbilisi. The fare is 18 GEL.
The size of the bus is not very convenient for carrying ski equipment, so most tourists take a shuttle bus. You can take a cab to the village in 2.5 hours. A trip in a car for a few passengers costs 70-120 GEL, and an individual transfer costs 180-200 GEL.
It is possible to get to the resort with a transfer to Borjomi. It takes 4.25 hours by train from Tbilisi to Borjomi, and the ticket costs 2 GEL. From here to Bakuriani there are cabs (20-25 GEL), shuttles (17 GEL) and trains.
Ancient narrow gauge railway in Georgia . The ski resort of Bakuriani and the resort town of Borjomi are connected by an ancient narrow gauge railway, 38 km long. It was built in the late 19th century, so that members of the royal family could easily travel to their Georgian residence. It is noteworthy that the bridge over the deep mountain gorge designed by Gustav Eiffel himself.
Rarity road continues to carry passengers today. There is a train, which consists of two cars and a locomotive. The fare in the first class costs 2 GEL, and in the second – 1 GEL. It takes 2.5 hours to get to Bakuriani. Conveniently, the schedule of the narrow gauge train connects with the electric trains, which run to Borjomi from Tbilisi.
Useful pic: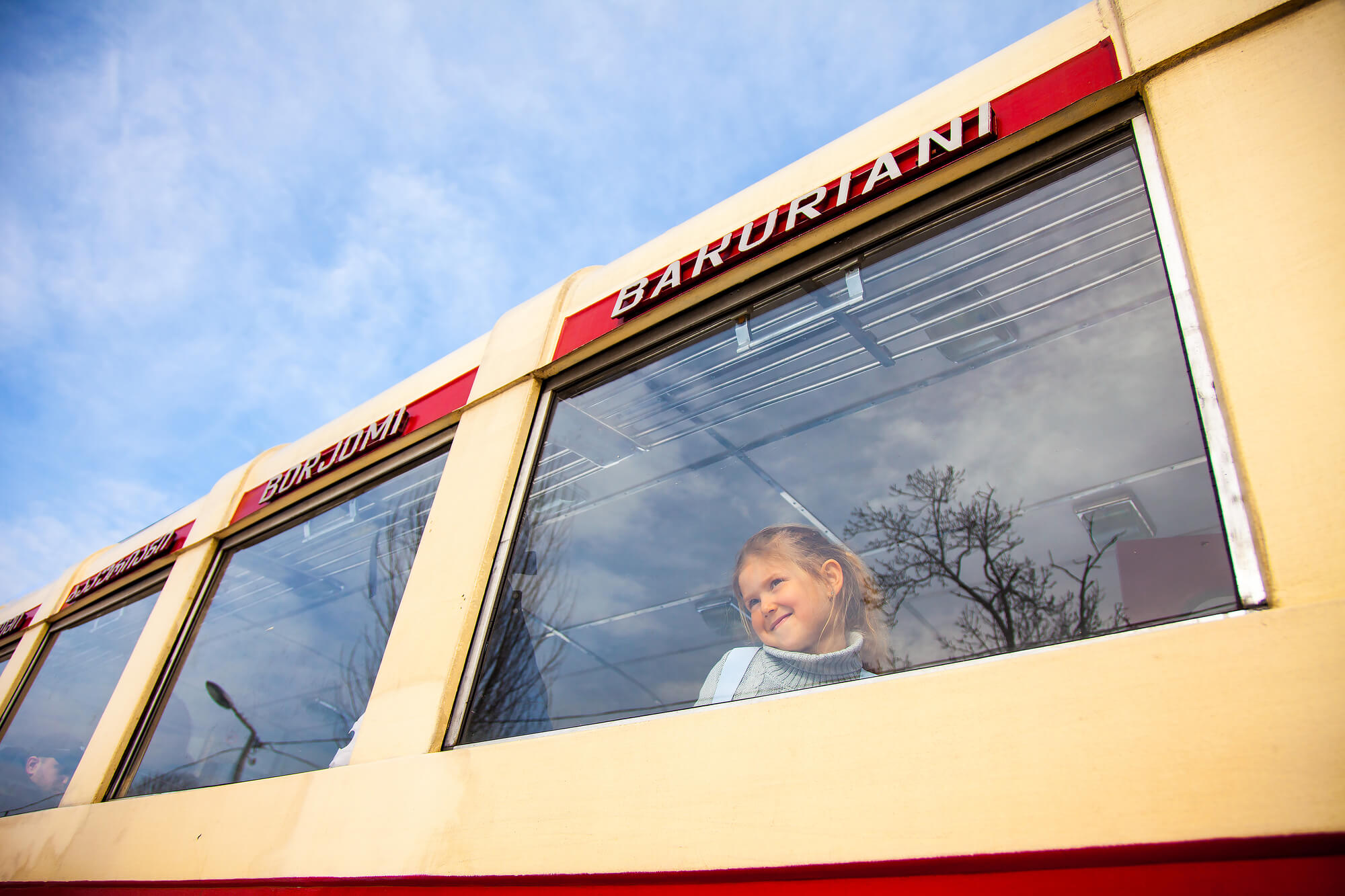 Borjomi – Bakuriani train. Photo: VictoriaBoroda / Depositphotos.com.
Tracks
The oldest ski resort in Georgia, Bakuriani, has several ski areas with slopes of varying difficulty levels. They are perfect for those who are new to skiing and for fans of extreme sports.
"The shortest and the easiest 0.3 km piste is located near the village. Since it is used by many beginners and parents with children, the gentle slope with a steepness of 10-12 ° serve four elevators. Another elevator is intended for those who want to ride a sledge.
"Kokhta-1, or Tatra, has two levels. The track stretches for 2.3 km on a slope and is served by one elevator. The lower part is 1.8 km long and is designed for experienced skiers, while the upper part is a black trail with a 52° gradient.
"Diveli is the newest track in the resort. It is 4 km long and has three elevators: a cabin, a sit and a rope tow elevator. Only experienced skiers can handle the difficult slopes at the top of the slope, and the lower part is suitable for beginners. There is lighting, so the piste is available until 22:00.
"Kokhta-2" 3.4 km long leads to the top of the mountain at an altitude of 2850 m. There is only one elevator. By the nature of the slopes it resembles the track "Diveli". However, Kokhta-2 is shorter and on the lower 1.4 km is suitable for beginner skiers.
Luge lovers use the 1.4 km track. In addition, there are three ski jumps at the resort.
Scheme of the tracks in Bakuriani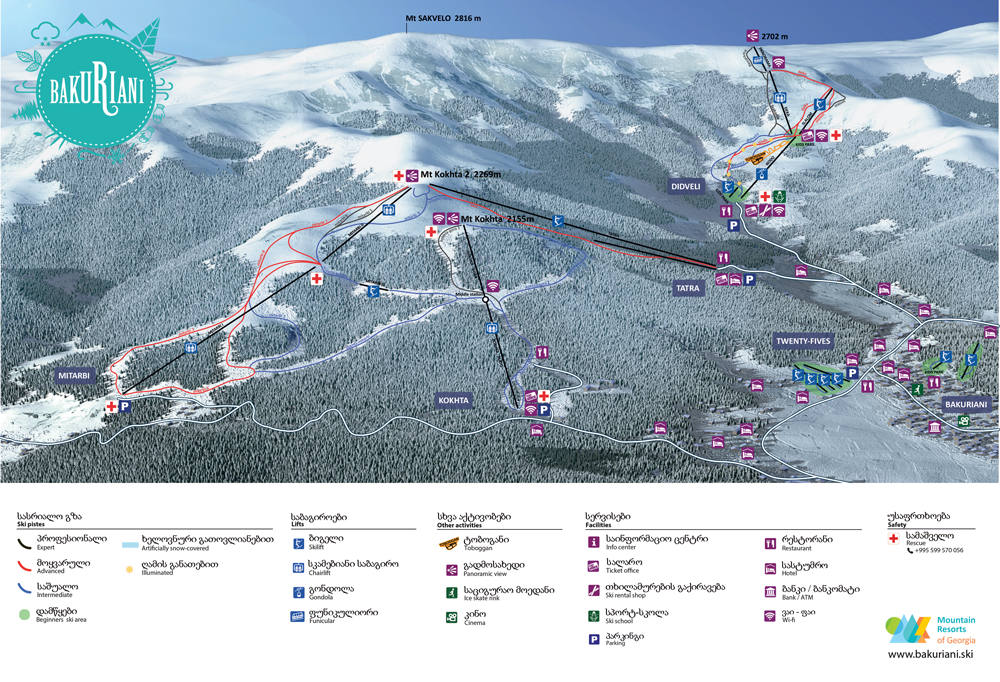 Trails in Bakuriani
Prices for ski passes
The cost of skiing varies. The highest prices are on New Year's holidays and weekends. Ski passes can be purchased locally or use a single multi-pass – it works in all ski centers of the country.
Children under 6 years old are free to ride the elevators when accompanied by an adult. Children's tickets are sold to young skiers from 6 to 16 years old. The daily ski pass for adults, depending on the chosen slopes costs 20-25 GEL at the beginning of the season and 40 GEL in the peak winter season. Skiing from 5 p.m. to 10 p.m. costs 10 GEL and a single lift costs 1-5 GEL.
Prices for rental equipment and clothing
The rental shop is open in front of the elevators. Renting a ski kit (skis, poles and boots) costs 10 GEL per hour and 15-20 GEL per day. If you rent a full ski set, you get a helmet and a mask for free. To rent a snowboarding kit (snowboard and boots) for a day, you pay 25-30 GEL. Sleds cost 3 GEL per hour and 10 GEL per day.
Instructor services will cost 30-50 GEL per hour. The lowest prices are in the ski area Twenty Fives, designed for beginners. In Bakuriani itself you can find sets of skis and snowboarding cheaper – for 15 GEL per day.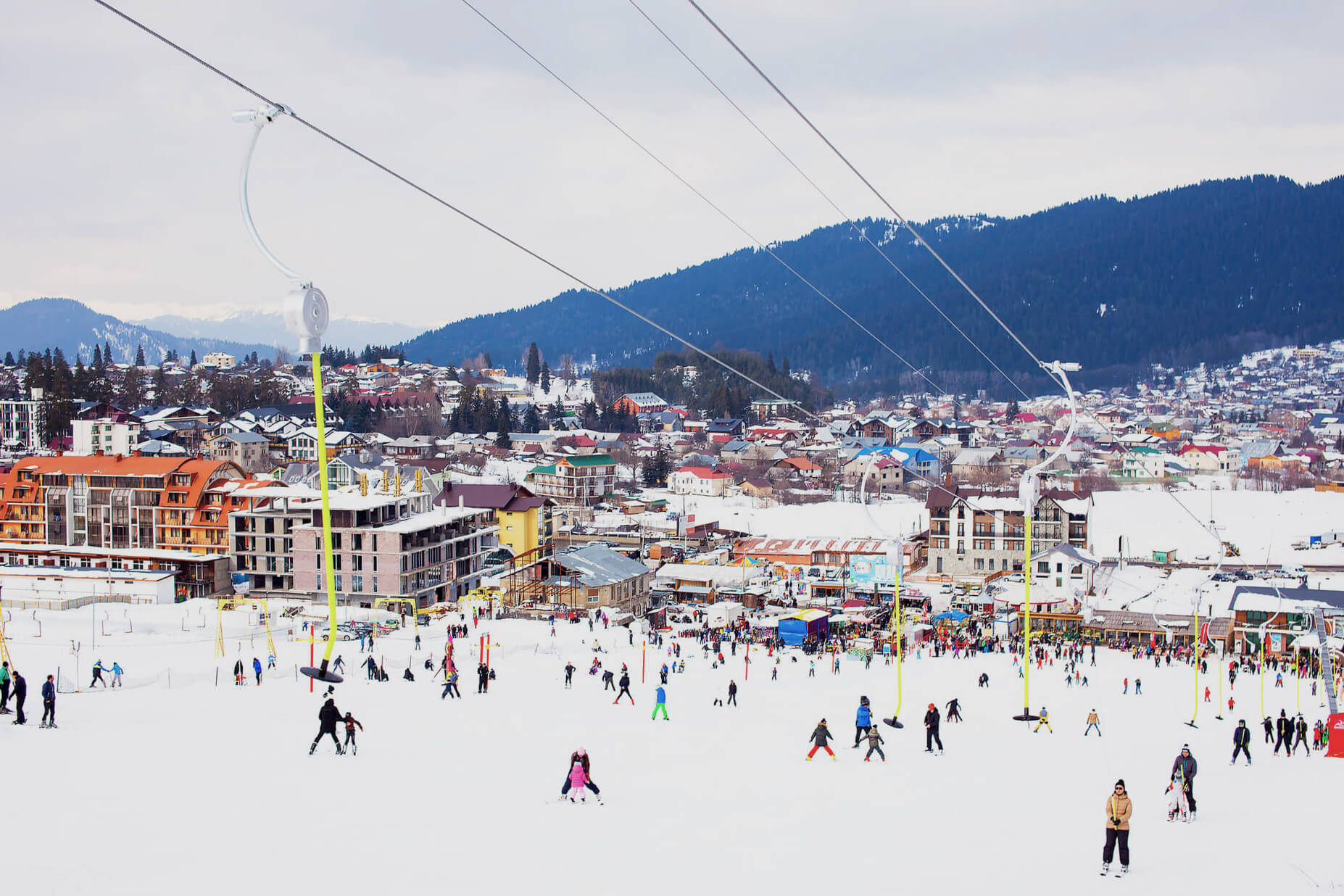 Instructor services will cost 30-50 GEL per hour. The lowest prices are in the ski area Twenty Fives, designed for beginners. Photo: VictoriaBoroda / Depositphotos.com.
Hotels in Bakuriani
In the resort village permanently inhabited by 2.5 thousand people. During the ski season at the expense of tourists the number of residents increases several times. There are many hotels here. These are hotels, rebuilt from Soviet times, modern gesthouses and luxury hotels.
Prices for a double room in hotels in Bakuriani in the winter season:
| | |
| --- | --- |
| Hotel 1*. | 25$ |
| Hotel 2* | 30$ |
| Hotel 3* | 60$ |
| 4* hotel | 70$ |
| 5* hotel | 80$ |
For $20-35 at the resort rent an apartment or apartment in the private sector. For $ 40-45 is easy to find accommodation with full board. Many tourists like accommodation with private individuals, as they offer a service tailored to the individual needs of guests.
Search for discounted lodging on Airbnb and Skyscanner Hotels. Here are the main rules of searching for hotels.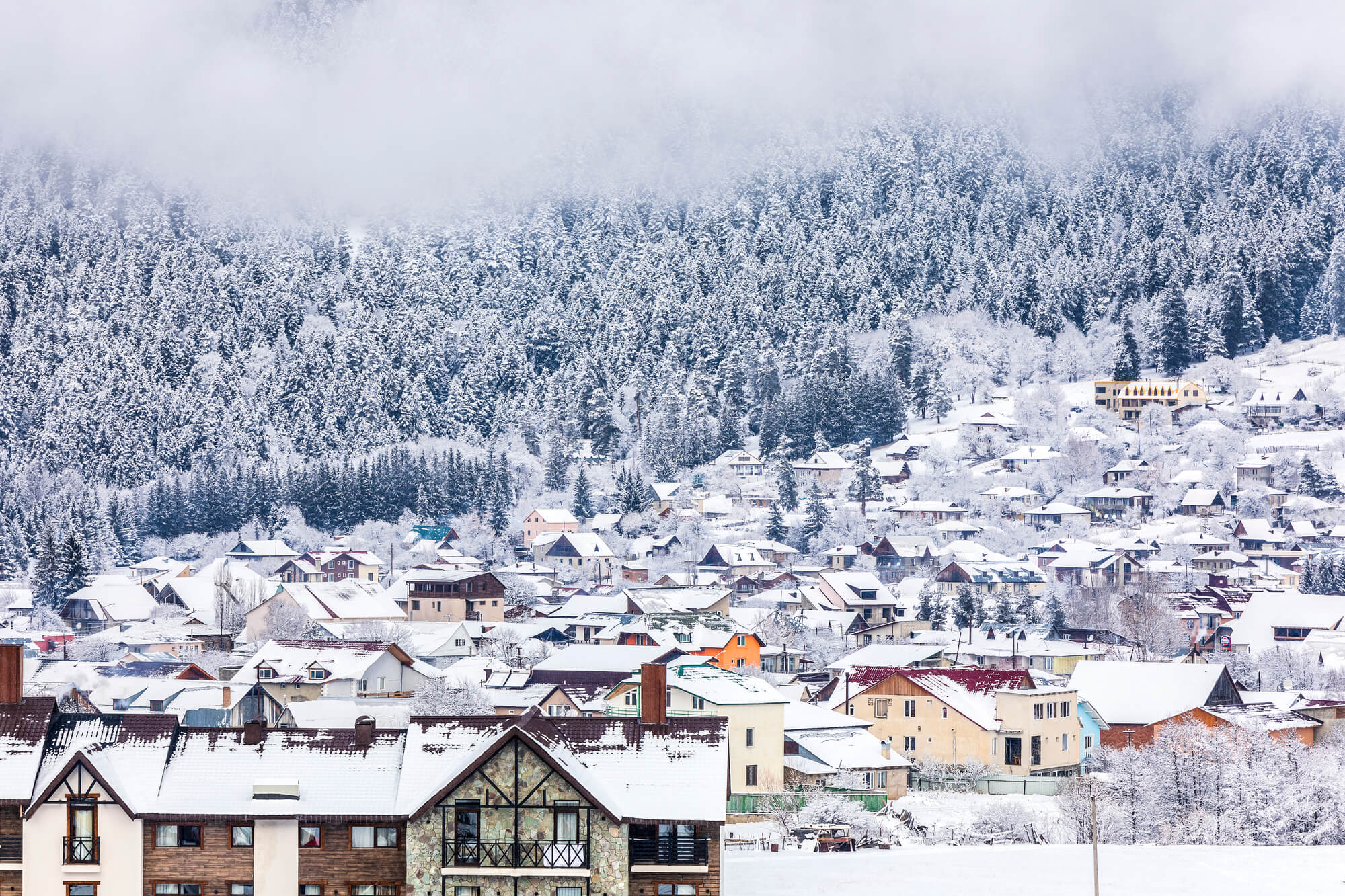 There is a lot of accommodation in Bakuriani. These are hotels, rebuilt from Soviet times, modern guesthouses and luxury hotels. Photo: alexma / Depositphotos.com.
Food prices in cafes and restaurants
Most small hotels and guest houses provide accommodation with three meals a day. Hosts always ask when tourists plan to return from the slopes, and set the table at an agreed time. This is very convenient! Large hotels that offer a pool and gyms usually include only breakfast in the price of accommodation.
Cafes are open at the cable car stations serving hot tea, coffee, homemade mulled wine and pastries. At the resort you can try delicious Georgian dishes – boat-like Adjarian khachapuri, khinkali, kebabs and lobio. The national delicacy, churchela, is sold for 1-3 GEL.
The average bill in an inexpensive place for two people is 25-30 GEL without alcohol, and with alcoholic beverages – 35-45 GEL.
Prices for individual dishes and drinks in cafes and restaurants in Bakuriani:
salad 5-10 GEL;
potatoes or rice on a side – 2-5 GEL;
khachapuri – 5-10 GEL;
kebab in pita – 9 GEL;
khinkali, 1 pc. – 0,5-0,7 GEL;
lobio – 4 GEL;
shashlik, portion – 10-20 GEL;
wine, 1 bottle – 15-40 GEL;
sweet carbonated drink – 2-3 GEL;
tea – 3-8 GEL;
coffee – 3-5 GEL.
In the store you can buy lavash – 0.6-0.8 GEL, delicious suluguni cheese – 10-15 GEL per 1 kg and ground coffee – 2 GEL per 100 g.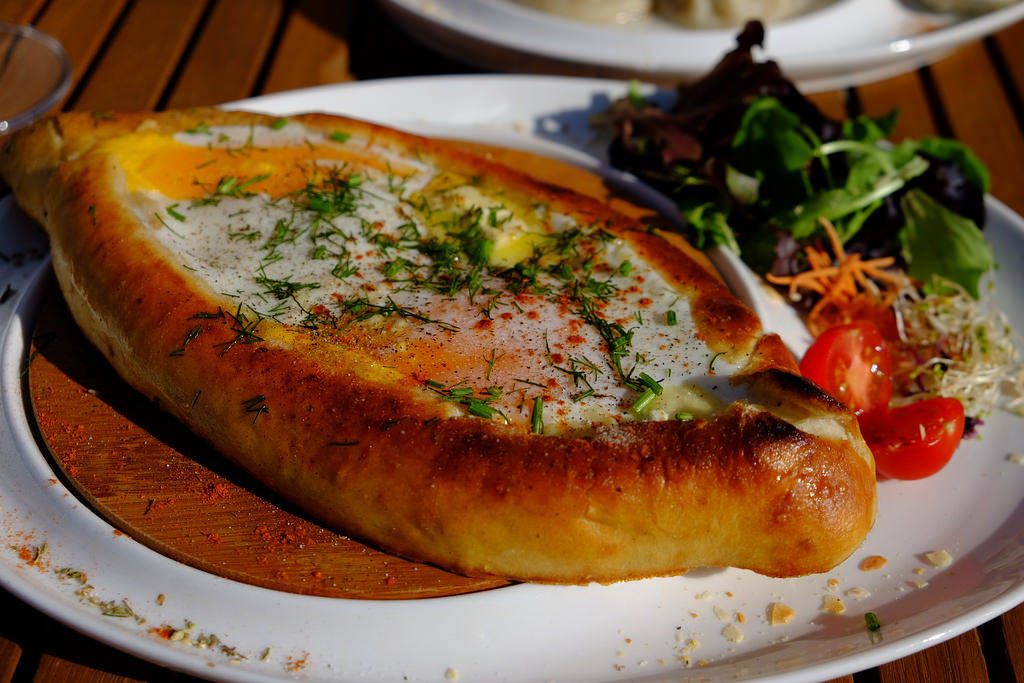 (Photo: Manu @ Lille / flickr.com / License CC BY-NC-ND 2.0)
Excursions and entertainment
Bakuriani, Georgia's sought-after ski resort, has a fairly diverse après ski program. Bakuriani has a couple of streets with nightclubs, bars, casinos, saunas, and billiards. There is also a movie theater, where movies in Georgian and Russian are shown. A ticket there costs 7-10 GEL.
Among active entertainment in winter, skating is popular in the park of the village and next to the Eden Hotel. Young people like driving snowmobiles and snowmobiles on the hills that surround the resort. Parents with children take horse-drawn sleigh rides or come to the Joyland tubing park. For fans of cross-country skiing there is a 13 km long track.
Many attractions in Bakuriani and its surroundings are easy to explore on their own. Tourists enjoy visiting the ancient rock-cut Vardzia fortress town, the Timotesubani monastery of the 10th century, the Chitagiev Monastery of St George and the Church of the Assumption in Kvabiskhevi.
People come to the neighboring town of Borjomi to see the picturesque palace of the Romanov royal dynasty. Now it is under restoration, after which there are plans to open a museum in the old building. In Borjomi there is a park of mineral springs, a museum of local lore and openwork house "Firuza", which was built in 1892 by the consul of Iran.
Local travel agencies offer a variety of tours for vacationers. The most popular of them:
, full day – $43; – $50; – $27.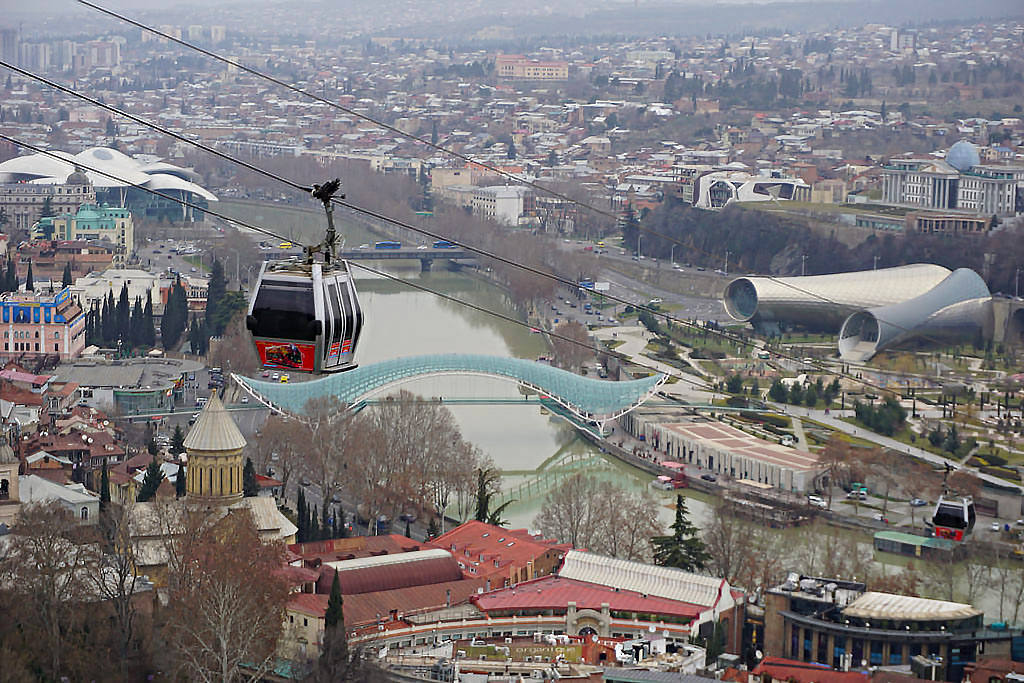 (Photo: Andrew Milligan sumo / flickr.com / License CC BY 2.0)
Tourist reviews and tips
Vacationers at the best ski resort in Georgia note the positive aspects of Bakuriani :
Skiing on the slopes is easy to diversify other types of outdoor activities, entertainment in the tubing park and informative excursions.
The resort infrastructure is convenient for families with children.
Slopes are suitable for skiers and snowboarders of all skill levels.
In November and April, thanks to special equipment, a good quality snow cover is maintained.
Disadvantages:
There are a lot of people in high season. To get to the most popular elevators, you often have to stand in line for 30-40 minutes.
Some experienced skiers complain that the difficulty of the slopes is overestimated.
From the center of the village to the elevators you have to take a cab for 5 minutes (7 GEL).
Tips experienced travelers:
Vacations in Bakuriani are great for groups of friends, where not everyone likes to ski.
During the peak season, budget accommodation is in short supply, so you should book the rooms you like in advance.
If you want to save money on food, stay in small hotels and hostels with full board.
Other ski resorts:
Skiing on the slopes is easy to diversify with other activities, entertainment in the tubing park and educational excursions. Photo: samurkas / Depositphotos.com.
Ski resort in Georgia Bakuriani: slopes, prices, photos, accommodation
Bakuriani is a small but very popular village and ski resort among the picturesque Caucasus Mountains in the heart of Georgia.
There are only two small streets, so everything you need is at hand and within walking distance. The center is the police building, which also houses an information center and a bus station. Nearby there are many stores with basic necessities, supermarkets, cafes and pharmacies.
On the road at the intersections there are signs with directions to the ski slopes and several maps of the city with the same slopes. In a word everything is done for tourists and mental relaxation in Bakuriani.
Slopes and prices
Bakuriani is considered one of the best ski resorts in Georgia with active slopes: Didveli, Crystal, Tatra, Mitarbi, Kokhta and 25-meter for beginner skiers.
Their total length is about 20 kilometers, and the highest slope is 2,700 meters above sea level. On all the slopes there are good cafes, rental of necessary skiing equipment and instructors.
Didveli
This is the most popular ski slope in Bakuriani, as it is well-equipped and suitable for both amateurs and professionals. The elevator has three levels: the first level is 2,500 meters long lift cabins, the second – the sit-lift, the third – rope tows.
The length of the second level together with the first is 3200 meters and the third including the first two is 4000 meters. The distance is good, except that the second and third slopes are designed for skiers with experience.
So everyone who skis so-so is better not to go up there, except to admire the scenery. By the way, the slopes are illuminated in the evening and you can ski here until 10 pm.
Entrance to the elevator is by means of magnetic cards that can be bought at the ticket office on the territory. The price is the same for all levels, so you buy one card and can use it to ascend either one or all three levels. The same cards are also valid on Koht and Mitarbi.
10 lari – a single ascent
21 lari – three climbs
35-40 GEL – day pass for adults and 20-25 GEL for children (from 10.00 till 17.00), the price depends on season
25 GEL – evening pass (from 17.00 till 21.30)
At every station there is a cafe, where different delicious treats and wonderful homemade mulled wine are served. At the first station there is a small playground and from there is a special luge track called Toboggan (the price is 10 GEL).
Renting skis at Didveli costs 10 GEL per hour and 35 GEL per day, snowboarding 40-45 GEL per day, and instructor 50-60 GEL, depending on who you end up with. Didveli slopes are really good and optimal for comfortable skiing, they are recommended by everyone, even the instructor.
Crystal
Very close to Didveli, in the large residential complex Crystal, there is another piste with the same name. Its length is 2056 meters and is designed for anyone who is good at skiing or snowboarding. In a word she has a blue mark, but there are a few branches where it will be interesting to professionals.
At the top climb closed cabins, the maximum capacity of which is 6 people, the ascent time of about 4 minutes. A few meters from the cabins there is a rope tow elevator with a small track for beginner skiers, where trainers actively teach people who want to get up on skis. And next to it there is a special elevator for sledges and inflatables (inflatable sleds).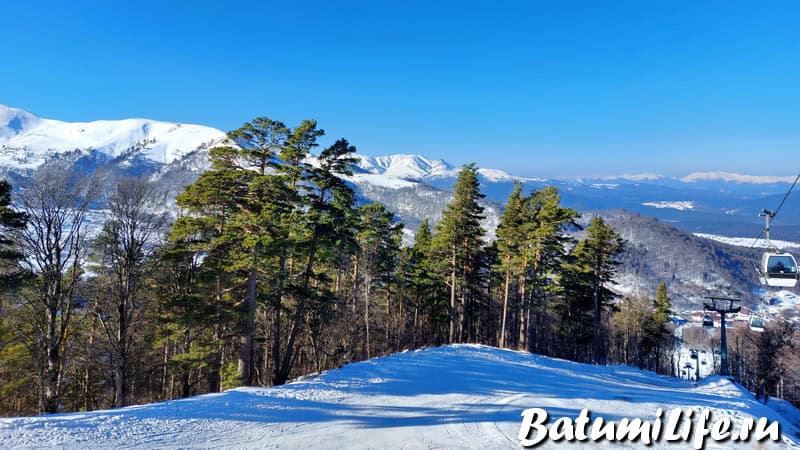 At the lower station operates a cozy cafe with a fireplace and delicious food. Opposite is a playground with carousels for toddlers and mini-town with trampoline and swings, where you can leave your child for a few hours under supervision.
Crystal has its own magnetic card payment system, which is valid only here, there is a one-time fee and season tickets for the whole day. There's also a ski, snowboard, and equipment rental in the central building, where you can refill your cards.
10 lari – a single ascent
35 GEL – a daily pass for adults and 20 GEL for children (from 10.00 till 17.00)
25 GEL – evening pass for adults and 15 GEL for children (from 17.00 till 22.00)
25 GEL – unlimited admission for the rope tow elevator and toboggan run
5 GEL – the price of a magnetic card
Tatra
The two-level track is 500 and 1800 meters long. It is suitable for both amateur and advanced skiers, and its highlight is the passage through the woods.
The two rope tow elevators that work here cost 2 GEL, day passes are not available. If you rent skis for a day it's 35-40 GEL, and instructor service is available – 50-60 GEL per hour, but you can bargain.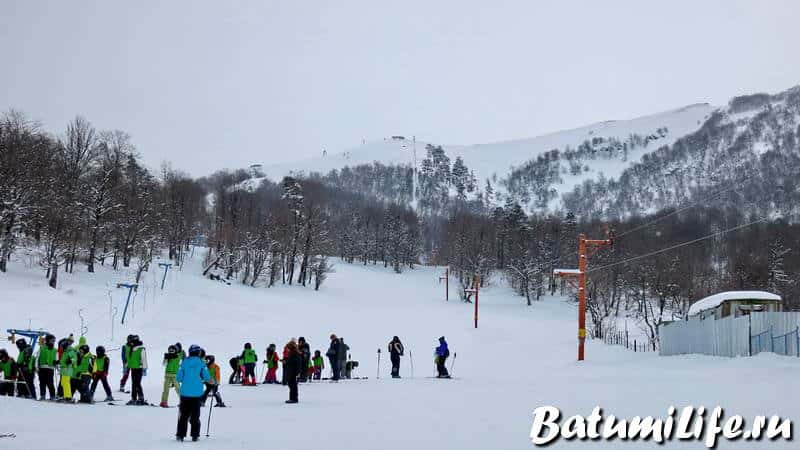 Kokhta
There is also a two-level slope with sitting elevator. The first level is 1400 meters long and is suitable for beginners, the second level is 2000 meters only for advanced skiers. In general, in terms of prices, comfort and equipment, Kokhta is identical to Didveli, only slightly shorter.
25 meters.
This is a small track for beginners and beginners, ideal for learning. It is always crowded, so there are five elevators that are almost the same length.
Three of them are rope tow lifts, which cost GEL 1 per lift, and two of the sitting type, which cost GEL 2. There is also a special elevator for sledging, where not only children, but adults as well can frolic.
On the 25-meter lift everything is a little cheaper than on the other slopes, there are more instructors, skis and sleds for rent. The price of training with an instructor is 50 GEL per hour for skiing and 60 GEL per hour for snowboarding.
Skis for rent cost 10 GEL per hour and 25-30 GEL per day. Snowboarding rental is a little bit more expensive: 15 GEL per hour and 35 GEL per day. The price of sledging is GEL 10 per hour, for a day GEL 20-25.
Mitarbi
In 2016 they opened another track in Bakuriani called Mitarbi. This is a very old track, but for 30 years it was closed, but now it has been renovated and equipped like Didveli with a two-level open elevator.
We did not ski at Mitarbi, we just rode the elevator, but after what we saw and according to the words of those who tested it, we understood that this ski slope is not for beginners and not even for amateurs, it is better to come here for professionals. The cost of the ski pass is the same as at Didveli, the length of the track is 3.5 kilometers, and the height of the highest point is 2300 meters above sea level.
Mitarbi has wonderful views of the mountains and the neighboring Tatra mountains, if possible stop by to admire the scenery and take a ride.
Track map of Bakuriani
Accommodation in Bakuriani
Since Bakuriani lives from tourists, every second house in the village is equipped as a mesthaus or mini-hotel with comfortable rooms and all necessary conveniences. There are also plenty of large hotels and cottages of European class, so anyone can find a comfortable accommodation for an unforgettable vacation.
Most small hotels and guest houses offer you three meals a day for the skiing season, which is very convenient and inexpensive. In large hotels with a set of additional services, swimming pool, massage, bar and gym in the price is often included only breakfast.
Book a hotel, guesthouse or apartment for rent in advance and check the rates on Booking.com
The average price for a guesthouse with full board is 100 GEL per person but the price of a guesthouse can only be found locally. The price of a hotel room near the slopes is 250-400 GEL, depending on the class of the hotel and the set of services.
Edelweiss
Hotel Crystal
Crystal Hotel & SPA
Crystal Hill
All accommodation options in Bakuriani ⇒
How to get to Bakuriani
The mountain ski resort Bakuriani is located in the center of Georgia, near the famous springs of Borjomi, 300 kilometers from Batumi and 180 kilometers from Tbilisi.
From Tbilisi to Bakuriani
From Tbilisi to Bakuriani you can get by bus, which leaves from Didube subway station almost every hour (in season) from 9:00 to 18:00. The fare is 15 GEL, travel time is 3 hours.
Also from Tbilisi you can get to Borjomi by direct train (18:20) or by bus (every hour from 9:00 to 17:00), and from there by a unique narrow-gauge streetcar or shuttle bus to Bakuriani.
The streetcar runs twice a day (7:15 and 10:55), the price is 2 lari, and shuttle buses every half hour. By the way from Borjomi to Bakuriani is only 26 kilometers, so you can get there by cab for 20-30 GEL.
From Batumi to Bakuriani
You can get from Batumi to Bakuriani by direct shuttle bus, which leaves from the old bus station every day from December 25 to March and in August. Departure time is 10:00, fare is 25 GEL, travel time is 5-6 hours. Driver's phone: +995 577 46-88-42.
Alternatively, from Batumi go to Khashuri by any bus to Tbilisi. In Khashuri, get off at the roundabout, walk 200 meters to the right and take a regular bus to Borjomi, and from there you will be automatically transferred to a bus to Bakuriani.
In time and money such a trip costs the same as a direct flight, but this option allows you to adjust the time for yourself.
You can also take the train to Khashuri, and from there you can take the above mentioned route. About Batumi railway station and train timetable is here.
You can also book an individual transfer to Bakuriani from any part of Georgia at gotrip.ge.
Season and weather
Bakuriani is located in the subtropical zone, so the climate is mild. The average temperature in winter is -6…-8 degrees, the weather is often sunny and windless and the snow cover is stable and over 50 centimeters.
Ski season in Bakuriani begins in mid-December and in most cases ends in late March, sometimes later. The most ideal month for skiing and recreation is February.
Entertainment and excursions
In addition to skiing and snowboarding, you can go skating, sledding or sledding in the central park, go horseback riding in the village, organize a trip to the mountains on snowmobiles or feel the extreme on the steep jumps.
While in Bakuriani be sure to visit the Borjomi National Park and taste the real healing water from an underground geyser, and swim in one of the three pools filled with hot borjomi.