Bantayan Paradise Island: vacation plusses, prices and reviews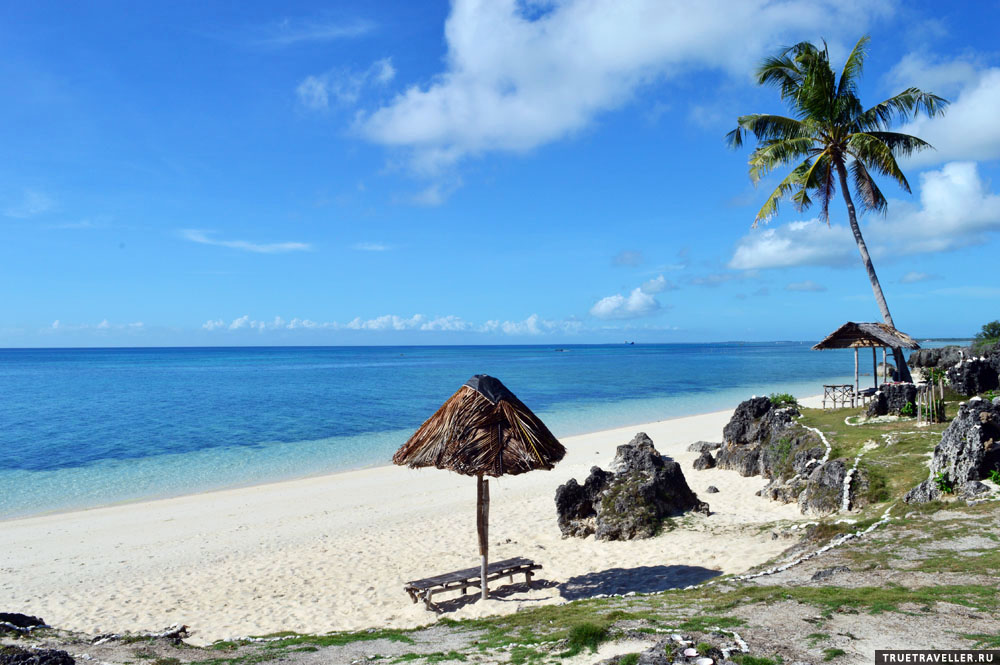 We tell you about the best vacation in the Philippines with paradisiacal scenery. the clearest sea, tranquility and solitude. All about Bantayan Island: detailed guide and tips.
Exchange rate: 1 Philippine peso (PHP) ≈ 1.5 RUB.
Where to look for cheap tickets? The best way to do this is with the search engines Aviasales and Skyscanner. To find the best price, check with both and look for tickets for different dates. Read also the instructions on how to search for cheap airline tickets and how to fly to the Philippines cheaply.
Content:
Why you should go to Bantayan
Tired of noisy and dirty Manila and Cebu City, we decided to settle down on some island paradise, for which the Philippines is famous, for two weeks. The question arose as to where best to live and vacation in the Philippines. We spent a long time gathering information about the different islands and choosing the best one to stay on based on the following criteria:
excellent beaches;
peace and quiet;
Absence of crowds of tourists;
inexpensive accommodation;
inexpensive food;
safety.
Comparison with other islands . Boracay, Panglao, Palawan, Malapascua, and Bantayan were all contenders for the best island in the Philippines. We rejected the south of the Philippines because of the terrorists, as just recently tourists were kidnapped from the Resort Samala, and we did not want to take risks. Boracay did not suit us because of high prices and crowds of tourists, Palawan – remoteness, high prices and lack of permanent electricity (El Nido), the once-paradise Malapasqua, according to reviews, has not yet fully recovered from the devastating typhoon, and reviews of Panglao were not the best, as we ourselves have seen, visiting the island at the end of our trip to the Philippines. That left Bantayan: good reviews, beautiful photos, proximity to Cebu. So we went there.
The atmosphere on the island . After living on the island for two weeks in the resort of Santa Fe, we can say it's the place we want to go back to. Santa Fe has a thoughtful, idle atmosphere: hardly anyone on the streets during the day, only expat Europeans sipping beer in the bars, and by evening, tourists crawl out to restaurants. There's always a siesta, and the scenery is almost like a Bounty commercial. Bantayan can rightly be called one of the best islands in the Philippines for recreation and life.
Feel free to choose the island of Bantayan – it is not yet spoiled by tourists. Read this review – our tips will help you easily organize your vacation.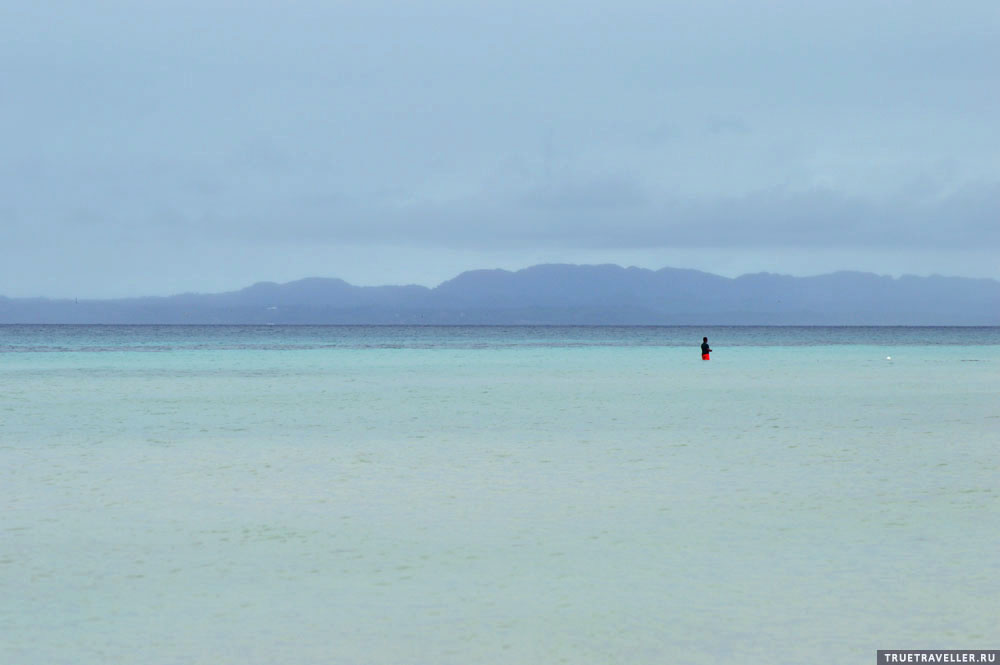 How to get to Bantayan from Cebu City
Bantayan Island is located northwest of Cebu Island. There are no ferries from Cebu City to Bantayan, you have to sail from Hagnaya Port. To get to the port you can take a bus, which leaves from the North Terminal – you can get there by cab, trains or jeepney (there is a route 01K and a few others from the city center). Buses from the North Terminal run frequently, about every half hour, from 4am to 5pm. Travel time is about 4 hours. The ticket costs 170 pesos.
There are several types of buses, we advise you to choose the most comfortable ones – they go with a minimum of stops. In addition, there are also buses to Santa Fe – they are transported by ferry.
We took a flight that leaves at 10:30 (actually it leaves at 11). The buses are comfortable, with air conditioning, TV and Wi-Fi. On the way one stop of half an hour – you can eat and go to the bathroom (entrance 2 pesos). In total we drove 4 hours, but the way back took a little longer because of traffic – about 5 hours.
The bus arrives directly at the port of Hagnaya, on arrival we bought tickets for the nearest ferry (180 pesos ticket and 10 pesos port fee). The ferries run from about 6am to 6pm hourly. The journey is about 1 hour. Check the ferry schedule, but it's hard to tell how up-to-date it is – this is the Philippines, after all.
The port of Santa Fe is full of tracycles (motorcycles with sidecar) that will take you anywhere. Haggle, the ticket costs 15-25 pesos per person depending on the distance.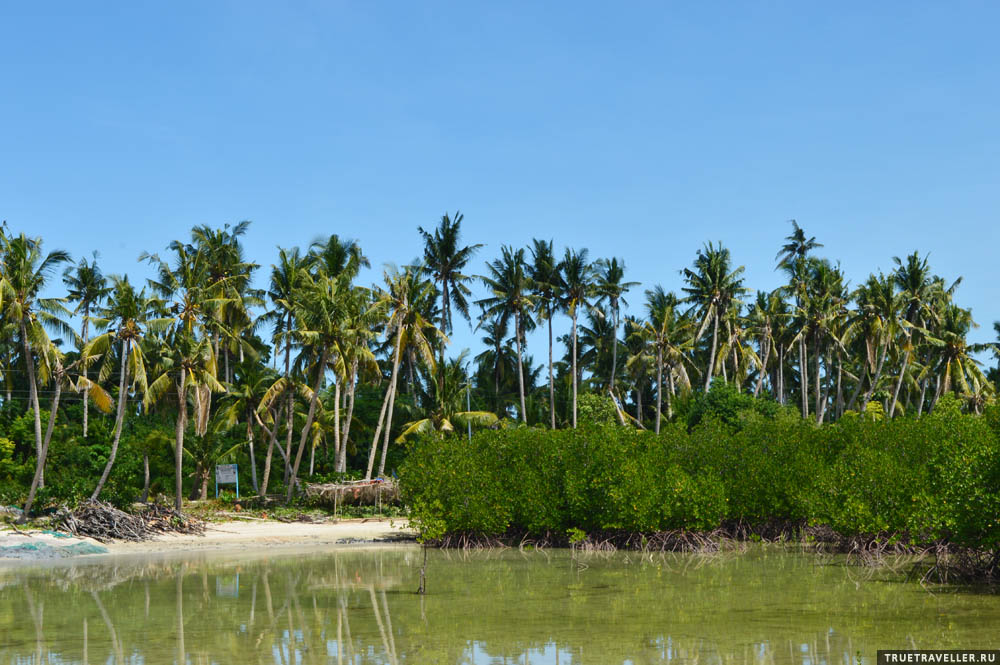 Where to stay in Bantayan: hotels, resorts, and hostels
The nicest place to stay in Bantayan is the resort town of Santa Fe (although it's a bit of a stretch to call it a town). What is it good for? As we wrote above, it has a pleasant atmosphere, uncrowded beaches, clean sea and beautiful scenery. The best beaches are in Santa Fe – the rest are not suitable for swimming.
The second major city is Bantayan. There is a large market, many cafes, an old church, and an ATM machine. Tourists come here only for food and sights.
The third town is Madridejos. There is a half-destroyed Spanish fort (Kota Park). There are almost no tourists.
We lived in Santa Fe, so here are the names and prices of hotels in the resort, which we walked around on our own, as well as tips.
The most expensive hotels are located on the first line: rooms with a fan start from 800 pesos, with air conditioning from 1000 pesos. In gesthouses and smaller hotels are cheaper: from 500 pesos for a room with a fan and from 800 with air conditioning.
Hostel Casa Isabel
600 pesos for two people for a tiny little room with a disgusting smell of paint, toxic green walls, a noisy fan, and a shared bathroom. This is where we spent our first night in Santa Fe. It's pretty far to the beach. On the plus side: a friendly hostess who will personally make a delicious breakfast.
Nordic Inn
900 pesos for two for a room with its own bathroom. The room is good but modest, no table and chair. Pretty expensive, they refused to give a discount for a long stay, although we read a review that someone lived in this hostel for 15 thousand pesos a month. Very close to the beach.
Mayet's Beach Resort.
Located on the first line, right on the beach, but far from the center of town – next to Ogtong Cave Resort. No places to eat nearby. A room with a fan is 600 pesos, with air conditioning is 1200 pesos. The furnishings are sparse, there was hardly any furniture in the rooms for 600 pesos. In the reviews they wrote that a lot of ants.
Yooneek Beach Resort and Yooneek Inn
There are bungalows on the beach (Resort) and across the street (Inn). Prices there and there are high: for a room with a fan 1100 and 990 pesos respectively, with air conditioning – 1700 and 1300 pesos. It was repulsed by the large number of European tourists and high prices. The front desk said there was a discount for longstayers.
Budyong Beach Resort
Not a bad resort. Third line bungalow with fan and bathroom is 800 pesos. There's a table and chairs outside, TV and closet in the room. Discounted to 700 pesos for longer stays. On line 3, the Wi-Fi signal is weak.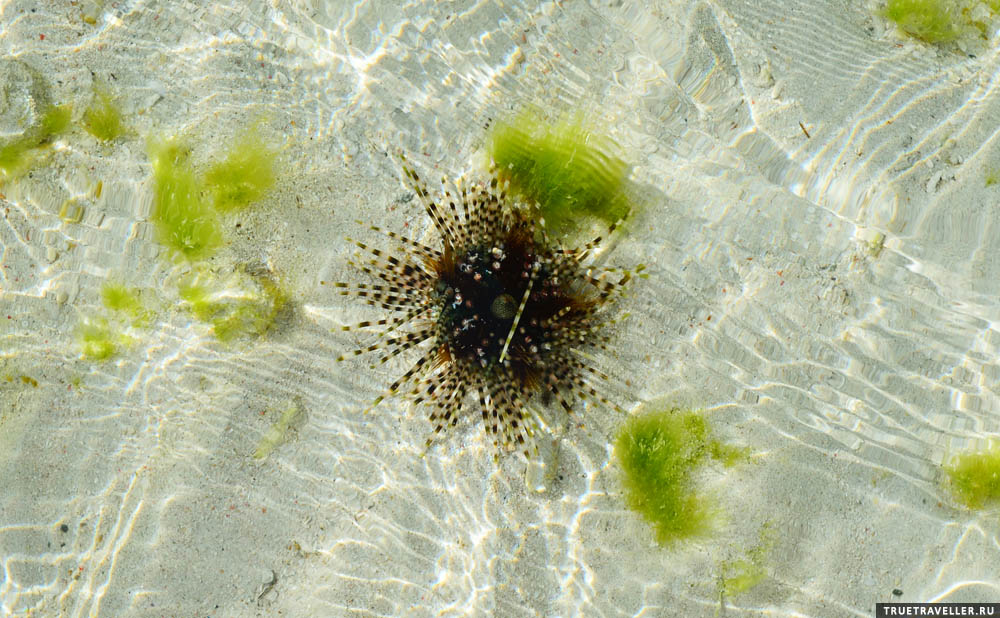 Kota Beach (next to Budyong Beach Resort)
A beautiful resort on the first line. The cheapest room costs 900 pesos (with fan) – cool, comfortable, furnished and with its own bathroom. Outside, on the terrace, there is a table and chairs. A room with air conditioning – from 1400 pesos. A significant disadvantage – Wi-Fi only in the public area.
There is also Kota Beach Resort near the port, we were not there – we are talking about the one next to Budyong Beach Resort.
Sophia Resort
Rooms with a fan – 800 pesos, with air conditioning – 1000 pesos, 1500 cost good bungalows. The rooms for 800 pesos are modest, there is a bathroom, but no closet There are outlets on the street, a table and chairs, but the room smells bad. A long way from the center of the resort.
Seven Star
Bungalow with a fan for 700, with air conditioning for 800. The beach is a 3-minute walk. Discount for a long stay – 100 pesos. The bungalows aren't bad, but the yard looks bad outside – construction debris is lying around.
Amihan Beach Cabanas
Very nice and cozy resort with bungalows, hammocks and gazebos on the beach. Expensive: bungalow with a fan 2500 pesos, with air conditioning – 3000. But there are all the amenities, even a refrigerator and hot water, which is a rarity in the Philippines.
RR Lodging House
After looking at a bunch of hotels, we stayed at this gestation house. The room is very bright and cozy, quite spacious, has a shower and toilet, table, closet, TV, and air conditioning – we paid 650 pesos per day for it (without the discount is 800). A room with a fan and no bathroom – 450 pesos. There is a terrace with a table and chairs. The owner – his name is Raul – every morning brings a thermos of hot water. Laundry – 50 per kilo.
Of the minuses: a lot of insects (ants and large cockroaches!), only a cold shower, cleaning was not once in 2 weeks (once the linen was changed), in the afternoon constantly cried the child of the owner. On the plus side: nice room, 1 minute to the beach. How to find: A. Batobalonos, after HR Music Bar and opposite Casa Blanca.
Tips:
If you arrive late at night, it is better to book a cheap hotel for one night and walk around the city in the morning looking for suitable accommodation – Santa Fe is very small and easy to get around on foot.
We recommend not booking a long term accommodation at once, and visit the hotels and choose the best option, because often the picture on the website does not correspond to reality: it may be dark and musty room, poor wifi signal or thin walls, etc. In addition, if you are going to stay more than two weeks, you can ask for a discount for a long stay (long stay).
The island has a large selection of houses – just walk around and look for relevant signs and ads (House for rent) or ask locals.
How else can I look for accommodations in Santa Fe? Look for hostels, apartments, and hotels on the search engine Roomguru, which will find the best deals among the many booking systems.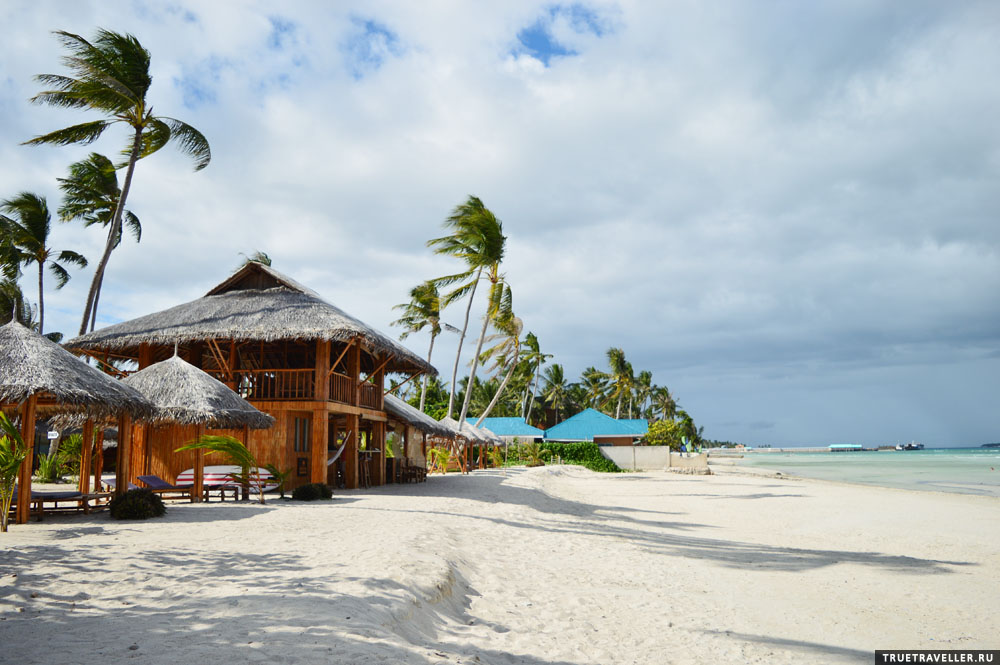 Food and grocery prices in Bantayan, Santa Fe
Filipino food is not too varied: mostly rice with supplements, grilled meat and soup. All of this is inexpensive if you find an establishment for locals. In Santa Fe, there are few – most cafes and restaurants are heavily overpriced.
There is a small place in the center of town where you can get a good and inexpensive meal – we went there very often. It's an inconspicuous eatery, but the food is delicious. The address is on the right side of A. Batobalonos street, if you walk along it from the beach. Nearby are two churches (they are opposite each other), a fast food place called Burger Junction, and a little further away, the hostel Casa Isabel.
Prices at the place are for locals:
A plate of unleavened rice is 10 pesos;
A bowl of garlic rice (garlic rice is delicious!) – 25 pesos;
grilled pork (3 skewers) – 20 pesos;
grilled chicken leg – 45-50 pesos;
grilled chicken breast – 45 pesos;
plate of vegetables – 20 pesos;
seafood – 40-50 pesos per plate
instant coffee – 15 pesos;
tea – 15 pesos;
A glass of water, 2 pesos.
You can also eat inexpensively at the foodcourt, which is located on the same street about opposite the Cafe del Mare – there you can eat there relatively inexpensively, but the prices are higher than in the previous establishment, almost one and a half or two times.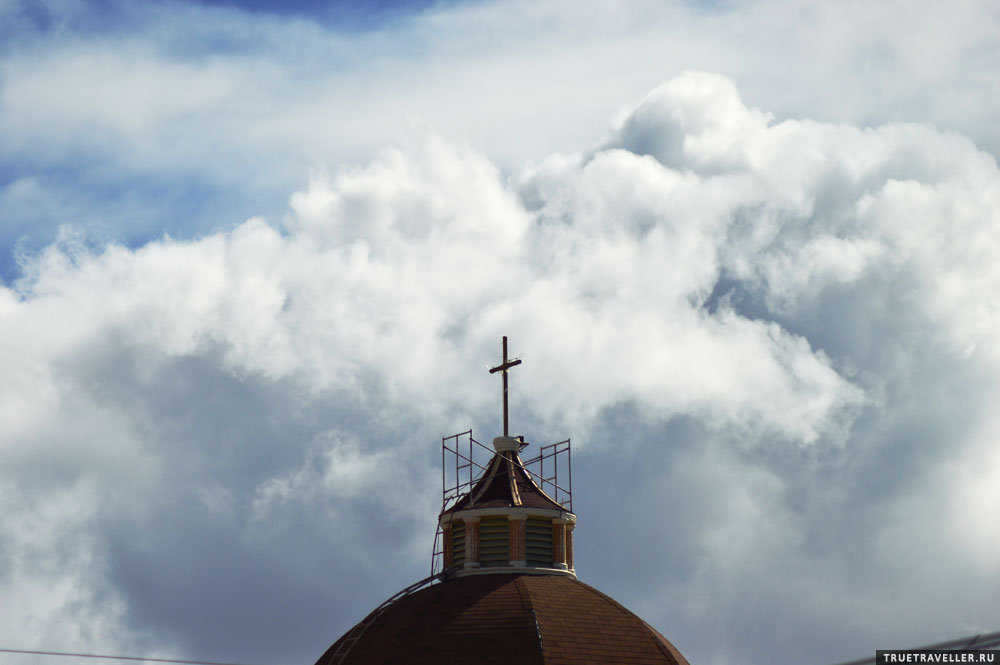 The cost of food at the food court:
Soup (small portion – 35 pesos, large – 70);
pork barbecue (1 kebab) – 12 pesos;
chicken wing – 40 pesos;
chicken liver – 20 pesos;
chicken and rice – 85 pesos;
grilled squid – 85 pesos;
grilled shrimp, 35 pesos;
grilled bangus fillet, 85 pesos;
drinks – 15 pesos;
beer, 40 pesos.
On A. Batobalonos has many popular restaurants of different cuisines: German, Italian, Portuguese, etc., as well as a small market, which in the mornings has more stalls in front of the entrance. Opposite the market, not far from the exchange office, there is also a fruit stand where you can buy fruit a little cheaper.
Fruit prices:
mango – 90-100 pesos per kg;
pomelo – 80 pesos a piece in the market and 40 per kg in a tent (but they are dry there, it's better to take in the market);
papaya – about 50 per kg;
bananas – about 40 pesos;
sour apple, 60 per kilo;
langsat 90-100 per kg;
coconut 20-30 a piece;
mandarins, 5 pesos apiece.
Alcohol is overpriced in stores, for example, San Miguel beer – 37-50 pesos depending on the type, a little more expensive – in bars.
In Bantayan City, in the market the cost of fruit is almost the same as in Santa Fe, the food in the food courts is a little cheaper.
Also on our website you can read about the cost of housing, food and transportation in the Philippines in general.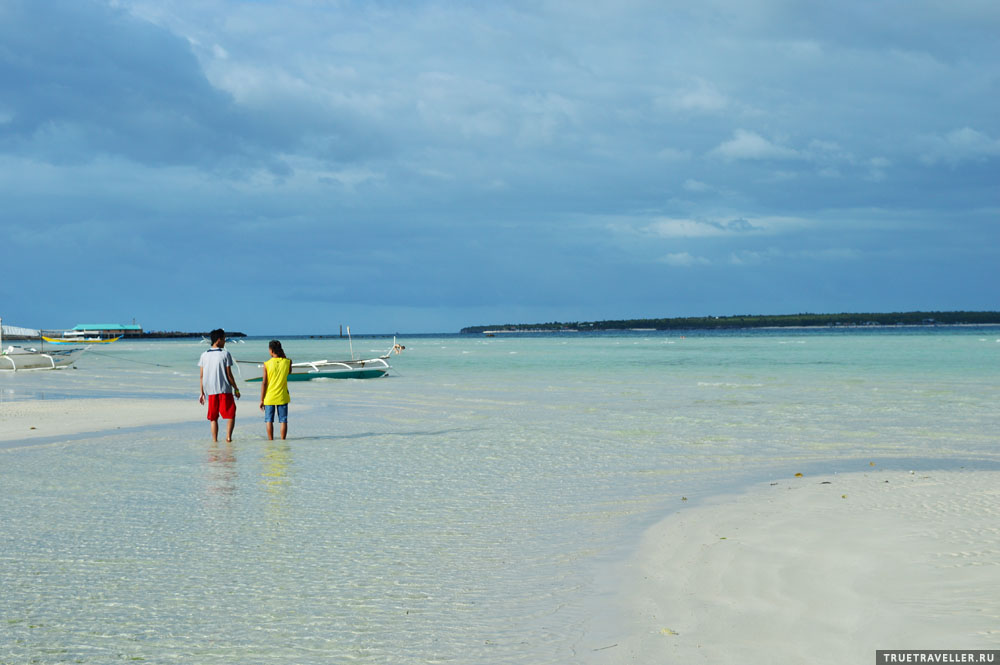 Renting a Bike or Bicycle in Bantayan
Renting a bike or bicycle on the island is not a problem at all. In Santa Fe, every other bike owner will lead you to a rental shop, and all you will hear on the street are "motobike, ma'am" and "rant e motobike, sir." Cost per day: from 200 pesos for a scooter, from 250 for a semi-auto, and 300 for a full motorcycle. The bikes are not bad, you could say in excellent condition, but the roads are not, so the island is not particularly rideable. The asphalt is uneven, in potholes and patches, in some places there is just no – or concrete slabs, or dirt road.
Bike rentals aren't as common, but can be found at the supermarket near the Corner Inn.
What to see in Bantayan
Bantayan is not rich in attractions. The road is also not fun because it is broken. The entire island can easily be toured in one day. What to see on the island? Here are some of the sights that we liked, the entrance fees and tips on how to get there.
Paradise Beach
Anyone who has always dreamed of visiting Paradise Beach should definitely visit this place. Finding the beach is difficult enough, but possible. We found it only with the third time.
Instructions: Drive through Ogtong Cave Resort and along the coast to the small village of Moalboal. After passing it, look on the left for an inconspicuous path, as if leading into a thicket of bushes and trees. There are no signs. You turn there – the road over stones and stiff corals is unpleasant and exhausting. At the fork you have to turn right – you'll meet a fence. Behind it – Paradise Beach with landscaped area and a couple of gazebos. The place is not a touristy, during our visit of 2 hours there was not a single tourist. Very beautiful, quiet and secluded. Entrance is 50 pesos. If you get lost, ask in the village – we were guided by a local.
St. Peter and Paul Church in Bantayan
The old church makes a pleasant impression. Beautiful stained glass windows and the interior decoration in general – without being pretentious or vulgar.
Kota Park in Madridejos
An old Spanish fort, pedestrian bridge and lighthouse in the very north of the island. On the bridge come couples in love to meet the sunset, and on the bare at low tide corals run local kids. If you want to get to the fort, you'll need to get there early.
Ogtong Cave
Located on the territory of the resorts of the same name. For 120 pesos, you can see the underground cave with crystal clear blue water. Someone writes that it can swim in it, and someone denies it. We decided not to visit it since there are similar ones on Bohol.
Omagieca Mangrove Garden (Obo-Ob)
For those interested in mangroves. You can see turtles, fish, starfish, shrimp, birds. We only saw fish and birds. Quiet and peaceful. The entrance is 50 pesos.
Other things to visit in Bantayan: Tiyaba Cave, Sunrise Beach, Dalton Pass Shrine. You can go to nearby Virgin Island for about 700 pesos round trip per person.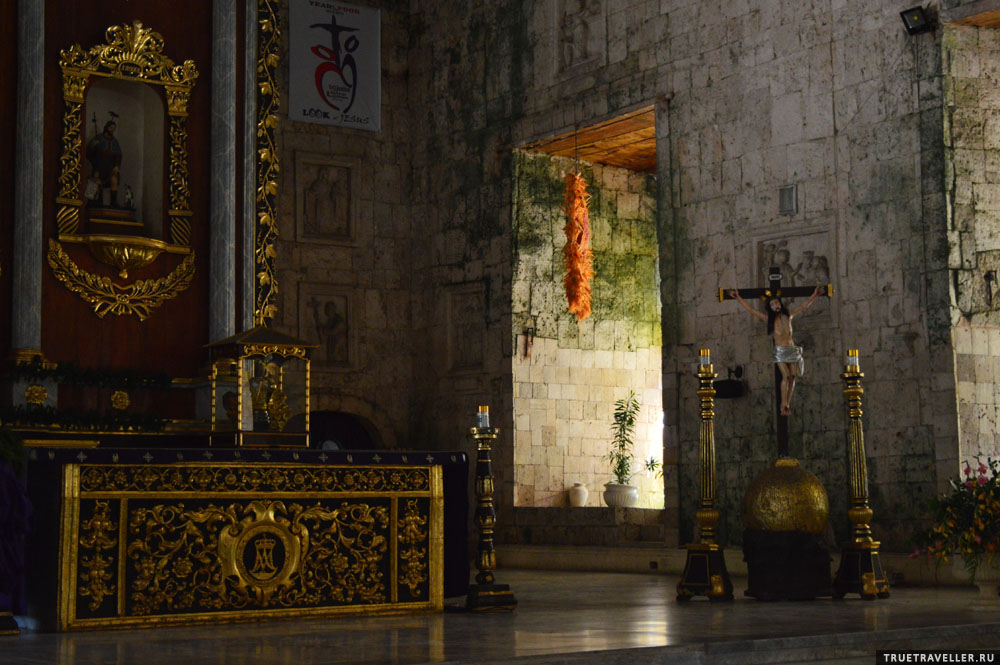 Cons of Bantayan
And the paradise island of Bantayan has its disadvantages, alas:
Bad roads;
Underdeveloped infrastructure;
There are occasional power outages;
the choice of fruit and inexpensive food is small;
the food is monotonous;
hotel prices are higher than we expected;
few attractions;
To extend the visa, you will have to go to another island – for example, Cebu;
clingy pearl merchants and children begging for money;
The sea is shallow, not always convenient to swim – at low tide can go to 15-20 meters;
Corals are close, so there is a risk to step on a sea urchin, star, snake, or something worse – you should look carefully where you step, and do not enter the sea if it is turbid and there are waves. All of the above we met, and Lyosha stung jellyfish – so just in case before the trip buy insurance. But there is excellent diving and snorkeling!
However, all of these shortcomings are either inherent in the country as a whole, or you can ignore them. In sum, Bantayan – this is one of the best places in the Philippines, which should go to all who crave a quiet holiday on the shores of the beautiful sea.
To get to know the country better, read our extensive material on independent travel to the Philippines – it contains all the useful information that may be useful to a tourist on the trip, and our tips and recommendations based on personal experience.
Bantayan Island, Philippines Vacation 2022
Tourists who are planning to go to the Philippines should know exactly where the best place to stay for vacation. If you want to be among the paradisiacal landscapes and near the clear sea, then you should choose the island of Bantayan. Well-known Manila and Cebu are noisy and dirty because of the large influx of tourists, so everyone wants to choose a place to his liking.
How can you get to Bantayan?
The island of Bantayan is located to the west of the island of Cebu, so it is easier to get there. There are no ferries from Cebu, so you should first go to the port of Hagnaya and from there sail to Bantayan. You can get to Hagnaya by bus or cab. Buses leave frequently, may be only ten minutes apart, and the fare is only 170 pesos.
Where to stay in Bantayan
Vacation 2022 in Bantayan is best planned in the small town of Santa Fe. For tourists who plan to spend a beach vacation – this place will be indispensable, because the beaches are clean and deserted, and around are beautiful landscapes. If there is a desire to be in a larger city with large markets, cafes and restaurants, then it is necessary to stop in the town of Bantayan.
For privacy and a break from the hustle and bustle of the city, you can settle in the town of Madridejos. As for lodging, then all over the island prices fluctuate. Expensive all-inclusive hotels are located near the coast, where you can rent a room for 1000 pesos with air conditioning. Smaller hotels, which are located farther from the coastline, can rent a room for as little as 500 pesos. Consider the main hotels and places to stay where you can spend your vacation in the Philippines:
1. the Casa Isabel Hostel offers rooms for two for only 600 pesos. But the conditions here want better, except that the room has a large fan, which is noisy, the bathroom is one for all floors. To get to the beach tourists have to travel a long distance.
2. Nordic Inn Guesthouse offers its rooms for 900 pesos, if you plan to stay for a month, they can rent the room for 15,000 pesos. The bathroom will be inside the room and it is a short walk to the beach.
3. Mayet's Beach Resort is located on the first line, near the beach, but far to the center. There are no cafes or restaurants to dine in nearby. A room here will cost 1200 pesos.
4. Bungalows Yooneek Beach Resort and Yooneek Inn can be rented for 1700 pesos. This is where Europeans stay.
5. Bungalow Budyong Beach Resort is on the third line, here the room has its own bathroom and fan. If you plan to stay more than one week, the owners do discounts of up to 700 pesos.
6. Kota Beach Resort is located on the first line, here the cheapest room costs 900 pesos, in the evening you can relax on the terrace.
7. Sophia Resort offers its rooms for 1500 pesos with air conditioning and bathroom. But it's hard to get to the center of the resort from here.
8. Among the many hotels, RR Lodging House stands out. It has cozy rooms with showers and toilets, and the room price is only 650 pesos.
There are many other places on the island where tourists can stay.
Food and Grocery Prices
Philippine food is quite tasty, but not varied, mostly locals cook rice with various additives. To dine on the island of Bantayan is absolutely inexpensive. If there is a need to cook on your own, you can go to the market and buy food there. Fruit is very cheap in Bantayan.
Rent a vehicle
To rent a motorcycle or bicycle here is not a problem. There are special rental shops in the cities. For a day scooter can cost only 200 pesos, and 300 pesos will cost a normal motorcycle. But given the fact that the roads are not very good, you can not expect to travel safely between cities on this form of transport.
Where to go in Bantayan?
Bantayan is a small island, but even here there are attractions. There are not too many of them, if you want to go around in one day. Let's look at the main ones:
Those who had planned a beach vacation can go to Paradise Beach. The beach area is well maintained, with gazebos where you can relax in the shade, with a rest in this place not too many people. Entrance is paid and you have to pay a fee of 50 pesos.
2. In any case, you can not imagine a tour in the Philippines without visiting churches. One of them is located on the island of Bantayan, the old church of Saints Peter and Paul. It has beautiful stained glass windows.
Must visit the Spanish fort, where there is a footbridge and a lighthouse. It is located in the north of the island. Lovers come to Kota Park to meet the sunset together.
4. At Ogtong Cave Resort, you can visit a cave of blue water, the entrance fee is 120 pesos.
5. Omagieca Mangrove Garden has mangroves, in addition there are large turtles, beautiful fish, starfish and birds. Here you can stroll in complete silence for only 50 pesos.
Do not forget that from the island of Bantayan you can go to other islands that are located nearby.
Disadvantages of Bantayan Island
Despite the fact that the island is a true paradise, there are some disadvantages:
1. As mentioned above, the roads on the island are not the best.
2. The services here are not very well developed.
3. there are interruptions with electricity.
4. There is almost nowhere to go on excursions, so the island is better suited for a beach holiday.
5. The streets are full of clingy sellers and beggars.
6. The sea is shallow, so it is better to rest on the island of Bantayan families with small children.
7. We must be careful when entering the water, because corals are close to the shore, and there is every chance to step on the sea urchin. Cautious tourists are advised to take out insurance before the trip.
Bantayan is considered one of the best places in the Philippines and is suitable for tourists with different incomes.