Getting to Barcelona Airport (El Prat – BCN)
This map only shows transportation to Barcelona, but from the airport you can also travel to many suburbs and neighboring cities or resorts. Below you will find a description of each mode of transport.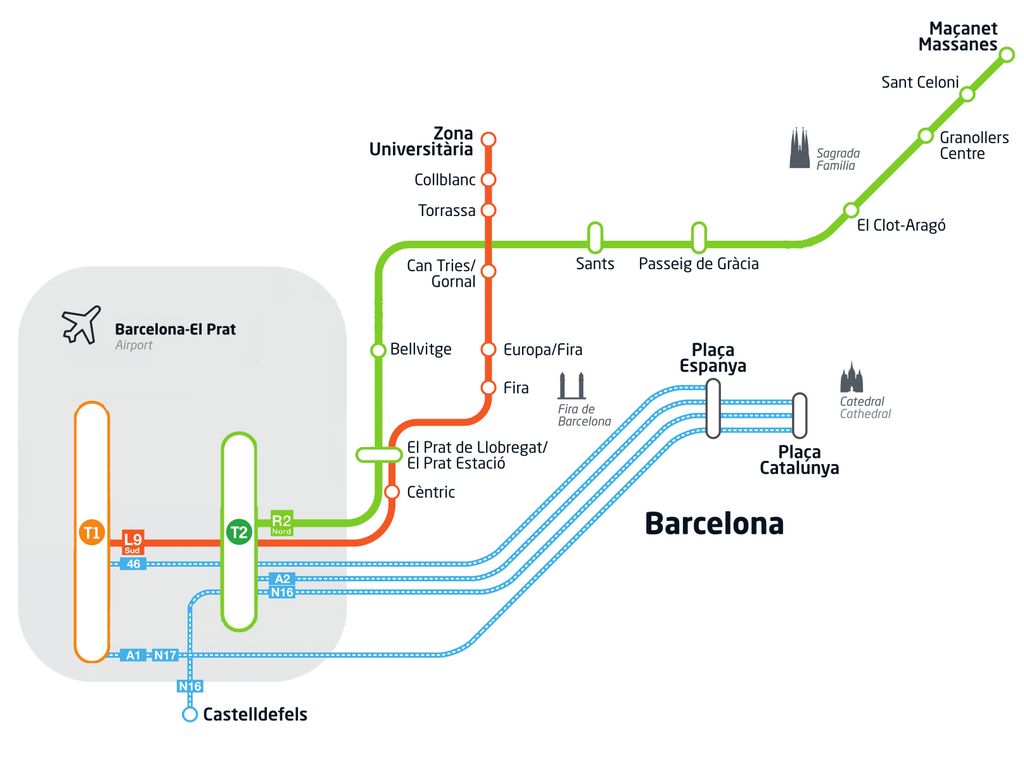 AeroBus express bus from Barcelona Airport
Fares: 5,9€, return trip: 10,2€
Travel time: 35-50 minutes to Plaça Catalunya
Opening times: departures every 5 minutes from 5:42 to 23:38 from the airport, return from Sants station from 5:13 to 23:14.
AeroBus has two A1 and A2 buses from Plaça Catalunya to the airport. The number at the end indicates the arrival/departure terminal, so the A1 goes directly to Terminal T1, while the A2 only goes to Terminal T2.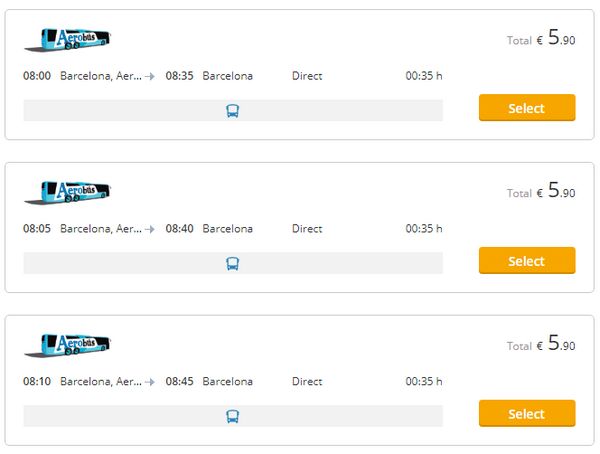 Bus stops:
From the airport, Urgell Metro Station, Pl. Espanya and Pl. Catalunya
At the airport, at Pl. Catalunya, Pl. Espanya, Urgell Metro Station and Universitat Metro Station.
Metro from Barcelona Airport
A metro ticket to the airport is considerably more expensive than an ordinary metro ticket, so it's more advantageous to buy the Hola BCN unlimited ticket for 2 to 5 days, which includes travel to and from the airport. The cost starts at 15€ per 48 hours.
Single ticket: 4,5 €
Travel time: about 25 minutes to Torrassa station.
Running time: departure every 7 minutes from 5:00 to 24:00 or until 2:00
Since February 2016 it is possible to arrive at Barcelona Airport by metro. The L9S metro line with stops in terminals T1 and T2 has been launched at the airport.
The subway stations in terminal T1 are underground on the ground floor, and in terminal T2 at the airport exit. To find them, follow the signs to METRO.
You can buy tickets from the ticket machine at the metro station. For a ride to/from the airport you must buy a special Airport ticket for €4.50. The ticket allows you to transfer to other lines without leaving the subway.
It is the most affordable way to get to Barcelona if you want to avoid traffic jams, but there is a small disadvantage – the metro line L9S doesn't go to the city center, so you must change at the station Torrassa to the line L1 to get to the center.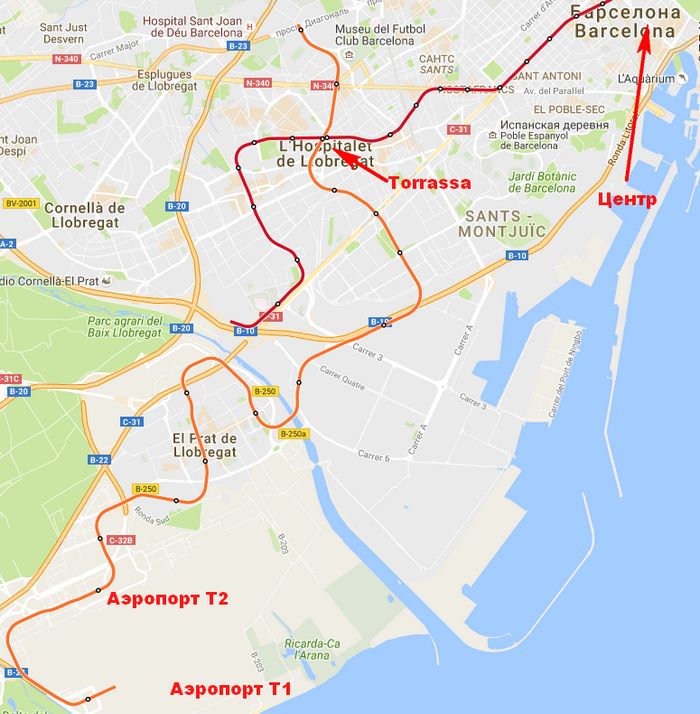 Metro opening hours in Barcelona:
The subway starts working at 5:00, but closes at different times, and there are also days when the subway is open around the clock.
Weekdays from Monday to Thursday: until 24:00
On Fridays and public holidays: until 02:00 a.m.
On Saturdays: twenty-four hours
RENFE train to Barcelona Airport
Fares: from 1,13€
Travel time: 19 minutes to Sants station
Opening times: departures every 30 minutes from 5:42 to 23:38 from the airport, back from Sants station from 5:13 to 23:14.
The suburban train R2 NORD runs to Terminal T2 at Barcelona Airport, with access to the T2 via a tunnel on the second floor. To find it, follow the signs for TREIN.
From Terminal T2 to Terminal T1 you can take a free bus that leaves every 4-7 minutes during the day and every 20 minutes at night. Travel time between terminals is 14 minutes.
You can buy a single ticket for the RENFE train at a ticket machine before you get on the platform for 4,6€. If you still use public transportation, it is better to buy a T-casual ticket for 11,35 € for 10 rides or T-familiar for 10 € for 8 rides (T10 is no longer on sale). Then the fare will be around 1,13-1,25€. The ticket allows you to transfer to other lines without leaving the subway.
The main train stops on the way from the airport to Barcelona are El Prat Estació, Sants, Passeig de Gràcia, El Clot. Travel time to Sants station is 19 minutes.
City bus from Barcelona Airport
During the day take bus 46 from the airport to Plaça Espanya in 30 to 40 minutes and at night take the N16 and N17 buses to Plaça Catalunya in 50 to 60 minutes.
If you actively use public transport (subway and buses) can be advantageous to buy an unlimited pass Hola BCN from 2 to 5 days. The cost starts from 15€ per 48 hours.
Fares: €1.13 to €1.25 for a T-casual ticket at €11.35 for 10 rides or a T-familiar at €10 for 8 rides (T10 is no longer on sale). A single ticket costs 2.4€. The ticket allows you to make transfers within 75 minutes, but you can only take one trip on the subway.
Single tickets are available from the bus driver and T-casual or T-familiar at the airport in ticket machines with a TMB sign or in newspaper kiosks.
Bus 46 to Plaza España
Opening hours: departures from 5:30 to 23:50 from the airport and from 4:50 to 23:50 from Plaza España.
Departures from Terminal T1 and Terminal T2. On the way out of the city, the bus stops first at T2 and then at T1.
Bus N16 to Plaza Catalunya
Opening hours: departure from 23:30 to 4:30 from the airport.
Departing only from Terminal T2, the bus does not go to Terminal 2, but goes further into the suburbs to the town of Castelldefels.
Bus N17 to Plaça Catalunya
Opening hours: departure from 23:00 to 4:00 from the airport.
Departure from the N16 at both terminals.
Cabs from Barcelona Airport
An optimal option for those traveling in large groups or with large luggage, as well as for those who like comfort and want to get to the hotel as soon as possible. You can book a transfer to the Russian-speaking website KiwiTaxi and you will be met with a sign at the airport or will come to pick up at the specified address. The language barrier is no problem either, as the driver will already know where to take you.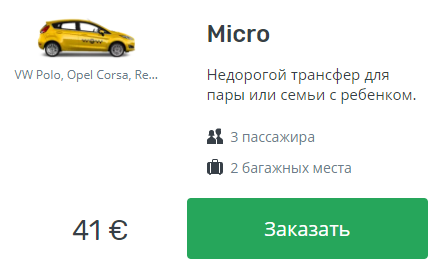 Useful Links from BudgetTravel
Apartments, hotels, and hostels
HotelLook – apartments and hotels for rent. Don't forget to use coupons.
For 1 euro: how to get from Barcelona airport to the city center?

Detailed instructions on how to get to Barcelona airport at any time of the day, how to get to the city center and how not to get confused with the stops (and airports ).
What airport are you arriving at?
Barcelona El Prat airport – how to get there?
El Prat airport is only 13 km from the city. The transport connections between the center and the airport terminals are excellent – you can get there by bus, train, metro and cab.
Important: Barcelona Airport has 2 terminals, T1 and T2 (consisting of 3 buildings, designated T2A, T2B, T2C), located 4 km from each other. When leaving, check in advance which terminal you are departing from, as it takes about half an hour to get between them. If you make a mistake, take the free green shuttle, stops at the exit of the terminals.
Click here for a diagram of Barcelona airport with all the public transportation stops.
The official airport website is www.barcelona-airport.com
Usually we take the T-10 pass (now replaced by the T-casual pass, which is the same), and the photo on the right shows the areas for travel in Barcelona
Bus from the airport to the city center
Buses of 3 companies take tourists to and from Barcelona from El Prat airport.
Aerobus
The most regular, comfortable, and fastest Aerobus are the shuttles, or express buses, serving both terminals. But clearly not the cheapest!
Schedule:
From airport to city 05:35 – 01:00, every 10 min.
From city to airport: 05:00 – 00:30, every 10 min.
There are NO Aerobus late at night. We tell you about the transfer after midnight just below.
Cost:
€5.90 one-way.
€10,20 return trip
Free for children under 4 years old. The return ticket is valid for 15 days. The pass – which replaces the T-10 (read about it below) – is not applicable.
Where to board:
From Barcelona airport to the city center – stops at Terminal T1 (near the exit) and Terminal T2 (by the T2B and T2C buildings). It is easy to find them by the pandemonium of tourists, payment machines and standing blue buses
To get from Barcelona to El Prat airport – stop at Plaça Catalunya in front of the El Corte Inglés store
During daytime hours, you will have to wait in line. Remember that at the T1 terminal there is an airbus with the number A1, and at the T2 terminal the number A2. Be careful as there are 2 different lines forming at the stop in the center.
Where to buy a ticket
at special automatic vending machines at stops at the airport, accept cards
at the bus driver or company representative at the bus stop, only for cash. We advise you to change your money in advance, they often refuse large bills, for example, if you stretch out 20 euros for a single ticket
online at the company's official website. You can use it for one year.
Route:
A1 bus – from terminal T1 with stops at Plaça Espanya and Plaça Universitat to Plaça Catalunya (center) and back
Bus A2 – same, but to/from the T2 terminal
Travel time: start to finish in ≈35 min.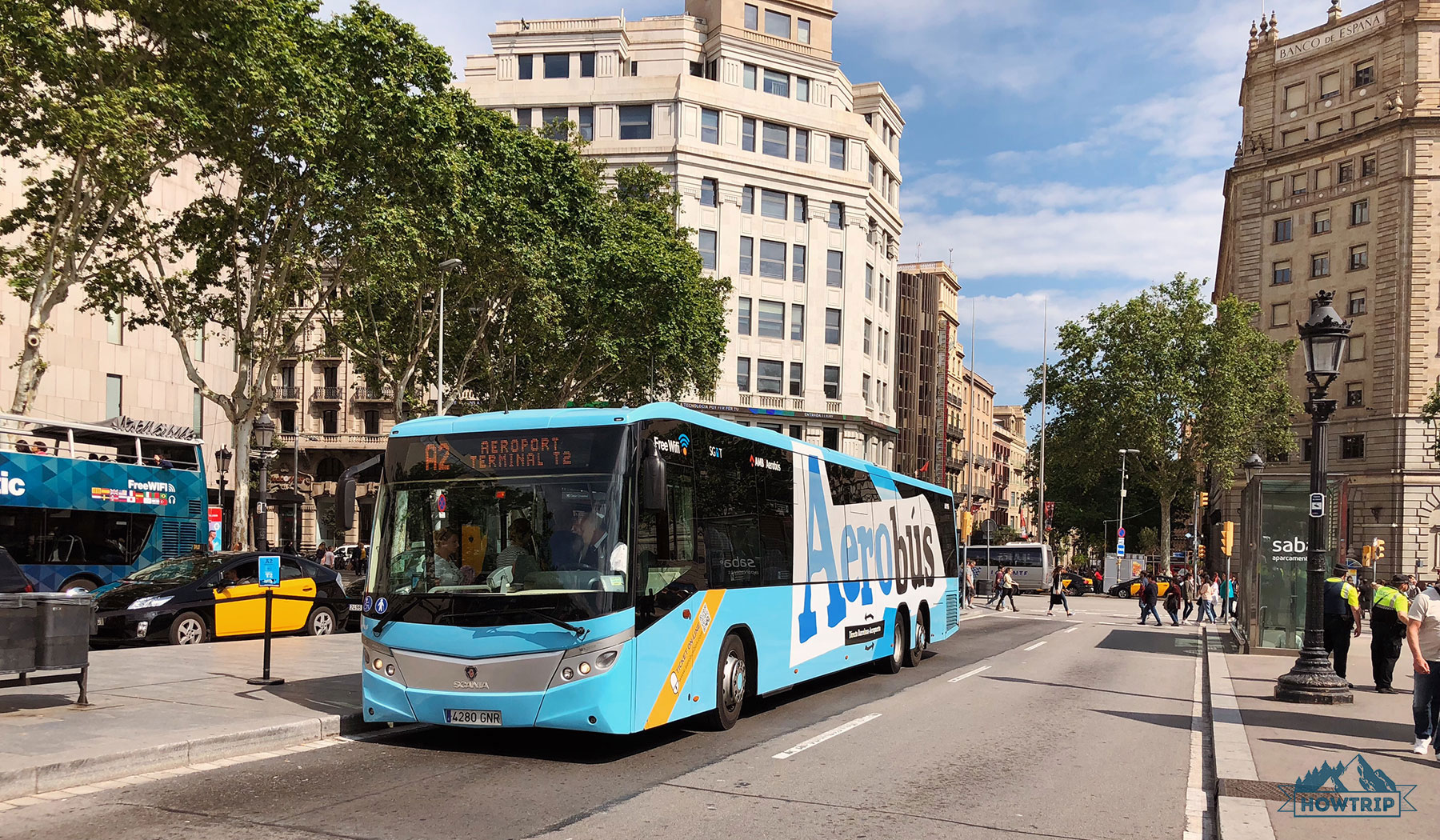 The blue busses run from Plaça Catalunya to El Prat airport and back
TMB buses
The cheapest way to get from the airport to Barcelona is on the 46 TMB buses. These are regular city buses, less comfortable, with no luggage compartment and more stops en route. Nevertheless, in addition to the low ticket price, there is a T-casual fare.
They go as far as Plaza España, where you can change to the metro and get to Plaza Catalunya.
Schedule:
airport – city from 05:30 to 23:50, every 35 minutes
city – airport from 04:50 to 23:50, every 35 minutes
Cost:
€2.4 one-way, children under 4 years old are free
Where to board:
At the airport, depart from stops at terminals T1, T2B and T2C
In the city: get off at the Plaça Espanya stop
Where to buy a ticket
From the driver for cash (€10 per ticket at most) or from special vending machines at metro stations.
Route:
Buses from Barcelona airport go to and from Plaça Espanya; on the way back go first to T2, then to T1.
Travel time: about 40-50 minutes.
Nitbus buses
After midnight you can get from Barcelona Airport to the city center on Nitbus. All buses cost €2.4 one-way and must be purchased with cash from the driver. A T-casual pass is valid.
The N16 from the airport runs from 23:00 to 04:40; from the city from 23:30 to 05:10 and every 20 minutes. It goes from Plaça Catalunya to terminal T2, then to Castelldefels and back. The bus does NOT go to terminal T1.
The N17 bus starts from terminal T1 at 21:55, the last trip is at 04:45. It does NOT enter the T2 terminal. It goes as far as Plaça Catalunya; from there it goes to T1 from 23:00 to 05:00, every 20 minutes.
How do I get to other cities?
From Barcelona Airport you can take a direct bus to the following cities:
Castellón
Valencia
Alicante
Murcia
Almeria
ALSA buses depart from Terminal B. Cost: 25-50 euros one way.
T-Casual and T-Familiar bus passes
Attention! A new travel card is now available in Barcelona – the T-casual (10 rides for €11.35). There is also the T-familiar (8 journeys for €10). The first is individual and the second can be transferred to each other.
One tip that will help you save money on transportation in Barcelona is to buy a T-casual ticket for €11.35. It is a pass for 10 trips on all public transport in Barcelona (bus, metro, train, streetcar). We buy it every time we come to the city from 2 days. Sometimes we run the two of us through the turnstile in one pass Just shhhh.
T-Casual can't be transferred to other people, but T-Familiar can: i.e., you got on the bus – you stamped the pass – you handed it to your companion/s.
See, if you buy the T-Familiar for two, four rides each will cost €5, while five rides with a regular single ticket will cost €9.6.
The T-Casual is even better in Barcelona: you can transfer to another public transport system three times within one hour and 15 minutes of punching the ticket and the trips won't be cancelled (the machine reads the time of the last punch and if the time has not expired, it simply skips it). However this trick won't work if you take the metro or buses with the same number again – you will either have to write off the trip or take the train/tram.
You can buy a ticket at the entrance of the train station or at any metro station in Barcelona. Note that you CANNOT use them on Aerobus and at Aeroport T1 and Aeroport T2 stations. But you can take the train.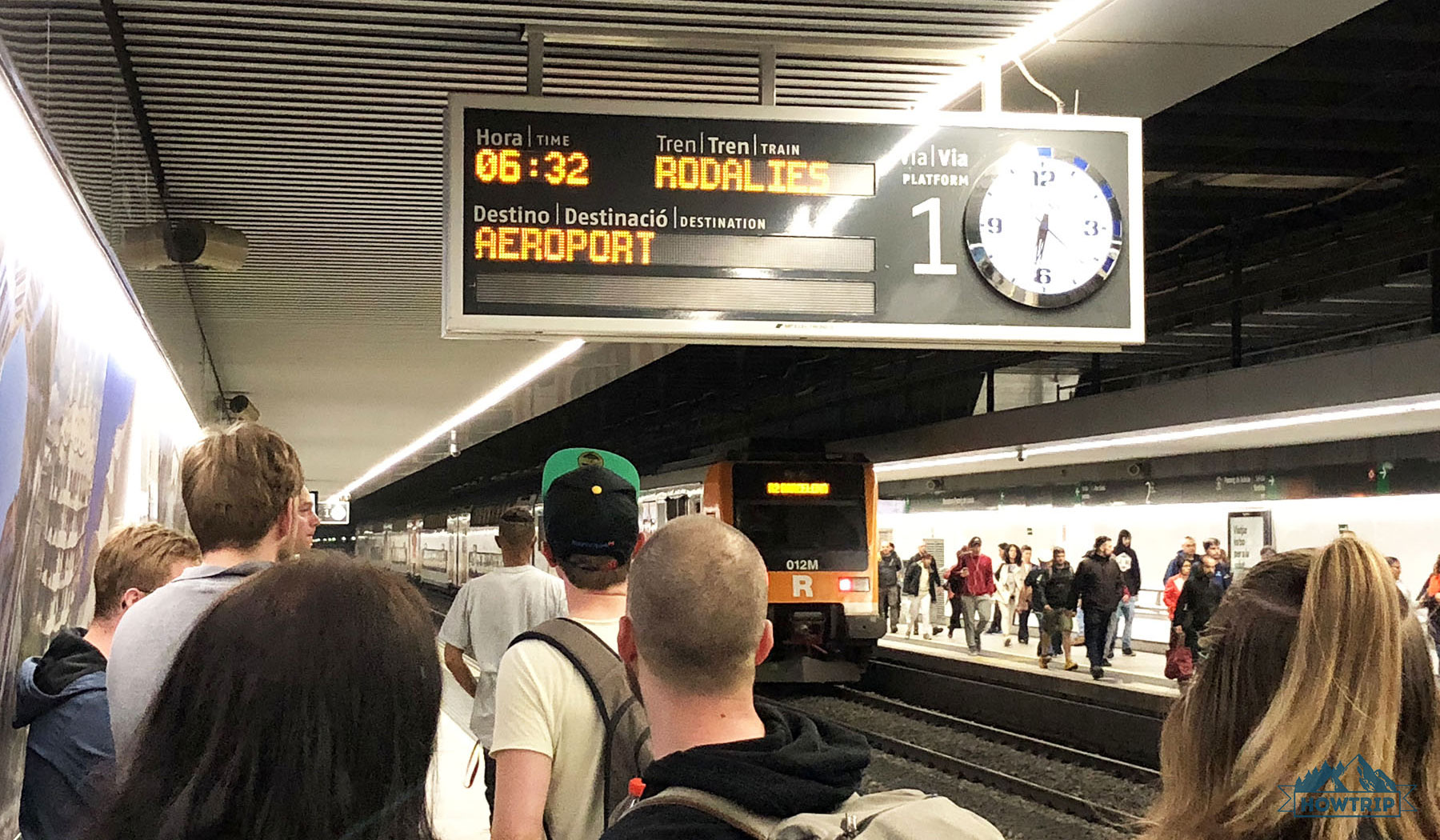 And from here you can get to the airport by train for ONLY 1 euro. We left from Passeig de Gracia station.
How to get to Barcelona by train
There is only one Renfe train from Barcelona airport to the center, and only from the station in the T2B terminal. If you are/need to get to T1, take the free shuttle at the exit of the terminals.
A way to get there for 1 euro we discovered on our last trip to Barcelona in May. T-casual and T-familiar tickets work for the train. Accordingly, is written off one trip for ≈ €1 – you get to the city center – and you can also change to the subway for 1 hour 15 minutes for free. A bit cumbersome, especially with suitcases, but only 86 rubles. Update. In November we flew to Barcelona again and tested our favorite way – it works : )
It's a bargain if you're coming to the city for 3 days or more. You can get back to the airport the same way! But be sure to check train schedules and be careful. The remaining 8 trips can be used to take the subway/bus/train around the city. You can take the T-Familiar for two if you plan to use transport minimally
R2 Nord is the train from the airport to the city. The first route leaves at 05:42, the last at 23:38, with regularity every half hour. It takes you to Sants station (Estacio Sants), Passeig de Gràcia and El Clot train stations. Travel time is 20, 27 and 31 minutes respectively. The ticket can be purchased from vending machines at the entrance to the station at the airport.
The R2 Aeroport – train from Barcelona to the airport. You can get on at the three stations mentioned above: El Clot (05:22 – 23:01), Passeig de Gràcia (05:08 – 23:07), Barcelona Sants (05:13 – 23:14) and go to terminal T2B. Tickets are sold at each of the stops.
For fares and exact train timetables to and from Barcelona Airport, visit Renfe's website.
How to take the Metro from Barcelona Airport
In the past, the answer to the question – is there a metro at El Prat airport? – was a negative. Today, in 2022, it is one of the transfer options between the Catalan capital and terminals T1 and T2, taking about 30 minutes.
The metro stations at Barcelona airport are connected to the city by the L9 Sud branch. It does not pass through the center, one of the major landmark stops is Zona Universitària, where you can transfer to the L3 branch to reach Plaza Catalunya. In the T1 terminal the subway is located inside the building on the ground floor, in T2 – outside.
To get from El Prat International Airport to the center of Barcelona by subway costs €5.15 one way. A normal single ticket or the T-casual/T-Familiar passes do not work, you must buy the Airport ticket (return and return).
Opening hours: Monday-Thursday, Sunday from 05:00 to 00:00, Friday till 02:00, Saturday – 24 hours.
Cabs and transfers from the airport to Barcelona
Cab. It's certainly a quick way to get out of Barcelona airport, but it's not a guarantee that you'll get to the city center as quickly. Traffic jams in the huge metropolis are a thing of the past, especially in the morning and at night.
The cheapest cab from the airport to Barcelona to the center (to Plaza Catalunya) will cost €25-30. In the opposite direction – approximately the same. The fare in a cab is made of a minimum of €20 + €1,15-1,30 per km.
Don't worry about how to hail a cab to the airport, and don't dare to vote right at the exit of the terminals – everything is organized in Barcelona. At T1 and T2 special areas are fenced, where an employee assigns tourists to cars. You can recognize them by signs and assemblages of black and yellow cars.
The Uber app does not work here. But there is a service of Russian cab in Barcelona – barcelonataxi.ru. The reviews of tourists are 50/50.
Transfer. Are you in a hurry and don't want to wait in a queue for a car? It is possible to book a transfer from Barcelona airport to the center/hotel/Lloret de Mar, etc. in advance. For example on KiwiTaxi. The price is fixed starting from €45, the car will be chosen according to your requests and you will be met without delay at the terminal.
Car rental at the airport
At Barcelona El Prat Airport, car rental is available in both terminals one and two. Upon arrival you will be happy to be served by such car rental companies as Avis, Europcar, Goldcar Rental, Hertz, Sixt, etc.
But there are two minuses. Firstly, they do not work round the clock (07:00-00:00) and secondly you will have to pay extra for urgency. Conclusion – it is better to think about car rentals at Barcelona airport in advance.
You can find the offers of all car rental companies at:
Localrent-advice this one more.
In contrast to the "negotiations on the spot", here you can compare options and choose a car to your liking, on your budget, and according to your preferences in terms of car insurance. My friends and I took a Mini Cooper for 370 euros for 5 days. There were 4 of us, and this option turned out to be very profitable.
What do I need to know about car rental in Spain? If you want to rent a car without deposit / deposit and without deductible, then make out the "supercover", ie, insurance with full coverage from the rental company upon receipt of the car. If you get insurance from a broker (the aforementioned sites), then leave a deposit. Also it is recommended to pay attention to the item about mileage limits (for example, for rent for more than 15 days there can be a limit of 100km a day).
How many airports are there in Barcelona?
Tourists vacationing in the capital of Catalonia by tour, usually fly into the main airport of Barcelona El Prat.
Meanwhile, independent travelers are familiar with at least two other places of departure and arrival, because Barcelona also has Reus airport and Girona airport. How to get from these locations is a frequent question, and we will also tell you about it, but for now let's clarify the situation.
If El Prat – the main airport, where most of the international and domestic flights of major airlines arrive, then Reus and Girona are mainly low-cost carriers – low-cost (such as all the favorite Pobeda or Ryanair). They are located farther from the city, and it's a kind of "payback" for a cheaper flight to Barcelona.
By the way, we recommend looking for tickets on Skyscanner and Aviasales. Compare the prices on both sites: they often differ. Moreover, you can compare prices by months (the first one) and calendar of low prices (the second one).
Tip: Low-cost airlines are profitable only if the difference with a regular airline is more than 1,000 rubles, because the transfer from Girona or Reus airport to Barcelona costs from 700 rubles. Sometimes you can grab a charter ticket for 8,000-9,000 rubles from Moscow round trip.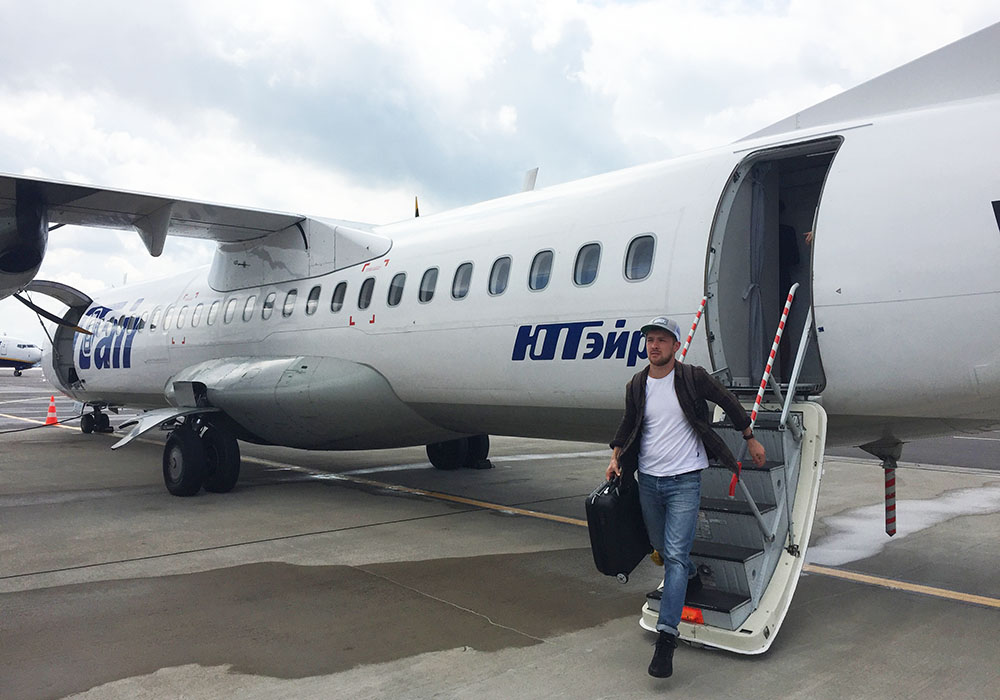 Girona airport: How to get to Barcelona?
The place of arrival of low-cost airlines is located 103 km from the capital of Catalonia. The distance is not particularly significant, so there is no problem how to get from Girona airport to Barcelona and back.
There are three options for transfer.
The simplest is the Barcelona Bus; the route is 602.
The first bus to Barcelona from Girona Airport leaves at about 09:00 and the last one at 00:30. In the opposite direction, from Barcelona to the airport, it leaves at 03:30 and runs approximately every 2 hours until 18:00. For the exact schedule, see the website: sagales.com.
The ticket costs 16 euros one way. If buying roundtrip, it will cost 25 euros; tickets can be purchased locally. Journey time is an hour and 10 minutes, in Barcelona they take you to the Estació del Nord bus station. The Arc de Triomf metro station is nearby and Plaza Catalunya is a 15-minute walk away.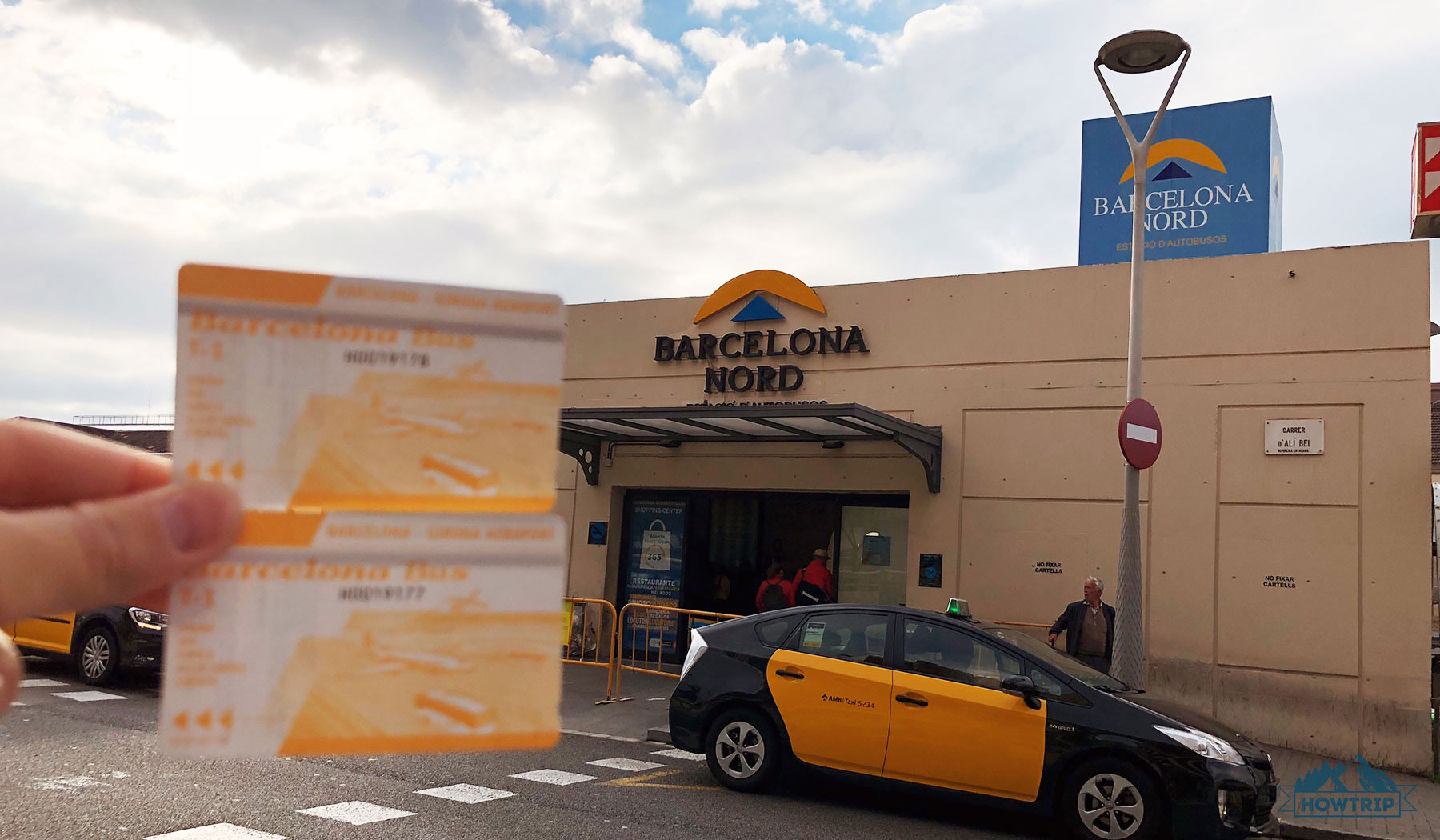 The bus station where we went to Girona airport
To get to Barcelona by train, you must first get to the city center. Girona is 12 km from the airport, which can be quickly reached by bus for €2.75.
For the timetable of all trains leaving from the train station in the center of Girona to Barcelona, see renfe.com. There are express trains that take 39 minutes to Barcelona Sants train station, and regular trains that take 1 hour and 33 minutes. All pass through the 3 main stations of Barcelona – El Clot, Passeig de Gràcia, Barcelona Sants. As for the cost, you can find promotional offers for €8.4. And on average, €11-16.
All these conditions also apply in the opposite direction – to get to Girona by train from Barcelona.
The most expensive option, €120-150 per car. If you still want to book a transfer in advance, look at KiwiTaxi.
Airport Reus – Barcelona: how to get there?
You can get to Barcelona from Reus Airport – 106 km – by two modes of transport.
Bus company Hispano Igualadina.
There are three buses a day, both to and from the airport. The schedule is coordinated with the aircraft arriving at the airport, so it changes every month. For example, in September the flight Moscow-Reus arrives on Wednesdays and Saturdays at 10:45, and tourists will have to wait until 17:10 to take a bus to Barcelona. Keep track of departure times at igualadina.com.
The trip takes about 2 hours, costs €14 one way, and takes the bus to and from Barcelona Sants bus station.
Hispano Iguladina also provides transportation to other cities in Spain from Reus airport.
In case of a long wait for the bus, it makes sense to take the train. There are no trains from Reus Airport to Barcelona, you must first get to the city of Reus. You can do it by bus L50 for €3, the stop is at the terminal. The bus runs every hour from 08:00 to 20:00. From the terminus Niloga 1 to the railway station of Reus is a 7 minute walk.
Trains from Reus to the Catalan capital depart from 05:30 to 21:22. Travel time is about 2 hours and tickets cost on average €9. Stop in Barcelona at Barcelona Sants and Passeig de Gràcia. From the same stations also pick up in the opposite direction.
Detailed route and timetable information is available on the Renfe website.
Hotels near Barcelona Airport
If you have a connection at night in Barcelona, or if you arrive too late because of flight delays, here is a list of great hotels near Barcelona El Prat Airport where you can stay inexpensively (prices are per double per night):
4* Tryp Barcelona Aeropuerto Hotel from 9000 rubles
3* NH Sant Boi – from 6,000 rubles
Apartamentos Porta Coeli – from 6 500 rubles
Motel Punt 14 – from 4,500 rubles
Camping 3 Estrellas – from 2,000 rubles
This material may be copied only with the compulsory indication of a direct, active and open for indexing hyperlink to howtrip.ru.