Berlin's 8 Best Restaurants
How can Berlin surprise food lovers? Learn about the best restaurants in the heart of the city: proud Michelin-starred restaurants, popular beer gardens, and places that honor German culinary tradition.
FACIL
Chef Michael Kempf's Michelin-starred restaurant is one of the best in Berlin. It serves à la carte. There is a menu for lunches and dinners. Brown crab, venison tartare, foie gras, gazpacho, raw wagyu meat in meat broth, delicious desserts – a hedonist's dream! The wine list is over the top, too.
Average check . A four-course set costs 126€, and a six-course set costs 166€. A dinner for two starts at €200.
Address: Potsdamer Strasse, 3.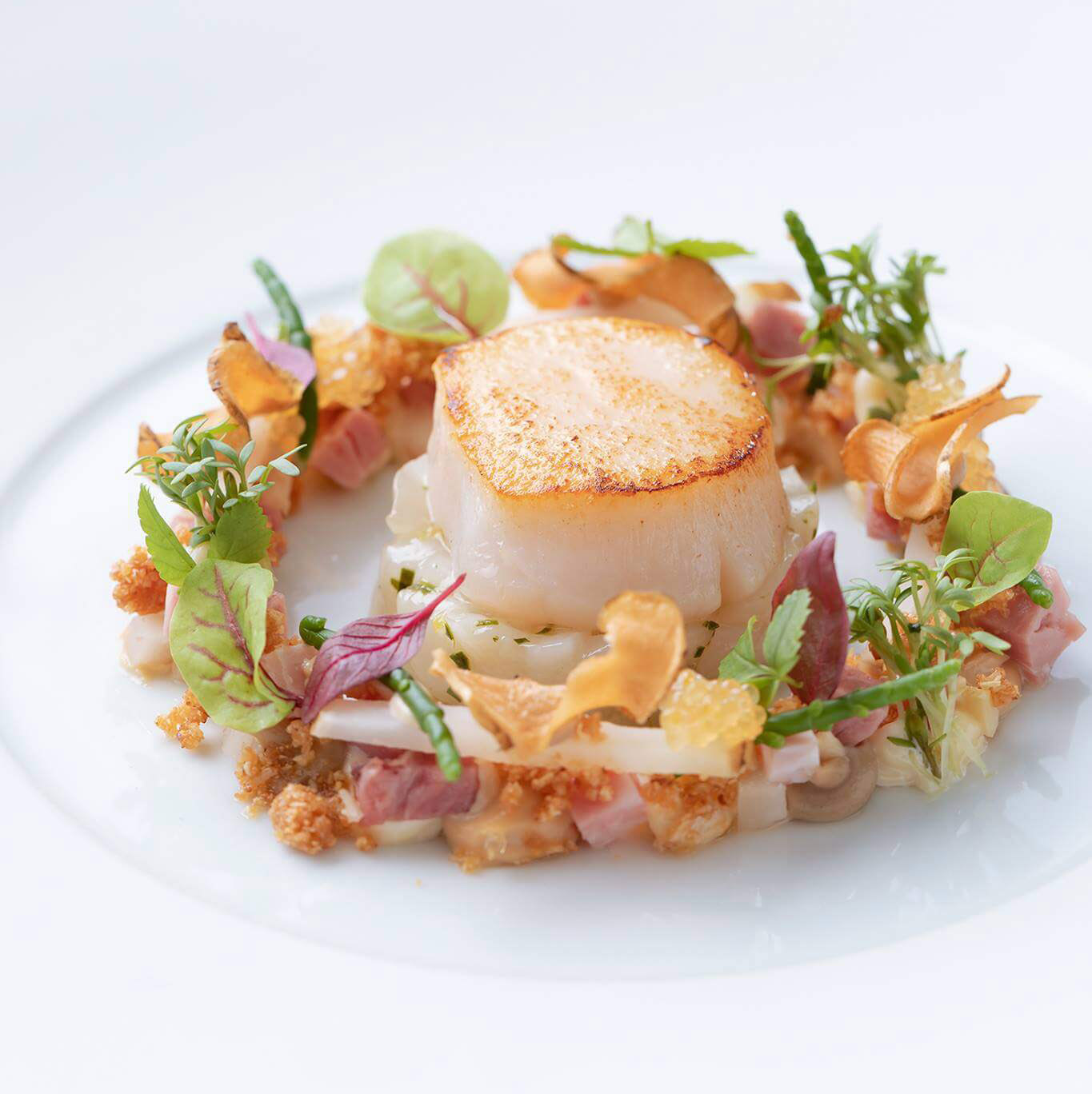 Scallop. Photo: FACIL.
Dae Mon
An unusual mix of flavors from Europe, Korea and Japan is offered at a restaurant in the center of Berlin. The avant-garde cosmopolitan cuisine is led by experienced chef Rafael Schünemann. Try octopus, chicken, mackerel sashimi, kohlrabi, enjoyable desserts and cocktails!
Average check . Meals start at 21€. A dinner for two will cost 110-150€.
Address : Monbijouplatz, 11.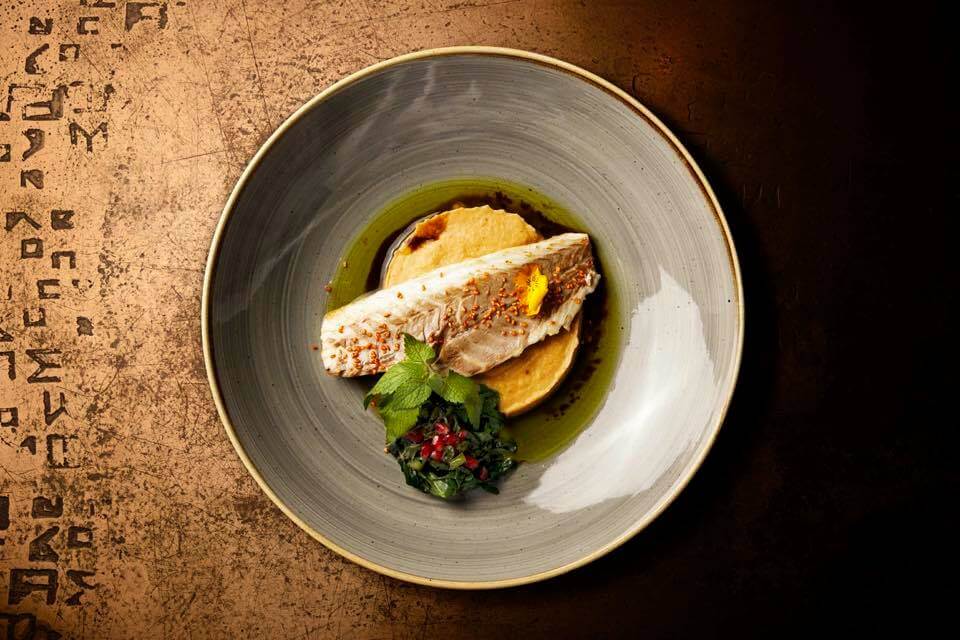 Sea bass. Photo: Dae Mon.
Capt'n Schillow
If you want to dine aboard an old ship, welcome to the Landwerkanal Canal. Celebrities once dined on the deck of this ship, and since 1996 the ship has been home to one of Berlin's best restaurants. Tourists are welcomed not only in summer. During the cold season, guests are treated to mulled wine and roast duck. Enjoy fresh fish dishes and admire the river streetcars passing by!
Average check . Lunch for two costs 40€.
Address : Strasse des 17. Juni 113.
High celebrities frequented the deck of this ship in the past, and since 1996 it has been serving one of the best restaurants in Berlin. Photo: Capt'n Schillow.
Marjellchen
German food fans are in for a treat at the restaurant in the Charlottenburg District. The conservative chef dispenses with experimentation and prepares traditional dishes from Silesia, Prussia and Pomerania. Owner Ramona Azzaro greets diners and treats them to juniper schnapps. She treats each guest with great reverence and counts the visitors from different countries with German punctuality. At the time of this writing, 5,611 tourists from Russia have dined at the restaurant.
The average bill . Dinner for two costs 40-60 €.
Address: Mommsenstrasse, 9.
Golvet
Not far from Potsdamer Platz, in the heart of the city you can find one of the best restaurants in Berlin. The well-deserved Michelin star comes with excellent food, delicious wine and impeccable service. A nice bonus is the breathtaking view of the Berlin Philharmonic and skyscrapers from a height of 32 meters.
The average check . Prices for meals start at 28€. Dinner for two costs from 110 €.
Address: Potsdamer Str. 58, 8th Floor.
Cookies Cream
If you're looking for the best vegetarian restaurant in Berlin, this is the Michelin-starred Cookies Cream on Bebelplatz. Chef Stephan Hentschel has boundless imagination and great sense of style. The guests are offered a French truffle with spinach, appetizing parmesan balls, vodka with rhubarb and rum cocktail with pineapple and chocolate. The restaurant's specialty is a completely open kitchen. You'll be able to see the dish you order being prepared!
Average bill . Dinner for two costs from 100 €.
Address : Behrenstrasse, 55.
Dumplings with parmesan. Photo: Cookies Cream.
Sphere
At a height of 207 meters, on the observation deck of the Berlin TV Tower, the popular restaurant "Sphere" operates. In one hour it makes a complete revolution around its axis. As an appetizer, try the king prawns and soft cheeses with figs, and as a main course, the well-cooked veal steak. To enjoy the panorama of the city, come to the restaurant when the weather is clear.
Average check . Main courses cost from 13.5€. Breakfast for two costs 21€ and lunch is 50€. Table reservations near the panoramic window cost 23,5 €.
Address: Alexanderplatz, Panoramastrasse, 1A.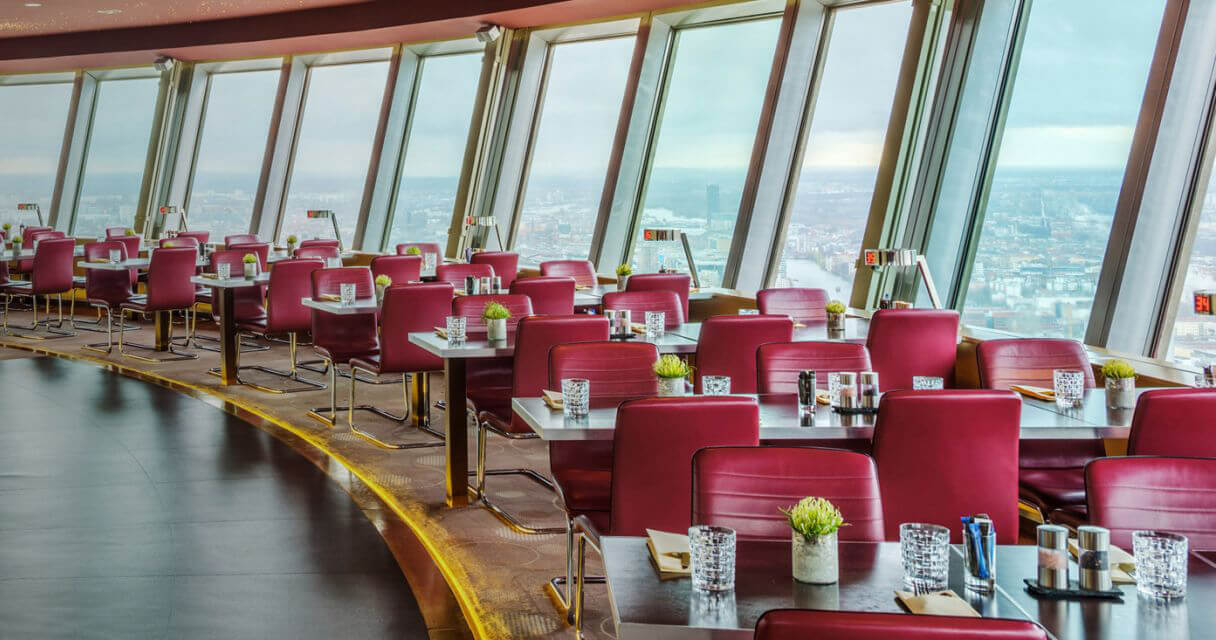 Table reservation next to the panorama window costs € 23.50. Photo: Cookies Cream.
Zur Haxe
Of the best beer restaurants in Berlin we recommend an institution that brings the cheerful traditions of Bavaria to the German capital. The guests sit at the oak tables, massive chandeliers hang from the ceiling and colorful waiters in leather pants walk among the visitors. The restaurant's excellent craft beer pours like a river! Tourists love the Nuremberg sausages, Obazza's signature appetizer, smoked pork knuckle, butcher's bread and baked trout.
Average check . Dinner for two costs 60€.
Address: Erich-Weinert-Straße, 128.
Photo: Zur Haxe.
Tips for choosing the best restaurant in Berlin
Berlin is a metropolitan city, so don't expect to find many ethnic restaurants, authentic beer gardens and taverns here. For gourmet German cuisine go to Munich, Dusseldorf or Frankfurt. Berliners themselves enjoy going to the Turkish fast food restaurant Döner Kebab for a hearty and cheap snack such as döner in a bun or Lahmacun Turkish pizza, Dürüm Turkish equivalent of shawarma, or Döner Teller with meat, rice and vegetables.
If you want to try national cuisine, you should go to Nikolajviertel, near Alexanderplatz. There are a lot of good restaurants there with delicious veal liver, smoked pork ribs, meat sausages and pork knuckle, as well as beer and schnapps.
Germans love to eat, but in the XXI century in Germany environmentally friendly, gluten-free and organic food is popular. For this reason, traditional German dishes are trying to make them lighter and healthier.
For fine cuisine and refinement, go to restaurants that have been awarded Michelin stars. There are 14 of them in Berlin. Five have two stars, and nine have one.
If you want a hearty, but inexpensive meal, get away from the bustling boulevards and avenues and look for restaurants where Berliners themselves dine. Restaurants that cater to locals guarantee a warm welcome, great food, and inexpensive prices.
The best restaurants in Berlin are not necessarily in the busiest locations. Restaurants that convey the atmosphere of the city can be hidden in non-touristy areas and can be reached by subway. "Discovering" such places is one of the pleasant pleasures during your walks around Berlin.
Taste Berlin: The best restaurants in the German capital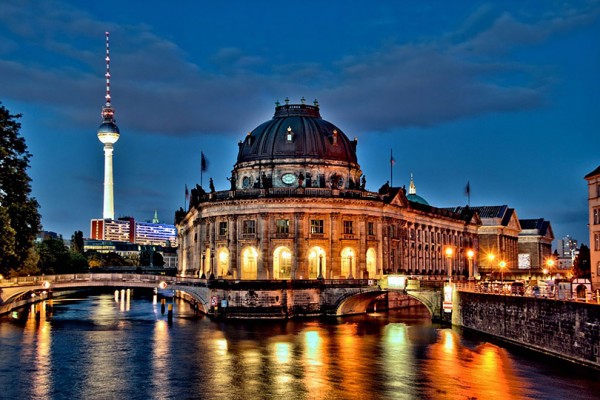 The weather in Berlin is great right now, which allows you to fully experience the amazing atmosphere of this city. So planning a trip there is a great idea. The Reichstag, Museum Island, and Brandenburg Gate are probably already on your list, and we'll tell you which cafes and restaurants to go to.
The Berlin restaurant market has made a quantum leap in development over the past couple of years, so it will be impossible to cover all the best. But we'll try to get you started. Get your cash ready: cards are not accepted everywhere in Berlin!
Market: Markthalle Neun, Kreuzberg
A big market with dozens of street-food concepts. Hello, Moscow gastromarkets: you haven't even dreamed of this kind of expanse yet. Markthalle Neun is the best thing that can happen to you in Berlin, especially if you don't know where to go for a snack. There are breakfasts, lunches and dinners too. Thai, Mexican and experimental Japanese food, homemade pasta, artisan breads, coffee, beer and wine. The latter will be on display in abundance on May 13 and 14: the market will host the already world-famous Raw Wine natural wine show. You'll meet some of the best producers from all over Europe, as well as many sommeliers and wine traders from Moscow and St. Petersburg.
Details Eisenbahnstraße 42/43 https://markthalleneun.de
Mine Wine, Charlottenburg district
If you like restaurants of Aram Mnatsakanov (Probka in Moscow and four more in St. Petersburg), then you should definitely go here. His approach to hospitality and gastronomy has blossomed even more on European soil. Wine list offers positions you're not likely to try in Russian restaurants while the menu offers a well-balanced mix of classic Italy in the form of impeccable homemade pasta or model tiramisu from Probka with modern trends and author's serving. Add to this a level of service and atmosphere that is rarely seen in Berlin.
Details Open daily from 17:30 Meinekestraße 10 http://minerestaurant.de/en
Nobelhart & Schmutzig, Kreuzberg
One of the most famous restaurants in Berlin today. Specializes on avant-garde, author's cuisine. It is absolutely not possible that you will agree with every decision of the chef, however it can at least surprise you. As, however, the local chef-sommelier can also surprise you. In a word, it is definitely worth visiting this place at least once, considering that the majority of its guests become regulars.
Details Opening hours: Tuesday to Saturday, 6:30 p.m. Friedrichstraße, 218 https://www.nobelhartundschmutzig.com
Ryōtei 893, Charlottenburg district
An inconspicuous restaurant with an exterior reminiscent of an abandoned building: the walls are ramshackle and covered in graffiti and the windows are dirty and mirrored, making it hard to tell what's inside. It's hard to believe that one of Berlin's trendiest places is located here. A native of Vietnam opened it, and even cool chefs like Tim Rae go here. The interior is semi-dark and the menu has Japanese cuisine with a designer twist.
Details Opening hours: Tuesday to Saturday, 6:30 p.m. Kantstraße 135
Bikini Berlin, Charlottenburg district
Big designer center: Clothes, accessories and lots of little food courts. Not only is it nice here to have a cup of coffee, eat ramen, pasta or a burger, but also to go shopping and be sure to sit on the veranda. Bikini's also has a 24-hour parking lot, by the way. Exhibitions and other art-events are held there from time to time. A corner of uncompromising modernity in Berlin: Stylish, fashionable and young!
Details Opening hours every day until 8:30 p.m. Budapester Str., 38-50 https://www.bikiniberlin.de
The favorite currywurst of Tim Raue, Germany's most famous chef today. A classic of the genre and has long been an important point on the city's map for locals. It is a crime to leave Berlin without having eaten his specialty sausage!
Details Mehringdamm, 36; opening hours: every day, 09:00 to 17:00 Hardenbergplatz, 9; opening hours: every day, 08:00 to 17:00 http://www.curry36.de
Bier's Kudamm 195, Charlottenburg district
Another pillar of Berlin's currywurst culture: this bar has been open since 1965. The specialty is not only the excellent sausages and fries, but also the exquisite pairing with them. You can wash them down with champagne, be it pink Moët or Dom Pérignon! In general the beautiful life is almost like in Kanye West's video.
Details Opening hours: Monday to Thursday, 11 a.m. to 5 p.m.; Friday and Saturday, 11 a.m. to 6 p.m.; Sunday, noon to 5 p.m. Kurfürstendamm, 195
Yafo, Charlottenburg district.
Israeli bars are very popular in Berlin, so it's not difficult to find a good one. For example, this one is small and incredibly cozy. Inside it looks like all the furniture was brought from a flea market (by the way, this is how most of the bars and cafes in Berlin look): different chairs and tables, knickknacks everywhere, a funny sofa and pictures in the loo. Most importantly, the service here is very cordial and the food is excellent Middle Eastern. The charismatic young hostess will playfully scold you if you come without a reservation, so it is better to call in advance, and the bartender easily speaks Russian. Probably it is for such, slightly crazy and free atmosphere that everyone goes to Berlin.
Details Opening hours: every day from 12:00 to 03:00 Gormannstraße 17B https://www.yafoberlin.com
Lon Men's Noodle House, Charlottenburg district
Asian food, which is cheap and hearty, is very popular among Berliners. That's why small Chinese and Vietnamese cafes are always packed. For example, this place right across from Ryōtei 893 is famous for its rich broths and wontons. Focus on those and get the chili ones without paying attention to the gigantic menu.
Details Opening hours: every day, 12:00 to 22:30 p.m. Kantstraße, 33 http://lon-mens-noodle-house.business.site
Paul Möhring, Mitte district
Besides noodles and sausages, ice cream and gelato are plentiful in Berlin and are of an excellent quality. You could give a long list of small cafés all over the city, but many of them are a little further away than the city center. There is, however, a famous ice cream cafe not far from Museum Island, in Mitte. Sure, they sell the classics as well, but come here for the signature, witty version: chocolate Holy Shit with chili peppers and pretzels, eyeball Einhorn or burger brioche with jellato.