Best hotels in Turkey 5 stars – all inclusive 2022
The unprecedentedly high demand for holidays in Turkey in the best five-star hotels near the sea, with a sandy beach is a reasonable concern for tourists wishing to vacation in the summer of 2022 in the wonderful resorts of Turkish Anatolia. It is physically impossible to bypass or call well-known tour operators in Moscow, who specialize in Turkey in search of the best prices "all inclusive" in 5-star hotels on the 1st line.
☀ Check out the prices for the best all-inclusive 5 star hotels in Turkey, located on 1 line with a sandy beach, high rating and receiving the most positive reviews for 2022. The review shows the price from proven and reliable tour operators, choose your favorite hotel and boldly book directly on the site.
Content
Lonicera Resort 5* Alanya
White City Resort 5* Alanya
Larissa Hill Beach 5* (HV-1) Alanya
Crystal Palace Luxury Resort 5* Side
Side Alegria Hotel 5* Side
Blue Waters Club 5* Side
Sentido Perissia Hotel 5* Side
Alva Donna Exclusive 5*Belek
Belek Beach Resort 5* Belek
Club Mega Saray 5* Belek
Sherwood Suites Resort 5* Antalya
Club Hotel Sera 5* Antalya
Kervansaray Kundu 5* Antalya
Concorde De Luxe Resort 5* Antalya
Sherwood Exclusive 5* Kemer
Larissa Art Beach 5* Kemer
Crystal Flora Beach Resort 5* Kemer
Delta Hotel By Marriott 5* Bodrum
Club Tuana 5* Fethiye
Marti Resort 5* Mamaris
Which resorts have more sandy beaches?
All tour operators are trying to work with hotels that offer tourists the best conditions for relaxation and enjoyment. Full holiday in Turkey tourists from Moscow and St. Petersburg are better to spend on a quiet, windless resorts of Antalya, Belek and Side, where most of the first-class 5-star hotels with meals "all inclusive", located on the first line with sandy beaches. In the southernmost city of Turkish Anatolia, Alanya, there is a very popular, wide and long sandy beach named Cleopatra, awarded with the Blue Flag, with a well-equipped infrastructure and surrounded by 4-5 star hotels. In the mountainous Kemer and the resorts of the Aegean Sea – the beaches are mostly sand and pebble, but it is good to stay there for a holiday to visit the many monuments of antiquity.
Turkey – 5 Star All Inclusive Hotels, First Line, Prices 2022 ▼
Alanya ☰
Lonicera Resort 5* Alanya Lonicera Resort is a five-star hotel in Avsallar. A new modern resort hotel with excellent water park for families with children, "ultra all inclusive", first line, 50 meters from the sandy beach. The common area with the hotel Lonicera World. The interiors are decorated in modern style. There is free internet access. Inzhekum beach is located a five minute walk from the hotel.
White City Resort 5* Alanya The White City Hotel is an all-inclusive 5-star hotel located on the first line in the Alanya Turkler region. The city of Alanya, Damlatas Cave, Alara River and Dimchay River are 30 minutes away. White City Resort has 205 rooms. The rooms mostly have a side sea view. Standard rooms can accommodate no more than 3 adults and 1 child's room of about 25 square meters. Each room has a toilet, shower, balcony, TV and air conditioning. Daily animation, land and water sports, evening show programs will make your vacation enjoyable. You will enjoy your holidays on the sandy beach, in the pools and in the comfortable rooms. The friendly staff will make you feel at home.
Larissa Hill Beach 5* (HV-1) Alanya Larissa Hill Hotel is a 5* all inclusive star hotel (ex. Green Hill Holiday Club) located in Konakli, Alanya, on the beach front. The sandy beach of Green Hill is nearby. It is 5,5 km to the center of Konakli. CONCEPT: Complimentary service and activities; Breakfast, Lunch, Dinner, Night Buffet (buffet in the main restaurant), Special Buffet for children for lunch and dinner, Some local and foreign alcoholic and non alcoholic drinks, Snack Bar, Catering, Bakery, Bar, Hot and Cold Drinks, Pools, Slides, Mini Bar, Fitness Center, Turkish Bath, Sauna, recreation room, mini club, mini disco, playground, tennis court, tennis balls and rackets, chess, backgammon, playing cards, darts, table tennis, beach volleyball, pool games, step, aerobic, live music, disco, beach and pool deckchairs and umbrellas, beach towels (cards), Wi-Fi coverage and parking.
Side ☰
Crystal Palace Luxury Resort & Spa 5* Side The Crystal Palace Hotel 5* Ultra All Inclusive Crystal Palace is built on the first line of the private sandy beach of Side-Cholakli (Blue Flag) and is only 55 km from Antalya International Airport. The 392 rooms have direct sea view or side sea view and all rooms have a balcony. They are comfortably decorated and designed for an excellent holiday. The rooms have laminate flooring, block card system, central air conditioning and heating, LCD TV with satellite TV and music channel, mini bar, safe (suitable for laptops), direct dial telephone, Wi-Fi, free (up to 100kbps, if you want speed higher, you pay). Bathroom accessories: telephone, hairdryer, shower, 220 volts.
Side Alegria Hotel 5* Side Adults only. Side Alegria Hotel is ideally located on the first line (across the promenade), 150 meters from a private, private, sandy beach. Kumkoy resort is about 500 meters away, and Manavgat tourist center can be reached in 10 minutes by cab. Antalya Airport is 55 km away. Leisure facilities at the hotel include a wellness center and beauty salon, Turkish bath, sauna, gym, indoor pool and outdoor pool with children's pool and poolside snack bar. Guests can also take part in aqua fitness, table tennis, bocce, soccer, beach volleyball, surfing and an adult entertainment program. The minibar is stocked with water.
Blue Waters Club 5* Side Blue Waters Club with its unique location and nature, new face and unparalleled service promises you a pleasant vacation and an unforgettable vacation that will surpass your dreams in our fast-paced period of life. The complex is located on an area of 230,000 m2 and is 5 km from Side, 65 km from Antalya Airport. It has a very nice big sandy beach with easy access and there is also a pontoon. This is a paradise on earth worth discovering.
Sentido Perissia Hotel 5* Side The Sentido Perissia Hotel is located on the west side of Side on the Turkish Riviera. The Sentido Perissia has an expansive and beautiful sandy beach just a stone's throw away on the first line. The distance to Side city center is about three kilometers. Side itself has an interesting townscape. In addition to the ancient antique houses there are modern buildings. Sentido Perissia is a 5-star hotel with a wide and varied all-inclusive offer.
Belek ☰
Alva Donna Exclusive 5* Belek ALVA DONNA EXCLUSIVE HOTEL & SPA is a 5 star hotel in Boğazkent / Belek. The hotel is open all year round and covers an area of 64,000 m2. It speaks Turkish, English, German and Russian. The sandy beach is 300 m long and 50 m wide, so all guests can easily find their snug spot in the sun. On the beach are free of charge sun loungers, umbrellas and towels. The beach has a snack bar, beach bar, VIP pavilions, and there are additional areas for children and an area for 16+. A children's club and plenty of activities and animations create a holiday so that even the youngest guests can have a great vacation with their parents.
Belek Beach Resort 5* Belek Beach Resort 5-star hotel is located right on the first line of the coast with a sandy beach. It offers heated pools, free Wi-Fi, spa and wellness center, and air-conditioned rooms with cable TV and balcony. A water slide provides entertainment for all ages. A sun terrace, lounge chairs and umbrellas are available. The hot tub provides a pleasant way to relax. The establishment offers a wide range of outdoor activities, including beach volleyball, crazy mini golf and tennis, bocce, basketball, mini golf and many other sports, including water sports such as aqua aerobics and aquafit.
Club Mega Saray 5* Belek Club Mega Saray is an all-inclusive 5 star front line hotel. A children's playroom (free). 8 Restaurants. Bars/lounges 6. 3 Poolside bars. Bar on the beach. Coffee/tea in the public area. Interesting Activities: On the indoor beach Beach beds. Enclosed pool. Children's pool. Fitness center. On-site tennis court. Full-service spa. Jacuzzi. Bicycle rental at the hotel. Parasailing on site. Sailing on site. Surfing or boogie boarding. Golfing nearby. Free admission to the water park. Beach umbrellas. Water slide. Sauna. Beach towels, sun loungers by the pool for free. Games room for children.
Antalya ☰
Sherwood Exclusive Lara 5* Antalya The Sherwood Breezes Resort (ex. Sherwood Breezes Resort) is a 5-star hotel located in the village of Lara near Antalya, on the first line of its own 165 meters long sandy beach awarded with the Blue Flag. Special mention should be made of the design: a beautiful stylization of buildings and interiors of the complex in Sherwood Forest from the well-known tale of Robin Hood, allowed the competent planning of beautiful and very comfortable area. In this complex the rooms are very spacious and comfortable for living with children, with a panoramic view of the sea from the wide windows. Umbrellas, sun loungers, mattresses and towels are free of charge. Antalya Airport is about 10 km away. Free wi-fi in the room and at the reception.
Club Hotel Sera 5* Antalya Club Hotel Sera is a five star hotel with a lot of mirrors of different shapes and sizes and is the epitome of a luxury beach holiday on the Turkish Riviera. Located on 40000 m2, it boasts a privileged first line position, 200 meters of fine sandy beach and crystal clear waters of the Mediterranean Sea. The center of Antalya is 12 km away. Wi-Fi connection is free everywhere.
Kervansaray Kundu 5* Antalya The Kervansaray Kundu is a luxurious 5-star ultra all-inclusive beach hotel with a superb frontline location in the popular holiday destination of Lara on the Turkish Riviera, famous for its beautiful sandy beaches. The center of Antalya, the capital of the region, with its old town, harbor, countless stores and entertainment venues is just a short drive away. A spa, sauna, hammam and beauty salon are among the wellness services offered. The facility offers great recreational opportunities and opportunities to spend your free time with options such as an entertainment program for adults, an entertainment program for children, a disco and a children's club. Umbrellas, sun loungers, mattresses and beach towels are free. We recommend for a respectable, relaxing holiday.
Concorde De Luxe Resort 5* Antalya Hotel Concorde De Luxe 5 stars is located in the new resort area Lara in Antalya on the Turkish Riviera. The sea is just a few steps away. The beach is private, sandy and quite spacious. It is divided into several zones: a place in the sun, under awnings and the so-called "16+" area for adults only. The Lara resort area is characterized by high quality and first-class hotel facilities and is about 15 km from Antalya International Airport. The transfer time from the airport is only 15 minutes, so a vacation can basically start as soon as you arrive at the airport. Nearby Concorde De Luxe Resort you will find many boutiques and stores which invite you to stroll and shop. The center of Antalya is about 16 km away. The best way to reach it is by a Turkish-style cab (Dolmusch) located right in front of Concorde De Luxe. Or you can take your own hotel shuttle or cab for about 20 minutes.
Fame Residence Lara & Spa 5* Antalya The 5-star Fame Residenz Lara hotel is located in the Antalya and Belek region on the first coastline of the Turkish Riviera. 442 modern rooms are located on nine floors. Almost all family rooms and suites have a balcony, where you can enjoy the first rays of the sun in the morning. The hotel has a main restaurant serving all-inclusive delicacies, with special menus for vegetarians, diabetics and children. You can relax and sunbathe on the hotel's own sandy beach, about 125 meters long, right by the hotel and bathe in crystal clear water. If you want to really relax, take advantage of the hotel's wellness and spa center. In the jacuzzi, steam bath, hammam or sauna you will spend pleasant hours for two, while your children have fun in the miniclub with experienced animators.
Kemer ☰
Sherwood Exclusive Kemer 5* Kemer A modern, ultra all-inclusive hotel in the village of Beldibi, meeting the most exquisite requirements, offering accommodation for adults and children. 5-star hotel on the first line with sand and pebble beach with a high level of service, a wide range of exciting attractions. Suitable for holidays with children. Built in 2017.
Larissa Art Beach 5* Kemer Larissa Art Beach Kemer is located on the first line by the sea. The 5-star hotel has its own sandy and pebble beach. You can have fun in the outdoor pool. The all-inclusive concept offers everything you need for your comfort. During your vacation, you can spend your time doing activities such as beach volleyball, tennis, table tennis, darts, billiards, pinball. A mini-football option is available for children. For those who want to have a rousing time, there is an evening disco, live music and an amphitheater. For the kids there is a mini club with funny animators.
Crystal Flora Beach Resort 5* Kemer Crystal Flora Beach Resort is located in Beldibi with a sandy-pebbly beach, its own pier, swimming pools of different sizes and water park. Relax at the full-service spa, where you can enjoy massages, body treatments and facials. You can bask in the sun on the private beach or enjoy other recreational opportunities, including the outdoor pool and water slide. The resort also provides free wireless Internet access, concierge services and an arcade. The beach, though pebbly, is made a special entrance by sandbags.
Bodrum ☰
Delta Hotel By Marriott 5* Bodrum Delta Hotels by Marriott is an impeccable full-service hotel that has been thoughtfully designed with the experienced traveler in mind. Guests can take advantage of services and amenities that offer reasonable value for money, including fast free Wi-Fi, free bottled water every day and other nice deals. With a focus on the details that really matter, the hotel makes them perfect – welcome to Marriott's modern and sophisticated Delta Hotels.
Club Tuana 5* Fethiye (ex. Majesty Club Tuana Park). Club hotel on the first line for lovers of active recreation. It consists of two parts: the club part is located on the shore, "Tuana Park" – across the road from the club part. Vacationers enjoy the infrastructure of two hotels. Pros: the territory of the hotel, it is huge and very beautiful. A lot of entertainment for children, an excellent baby club and a zoo. The sea is clean, there is a sandy beach for children. Pier with stairs in all its parts. The staff is friendly.
Marmaris ☰
Marti Resort 5* Marmaris Located by the most beautiful bay in Marmaris, Marti Resort invites you to a sun and sea holiday with clean air, "Blue Flag", and a 115 m long and 33 m wide sand and pebble private beach. It consists of 260 rooms and 12 luxury villas in 4 different blocks. All rooms have a wonderful view of the bay of Icmeler and the hotel staff ensures that all guest preferences are easily met. All rooms are equipped with central heating, cooling system, balcony, terrace, direct telephone line, various satellite channels, TV music broadcasting, hotel information channel, mini bar, safe, telephone and hair dryer in the bathroom. The hotel is located in a prominent position at the entrance of Icmeler on the left side of the main road from Dalaman.
Do you want to book a trip to Turkey, but find it difficult to find a tour operator?
Ekaterina is here to help!
Start choosing a tour together with Masha.
Turkey, Leisure – price calendar 2022
According to statistics for the year 2022 families with children choose to rest in the best hotels in Turkey on the 1 line with sandy beaches in the summer: in June, July, August; older people prefer 5 stars "all inclusive" in May or September, given the low prices and moderate temperatures.
Buy a tour to Turkey from Moscow or St. Petersburg to hotels 4-5 stars on the first line, close to the beach in 2022 will help you with the travel calendar, choose a comfortable season for your holiday and compare prices, including different months:
Tours to Turkey to beach hotels 5 stars includes: round trip flight price, free transfers, accommodation, meals, medical insurance.
You can buy tours to the best 5 star hotels in Turkey with its own sandy beach on the official website of tour operator Tez Tour, and on search aggregators Travelata and Level-Travel – they quickly select the trip to 15 parameters and will help you buy a tour, taking into account your wishes.
Last minute tours to Turkey from Moscow – first line hotels 5 stars all inclusive
Searching for last minute tours to Turkey from Moscow in 5-star hotels "all inclusive" on the first line with a sandy beach eliminates the possibility of finding the lowest prices because of the lack of time for a thorough selection.
Best sandy beaches in Turkey with 5 star hotels
We are sure – if you vacation, it's at a resort with a sandy beach! Find out where in Turkey the most popular beaches with sand and which 5* hotels on the Mediterranean and Aegean coasts get the highest ratings from tourists.
Turkey's resorts with sandy beaches
No matter how beautiful the beaches with pebbles are, they have a significant drawback – you can't find soft sand on them! For this reason, most tourists dream of vacationing in hotels in Turkey with sandy beaches.
In the Mediterranean, the beaches have sand in Alanya, Antalya, Belek and Side. Bulk sandy beaches are not difficult to find in Kemer, for example, near the elite first-line hotels Magic Life Der Club Kiris 5*, Mirage Park Resort 5* and Rixos Beldibi 5*.
On the Aegean Sea the resorts of Didim, Fethiye, Izmir and Kusadasi are famous for excellent sand. A few cozy beaches are spread near Bodrum and in the vicinity of Marmaris. If you prefer the stones of the sea, you can choose the pebble coast of Kemer and Antalya!
Which are the best sandy beaches in Turkey?
Cleopatra Beach . In our opinion, the top of the country's sandy beaches is headed by the picturesque coast with light sand in Alanya. According to legend, the Roman commander Mark Antony presented this beach to Cleopatra, so that the beauty could enjoy bathing in the sea and not hurt her delicate feet on the stones. Find tour "
Inzhekum . The golden beach 20 km from Alanya is known for the pine forest on the shore and the turquoise sea water. Find tour "
Side . A promontory with a temple of Apollo divides the city beach into two parts. The west is more crowded, while the east has no bars or stores. The soft sand and large stretches of shallow water are suitable for baby bathing. Find tour "
Kumkoy . 3 km from the center of Side is a spacious beach, where fans of nightlife and partying like to spend time. Find tour "
Belek . The entire coastline of the respectable 20 km long resort is a paradise for connoisseurs of sandy beaches of the Turkish Riviera. For cleanliness, greenery and impeccable service Belek beaches are awarded the honorary Blue Flag. The Central beach of the resort and the coast in Kadriya are considered the best. Find Tours "
Lara . One of the longest sandy beaches in Turkey stretches for 12 km. Along the coarse sandy shore stand luxury all-inclusive hotels and an excellent promenade. Almost all of the beach is municipal, but individual sections are owned by hotels and restaurants. Find tour "
Kundu . The small resort is built up with respectable hotels. Tourists live in luxurious palaces! On the shore is dark sand, and near the water is well rounded pebbles. Find tour "
Ladies Beach . Kusadasi is one of Turkey's most famous sandy beach resorts. Ladies beach is famous for its white sand and sprawling palm trees. There are cafes, showers and changing rooms for tourists. Find tour "
Yilandjiburnu . Quiet comfortable beach in Kusadasi, 500 m from Pigeon Island.
Kushtur . Beach 1 km north of the center of Kusadasi. The 1 km long sandy beach is loved by parents with children. In the afternoon, small waves usually rise here. Find tour "
Altinkum . The name of the municipal beach in Didim means "golden sand" in Turkish. Here it is nice to sunbathe, ride a water bike, have fun in the disco and do windsurfing. Find tour "
Gumbet . 3 km from the center of Bodrum in a cozy bay of Gümbet is a sandy beach, which is suitable for all tourists. In some places up to a decent depth you need to go, and in others it becomes deep in 5-7 meters from the shore.
Akjarlar . A luxurious beach is located 20 km away from Bodrum and is shaped like a crescent. The way down to the water is gentle and safe.
Turenc . A small resort 20 km south of Marmaris, it is surrounded by picturesque wooded hills. The beautiful bay is Blue Flag rated. The shore is covered with a mixture of sand and pebbles, and the sea bottom is pebbly. Find tour "
Blue Lagoon . Turkey's calling card – a protected area with white sand and emerald water in Oludeniz. Find tour "
Iztuzu . The wide 5 km long spit in Dalyan is not only liked by fans of sandy beaches. This place was chosen by turtles. Every year they make more than 300 clutches of eggs, from which thousands of baby turtles then emerge.
Izmir . The western region of Turkey is a great place for beach activities! There are 52 beaches in Izmir province which have been awarded the Blue Flag. Cesme Peninsula, Cark Beach in Alacati, Pashaliman Bay, Sazlica, Foca Town, Akvaryum Koyu in Dikili, Pissa Plajı and Fame Beach in Bademli and Pamucak Beach in Selcuk are all famous for their sand and crystal waters. Find tour "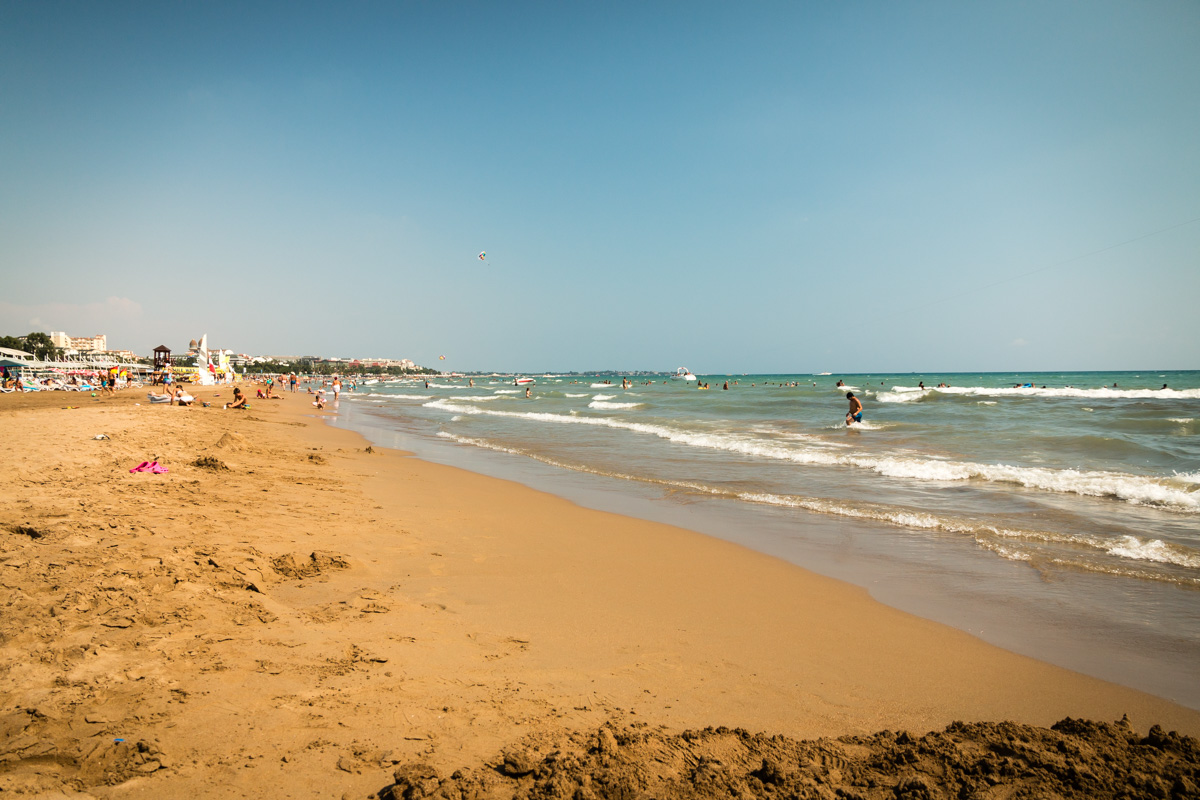 Kumkoy Beach. Photo: marcelstockmann / flickr.com / CC BY-NC 2.0.
Top 10 5* hotels with a sandy beach
Aydinbey King's Palace & Spa 5*.
If you want an all-inclusive vacation in Turkey, check out the 5* resort hotel, which is located 6 km from the center of Side. The modern hotel complex stands on the shores of the Mediterranean Sea and has a private sandy beach. Guests like the clean coastline and easy access to the water.
The hotel's private sandy beach. Photo: Aydinbey King's Palace & Spa. The area of the hotel. Photo: Aydinbey King's Palace & Spa.
Amara Premier Palace 5*.
The pearl of Kemer resort area in the seaside village of Beldibi is located on the first line, surrounded by picturesque mountains. This elite hotel is famous for its beautiful design, facilities, green area and its own pier. If the sea is stormy, swim in the outdoor pools!
Hotel area. Photo: Amara Premier Palace. The beach near the hotel. Photo: Amara Premier Palace.
Maxeria Blue Didyma 5*.
A marvelous 5* hotel with a sandy beach welcomes guests in Didyma, on the Aegean coast. In addition to luxurious rooms and all-inclusive meals, the hotel has a large water park, a playground for children and a modern spa center.
Hotel area. Photo: Maxeria Blue Didyma. Water park on the territory of the hotel. Photo: Maxeria Blue Didyma.
FUN&SUN Life Belek 5*.
An excellent option for a holiday in Turkey with children – a 5 * hotel with a private sandy beach in Belek. The area is designed so that adults can always find a corner for relaxation, and children – for fun games. The hotel has its own beach with fine sand, just 100 meters away.
Hotel room. Photo: FUN&SUN Life Belek. Hotel beach. Photo: FUN&SUN Life Belek.
Annabella Diamond 5*
Inzhekum is a quiet resort village, 23 km away from Alanya, which is ideal for a beach holiday. There is no no noisy nightlife. Near the hotel there is a pine forest, so the air is saturated with the tart smell of pine needles and salts from the sea. At 50 meters from the hotel there is a wonderful beach with golden sand.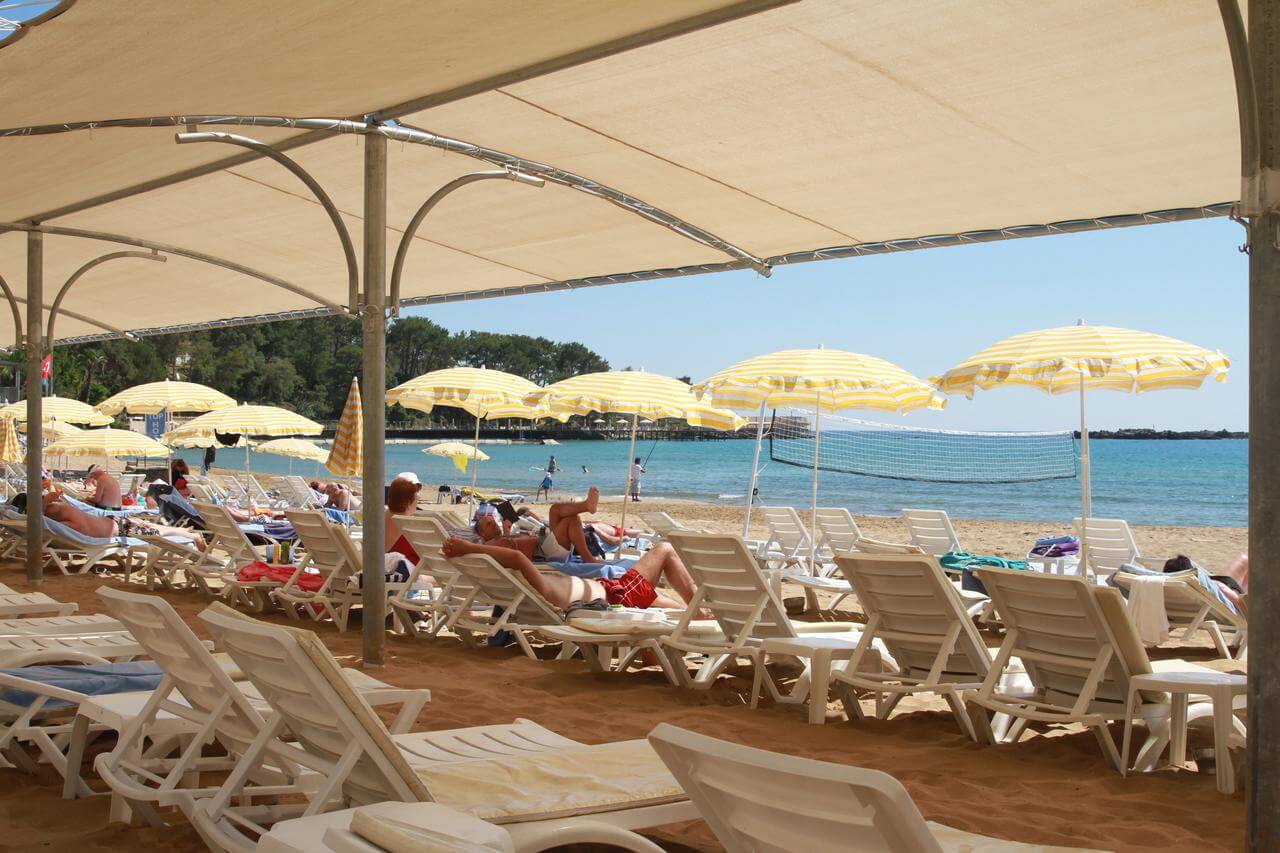 The beach area of the hotel. Photo: Annabella Diamond.
Concorde De Luxe Resort 5*.
A respectable hotel near the popular beach of Lara is one of the top hotels in Turkey. Guests rest on a private beach, relax in the health center, play tennis, bowling and billiards. Tourists appreciated the futuristic design of the building and the excellent beach bar.
Tourists appreciated the futuristic design of the building. Photo: Concorde De Luxe Resort. The beach near the hotel. Photo: Concorde De Luxe Resort.
Adalya Elite Lara 5*.
The popular first-line hotel with a sandy beach in Antalya is a whole city with a luxurious garden, an outdoor pool, a pleasant spa, a restaurant and bars. The service is so impeccable that you can easily feel like a celebrity!
Hotel grounds. Photo: Adalya Elite Lara. Beach at the hotel. Adalya Elite Lara beach.
Sunis Kumkoy Beach Resort & Spa 5*.
One of the best places for family and youth holidays is located next to the wide sandy beach Kumkoy in Side. From the elite hotel to the golden coast just 150 meters. From the balconies you can admire the sea. Kumkoy has entertainment and all the necessary infrastructure for tourists.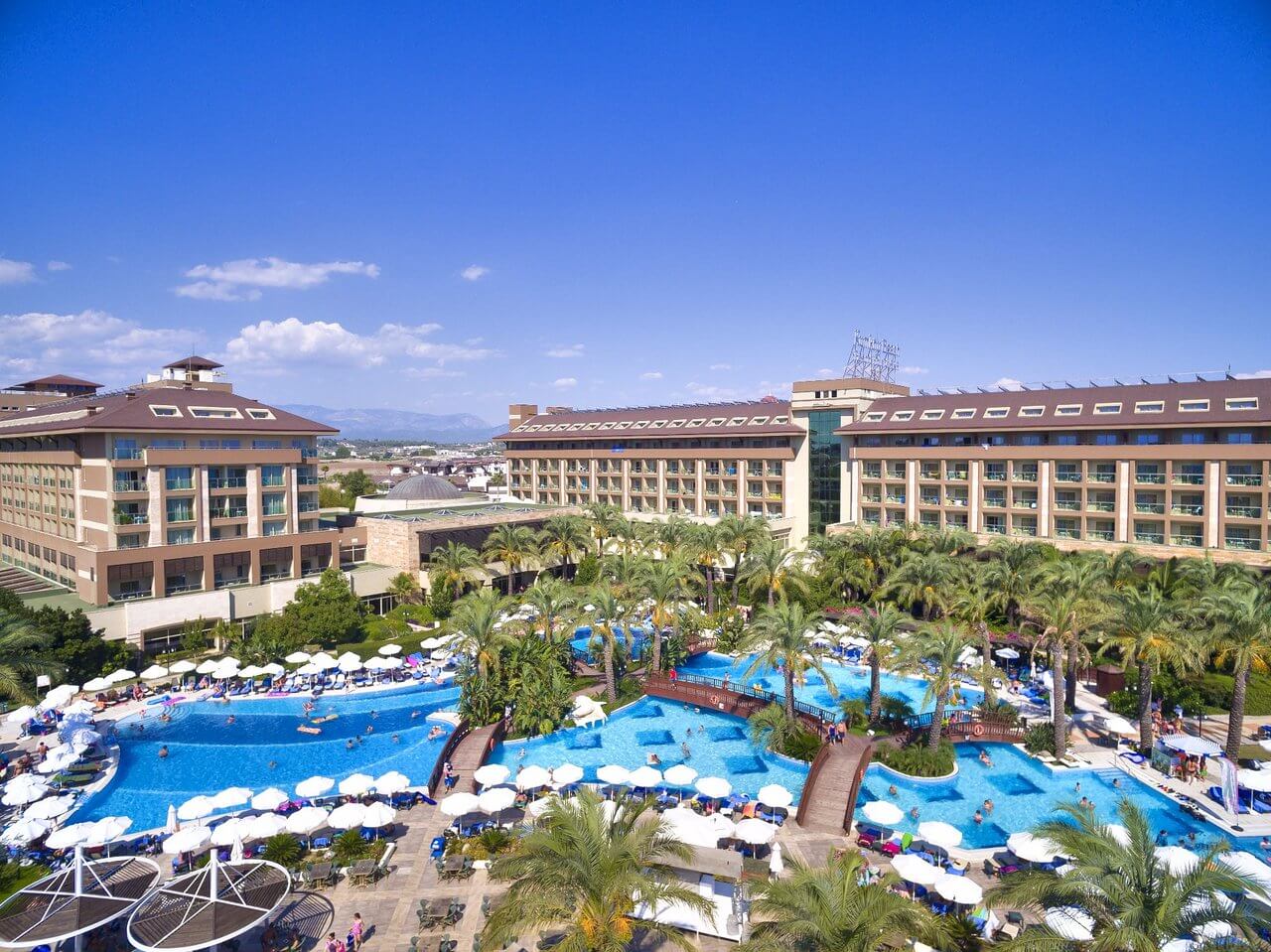 The area of the hotel. Photo: Sunis Kumkoy Resort & Spa. Cholakli beach. Photo: Miguel Discart (Photos Vrac) / flickr.com / CC BY-SA 2.0.
Ali Bey Park 5*.
The hotel near the beach in Kizilagach looks like a revived Oriental fairy tale. In the middle of the shaped pool rises an elegant schooner. Buildings where tourists live, surrounded by landscaped garden, and rooms are decorated in elegant Ottoman style.
Beach umbrellas in front of the hotel. Photo: Ali Bey Park. Pool at the hotel. Ali Bey Park photo.
Commodore Elite Suites & Spa 5*.
This large hotel complex is located next to the Commodore Elite Beach, which has been awarded the honorary Blue Flag. The Evrenseki coast in Side resort area is famous for its excellent climate and soft clean sand.
The hotel area. Photo: Commodore Elite Suites.