Why I won't go to Karelia again
Karelia attracts tourists with its nature and comparative cheapness.
For some reason, these places seemed very beautiful to me, but I didn't go there especially, there were more interesting options for travel.
But in the past 2 years has been there twice, in summer and winter, and both times passing through. To be more exact, the first time I went exactly to Karelia by car, but after staying there for 2 days I decided to go further, to the Kola Peninsula, and I didn't regret it a bit.
What I did not like in Karelia
It is a long way to go.
It seems that it is only 1000 km from Moscow to Petrozavodsk, not far at all. But there is nothing to do in Petrozavodsk. A little further are the natural sights, but the nature is very reminiscent of the Moscow suburbs. To see the northern nature must go closer to the Murmansk region. And I can rent a house in the woods even in Moscow region.
Sightseeing
Probably, many will not agree with me, but I thought all the Karelian attractions, where I was "sucked out of thin air.
I really didn't like that you have to pay to get in everywhere. No, it's not that I feel sorry for the 300-400₽ entrance fee, although no, I do not want to pay for "sucked out of thin air" attractions.
Let me go deeper into the subject:
Ruskeala Mountain Park, for example.
The entrance costs 350₽. For that money, you only get the entrance and not the most polite employees who offer to buy a tour for 500₽ instead of answers to simple questions.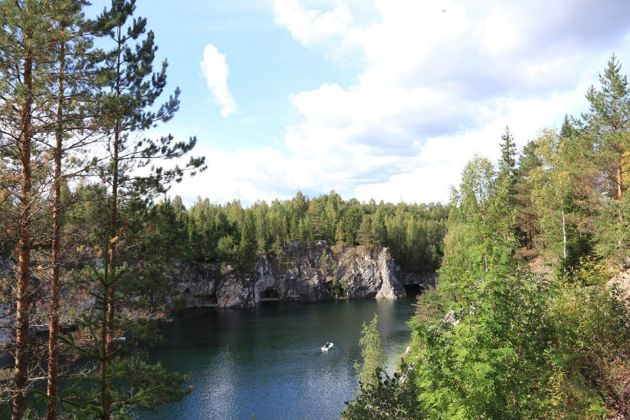 Ruskeala Mountain Park.
Paying 350₽ for admission, you can walk around a fairly ordinary quarry. For an additional fee, there are tours, you can go boating, visit caves, and bungee jumping. I jumped with bungee jumpers – the view of this one was somehow completely unreliable. For an hour went around all – nothing special, such places have seen a lot, though for the entrance fee was not taken anywhere.
Take, for example, the Grand Canyon in the U.S.. Having paid for the entrance, you could drive for a week along the perfect park roads, stay overnight in fully equipped campsites, get the sightseeing maps, helpful employees, who will gladly tell you all the information about the park and an equipped information center.
Kivach Reserve
The cost of the visit is 200₽.
There you can see this waterfall and wooden figures scattered around the park.
Kivach Waterfall
I was not interested to see it at all after the waterfalls of other countries.
Here are, for example, the waterfalls of Iceland, visit, by the way, is free.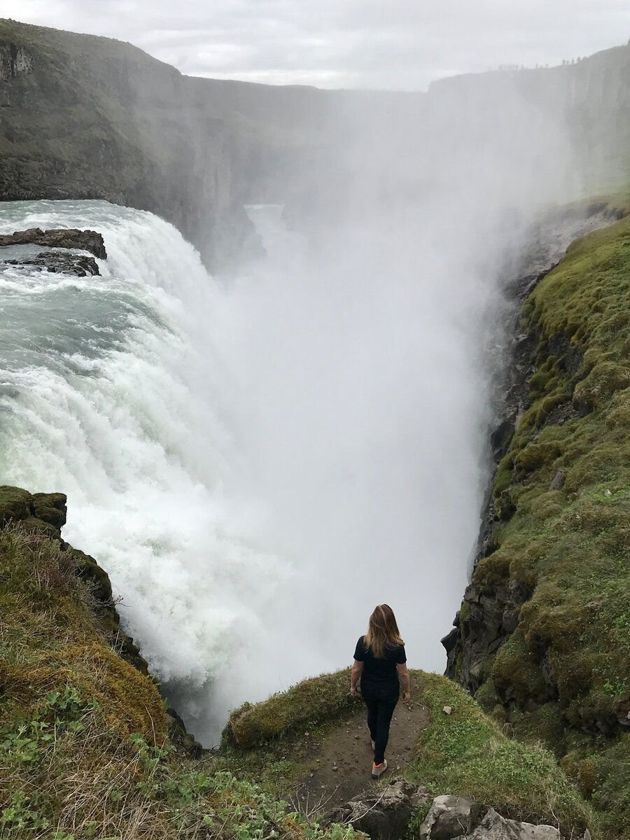 Waterfall in Iceland
And here is another tourist spot with paid admission – Ruskeala Waterfalls.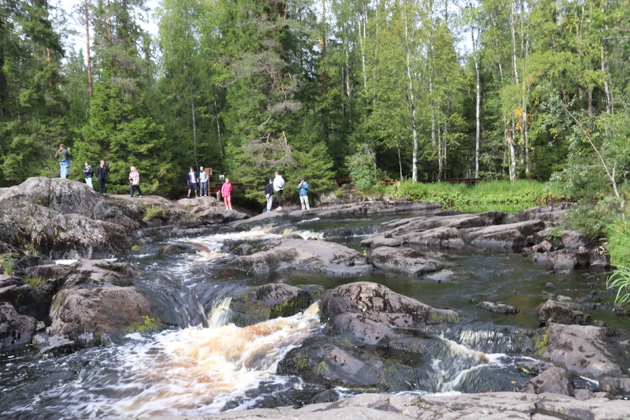 Ruskeala Waterfalls.
Roads
The central roads are good, but if you turn off – bump on bump. To many lakes you can pass only by off-road car. We, making our way to one of the lakes, were looking for a tractor in an hour.
By the way, the water in the lakes was quite cold.
Nevertheless, I think Karelia is worth seeing. If I lived in St. Petersburg, I would gladly go there for a weekend in a rented house, with a cheerful company. Shish kebabs, quad bikes, fishing, berries, mushrooms – great!
But here in terms of attractions until I do not understand it. Maybe, of course, somewhere I was not there?
Subscribe to my channel not to miss interesting materials about travel and life in the United States.
Top 5 little-known places in Karelia
A land of clear and cool lakes, century-old forests, ancient monuments, strong and generous people who do good deeds – this is Karelia. Many people know Kizhi and Ruskeala, everyone has heard about Valaam and Kivach. But today we will tell about places, which are not known to everyone. From this they are only more attractive to rest, given the demand for domestic tourism.
Excursions in Karelia
The most interesting excursions are routes from locals on Tripster . You can start with a sightseeing tour of Petrozavodsk. Walk along the embankment, the former Sobornaya Square and the secret streets of the Old Town. And see two wonders of Karelia – volcano Girvas and waterfall Kivach (4 hours, by guide car).
Lake Pisanec
Coordinates: 63.239409, 32.942380
This name has something Italian in it. But this is the only thing that connects the lake with the warm and carefree country. Lake Pisanec has an unusual shape. The water mirror stretches for 7 km in length. The width of the reservoir is from 100 to 200 m.
The water in the Karelian lake is clean and clear, and the shore is stony. People come here for a quiet rest. In this place it's nice to sit by the evening fire, to dream, to talk to the companions about everyday things.
Girvas is a long-living man among its fellows
Coordinates: 62.474038, 33.678208
Walking about the surroundings of Girvas
Residents of Karelia are well aware of the village of Girvas. It would be unremarkable if it were not for extinct volcano of the same name. Unusual spectacle are streams of petrified lava. Tourists like to walk on them. Perhaps at this point there is a sense of belonging to the oldest extinct volcano on Earth. Tours to Girvas are taken from Petrozavodsk on a regular basis. And they are in demand not only among those who have a penchant for everything unusual.
The landscape, as they say now, is extremely Instagram-friendly. And probably would be suitable for filming a movie about uncharted planets.
Falls Valley
Coordinates: 61.478355, 30.023565
Waterfalls and rapids of Karelia
Wildlife Park "Valley of Waterfalls" is one of the most beautiful, but clearly underestimated places in Karelia. It is located next to the river, which has a difficult to pronounce name "Iijoki". Like many other things in Karelia, it sounds mystical. And already in advance tunes visitors on a fairy tale mode.
And really, this corner of the nature is almost a magic place for rest. Its waterfalls look more like rapids, but their beauty does not fade. And what an amazing nature there! The forests surrounding the area are beckoning under their shade. The air is clear and fragrant with the scent of pine, you can inhale it endlessly.
The valley of waterfalls is only 20 minutes away from the border with Leningrad region. You don't even need to fly to Petrozavodsk to get there.
One of the most popular excursions from St. Petersburg is by bus to the Ruskeala Mountain Park. Group tours cost from 1830 to 3050 rubles per person (depending on time of year). Duration of 12 hours.
Mysteries and legends of the mountain Vottovaara.
Coordinates: 63.074160, 32.623115
The surroundings of Vottovaara.
The name of the place speaks volumes about its uncommonness. There is something shamanistic, mysterious and incomprehensible in it. The height of Vottovaara mountain is about half kilometer and it is located in the western part of Karelia.
Those who have heard about these places attracts a number of unusual phenomena. On the plateau are scattered huge boulders of rather bizarre shape. Local legends say that the stones are the shrines of the ancient Lapps.
But the local vegetation is also striking. Twisted plants growing on the mountain also add to the mystery. Similar to the Dancing Forest on the Curonian Spit. They say that tourists experience incomprehensible effects. In general strangeness in the Vottovaara area is a usual thing.
Nilmoguba village
Coordinates: 66.500914, 33.135725
Another unusual place in Karelia is the ancient settlement Nilmoguba. People of Karelia would call it a dense village, because its size is small and it's situated right on the shore of the White Sea. Those, who yearn for the unity with severe northern nature, come there. But you won't get bored here. Tourism in Nilmoguba is developing: a diving club, a kennel of sled dogs and deer are opened. There are also eco-excursions with educational programs that appeal to children and adults.