Mobile Internet in Thailand – where to buy a sim card DTAC, tariffs
Actually, the topic of mobile internet in Thailand is quite extensive. However, most of the information is not necessary. Therefore I decided to do so: it will be just a guide on how to get 3G/4G mobile Internet in your phone or laptop. In fact, I myself do so, because in my opinion, this option is the best/comfortable.
Getting mobile internet from Dtac
Where to buy a DTAC SIM card in Thailand
My advice is to get a SIM card right at the airport when you arrive to Bangkok/Phuket/Krabi airport, so you don't have to look for it later! The more that you can pre-order a very free rate and the sim card will already be waiting for you.
Buy online in advance a local Thai sim on the site Klook and get mobile internet for 8 days for 144 baht instead of 299 baht. Your SIM card will already be waiting for you at the airport at a Klook/Dtac kiosk. It is a gift, you can't get it anywhere else. The tariff is more than enough for messengers, browsing, google maps, etc. Here are detailed instructions just in case.
In the envelope with a sim card at once will be a regular sim card + Micro + Nano. From the normal sim card is squeezed the right one, micro or Nano. Instructions for using the sim card (comes with the sim card) sometimes contains the Russian language. Although there is nothing to do.
As an option, do not buy a local Thai sim card and travel through many countries with a universal travel sim. In Thailand the cost is more expensive than the local one, but if you do not need much traffic, the travel-sim will be more profitable.
How much does the sim card cost and tariffs
Thai sim card without internet costs 49 baht and 15 baht will be on your account. There are various sim cards with different names but if you are not going to make too many calls and you are not interested in promotions then it does not make a difference which one to take. You can see for yourself which SIM cards are available at the official site under Prepaid/SIMs.
At 7-eleven you'll usually get sims with pre-connected internet packages like the Happy Tourist SIM (at 299 or 599 baht). And similar sims will offer you at the airport. No one prevents you from buying one, use up the package, disconnect it and connect another. But it is better to get a SIM card for 49 baht without the package.
In a separate post wrote about roaming, calling rates and special codes to cheaper calls with a Thai sim card in Russia.
The documents to buy a SIM
Since July 31, 2015 all Thai SIM cards must be registered with their operators. Previously, SIM cards in Thailand were sold freely and no documents were required when buying them.
You need a passport for purchase and that's it, no filling out forms. The SIM card will be registered by a salesman, either at a Dtac or a 7-eleven. The whole procedure takes no more than 5 minutes. One passport is enough to register several sim cards.
Gigabyte-limited tariffs
Please note that the prices of the packages are specified without VAT, that is, you have to add 7% to this price and this amount will be deducted from your account.
Above I mentioned that you can also buy sim sim for 49 Baht and not activate any Internet packages at the airport. Well, you will be offered the rates there a bit more expensive than on the official website. It's better to buy it in advance via Klook.
And below I have a table of rates from the official site DTAC (traffic packages). They are limited to a certain amount of traffic, whatever you buy, that's what you'll get. After exceeding the specified number of gigabytes, the speed is severely limited. In Russia, this is the same. Look at the next section, there is a slightly different principle – limiting the amount of traffic and speed.
* The maximum speed of 100 Mbit / s, and after exceeding the amount of traffic speed is limited to 64 Kbps. ** Maximum speed is 100 Mbit/s, and after exceeding the traffic volume, the speed is limited to 128 Kbps. These restrictions are such that it is impossible to use the Internet.
Complete information about all packages with a certain number of gigabytes is available on the Dtac website under Prepaid/Add-on Packages/NEW! Super Max-Net.
You can also see the line of tariffs Prepaid/Add-on Packages/OK! Net with simultaneous limitation of number of gigabytes and speed. These plans are cheaper, but also have speed limits of 384Kbps to 10 Mbps.
Unlimited rates from DTAC
All unlimited rates have a speed limit. That is, you'll need to choose how many days this package will be valid and what speed you'll have. If you need video calls, youtube, then it is better to take from 4 Mbps, otherwise it will be slow. I would not consider plans with 256 Kbps at all. Torrents are prohibited.
Now on the official site, there is only this page, and there you need the necessary line of unlimited plans Net No Limit. There are no USSD codes for them, but you can activate the package by entering your phone number.
DTAC changed the line of unlimited packages in 2019 and hid the codes for them. Below, just in case, is a table with the old plan activation codes, I think they still work. Some of them are more profitable than the new ones. But you have to compare, of course, they may change something again.
For 10 years 16 hours a day I made travel guides for travelers. 1.5 years ago I was almost killed by a stroke. I survived, but am struggling with paralysis.
If my blog helped you, I would appreciate a donation. You can pay with a card of 100 rubles, 500 rubles or 1000 rubles.
| Cost | Speed | Code |
| --- | --- | --- |
| 99 baht per week | 512 kilobit/s | *104*76*9 |
Useful info
How to disable Internet package
This question arises for those who have exhausted their traffic before the end of the reporting date. For example, you bought a 5GB plan for 30 days, but your traffic is over in two weeks. You have to either switch this package off and get a new (same) package all over again, or wait 2 more weeks (until the 30 days are over), until the subscription is charged again and you are given the traffic again. Moreover, if there is no money on the account, that is, the subscription fee for the package can not be written off, the package will be disconnected. But it is possible to disconnect it earlier.
Самый простой способ зайти в свой личный кабинет на сайте DTAC (введете телефон и подтвердите смской) и там отключить. Там не так много настроек, поэтому найти не сложно: My Package (в верхнем меню) => Add-on package => Current => Icon of the basket.
Call the call center and disconnect the package-internet. They speak English.
Find the DTAC office and ask the Thais there on the spot to disconnect you.
Dtac internet settings
Usually the Internet settings are already saved in the SIM card and you do not need to do anything special. Well, except that the connect the selected Internet package. So once, I had something happen to my phone and all the settings are lost. If suddenly you do not have the Internet, the access point settings should be checked first, and if the access point is not assigned, then create and add a new one.
Для Andrioid : Настройки -> Мобильные сети -> Точка доступа -> Add a new one.
Для iPhone : Сотовая связь -> Параметры данных -> Сотовая сеть передачи данных -> Cellular data (APN, Username, Password). And then enter everything that is written below.
Name (Name): Dtac Access Point (APN): www.dtac.co.th Do not touch the other fields.
Then you need to click on the created access point, making it active. It may be necessary to reboot the phone, but I usually work without rebooting, it is enough only to turn on the mobile data.
How to recharge Dtac and other operators
Lifehack. You can use the promotion code *104*757*9#, which will give 2GB of traffic for 7 days, costs only 50 baht. But must be initially connected any traffic package. That is, you can connect the cheapest monthly package and then add these promotions.
Come to any 7-eleven or Family Mart and buy a money card. You say: money card Dtac 100/200/500 baht. 100/200/500 baht is the face value of the card, i.e. how much you want to put in the account. Then you erase the protective layer on the back and see the code. You dial on the phone *100* code1 code2 #
and then the money comes into the account at once. It's all written there, on the card, you can't go wrong.
In these minimarkets and supermarkets (Tesco, Big C, etc.) you can put money through the cashier. You need to know your phone number.
An even easier option is to top up with a bank card on the DTAC website without leaving the hotel. Payment by bank card.
For users of electronic money there is an option to recharge Dtac via Webmoney. Toppping up is instant. In the same way, you can also recharge other operators.
How to renew a Dtac SIM card
Keep in mind that SIM cards have an expiration date. Each time you top up your balance the validity period is extended for a number of days. The more the top-up amount, the longer the validity period is.
But you can renew with USSD codes for money. The maximum extension period is 1 year.
– prolongation for 30 days, costs 2 baht *113*90#
– Extension for 90 days, costs 6 Baht *113*180#
– Renew for 180 days, price 12 Baht
Validity period can be extended via USSD only if 2 conditions are met: – At least 90 days must pass from the activation of the SIM card. – The usage should be more than 200 Baht from the moment of activation. Starter/gift funds do not count, only those credited on top-ups.
How to check balance at Dtac and other codes
– check your balance *101*1*9#
– check your remaining traffic balance in the Internet package
– find out your phone number *4000*9#
– Get login and password for Dtac wifi
Useful phone numbers
Public phone number of police – 191 Fire service – 199 Traffic police – 1193 Tourist police – 1155 Criminal police – 1195 Emergency service – 1554
P.S. I'd be happy to have helpful additions in the comments.
Choosing insurance is difficult, so to help you – my top insurance in Asia. I constantly read forums and use insurance myself. From experience, the best way to buy from Polis812. They accept Russian cards.
Large database of hotels are on Yandex.Travel. Keshbek 10-30% points Yandex. Also need to check prices on the Russian copy of booking Ostrovka. All accept Russian cards.
Mobile Internet in Thailand 2022: Unlimited for 100-200 baht. Where to buy a SIM card – a tiphack!
December 2021 (updated: 18.07.2022) 19
I tell you where and how to buy a Thai sim card now with unlimited internet in Phuket for only 100-200 baht per month. Before the pandemic, all advanced tourists bought a sim card Dtac on Klook and picked up at the airport upon arrival. But now there is no such thing. But there are more favorable offers from operators.
Apparently, because of the pandemic and in order to attract new customers, Thai operators now connect very favorable tariffs. There are no such tariffs on the companies' websites. It reminds of some secret corporate rates only for their own (as offered in Moscow when disconnecting the city telephone MGTS).
How to buy a Thai sim card with unlimited Internet access for 100-200 baht per month
Sim card with unlimited internet for 1 year costs an average of 1100-1200 baht. For the next year another 1200 you put on your balance and tariff will be prolonged. Suitable for those who are on a long term in Thailand. Even if you are in Thailand for a few months, will already be better than the usual rates.
Lazada is a popular online store in Thailand. The second SIM card we took here and it was even more profitable. After self-registration, everything works, in the application Dtac shows the tariff for 1 year. Internet can be distributed to laptops.
1A1BHHSL – promo code for 200 baht discount on the first order at Lazada
When you buy a sim card online, you need to register yourself through the Dtac website. Until you do, the sim card won't work! Register the sim card from your phone, as you will need to take selfies and take a passport directly through the site.
The first month in Phuket we wanted to get a regular blank Thai Dtac, True or AIS sim and connect internet packages as needed, like we did before. Came to Central Festival in Phuket Town. On the second floor is the IT department. Ended up buying a Dtac sim card with unlimited internet for 200 baht a month. How did it happen:
I say I need a sim card with internet.
The consultant asked how many days you need internet. I replied that I need it for a year.
She suggested an unlimited rate at 4 mbps for 200 baht a month.
Also offered unlimited Dtac at 6 mbps at around 300-350 baht per month. I chose the first option, which is cheaper. The 4 mbps speed is enough for everything.
It was also offered something for 1800 baht. I didn't really understand the English she was giving me and immediately declined. After all, before for about this money a month and was unlimited internet in Thailand. Most likely she was offering me to pay that amount all at once and get unlimited Internet for the whole year. It would have come out even cheaper (150 baht per month).
To buy a sim card in Tialand need the original passport.
The cost sim cards 20 baht + tariff 200 baht. Pay 220 baht in cash.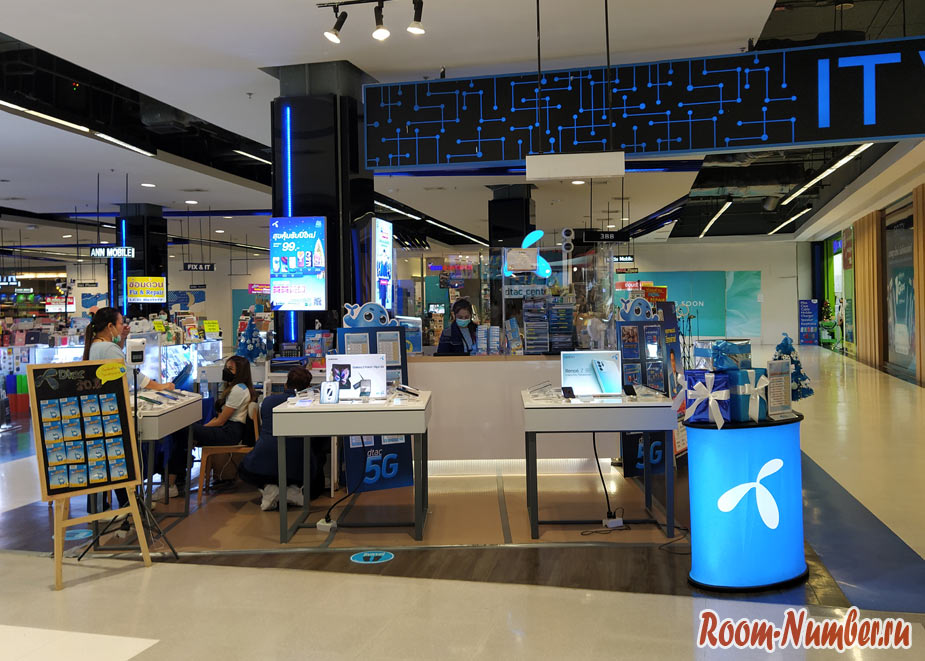 Here I bought a sim card in Phuket with inexpensive unlimited internet
Conclusions and our experience
Internet access is really unlimited. Last month the consumption of more than 100GB. The limit per day is also unlimited, the speed drops only in the evenings. When you activate the SIM card, in addition to the unlimited, there will be a few more welcome packages of Internet, like 10 gb and 7 gb, do not pay attention to it.
Mobile Internet can be distributed to laptops, phones and other devices.
The speed of 4 mbps is enough for everything. Both for work, and for social networks and video (YouTube, Instagram, tick to load normal). Torrents only do not download, as with any mobile Internet.
After a month, auto renewal . The balance is written off 200 baht and unlimited is activated for another month.
The tariff for a year is renewed once a year. Just top up your balance via the Dtac app
How to top up Dtac online
Раньше можно было пополнять Дтак через Вебмани, но сейчас этот способ не работает. С карты Тинькофф со счетом в THB приложение Дитэк отказывается списать оплату онлайн. Уже было собирался идти платить наличными где-нибудь в 7<![CDATA[1, как ни на что не надеясь, попробовал visa Сбербанк
After the Russian bank cards do not work abroad, you can recharge online with a Thai bank card (I put the money through the application Bangkok Bank), from a purse TrueMoney, ShopeePay, etc. In the Dtac app itself, you can recharge with any bank card: