How to rent a car in Montenegro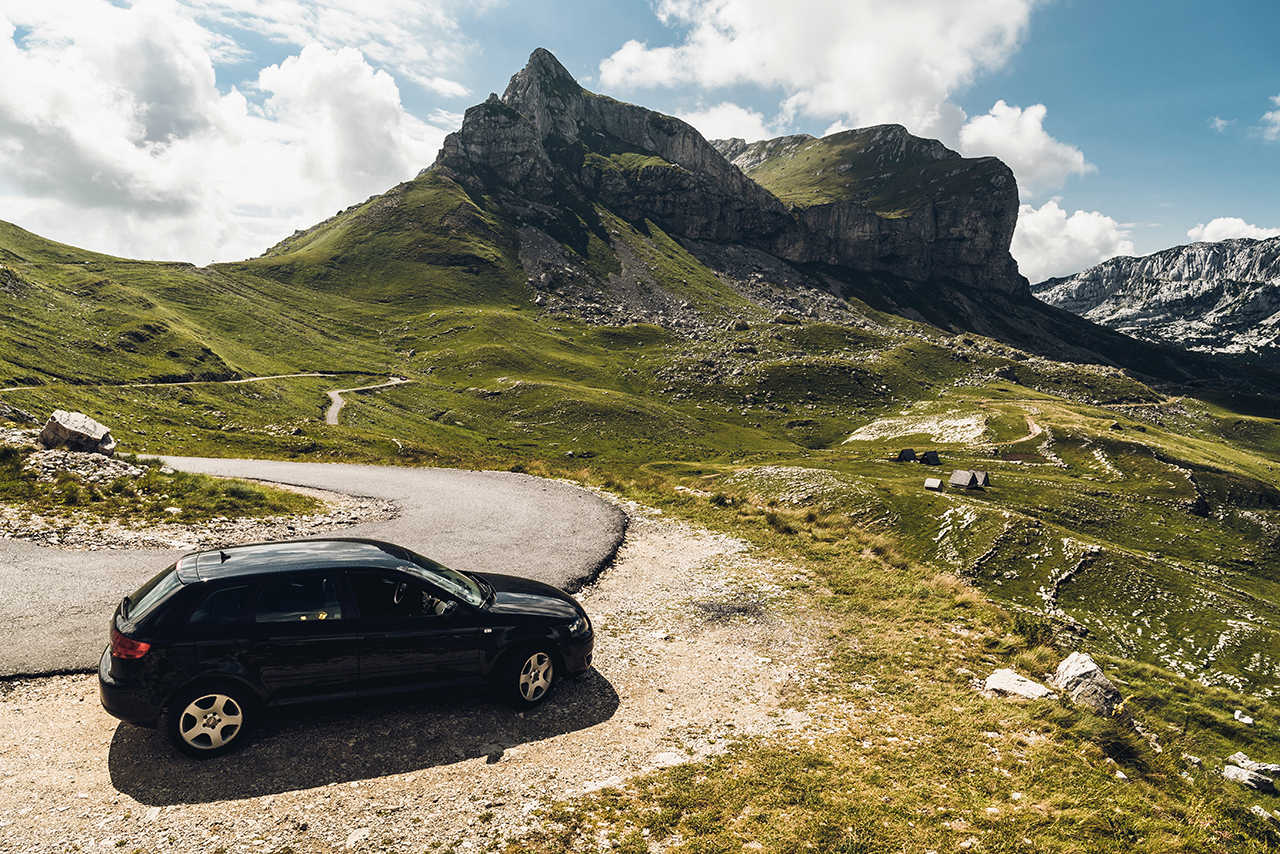 We tell you about car rental in Montenegro in 2022. Is it possible to rent a car without a deposit? Learn about local traffic rules, fines, police and parking. Pros and cons of traveling around the country by car. Reviews and tips of car tourists.
Montenegro is a picturesque part of Southern Europe, and few tourists spend their entire vacation on the beach. Traveling by car opens up many opportunities. In 1-2 weeks it is easy to see ancient temples, fortresses and amazingly beautiful mountain scenery.
Content:
Where to rent a car in Montenegro
International and local car rental companies are available in different parts in the country.
Airports . Cheap rent a car in Montenegro at the airports of Podgorica and Tivat. Offices of large rental companies are located immediately behind the arrival hall. If you booked a car in advance, they will bring it to the airport, park it and meet you with a sign. Sign the contract and drive!
Train stations . You can rent a car in Montenegro at the railway stations in Podgorica, Bar, Sutomore, Niksic, Tuzi or Bijelo Polje. Prices are slightly higher than at the airports.
Cities . There are rental companies in Montenegrin cities, too. More places to rent are in Buda and Bara, where there are traditionally many tourists.
Websites . To save time and money, rent a car in Montenegro through Localrent.com.
Tip . If you are looking for an unusual car, go to an international rental company. Prices there are slightly higher than in local firms, but the choice of cars of different classes and modifications is much more.
Durmitor National Nature Park (Photo: unsplash.com / @dejan_kide)
Features of renting a car in Montenegro
License and age . For the registration of the rental agreement, a Russian license will suffice. The renter must be over 21 years of age, and in some cases 22 years, and have 1-2 years of driving experience. When processing the lease agreement a passport is required.
How to pay . Most renters accept both bank cards and cash. You should not have any problems with this.
What car is better to take . For trips around cities and short distances a small compact car is more suitable, and for traveling in national parks – an SUV. Rent a compact car in Montenegro is cheap, so they are in high demand. In summer it is warm and sunny in Montenegro, and many tourists are happy to take convertible cars.
Look for interesting excursions on the Tripster website, where you'll find unique author's tours that will show the country from a new side.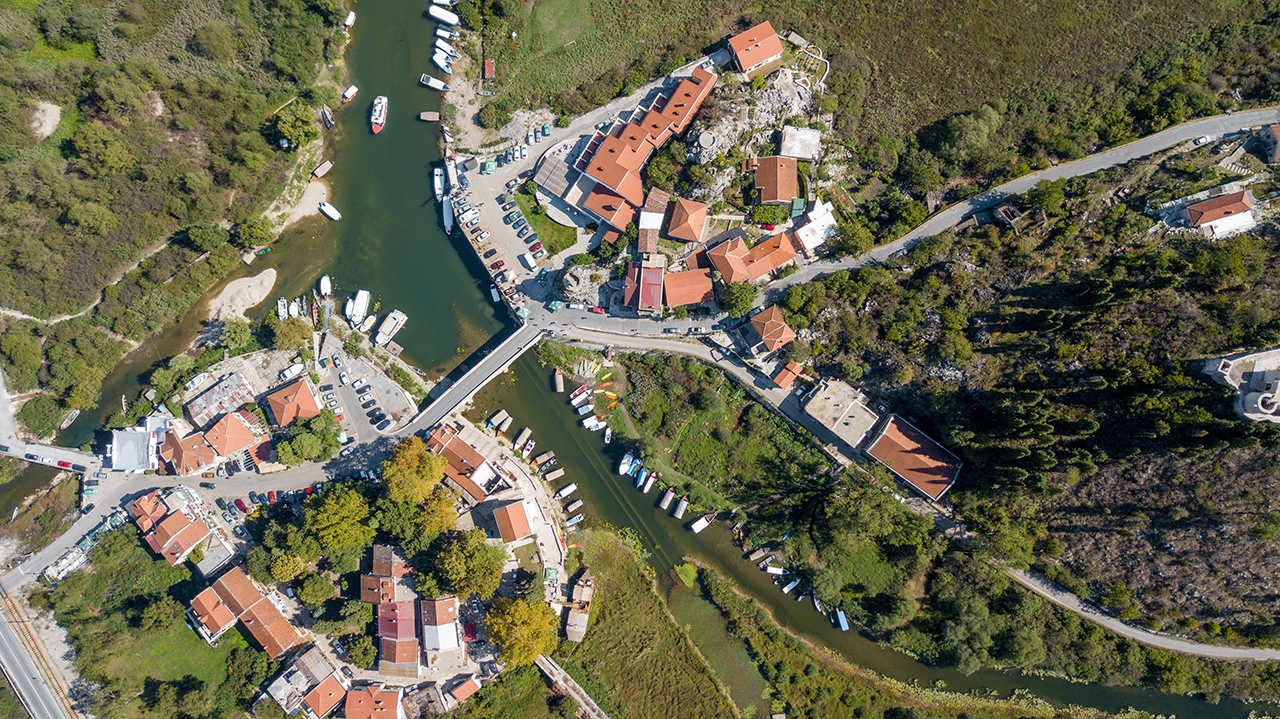 Virpazar (Photo: unsplash.com / @lubomirkin)
What to know and what to look out for . Rental car fees are lower than in many other European countries. However, there are problems here. The fleets of local rental companies are full of worn out cars and cars with high mileage.
Some rental agencies do not charge for booking a car. In others, they reserve the car after you have paid 15-20% of the rental price. And some brokerage firms reserve the car only after it is fully paid for.
The rental agreements are made in Montenegrin and English. During the return of the used cars rental company managers usually do not pay attention to small scratches and defects. But when you are returning a new and expensive car they will look at it very carefully.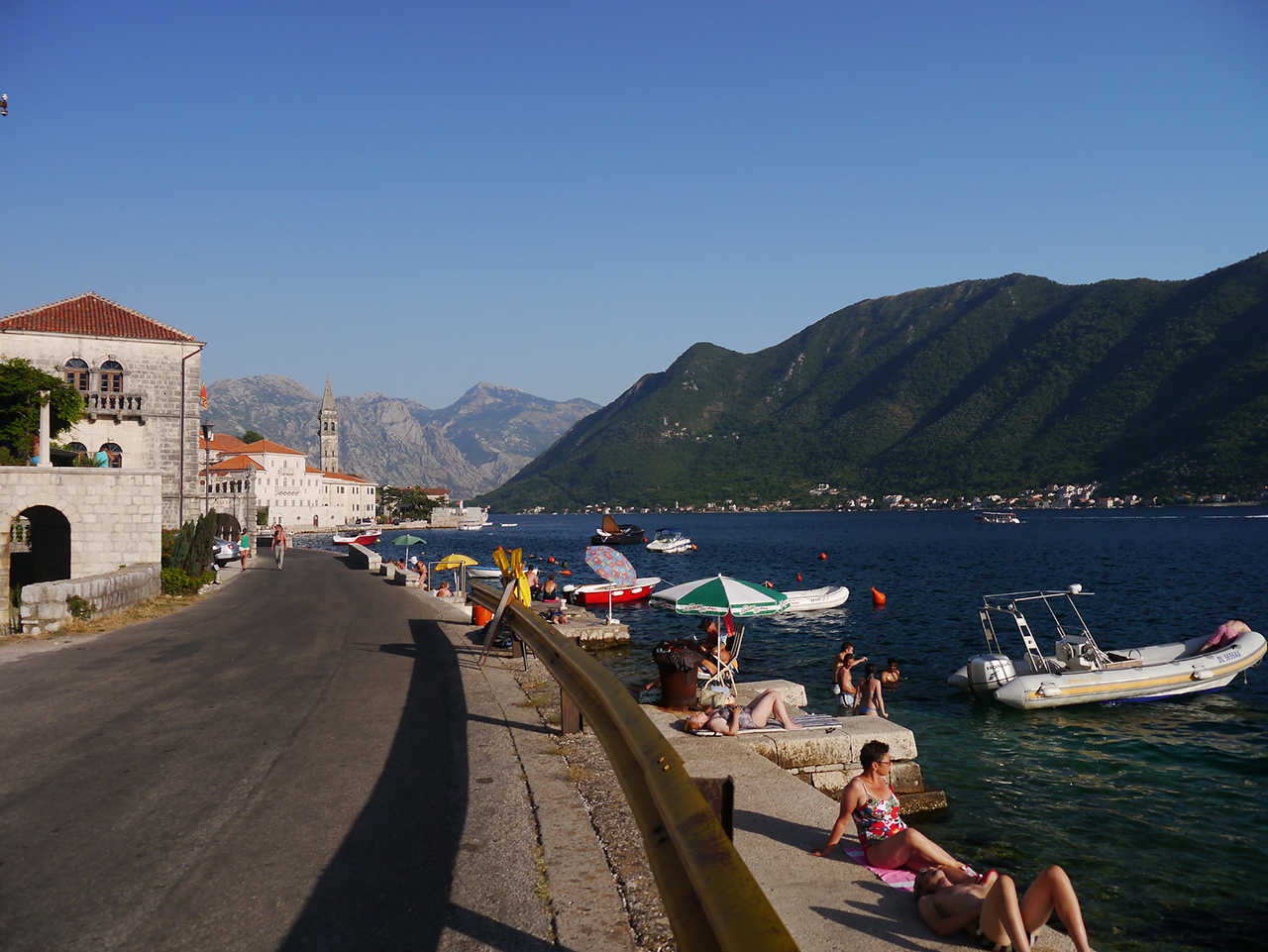 Perast resort (Photo: katarinayee / flickr.com)
Prices for car rent in Montenegro
To travel around the country you can take a car of any price category. Budget cars like Nissan Micra, Mazda 2, Toyota Aygo, Opel Corsa, Skoda Fabia and Toyota Yaris cost from 8 € per day. SUVs are available from €15-40 and convertibles from €20. See the current prices at Localrent.com.
The price of car rental in Montenegro usually includes basic insurance, unlimited mileage, a second driver, delivery to the hotel and the ability to travel to neighboring countries. Some rental agencies offer a free child seat and GPS-navigator.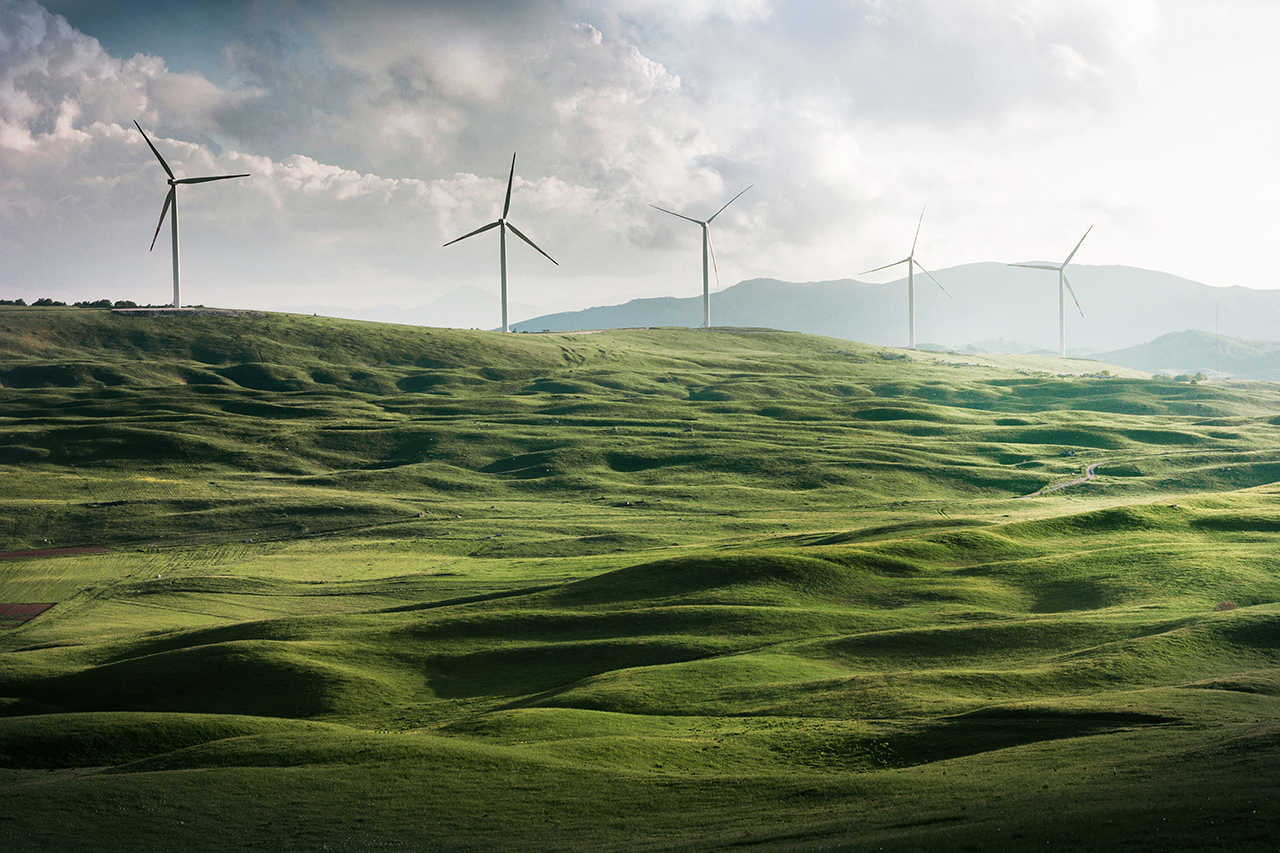 Windmills near Niksic (Photo: unsplash.com / @appolinary_kalashnikova)
Car insurance
Montenegro lives by European laws with adjustments for local rules.
Types of insurance . The choice of insurance is the same as for Russians – OSAGO and KASKO. They cover most problems, except for damage to the wheels and windshield. There is a super KASKO. This insurance covers all the trouble you can get on the road.
A deductible hull insurance costs 5€ per day for budget and mid-range cars, and 10€ per day for SUVs and luxury cars. CASCO without a deductible is 10-15€.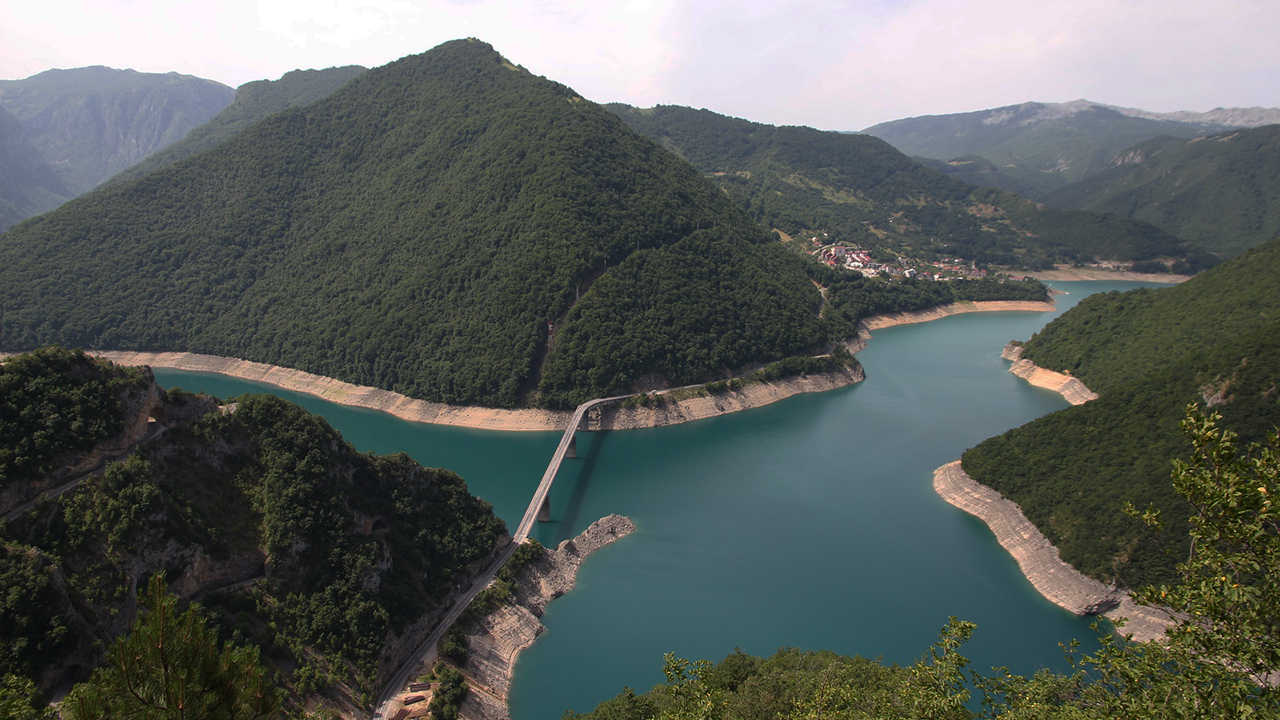 Piva River, Trsa district (Photo: Pierre Metivier / flickr.com)
The deposit is taken in cash or frozen on the card when you sign the rental agreement. If no damage is found on return, the money is refunded in full. In case of an accident or breakdown, it will be used for restoring the rented car. A plus is that the rental company cannot charge you more than the amount of the deposit.
How is it possible to rent a car without a deductible? Take out a contract KASKO + MTPL without the deposit, that is a full insurance for the car. In this case the risks will be minimal. In some cases, the renter will still be responsible. You would have to pay if you were under the influence of alcohol or drugs at the time of the accident, or if the driver was someone who is not included in the rental agreement, or there is no police report on the accident.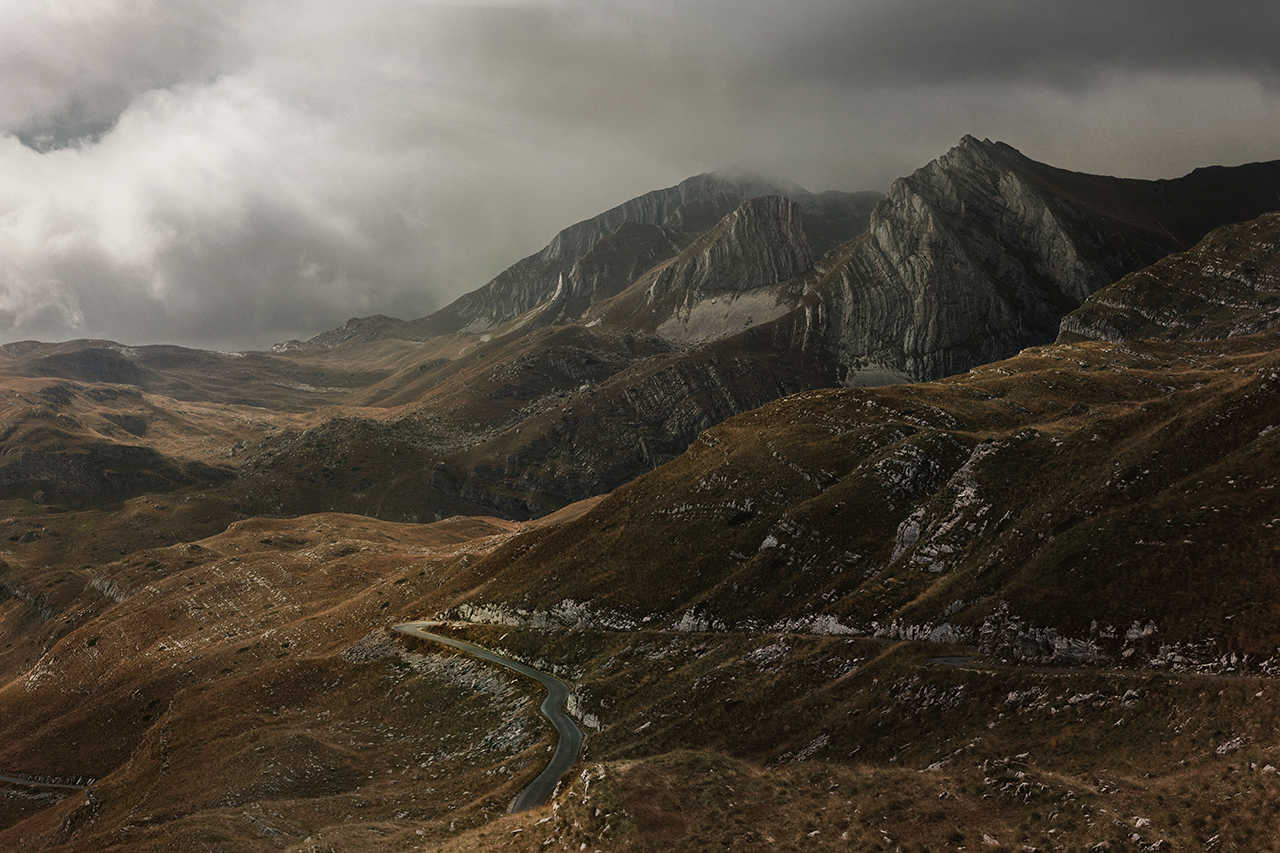 Durmitor National Nature Park (Photo: unsplash.com / @appolinary_kalashnikova)
Is it safe to travel by car in Montenegro
There are many mountain roads in the country. Take your time and be careful on the winding serpentines! In the tunnels be sure to turn on your headlights. Keep in mind that many of the mountain passages are not straight, but with turns.
Crime is low here, so insurance against theft or stealing is not used. Thefts are very rare, but thefts from showrooms do occur. To avoid tempting burglars, do not leave valuables in plain sight.
The country has many natural parks and woodlands. Watch out for the road: unexpectedly in front of the car may be hedgehogs, foxes, turtles and snakes.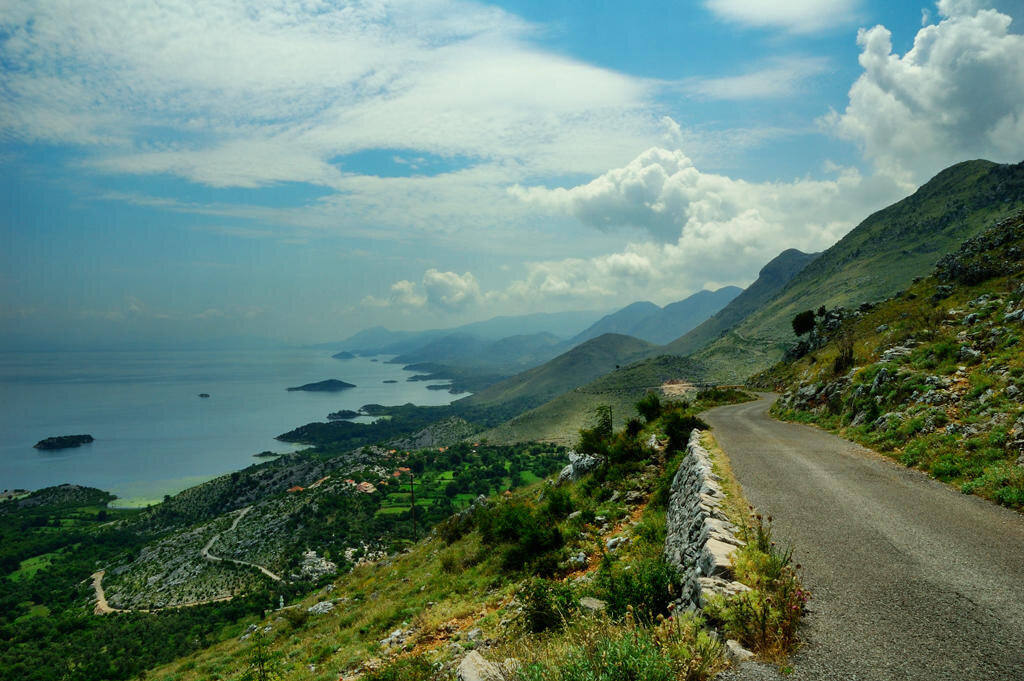 Two-thirds of Lake Skadar is in Montenegro, the rest in Albania (Photo: Jacek Lisowski / flickr.com)
Roads in Montenegro
The road network in the country is excellent. Driving here is comfortable and convenient, but we would not advise racing.
Toll roads . There are no toll roads. You pay only for the tunnel Sozina, which shortens the way from Podgorica to the sea for 22 km. It stretches across the mountain range for 4 km and costs 2,5 € for a car. Another paid place is the ferry across the Boko-Kotor Bay. It costs 4,5 € for a ride.
Fines and traffic rules . The Montenegrin traffic rules are not too different from the Russian ones. Children under 12 years of age should not be in the front. Babies under 5 years old travel only in car seats. In daytime, cars drive with dipped beam. In a traffic circle traffic, cars that are already in the circle have the advantage.
Here are the most frequent fines:
speeding – 30-2000€;
Driving without dipped beam – 30-80€;
Not wearing seat belts – 40-100€;
Parking in disabled spaces – 70-200€;
Blood alcohol over 0.3 ppm – 70-2000 € or arrest up to 2 months.
Speed limits and cameras . Within cities the speed limit is 50 km/h, and in some places 40 km/h. There are speed cameras only on major roads. Be careful! Policemen with radar guns usually stand behind road signs that limit speed.
Police . Traffic police in Montenegro do not take bribes. The only thing that can soften the policeman is your sincere remorse and the insignificance of the violation. Most likely they will not punish you for speeding over 10 kilometers per hour, but you will have to pay penalty for exceeding 20 kilometers per hour.
How to save money on car rent in Montenegro
Specifics of driving on local roads. On the roads there is an unhurried and quiet rhythm of traffic. Montenegrin drivers know how to drive in the mountains. Do not try to bypass them on bends. Local motorists are friendly – you will always smile at those who drive towards you.
Gas stations and gas prices . Usually, rental cars drive on gasoline-95 or diesel. Prices at all gas stations in Montenegro are the same. In 2022, 1 liter of gasoline-95 costs 1.23€ and diesel costs 1.19€.
Tip . According to reviews of tourists, at gas stations EkoPetrol in Budva they do not refill gasoline. To avoid being cheated, refuel yourself or wait until the gas station attendant finishes his work and then go to pay at the cashier.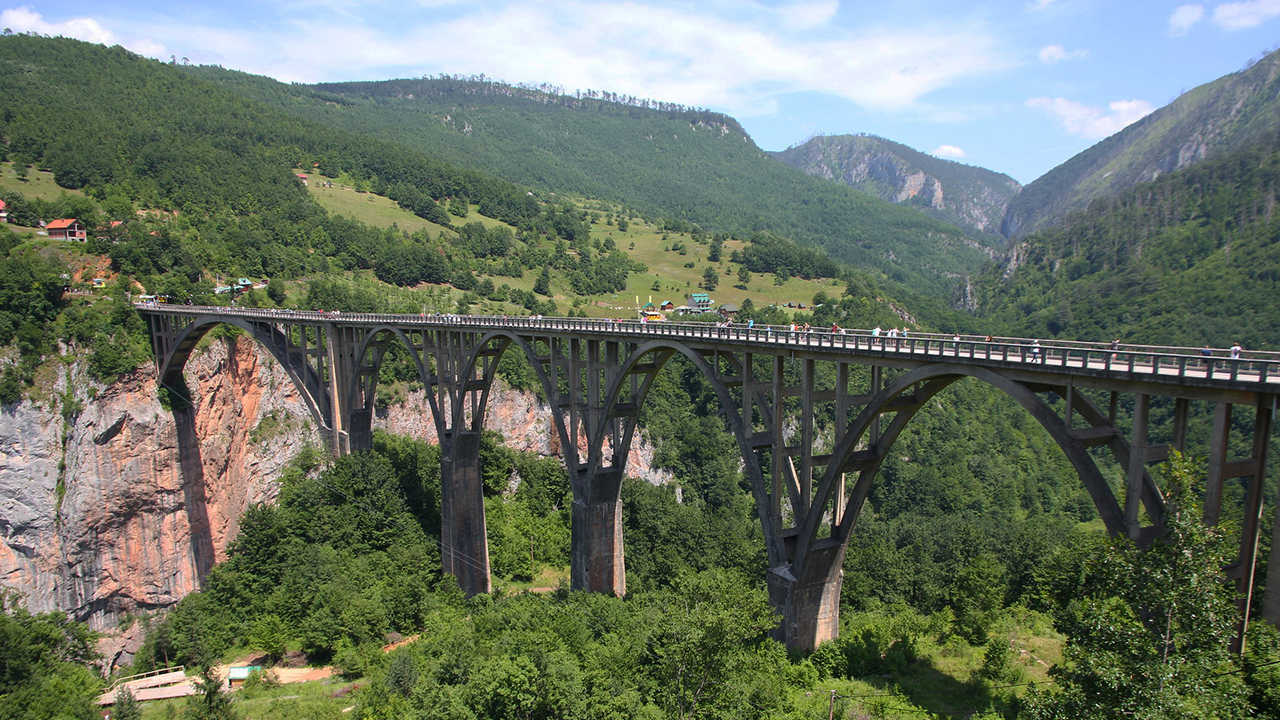 Bridge over the Tara River (Photo: Pierre Metivier / flickr.com)
Parking lots in Montenegro
There are few free spaces for cars in the country. Paid parking near beaches and with shopping centers cost from 1€ per hour. On weekdays from 23:00 to 7:00 and on Sundays no money is charged. If the parking lot is with a barrier, you take a ticket with a time stamp when you enter and pay when you leave.
There are special places for parking on the streets. Here you need parking tickets, which are called "parking cards". They are sold at newspaper kiosks and vending machines for 0.7€ apiece. Write the date and time of parking on the tickets and put as many tickets under the windshield of the car for as many hours you left your car.
Reviews of rental cars in Montenegro
Autotrip by rent a car in Montenegro can bring a lot of pleasure. Tourists note the pluses :
A car gives you a sense of freedom. You can easily get to remote beaches and luxurious viewpoints.
There is no need to book a hotel by the sea during an auto-trip and you can save money on lodging.
No need to spend money on excursions. See the sights where they don't take regular tourists!
In Montenegro, it is not customary to overestimate the cost of repairs, so the damage estimate that is voiced by the renting company is always true.
Disadvantages :
Free car delivery is offered only in Budva and Tivat. To get your car delivered to Podgorica airport, you have to pay 30€, and 50€ for delivery and return.
Free parking is scarce.
Parking machines are available only in Budva.
Tips, how to rent a car in Montenegro in 2022 is easier and cheaper:
High prices for rentals during the bathing season – early summer through September. Come in the off-season and you will spend less on rentals.
Those who want to rent a special car should book in advance, as the demand for exclusive models is high.
To communicate with the managers it is desirable to know English. Few people understand Russian.
If you are a confident driver of any new car and have an excellent sense of size, take the car without CASCO.
There are many mountains here, so do not rent a car with a small engine.
When you get the car carefully inspect the interior, headlights, tires and disks, and inform the rental company about any damage you notice. Make sure that records of scratches and other defects are included in the card of the car.
If you plan to drive outside the country, make a note of it. The manager will make a special note for the border guards in the rental contract.
Pay the deposit in cash. After surrendering the car it will be returned immediately. Money that is blocked on your bank card will be "unfrozen" for up to a month.
A useful selection: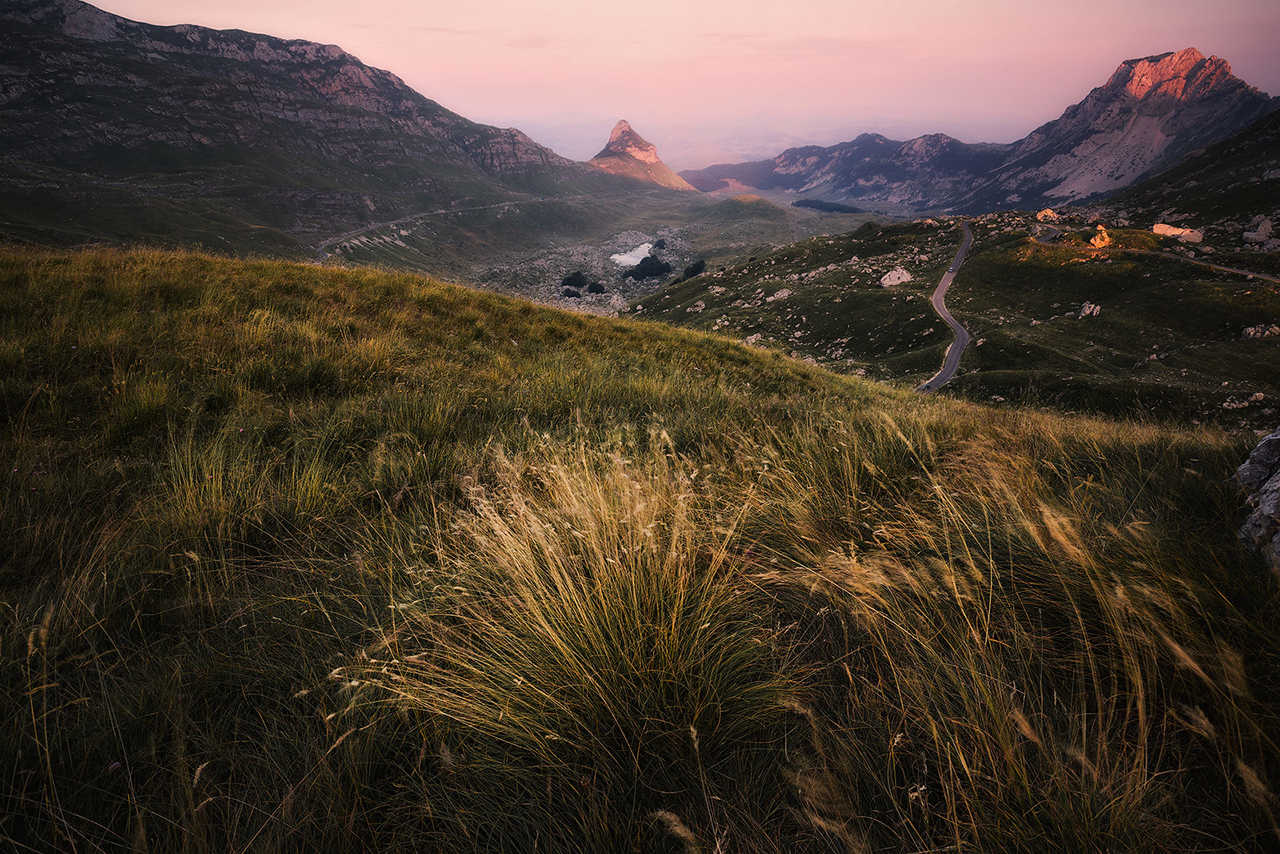 National Nature Park "Durmitor" (Photo: FelKx / flickr.com)
Rent a car in Montenegro. How to save money, useful tips and tips and tricks. Cool route with coordinates
Renting a car in Montenegro can be economical. We will tell you how to save 1500 euros on car rental, where it is cheaper to rent a car and what is the best insurance policy. We will share with you interesting tips, will tell you about the peculiarities of the traffic rules in the region and recommend an interesting panoramic route, able to amaze anyone with its spectacular scenery! In general, don't be distracted, you SHOULD be INTERESTED and FUCKING!
Great view point at Boko-Kotor Bay (Save coordinates: 42.409352, 18.786439).
Where is the best place to rent a car? Where is cheaper? The five best rental companies in Montenegro
Among the companies providing car rental services in Montenegro, there are both international and many local operators. The greatest number of rentals are located in the resort towns (Budva and its suburbs), as well as at the airports Tivat and Podgorica. We recommend to book a car in advance, about 2-3 months before the trip, as in the peak tourist season (in June-August) there are very few available cars.
We offer five rental companies, whose services we have used more than once, and which we can certainly recommend to all our friends and acquaintances. In particular we would like to highlight the first two companies in our list, which have the best reviews, and from the services of which we were completely delighted:
Myrentacar.com.
Один из лучших сервисов аренды авто в Черногории. Здесь самые низкие цены и огромный выбор машин на любой вкус. При этом на многие автомобили нет необходимости внесения залога. >>> FIND OUT WHAT THE DISCOUNTS ARE TODAY.
2. Sitngo.me
Второй по популярности ресурс с высоким уровнем сервиса и доступной стоимостью аренды. Количество машин меньше, но качество не хуже. Машины БЕЗ ЗАЛОГА и ПРЕДОПЛАТЫ ! >>> FIND OUT WHAT THE DISCOUNTS ARE TODAY.
You can also compare prices and search for a car on popular sites which offer car rental not only in Montenegro, but also all over the world:
Discover Cars.
Check the price right now! Just specify your dates and click "Search":
In Montenegro there are many small firms that rent cars. But there are many negative reviews, we recommend you not to contact with them. They often have old cars in a bad technical condition that can let you down at any moment. The result can be a breakdown on the road, which leads not only to inconvenience and expense, but also to lost time. And time on vacation is always worth its weight in gold! And don't flatter yourself if you were promised a new car. There is a high chance that they will bring another one, and say that the car you ordered is not there, because the previous tenants damaged it, and it is now in repair. Even if you see that a little-known company has a lot of positive reviews on the website, you should understand that they can be written by the clients for an additional discount, while all the negative information is simply deleted by the administrator.
What documents are necessary for renting a car?
To rent a car in Montenegro the driver is obliged to show the manager his international passport and driving license.
If the contract provides for making a deposit, it can be paid in cash or by blocking the amount on a bank card. International rental companies require a credit card for the deposit, and local Montenegrin can take a deposit in cash.
Drivers over 22 years old with at least 2 years of driving experience are allowed to drive.
How to save 1500 € when renting a car in Montenegro
Watch carefully the video of one of the owners of rent-a-car "Get and Go":
Inspection of the car before the contract of renting
The representative of the car rental company by prior arrangement will wait for the client at the airport or near the hotel entrance. You can recognize him at the airport by the plate with your name on it. You can also contact him via any messenger convenient for you: Viber , WatsUp , Telegram, etc. Contact details after booking will be sent to your e-mail.
Further the procedure of lease registration is as follows:
Carefully examine the car. If there are any complaints about its appearance, they must be described in detail in the acceptance report. Any damage can be documented on a special scheme (attached to the contract). If you wish you may also take pictures of the car from different sides, it will allow avoiding disputes when returning it.
When signing a contract, be sure to check that it includes all related services, such as the possibility of driving a car with a second driver.
If you plan to cross the border of Montenegro, please inform the manager about this. He will make the appropriate adjustments to the contract. The green card must be enclosed to the documents. Inform about the planned border crossing in advance, as not all cars have the opportunity to leave Montenegro.
Pay for the car rental in any convenient way, which is provided by this or that operator, for example, Sitngo.me accept not only cash or bank cards, but also electronic currency – Yandex.Money.
It remains only to listen to a briefing from the manager about the peculiarities of driving in Montenegro. It will not take much time, but perhaps this information will be useful for you on the road. Usually the whole procedure takes 10 to 20 minutes.
Step-by-step instructions on how to rent a car without a deposit
The best way to rent a car in Montenegro without paying a deposit in advance is to use Myrentacar.com and Sitngo. On Sitngo you just need to choose a car, send a request and managers will contact you. On Myrentacar you can book online yourself. Only reliable car rental operators with attractive price offers are collected here. This is possible thanks to a strict screening of companies. Those who have negative reviews from customers are simply removed from the directory by the site administration.
When booking a car at MyRentacar one can be fully assured that the customer will be offered exactly the ordered car brand and model.
Other services allow the substitution of the car with the same class. For example, if originally reserved Mazda 2, it may well be replaced by the Opel Corsa, and because it has a less roomy trunk and is not so convenient to drive.
Cars WITHOUT BARRIAGE are marked with a special icon on the website:
The prepayment amount when processing through MyRentacar is minimal, only 15% of the total amount. The remaining amount is paid by the client when picking up the car and processing documents.
The car you've rented at Myrentacar.com can be picked up in any city in Montenegro, or at any airport in Tivat and Podgorica.
Step by step guide on how to use MyRentacar :
Fill in the initial data – the city where it is convenient to get a car and rental dates. In this case, the site will immediately show all the available cars. There are a lot of cars, so you can use the filter to mark the necessary options: type of gearbox, car model year, insurance type, fuel consumption, etc.
Let's look through all variants and choose the suitable by characteristics and car brand. Click on the picture of the auto.
Then check all the declared characteristics and press "Book".
We fill in the place and time of car receipt, personal information about the driver who will drive the vehicle – name, date of birth, e-mail address and contact telephone number. Please note that if the receipt is after-hours, there may be an additional fee for this, and the total amount may change.
After filling in all the data, the opportunity to make a prepayment of 15% of the rental amount will open.
You will receive an email notification with confirmation of the car reservation and detailed instructions on how to receive it. The sent form must be printed out or saved to your smartphone. It must be presented to the representative of the car rental company at the car pickup.
One more advantage of MyRentacar service can be added a Russian-speaking technical support, which is ready to help the client with any questions regarding the procedure of car reservation and its use.
Video from the founder of the company. How to rent a car on the MyRentacar site:
Rent a car in Sit and Go.
Service of car rental in Montenegro Sitngo.me works on the market since 2010. Its founders are Russian speaking guys A. Osin and S. Bakich. With the help of Sitngo.me you can rent a car at Tivat or Budva airport, and then rent it out in any city, including Przno, Igalo, Sveti Stefan.
There are more than 120 cars in the "Get and Go" fleet. All of them are equipped with air conditioning and are as comfortable as possible. At the request of the client the car is equipped with a navigator and a child seat is installed. By default the cars are already insured under OMTPL, to formalize Casco you need to pay 5 € extra per day. No deposit when booking or borrowing a car – just get in and drive away!
The benefits of Sitngo.me are
the ability to deliver the car to the hotel or meet the client at the airport;
unlimited mileage;
You can rent a car quite cheaply, compared to other services;
Second driver is allowed;
it is possible to travel by car to the neighboring countries.
The cars in the catalog can be conveniently sorted by car class, gearbox type, fuel consumption and trunk volume.
Tip! If you use Sitngo.me, you can get an additional 5% discount. To do this you need to tell your friends about the service, by pressing one of the social networking buttons. To get the discount you should specify it when booking a car.
Car rental at Tivat Airport
It is very convenient to rent a car at Tivat Airport immediately upon arrival. The car will be delivered directly to the parking lot in front of the airport. Since it is small, it is not difficult to find your car, if anything, you can always call or messenger the renter. It is convenient that if the flight is delayed, they will wait for you, so you will not be left without a car.
You rent a car the same way. You simply bring it to the parking near the airport at the time agreed in advance. At the entrance to the parking you need to take a coupon, you do not need to pay anything.
Prices for car hire in Montenegro in 2022
Prices for car rental in Montenegro are very affordable. The car with a mechanical gearbox will cost from 9 € per day in off season, in season – from 18 €. In local rentals German, Japanese and French cars prevail.
For clarity, the comparison of prices for daily rent of a car in Montenegro is presented in the table. However, you should consider that the cost of daily rental car depends not only on its brand and class, but also on many other parameters (rental term, season, etc.).
Out of season (autumn-winter-spring):
| | | | | | | |
| --- | --- | --- | --- | --- | --- | --- |
| Car brand. | Chevrolet Aveo | Mazda 2 | Suzuki Baleno | Peugeot 307cc | MINI Cooper | Suzuki Vitara |
| Myrentacar.com | 9 € | 10 € | 11 € | 25 € | 30 € | 30 € |
| Sitngo.me | 9 € | 10 € | 18 € | 25 € | 40 € | 15 € |
In season (summer-beginning of fall):
| | | | | | | |
| --- | --- | --- | --- | --- | --- | --- |
| Car brand. | Chevrolet Aveo | Mazda 2 | Suzuki Baleno | Peugeot 307cc | MINI Cooper | Suzuki Vitara |
| Myrentacar.com | 18 € | 24 € | 26 € | 45 € | 50 € | 60 € |
| Sitngo.me | 20 € | 24 € | 27€ | 50 € | 55 € | 65 € |
At the same time, the cost of daily rental may be reduced depending on the total number of rental days. For example, if you rent a luxury car for a month instead of 50 €/day you will pay 40 and even less.
It is better to book a favorite car in advance, as during the holiday season cars are quickly sold out.
Types of insurance when renting a car
MTPL insurance is provided by car rental services free of charge. If the rental car gets into an accident and the driver is not guilty, then he would not have to pay anything. All expenses are covered by the insurance company. The only proof of innocence can be a police report.
According to the standard terms, the standard insurance does not cover damages of wheels, windshield, side windows, mirrors, headlights, bottom and salon of the vehicle. They are paid by insurance only at execution of SuperKasko.
For an additional fee for the car can be arranged Casco insurance. Its cost depends on the make of car and its class. If it is an economy car, you have to pay 5-10 € per day. This insurance covers losses even if the driver of the rented car is at fault.
If you accidentally hit someone else's car, but did not damage your own, you should first contact the owner of the damaged car. You may be able to solve the problem without the involvement of an insurance company, as it is common practice in Montenegro. This tip for those drivers who have only OSAGO, as such insurance will not cover the damage if you are the traffic accident culprit.