Dream Journey to Space Jordan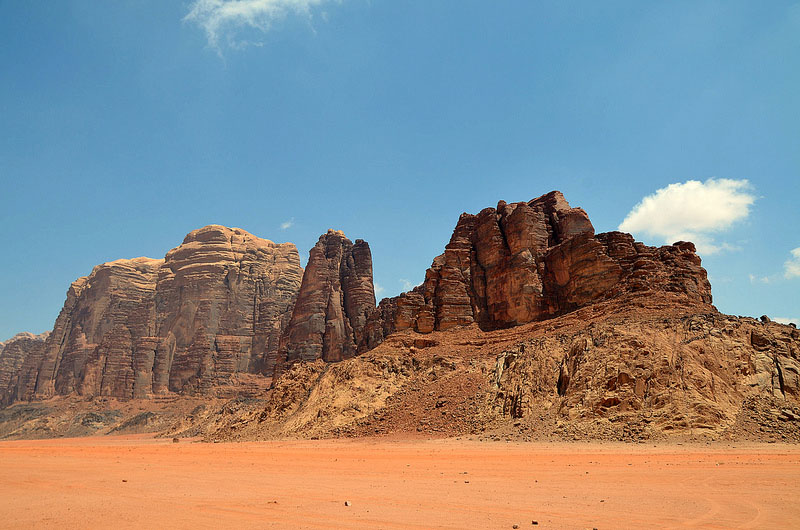 Journey to space Jordan to the filming location of "Star Wars" – the Wadi Rum Desert.
The trip program was written for a contest of 30 000 rubles for a dream trip organized by the site MAKE-TRIP.RU. The challenge was to come up with an original idea and route for the trip and to keep within 30 000 rubles for the flights. The best texts of the participants will be published in a separate rubric.
The sponsor of the contest is the Skyscanner cheap flights search service. It allows you to compare prices of all airlines and buy tickets at the lowest price. Get acquainted with its effective smart search tools:
Search for the cheapest airline tickets to any destination. Check out →.
Up-to-date information about the best airline fares. Check out →
Author: Stabrova Victoria .
I'm a fan of space. It says it all. Once I saw pictures of the Wadi Rum desert (don't rush to interrupt the reading, more original) in Jordan, I immediately knew that I had to visit there. The Dead Sea, St. Peter's – that's all good, of course. But, oh my gods, have you seen this desert. It's where they filmed The Martian, it's where they filmed The Transformers, and there-there-there-there-there-there-there-there (you get it, right?) Star Wars. I've loved this movie since I was a kid, when I was about 10 years old imagining myself as Princess Leia. So, if I had managed to go to Jordan in the Wadi Rum desert, I would have made a super "Star Wars" style photo shoot. A white suit, a laser sword, and the famous "bagels" on my head like Leia. If I went with my friends, we might even act out a scene or two from the movie, and maybe we could do something of our own. I think George Lucas is waking up in me.
So why did so many directors choose this desert to shoot their masterpieces? Obviously, the bright red sands, the unusual terrain are the perfect backdrop. hmmm. to Mars!
I plan to start my space trip from St. Petersburg, which is where I found tickets from 21 thousand to beautiful Jordan. On the way I will have a layover in Istanbul. Oh, Istanbul, the glorious city. I associate it with Dan Brown's last book, and after reading it I really wanted to follow in Robert's footsteps.
After the transfer, I would arrive in Amman, the capital of Jordan . Since the trip could be a long one, namely October 7-16, you could have time to see all the major sights in Jordan. But, keeping in mind my main goal, I would head out into the desert on the first few days. I have already learned that there are buses from the capital to "mars", a trip of about 5 hours. But you could also just take a tour from local tour operators, you could even take an overnight trip, and most likely if I went alone, I would take a tour. It would be wonderful to see the most mesmerizing parts of the desert. I never thought I would be so attracted to the desert, honestly, neither the Sahara nor the Namib fascinate me that much. Maybe it's the similarity to Mars or another planet.
After staying in the desert for 1-2 days, I would have already gone in search of other beauties. Of course, it is worth visiting Petra at least once in a lifetime! It's really a wonder of the world. I know that there are not only day tours, but also at night, when they light small lanterns along the trail, and you go on this "star" path. Oh, there's a lot of stargazing on this trip.
I've never been to Eastern countries, so I would like to visit a couple of mosques. But I would still focus on the natural attractions. The Dead Sea is another reason to go to Jordan. I want to check if it is true that a person will never drown there. I would also like to take an epic picture of me reading directly into the sea)). That's just thinking about what book to take? But all this is already known to tourists, but few people know about the mountains of Jordan, and I would like to climb one of them and admire the sunset. I would have a camera in my left hand to take unique pictures of the Jordanian sunset and in my right hand I would be holding….shawarma! Yes, I'm curious to know how Jordanian shawarma differs from our Russian shawarma. I've heard a lot about the local cuisine, I would like to have a picnic outdoors, perhaps also in the mountains. Definitely would have tried the local tea (it's the best in every country), would eat a lot of meat, because a lot of meat dishes in Jordan.
I really want to go to Jordan, I can't wait to go there. But then again, despite the large number of attractions, my heart belongs to only one – the place where I would "arrive force", where Darth Vader creates a new Death Star, although in Wadi Rum was filmed a few episodes, the film left its imprint and now I associate this place only with my favorite movie. I sleep and see my photos in the image of Leia in natural scenery, and you can also take a Darth Vader mask, I think it would be no worse.
Of course, pursuing my dream (to go to the shooting locations of "Star Wars"), I could choose other countries such as Tunisia, Iceland, but Jordan attracts me more, and its landscapes look more cosmic to my mind.
Going to Jordan
Nadya Klementenok is an exhibition and festival organizer, publicist and screenwriter from Minsk. She teaches retro dancing to jazz and travels frequently. Loves long-distance routes, independent travel, history and art. In any city she will find "his" museum, and for 34travel shares the recipe for a trip to Jordan, which, by the way, is already flown by Ryanair from 14 cities in Europe.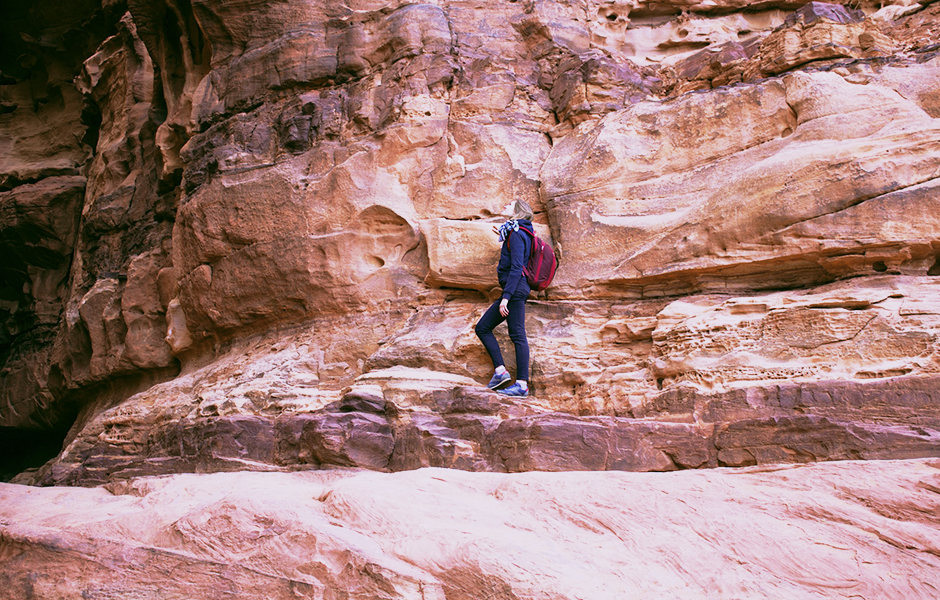 Lack of green plants, rocky landscapes and boundless oceans of sand – Jordan impressed me immediately. Upon arrival you fall into a giant sand "pit-catcher," really, the size of the country. We came here completely out of season for another dream: to see the ancient Nabatean city of Petra, which has been lurking in the rocks for at least 2,000 years. Already on the spot in our flexible itinerary, the Wadi Rum desert appeared, so suddenly referring to the Martian chronicles and the scenery of Hollywood movies. It colored the portrait of the country and gave us a terrific experience of a new perception of unreal silence that is a pleasure to listen to.
There are two of us and we usually travel on our own, whether it's Cambodia or Cuba, Malaysia or Vietnam. But this time the habits broke down over the price tag. The package tour – a charter from Moscow and back, a week's accommodation and breakfasts – all turned out to be cheaper than the usual airfare from cities close to Minsk. A 7-day winter tour could be purchased for $350-600 per person, depending on the hotel. The visa in the case of a group trip was free, and we got it on arrival.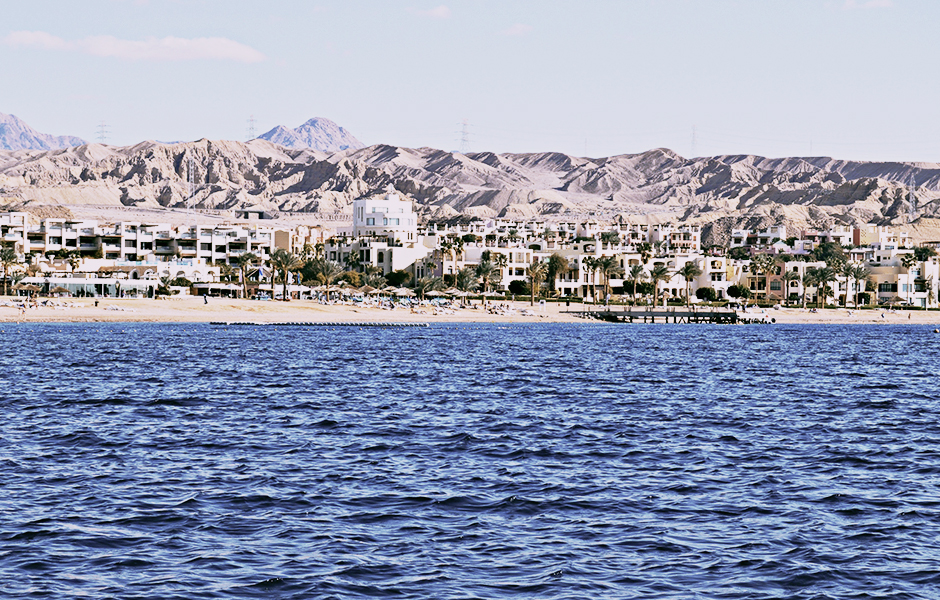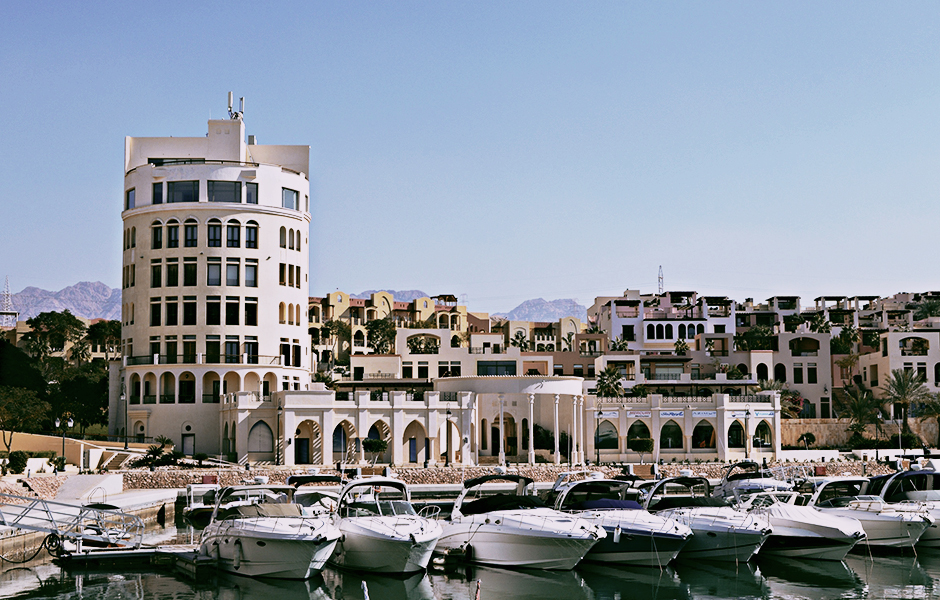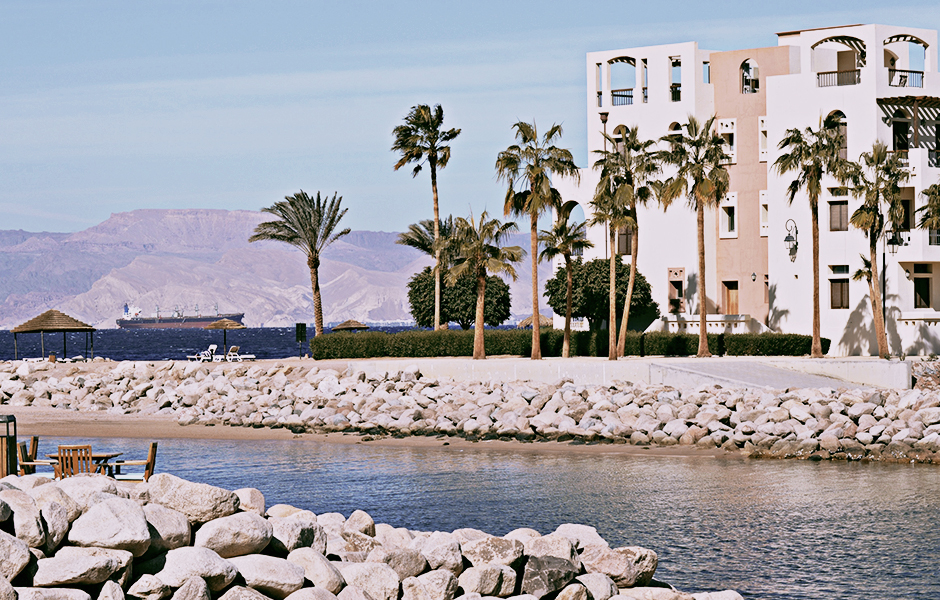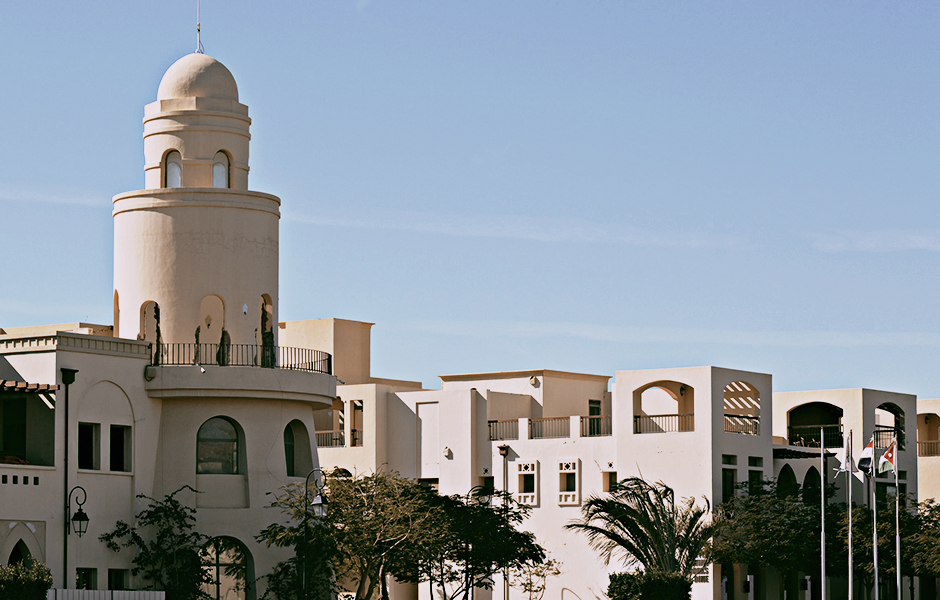 AQABA AND TALA BAY
The coastline of the Red Sea in Jordan is barely a couple of dozen kilometers long. From the only port city of Aqaba, you can see Egypt and Israel at the same time. And it was only three kilometers from our hotel to the border with Saudi Arabia. Jordan's compactness doesn't give you a huge choice in where to vacation. And essentially you have two main options if you want to get plenty of sea air.
Meditative silence and a coastline suitable for swimming – go to Tala Bay for that. It is a small tourist village, the main advantage of which is the availability of decent beaches. Even those who choose to vacation in Aqaba, come here to swim. The city itself is poorly adapted for this, and a bit dirty. But be prepared in some places to overpay for food. There are only a few restaurants in Tala Bay, and the prices are a little higher than in town. You'll also have one store at your disposal.
The currency of Jordan is the dinar JOD. It's easy to count because 1 JOD is $1.4. Orient the prices in Tala Bay: snacks JOD 3-7, main meals 9-30 JOD, beer JOD 3-4, hookah JOD 8-10, coffee JOD 2.5-4. A 7% tax and 10% tip is added to any check. This works in all cafes in Jordan. If you want to save money and still have access to variety, race into town for cheaper and more varied food. Hotels usually provide free round-trip shuttle service. Your commute time from Tala Bay is only 15 minutes.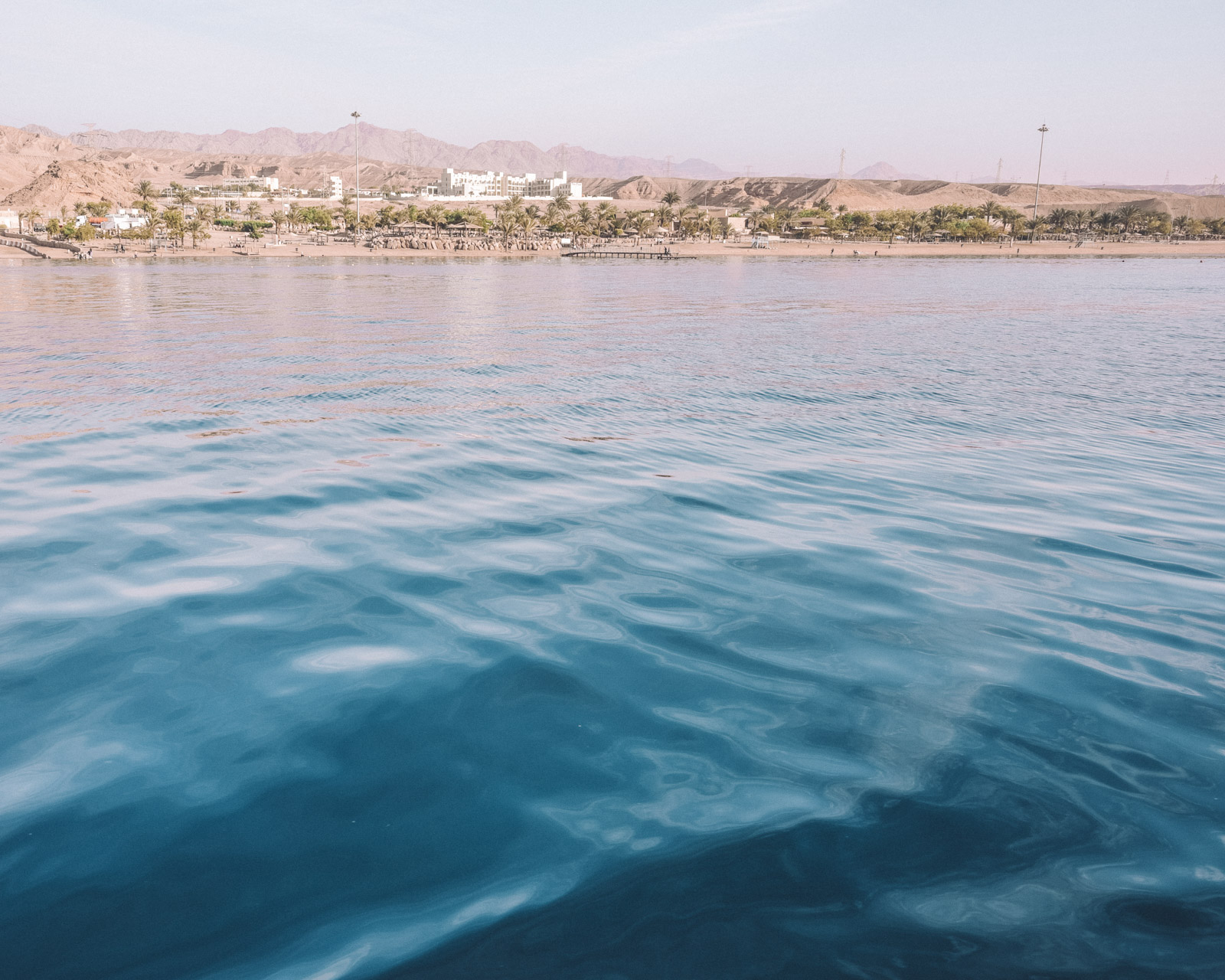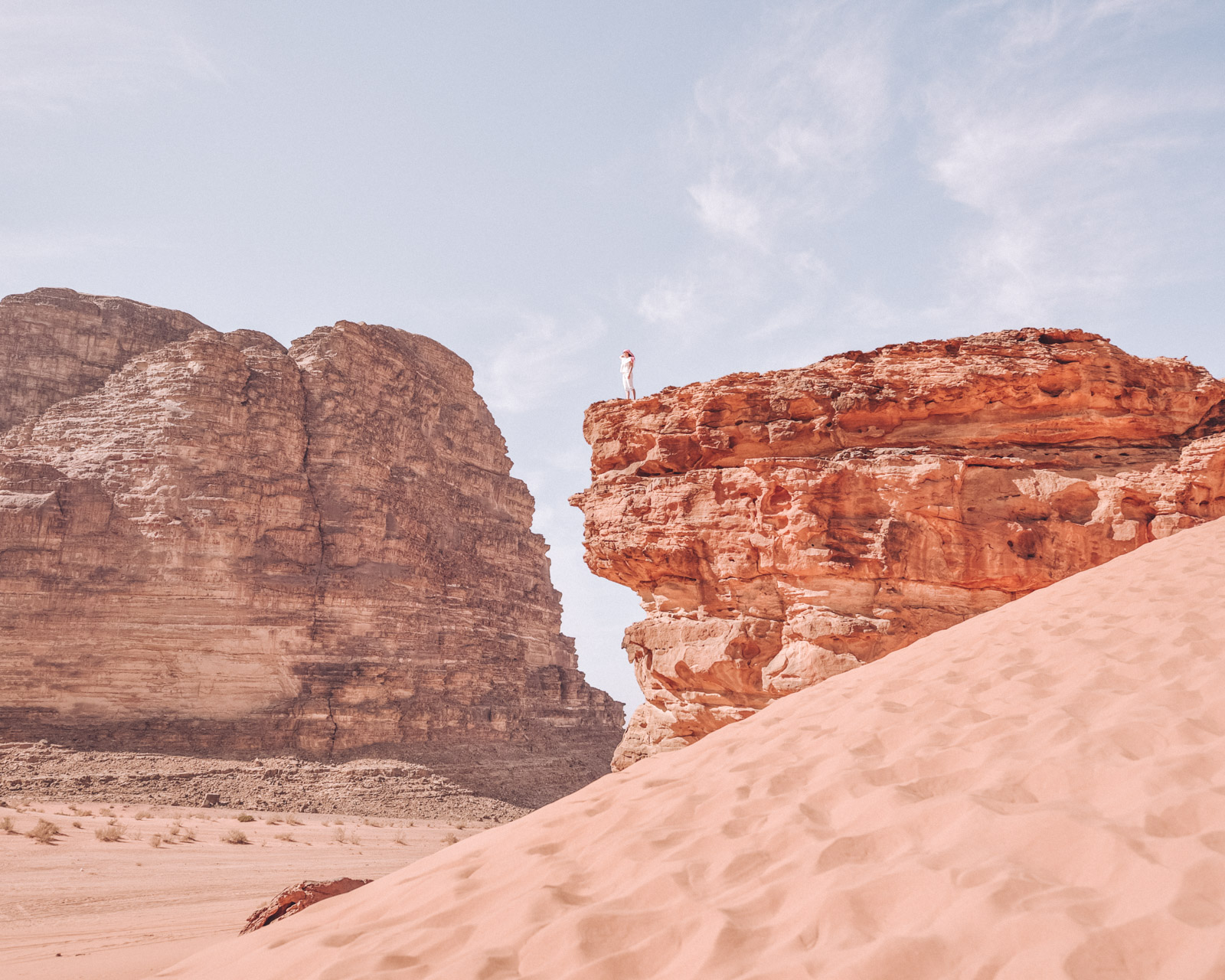 Can't live without the city noise? Want to observe the locals more often? Need a great choice of food? Then consider Aqaba for lodging. The city is unremarkable and half a day is enough to see it. It's easier to find the economy options: shaver houses, where you can eat for JOD 3-4 per person. In the restaurant you can get around JOD 10 for a dish and a drink. Alcohol is not cheap in Jordan, as it usually is in Muslim countries. Chain stores like Carrefour are a lifesaver for those who do not like to haggle.
You can also live in Aqaba and race to the beaches. We swam in a heated pool, which not every hotel has, so we advise careful consideration if you decide to go out of season. For the active and alert, both Aqaba and Tala Bay have diving and boat tours.
In Aqaba and in the village we felt safe. The locals often smiled at us, some made short conversations. At no time did we ever get the feeling that anyone was intrusive or pushy or, say, trying to scam us for money. It was easy to walk and chat. Sometimes we were greeted with "Welcome to Jordan" and smiled a lot.
What else is worth doing in the city? Take a walk along the waterfront to the world's largest flag. We weren't lucky, we could only see the flagpole. But maybe by the time you travel, the flag will be back in place. Do something you would never do at home: watch a TV show or vocalist show with the locals at one of the many cafes. TV works everywhere here, and it's fun to watch and must be watched in groups. And as a memento, buy local pottery, dried fruits, sweets, and don't forget to bring your mom some local spices. They are amazing!
"Do something you'd never do at home: watch a soap opera with the locals or a vocalist show at one of the many cafes."
Petra is a whole tangle of different hiking trails. Boldly allocate a day; you won't make it in half even at a brisk pace, unless you're counting on galloping. There's a really big area, steep climbs, and ornate trails waiting for you. More water, comfortable shoes, headgear, and go.
Petra is a unique place both for its historical value and its visual multilayeredness. The people of the Nabateans, nomadic traders, worked several thousand years ago to make the stunning rocky landscapes and gorges into a cohesive city. They literally carved their capital in the steep cliffs!
The city today is not as inaccessible as it used to be, except for the price of admission. You can get here by car, public transportation or order a cab. Two hours of wide, good roads from Aqaba and you are in Wadi Musa, a small village at the foot of Petra. There are shuttles from the center of Aqaba. The downside is that they leave by occupancy and closer to lunchtime. This option is suitable only if you are going to spend 2-3 days sightseeing with overnights in Wadi Musa. The plus side of the shuttle is obvious – the price is only JOD 5. But with overnight stays, the benefit is questionable.
We were limited to one day, took two guys from Germany for company and split the cost of the cab. Remember and make no mistake: in Jordan, you always pay for the car, not the parking space. From 7am to 7pm with a wait in Petra, the excellent driver Nadal drove us for JOD 70. We "caught" him and arranged everything right by the road. He didn't let us down, became our friend and even fed us all of his pound fruit supplies. It was sincere and such a glorious experience with the locals that we still exchange photos. We send him snow, he sends us rocky mountains. Surely he's getting a little cooler and we're getting warmer.
Of the alternatives, group tourist excursions to Petra. The average price is $100 per person along with entrance fees. The emphasis, as a rule, in this case, tour operators make for Russian-speaking tourists. Take your pick!
The ticket is something that is sure to traumatize a traveler of any income. JOD 50 is one day, 55 is two, 60 is three. And that's only if you're flying to Jordan specifically for a vacation. For those who go on a day trip to Petra from Israel, the price tag is skyrocketing and even weaker. Petra can surely be considered one of the world's most expensive open-air museums. But if you have a thirst for experiences, unique places and incredible discoveries in you, you are unlikely to regret it.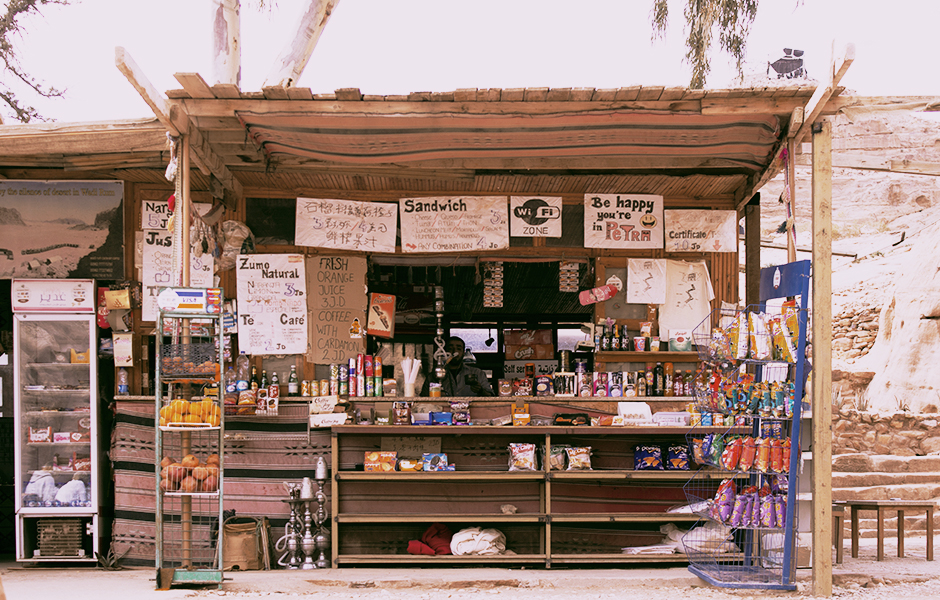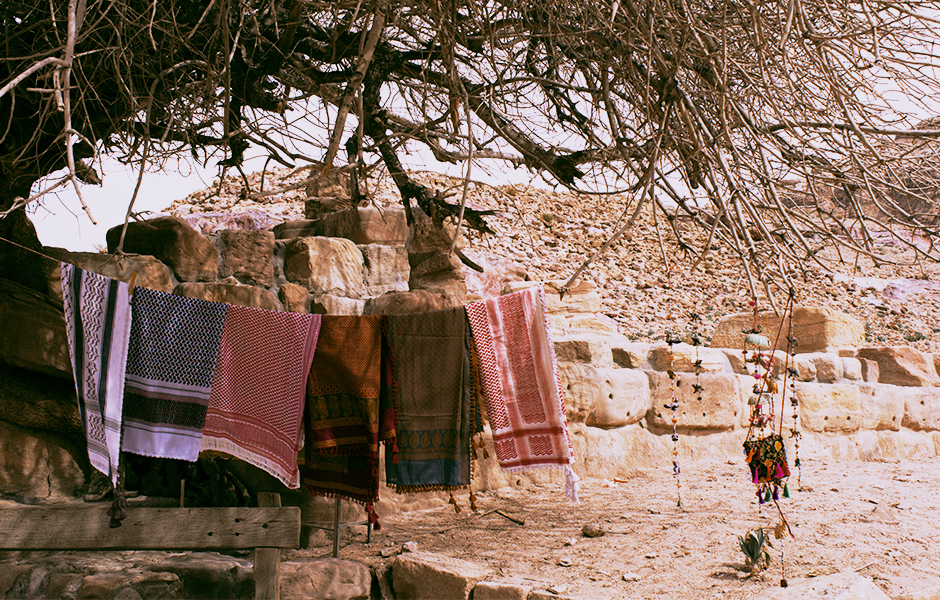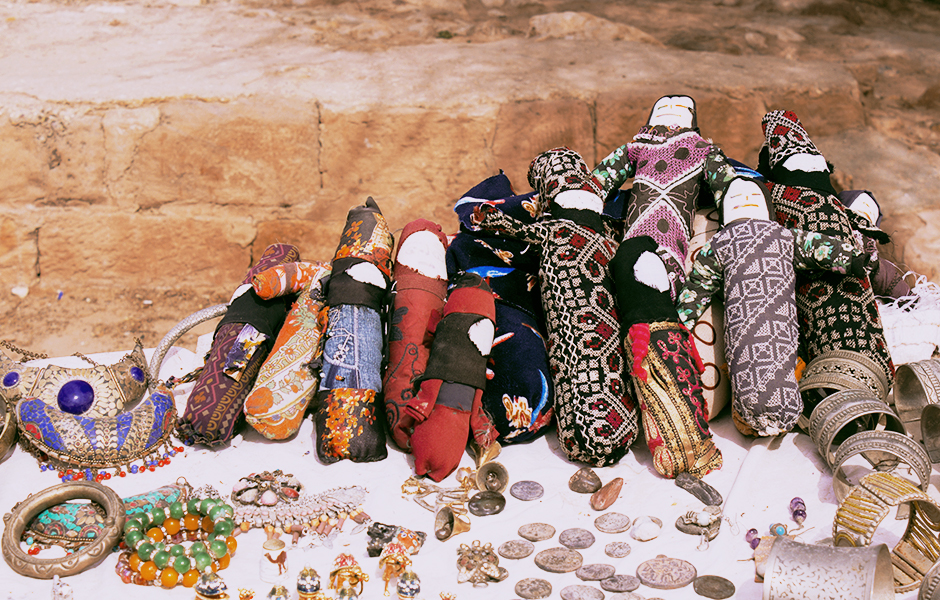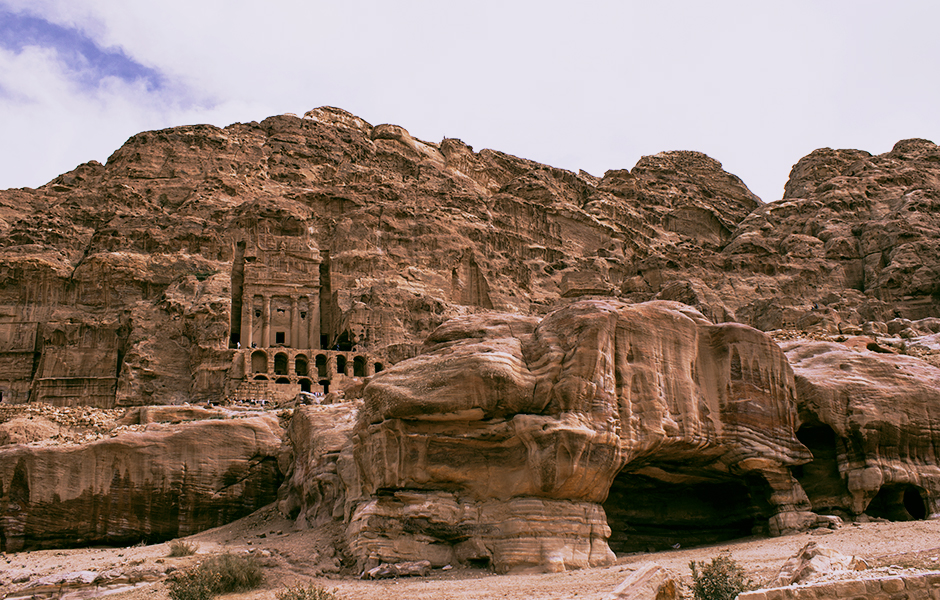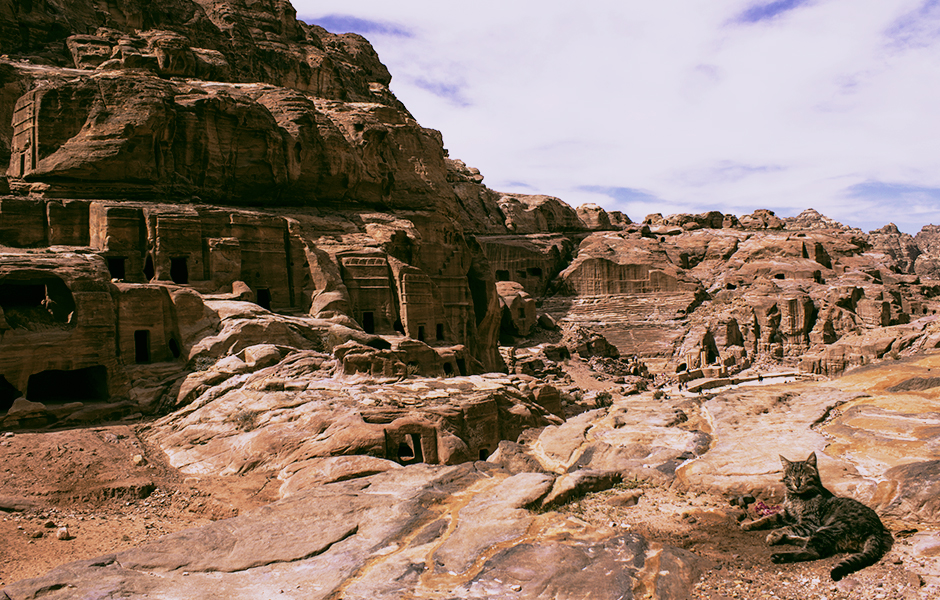 So, the ticket is in your pocket and you're already moving toward the Sik Gorge. For more than a kilometer the road wanders between the rocks. This beautiful gorge was created by nature and then "finalized" by hand. Note: on the sides are faintly visible troughs for the clay pipes that once supplied the city with water. The civil engineers, about whom we know almost nothing anymore, created a hydraulic system perfect for its time, saving the city from the floods that are not uncommon here during the winter months. Through these depressions fresh water flowed almost without loss into the dozens of vessels beneath the city. Thus the locals were always supplied with drinking water.
The gorge ends, and the first thing you see is the famous local structure – the El Khazneh Treasury. By the way, there is a good movie about the city. And if you, like us, are a curious and fact-loving person, we advise you to watch the movie before your trip.
We managed to take one main route with the capture of El Deir Monastery. We didn't regret it one bit. The temple is no less epic than the much hyped and chic treasury. We walked along the street of facades, the ancient Roman theater, the royal tombs, and, of course, peeked inside. Today, by some irony, it is home to Bedouin donkeys and local jeeps.
Along the way you encounter many sketches in the best traditions of documentary cinema: a guy sitting between tombs on high ground, Bedouin children selling pebbles and lying in the dust with happy faces, cabbies obsessively and vigorously offering you their services. You learn from them that your weak body is not able to overcome such a long climb without the help of a donkey-camel and three guides. Don't be fooled, we believe that if you can do it, so can you! And it's not as far up the mountain as every Bedouin you meet tells you.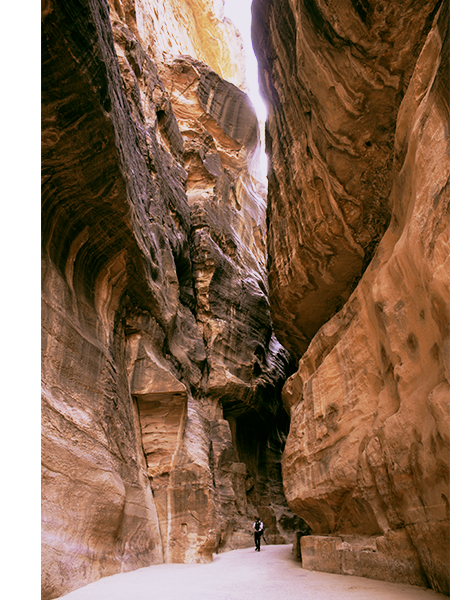 "The coachmen are pushing and pushing and pushing and pushing and offering their services to you. You learn from them that your weak body is not able to overcome such a long climb without the help of a donkey-camel and three guides."
Petra is much more bustling than port Aqaba. The nomadic Arabs differ greatly from the city dwellers in their ringing and perseverance. For them, you are primarily a source of income. This ancient city has its own chaos and its own modern commerce. Also, let your sense of smell be ready, it doesn't smell very glorious here, with animals at every turn. The contrast with the quiet of the coast is stark, but you'll hear an interesting pulse of life in this, too, if you want to.
A dozen kilometers from Petra is Little Petra, Sik al Barid. This place didn't appear on the tourist itinerary very long ago. It is there that you will find first century mural paintings discovered in one of the cave halls. This is Petra in miniature – temples carved into the rocks, altars, stairs, rooms, and ritual rooms. An option for those who are here for more than one day.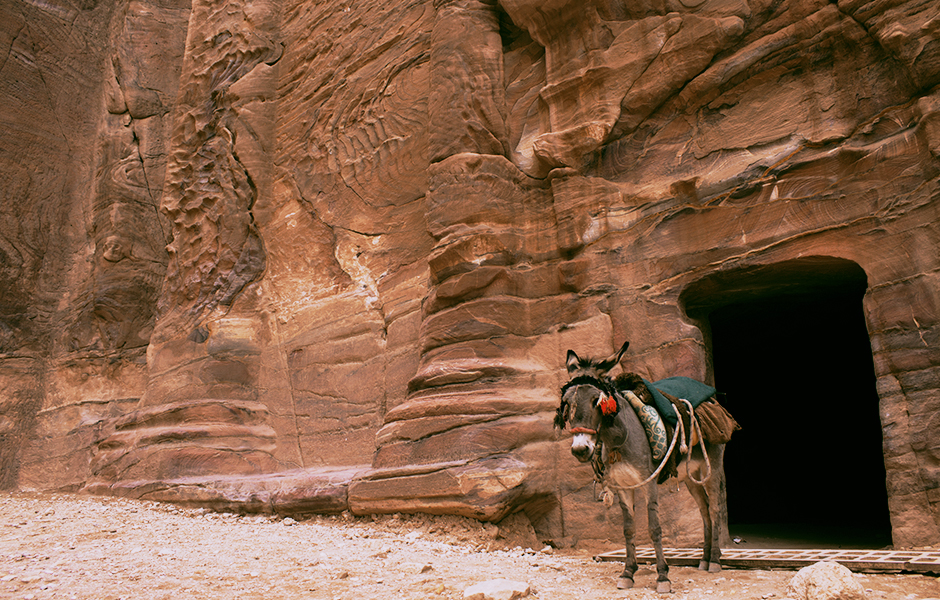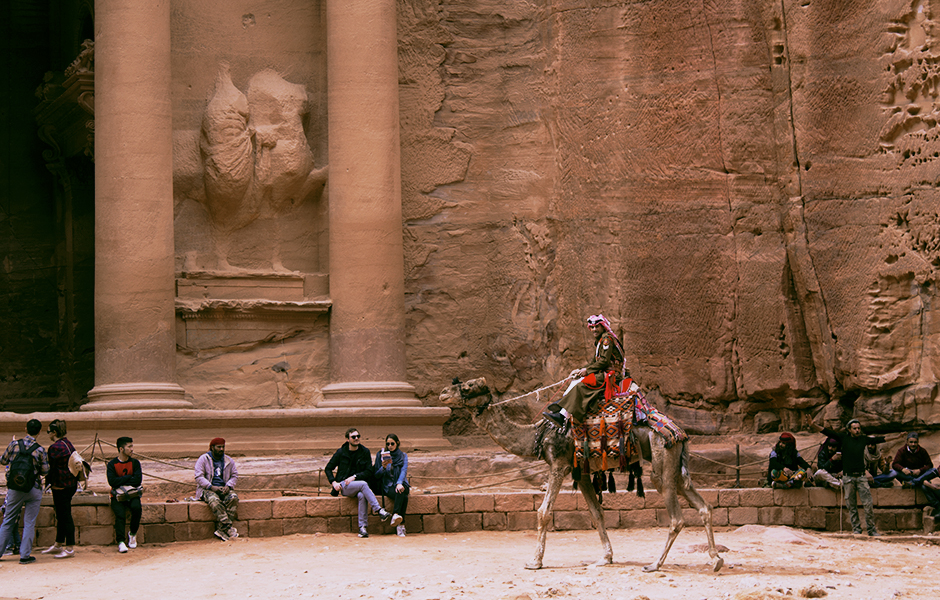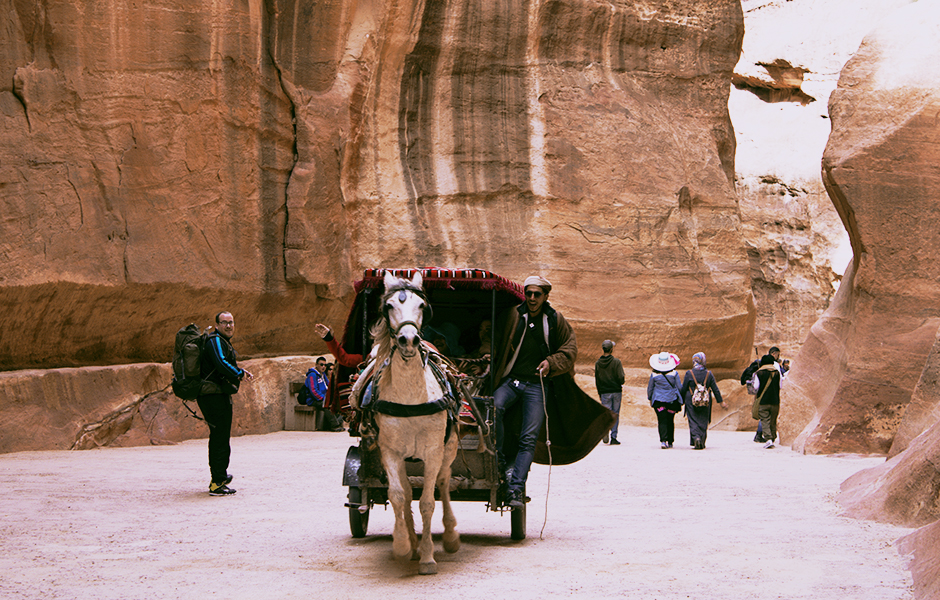 WADI RAM – AND SPACE IS YOURS
Mars, it turns out, exists on Earth as well. Wadi Rum is a place where the sand changes color many times as the sun travels to the horizon. From bright yellow to pink and even purple, you'll be struck by the stunning silence and a thousand shades.
Wadi Rum is a desert that is a UNESCO World Heritage Site. The name sounds like "Moon Valley". This is where the films "Transformers" and "The Martian" were filmed, and there are many others on the list. Be sure to watch David Lean's "Lawrence of Arabia" about the events of the Arab Revolt of 1916-1918. 3.5 hours, 1962 and, just imagine, seven Academy Awards! You'll get a lot more information than you would from a local Bedouin guide's story. Although, maybe you and your guide will have better luck than we did. And if you like books, read Lawrence's own memoir, The Seven Pillars of Wisdom, before your trip. You won't regret it! Thomas Edward Lawrence was an odious figure, a British officer and writer who played a controversial but major role in the Great Arab Revolt.
Getting to Wadi Rum by public transportation is difficult. There are no direct services. Rent a car, book a tour, or do as we did: the four of us rent a cab and be on your own. JOD 40-50 per car – and you have a personal driver for almost the whole day. Haggle, it helps a lot in Jordan.
The distance from Aqaba is only 60 km. You have to leave the car at the entrance to Wadi Rum anyway. The fact is that this desert is a nature reserve. And only the locals are allowed to drive personal vehicles on the oceans of sand. By the way, somewhere here is the invisible border with Saudi Arabia.
It cost us JOD 5 to enter the desert area. Next, we rented transportation to travel through Wadi Rum. This can be done on the spot with no problem. The prices are fixed. We paid JOD 70 per jeep for everyone. The cost depends on the number of points on the route. We took an average one, designed for 3.5-4 hours. A standard tour is usually 2-2.5 hours, and that's what most agencies and local guides offer. But this is disastrously insufficient, in our opinion, to fully enjoy the gorgeous views. Stretch out the fun, when else are you going to visit the quaint natural scenery!
This place is about contemplation and silence. A Bedouin guide who lives nearby in the village will show you places related to Lawrence's life. In fact, the tour bears little information load, but gives a lot of emotional. Without exaggeration or pathetics, this is one of the most amazing places on earth we have ever been. Here you learn to listen to the all-absorbing silence, you just sink and dissolve in it against the background of the sunset. And every sound seems unreal. Magic, yes, yes, just magic.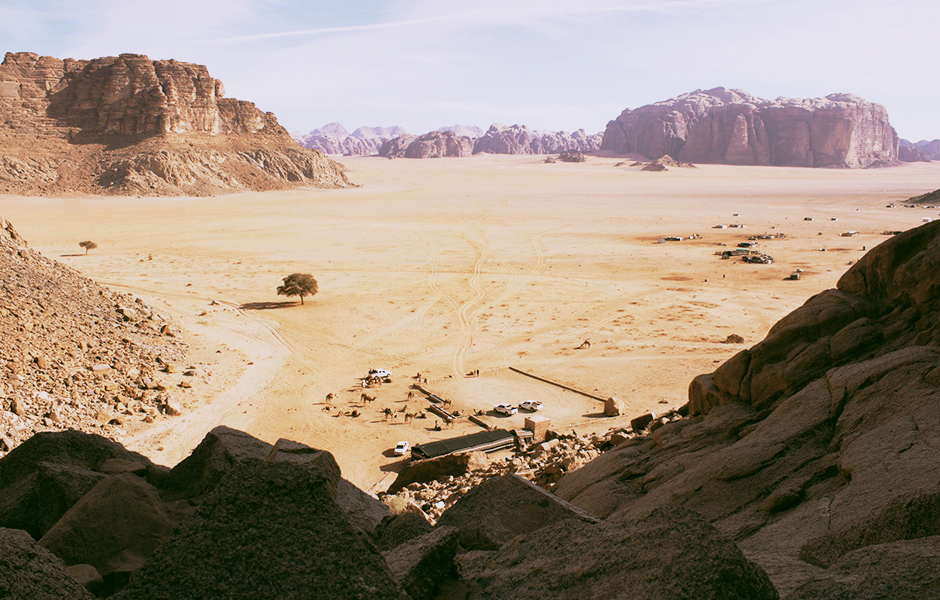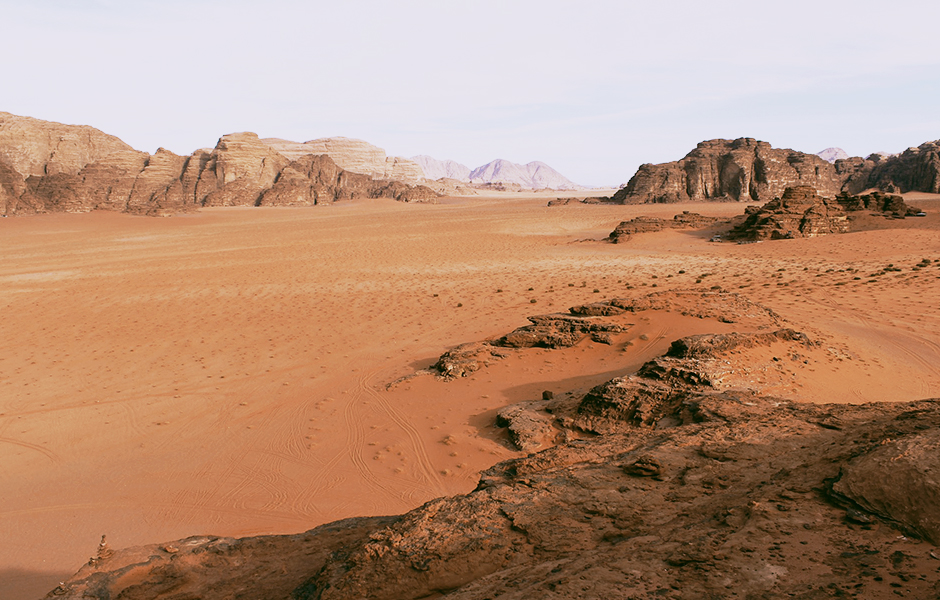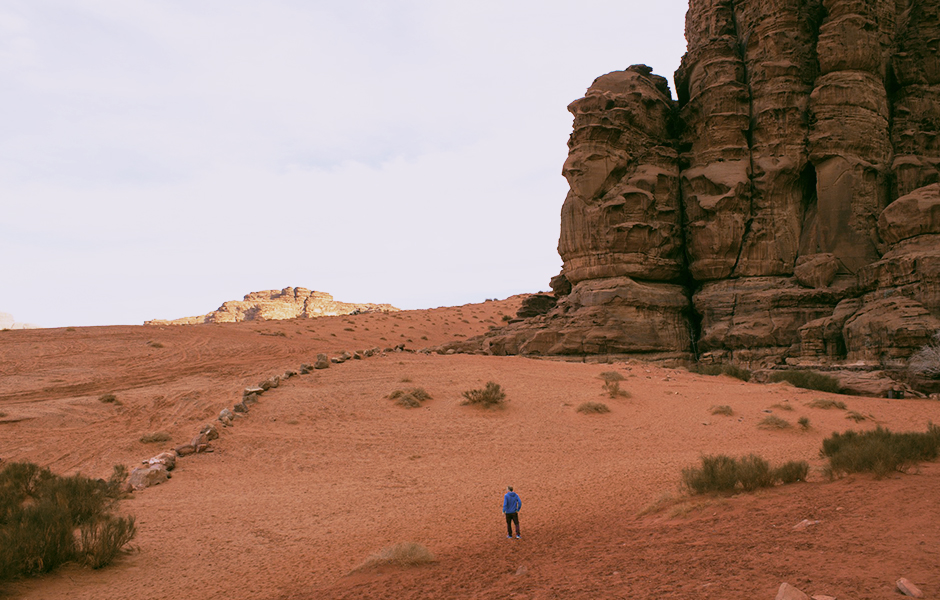 By the way, in the desert there is a shelter-hotel for foreigners, where you can stay overnight for a decent fee. And every year, Wadi Rum hosts the Distant Heat dance festival and a couple of other prominent festivals. So, you can time your visit to coincide with some festive dates.
By the way, because of the nature of the climate in a day in the desert can feel a very large drop in temperature. Take this into account when choosing clothing for travel. A jacket will definitely come in handy.
Wadi Rum is my best sunset. And the ethereal silence of the desert is an emotion that is forever. They are unlikely to turn into a pale fuzzy cloud of memories even as time passes, just like ancient Petra. Jordan has become a country that has rid us of many stereotypes about the Middle East after previous more trivial experiences. And is sure to impress those who are interested in history, ancient capitals, new cultures and the stunning nature of the desert. It is also worth a trip here if you are interested in religious tourism. The Jordan River and other places of biblical events are very much concentrated here and require a separate detailed story and immersion.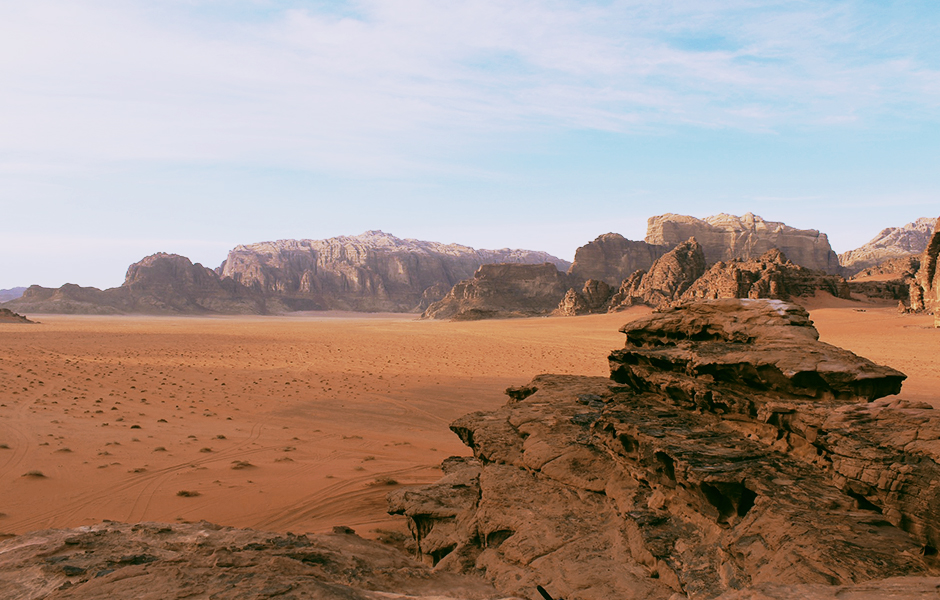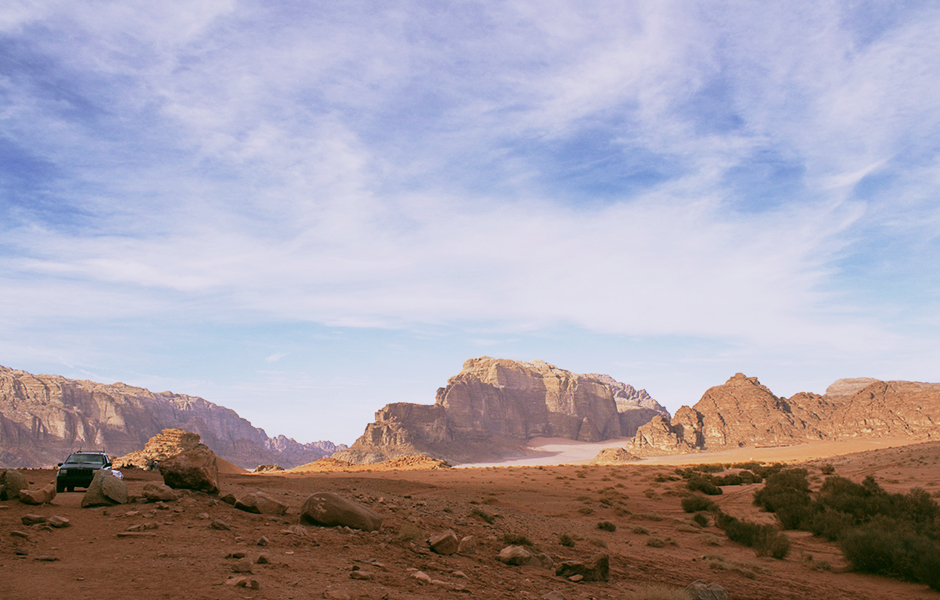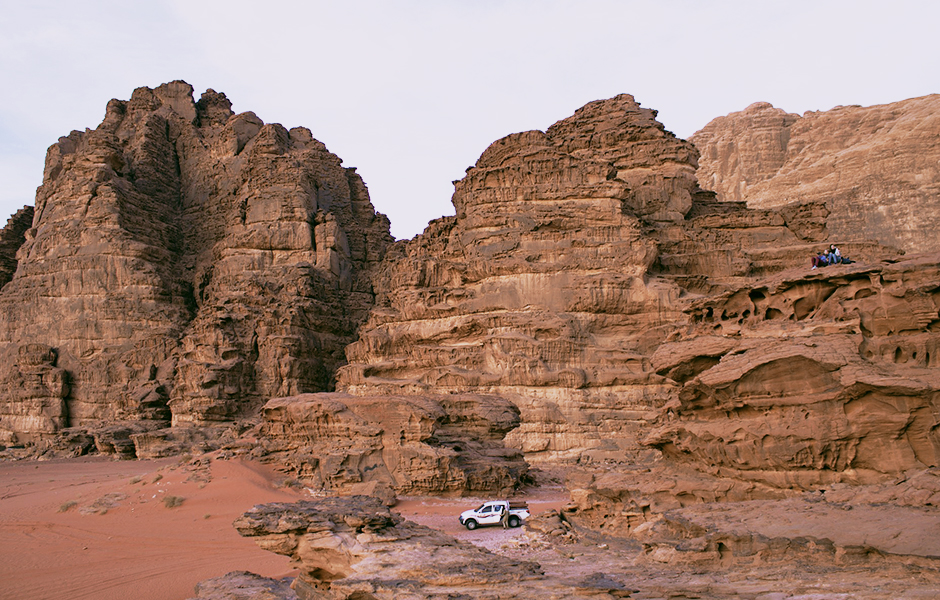 Budget for a week for one person:

Flight, lodging and breakfast – $500

Meals – $150

Day trip to Petra – $95

Trip to Wadi Rum – $55
Photo from personal archive of the heroine, Irina Porunova, iamtravelr, Alen Palander