Travelling to Georgia by yourself – prepared route across Georgia
Approximate travel budget (without the cost of the flight, per person): 3,700 Georgian GEL ($1,190, at an exchange rate of 3.11 GEL per $1).
Learn how to travel to Georgia on your own, how to get visa to Georgia, how much it costs to visit Georgia and what interesting sights to see in Georgia. We've prepared this travel itinerary about Georgia specially for you. We've selected the most important, best, interesting and popular attractions in Georgia and added a photo and short description of them, as well as transportation and financial information. Use our free itinerary to organize your trip to Georgia.
All places of interest on one map:
Flight cost Moscow – Tbilisi – Moscow:
Arrival.
Tbilisi is the capital of Georgia and its heart. It is the largest city of the country, an important economic, political, transport, scientific, cultural and spiritual center. The history of the city goes back several centuries, and its old name is Tiflis.
From the airport named after Shota Rustaveli you can reach the city in several ways:
Bus #37 to the railway station (from 06:00 to 23:00 every 15 minutes, fare 50 tetri, travel 1 hour). The bus also stops at metro stations: Samgori, Isani, Aragveli, Avlabari, Liberty Square, Rustaveli.
Train to railway station (2 times a day: at 08:45 and 18:05, fare 50 tetri, travel time 30 minutes).
Cab (fare is 25 lari, travel 20 minutes).
The cost of hotels in Tbilisi (and Georgia in general) on average 90 GEL per standard room. Book a room in Tbilisi for 2 nights.
Public transport in Tbilisi.
For more advantageous travel it is better to buy a Metromoney pass, with which you can pay for the bus, subway and cable car. Passes are sold at the entrances of metro stations and cost 2 GEL. This amount is refunded when returning the card (refund is possible within 1 month). After paying for the card you can travel 1.5 hours, making any number of transfers, at no extra charge. You can recharge the card at any metro station or Bank of Georgia terminal.
Buses. Comfortable yellow and blue buses ply around Tbilisi, and their stops are equipped with an electronic scoreboard indicating the stops and the time before the bus arrives. The fare is 50 tetri. Payment can be made by Metromoney card or cash at the cash register at the bus entrance (no change).
Bus minibuses. In addition to municipal buses, yellow minibuses take passengers. The fare is 50-80 tetri. The fare is paid by Metromoney cards (and the free period for the change is not provided) or in cash at the entrance. Shuttle cabs stop at bus stops or at the request of the passenger. The operating company has a very good website (tm.ge), where you can lay out the route of the trip and find out the fare.
Metro – consists of 23 stations, which belong to the Ahmeteli – Varketil (red, long) and Saburtala (green, short) lines. The transfer point is only one – Sadguris moyodani (Station Square). You can only pay for the ride with a Metromoney card.
Cable car. The cost of the ride on the route Rike Park – Narikala Fortress is 2.5 GEL per one way. Pay only by Metromoney card.
Funicular. The fare to Mtatsminda mountain is paid with Mtatsminda amusement park card. The fare to one is 8 GEL, the price of the Mtatsminda card itself is 2 GEL.
Cab is the fastest way to get from one point of the city to another. There is a lot of competition between firms, so the prices are reasonable. Within Tbilisi the trip costs 3-6 GEL. It is not worth catching "private taxi drivers" because they often overcharge you. To order a cab it is better to use Taximaxim, Bolt and Yandex Taxi apps.
Prices in cafes and restaurants in Georgia: the average check for one person – 15-20 GEL (depending on the region and institution); khinkali (5 pieces) – 5 GEL; hot meals and shashlik – 10-20 GEL; soups – from 5 GEL; soft drinks – from 2 GEL; wine (for a bottle) – from 15 GEL. Almost always the service charge is included in the bill – 10%.
Various meat dishes are popular in Georgia – beef, lamb, pork and poultry are wonderfully cooked here. The distinctive feature of the local delicacies is the great variety of sauces with vegetables, berries and spices that give dishes a special zest. Also worth mentioning are the delicious Georgian cheeses. There are many dishes in Georgian cuisine which include different kinds of cheeses. Among drinks popular are chacha, Georgian wine (saperavi, kindzmarauli, khvanchkara, tsinandali, rkatsiteli), mineral water (Borjomi).
You can go to Georgia with any currency (rubles, dollars, euros) without changing anything in advance. You can exchange your money for the local currency, GEL, at numerous exchange offices or bank branches.
The budget of your trip: accommodation (13 nights with breakfast) – 1 170 GEL, food (14 days, lunch and dinner) – 560 GEL, sightseeing – 350 GEL, car rental (12 days) – 950 GEL, gasoline – 530 GEL, pocket money – 140 GEL. Total 3 700 GEL.
Dream Trip to Georgia: Tbilisi, Mtskheta, Batumi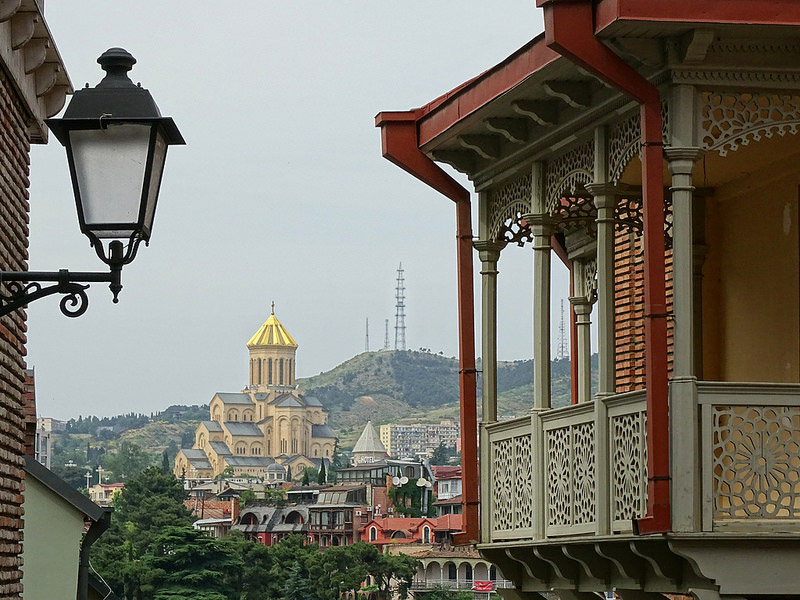 Travel to Georgia: program and itinerary of a walk in Tbilisi and a trip to Mtskheta and Batumi.
The travel program was written for a contest of 30,000 rubles for a dream trip organized by the website MAKE-TRIP.RU. The challenge was to come up with an original idea and travel route, as well as to keep within 30 000 rubles for flights. The best texts of the participants will be published in a separate rubric.
The sponsor of the contest is the Skyscanner cheap flights search service. It allows you to compare prices of all airlines and buy tickets at the lowest price. Get acquainted with its effective smart search tools:
Search for the cheapest airline tickets to any destination. Check out →.
Up-to-date information about the best airline fares. View →.
Author: Gavrilova Valeria .
Hello, dear editorial board!
I am writing to you a man who for all my 28 years has won only one contest, and if the magic randomizer does not want to determine me among the favorites, we will try to win the victory by creativity and creativity.
May 10. St. Petersburg. It's snowing outside.
No, I love this stern city, but it's moments like these that make me want to teleport to some distant, faraway, warm place with delicious wine, cheerful faces and smells and smells of summer. For me, all these sounds, smells and tastes merge in one word – Georgia. I've never been there, but for some reason that's exactly how I see it. So, the goal is to win tickets, the destination is Tbilisi, and the contenders are two pale-faced residents of the Northern Capital with mortgages, loans, and other "charms" of adult life that prevent them from traveling freely.
You know what the first thing I would have done upon my arrival? I would find the biggest, juiciest and fattest khachapuri and take it with my bare hands and eat it. Let it be a kind of initiation, after which you can safely go to the city to see the sights.
First you can go to the old town to wander through the narrow streets, find interesting courtyards and houses, to take pictures of subtle details. Go to the theater of puppets by Rizo Gabriadze, and even if you can not get to the show, be sure to drink delicious coffee in a cafe, which is located there.
Haggle at the flea market near the Dry Bridge and find there the most beautiful jewelry for mom, necessarily with a story. Then walk to Zion Cathedral and look at the famous sulfur baths.
Walk along Rustaveli Avenue and at its very end make sure to stop at Prospero's Books. To be hungry in time, to find an unremarkable place, where the good Georgian aunt will cook something quickly, where there will be many locals – is always a good sign. Try new dishes with good old wine, and in the evening take a streetcar to Mtsatminda Park, where Tbilisi opens like the palm of your hand. Then go to Kala cafe, where they play jazz in the evening.
One day be sure to go to Mtskheta to visit Svetitskhoveli Cathedral and Jvari Church. Back in Tbilisi, go in the evening to g.Vino for magical Georgian wine tasting.
Buy the freshest fruits and vegetables at the market, as well as homemade lavash and suluguni and share all this goodness with neighbors on the train Tbilisi – Batumi.
To find a botanical garden in Batumi and walk there long and far, breathing in the smell of cypress and flowers. Go to the beach, swim until your lips turn blue and then warm up in the sun.
To search among the pebbles for the "chicken god," to find and bring home (for good luck, of course), and with it to bring freckles on my cheeks and shoulders, homemade semi-sweet, gifts for my family and the warmest memories of this little trip.
Ticket found on Skyscanner: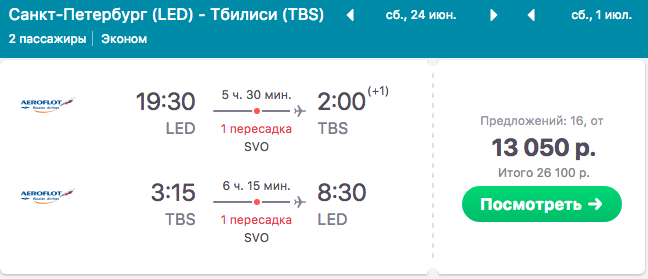 First photo: Adam Jones, Ph.D. – Global Photo Archive / flickr.com / License CC BY-SA 2.0.