Best excursions in Dubai – prices and our experience in 2022

Excursions in Dubai: where to go, what to see and how to rest economically (but qualitatively) in a low-budget country. We collected the experience of our friends and forum members. Relevant? Then read.
Introductory data. We were in the UAE 4 times: first – in 2014 in Ras al-Khaimah, the second – in winter in Dubai, the third – in December in Sharjah and Dubai.
Contents
Prices and descriptions of the best excursions in Dubai
The best (according to reviews) entertainment in short-list. The short-list includes:
| | | | |
| --- | --- | --- | --- |
| Name | Cost | Description | Where's better? |
| Abu Dhabi | $120-150 $50-75 (if only the mosque). | Trip around the capital with a visit to the Sheikh Zayed Mosque and Ferrari Park. | On-site But you can also do it online on Sputnik |
| Dubai sightseeing tour | $25-35 – per person $220-250 – per tour (if only your own company) | Tourists insist on taking individual tours (not the bus, but the car). No rush, soap and nerves on the main attractions. | On the spot But you can also online on Tripster |
| 6 emirates | $80-$100 | Possibility to cover the immensity in one day: ✓ Dubai ✓ Sharjah ✓ Ajman ✓ Umm Al Qaiwain ✓ Ras Al Khaimah ✓ Fujairah + Indian Ocean. | On Sputnik ($80) |
| Evening desert safari | $50-$55 | Mini desert journey on jeeps/camel – an extreme's dream! | On Sputnik ($45). |
| Hop-on hop-off bus | $65-70 | A modern version of the group tour: you look at the city from the top of a two-story bus, listen to an audio guide in Russian, if you want – get out, get in. The blue bass runs along the waterfront, and the red bass runs in the city. | On GetYourGuide ($66). |
| A ride on a dhow, an Arabian boat. | $55-65 | Sail the Creek Bay or Marina and have dinner. | On the Tripster ($55). |
| Burj Khalifa. | Minimum "set" – 124th and 125th floors – from $44 | Climb the world's tallest building. | At GetYourGuide, the official ticket seller for the Burj Khalifa. A tower and aquarium combo is also available here for $62. The site is foreign, and if you don't have a foreign bank card, you can't pay. In that case there are tickets on Sputnik8 |
We will tell more about each excursion in Dubai and about prices in 2022 ↓ And below, for those who are interested, we will make a list with the rates of the same excursions from tour operators, that "push" in the hotels.
Dubai Desert Safari / Overview – Dubai Marina area
Our experience in Dubai – how to save money on excursions?
Dubai, like all the Emirates, is not budget friendly. Thanks, cap:) So relevant and it wouldn't be out of place to save money. About tickets, lodging and package tours – have already painted. And how to look for low-cost tours?
Here's how you can bring down the price tag:
Choose in English – on GetYour Guide there are many great offers – both on tours, and on admission tickets (but for the first need to know the language and generally have a foreign bank card to be able to pay on the site)
Book in advance and online; good services for excursions in Russian (and with payment by Russian card) are Sputnik and Tripster
Do not take suggestions from tour operators (even from Anex Tour or Biblio Globus). As a rule, tour operators overestimate the cost of tours.
Excursion "Safari in the desert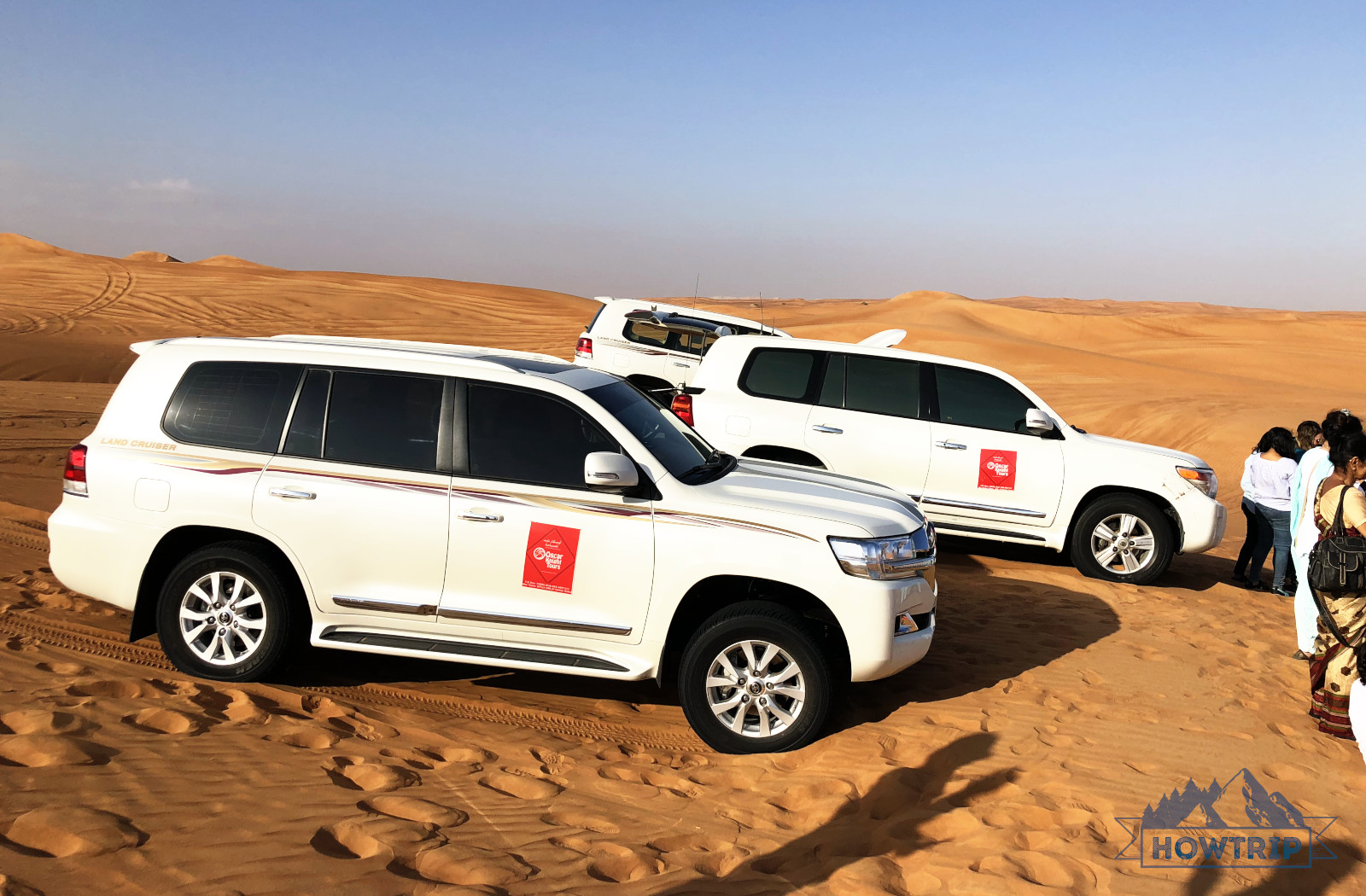 Jeep Safari in Dubai – our stop for sandboarding Literally: a desert safari outside Dubai at sunset. One of the most popular tourist attractions. Of transportation, camels, jeeps, and quad bikes (they are for a surcharge, 250 dirhams for two). There is also a morning safari, which is what we chose. Departure was around 7 am, and at lunchtime we were in Dubai Mall (asked to take us there, not the hotel).
Our excursion description: Transfer by Landcruiser took us from the hotel, first we were taken to a place with quad bikes (was for extra charge, we did not start to ride), after a ride in the dunes in a jeep + sandboarding, we rode on camels and finished the tour with breakfast in the desert. In the evening safari instead of breakfast there will be dinner in a Bedouin camp, hookah and a henna tattoo on request. Eastern ambiance for the sake of it.
Price: $45-50; $50-55 from local guides.
Duration: 5-6 hours
Reviews: The very thing we can leave our subjective about – HOT.
Climbing the Burj Khalifa
Burj Khalifa If you're going to Dubai, you couldn't have not heard of the local tower, the Burj Khalifa. Or have you? Either way, 828 meters! Can you imagine the view? We've ignored climbing up to the observation deck several times, but on our last trip we couldn't resist! And we loved it, so I recommend it, especially if you haven't been to such high places We took the "At the top" ticket, that's enough for the "wow" effect.
A skyscraper is not just stores, offices and restaurants. Burj Khalifa is a city within a city (residential apartments, parks, boulevards). And for tourists, there are also observation decks. There are two of them:
At the top – 124 and 125 floors – standard, but the most sought-after
Sky at the top – 124, 125 and 148 floors – a VIP area without queues
Price for standard: before 3pm and after 7:30pm – $44.50 for an adult, $32 for a child; from 4pm to 7pm – $65 and $37, respectively.
Price for VIP: $105 per person age 4 and older.
Better to buy your ticket online so you don't have to wait in line at the box office. The official ticket seller, on par with the Burj Khalifa website, is GetYourGuide. It is even more profitable, as the site adds a service fee of a few dirhams. Tourists often take a combo offer: a standard sightseeing tour and an aquarium at the Dubai Mall for $62.
If you have not yet acquired a card from any foreign bank, book tickets for the tower on Sputnik8 (to get somehow otherwise is unlikely – at the box office on site there are no tickets for the coming dates).
Tip. Best of the best time for photos is 1 hour before sunset (that's why it's more expensive). Catch both daylight and sunset against the backdrop of the bay.
Dubai sightseeing tour
Fountain in front of the Burj Khalifa / Burj Al Arab When they say "best tours in Dubai," this sightseeing tour comes to mind. A suitable option if you:
1) it's your first time in the city/country.
2) have little or no time to see the iconic sites
3) are staying in Sharjah – from there it's the most walkable
Includes key attractions in Dubai: the artificial island of Palma (where the biggest water park), rich in mansions and yachts area Dubai Marina, the largest shopping center Dubai Mall, the skyscraper Burj Khalifa and a number of other buildings.
Price: adult – about $30, children – $25. Individual (for a 4-car): $200-230 (many reviews on Tripster).
But! The check can go up depending on your geolocation. So, let's say the cost of a similar group tour from Sharjah to Dubai starts at $55.
Duration: 6 hours Testimonial: Galloping. You'll have time to see everything you need to see.
If you decide to tackle the city on your own, we can recommend our article-impressions of a trip to Dubai. Maybe you will "get" our itinerary:)
Excursion to the Sheikh Zayd Mosque (Abu Dhabi)
Abu Dhabi sightseeing tour + Ferrari Park.
The name says it all: Abu Dhabi sightseeing tour (with a stop at the Sheikh Zayed Mosque) and an immersion in the world of Ferrari in the park of the same name (connoisseurs will understand). The latter includes a museum of retro and modern cars, car assembly rooms and ATTRACTIONS.
Price: adults $130-140, children $110, admission included.
But like pies sell out, of course, just a tour of Abu Dhabi without extras. The cost in a group is about $70 for an adult and $45 for a child. Individual (for four people) will cost $200-250.
Duration: 10 hours.
Tourist feedback: It's the best with a child.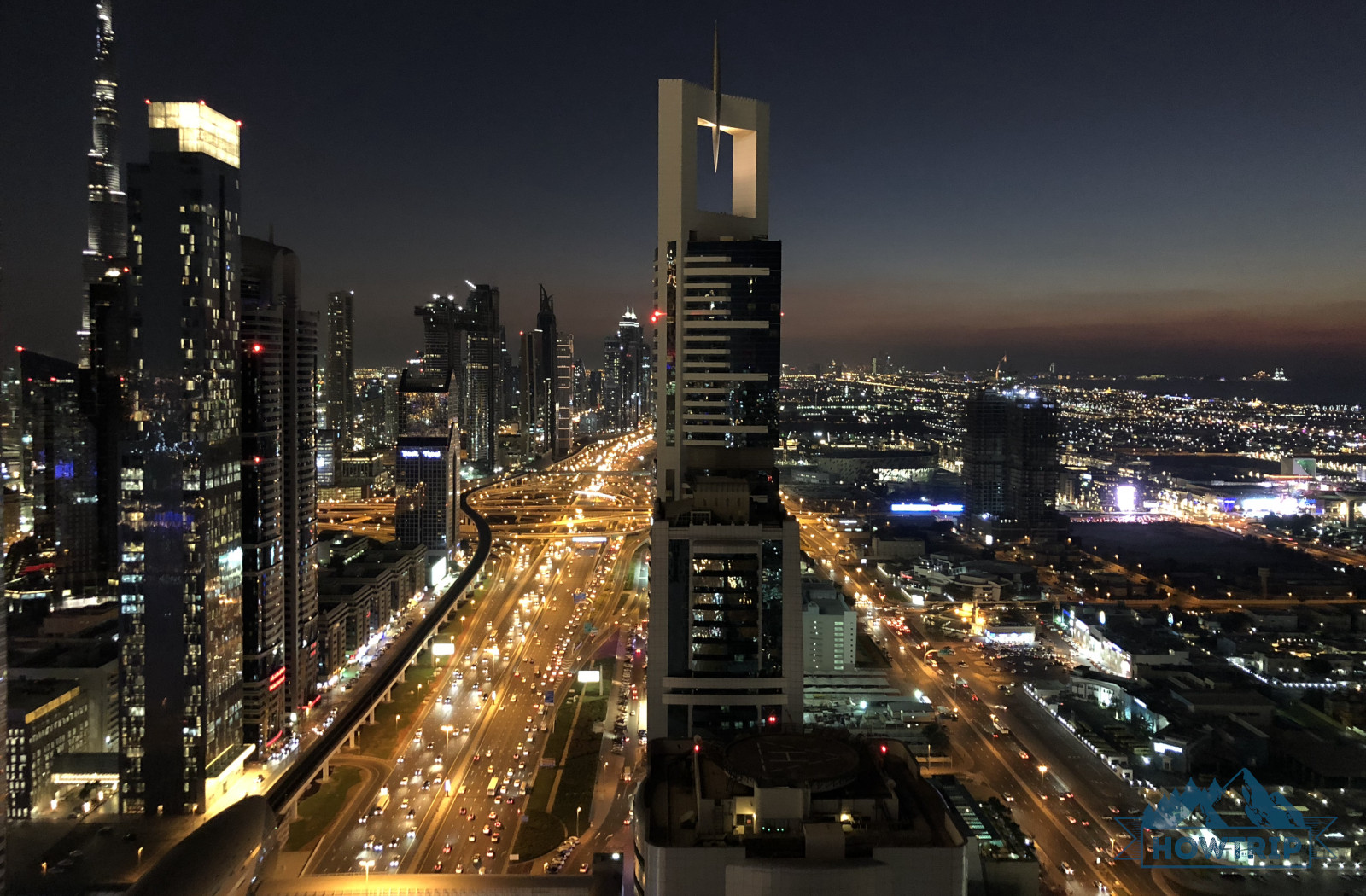 A View of Dubai by Night
Nighttime Dubai Excursion
See the Arabian Nights with a night tour of Dubai. Kill a few grays at once: see the show of the singing fountains (and the Burj Khalifa nearby), check out the ancient Suq al Bahar market, the artificial island. Later in the evening, take a boat ride around Dubai Marina and knock back a glass of free drink at the skyscraper bar.
How much do the tours cost: groups – adults for $85-100, children for $35-50; individuals – $350-380 per car.
Duration: 5 hours.
Half Day Hatta Trip.
A 1-4 person literacy on Arabian history. The plan is to visit the resort of Hatta with mountain scenery (Hajar) and a nomadic village with restored buildings (16th century for a second), the oldest mosque and fort from the 18th century.
On the additional program: recreation on the lake (catamarans), walk through the zoo with peacocks and fragrant national dinner at the restaurant of Hatta Fort Hotel ~ $25 per person (extra), visiting markets.
Price: $290-300 per car.
Duration: 5-6 hours
Excursion to Oman from Dubai
A boat trip to the Musandam Peninsula (Oman) is an opportunity to see two countries in one trip. During the tour you will visit Dibba (the city of fishermen) and the carpet market. After that you go on dhow (Arabian boat) to meet the fjords of the Indian Ocean. You will snorkel in the sea + beach + lunch and phishing.
Price: $85-90 – adult, $55 – child. Dinner and equipment are included in the tour price.
Duration: 10 hours
Don't forget. Passport for crossing the border.
Helicopter flight
Aren't you afraid of heights? Then the helicopter flight over Dubai to Burj Khalifa, Burj Al Arab and islands will be interesting. We liked it very much – for the first time in our life we flew in a helicopter, fulfilled a long-time dream and even recorded a video – attached above The number of attractions "underfoot" and the start -depends on the time we chose – we took 12 minutes, it's enough to tick off, to see Burj Khalifa and take many beautiful pictures!
Duration: 12/15/25 minutes in the sky (excluding road/original moments).
Price: 12 minutes – $180 per person + free transfer (if from Dubai).
Tourist reviews: read ours.
6 Emirates in 1 day.
You have a lot of plans, not much time, and want to see as much as possible? Then take this! A Russian speaking guide will take you to 6 (except Abu Dhabi) of 7 emirates in 1 day. A gallop through Europe – yes. But if you have only a week (or less), why not?
The program includes: Dubai, Sharjah (Faisal Mosque, Stella Association), Ajman, Umm Al Kuwait, Ras Al Khaim and Fujairah (Bidiya Mosque – 15th century). Photo stop in the Hajar Mountains with the canyon in the background. At the end of the tour you can swim in the Indian Ocean.
Price: $90-$100 for adults; $60-$80 for children (4 to 11).
Duration: 10 hours.
1) The tour program will include mosques. Better (=desirable) more modestly dressed.
2) + lunch included.
Excursions in Dubai on your own (free).
Some excursions in Dubai you can go on an independent trip: free or relatively (e.g., pay only to enter the park). If you are interested in the budget of the trip or how and where to save money, look through our guide (you can find it under "Countries" and the UAE, respectively). Information will not be superfluous, considering how much a standard tour to the UAE costs*.
*Leisure in Dubai – not cheap. A seven-day trip for two people:
without extravagances – from 60 000 rubles
AI – from 140 thousand
Park of Flowers
The largest flower park in the world Miracle Garden. Petunias, marigolds, roses, tulips are combined into interesting compositions, like a portrait of Sheikh Zayed bin Sultan, the Burj Khalifa and heart-shaped arches. In 2022, the Miracle Garden is open until the end of May.
Price: adults – 50 AED, children under 12 – 40 AED.
Nearby is the Butterfly Garden or Butterfly Garden. Works year round. You need to buy a ticket to the Butterfly Garden separately. Cost: adults and children from 3 years – 55 AED.
Reviews are different, to your liking. But all agree in one – to see once will not hurt.
Festival Mall / Dubai Mall.
Fountain show in 2 places.
No, that's not an oversight. There are two of them, so grandiose:
➢ The first is the musical fountain at the Burj Khalifa. Jets rise up to 150 meters, every second in the air is about 83 thousand liters of water. Together with the music (voices of Whitney Houston, Andrea Bocelli and Arabic melodies) and the light, the performance is mesmerizing.
➢ The second one is at the Dubai Festival City Mall. The fountain is just an element of the laser water and light spectacle. The performances with hologram projections on the buildings are held every day from noon till closing of the mall, every half hour. We were impressed.
Where do I buy tours in the UAE? Tourist reviews in 2022
Where to book a tour of the area in the UAE, so that without the crowds? And for the cost of tours in Dubai/Sharjah/(insert your own) not to bite hard! Recommended:
Why? A detailed description, adequate prices and reviews of tourists for 2022 on the services attached. Personally, we saved a lot of money with the first and third aggregators.
Prices for tours in Dubai from tour operators
For example and calculation (benefit):
Dubai sightseeing tour – $40 per person
Abu Dhabi sightseeing tour – $85
6 Emirates – $100
Safari – $57
Boat trip – $60
Night Dubai – $135
We could talk about Dubai and the Emirates in general endlessly. See what else we have:
Copying of materials is permitted only with a mandatory direct, active and open for indexing hyperlink to howtrip.ru.
Excursions in Dubai.
Found 203 excursions in Dubai in Russian with the current schedule for September and October 2022. Prices for fascinating walks with a guide from 17 $. Choose your route, read the descriptions and book tours in the UAE online.
You will go straight into the desert on a safari through the high barchans and dunes. Extreme lovers can ride quad bikes and camels.
Want to know the most important things about Dubai in 7 hours? We'll help you get your bearings in the city and show you the highlights.
See the six northern Emirates: Dubai, Sharjah, Ajman, Fujairah, Ras Al Khaimah and Umm Al Qaiwain.
A trip to the Indian Ocean through the four emirates is a great way to experience the nature and culture of the UAE.
Just a few decades ago, Dubai was a desert. Now it's a modern metropolis. Nothing reminds you of the desert.
With me, you are going on a journey across the sands. But this is no ordinary jeep ride through the desert. This is an introduction to the culture and traditions of the Bedouin.
Abu Dhabi – a paradise, created by the hands of man on earth. The capital of the UAE, one of the richest and most beautiful cities in the world.
Attractions of Dubai and its environs
Burj Khalifa
The Burj Khalifa skyscraper is one of the iconic places in Dubai that every traveler arriving in the emirate seeks to visit. The height of Burj Khalifa is 828 meters. The famous high-rise was built in the business part of the city, with numerous floors accommodating offices, residential apartments, sports halls, hotels, and stores.
The frame of Dubai
The grand opening of the unusual Dubai Frame skyscraper took place in 2018. The high-rise is built in the form of a huge golden frame, the sides of which are connected by covered bridges – an air bridge and a ground bridge. The structure is painted in golden hues, and rises above the ground a hundred and fifty meters. The area of the frame is more than seven hectares. It takes just over a minute to reach the top floor in a high-speed elevator.
Hotel Atlantis
Luxury hotel complex Atlantis is located at the top of the artificial island of Palm Jumeirah. The complex consists of two buildings connected by a bridge and includes more than fifteen hundred standard, luxury and premium hotel rooms.
Music Fountain
There are music fountains in many cities today, but the Fountain of Dubai is striking in its grandeur. The pool, in which the fountain complex is built, reaches a length of almost three hundred meters. During the musical show, tons of "dancing" jets, raised by several water devices, fly upwards for tens of meters.
Dubai Mall Aquarium
The Dubai Mall is home to one of the largest aquariums on the planet. A visit to the Dubai Mall Aquarium is remarkable in that guests are literally "immersed" in a marine reality. The entire length of the aquarium underwater tunnel, through the transparent glass windows which you can observe the life of thousands of sea creatures.
Dubai Marina
Near the artificial sandy island of Palma Jumeirah built an elite marina for yachts and small ships. The area of the pier is called Dubai Marina and built up with fashionable high-rise buildings. On the pier you can put on a berth personal watercraft, charter a sailboat for trips or cargo transportation. Near the pier is a yacht club, offering catamarans and quad bikes for rent.
Tourist reviews of popular excursions
Great tour. Thank you Nodir, listened to all requests, everything was excellent and comfortable. Unfortunately, Heritage Village had a change in schedule due to Ramadan, we didn't get there. But all the other locations were fine.
Respectable comfortable car for the family. The driver Samir is a very intelligent, polite and professional young man. The tour went perfectly! We got a lot of impressions, took a lot of great pictures with stunning views of the desert. A huge plus is the ability to go at any time from one event to another. Real personality.
Emil was very interesting, helped with buying tickets, advised on the itinerary and adjusted it for us. It was great to see the mosque exactly at dusk and backlit.
Wonderful safari. Our organizer Qasim did everything perfectly, was attentive, explained everything and made sure everything was in order… on the way he told us interesting facts about the desert… And the sand dune safari itself is just an unforgettable and very vivid experience! We think that this will not be experienced anywhere else … the desert is a beautiful place Thank you very much for the excellent tour!
We enjoyed the tour very much, the guide was very interesting and told us a lot and was happy to answer all our questions. We highly recommend Julia as a knowledgeable and interesting guide!
First time on this chic boat, August Zharkova then on the deck the first one had bad air conditioning and it was like in a can, but that's my opinion, on the top one is better! Performances are good, food is super,100 dirham bracelet and drink as much beer as you can and juices! Ah, so impressions on 5!
We aggregate Russian-speaking tour operators, travel agencies and private guides in Dubai. We compare similar excursion programs by reviews, rating, cost and recommend the best of the proposals.