Food Prices in Israel.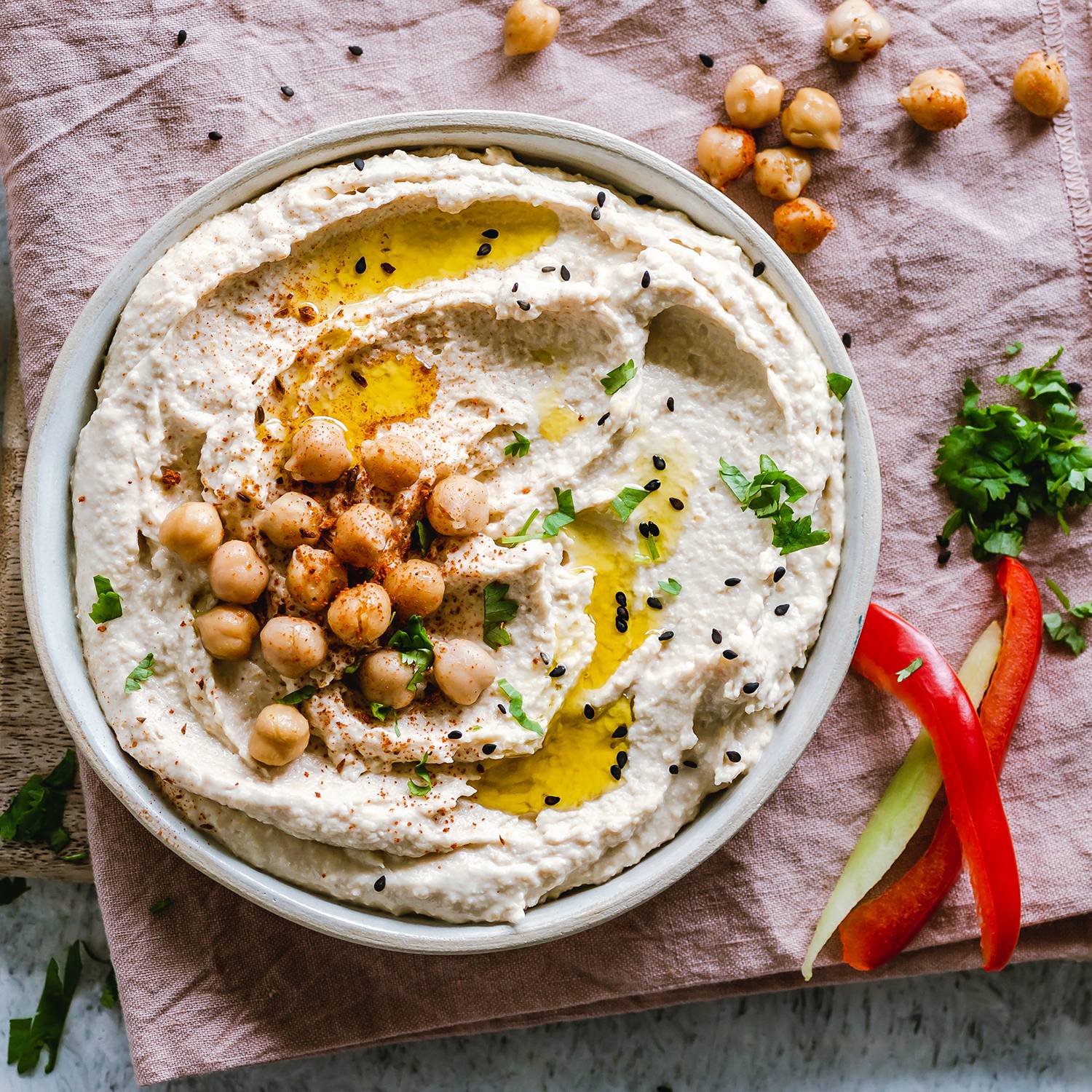 For those planning a trip to the Holy Land, here's an overview of food prices in Israel in 2022. What national dishes to try and what the average check in restaurants and cafes. Food prices. Tips on how to save money.
Look for the author's interesting tours on Tripster. Individual and group, without crowds of tourists and in Russian.
Exchange rate: 1 Israeli shekel (ILS) ≈ 17 RUB.
Food prices in Israel – 2022
The average bill for a meal for two with three courses – 150-250 ILS. More expensive restaurants in Haifa, and the cheapest in Jerusalem. Check the portion sizes before ordering. They are usually very large. One hummus or salad can be enough for two. You can always order half a portion and it will be half the price!
Food prices in cafes and restaurants in Israel in 2022:
hummus – 28-30 ILS
tomato, cucumber and green salad 25-30 ILS
falafel – 19-25 ILS
chicken and turkey shawarma – 30-35 ILS
meat dish – 50-100 ILS
whole pizza – 40-75 ILS
shakshuka – 30-39 ILS
bun – 5 ILS
pomegranate juice, 0.5 l – 10-15 ILS
cappuccino – 1-12 ILS
beer – 15-20 ILS.
Helpful selection: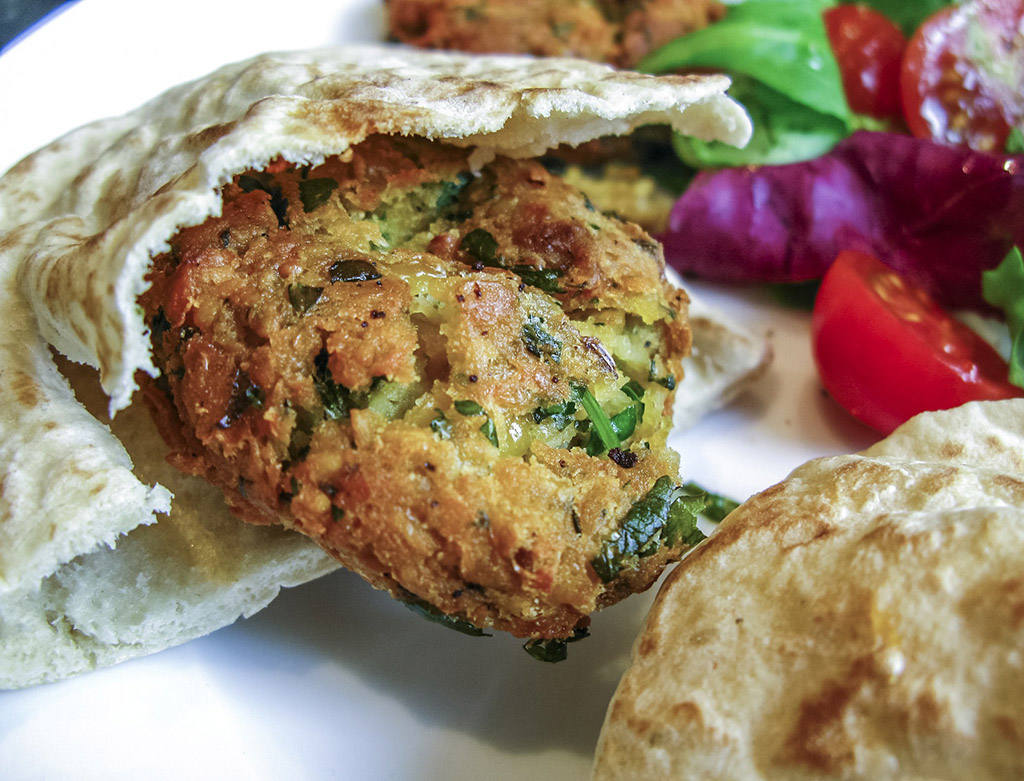 Falafel in pita (Photo: riopix / pixabay.com)
Alcohol prices in Israel
Israel's Tempo Beer Industries is closing on about half of the country's market. Israelis and tourists like Goldstar, Maccabee and Nesher beers. Lovers of strong alcohol prefer the local vodka Vodka Perfect. The Renaissance-Perfect company produces it from Jordan River water.
If alcoholic beverages are on the menu of a restaurant or bar, they are served during all hours of the establishment. There is no alcohol in hummusias, fast food restaurants and Muslim restaurants.
Alcoholic beverage prices in stores in Israel in 2022:
Grocery Prices in Israeli Stores
There are many chain stores in Israel. One of the most popular is considered Shufersal, a chain that serves more than 270 supermarkets across the country.
Food prices in stores in Israel in 2022:
loaf, 400 g – 4 ILS
pita, 5x100g pack – 7,5 ILS
Matzo, 100g – 1.5-5 ILS
milk, 1 l – 5-6 ILS
yogurt, 100 gr – 1,5-4 ILS
cheese, 1 kg – 40-60 ILS
ravioli, 0,4 kg – 20 ILS
bananas, 1 kg – 10-11 ILS
apples, 1 kg – 9-11 ILS
water, 0,5 l – 8-10 ILS.
Helpful selection: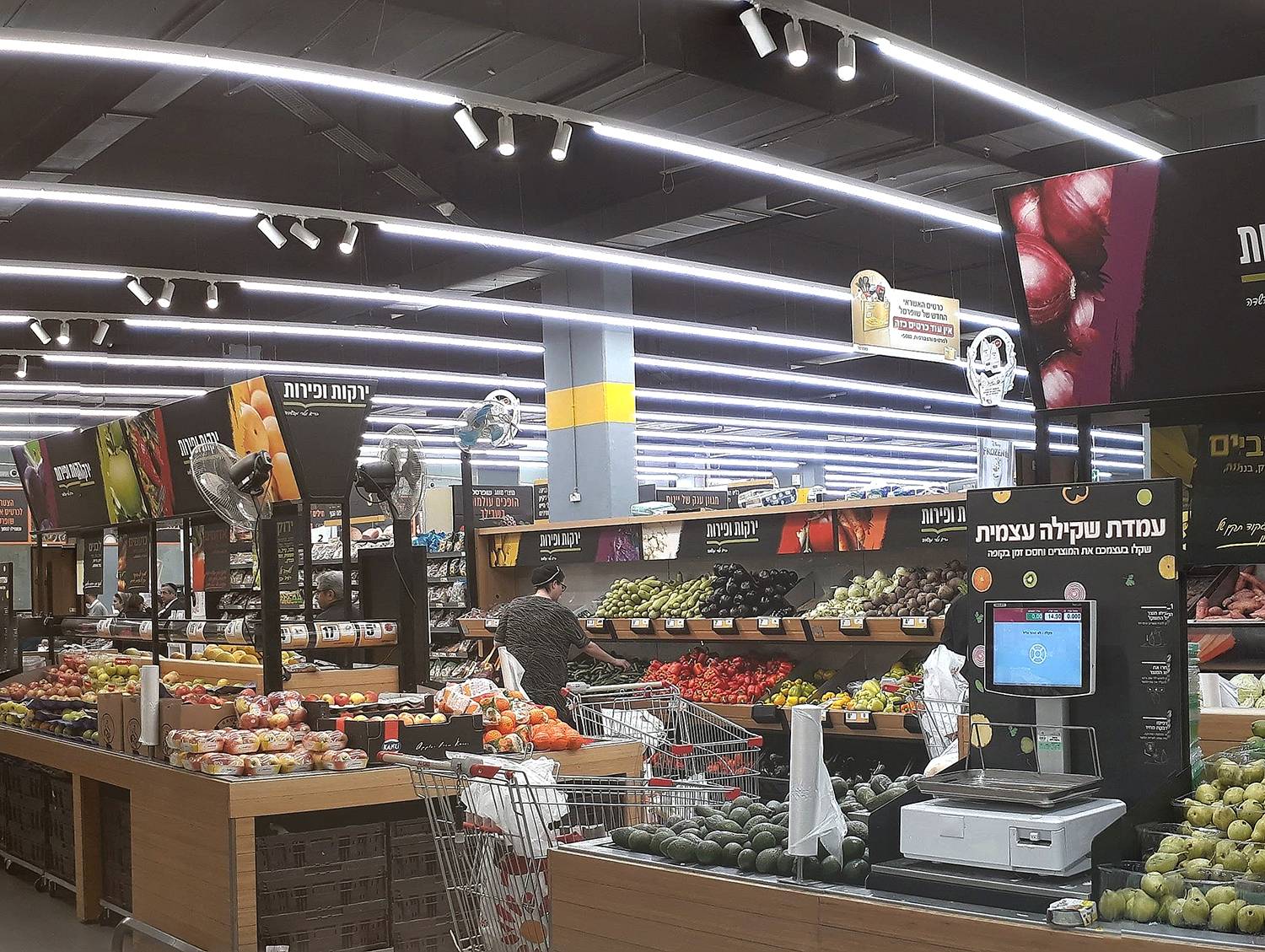 Shufersal store in the Givat Mordechai neighborhood, Jerusalem (Photo: Kotlarsky / flickr.com)
What to try in Israel
Residents of Israel love tasty and hearty food. The national cuisine is part of the rich Mediterranean cuisine, which combines the delicate traditions of the East and the classics of Europe. The Israeli diet is full of fresh vegetables, fruits, legumes and fish. The principle of kosher is observed in the dishes. Pork and rabbit are not used here, and the visitor is not offered a dish of meat in a cream sauce.
To get to know Israeli cuisine, we advise you to try:
hummus – golden chickpea pasta with olive oil and lemon juice
falafel – fried chickpea balls
babaganoush – mashed eggplant
shakshuka – scrambled eggs with tomatoes, sweet peppers and onions
khatsil-ve-tkhina – eggplants baked in sesame paste
Cholnt or Khamin – roast beef or chicken with potatoes, chickpeas, beans, onions and spices.
Jerusalem Mixed Grill – lamb, goat and beef grilled at the same time.
forshmak – chopped herring pâté
St. Peter's fish – grilled tilapia
malahuah – unleavened pita bread with sauces.
burekas – square, triangular, and round puff pastries with potatoes, cheese, and vegetables.
knafeh – dessert made with goat cheese and cadaif noodles.
What you need to know
Restaurants in Israel are divided into two types. In kosher establishments, food is stored, prepared and served according to the traditions of Judaism. The menu does not necessarily include Israeli cuisine. A kosher restaurant can be a pizzeria, a European restaurant or an ice cream parlor.
Non-kosher restaurants are owned by people from the former Soviet Union, Arabs, Christian denominations, immigrants from Southeast Asia or Israelis who do not observe kashrut. If you like pork chops or want to eat seafood, go to a non-kosher place!
If the customer is satisfied with the service and the food, it is customary in Israel to leave a tip. In restaurants, they are listed on the receipt – 10-15% of the order. In smaller establishments, tips of up to 10% are acceptable.
Many restaurants and cafes offer business lunches until 17:00. A set of 2-3 dishes costs 40-60 ILS.
Israel has a hot climate, so food spoils quickly. Choose your fruit carefully and pay attention to the expiration dates on the packages.
In the stores, some products are sold in small bulk – 3, 4, 6 pieces. Carefully recalculate the price per piece, because such an offer is not always a good deal.
Products labeled organic, bio or eco sell for 50-100% more. But be careful! Sometimes they even put the organic label on common table salt and charge much more than they do for regular packets of salt.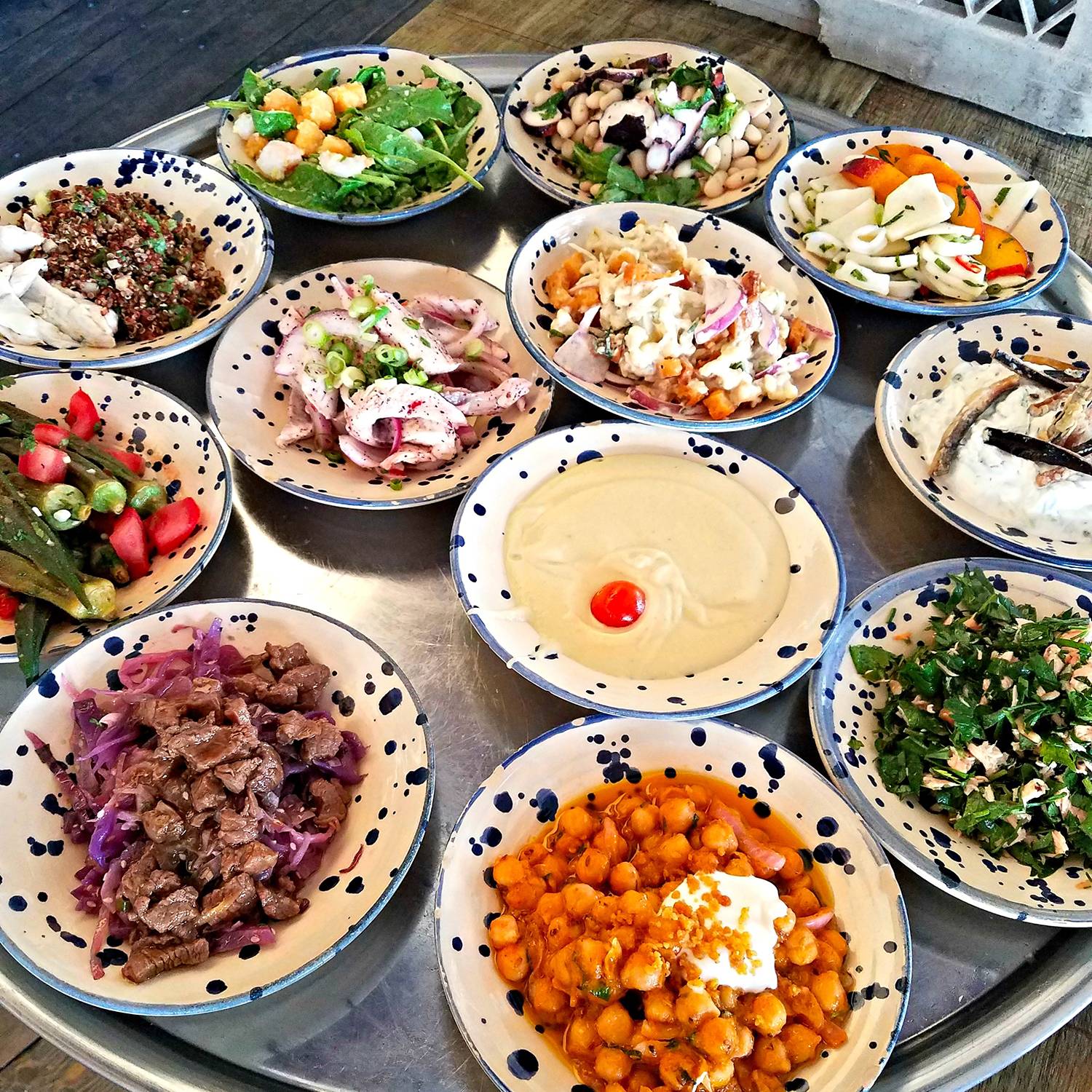 Mezze (Photo: AVID Vines / flickr.com)
Prices in Israel in 2022. What and where to buy?
Israel is a country with a complicated fate and beautiful resorts: prices in Israel are quite high, although the cost of tours in 2022 remained the same. The Red Sea and the Dead Sea, the opportunity to visit the Holy Land, several tourist zones with different climates and many opportunities for independent travel – hundreds of thousands of tourists just love this country. Israel – one of the places where traveling by rental car can be a great alternative to a hotel holiday. All about local prices – right now.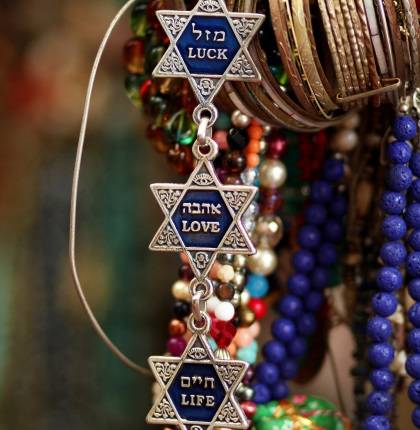 Prices for food in cafes and restaurants.
As in any resort country, local restaurants and cafes are not shy about putting a decent price tag on their menus. But in Israel, this trend is particularly widespread. For example, to dine at a restaurant in Tel Aviv for two costs from 3.5 to 4 thousand rubles: 100 units of Russian currency equal to 6.2 Israeli shekels (as of last September).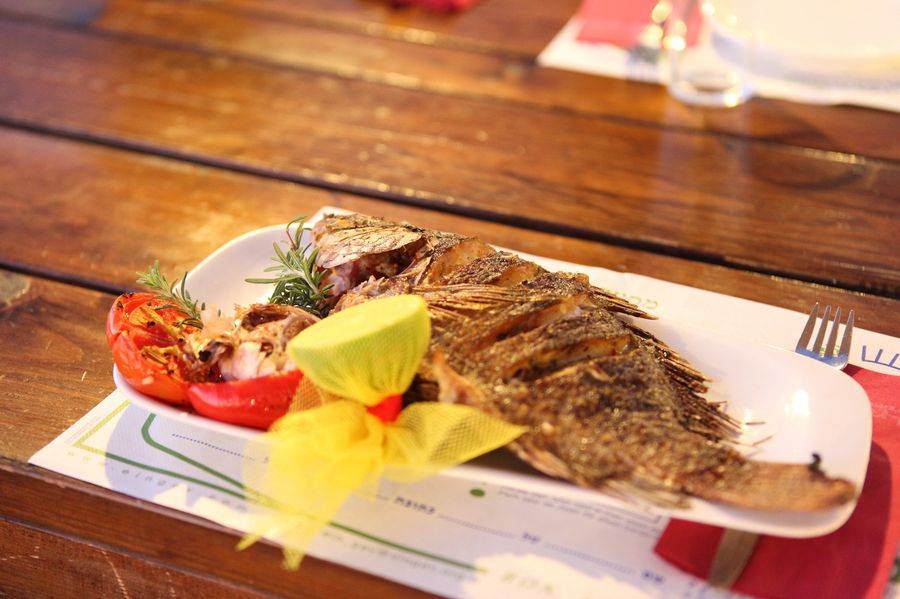 So, prices in cafes and restaurants operating in resort areas and the capital (Eilat, Jerusalem, etc.) are:
a full meat dish – from 50;
complex breakfast (omelette, coffee, sausage) – 35-40;
main dishes (fresh seafood – very tasty) – from 50 to 100;
sandwiches – from 25;
appetizers (cuts, vegetables) – from 20;
salads – 25 to 40;
water – 10.
If personal budget is still dear to you, you can go to the local fast food: national colors is expressed in a large number of shawarma, kebabs, falafels and burgers. The price ranges from 7 to 15 shekels.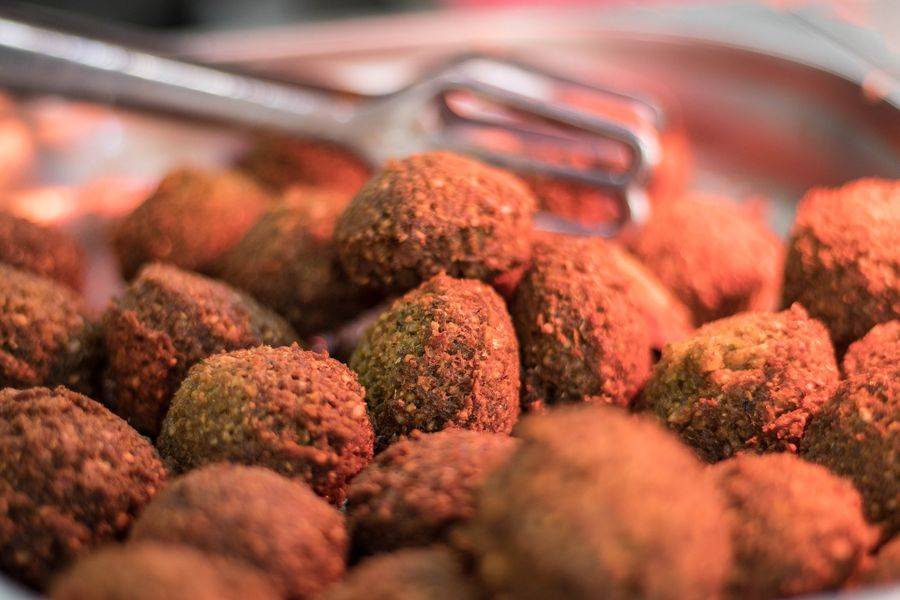 Prices for food and alcohol
The prices in the Israeli supermarkets are very high – however, if you appreciate the quality of food, you will understand why. Another reason for this level of prices is the reluctance to open the borders to imports and high taxes.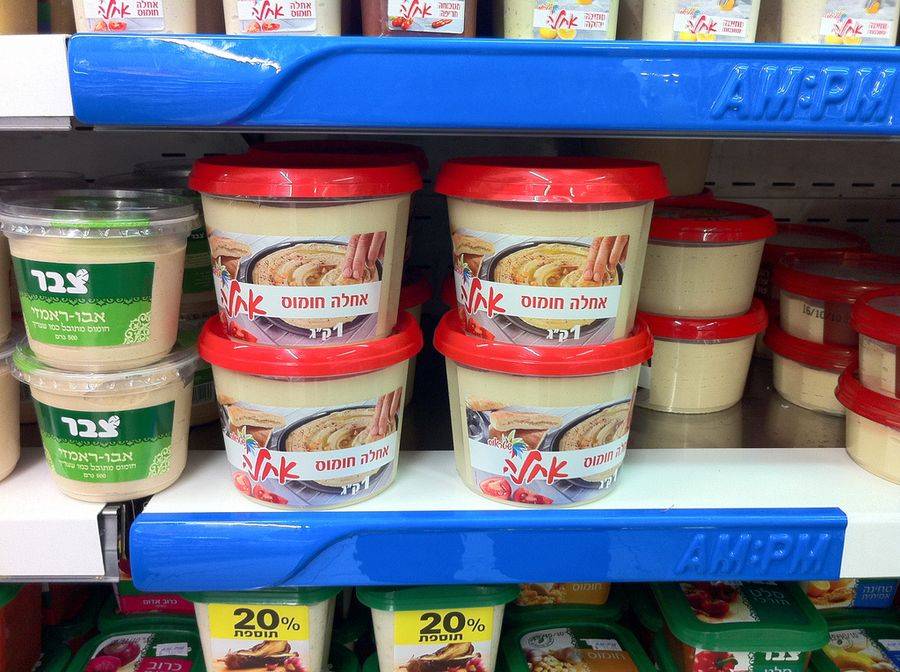 Note that the largest chains in the country, such as "Supersal", "Mega", "Rami Levi", "Teva" sell only kosher products: that is, you can not buy pork and other products that are prohibited by Jewish tradition here.
The cost of food
If you plan to travel around the country on your own, then prepare a solid financial reserve. You will definitely need it (the prices are given in shekels):
cheese – from 40,
cottage cheese, 25-30,
beef – from 60,
sausage (without pork) – 50-120,
chicken breasts – 30,
ten eggs – 10,
bread – 6-7,
olive oil – 30 for a half-liter bottle.
Fortunately, there is a huge selection of products at local markets – the prices are lower by 10-15%: also not the cheapest option, but at least something. By the way, you can bargain. Starts at 6 am, ends at 8 pm.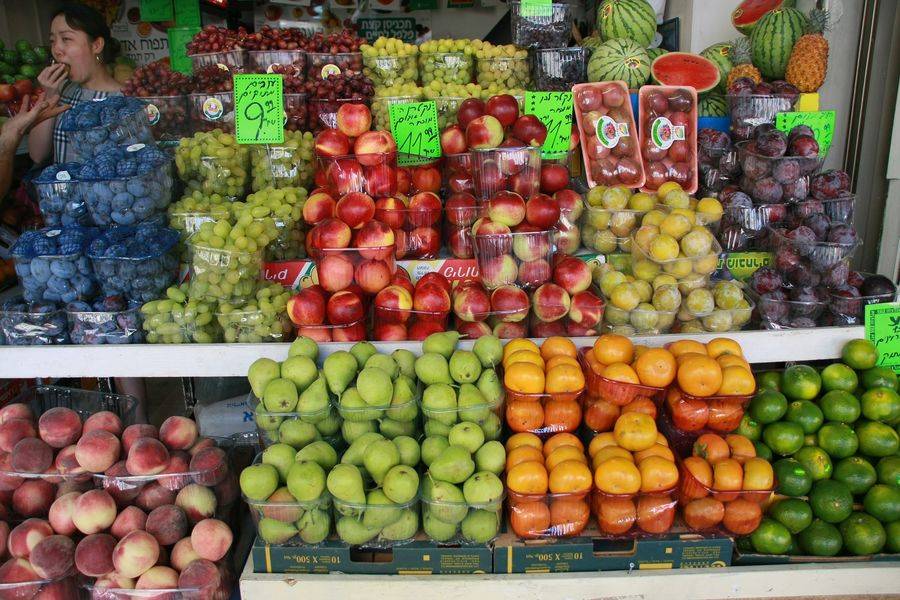 Wine and spirits
Wine is not cheap in the country but strong alcoholic drinks are particularly expensive in Israel – a bottle of decent vodka costs about two thousand rubles in Russian rubles.
Wine costs from 30 to 60 shekels (0.7).
Beer (the most popular are Goldstar, Maccabee and Nesher) – 8-13 for 0.5 liter.
Vodka – from 70 to 140 (for a bottle of 0.7).
Given that the natives of the former Soviet Union in Israel are a significant part of the population, Russian export vodka of familiar brands is especially popular. For example, "Finland" – 80 shekels, "Nemiroff" – 60. Vodka "Khortitsa" costs 49.90, "Russian Standard Platinum" – 100.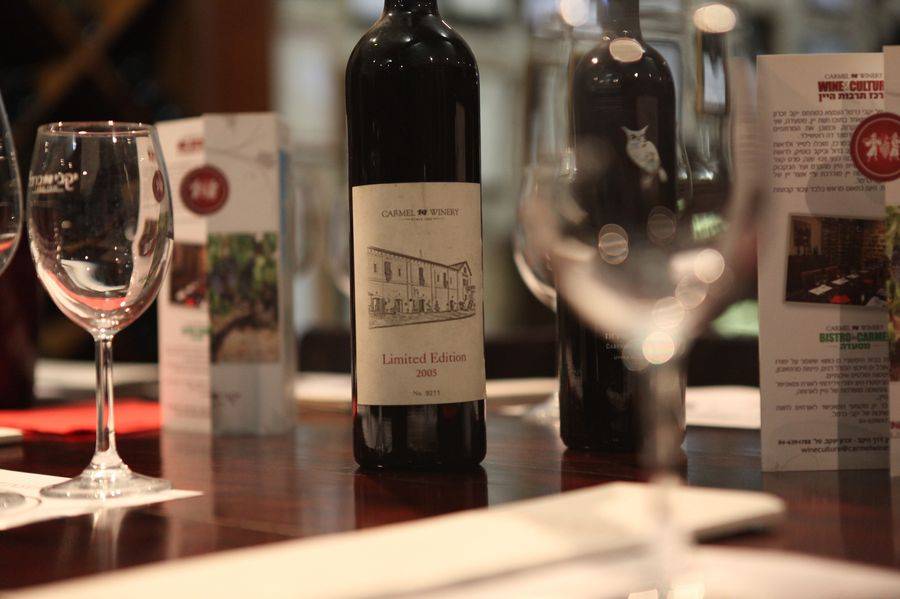 But Israeli wine has only recently become in demand after a major investment project to restore the vineyards was implemented.
Prices in stores and shopping malls
It is not difficult to guess that the prices in the malls of Israel – not the lowest. The opportunity to assess the quality of shopping is provided:
In Jerusalem: Hadar, Lev Talpiot, Malha Mall (at the end of Rabin Highway) and Ben Yehuda Street;
In Tel Aviv: the stores on Dizengoff Street, Kikar Ha-Medina Square and the Sarona Market grocery complex;
In Haifa: Cinemall;
In Eilat: "Mall Ha-Yam.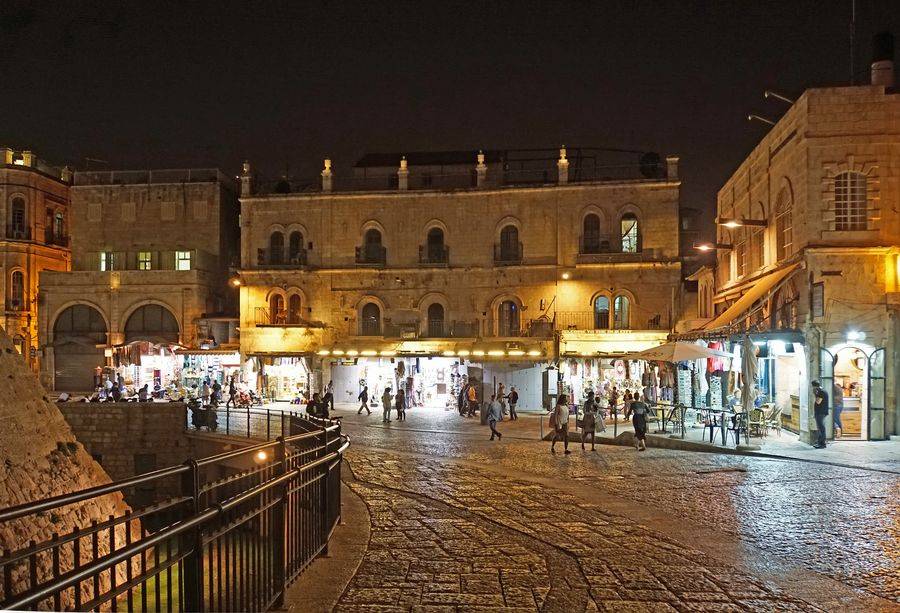 Travel between Israeli cities can be by rental car, the price of gasoline – about 6 shekels per liter.
Tableware
Bright souvenir tableware from Israel literally captures the attention of guests – mostly blue scale, it impresses by its elegance and its quality. You can find it in almost any store, at least in the tourist areas. The price – from 20 shekels for earthenware cups and sets of serious – from 35 and above.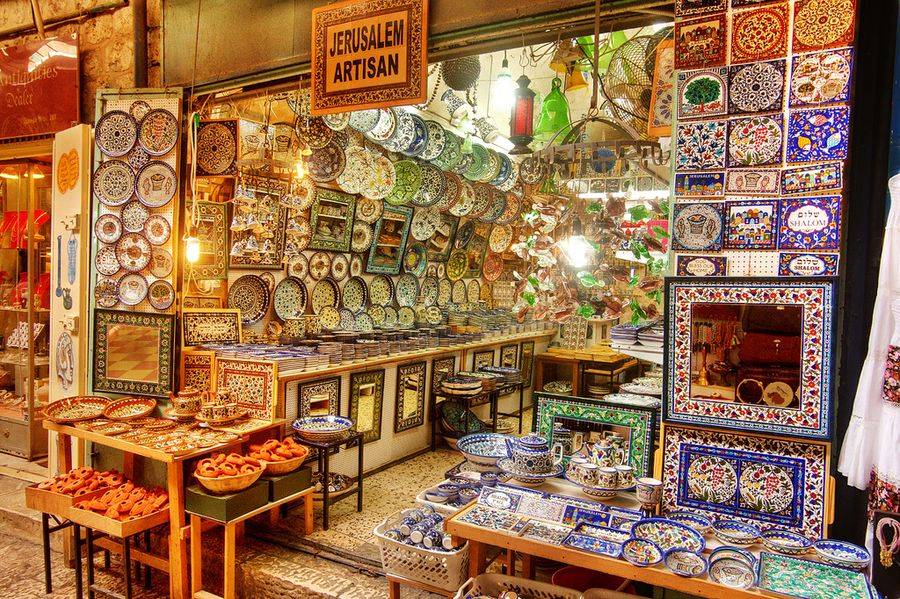 Antiques
Israel is a wonderful country where three religions are side by side. That is why among the proposals of Antiques is dominated by the appropriate paraphernalia, as well as objects connected with the Jewish faith. There are a huge number of them here – not counting the real antiquities that were found in the former Syria, Jordan and other countries.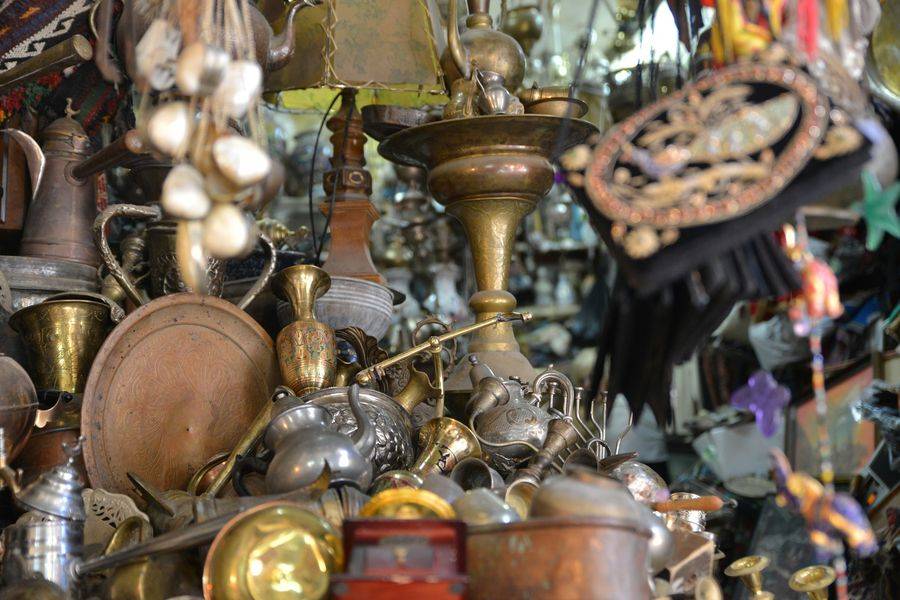 The price range is gigantic. By the way, there are a huge number of antiques from the former Soviet Union, brought by immigrants in the 80s. In Jerusalem, you can go to the "Tarshish" (David HaMelekh, 18) or the Historical and Cultural Center Harp of David (Maale Hashalom).
Jewelry
Israel has not only a good industry of gold and silver jewelry – the country is famous for its diamonds. Moreover, every tourist can visit the Diamond Exchange and buy a stone as a keepsake: there are branches in Jerusalem, Tel Aviv and Eilat, and the average cost of a lot – about 3 thousand dollars.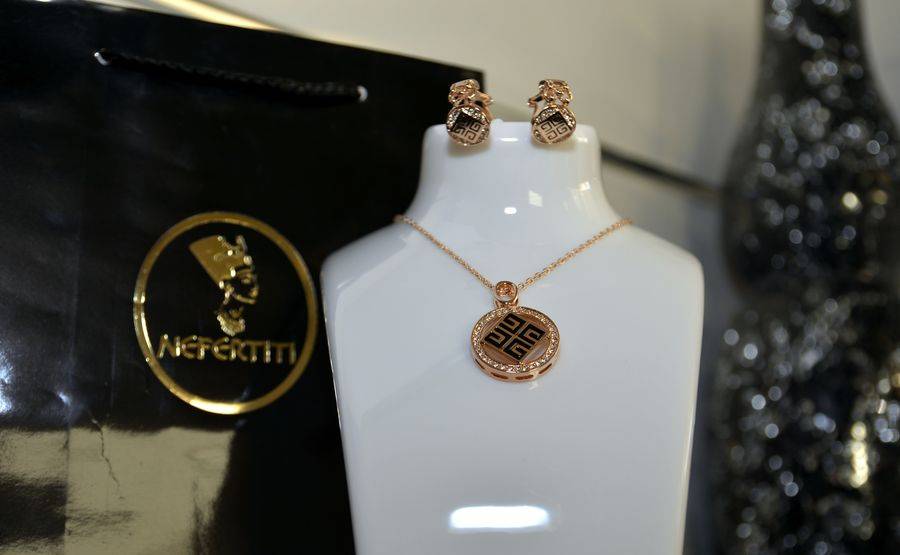 On average, gold in jewelry salons costs $39 per gram. You can visit for shopping:
In Tel Aviv: Rotem jewelry (Allenby, 76), Stones Jewelry (Shenkin St.);
Jerusalem: Danny Eliav Jewelry (19 King David St.).
Footwear and Clothing
If you decide to bring back from Israel brand name clothing, go to Eilat. This is the only city in the country, where this category of goods is at a maximum reduced tax. The prices here are strikingly different from those displayed in the boutiques of Jerusalem and Tel Aviv. For example:
T-shirts – from $5 USD;
Breeches – from 7 U.S. dollars.
In general, the prices for clothes in the country (in shekels):
leather jackets: from 700 to 1,300;
down jackets: 500 to 1,000;
jeans: 100 to 500;
men's shirts: 50 to 150;
dresses: 100-350.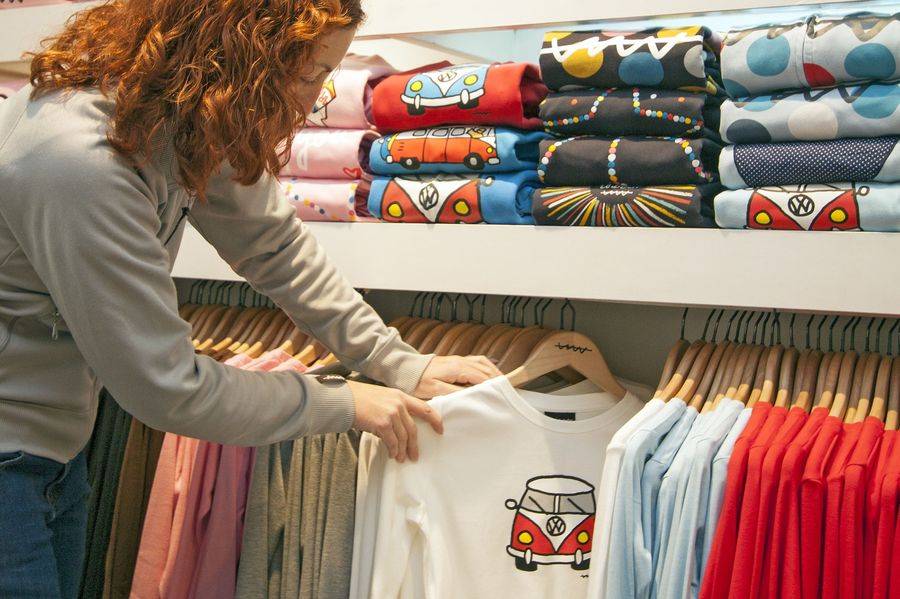 Shoes in Israel are expensive, even in outlet stores: for example, in Caligula (Tel Aviv) – 100-300 shekels, Emporium (there) – 300-400, Daniella Lehavi – 400-500. Pleasantly pleasing Adidas Outlet Store: here the sneakers are often discounted by up to 25%.
Souvenirs and gifts
If you want you can find relatively cheap souvenirs – trinkets, bracelets, etc. – at a price of 5 shekels. For the rest you can be guided by these prices:
Good tablecloths – 20-70 shekels;
Bed linen sets (you can take them on sale – the quality is high) – from 100;
The famous red sweet "King David" – from 50 for 0.75 l., "Rimon" – from 100;
Healing mud from the Dead Sea – 0.5 kg. package costs 10 shekels, cosmetics based on silt and minerals – from 80 for shampoo to 170 for face cream;
icons and candles reminding of the journey to the Promised Land – from 30 shekels.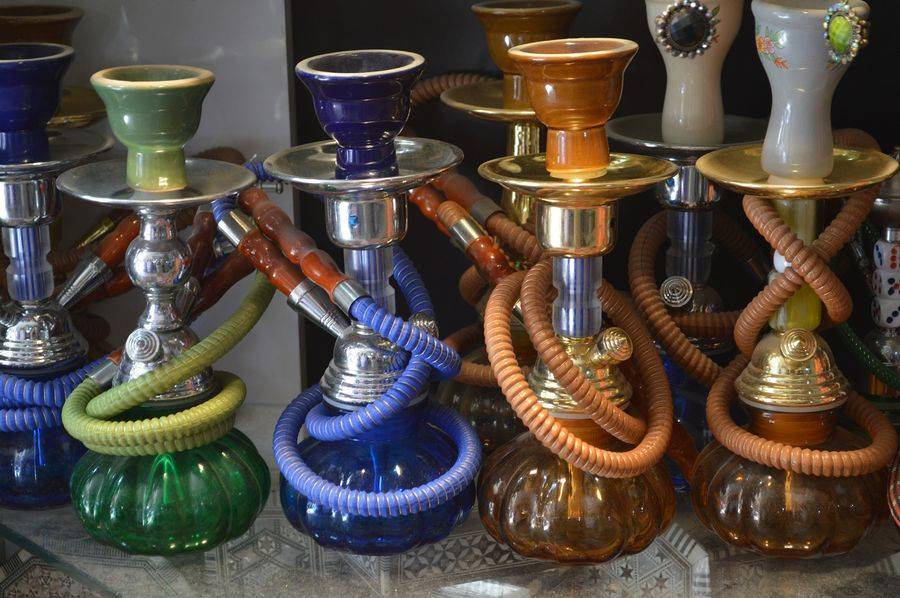 In search of souvenirs we recommend visiting the most famous markets of Israel – in Jerusalem is "Mahane Yehuda" and the bazaar in the Old City, and in Tel Aviv – "Carmel". Good luck with shopping in memory of your stay in the Holy Land!