Turkey or Greece? Where to go on vacation?
Are you going on vacation and wondering what country to choose? Turkey or Greece: which is better? Many experienced travelers would recommend to give preference to Turkey, because it offers a large-scale vacation. At the same time Greece offers a more unique tours. Therefore, it is important first of all to define your desires, so that you know exactly what you want to get out of the rest. After all, each country has its own characteristics, which are unique to it. So let's try to figure out where to rest better – in Turkey or Greece.
History and attractions.
It is difficult to compare the sights of the two countries, which have such a complex and closely intertwined history. After all, modern Turkey is part of the ancient Byzantium, and it has preserved the legacy of ancient culture. For example, the ruins of ancient Troy are located on the territory of Turkey. But Greece can give a head start in the number of monuments of ancient art, among which is the world famous Acropolis, which is located in Athens.
Turkey is proud of the ancient city of Ephesus and the majestic volcano Nemrut-Dag, on its territory you can see the ancient ruins and fortresses … But for the excursions in this country come in the second place, which can not be said about Greece, which is famous for its mysterious Parthenon and the mountain of gods Olympus. Many tourists come to this country to admire the unique monasteries of Meteora and go on a pilgrimage to the Holy Mount Athos.
Undoubtedly, ahead of Greece and the availability of curious and significant attractions – here you can travel around the country, which is quite safe and convenient. In this case, almost every 500 meters you will meet the signs with the direction of the ancient excavations, temples, monasteries, ancient settlements and fortresses.
And if we compare only the capitals of Greece and Turkey, it is safe to say that a walk through the ancient Athens will be much more interesting and eventful than the boring and unattractive Ankara.
Beaches, Islands, Nature
The beaches are beautiful in both countries, there are sandy and pebbly. They are well equipped and ready to provide a variety of entertainment for tourists. At the same time, the Greek islands are much more comfortable and developed infrastructure, and much more attractive than the Turkish islands.
The beaches of Turkey and Greece are great for travelers with children. At the same time, the climate in Greece is much milder and more suitable for children's bodies. Therefore, when choosing a destination for a family trip, the question: "Where to vacation with a child: in Turkey or Greece?" has a clear answer: most families, who were on vacation in both countries, would prefer to repeat the trip with children in Greece.
Both Greece and Turkey boast stunning landscapes and natural beauty. But if you visit the Greek islands on vacation, famous for their magnificent sunsets at sea, your heart will be conquered once and for all!
National Traits
Most Russians do not like the insistence and exaggerated benevolence of the Turks, because such characteristics are not peculiar to us. In this regard we are closer to the mentality of the Greeks, who, by the way, are quite loyal to the modern fashion in contrast to the inhabitants of Turkey. And of course in terms of religion Russia has disproportionately more in common with Greece, which is one faithful to the Orthodox Christianity.
It is considered that Turkish food is delicious, but so say those who have never tasted Greek food. The taste of traditional Greek dishes is amazing and can delight any foodie. Especially noteworthy is the wealth of delicious seafood dishes characteristic of local cuisine. The food prepared by Greek chefs cannot be compared with counterparts offered in restaurants all over the world. Only here you will have the pleasure of tasting the food of the gods!
The cost of recreation
If the main criterion for choosing a place to stay take the economy, it is quite obvious that much cheaper will holiday in Turkey. The difference in the price of travel you can see already when buying tours. Keep in mind that the cost of the tour is influenced by the fact that Greece is a Schengen area, and Turkey is not.
Of course, the food, drinks and souvenirs in Turkey will cost a small amount of money… But if you are interested in clothes of fashion brands and various furs, then for them it is better to go to Greece.
Comparing the hotels and services in these countries, uniquely, the palm should go to Greece, where even in the inexpensive hotels staff does everything possible to please the customer and to provide their services at the highest level. It is worth noting that Turkey offers a wide range of hotels of different orientation. But there is a high probability to get into a rather awful condition.
To sum up
Rest both in Turkey and in Greece has its advantages. But if we rely on the factors considered in the choice, which has a direct impact on comfort rest, then Greece is clearly ahead of Turkey on many characteristics. And most importantly, the atmosphere of Greece has an indescribable magnetism that you can feel only with the heart that you do not want to leave this hospitable and friendly country. And you will surely come back here more than once!
Best Hotels in Greece
This hotel is destined to be the perfect destination for couples in love and those who are spending their honeymoon. Learn more
10% discount on Early Bookings, plus 5% extra discount from Grecomania
A 5-star luxury resort with villas included in the list of the Leading Hotels of the World (to open in May 2022). Read more
10% discount on Early Bookings, plus 5% extra discount from Grecomania
Elounda's most elegant design hotel located in a magnificent setting with unparalleled views. Read more
Greece or Turkey: which is better for your vacation?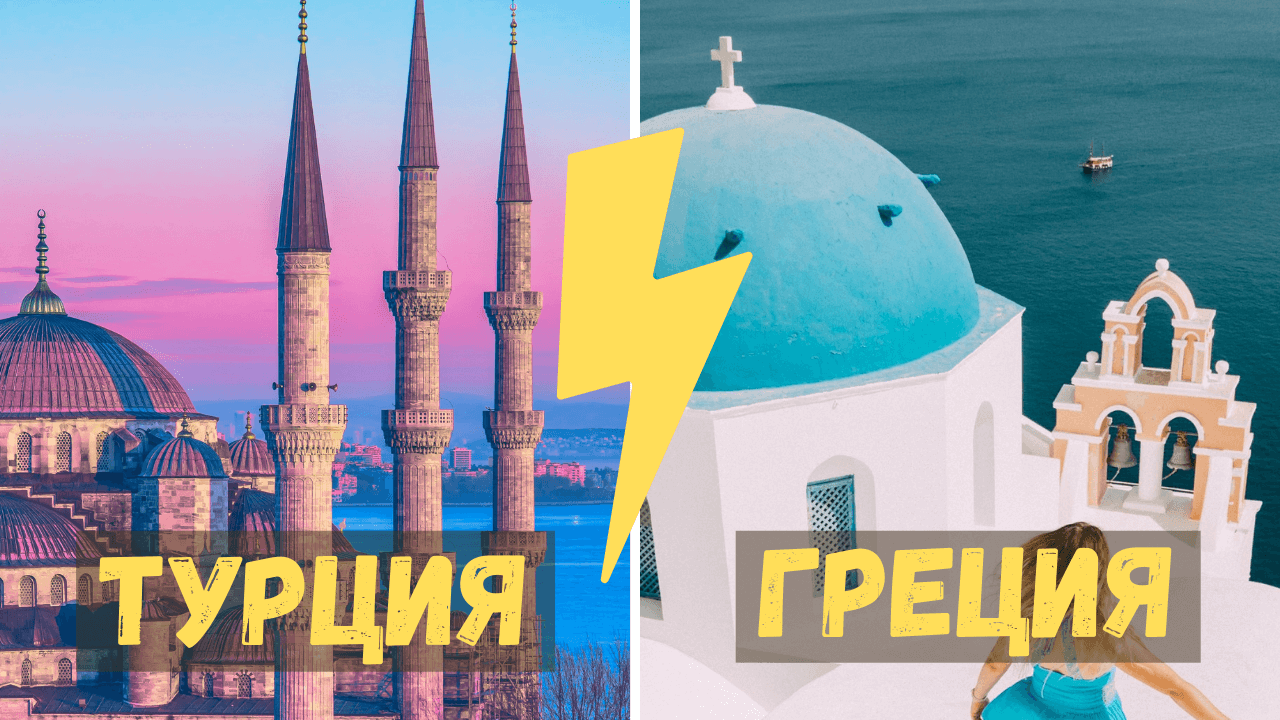 We are faced with a difficult choice! Both countries are beautiful, interesting, versatile and not expensive for a vacation. We visited resorts in each country and compared them. Let's figure out together where it's still better.
Contents:
Turkey on the visa issue wins, because you can stay in the country for 60 days without a visa, that is, to catch a hot tour and fly at any time. But in Greece you need a Schengen visa: you will have to apply for a visa in advance and spend money on it. Not very convenient! However, if you already have an open Schengen, then there is no difference with Turkey.
Much easier to enter during a pandemic
Throughout the pandemic, Turkey has shown itself to be much more accommodating in terms of tourist entry conditions. The rules described below are current as of early January 2022 and are subject to change. Double-check!
You only need one of these documents to travel to Turkey: PCR test, certificate of vaccination, covid document or antigen test result. You also need to fill out an online form to get an HES code. It's that simple! Learn more about the rules for entering Turkey.
Greece is a little more complicated. The country lets Russians in exclusively with a PCR test and an online form. The flight must be direct from Russia. Upon arrival, everyone except those who have been vaccinated and have had a covid must take a free antigen test. If the test is positive, you will be isolated for 10 days in your chosen hotel at the expense of the Greek government.
Learn what countries are open to Russians and what are the conditions for entry.
Where are the cheaper tours
Tours to Turkey have always been cheaper than to Greece. With the pandemic, this difference has become even more tangible. Let's compare the cost of travel to both countries for the holiday season of 2022. We look at tours for two people with a flight from Moscow for 7 nights.
The cheapest tours to Turkey cost from 32,000 ₽, and to Greece from 45,000 ₽. For this amount you will be offered the rest in the most simple hotels 1-3*. And in Greece there will be no food or meals, but in Turkey you can even get an all-inclusive tour for this price. For clarity, see what hotel for that money you can count on. In Turkey, it will be something like Kleopatra Alis 3*, and in Greece – Lardos Bay 3* or similar. Find out what the price of a tour to Turkey depends on.
"All-inclusive" to Turkey is cheaper and better than in Greece. It was, is, and will be! Trip AI in Turkey can easily be bought even for 32,000 ₽, especially if you take it through the tour operator "My Agent" service Travelata – he almost always has the best deals. But you can hardly get cheaper than ₽55,000 for a flight to Greece on all-inclusive basis, and, most likely, the price will start even from ₽65,000. That is the price for a stay in a 3-4* hotel. So the all-inclusive vacation in Greece is about twice as expensive as in Turkey! And tours to five-star hotels will cost from 45000 ₽ and 72000 ₽ respectively.
Our experience . Two years ago, in the very middle of the summer, we flew on a hot tour to Greece and followed that up with a flight to Turkey just one day later. (Yes, our travels have an unconventional approach). We paid ₽27,000 for a 4-night trip to Greece and flew to Turkey for ₽33,000 for 7 nights. Both hotels were inexpensive, but with good ratings and reviews, no meals. Conditions are similar, vacation times are also exactly the same, so it's a pretty good base for comparing tour prices. In the end, we see that taking into account vacation days, the trip to Greece cost us a little more than to Turkey.
Tour prices change frequently, so double-check them for the dates you want.
We have long been buying tours online only – so you can quickly and easily find the best deals. And we don't go to travel agencies the old-fashioned way for almost ten years. We especially like the websites Level.Travel and Travellata – they are convenient and reliable services, where we most often buy our trips. Learn how to buy tours cheaper. Look for promo codes for tours.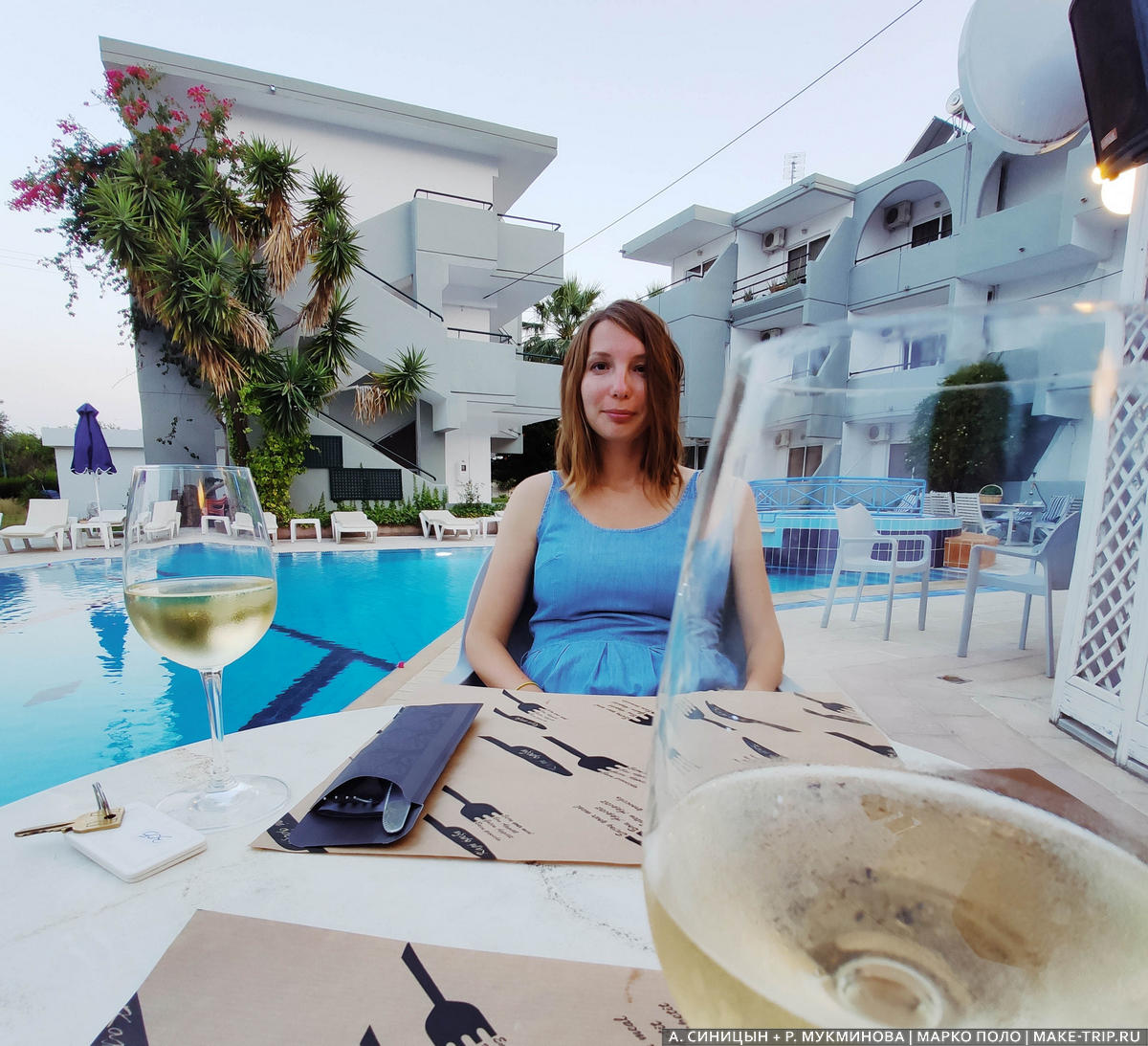 Our vacation in Greece on the island of Rhodes in June 2019 on a hot tour for 27000 rubles for two. We could have taken the tour and for 21000, but we chose a cool and cozy hotel a little more expensive. We really liked it.
Where are the best beaches
There are all kinds of beaches in Turkey. Take your pick: Side – only sandy, Antalya – sandy and pebbly, Alanya – sandy, sandy-pebbly and pebbly, Kemer – pebbly, and Fethiye, Bodrum, Marmaris and Kusadasi – sandy-pebbly. Many of them are awarded the "Blue Flag" for their cleanliness. Some large hotels on its pebble beach poured imported sand.
In Greece, about 400 beaches are awarded the "Blue Flag". By this parameter it certainly beats Turkey! There are a lot of sandy beaches in Greece. They are on Crete, Rhodes, Zakynthos, Kos, Corfu, Santorini, Thassos. The sand can be different colors: ordinary, white, gray-black, and even pink. There are also pebbly and rocky beaches.
In general, the beaches are good in both countries. According to reviews of tourists, the sandy beaches of Greece are well suited for recreation with small children, because the entrance to the sea is shallow and shallow.
A sandy beach in Turkey, Side. There are few sandy beaches in Greece. Anthony Quinn beach on the Greek island of Rhodes.
Where is warmer
Both in Greece and Turkey, the resorts of the Mediterranean Sea is comfortable to swim from late May to October, and in some resorts – even until early November, for example, in Side. In the Aegean Sea, for example in Bodrum, the water gets well warmed up only by July.
In summer everywhere is a scorcher. According to tourists, in resorts with dry climate the heat is easier to bear. But it is subjective: I suffered from the heat in the dry Rhodes in summer no less than in wet Kemer. Resorts with a dry climate are Bodrum, Marmaris and Kusadasi in Turkey, and in Greece – Kos, Rhodes and Crete.
The most pleasant months for a beach holiday at most resorts in both countries are June, September and October. For excursions and a beautiful tan are good April, May and the first half of November.
It turns out that both countries have about the same climate, except that on the Anatolian coast of Turkey season lasts longer – until November. These resorts of Antalya, Alanya, Kemer, Side and Belek.
In Turkey, the bathing season lasts a little longer than in Greece.
Where are the best hotels
In terms of hotels, Turkey is better for many tourists – both in terms of prices and variety and service. If you just want to relax on vacation and not think about anything, then you need to go to a typical Turkey – to a comfortable 4-5* hotels "all inclusive" on the 1 line with a huge area, animation and all kinds of entertainment.
In Turkey, we advise you to stay in all-inclusive hotels that we have tested:
in Antalya, Lara district in Alanya in Side in Alanya
Note that in Turkey, the stars of the hotel is not always an indicator of quality. Do not chase only the stars, and read reviews about the hotel, consider its location, room size, freshness of repairs, quality of services and entertainment. Look for new hotels in Turkey.
In Greece, there are also ant colony hotels with all-inclusive meals, but there are fewer of them and their vacations are more expensive than in Turkey. Much more often there are 2-4* hotels without meals or only with breakfasts. A lot of apartments, boutique hotels, villas for rent, i.e. accommodations for independent and active tourists. Such accommodation is great because it removes the shackles of dependence on the schedule of meals in the hotel and gives freedom to explore the incomparable Greek cuisine. But it also has disadvantages. For example, we stayed in Rhodes in a nice little hotel Artemis Studios 3 * without meals. It was located away from the center of the resort, so we were lucky to rent a bike to explore the island. However, we can do without it, and we would be happy to walk a few kilometers to a cafe or a store (as long as it wasn't too hot). Such a holiday for us is usual and in pleasure.
But for tourists without transport such a remote accommodation can be terribly inconvenient. But it can be easily solved by checking the location of the hotel before booking.
In Turkey now, too, are a lot of family hotels, apartments, houses for rent. Very nice boutique-hotels of European type compare favorably with ant-hotels with all-inclusive: they are chamber and design with courteous staff.
So where are the best hotels? In Turkey, compared with Greece, all-inclusive is better and more affordable. In the category of other hotels, I do not see a big difference.
You can choose a tour to a good hotel on the sites Travelate and Level.Travel. And a hotel for an independent holiday is best to look for on Hotelluk. Pay attention to ratings and reviews of tourists. When searching for a hotel check the box "Excellent" in the "Rating by Reviews" in the filters to weed out all the bad options.
Sunprime C-Lounge 5* in Alanya is an example of an atypical Turkish hotel. Small, quiet and intelligent. This is why we chose it for our rest! Our hotel Artemis Studios 3* in Rhodes was small and quiet. It is owned and run by a family, which adds points to the coziness.
Where tastes the best food.
This is probably the most difficult question, in addition, purely subjective. It seems to me that the Greek cuisine is healthier and more varied than the Turkish. It's not as greasy, heavy, floury and meaty, because it is, after all, a Mediterranean detail. The Greeks have definitely more seafood dishes on the menu! And the Greek salad is something, a love of the ages. Turkish cuisine is also very tasty, but I get bored quickly. The exception is Istanbul, of course. It's a gastronomic paradise!
But this is all about cafes and restaurants for independent tourists. What about the food in the hotels? In Turkey, 4* and 5* hotels work on "all-inclusive" and "ultra all-inclusive". This is a plentiful buffet, where even a picky eater like me will choose something. When choosing a hotel, I advise you to carefully read the reviews about the quality of food, not always all is good.
In Greece we had a hotel with no food, and we ate either in restaurants and tavernas, or we bought food in the supermarket and had light dinners on the balcony with wine. Romance! So I can't say anything about the food in the hotels. But I read the reviews and was unpleasantly surprised: even in a good "five" tourists sometimes complain about dirty plates, bad cocktails, lines, and not very tasty and fresh food. Apparently, spoiled by Turkish service.
It turns out that in Greece it is better to eat on your own and try interesting local dishes, and go to Turkey for a more affordable and high-quality "all inclusive".
Buffet in Turkey: lots of olives, cheese, greens, sauces, vegetables, meat, and sweets. A paid dinner at our Rhodes hotel was squid and fish.
Where is cheaper to vacation on your own
An independent vacation in Turkey will be cheaper than in Greece. It will cost less for food, accommodation, transportation, sightseeing and entertainment. In addition, because of the perennial crisis the Turkish lira depreciates fast and strongly.
For example, a lunch or dinner in Turkey with us always cost no more than 100 lira for two, which is about 10 €. In Greece we have never had a meal for less than 20 €. The portions in both countries are equally large, it is difficult for me to eat so much at once.
Greek hotels are also more expensive than Turkish ones, although the difference is not so great. I compared it on Hotelluk: 3* hotel with high rating in Antalya costs from 24 €, and in Crete – from 30 €.
Excursions in Turkey are slightly cheaper than in Greece. It's easy to see it on Tripster. A group excursion on a boat from Rhodes costs 30 €, and a similar pirate boat ride in Alanya costs 25 €. Individual excursions in Greece are also a bit more expensive.
In Rhodes, we rented a bike and drove around the whole island on our own. For scooter we paid 20 € per day. In Turkey, we rented a car and drove over 3000 km across the country. Funny enough, but renting a nice, new car cost the same 20 € a day as renting a scooter in Greece.
Where is the more beautiful nature
I can not give an answer to this question, because both countries are similar in landscape. Most of all Greece resembles the so-called Other Turkey – Aegean coast resorts starting from Marmaris. It is low mountains, azure sea and rocky coast, rugged coves.
Turkish resorts of the Mediterranean Sea are very diverse, each has its own face: the mountains of Kemer, the plains of Side and Belek, serpentine beaches of Kas, Kalkan and Finike. The Greek resorts are also diverse: the rocky Zakynthos, mountainous Crete, diverse Rhodes.
But Turkey has a bonus – such beautiful and yet easily accessible to tourists places like Cappadocia and Pamukkale. However, Greece has its own gimmick – the monasteries of Meteora.
Cappadocia is a wonderful region of Turkey. I advise you to go! A view of the town of Lindos on the Greek island of Rhodes.
Where is more interesting
Many tourists think that Turkey is only the classic beach vacation with excursions such as walking on a pirate yacht. It is not! On this trip, we organized a super rich road trip through Turkey to dispel the moldy stereotype. Turkey is bright, different, unusual, and different. Look at the ancient heritage, which has been preserved even more than in Greece itself! Look at the 18 most beautiful ruins of Turkey, which we have visited. And besides that there are a lot of other interesting places: castles, mountains, gorges, canyons and dunes. Incidentally, Turkey has 19 UNESCO World Heritage sites, which again is more than in Greece (although only by one).
But of course, in Greece, too, you will not be bored: there are natural curiosities, ancient cities, the Orthodox shrines. The only thing I don't like is that tourists are mostly trapped on islands. For example, in Rhodes we saw everything in three or four days, and we wanted more! However, it's just we were not lying on the beaches, and for a normal tourist it's enough for the whole vacation. And on Crete there will be ten times more sights, because the island itself is much bigger, and its heritage is richer.
Ephesus is perhaps the best-preserved ancient city in Turkey! Lindos is a nice little town for a walk in the Greek Rhodes.
What's better for your vacation – Greece or Turkey?
This is a difficult question. We once could not choose and flew on a tour to both countries with a break of one day. We liked it very much everywhere. The pleasure of rest depends solely on the needs of the tourist, and our interests perfectly meet both countries. But I will try to make some conclusions:
Both countries are equally suitable for active recreation and exciting travel.
But for the lazy holiday by the sea I would choose a good hotel in Turkey!
Turkey is better suited to a limited budget and the lack of Schengen visa.
Lovers of delicious and healthy food will like it better in Greece.
For a vacation with children on a sandy beach, you can go to both countries.
Write in the comments, which country you like better and why?
Compare which is better:
It looks like Greece, doesn't it? And this is the outskirts of Bodrum in Turkey.