Rest in Georgia in June
Find out if you should vacation in Georgia in June 2022. What the weather is like on the coast and in the mountains, whether there is rain and how to dress for the weather.
Content:
Air temperature.
Georgia is very comfortable in June. The warmest in Tbilisi and Batumi. Daytime temperatures are often above +30°C. At night it is 7-10°C less, so walks in the evenings are a real pleasure.
The sunny weather and warm climate is perfect for suntanning. The southern sun is very active! To avoid getting burnt, use sunscreen.
The mountain resorts in Georgia in June are much cooler. The temperature during the day in Gudauri is +17. +18°С. The skiing season is long over, and paragliders enjoy flying over the slopes.
Air temperature by day and night in June:
| | | |
| --- | --- | --- |
| Resort | t daytime | Amount of rainy days |
| Tbilisi | +27°С | 1 |
| Batumi | +26°С | 1 |
| Borjomi | +22°С | 7 |
| Kutaisi | +28°С | 2 |
| Gudauri | +18°С | 7 |
Inna: "We did not notice the heat. It was +32°С during the day, +24°С at night. I think that for the southern region, it is quite tolerable. Night walks on the beach were great: cool, quiet and with a beautiful starry sky.
Helen Corvin: "Batumi has a very specific climate. It was so hot that it seemed that we were about to have a thunderstorm and it would be easier, but no. Humidity reaches 99% and this is not to everyone's liking.
Water temperature
Walruses swim in the Black Sea even in winter. The first swims of vacationers begin in May, but the real beach season in Georgia starts in June. Most tourists come to Batumi. Some prefer to rest in Kobuleti, Poti or in smaller seaside resorts – in Kvariati, Makhinjauri, Chakvi, Ureki and Sarpi.
In early June, the sea water temperature is +21. +22°С. It's fresh to swim! According to tourists' reviews, the sea warms up well closer to July. If you like to swim with comfort, come to the coast of Georgia in the second half of the month.
Water temperature in June:
| | |
| --- | --- |
| When | water t |
| Early June | +20°С |
| Middle of June | +24°С |
| End of June | +26°С |
Vitaly Dudochkin: "The magnetic beach in Ureki is a very interesting place. The kids liked the shallow, warm sea with a good bottom and the possibility to make sand forts.
How to dress according to the weather
The choice of clothing depends on what part of the country you are planning to go to. Georgia's seaside resorts are hot in June. During the day you need beachwear and a hat against the sun. For evening walks windbreaker and sweater are useful.
On excursions light clothing with long sleeves so you don't get burnt, and sneakers are useful. In the mountains, especially at altitude, in the evening and at night is cold. Take a warm jacket, hat, raincoat, and trekking shoes.
Georgia has many religious sites – ancient temples and cave monasteries. Everyone who wants to visit the Georgian churches, we advise to take care of the appropriate clothing in advance. Not everywhere can you rent shawls and skirts. Men in shorts are not allowed into the temple.
Elena Alexandrova: "We took a set of summer clothes – T-shirts, shorts, skirts, sandals and light jackets, jeans, sneakers for trips to the mountains and cool evenings.
Precipitation and Hurricanes
Tbilisi has beautiful sunny weather in June. June is the driest month of the year in the capital. The greatest amount of precipitation in early summer is in the west of Georgia – in Adjara and in the mountains. It rains a little at the seaside resorts does not interfere with recreation. After them, the coast quickly dries out and the sun shines with all its might.
Storms in June are rare, but sometimes strong winds raise meter waves. There are no strong sea currents along the Georgian coast, but it's better not to swim in bad weather!
Beach in Batumi (Photo: @rus_petrov / unsplash.com)
Prices for vacations in Georgia in June of 2022
Since there are no direct flights from Russia to Georgia, tourists get to Georgia on their own with connections. From Moscow to Batumi, it is faster and more convenient to fly through Istanbul or Minsk – round trip tickets cost from 22,000 rubles. Flights from Moscow to Tbilisi and back cost 14,000 rubles.
Lodging in Georgia is not expensive. Prices for double room in a gesthouse start at 600 rubles per day. A room in a 3* hotel costs from 1000 rubles and a room in a 5* hotel from 3400 rubles.
"All-inclusive is not popular in Georgia. Why eat in one place when the streets of Georgian cities are full of shashlik houses, khinkals, everywhere khachapuri, lobiani, kubdari are sold, and the wine flows like a river! Check out the prices of food and groceries in Georgia.
Check out current housing prices in Georgia in June:
| | |
| --- | --- |
| Tbilisi | Find accommodation → |
| Batumi | Find accommodation → |
| Borjomi | Find accommodation → |
| Kutaisi | Find accommodation → |
| Gudauri | Find accommodation → |
Holidays with children in June
Stunning beauty of the mountains, palm trees, delicious churchela and exotic fruits – the child will love a trip to Georgia. With older children we recommend to visit Tbilisi, Borjomi, Vardzija monastery and Prometheus cave.
For a more comfortable vacation with children in Georgia we recommend Batumi. In the resort town is not difficult to find modern stylish apartments with a kitchen on the first line. Such apartments cost 900-1400 rubles per day.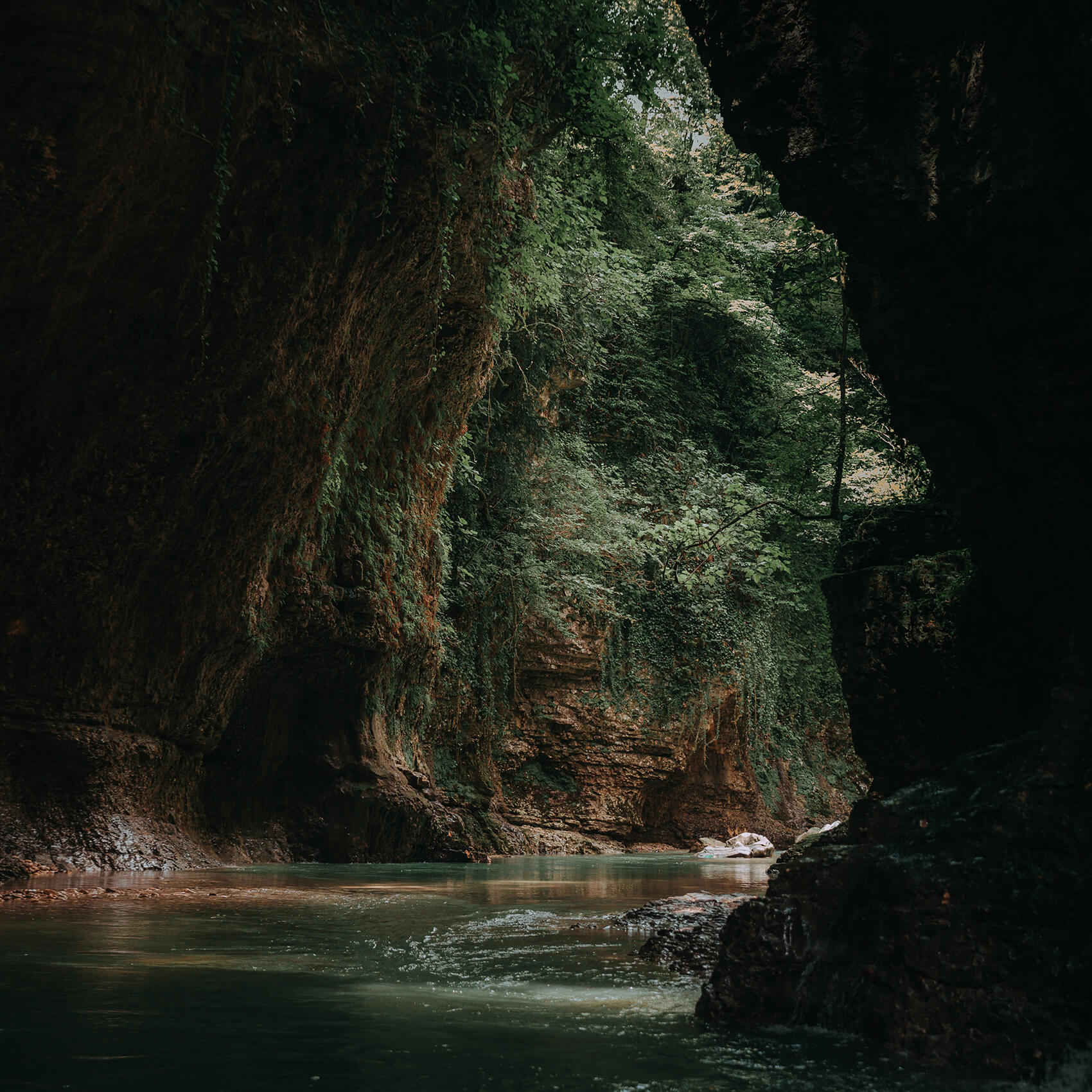 Martvil Canyon in Georgia (Photo: @vruyr / unsplash.com)
Is it worth to rest in June in Georgia?
June in Georgia is suitable for recreation by the sea, health tours, trips to the mountains and excursions. The beginning of summer is not yet hot, so it's good to vacation here for parents with young children and anyone who can't stand the sweltering weather. Keep in mind that Western Georgia has high humidity.
Do not expect that the water in the Black Sea in June will be very warm. For a more comfortable beach vacation it is better to come to Georgia in July, August or September.
Leisure in Georgia by the sea in 2022
News from
Georgia is an amazing country, where vacationing by the sea in 2022 will be cheaper than in Europe, Turkey and even Russia. The country's industry is actively developing, so every tourist here is a welcome guest, not a customer.
Where to vacation at sea in Georgia in 2022
Black Sea coast in Georgia stretches for 300 km and the choice of resort already depends on the wishes of the holidaymakers, but of all resorts the most hyped and the biggest is Batumi.
Batumi
The biggest and only seaside resort in Georgia with a rich historical and cultural potential, as well as a wide range of leisure and entertainment. The resort has a subtropical humid climate, so there are no cold winters here.
The 7 km long coastline is not only a pebbly beach, but also a huge shady park, where under the lush tree crowns one can relax from the scorching sun. Swanky hotels, restaurants, casinos, amusement rides, dolphinariums, and only the best service awaits all guests to Georgia on vacation at sea in Batumi in 2022.
Below is an online airfare chart that is updated automatically:
Kobuleti
A small resort with a crystal clear sea and well-maintained beaches. In recent years, the resort is actively developing infrastructure, new hotels are opening and restoration of numerous health resorts is underway.
The resort is especially popular among young people, thanks to the large number of nightclubs and discos. But Kobuleti will also appeal to families with children and connoisseurs of historical sites. Here you can visit the nature reserve Kintrishi, the fortress of Petra, as well as spend a relaxing vacation in the park Mtirala or admire the majestic beauty of the waterfalls.
Shekvetili
Seaside resort with a 5 km long coastline with magnetic therapeutic sand and clear sea. Here you can spend a pleasant holiday surrounded by pine groves. The resort is filled with small, but cozy residential buildings. There are several hotels, the prices of which are much lower than in Batumi.
The resort is suitable for couples in love, and there are all conditions for a comfortable family vacation and for those who want to improve their health. For entertainment you can go to Batumi, which is 45 km from the resort.
Chakvi
A small resort with extensive tea plantations, so Chakvi is also called the tea capital of Georgia. Today the resort is actively developing, and all conditions for comfortable accommodation and beach holidays are being created here.
On the territory of the village is a national park with eucalyptus groves, and next to the Botanical Garden with samples of flora imported from all over the world.
Gonio
A resort with a unique atmosphere, which is created by mountain ranges and waterfalls with pure crystal clear water. Despite the fact that the resort is small, its territory is actively developing infrastructure and every tourist will find everything for a comfortable stay.
Gonio indifferently accepts couples, friendly companies and young people. Near the beach there are many cafes, here you can visit the Green Cape, hire a boat, rent a catamaran or take part in water attractions.
What to see in Georgia
Georgia is an ancient state, at the same time it is an amazing, diverse and fabulous country. There are about 10,000 sights on its territory, some of which are protected by UNESCO World Heritage Sites.
Old Tbilisi
There are many ancient monuments, museums and parks in Tbilisi, but it is the Old Town that is especially popular with tourists. It is here that you can see the oldest church of Anchikhati, the extraordinary sculptures, the gray baths, and stroll through the narrow stone-paved streets to admire the carved colored balconies for a long time.
Jvari
The temple-monastery, built at the beginning of the XII century on the mountain on the site of the first Christian cross. The temple strikes with its perfection because its four facades as a symbol of the sides of the world, and the ornamentation of the walls is simple, no pathos, everything is spiritual and modest. Today the temple is active and is home to several monks.
Ananuri Fortress
The fortress, which reminds you of a fairy-tale castle, is situated on the shore of Zhinaval Reservoir with bright turquoise water, surrounded by sloping mountains with green vegetation.
In ancient times, the fortress served as a defense against invaders. Unfortunately, only the upper castle with three churches, a fortress wall and a few watchtowers are left of the historic structure.
Svetitskhoveli
Life-giving pillar and the most important temple in Georgia. According to legend here was buried underwear (chiton) of Jesus Christ and on the burial site grew cedar. The tree was considered sacred and later turned it into a pillar, which was laid in the foundation of the temple. So the first Christian temple in Georgia was built.
Sighnaghi
A small town with a 3 km long fortress wall, which is a must visit for all lovers. After all, it was here that the poor artist Niko Pirosmani gave his beloved Margarita a million scarlet roses. The atmosphere in the town is attractive, and many tourists come to walk along the cobblestone narrow streets and enjoy the amazing views of the Alazan valley.
When to go on vacation in Georgia in 2022
You can vacation in Georgia at any opportunity and desire, but the tourist season is in July and August, but many tourists prefer to vacation in May or September, when there is no exhausting heat.
Rest at Sea
The climate in Georgia is hotter than in Moscow. The coast is dominated by the subtropics, so winter is warm but humid with rain, but the summer is hot, the air temperature stays within +27 … +30 ° C.
The weather in the resorts can be variable, it rains in the spring, but the best period for bathing is in mid-June – early October. Some tourists swim and at the end of May or in mid-October, but the sea is not so gentle no higher +18 … +20 ° C.
The peak season is in July and August. It gets too hot and stuffy in the cities, the temperature heats up to +36 ° C, so in such months it's better to go on vacation in the mountains or by the sea.
The most comfortable weather for recreation and sightseeing is in September, the temperature does not rise above +25 … +27 ° C.
Rest in the mountains
You can rest in the Georgian mountains all year round, each time it has its own charm and beauty. If you plan to vacation in winter, you can visit one of the ski resorts – Gudauri, Khatsvali or Bakuriani. Here the season lasts from December to April.
You can rest in the mountains from May to October. The snow has already melted, everything is blooming and growing, there are no fogs, no rain, and all the roads are open. Not the best time to travel for beautiful scenery is from late October to April. There can be fog, rain, ice and snowfall during this time.
How much will a vacation to Georgia cost in 2022
Summer in Georgia is considered the high season, so prices, both for accommodations, tours, entertainment, and overall seaside vacations, go up immediately.
Inexpensive vacation is possible in April, May, September and October. And here many tourists advise to go to Georgia in September, the weather is warm, there is no exhausting heat, you can swim in the sea, and the cost of recreation will be cheaper than at the height of the beach season.
All Inclusive Tours
In Georgia, the tourism industry is only developing, so by planning a vacation at sea in 2022, we must take into account that there are only 2 hotels on the "All Inclusive". Both are located in Batumi:
Euphoria Batumi, 5 stars – cost of tours for two with flight from Moscow from 119,000 rubles;
Colosseum Marina, 4 stars – the cost of the tour for two with a flight from Moscow from 145 000 rubles.
You can also buy a last minute tour which can be 20-30% cheaper in some weeks or days before your departure. But if you have already planned a vacation, then you shouldn't wait for hot tickets. It is better to book tours in advance, as a rule, many travel agencies in the early booking offer good discounts.
Standard tours
In 2022 a tour for two adults for 7 nights with accommodation in a 2-3 star hotel will cost in the range of 40 000 – 45 000 rubles. But hotels with good reviews will cost more expensive, in the range of 50 000 – 80 000 rubles.
The cost of a vacation at a hotel with higher service, 4-5 stars, will increase to 60,000 – 120,000 rubles.
Your own trip
It is possible to organize a trip to Georgia on your own. So in 2022 the prices for air travel have not changed. In any month airfare ranges from 12,000 to 14,000 rubles, and the most inexpensive tickets can be purchased in May or June, as well as in September and October. Here the flight Moscow-Batumi-Moscow will cost about 11 500 rubles.
You can stay in Georgia in the private sector by the sea, here the prices for apartments and apartments for holidays in 2022 starts from 3000 rubles per day. For a longer stay, for example for 2-4 weeks, you can rent an apartment in the center of Tbilisi from 30 000 rubles, or a little further from the center from 24 000 rubles.
While planning the vacation in Georgia you can also book a room at a hotel, a double room "Standard" in an inexpensive hotel will cost you up to 2000 rubles per day. Prices for accommodation in a 4-star hotel varies between 2,500 and 5,500 rubles, and the average cost of living in a 5-star hotel by the sea is 10,000 rubles.
Other expenses include transportation or rental car, which can be rented in any city, from 28 euros to 145 euros per day, depending on the car class. It is convenient to travel around the city by bus (5-20 GEL), by subway (0,5 GEL), you can also take a cab (the cost of the trip is negotiated with the driver). You can also get to any city by train 1st class for 26 GEL and 2nd class for 19 GEL.
If we talk about food, you can buy products in supermarkets and markets or choose restaurants. The price for a three-course lunch for one person in an inexpensive cafe is about 40 lari.
When planning an independent holiday should not be excluded and the cost of excursions, but here it all depends on personal desires and interests. For 5 euros you can book a sightseeing tour of Tbilisi, and the boat ride with fishing and picnic will cost about 190 lari.
Tips and reviews
Georgia is a beautiful, colorful and hospitable country, but for those who are going on vacation for the first time, it is worth reading the reviews and tips of more experienced travelers.
Vladimir, 33, Moscow

"Last year my wife and I vacationed in Georgia. How much I liked everything is not to tell you in words. And right away I want to note that there is no negativity to the Russians on the part of the locals, I have not noticed. But I want to give one important piece of advice. To visit Georgia you do not need a visa, if you are not going to stay in the country for more than 3 months. But if you have already managed to visit Abkhazia or South Ossetia, and there is a note about it in your passport, then be prepared for the fact that most likely you will not be allowed to Georgia. Otherwise, everything is fine, the sea, the sun, the mountains, the interesting sights, pleasant prices."
Yulia, 45, Samara

"Vacationed with the whole family in Georgia in September and we regret that we had not considered this country for vacation before. We did not buy a tour, we planned the trip by ourselves. We stayed in the private sector, but there are many hotels for every budget. And here I want to give some advice about traveling in Georgia by car. Of course, the transport network here is developed, but many temples, churches, natural attractions are in remote places and to get to them on foot is subject only to physically strong people."
Anatoly, 29, St. Petersburg

"Georgia is just a fairy tale for me, I vacationed 2 times. Once in Batumi, and the other time I decided to visit Tbilisi. Everyone is advised to visit this city, especially in its old part, it's not a city but a real open-air museum. Be sure to try the Georgian food, I'm absolutely delighted with it. Also don't think that Georgia is only wine, mineral water and mandarins. They grow very tasty tea here, the most popular varieties are 'Tkibuli', 'Shemokmedi' and 'Ternali'."
Alina, 39, Kursk region.

"Georgia is an excellent country, where you can rest, both in summer at the sea and in winter in the mountains. We vacationed in Batumi, the coastline here is like in the best European resorts, and the sea is clean and warm. But the beach is pebbly, you can buy special shoes. We stayed in the private sector, namely in apartments for 300 rubles per person. We came together with children, nobody was bored. We went to the dolphinarium, we advise to visit botanic garden, it was a real subtropical paradise. In the evening it is pleasant to walk along the quay, the sea reflects the lights, shines and overflows. Order here is controlled, so it's safe to walk around the city even at night."