How to plan your holiday in Karelia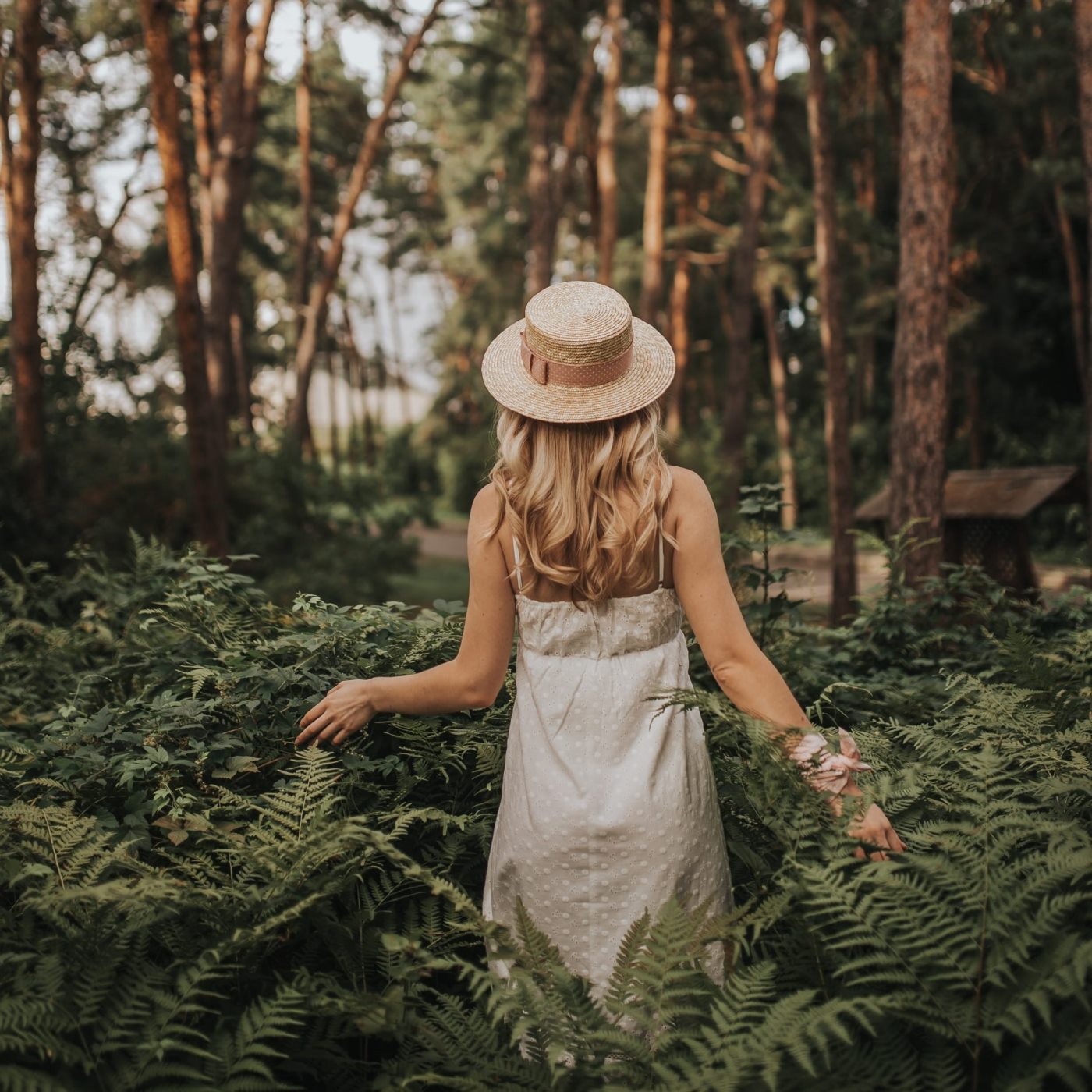 In Karelia, you can find wild forests and picturesque lakes, fishing and active vacations. So much in one region! Here is a list of travel information about Karelia: prices in 2022 and how to plan a trip.
Karelia is an escape from civilization, an opportunity to slow down and breathe fresh air, to be in nature with your loved ones. Rest here is very different: someone sets up a tent on the lake, picking berries, mushrooms and meet amazing pink sunsets, someone lazily relaxes on a comfortable recreation center, cooking barbecue, and someone masters the extreme sports or explore the sights of the republic.
We chose the latter type of vacation – we came by car and drove around Karelia for two weeks, discovering the wonders of the region. I share my personal experience and tips on how to organize a comfortable vacation in Karelia in 2022.
– Karelia tours for every taste and budget. – Hotels and resorts. – Excursions from St. Petersburg.
Content:
When to go
Here you need to clearly understand what you want from recreation in Karelia.
Karelian summer – a time of flowering meadows, berries and mushrooms. The best period for a family vacation in nature. Summer in Karelia people go on vacation to relax on the lakeside, pick berries, go hiking, rafting on the river and go on excursions.
Summer in the region is quite short. If you want to catch the white nights, you should come approximately from May 26 to July 17 or, even better, from June 20-22 when the night does not fall at all. July is the warmest month, when strawberries and cloudberries ripen. In August it already rains quite often, but you can enjoy blueberries and bilberries.
We went to Karelia in August. During the 2 weeks we caught all kinds of weather, from freezing rain to hot, so take clothing for everything! Don't forget the repellents.
Fall is for those who like bright colors, fishing and mushrooms. Until the middle of October the weather is quite comfortable, but not without rain.
Winter is snowy and beautiful. Mostly down to -20°C, but there are also 30-degree frosts. This is the high season – many people come to Karelia for recreation and meet the New Year. In winter entertainment is not less than in summer! Read how to rest in winter in Karelia.
Spring is capricious and unpredictable. It gets warm in May.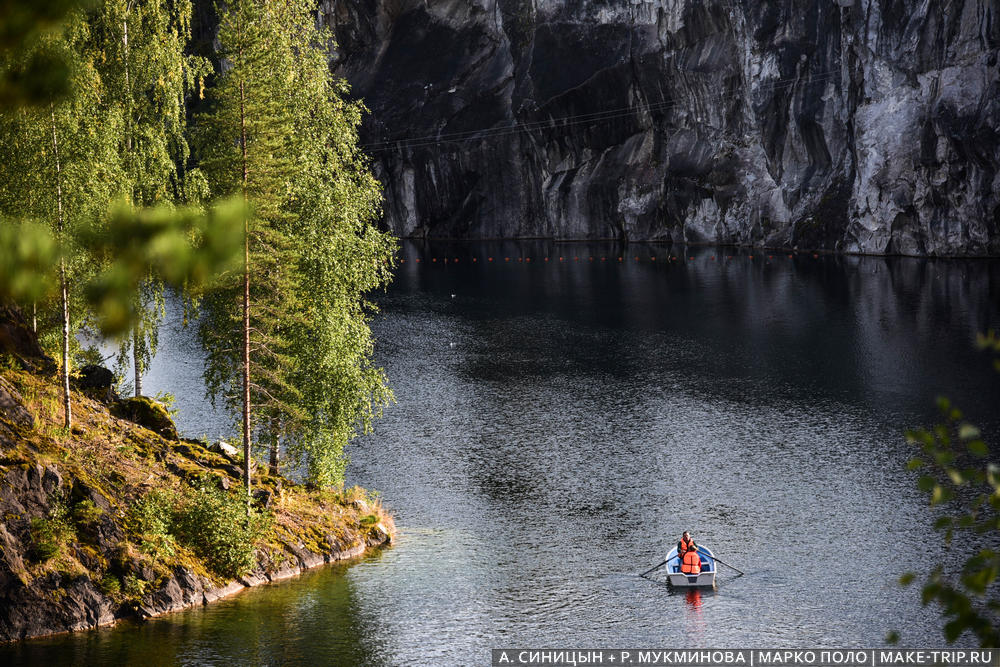 I believe that it's best to come to Karelia in summer. The photo shows Ruskeala Mountain Park in August.
How to get there
From Moscow. Many people decide to fly to Karelia by plane, it's the fastest way to get there. Now in the airport Besovets flies "Pobeda". Airfare prices in the summer of 2022 start at 2,000₽, the flight lasts just over 1.5 hours.
By train, you will spend a lot of time – 16-20 hours, and tickets cost about the same – from 1600 to 2200₽ in the plane carriage. But the compartment sells for the price of the plane and even more expensive – 2000-4000₽.
There are different ways to get to the republic by car. The popular route is along the M10 highway through Torzhok, Valday, Veliky Novgorod, and Volkhov. Some people like to take the A114 highway past Sergiev Posad, Ustyuzhna, and Lodeynoye Polye. Another option leads through Vologda.
From St. Petersburg it is convenient to get to a vacation spot in Karelia by train. In the summer of 2022, prices for Lastochka start at 1,300₽ for a seat, for the Arktika branded train at 1,400₽ in the first class and from 2,300₽ in the compartment. The trip takes 5-7 hours.
Most people go to Karelia by car. If you want to rest in the west of Karelia – in Sortavala, go through Priozersk. The road from the east of Ladoga goes through Lodeinoe Pole.
Several times a day from St. Petersburg to Petrozavodsk runs regular buses. The trip takes 8.5 hours, the fare ranges from 600 to 1200₽.
The most convenient option is to go to Karelia with a tour. Check out the options on Tripster.
Ruskeala Express Retro Train.
What to see in Karelia
Excursions are very popular on vacation in Karelia – few people go around the region on their own. There are excursions directly from Moscow and St. Petersburg for several days with accommodation in a hotel or base, and there are from Petrozavodsk or Sortavala – for example, to Kizhi, to Valaam and Solovki.
The simplest and cheapest excursions are walks around Petrozavodsk, they cost from 1200 to 2500₽. Check out the most popular one on Tripster – tourists love it.
More complicated tours with departures from Petrozavodsk cost from 4000 to 7000₽:
More expensive are jeep tours, safari tours and trips to holy places like Valaam – from 4000 to 10000₽. You can book tours online on Tripster – read tourist reviews before booking.
You can see much in Karelia on your own, if you have a car. Even a car will do, but if you want to get deeper into the taiga, it is better to drive an SUV or at least a crossover. For example, only high-clearance cars will get to the foot of Vottovaara Mountain.
During vacation in Karelia we had time to see a lot: we visited the famous "Ruskeala", original village Kinema, admired the Northern Art Nouveau in Sortavala, found an abandoned church, mined pomegranates, looked at waterfalls, surprised ancient petroglyphs, and climbed the mystical mountains. You can't list everything! Read more about it in the articles below:
Virma is a remote village with a beautiful example of wooden architecture. Can only be reached by car.
Prices for tours to Karelia
Agencies offer tours that include excursions and active recreation in Karelia. They are designed for 2-8 days and include accommodation, transfers, meals and payment for part of the excursion. When buying a tour, note that most routes provide overnight accommodations in the field. In addition, the road to the starting point of the trip is usually not included in the price of the tour.
You can find a wide variety of tours in Karelia at the tour operator "Big Country". They have both inexpensive tours with a classic program, and real adventures for the most demanding tourists.
Prices for vacations in Karelia in the summer of 2022 start at 7,000 ₽ for a two-day trip and from 12,000 ₽ for a 7-day trip. According to tourist reviews, tours in the summer are popular:
trips to the White Sea
rafting trips on the Shuya, Loimola, Vodla, Tumcha, Pistajoki and Uksa rivers
Combined tours with rafting, horseback riding and ATV safaris
Tours to Solovki, Valaam and Kizhi
Golden Ring of Karelia
Jeep safari in the Northern Ladoga area.
Accommodation at recreation centers
Cabins, country manors and recreation centers are mostly located near lakes. Rest on the lakes in Karelia – something that attracts many tourists, especially fishermen. Some tourists prefer to live wild in a tent, some prefer to live comfortably at the bases.
There are budget camping sites where you can simply pitch a tent and use the kitchen and bathroom, and then there are more expensive camps, where you can enjoy all the conveniences and meals and live in cottages on the lake shore. See how much the camping sites in Karelia cost.
In the past, tourists cooked on their own, but now some resorts offer accommodation with meals. For example, three meals a day is organized at the camping site Niska on the shore of Lake Pyaozero and at the Hunter Paradise on the lake Yashezero.
We advise to look for the camping sites beforehand and to book those you like right away: during the high season the best accommodation is quickly lost. Learn how to book hotels at a lower price.
Holidays in Karelia on "all inclusive" does not yet exist – maximum full board. It is possible to have a rest on all-inclusive only during motor voyages in Karelia: river cruise from St. Petersburg costs from 33000₽, and from Moscow – from 44000₽.
Useful services for independent accommodation booking:
– popular booking service. – large selection of camping sites. – comparison of prices for hotels and camping sites on different services. – Rent of houses and apartments from individuals.
Prices for food
On vacation in Karelia there are no problems with food – there are enough cafes. Somewhere the prices are adequate, and somewhere they are exorbitantly high. A lunch for two in a cafe-dining room will cost 500-600₽, and a dinner at an inexpensive restaurant will cost twice as much.
There are cafes at many vacation spots with reasonable prices: you can have breakfast from about 250₽, and lunch or dinner from 400₽. For example, at the base in Gimolah, where you can get to Vottovaara, we had dinner for 400 ₽ for the first, second and compote. And at the Verkhovye base we ate at a nice cafe with democratic prices.
If you can find it, try the game dishes. They cost not cheap – from 500-600₽ and higher. However, the locals do not advise to eat bear meat – they say, often wormy.
You must try kalitki – tasty pies made of rye flour with potatoes or mush, sometimes with berries. You can buy them in cafes and some stores, they cost from 20 to 60₽.
Fishing is well developed in Karelia – order dishes made of local fish. For example, we had soup in Kondopoga for 250₽.
All the chain stores we are accustomed to have in Karelia: "Pyaterochka", "Magnit", "Dixy", "Lenta". There we bought groceries for breakfast, water, and snacks.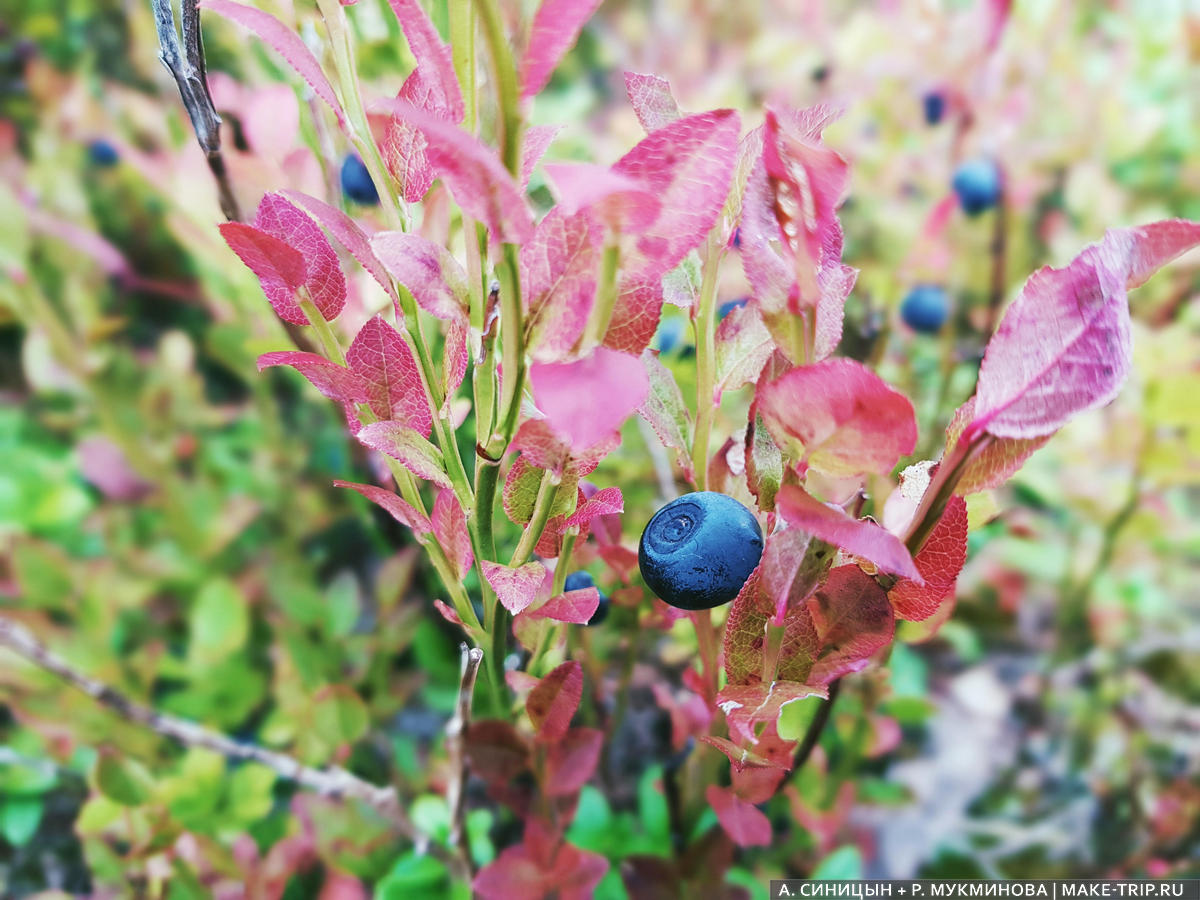 Blueberries and blueberries are free in Karelia. Whole fields!
Holidays in Karelia with children
You can go to Karelia with children without hesitation – clean air will do them good. Many families come to the republic for active recreation: rafting on kayaks and catamarans, riding bicycles. Children enjoy picking berries and mushrooms, fishing, swimming in the lakes, going on excursions to deer farms and husky kennels.
During your vacation with your child you can visit Petrozavodsk. In the capital of Karelia, there is a lot to see: "Doll's House", a rock climbing wall, the museum "Polar Odyssey" and the museum "Animal World of Karelia". The whole family should visit the Karelian zoos, which are located on the shores of Syamozero and near the town of Sortavala.
Trip by car to Karelia
In my opinion, you should go to Karelia by car in summer, because it provides freedom of movement and an opportunity to see everything interesting without tourists.
We ourselves went to Karelia by car. Hotels and hostels enough – we booked a day. There were plenty of cafes and stores. There are not many gas stations, though. If you go somewhere in the middle of nowhere, fill a full tank. In a pinch you can buy gasoline in bottles from the locals. Alexey Sinitsyn, our site's editor-in-chief, told in detail and clearly, how to go to Karelia by car – read his advices.
The main disadvantage of auto-trip is bumpy country roads. Some attractions like Vottovaara or White Bridges waterfalls can be reached only by off-road vehicle.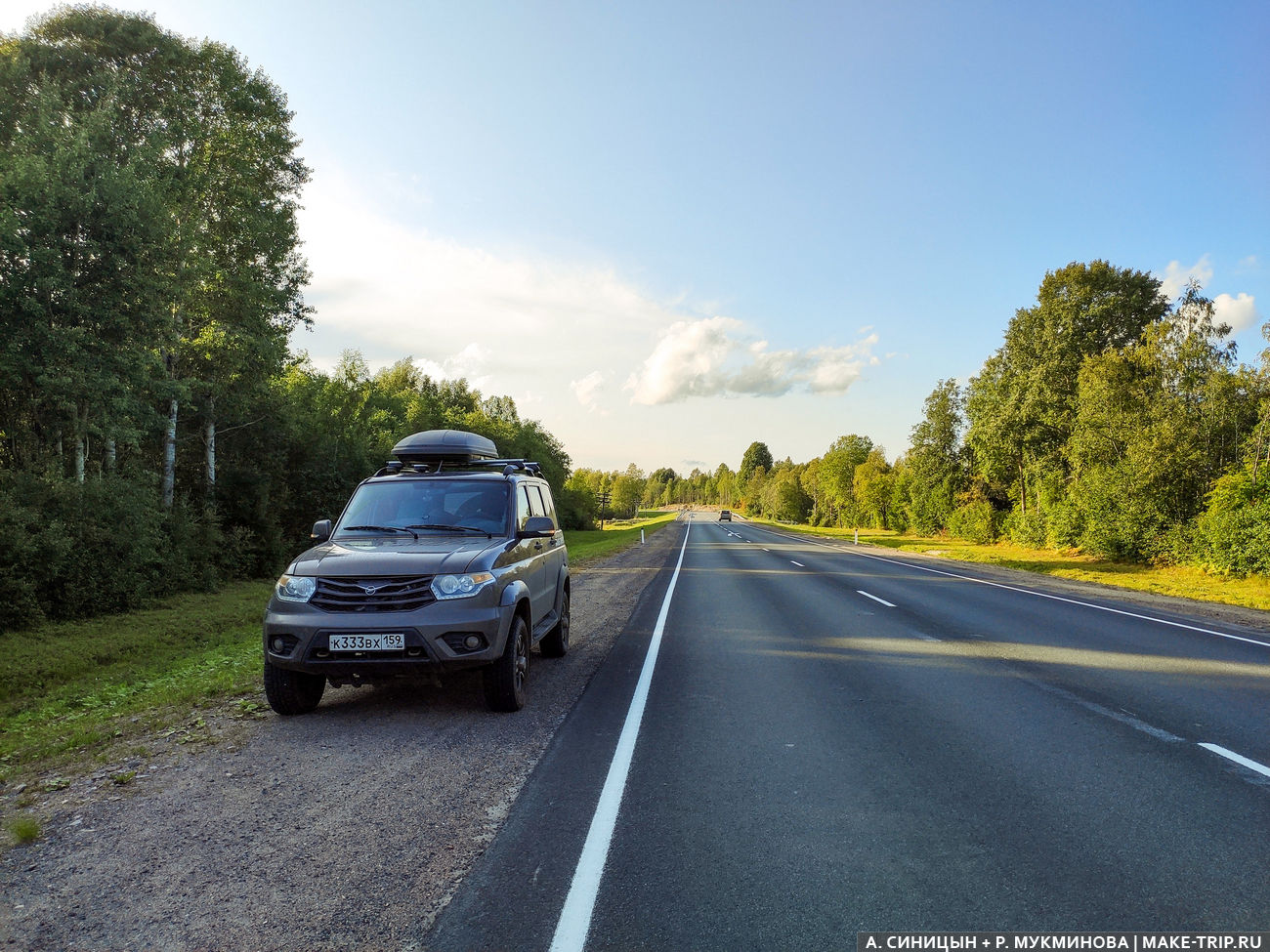 The A-121 highway, somewhere between Sortavala and Petrozavodsk. The main roads in Karelia are new and smooth. But it's worth turning to country roads.
Safety tips
Mosquitoes and midges. Get ready, in some places there are so many of them that you cannot stand still for a second. You need repellent and nakomarnikami. In open blowing places mosquitoes do not bother.
Ticks. May through September is tick season. Get vaccinated, use anti-tick sprays, go into the woods with closed clothing and headgear. After a walk, look carefully at your clothes and skin.
Bears. They try to stay away from people, but there is a risk of meeting them. Don't leave food in your resting places because the smell attracts them. During our trip, reports of bears came in all the time.
Vipers: They like fringes of bogs, clearings, deciduous and mixed forests. Walk in the forest with closed shoes, better in high rubber boots. We've met a snake on Vottovaara – it seems it was just a snake.
The weather vagaries. Before you go on the water check the weather forecast, it changes fast. In the off-season, you don't want to test the ice.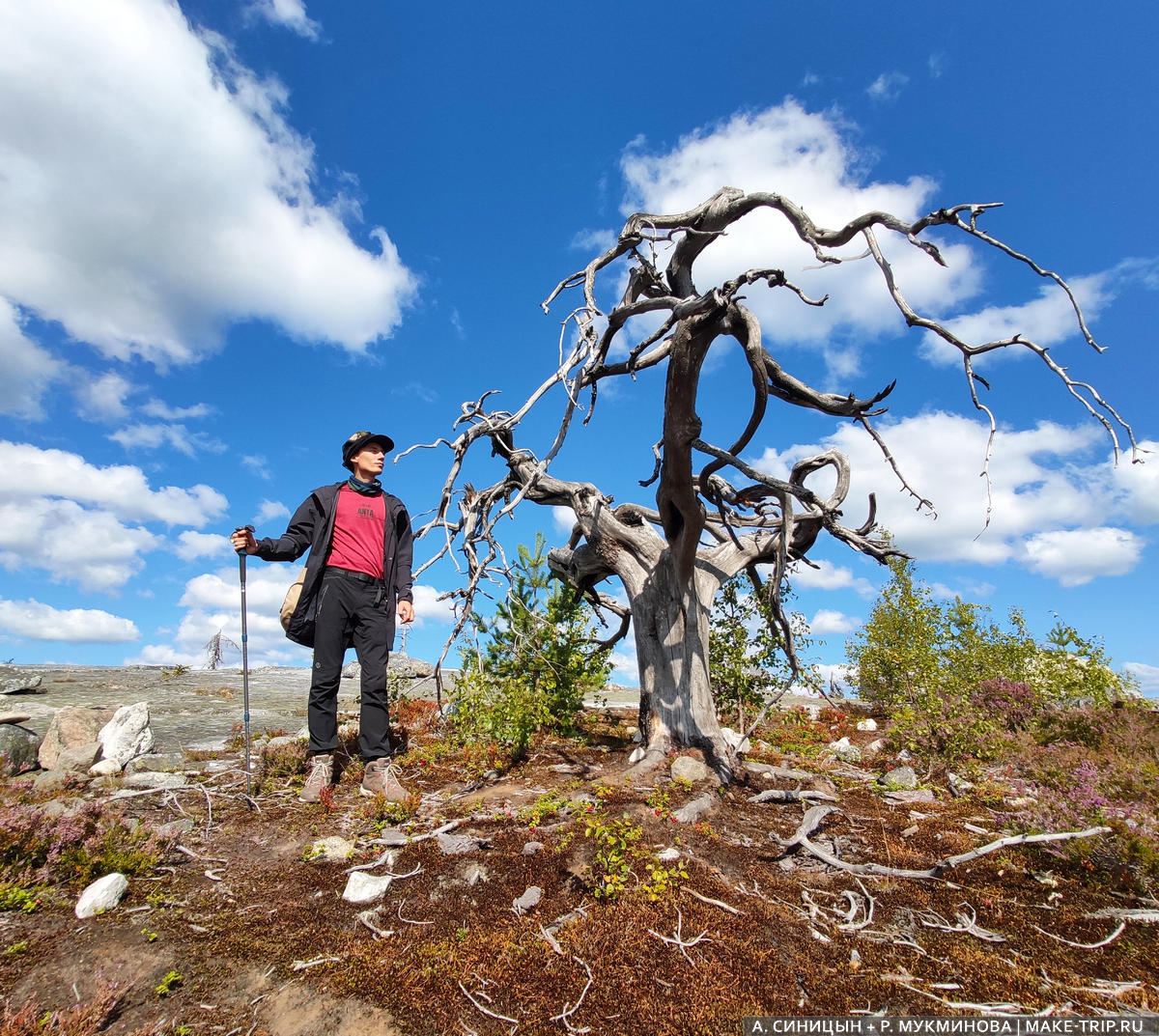 When we were going down from Vottovaara mountain, we met a snake on the trail. Be careful!
Tourist reviews on vacations in Karelia
Many tourists are positive about vacationing in Karelia in the summer. Judging by the reviews, the prices of accommodation, food and entertainment here are lower than in the Russian south, so the vacation turns out to be quite budgetary. Vacationers note a lot of positive aspects of a vacation in Karelia:
There is no need to get a visa and cross borders.
In Karelia a variety of recreation is possible – from beach to extreme.
The climate suits everyone who cannot stand the heat.
Coniferous forests and fresh air are healthy.
Disadvantages are few: poorly developed public transport, annoying mosquitoes yes gnats, bad country roads. The biggest disadvantage – in high season in Karelia, it is difficult to find a comfortable and inexpensive accommodation, because wanting to relax a lot.
However, vacation in Karelia is good low cost and the opportunity to spend a lot of time in nature. Someone is stopped by the lack of warm sea and the developed tourist infrastructure. However, weighing the pros and cons, most tourists choose in favor of Karelia.
Let's tell about vacations in Karelia with children: how to visit Karelia with the whole family in 2022
Karelia is one of the most affordable options for travel, starting in March 2022. Alas, flights from Russia are banned, and many countries are closed to Russian tourists. In these circumstances, be sure to consider the Republic of Karelia as a place to spend your vacation – there you will be able to relax with your family and children. But what to consider during a vacation in Karelia with children? What places to visit? Where to live? To these questions we will answer in this article.
Why go to Karelia with children?
In fact, there is a whole list of advantages of a family vacation in Karelia. So, going to the northern republic with children, you:
1.Actively spend time together.
In Karelia, widespread "family" tourist recreation programs. So the whole family is waiting for rafting on a catamaran and kayak, skating on huskies and reindeer, descents to quarries and fabulously beautiful waterfalls. And what to choose depends only on the wishes of your children and relatives.
2.Enjoy the virgin nature
Picturesque rivers, thousands of blue lakes, nature trails. Particular attention should be paid to the mysterious waterfalls, which every now and then catch the fascinated eyes of tourists. Also the region is rich in flora and fauna – fishing here and it's just a pleasure. But just in Karelia you will feel the unity with nature, which is sometimes lacking in large cities.
3.go on real adventures
Almost all children imagine themselves as heroes and fairy tale characters. We are confident that your kids – no exception. In Karelia they have just the opportunity to get to the adventure like in your favorite cartoons; and you are not going to be bored either. Hiking, rafting, tents, workshops and magical games with Santa Claus – all this is waiting for you and your children during the holidays in Karelia in 2022!
4.Don't worry too much about the climate
Even if the weather here is changeable and capricious, but the climate is far from the harsh Siberian realities. Summer in Karelia is warm and allows swimming in the lakes and rivers, and winter is mild: the temperature stays within 10-12°С. You should only wear the right clothes and the weather will be favorable to you, making only occasional minor corrections to your travel.
How to reach Karelia with children
There are 3 main ways to get to Karelia, as well as to many other places in Russia:
1)By bus.
This is an ideal option for residents of St. Petersburg and nearby cities. For example, from the "northern capital" buses go three times a day! The trip takes about 6 hours.
From Moscow there are no direct lines, but you can get to Petrozavodsk with changing trains in Veliky Novgorod. However, you will have to travel here almost a whole day.
Another option is to buy a bus tour in Karelia with children; then the tour company will do everything for you. Then they will take you to Karelia, show the wonderful Republic of Karelia and take you back home. By the way, TK "Karelochka" just offers you a lot of such tours. We'll take you to Karelia from Moscow, St. Petersburg, Nizhny Novgorod, Belgorod, Saratov, Pskov, Tver and other cities.
2) by train
Karelia is crossed by two railroad lines:
1) "Murmansk Railroad," running through Petrozavodsk, Kem and the Murmansk region;
B) "West-Karelian mainline", passing through Sortavala and Kostomuksha.
From Moscow to Karelia you can get by train "Arktika" and "Karelia", which bring you to the desired republic for fifteen hours.
From St. Petersburg you can travel by high-speed train "Lastochka". Details, schedule and price is better to see on the website of Russian Railways at the link: High-speed trains | Passengers (rzd.ru). By Lastochka you will reach Karelia in 4 hours.
3) By Car
If you go to Karelia by car from Moscow, it's best to take a toll road M-11. Thus, you will get to St. Petersburg, and then take Priozerskoe Highway or highway "A-121 Sortavala". Road coverage of each of these roads is good, you can not worry about this.
The most interesting places in Karelia for family holidays: where to go with a child
There are many places in Karelia that are worth visiting. But since we are going with children, we will choose places with a slice of entertainment, magic and joy. Or with really interesting views. So, here are the TOP options for a vacation with kids from "Karelochka".
1.Visit Ruskeala Mountain Park
Marble Canyon is the main pearl of Ruskeala Park. Just imagine how the reflection of the white walls of the quarry looks in the azure surface… But is it interesting for children to look at it? If you rent a boat and enjoy the views from it then yes. Such an option is available to you all summer months, from June to August.
As for the daytime activities, in the park you and your child can:
Take a ride in a sled dog sled;
Fly over the lake on a trolley;
visit the museum "Abode of Angels";
walk along the "Road of Mountain Masters".
There's another place your kids might enjoy – an abandoned factory with brick kilns still standing.
To visit the mountain park "Ruskeala" can:
-in any summer day from 09:00 to 21:00
-In winter and summer time: Mon-Fri + Sun from 10:00 to 19:00, and Fri-Sat from 10:00 to 21:00.
Price of admission ticket for adults is 350 rubles, for schoolchildren – 100 rubles, and for children under 7 years old admission is free.
If you want to go to Ruskeala – take a look at tours to Karelia in 2022 from "Karelochka".
2.rafting on the rivers of Karelia
We hasten to reassure caring mothers: on the rivers of Karelia, there are quite a lot of sections and rapids with a low level of complexity, which children without problems overcome every season. And now about the pros; going rafting with kids is a good idea, because:
Children will acquire skills for camping. For example, learn how to set up a tent, catch fish and carefully see how to make a fire. Although such wisdom will be useful even in the country house or during the "wild vacation.
Children get away from gadgets. These days, addiction to the same phone is not uncommon. Both kids and adults love to look into it… Fortunately, during the rafting all electronic devices will be put away by the instructor into a special bag, and you can enjoy everything that's going on around you.
Children will strengthen their health: splashing water, positive attitude and light wind stimulates this activity. And trip to Karelia is the best time for immunity development.
But not all the rivers of Karelia are suitable for family rafting. The best option – the river Shuya. Also together with children you can raft on Kereti, but if on Shuya recommended age is not limited, but to raft on Kereti your child should be at least 8-10 years old. And for even older children the river Uksa is suitable, some thresholds of which reach the 4th category of complexity.
The best time for rafting in Karelia with children: July and August. In these summer months rapids are not as big as in the spring, and the weather is much nicer.
You'll see, this kind of extreme recreation unites and unites the whole family. Therefore we recommend to take children necessarily on rafting. But only for the suitable programs, which provide the participation of children, and then your family vacation in Karelia will be even more memorable.
3.To ride a sled with Huskies and reindeer
Riding in cars and trains, flying by planes is already a usual thing for children. But a ride on the northern sled dogs and Santa Claus' loyal companions, white reindeer, will give them a unique experience.
Here you come to the nursery, the huskies are harnessed to the sled, and afterwards… you can feel the Karelian atmosphere in all its glory. The sledges are designed for adults and children, so you can go in one sled or in different ones. You can ride without any special training; after all, the route goes through small slopes and low snow slopes. Plus, each sled sits a musher, a professional chaser, who will skillfully take your family on a ride through the snowy tracks of the northern republic.
You can meet other sled dogs from the kennel: there live not only Siberian Huskies, but also Alaskan malamutes, Taimyr sled dogs and fluffy samoyeds. And on some excursions after the sled ride you will be offered to visit the natives of the republic and even to show off in traditional national costumes. And at the end of it you can taste dishes of Karelian cuisine in the chum.
It is for you to decide how to visit the nursery, on your own or on a tour. But if you are more inclined to the second option, "Karelochka" will help you to organize a trip properly, so both you and your children feel comfortable. A list of tours and excursions to the kennel to the husky is presented here: book while there are still places available;).
4.Go to the residence of Santa Claus
The happy is a child, who still believes in Santa Claus. And if he doesn't believe any more… Karelian magicians are ready to remedy the situation. Yes, yes, the wizards, because Santa Claus is not the only one – there are three of them! The most famous of them is named Talvi Ukko, which is translated from Karelian as "Winter Father". And it looks a lot like the familiar to us all familiar Santa Claus. Take a look for yourself:
This kind old man lives in the residence in the Karelian village of Chalna, 20 km from the capital, Petrozavodsk. Together with his assistants and snow maiden Lumiko he organizes fun parties, which you can visit with your children.
There are also two of his brothers: Halla and Pakkaine. What is remarkable and a little unusual – the last of them is the youngest and has no beard at all. Anyway, each of them will help you to plunge back into the fairy tale, and give the children a lot of impressions. Active games, relay races, feasts – all this awaits each of the guests. By the way, in the residences you can ride a husky and reindeer, if you have not done this yet.
5.Go to the theaters and museums of Karelian cities
Cultural entertainment is, alas, not in vogue now. However, a trip to Karelia will help you enjoy this wonderful leisure and show its charms to your children. Thus, at the beginning of 2020 in Karelia there are more than 4500 cultural sites and about 60 public associations. The city of Petrozavodsk is particularly rich in theaters and museums, and one of the most interesting theaters for children is the Puppet Theater. There you will find a performance to your child's taste – there are many performances based on well-known children's cartoons and fairy tales. These include "Masha and the Bear", "The Tale of the Fisherman and the Fish", "Moidodyr", "Aladdin's Magic Lamp" and many others.
You can also visit the National Theater of Karelia with your child. For children from 6 years there is also a lot of exciting stories, such as "Adventures in the forest Christmas tree on the Hill", "Peter Pan", "The Snow Queen. Older children, from 12 years of age, can see the embodiment of some Pushkin's tales, one of which is "The Tale of the Pope and His Workman Balda.
Another good option would be to visit a performance of the Philharmonic Society soloists and artists of Petrozavodsk theaters in the Karelian State Philharmonic Society.
In general, the choice of museums and theaters in Karelia is unimaginably great. So if you plan to rest culturally and switch the attention of your child from electronic entertainment to more "high", then feel free to plan a trip to the Karelian region.
Where to stay in Karelia with children: recreation centers and hotels
Recreation base "Denisov cape".
From Petrozavodsk to Denisov cape – little more than 60 km, and the camping site is located in one kilometer from the highway. That is why the air in this area is clean, and automobile noise does not brighten up the rest. "Denisov Mys" will be an excellent choice if you want to rest with children in Karelia "on a short hand" with nature. Here are not far from the fishing waters of Syamozero, and a pine forest with mushrooms and berries, and even a sandy beach, which children will especially like.
Little Bear eco-village.
In "Little Bear" there is a room for a family with 1-2 children, or for a large family with the older generation! Tourist Village is built on the shore of Lake Onega in a pine forest. Special emphasis is placed on comfort: there is a sauna, swimming pool, gym, and even a parking area. When visiting Little Bear, don't forget to buy some choice meat and a bag of charcoal – the charcoal grill in the yard will teach the children to cook shashlik (or at least give them the basics of this art).
Recreation base "Shishki".
Recreation base "Shishki" will allow you and your children to combine nature rest with modern approaches.
So, "wild" recreation in "Shishki" is:
Areas for recreation by the fire with benches, table, barbecue;
Banya with exit to the lake;
Bathing and rest on the pier at the lake.
Comfortable rest on the B/o "Shishki" is:
Wi-Fi on the territory of the camp;
Sports equipment for rent: badminton, bicycle, tennis, skis, skates;
Playgrounds for soccer, basketball, tennis.
Meals are organized in a cafe, fed with dishes of both Russian and Karelian cuisine.
Recreation base "Black Rocks".
On the territory is equipped with a large playground, and just outside the gates you are waiting for an exciting journey into the animal world of the "Karelian Zoo".
The whole territory of the recreation center and the zoo is treated against mosquitoes and ticks for your kids' safety and your parents' peace of mind.
Working rent sports equipment. In winter: skis, skates, snowmobiles, sleds. In summer: badminton, bicycles and much more.
Children under 7 years accompanied by an adult attend the pool for free.
The restaurant of the recreation center has a children's menu.
The recreation center has a children's playroom. It is a bright play space with a game maze, trampoline, climbing wall, mechanical merry-go-round, slides with dry pool. There is a separate dry pool for toddlers and a soft constructor!
The complex is located on the shore of Lake Janisjärvi, 40 km from the town of Sortavala. Isn't it an ideal solution for a holiday with children in Karelia?
Useful hints for vacations in Karelia with children in 2022
And finally, here is a little check-list of travel tips for planning a trip to Karelia with children.
1 Find out if the camping house, hotel or out-of-town complex is suitable for children. Clarify in advance the conditions of accommodation, the availability of high chairs and cribs.
2.Take on a trip kit for children. Especially tablets for motion sickness, stomach aches and chronic diseases.
Stock up on repellents. Mosquitoes and ticks in summer time are very annoying for the Karelian tourists. Therefore, we recommend to take care of protection against insects in advance. It will make your children's vacation safer and more pleasant.
4.Prepare for cold or rainy weather. As already mentioned the weather in the country is hard to predict, even the predictions of weather forecasters don't help. So take warm blouses, waterproof boots and raincoats for yourself and your children.
5.Carefully plan your trip program. After all, Karelia is a wilderness area, and many places and attractions are not designed for small children. Therefore it is important to get acquainted with the routes and plan your trip in such a way that you won't have any unnecessary problems.
Tours to Karelia in 2022 for family vacations from "Karelochka".
We are the company "Karelochka," we are always happy to offer you the opportunity to have a great vacation in Karelia with your family and your children. We are sure that some of the tours you will definitely interest you, take a look: