Pattaya: reviews of tourists in 2022
Looking for information and tourist reviews about your vacation in Pattaya 2022? We have gathered in one place all the necessary information for those going to Pattaya in 2022: tourist reviews about beaches, weather, hotels, excursions and food prices in this part of Thailand.
By the way, inexpensive tickets to Pattaya are better to look for on the Aviasales website: it compares prices from all agents and finds cheap flights.
General impressions about vacationing in Pattaya in 2022
Pattaya is one of the largest resorts in Thailand, and it is here that most Russian tourists vacation on a trip. The city is located near Bangkok and you can get there in 2 hours.
If you read the reviews of tourists, you will realize that in Pattaya you need to go to the club entertainment and a busy nightlife, and for a beach holiday is better to choose other resorts in Thailand – such as Krabi, Samui or Phuket.
We have a detailed article comparing holidays in Pattaya and Phuket. She will help you decide if you have not yet chosen a resort: Pattaya or Phuket: where it's better to stay.
The city has a huge number of bars, clubs and other nightlife – lovers of this pastime in Pattaya is sure to please. Most of the hot spots are concentrated in the Walking Street area, which comes to life after dark.
If you arrive in Bangkok, you can take a cab to Pattaya straight from Suvarnabhumi Airport. Sometimes you should not bargain with the cab drivers after the flight, but book a transfer to Pattaya in advance – for example if the plane arrives late or you are traveling with children. You can do it here.
Take a look at our article On How to get from Bangkok to Pattaya – from it you'll learn the most convenient ways to get from the capital to the resort.
Before you travel it is recommended to buy insurance. You can compare prices for insurance in different agencies with the help of Cherehapa service. Read our guide: How to buy travel insurance online to travel abroad.
There are many cultural attractions in and around the city, many of which children will enjoy. In their reviews, tourists note a large number of excursions from Pattaya to other parts of Thailand – at relatively low prices and good quality.
About the beaches of Pattaya in 2022 tourists leave a lot of negative feedback – and all of them, as a rule, are fair. The sea within the city is dirty, the water is muddy, on the beaches found litter (although you can find some good corners). For a good beach holiday must go to either the outskirts of the city, or take an excursion to the islands.
Reviews about the weather in Pattaya
The best time to vacation in Pattaya – from November to May . This period affects the two weather seasons – high (November – March) and dry (April – May).
All this time in Pattaya is great weather – no rain, the sun shines brightly, the temperature of the air and sea water is very pleasant. The period from November to May is a great time for a beach holiday.
From June to October in Pattaya it rains – sometimes short and in the evening, and sometimes heavy at any time of day. At the same time, numerous reviews of tourists say that it is good to rest in Pattaya at any time of year – the temperature is always comfortable, and the sea is warm.
The chart below shows the water temperature in the sea:
Pattaya Hotel Reviews
The city is located on the coast of the Gulf of Thailand and has a large number of hotels with its own beach. In any major hotel has everything you need for a comfortable stay, but the set of additional services often varies. Many good hotels are located on beaches such as Jomtien, Naklua, and Wongamat.
The best hotels in Pattaya are considered to be Royal Wing Suites & Spa, E-outfitting Boutique Hotel Pattaya, Citismart Residence, Poseidon Hotel and Happys Guesthouse Pattaya – they get the highest ratings and reviews of tourists vacationing in Thailand.
How to find accommodation in Pattaya at a good price? It's easy to do with the help of Booking website: it's the most popular service with lodging options for every taste.
Excursions in the city and other parts of Thailand
Vacationers in Pattaya in 2022 offers a huge number of excursions in and around the city, as well as trips and tours to other parts of Thailand. Excursion business is well developed, there are many travel agencies in the city that are ready to offer a variety of tours.
The most popular trips to other cities in Thailand are tours to the River Kwai and the transfer to the amusement parks of Bangkok, as well as a two-day excursion to Cambodia from Pattaya – they always get good reviews from tourists.
Due to the fact that the sea in Pattaya is not the cleanest, tours to neighboring islands with excellent beaches – Ko Lan, Ko Samet, Ko Chang and others.
You can book a tour with popular Russian tour operators, and in street agencies, and the second option is several times cheaper, and the quality is about the same. You can read more about the prices of tours and attractions here:
Uncommon excursions can be found through Tripster and Sputnik8 websites. We advise checking prices on both services to find the most interesting options.
Pattaya Beach Reviews
There are many beaches in Pattaya, but they cannot compare to other resorts in Thailand – such as Samui and Phuket – in terms of the cleanliness of the sand and sea.
According to tourist reviews, the best beaches in the city are Jomtien, Wongamat and Kozi Beach, although they also have flaws. At the central beach of the city – Pattaya beach – generally not recommended to swim and relax because of the dirty sea and an abundance of garbage.
For turquoise sea and white sand in 2022 is better to go to one of the islands around Pattaya – the water there is much cleaner, so sunbathing and swimming is a pleasure. The most popular island is Ko Lan, which can be reached in half an hour by boat or ferry:
Another good option – go to the Military Beach 30 kilometers from Pattaya. Entrance to this beach is paid (100 baht), but there are making sure the sand and sea are clean. It is on the military beach prefer to rest on weekends locals.
Read more about the cleanliness of beaches and recreational amenities here:
Video about Jomtien Beach:
Reviews of prices, food and restaurants
In 2022, prices in Pattaya have not changed, remained the same as last year. The cost of food and many things are quite low . Most fruit costs 40-80 baht (80-160 rubles) per kilogram.
Prices for clothing and shoes – about the same as in our country. There are expensive malls, where the cost of goods is overpriced, there are also cheaper counterparts.
In the first-class restaurants and cafes prices start from 1000-1500 baht (2000-3000 rubles). At the same time in Pattaya, a lot of small but nice restaurants with good reviews, where you can dine for 300-500 baht (600-1000 rubles). Even cheaper to eat at a Thai cafe – you can have a hearty meal there for 50 baht (100 rubles) per person.
More articles about restaurants and food prices:
To summarize: Pattaya is not a bad place to rest, but will not suit everyone, as evidenced by the reviews of those tourists who vacationed in Pattaya in 2022.
Useful Information
If you were in Pattaya, leave your feedback in the comments – your information will be useful to those who are going to vacation in Thailand.
Pattaya vacation tips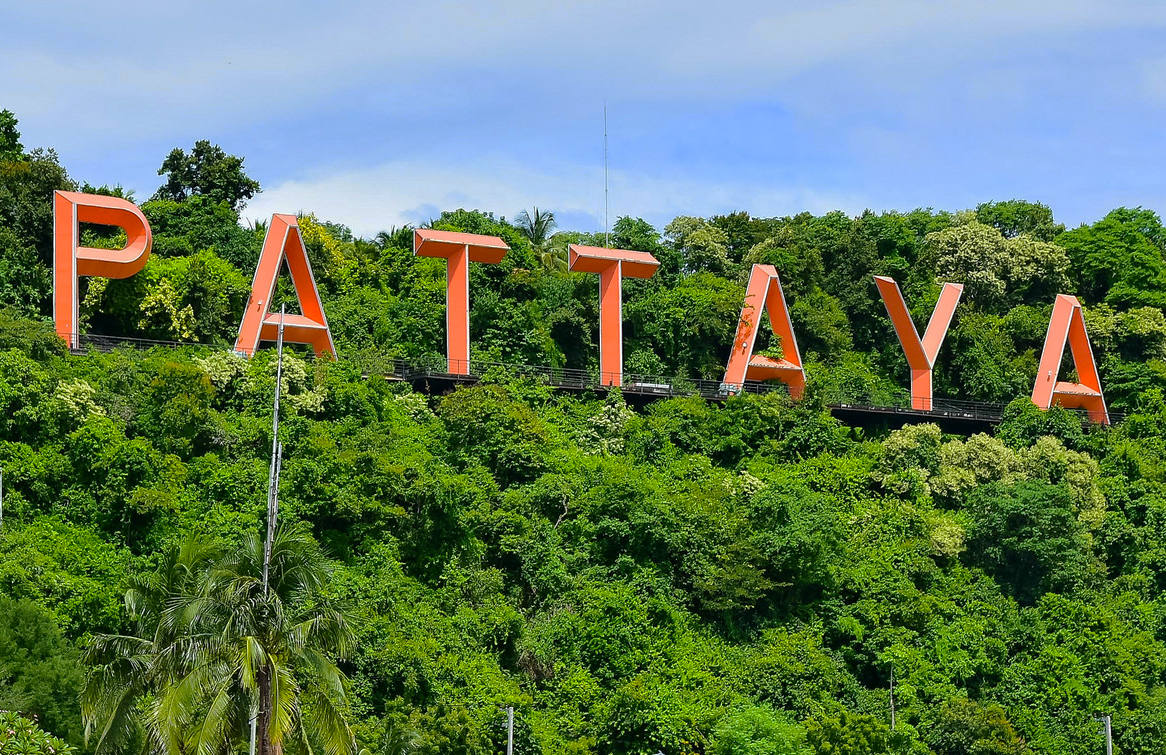 Is it worth to go on vacation in Pattaya in 2022? Share reviews about the weather, beaches, hotels, food, entertainment and excursions. Learn the pros and cons of one of Thailand's most popular seaside resorts and tips from vacationers.
Exchange rate: 1 Thai Baht (THB) ≈ 1.5 RUB.
As of May 1, 2022 Thailand is fully open for vaccinated tourists ("Sputnik V" is recognized). From now on, only the unvaccinated need to have a PCR test before departure. In addition, all tourists must buy insurance and obtain ThailandPass. Tour from Moscow now costs from 120,000 ₽ for two people for 7 nights. Here are the optional prices for stays and flights. Information on flights and other aspects of holidays in Thailand may not be up to date now, check with official resources. Check the list of open countries.
Content:
Reviews about the weather in Pattaya
There are only 1,440 km between Pattaya and the equator. The Thai resort lies in the sub-equatorial climate zone, so there are no cold weather.
A big influence on the weather in Pattaya are the monsoons. From November to March the rains on the coast of the Gulf of Thailand are rare, the sun shines in clear skies and the humidity is low. The high season begins in the second half of November. In December, a lot of tourists come to rest in Pattaya, and the number of residents increases markedly.
Air and water temperature in Pattaya during the high season:
| | | |
| --- | --- | --- |
| month | air temperature daytime, ° C | sea t, °С |
| November | +31 | +29,5 |
| December | +30 | +28,5 |
| January | +31 | +27,5 |
| February | +31 | +28 |
| March | +31,5 | +29 |
According to tourist reviews, the weather in Pattaya is pleasing at any time of the year. Even in the low season, when it rains, the resort is warm and cozy, all the attractions are open, and every day you can swim in the sea.
In April and May comes a strong heat, and the city becomes uncomfortable. Because of the humidity, the high temperature is especially hard for young children and those who suffer from chronic diseases.
Tip . Tourists in the reviews recommend – in the first days of rest in Pattaya, let yourself get used to the hot climate. Do not plan many trips, try to be in the shade more often, drink more plain water and occasionally look into air-conditioned areas – cafes, restaurants and stores.
What not to do in Thailand, the tourist
Map of beaches in Pattaya and Ko Lan in Russian
Reviews of Beaches in Pattaya
Пляжи в Паттайе оставляют желать лучшего. Городские власти постоянно благоустраивают прибрежную зону, насыпают чистый песок и реконструируют набережные. Однако из года в год паттайские пляжи становятся все хуже. Возле берега плавает много мусора, особенно пластиковых пакетов. Бывают дни, когда отлив и течение уносят грязь, но большую часть времени пляжная полоса представляет неприглядное зрелище. 13 лучших пляжей Паттайи >>
According to tourist reviews, the best beaches in Pattaya are in the north of the city and Pratumnak. Some go to the Military Beach 20 km south of the resort or to Dancing Girl Beach, which is located near the airport U-Tapao. Popular with tourists beach Jomtien with a developed infrastructure.
: comparing the major resorts : beaches, entertainment, prices, reviews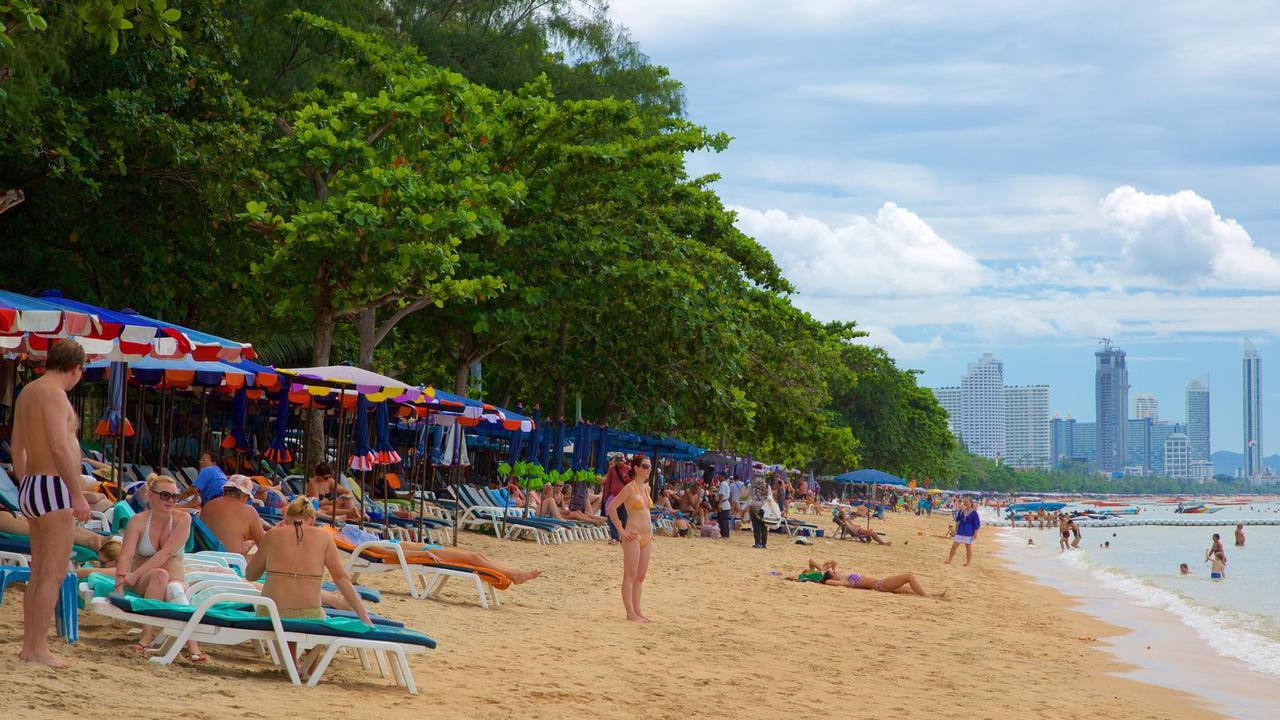 Jomtien Beach in Pattaya. The beach area is quite narrow and can be crowded in places. (Photo: booking.com / Dusit Grand Condo View)
The majority of vacationers prefer to spend their time on Ko Lan Island, 8 km off the coast of Pattaya. The trip there takes 40 minutes by ferry, and 15-20 minutes by speedboat. The island has several clean sandy beaches, and to any of them from the pier are brought by tuk-tuks and motorcycle cabs.
Tip . On Ko Lana you can rent sun beds, use the toilets and showers, buy groceries at the store 7-Eleven, have a snack at seaside restaurants and cafes. All issues are easily resolved on the spot, so you do not need to worry about anything!
The Beach on Ko Lan. Do not hope to find a place for seclusion on this island – thousands of tourists, mostly Chinese, come to Ko Lan every day. (Photo: katgalamay / pixabay.com)
Prices for holidays in Pattaya – 2022
Look for last minute tours on Level.Travel and Travellata services – they will find the best deals among different tour operators. Want to save your money? Study our 7 rules of buying tours online.
According to tourist reviews, holidays in Pattaya is one of the cheapest in Thailand. During the high season a tour for two for 7 days with a flight from Moscow costs from 74 thousand rubles. Often there are burning tours, so you can save money.
При самостоятельном отдыхе в Паттайе много денег уходит на перелет. Авиабилеты из Москвы до Бангкока и обратно стоят от 23 тысяч рублей. При этом приходится лететь с одной или двумя пересадками. Прямые рейсы гораздо дороже — от 49 тысяч рублей. Зато проживание недорогое: двухместный номер в отеле 3* можно снять за 600-1000 THB. Как добраться из Бангкока в Паттайю >>
Look for cheap tickets on the search engine Aviasails – it compares the prices of all airlines. Learn the secrets of finding cheap airline tickets.
Food prices in Pattaya are some of the lowest in Southeast Asia. In the cafe American breakfast costs 70-80 THB, a two-course lunch – 100-120 THB. Dinner at a budget restaurant, excluding alcohol costs 150-200 THB.
Tip . For a short trip of up to two weeks, it's easier to take a tour. According to tourist reviews, if you want to rest in Pattaya for more time, it is more profitable to go on your own.
: Phuket, Samui, Pattaya or Bangkok : hotels, visa, price overview : hotels and resorts
Two-course Thai dinner: Tom Yam and chicken noodles.
Pattaya hotel reviews
Look for discounted hotels on Rumguru. Here are the basic rules for finding hotels.
There is a lot of lodging at the resort – about 1000 hotels from 1* to 5*, gesthouses and resorts. At any time of the year the supply exceeds the demand, so it is easy to find the right option during the vacation in Pattaya in 2022. True, "all-inclusive" for Thailand is a rarity. Basically, hotels from 3* and above, in addition to accommodation, offer only breakfast.
According to tourists' reviews, the service in Pattaya hotels is good. The staff is polite and attentive. Rooms are clean, and cases of theft – a rarity.
Demand enjoy hotels, villas and bungalows, which are removed from the roads. Also in demand housing with pools and green yards. Popular among Russian tourists are hotels Ambassador, Pattaya Park Beach Resort and hotels Sawasdee. Visitors who come for more than a month, prefer to rent apartments and studios in condominiums, because such housing is cheaper.
Centara Grand Mirage Beach Hotel (Photo: booking.com / Centara Grand Mirage Beach)
In Pattaya, there are a lot of good hotels for vacations with children. They have comfortable rooms, a quiet enclosed area, shallow pools and playgrounds. For a family vacation well suited hotels:
Rabbit Resort 5*.
Centara Grand Mirage 5 *
Royal Cliff Beach Hotel 5*
Siam Bayshore Resort Pattaya 5*
Woodlands Hotel and Resort 4*
Pullman Pattaya Aisawan 4*
Best Bella Pattaya 3*.
Tip . If you decide to stay away from the beaches, choose a hotel near which there are tuk-tuks. That way you can quickly get to the city center and the waterfront.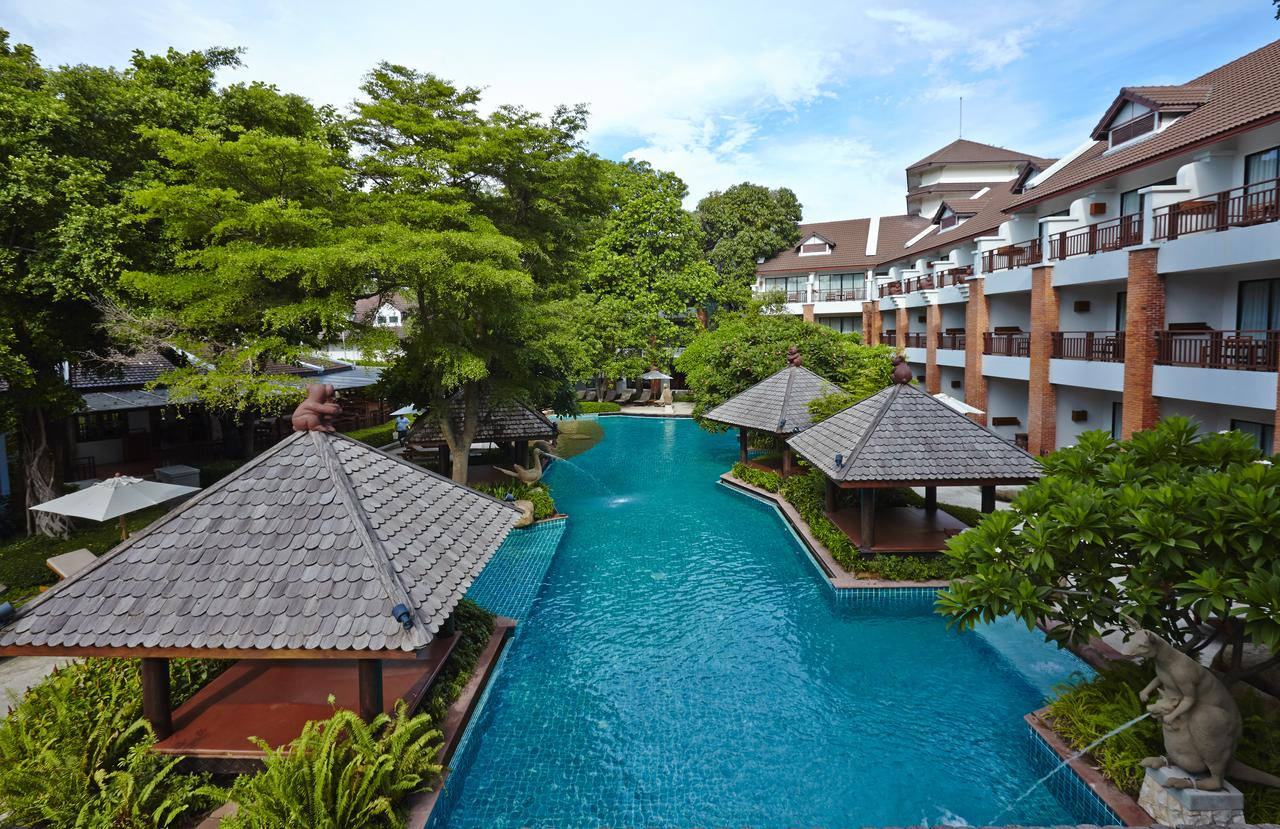 Woodlands Hotel and Resort (Photo: booking.com / Woodlands Hotel and Resort)
Food Reviews in Pattaya
According to tourists, the cuisine of Thailand is one of the best in the world. Thai chefs skillfully prepare dishes from fish and seafood, mushrooms, meat, aquatic plants, bamboo and vegetables. They find a harmonious balance between salty, bitter, sour and sweet flavors, and like to use spices, ginger, fish sauce and chili peppers.
The quality of dishes of street fast food is in no way inferior to the expensive restaurants of the resort. When vacationing in Pattaya, be sure to try freshly squeezed mandarin juice – 30 THB, mango with sticky rice – 60 THB, spicy Tom Yam soup – 60-80 THB, sweet soup with coconut milk Tom Kha – 50-70 THB and fried rice noodles Pad Thai (Phat Thai) – 30-40 THB.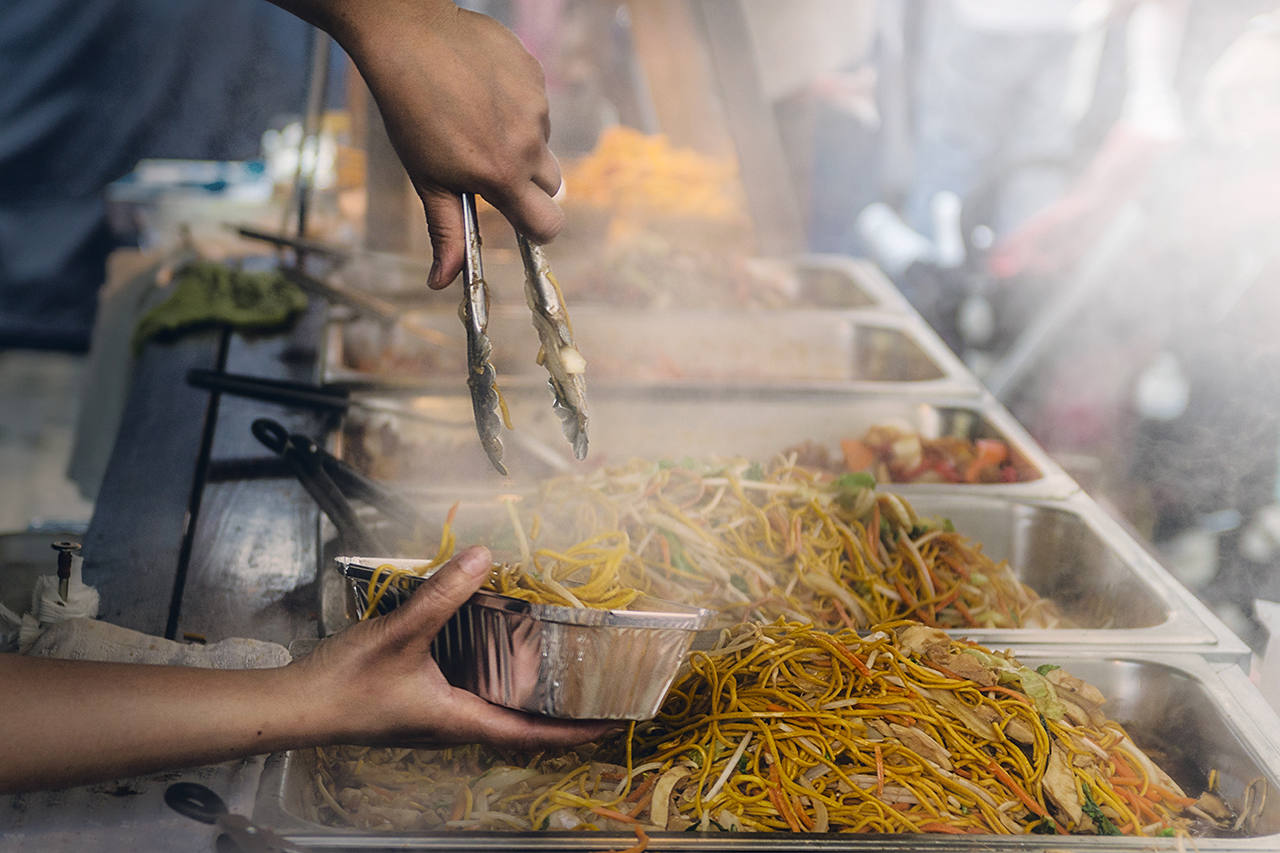 Street food in Thailand – delicious and inexpensive! (Photo: unsplash.com / @jamessutton_photography)
Sweet eaters will love the delicious coconut ice cream and delicate desserts. Popular choices include roti pancakes, sweet sticky rice in banana leaves called Khanom Bing, candy in the shape of small fruit called Luk Chup, and sweet waffles and fragrant donuts made and sold on the streets.
Tip . According to tourist reviews, if you want to save money on your vacation in Pattaya in 2022, eat at street restaurants for Thais or food courts at large shopping centers. Portions there are only 30-50 THB.
: hotels, food, transportation, tours : cafes, restaurants, markets : Phuket, Bangkok or Pattaya
Sticky rice in banana leaf (Photo: sarunya / pixabay.com)
Tourist reviews of excursions and activities in Pattaya
Look for author interesting excursions on Tripster. Individual and group, without crowds of tourists and in Russian.
Pattaya is a sex symbol of Thailand, and many tourists come here to dive into the nightlife and visit the exotic shows. Tourists are popular with colorful shows of transvestites, they show in different parts of the city.
According to reviews, tourists on vacation in Pattaya prefer half-day excursions to the nearest suburbs of the resort – the tropical garden Nong Nuch, the Park of million-year-old stones, the Spice Garden, a crocodile farm and snake shows. Many people are interested in one-day boat trips to the islands, during which you can go snorkeling, sea fishing and feed the monkeys. Parents with children eagerly go to the sheep farm, water parks, dolphinarium, oceanarium, gallery-3D Art in Paradise, a tiger zoo and the open zoo Khao Kheow.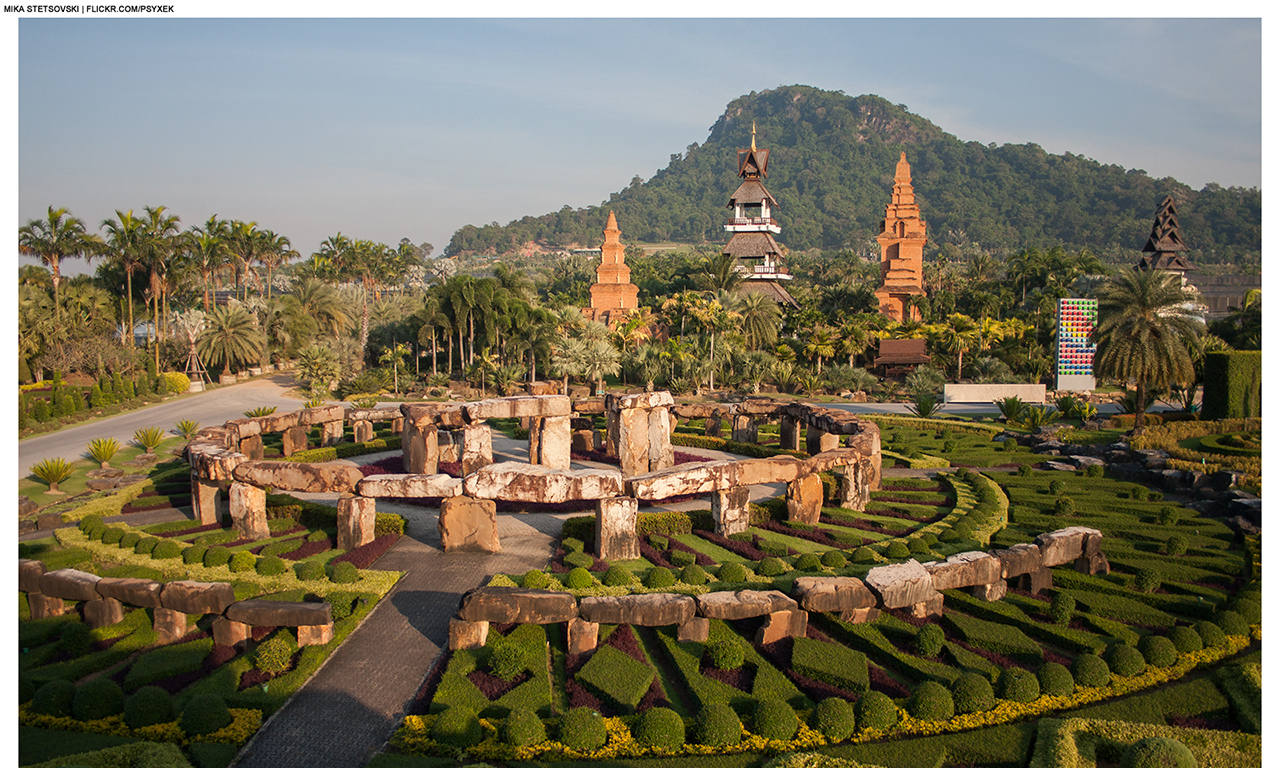 Nong Nuch Tropical Garden (Photo: Mika Stetsovski / flickr.com / CC BY 2.0 license)
Those who want to experience the culture and traditions of Thailand prefer longer trips. They buy tours to Bangkok, the ancient city of Ayutthaya, to ancient temples and monasteries in the provinces of Chachengsau and Kanchanaburi.
According to reviews from tourists on vacation in Pattaya makes no sense to take sightseeing tours of the resort – you can go round it yourself. Also, excursions to latex and jewelry factories are useless.
Tip . While vacationing in Pattaya on your own, go up to the observation decks on Buddha Hill and Pratamnak, eat at the floating market, visit the unusual Ripley Museum and the Bottle Museum.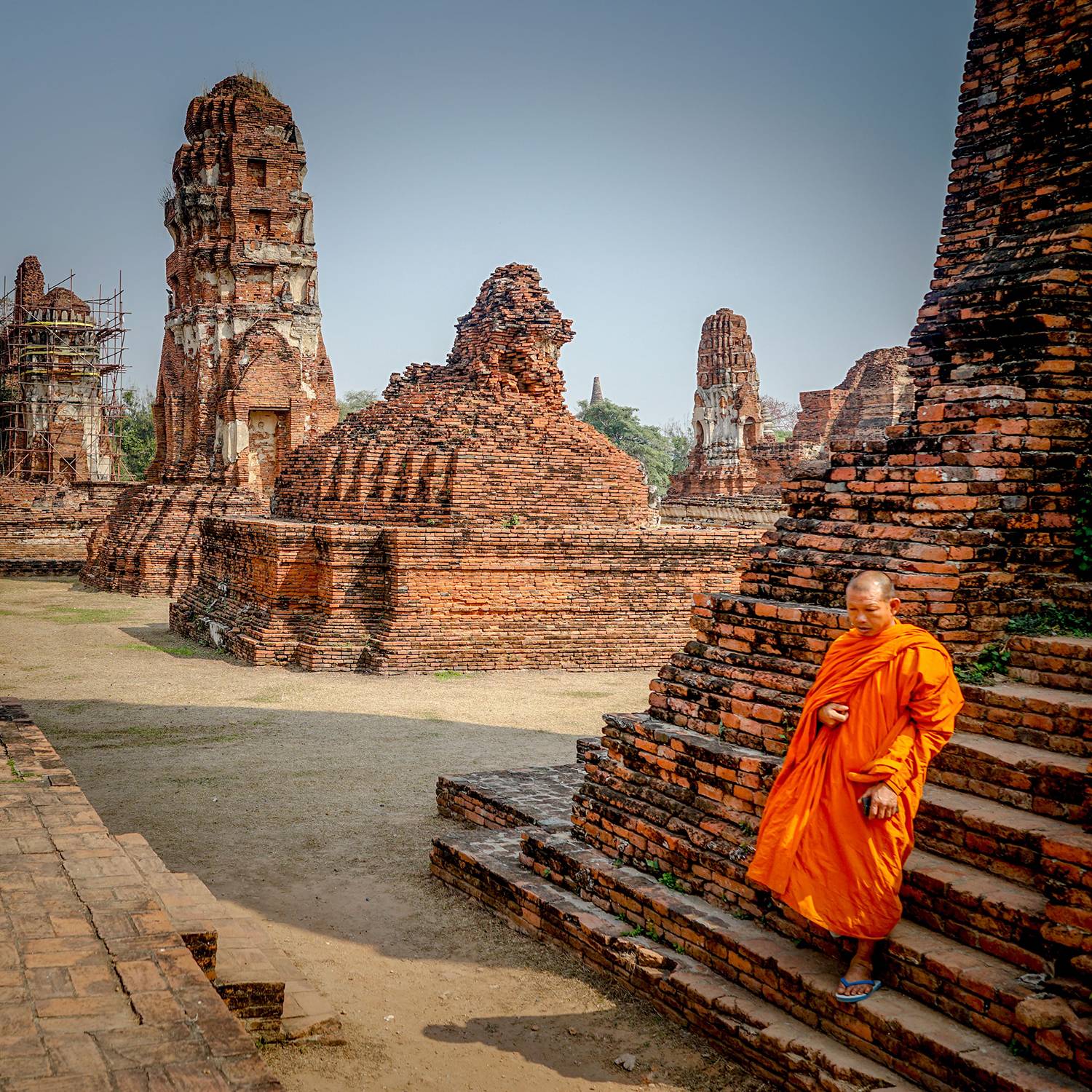 The ancient capital of the Ayutthaya Kingdom, Ayutthaya. (Photo: unsplash.com / @aaronphs)
Pros and cons of vacationing in Pattaya in 2022
Most vacationers like the fun and carefree resort very much. They tend to come here again and recommend this beloved seaside town to friends and acquaintances. According to reviews from tourists, vacation in Pattaya in 2022 has many advantages:
Russians do not need a visa to enter the country.
To Bangkok, there are comfortable direct flights from different cities in Russia.
From Suvarnabhumi Airport to the sea is easy to get in 2 hours by bus or cab. Book a cab online →
Pattaya has a wide variety of entertainment, attractions for children and adults. You can go on interesting excursions around the resort and other cities in Thailand.
Safety of tourists is provided by regular, traffic and tourist police. Safety and deception of tourists in Thailand →.
Many opportunities for active recreation at sea and independent travel.
Pattaya is the most inexpensive resort in the country. The prices for tours, accommodation, food, transportation and entertainment here are lower than in Phuket, Krabi and Samui.
There are several hospitals, many pharmacies and dental clinics. If you have a health problem, help is always close by. The main thing is to take out insurance . Dangerous animals of Thailand →
On the cheap tuk-tuks are easy to get to any part of the resort.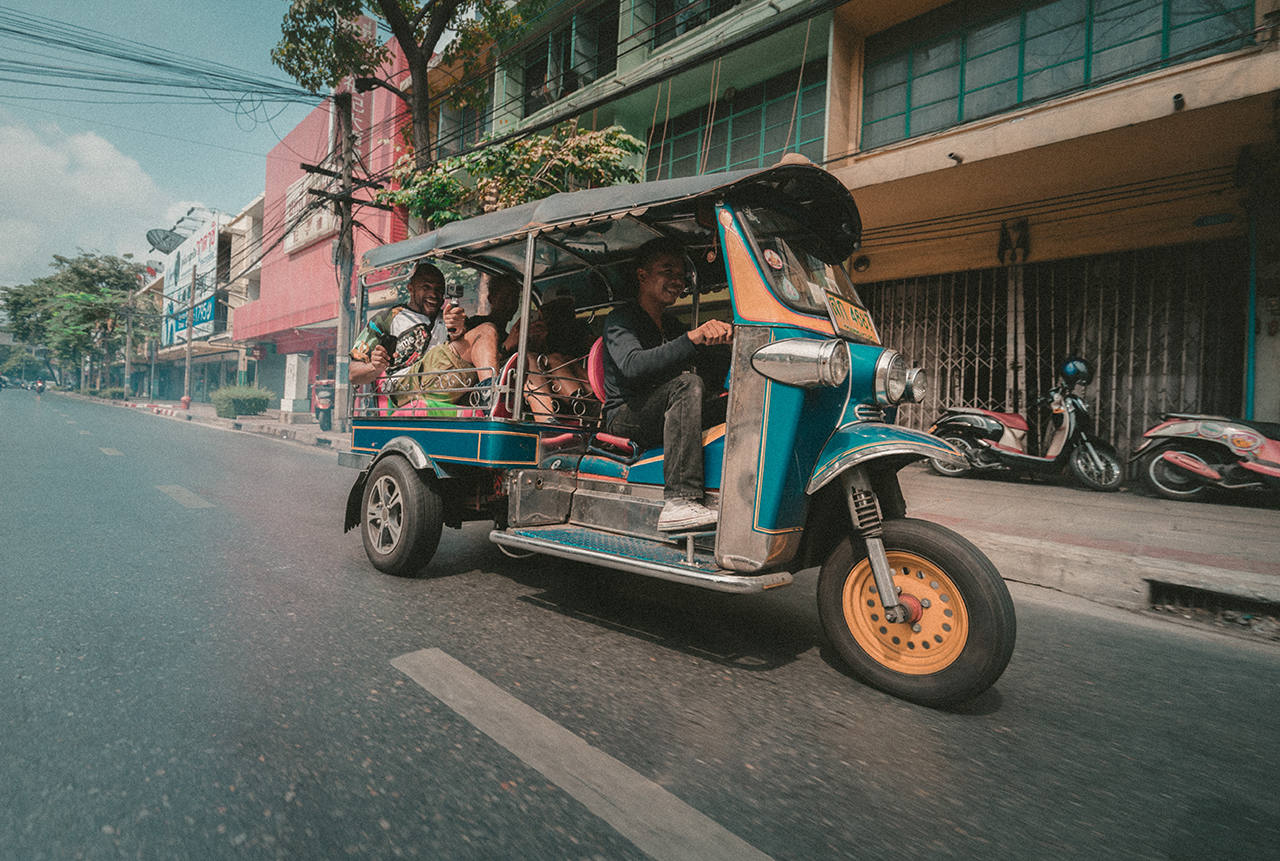 Tuk-tuk (Photo: unsplash.com / @jakobowens1)
Disadvantages of vacationing in Pattaya in 2022, according to reviews :
Not all tourists easily tolerate the heat and high humidity.
The city beaches are crowded, and the water is muddy – not nice to swim there.
In the evenings and at night in the center of the resort is noisy.
On the streets, which are away from the waterfront, a lot of garbage.
Pattaya is a city with heavy traffic. There are often traffic jams on the roads. Drivers are not too considerate of pedestrians, so you have to cross the streets carefully.
Expensive cabs. Pattaya cab drivers will never agree to charge you a fare.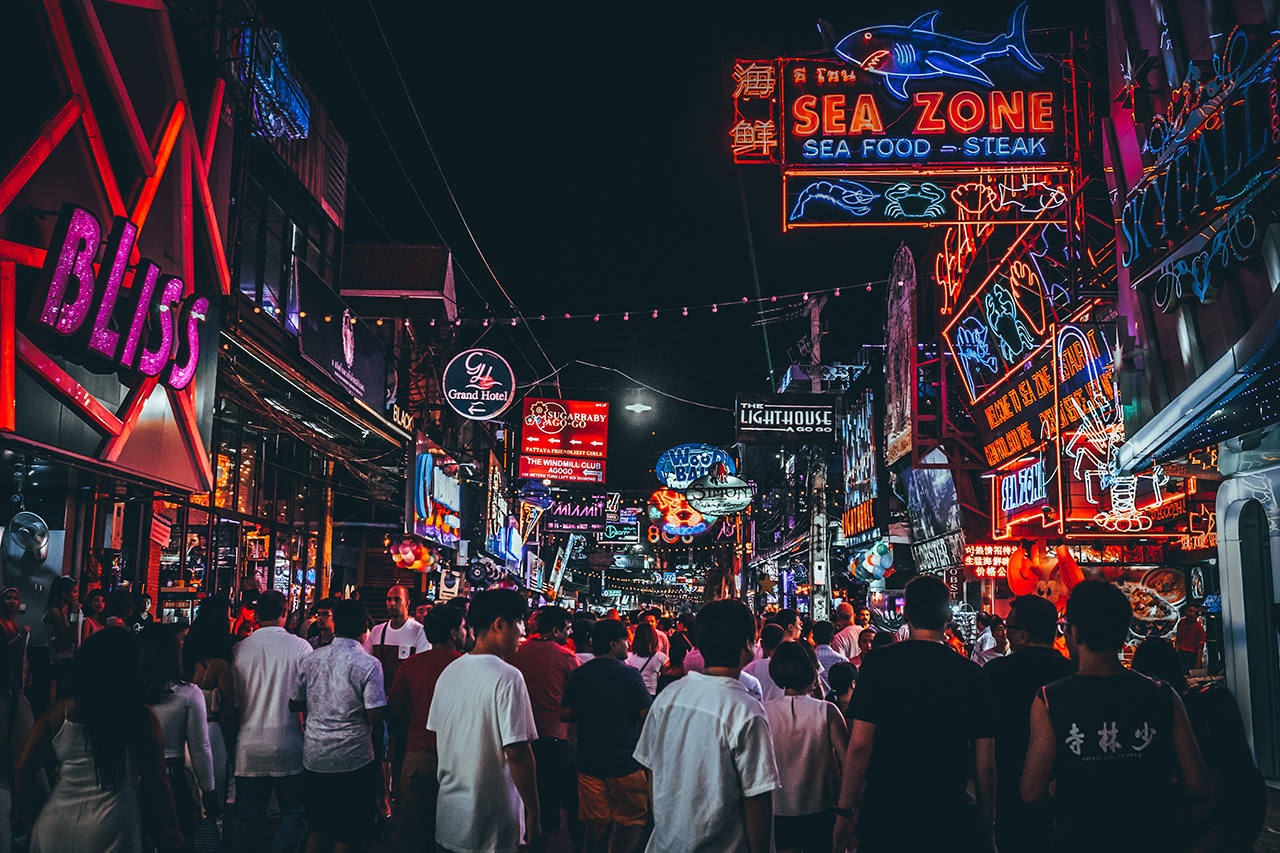 Noisy Pattaya at night (Photo: unsplash.com / @hannynaibaho)