Anapa – a resort not for adults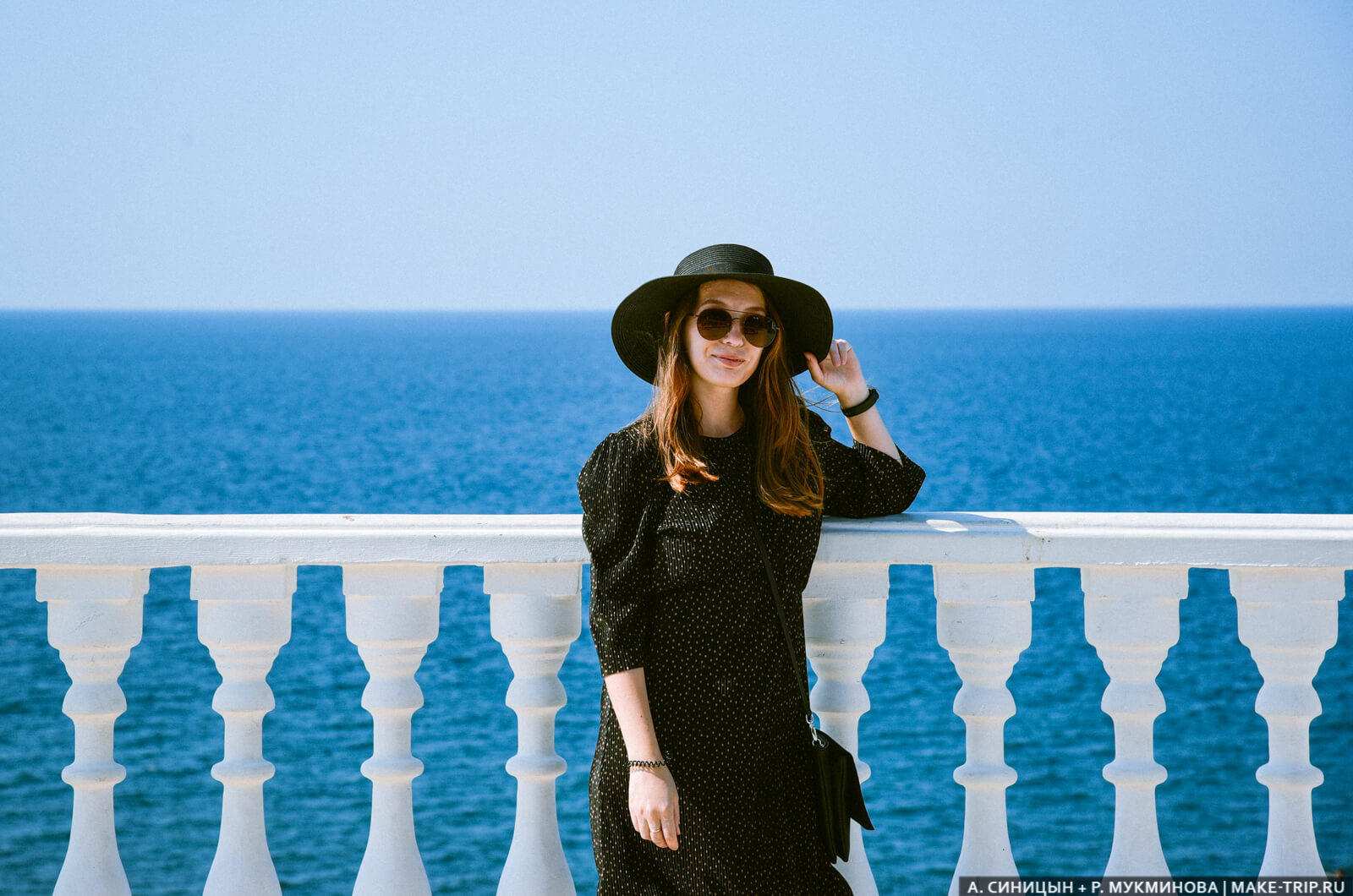 Anapa – the city of childhood, the city of the sun. Children will have fun at the resort: shallow sea, sandy beaches and tons of entertainment! However, tourists without children, most likely, will not like it in Anapa. We went to the resort and honestly tell you why there is nothing for non-family tourists to do at the resort.
– Private sector in Anapa. – Hotels and hotels in Anapa. – Tours to Anapa.
Anapa – the city of childhood
As soon as we arrived in Anapa, immediately went for a walk to the sea. And we noticed how much entertainment for children here: dolphinarium, water park, crocodile farm, amusements in the park of the 30 th anniversary of Victory and the car track "Formula 1". And on the beaches – shooting galleries, trampolines, "bananas" and "tablets".
Water park in Anapa. Tir. Autotrack "Formula 1". Water park "Golden Beach".
And there is also a rope park, sea aquarium "Bathyscaphe", dinopark, oceanarium "Reef", the entertainment center "Flint's Gold". How many entertainments, how many temptations! This is truly the city of childhood. If I was a child, my parents would leave a lot of money in Anapa.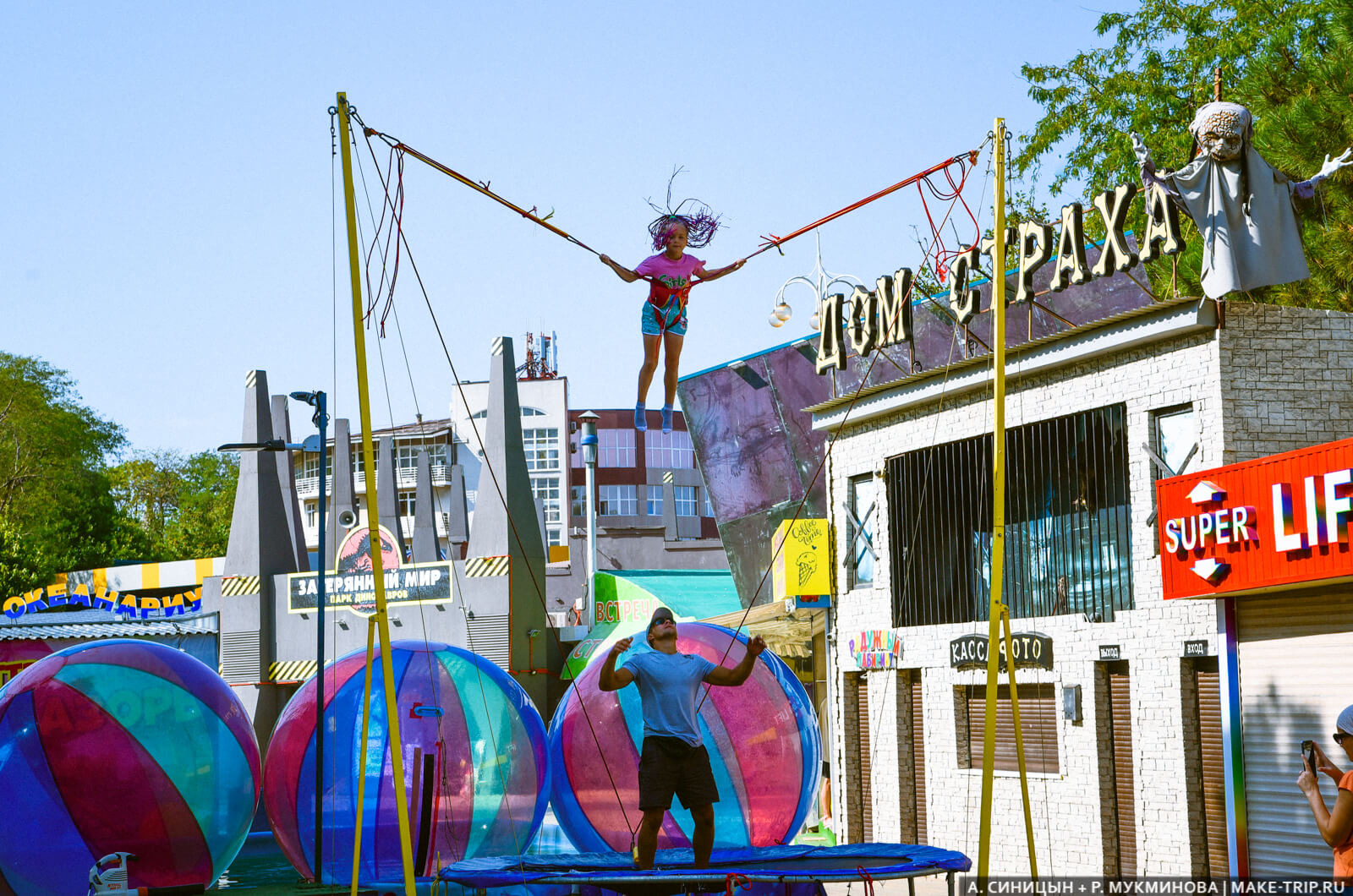 Attractions.
In addition, from Anapa you can easily get to the open-air dolphinarium in Bolshoi Utrish, water parks and attractions in Vityazev and Dzhemete, exotic shows like "African Village" and the knight's tournament in the castle "Lion's Head", which are held in Sukko. There are many interesting excursions from Anapa. Everything is done to make it fun for your child! If you come with children, find out how to relax with a child in Anapa.
What's interesting for adults
And what is in Anapa for adult tourists without children? We came to the conclusion that there are no really bright, stirring imagination places or entertainment like in Sochi or Krasnaya Polyana. Let's see what attractions are in Anapa.
One of the most popular places among tourists is the park named after the 30th anniversary of Victory . There we looked at the fountain, which in the evening becomes light and music, and marveled at the sculpture "White Hat". I did not understand why everyone takes pictures with it.
In the park of the 30th anniversary of Victory there are light and music fountains, amusement rides, auto track and a strange sculpture "White Hat", with which all take pictures. In the center of Anapa there are many green shady alleys.
At the end of the park is the Russian Gate – the remains of the Ottoman fortress of the 18th century. They are completely unimpressive and look prettier in old photographs.
The Russian Gate are the remains of an 18th century Ottoman fortress.
From the gate a short walk to Gorgippia – the archaeological museum and the pride of Anapa. The ruins of the ancient city can be considered that Anapa is 2500 years old! From the city little remained, and it is necessary to have a strong imagination to understand something, so it is better to take a guide. We only took a look at the excavations, but in the museum, they say, there are valuable pieces. Stop by if you are interested in antiquity – a single ticket costs 350 rubles.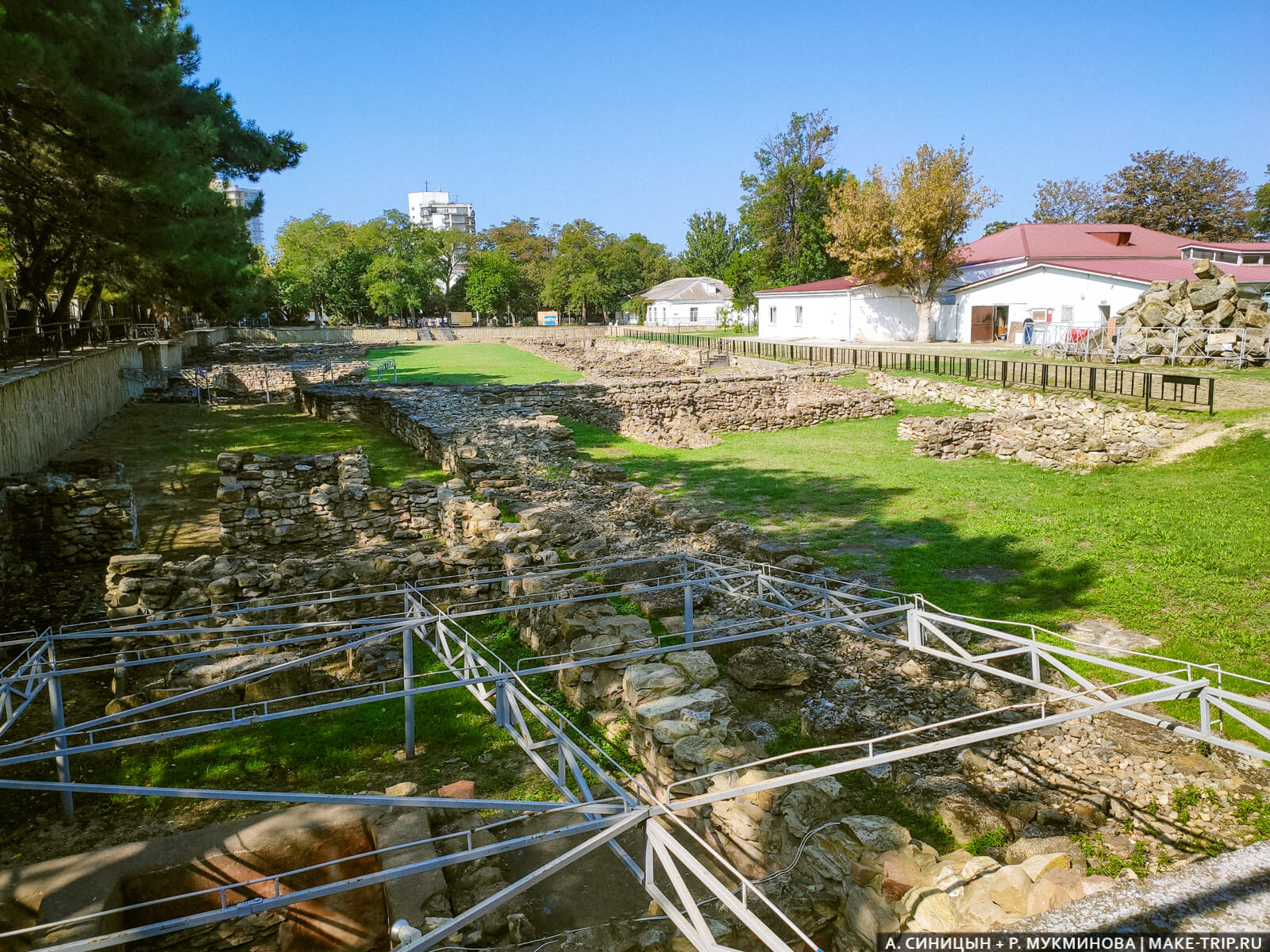 Archaeological excavations of antique city of Gorgippia. It existed in the IV-III century BC.
By the way, the theme of the ancient Greeks residents of Anapa and nearby villages is so close that the ancient motifs can be traced in many places – from house design to souvenirs.
Antique motifs.
Next we move to another popular attraction of Anapa – a long embankment with a striped lighthouse, which is on the High Coast. It's nice to walk here, enjoying the boundless expanse of sea, and breathe the fresh air. There are viewing platforms with snow-white balustrades, where you can look down on the beaches and meet the fiery sunsets.
In the distance you can faintly see the white air defense balloons on Bald Mountain, which is also a landmark. Near them are "Swallow's Nests" – unusual hole-shaped rocks, and even farther, in Su-Psekh – stairs of 873 steps to the sea. That's all there is to see!
Lighthouse on the seafront. On the promenade there are observation decks. It is nice to walk along the promenade and admire the sea or the sunset.
Along the promenade is full of souvenir shops, stalls with drinks and fast food, cafes and canteens. Prices for food in Anapa are very democratic – how about a set dinner for 250 ₽? Seafood in "Gastroport" is also adequate for the resort: shrimp – 350 ₽, mussels and mullet – 300 ₽, roll with fish – 200 ₽. Look at the prices for holidays in Anapa.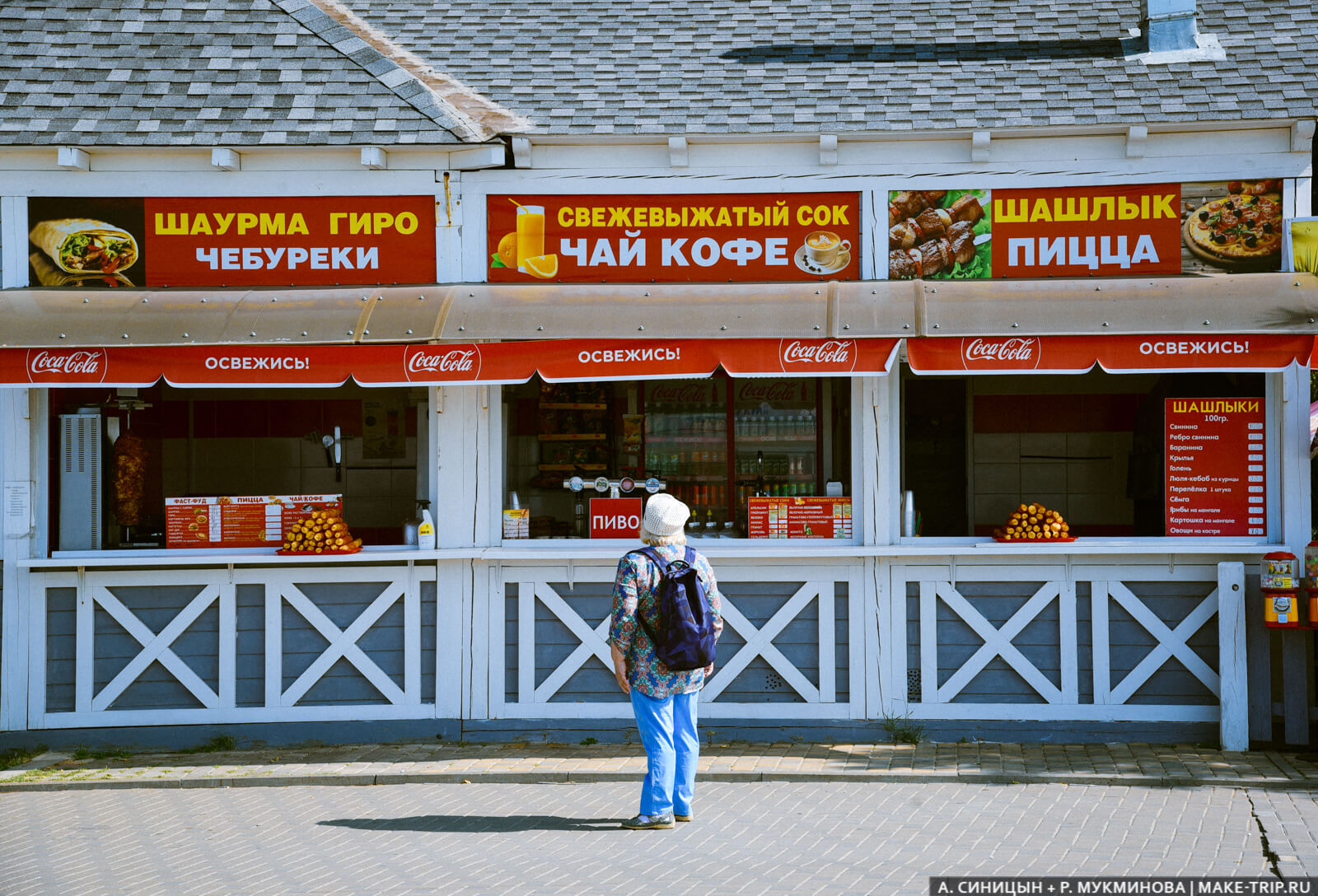 Along the waterfront there are many cafes, canteens, fast food.
Beaches and water blooms
Now let's talk about the famous Anapa beaches. It is the sandy beaches and shallow sea that make Anapa an ideal resort for children. For toddlers and middle-aged children, it's really good, because you can not worry that a child will drown or hurt his feet on the rocks. But what to do when you want to swim fully, and you're walking and walking ankle-deep in water, as Andrei Mironov in "Diamond Hand"? The pictures clearly show how far people have gone from the shore, and they are still waist-deep. Almost like at the Sea of Azov!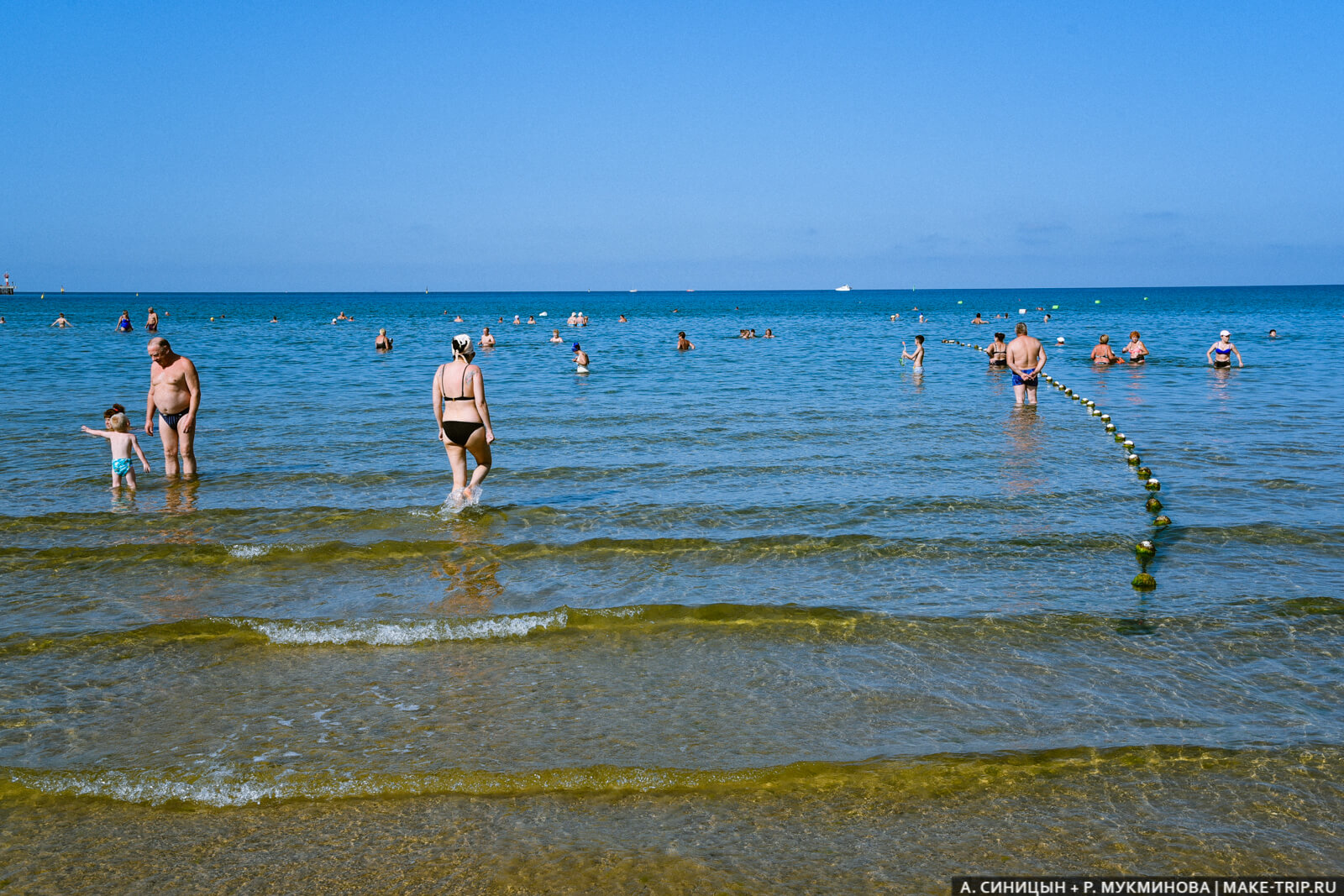 The photo clearly shows how far from the shore people have gone, and they are still waist-deep. Almost as on the Azov Sea!
There are a lot of people on the beach even at the end of September. Sellers shouting "churchela-beer-corn" or offering excursions are very tense. What a relaxed atmosphere there.
Sellers of excursions and food only hinder tourists to relax. Even at the end of September Central beach in Anapa is not empty.
On Central Beach and other beaches in the direction of Vityazevo – solid golden sand, clear water, all clean.
Sandy. The beach is very wide.
But let's look at the so-called Medicinal Beach, where the water is still blooming at the end of September. This is a shock! We could not stay there even for five minutes: the beach has stinking dark slop, flies, duckweed and seaweed, but at the same time there are snow-white swans swimming in the water.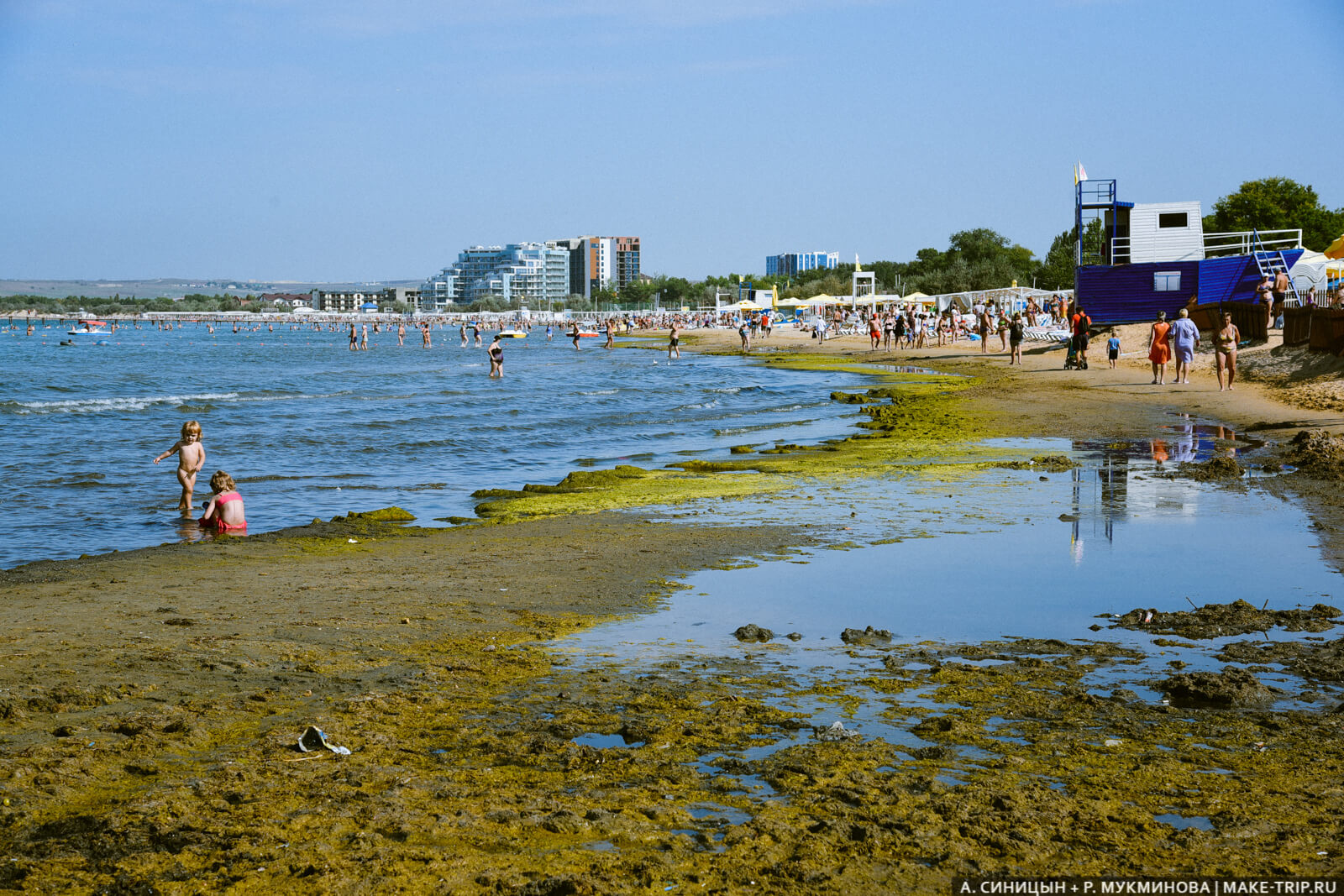 The so-called Medicinal beach with algae and slush.
In general, the blooming of water in Anapa – the most unpleasant phenomenon: the sea is green, and algae gently envelop your feet, while you are wading through the warm and wet mush to clean water and in passing "enjoy" the aromas of hydrogen sulfide. I do not advise squeamish people to go in the water! However, some people specially come to be treated with these green algae, which are called kamka .
I do not like algae in the sea, but someone considers them therapeutic.
Water in Anapa blooms usually from mid-August to mid-September, but these terms are very conditional. For blooms need favorable conditions: shallow water, weak current and warm water above +24 ° C, so in the center of Anapa are the most algae.
If you are unlucky and during your vacation the water blooms, I advise to move to the beaches of the High Coast. There are many beaches under the precipice, but they are all pebble-stony, often with concrete platforms. Water is transparent and without algae, but even for adults it is uncomfortable to go out of the water on stones. In the photo, you can clearly see how children have a hard time getting out of the water on the pebbles. Definitely need to buy aqua shoes so as not to hurt your feet.
Beach on the High Bank. On the beaches of the High coast, the water is clean and clear, without algae. Beach on the High Bank.
There is also almost no algae in Vityazev, Dzhemete and Blagoveshchenskaya. The water is absolutely clear in Bolshoy Utrish and Sukko, because the beaches are pebbly and there is no shallow water. In the end of September we visited all the settlements, except Blagoveshchenskaya, and confirmed that the water is clear and not blooming.
To help you to orient, we marked on the map all beaches of Anapa and neighbouring settlements:
See a good video overview of pebble beaches of Anapa:
Accommodation in Anapa
Vacationers in reviews of Anapa write that it is better to choose small guest houses towards Vityazevo – it is both cheaper and more comfortable, because then you do not have to lie in proximity to other people on the Central Beach. Other tourists prefer to live in large hotels in Anapa, Dzhemete or Vityazevo, because they have their own stretch of beach. We chose the second option and settled in the hotel "White Sand" 4 * in Dzhemete: the first line, swimming pool, "all inclusive", its own sandy beach and clean water without algae. Beauty!
Rooms in guest houses in the season cost from 2000 ₽, in hotels 3* – from 6000 ₽. In low season, prices are almost halved, and you can inexpensively live by the sea in a great 4-5* hotel. Look for hotels and guest houses on the service Hotelluk – it will be more reliable and profitable, because it looks for discounts on different sites. Learn how to book a hotel cheaper.
Private sector costs about 200-500 ₽ per person, depending on the conditions and distance to the sea. Search for accommodation in the private sector on the Daily Planet, which is a convenient and reliable service with real photos and reviews of tourists. You may rent an apartment, a room, or a house directly from the owner. Do not think you can easily rent an apartment when you arrive at the station, as they usually offer overpriced apartments in uncomfortable areas with minimal conveniences. Book accommodation for 2-3 months before your trip.
In Anapa you can rent an apartment with a view of the sea in such a fashionable housing, reminiscent of the Netherlands or Germany. Some tourists believe that it is better to live not in Anapa, but in Dzhemete or Vityazevo. We also think so, because the beaches and the sea are better there. On the photo – our hotel "White Sand" 4 * in Dzhemete.
The plusses of a holiday in Anapa
If you go to Anapa for a holiday with children, you are guaranteed to like everything, and the child will be happy:
The shallow sea is safe for children, it warms up quickly.
Comfortable sandy beaches.
Plenty of entertainment for children of all ages.
Developed infrastructure: hotels and guest houses, cafes and dining rooms, supermarkets, drugstores, shopping malls, markets – there is everything.
Many excursions to nearby areas and distant resorts.
Dry climate, so the heat is easier to bear.
You can get to the resort by plane, train, car and bus. Find out how to get to Anapa.
Compare Anapa with other resorts in the Krasnodar region:
Children will like rest in Anapa for sure, but adults – I doubt it.
The disadvantages of vacationing in Anapa
The main disadvantages of rest in Anapa – the blooming of the water and an overabundance of tourists in high season. And for non-family tourists added more disadvantages (which for vacationers with children are pluses!):
Shallow water, as in the Azov Sea. To swim normally, you have to walk for a long time.
On the high coast the depth starts faster, but the beaches there are pebble-stony and very narrow. It hurts to get out of the water!
As an adult, there is not much to do and nothing to see – there are no colorful sights or interesting cultural activities at the resort. We love a busy vacation, like in the Crimea, and we are bored in Anapa.
There are a lot of children, which means a lot of shouting and noise.
If you find Anapa boring, do not like the shallow blooming sea and the smell of hydrogen sulfide, look where else you can rest: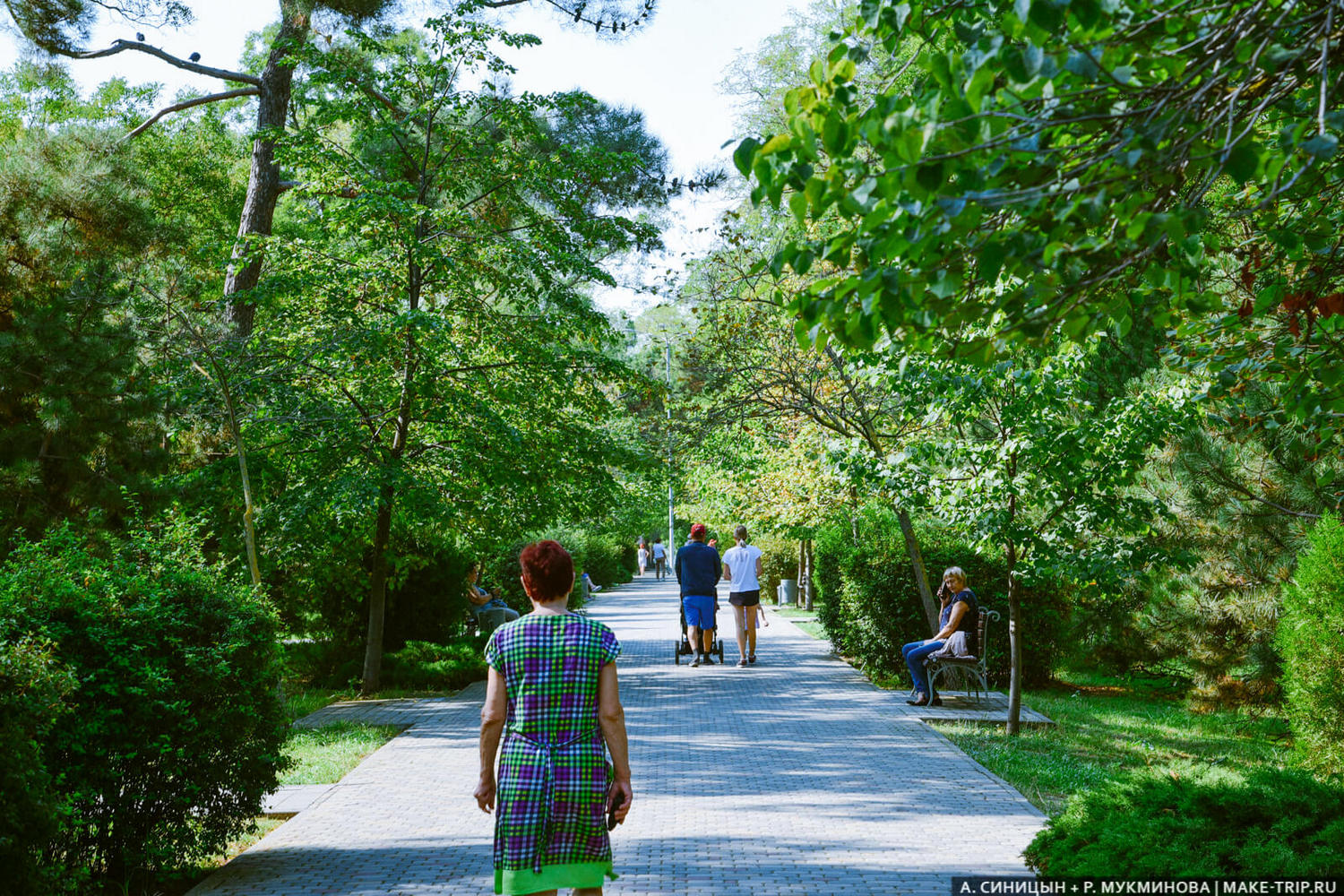 Park in Anapa.
Reviews about Anapa
Is it worth going to Anapa? Honest reviews about Anapa. The most vivid impressions of tourists about vacationing in Anapa.
Reviews for Anapa.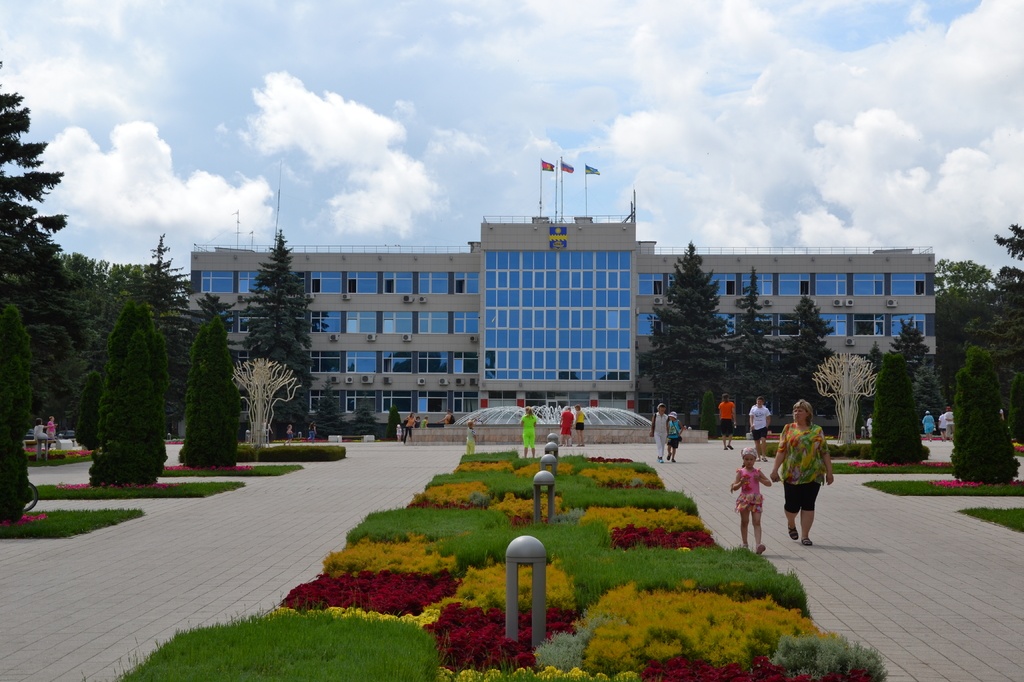 General – determines the overall impression of the region. Beaches – equipment of the beach, etc. Nature – impressions about the nature of the region. Infrastructure – the general development of the region. Entertainment – where to go, what to see, etc. Catering – how well-developed network of cafes, restaurants, etc. Transport – development of transport connections.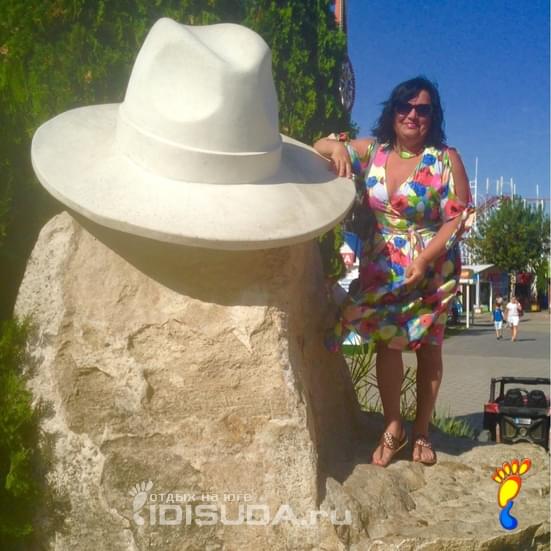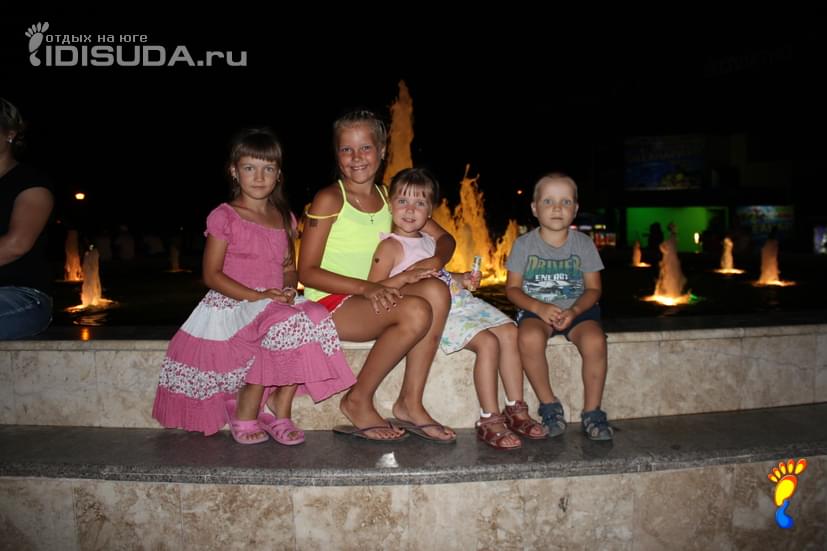 I liked it very much in Anapa! Lots of entertainment for all tastes around the clock: and rides, and live music, and live sculptures, and excursions. It is impossible to list everything. For children in general is a paradise on earth! A view of the sea near the lighthouse is something! At every corner of cafe, dining rooms, restaurants, in which it is possible to eat quite decently at all for inexpensive (we bathed with children and there were no problems with digestion, thank god). (In Moscow 200 rubles!) I will not lie, the minuses certainly are too. It turns out that in August the sea in Anapa on a sandy beach is terrible (!) (As locals said almost always so in August). After the storm looks like a swamp: mud, bad smell. Well, that there is an alternative in the form of a pebble beach Vysokiy bereg, where we actually for 10 days and bathed. Nadu truth was on the beach very much, but deckchairs lacked always. In general we liked rest! Children till now with delight recollect solar Anapa))!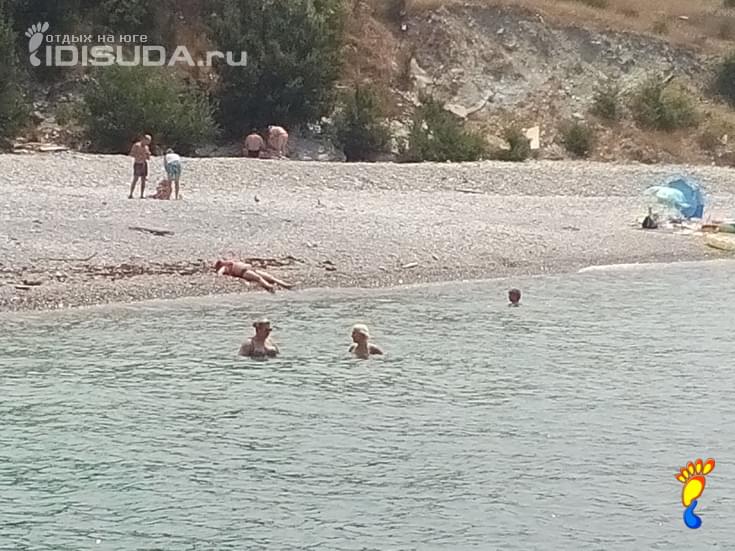 The region as a whole produces the best impressions! A wide strip of beach, but poorly cleaned, free toilets and trash bins are needed. Maybe a little lack of well-maintained lawns, green spaces, places to park, attractions within walking distance (monuments, museums, theater, mud and other deployed types of hospitals, etc.). Everything is ahead!!! We are confident that all this will be built!!!
Reviews about hotels in Anapa
Feedback from the winner of the IDISUDA.RU contest. I have to be honest: I have never before considered Anapa as a summer holiday destination, preferring the Black Sea coast of the Caucasus. But I had a pleasure to rest there thanks to winning a contest on IDISUDA.ru. However, in order. We went to have a rest by the car, and therefore there were some doubts concerning the freedom of movement around the resort town, inspired by the memories of Tuapse, Lazarevskoe, Sochi. At the prompting of the administrator Tamara Mikhailovna, we easily parked under the camera's eye in front of the hotel. And at the open door to the cool and cozy lobby we were already greeted by a maid, by the way, also named Tamara. Without wasting time on formalities, we went up to the ordered double room, and immediately were able to appreciate it. Rationally placed comfortable furniture (including desk lamps on the bed-side tables), working properly split-system, refrigerator of enough volume for two or three people, TV-receiver with a dozen of channels, toilet with a shower cabin, lighting of the mirror for shaving disposes to "relax" and quiet rest. And a small kitchenette with a sink and an electric stove, a set of dining and cooking utensils, lockers and shelves, promised to facilitate the process of eating resort guests, without resorting to tricks to catering outlets. Two steps away from the hotel there is a twenty-four-hour grocery store with a good assortment of goods. For lovers of Kuban wines, another half-step closer. We could not see the sea through the window of our room, so we decided to find out the location of the beach. We got a counter question: "What beach: sandy, pebbly, or just a wild one? It turned out that both the one and the other, and the third are located within ten minutes of a leisurely walk through the shady streets of Anapa past a variety of cafes, stores. stalls, as well as museums and entertainment centers. If you want you can travel this way by bus, the stop is located at a nearby crossroad. By the way, there is more than one route, so you can easily travel around the city without getting blisters on your feet. We had only a week for rest, and therefore we could not take advantage of kindly offered to us services of a sauna with pool, billiard room, and the capital barbecue in the patio only looked at. By the way, in the "Fregat" is and a cozy cafe, unfortunately, temporarily did not work during our stay. We left "Fregat" with regret about the shortness of rest, and with pleasure we left a thank-you note in the visitors' book. We really liked the careful attitude of staff to their guests, most of whom have been here more than once, many with children. By the way, the latter has no effect on the peace of the neighborhood (as it manages to administration, I still can not understand). For the sake of curiosity, we, with the permission of Tamara Mikhailovna, looked around the other rooms of the hotel. As a result, we can safely say that the shelter here will find people with any needs and wallet, is only want.