Dzhemete – golden sands and the sea with surprises
Dzhemete is an ideal resort for a lazy beach vacation with small children. Learn about the prices in 2022, where to live, when to go and how to have fun. I tell you why and when the sea blooms.
– Private sector in Dzhemete. – Hotels with a cashback. – Tours in Dzhemete.
Contents:
Impression from Dzhemete
Dzhemete is such an improved version of Vityazev: the same beautiful dunes, sunsets and clear sea, but without the prohibitive resort thrash. Of course, Dzhemete are all signs of a southern resort in the form of crispy taverns and sellers of hot corn, loud cafes with music, tourist bazaar and shabby architecture, but all this is softly scattered throughout the resort and added to the mass of greenery, so it does not hurt the eye. You can generally settle in a resort hotel with food and even almost no contact with the outside world, if you're not thrilled with our south and nostalgic for foreign countries.
And more Dzhemete very convenient for the seaside resort layout – it is stretched along the sea, so that many hotels and guest houses are on the first line, and among them there are even relatively inexpensive options. Thanks to this arrangement, the beaches are not busy, as tourists are dispersed along the coast. In general, from Dzhemete were pretty good impression, which is rare for our resorts.
The first impression was pleasant. The streets flooded with sunlight, a lot of greenery, people with wheels and inflatable flamingos rushing to the beach. At once you feel that you are at the resort".
On the beach in Dzhemete. When entering Dzhemete immediately catches your eye, how green it is. Our hotel "White Sand" 4 * on the first line, right by the dunes.
Prices for housing
Dzhemete is divided into two parts by Pioneer Avenue. In the first line there are inexpensive guest houses and large resort hotels. The second line is mainly a private sector.
Rooms in guest houses by the sea cost from 2,000 ₽ per day in summer, but more often at 2,500-3,000 ₽. Surprisingly, the prices between accommodations on the first and second lines do not differ that much, so I advise you to choose a hotel on the first line so that the way to the sea, cafes and stores is the shortest. Otherwise, you will have to look for crosswalks across the avenue and possibly the passage to the sea.
3* hotels cost 3,500 to 9,000 ₽, depending on conditions and food. 4-star hotels start at ₽14,000. All-inclusive and ultra all-inclusive hotels have high ratings and excellent reviews: Beton Brut, Dacha del Sol and Cote d'Azur. At the end of the season, prices can be half as much, but keep in mind that some large hotels close after the 20s of September.
In Dzhemete we stayed at the White Sand Hotel 4*. It is nice, in sea tones. Cozy rooms, comfortable beds, a pool on the roof. The first line, its own territory on the beach. The food "all inclusive" is not bad, but to the Turkish all inclusive is still a long way off. In summer, rooms cost 14 000 ₽ per day, and at the end of the season we lived for 7000 ₽ for two.
The central part of Dzhemete – from First to Dzhemetinsky proezd is the busiest part of the resort. There are a lot of stores, restaurants, discos, cafes, and canteens. If you want to rest in a quiet place, choose a hotel away from the water park.
nikol21: "When choosing accommodation, I would advise you to consider the fact that the closer to Pioneer Avenue, the noisier it will be, because with the onset of darkness begin to rush cars at high speed with all the music on. And there's nothing you can do about it, you just have to endure it.
Our room at the hotel "White Sand" 4 * "all inclusive" in Dzhemete. The pool of our hotel.
Where to book lodging
During our large-scale audit of resorts in the south of Russia, we found that local hoteliers often cheat vacationers by buying positive reviews on travel sites, including Bucking. So read the reviews carefully before booking, especially the negative ones – they will tell you a lot of interesting things. Also see how their hosts respond to criticism: if they are rude, sarcastic, and hit on the tourist, then feel free to pass by. We always advise to book accommodation in advance, rather than look for it on the spot, otherwise you will get a mediocre option, and even overpay.
Look for hotels on the services of Yandex.Travel and Hotelluk – it will be more reliable and profitable, because he is looking for discounts on different sites. Learn how to book a hotel cheaper.
Search for accommodation in the private sector on the daily.ru – it's convenient and reliable service with real photos and reviews of tourists. You may rent an apartment, a room, or a house there directly from the owners. Do not think you can easily rent an accommodation when you arrive at the station, as they usually offer overpriced apartments in uncomfortable areas with minimum amenities. Book your accommodation 2-3 months before your trip.
Advantageously buy a trip to Dzhemete can be on Travelate – it is a reliable and convenient online store, where we ourselves buy tours for their vacation. Learn how to buy tours cheaper.
Best hotels Dzhemete.
Prices for food in 2022
We had an all-inclusive hotel in Dzhemete, so I know about the food prices only from the reviews of tourists. They write that in Dzhemete you can eat very inexpensive in canteens, for example, good reviews at the "Masha and the Bear", where on average you can eat for 400 ₽.
In the village there are many different cafes, but the best reviews have a cafe "Fish & Smoke" (average check 1000 – 1500 ₽), also a good rating at "Hutork".
Seafood is served at the Mussel Farm, you can eat there for 600-1000 ₽. 600 grams of mussels in cream sauce cost 590 ₽. Tourists also recommend the Barabula and Rapan and Morerakov.
Tourists recommend drinking beer at A&MBeer Bar and coffee at Clever Coffee Shop.
According to reviews, if you on vacation in Dzhemete want to cook yourself, then this can be a problem: the entire village is only one "Magnet" and "Pyatyorochka" in the center, and they are heavily loaded, and not enough products. There are small grocery stores, but they are overpriced.
There is no market as such, only vegetable and fruit shops on the way to the sea. There sell souvenirs and beach accessories. The prices are usual resort.
We ate at our hotel on "all inclusive". I'm not very happy with the food in the hotel.
Beaches and sea in Dzhemete
The beach in Dzhemete is simply delightful: imagine a very wide and very long strip of pure yellowish-white sand with small, overgrown with grass picturesque dunes. The space is such that even in the peak of the summer season there is no crowding and crowding! Through the dunes to the sea laid wooden decking, so it was easy to walk and not to burn his feet on the sand. The sand is fine and pleasant, barefoot to walk comfortably. It is possible in the morning and in the evening to run along the edge of the water, and from the dunes to watch the beautiful sunsets. In general, the landscape is like in Vityazev.
The entrance to the sea is smooth, even too much – not particularly swim, all the time on the knee. You can walk for a long time, like Mironov in "Brilliant Hand", on the sea as on dry land. In some places there are shoals. But small children are safe to swim, so in Dzhemete rest mostly in families.
Beaches Dzhemete well-groomed, there is all infrastructure, so rest comfortably. A long coast is divided into zones of public and hotel beaches. Hotel zones are usually conditionally fenced with a fence. We had a rest on the beach area of our hotel "White Sand".
What I liked in Dzhemete is the dispersion of holidaymakers. Unlike Vityazev, where most tourists are concentrated on the Central Beach, Dzhemete has no strong crowding due to elongation of the settlement along the sea. Most people are concentrated on beaches in the direction of Anapa. I advise to go in the direction of Vityazev, there is more free.
AnutkaBLONDI: "You could always find a place. And if you go farther away, behind the line of sunbeds, on those "dunes Dzhemete," you'll lie almost alone, hidden from the eyes and other vacationers and vendors.
Where it is better to have a rest:
Just look at how wide the beach is! It reminded me of the spacious beaches of Essaouira in Morocco. Cool dunes! The sea was practically clear during our vacation. The seagulls on the beach are full-fledged vacationers. They are perpetually hungry, so some tourists entertain themselves by feeding them.
Algae in Dzhemete.
But now let's talk about the urgent – the bloom of the sea. Algae is the curse of Anapa resorts, because of this many do not like to rest here. The worst thing is on the curative beach of Anapa, where at the peak of the blooming it is scary to walk up to the sea and there is such an ambergrance. On the Central beach of Anapa, as well as in Vityazev and Dzhemete, everything is not so terrible, but also unpleasant: the water becomes green and murky from algae, and you do not want to go into the water, although some consider it a free spa and thalassotherapy.
Algae on the Anapa coast appears when the water is heated, according to some reports, to +24 ° C or + 26 ° C. But if the water temperature drops even a little bit or there is a storm, the algae disappear. Usually the water blooms in July and August, but it happens in June and September. We've caught a couple of times in mid-September, though not as stormy. Algae are removed in a funny way – with tractors, but it does not help much.
If you are so unlucky and you got on blooming water, do not get upset – there is a way out. Just rent a catamaran and swim away from the shore to swim in the clear water. You can take catamarans with a slide, then it will be fun for the kids.
JanessJu: "On the second and third day there was a storm and no one swam, but after the storm the water was crystal clear that the sandy bottom was perfectly visible even in deep water. And all the greenery had evaporated, as if it had never been there."
Algae washed ashore. Let me remind you, it was in the middle of September. Algae in the water, but that much does not count!
How not to catch an infection at sea
Intestinal infections – this is a really big problem of southern resorts. Rotavirus and norovirus are picked up more often by children and become seriously ill, but adults are also suffering from it. Be sure to pack a medical kit on vacation and do not forget the MHI policy. Young children should always be vaccinated against rotavirus.
In order not to catch an intestinal infection in the Black Sea (in fact at any sea, even abroad), you must follow the basic rules of hygiene:
Do not swallow seawater.
Wash fruits, vegetables and hands thoroughly before eating. Wash with running water or bottled water, not in the sea!
Drink bottled or boiled water.
Do not buy food from street vendors.
Do not take perishable goods to the beach.
If you cook yourself, watch for hygiene and well cook and fry products.
Make sure children do not put stones, sand, earth, and dirty hands in their mouths.
Excursions and Entertainment
In Dzhemete attractions do not exist, except that such can be considered barkhans. Entertainments too a little, and basically they are children's. For adults there are "bananas", "air bikes", catamarans, quad bikes, yachts, parachuting, massage, beach volleyball.
You can go to Anapa and have a good time there or take a couple of excursions. We don't take excursions on the street, because it's like buying a cat in a poke, but we prefer to read reviews and choose an excursion on Tripster. There are a lot of interesting trips, and most importantly – proven by other tourists. Almost all of them are from Anapa, but the guide can pick you up by arrangement. The most popular tours are sightseeing tours of Anapa and the surrounding area, trips to Bolshoi Utrish, Sukko, Abrau-Dyurso and Crimea, wine tours. Take a look at what excursions are available on Tripster:
Rest with children
Dzhemete is a great place to vacation with small children. In reviews about rest in Dzhemete all tourists are unanimous in this! Shallow sea with a gentle inlet, one big sandpit, a lot of children's entertainment in Anapa, guest houses and hotels on the first line, a large selection of dining rooms and cafes, the proximity of Anapa, easy accessibility of the resort – everything has worked out so that the resort has become a family resort. Dzhemete, wherever you look, rest all families with children. Learn about holidays in Anapa with children.
On vacation with a child go to the water park "Tiki-Tak" and an amusement park "Sunny Island", look at the presentation of dolphins in "Nemo". Go to Anapa – there certainly entertainments for children abound! Read my review about rest in Anapa, where I talk about entertainment. Also tourists like the African village and the castle "Lion's Head" in Sukko, the mud volcanoes of Taman.
Often children on vacation can't pass by Afro pigtails and tattoos. Advice: do not be fooled by the proposals of cheap temporary tattoos – the Internet is replete with reviews about how to dilute tourists, presenting in the end an impressive check up to twenty thousand rubles. The low price quoted by the "tattooists" is for one square centimeter!
Cuzminichna: "Dzhemete is divided into two lanes on the distance from the sea by Pioneer Avenue. The traffic there is lively, but the road is narrow. There are traffic lights and pedestrian paths. And yet choose housing for families with children is better on the first line. The streets are narrow, there are a lot of people, strollers often do not even fit.
Jul.G.: "It's just a paradise for children, and you can splash in shallow water, and learn to swim without fear that the bottom will suddenly leave from under their feet. Considering that we had an adult in our group who could not swim very well, the shallow water also came in handy.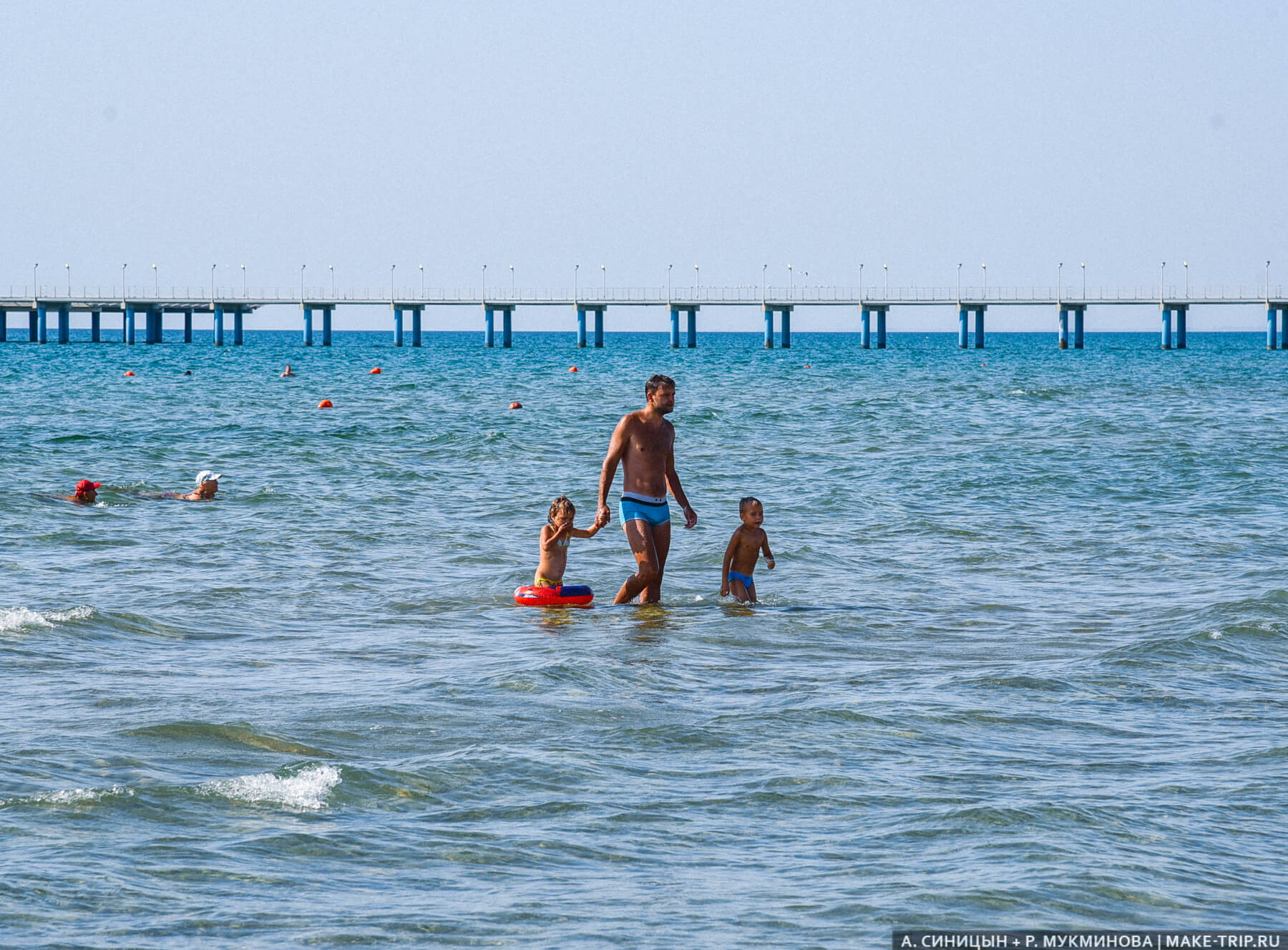 When the "sea is knee-deep" is no longer a figurative expression.
When it is better to go
Good weather for beach recreation in Dzhemete comes in early June, but, according to feedback from tourists, the sea becomes warm around mid-June. June is good for beach and sightseeing holidays, because there is still no heat in the daytime.
Most tourists come in July and August, and the velvet season lasts from September to early October. We like vacationing in the Russian south in September: it's warm, but without the heat, there are fewer people, the prices are pleasant, there are seasonal fruits. However, on the seashore it gets cool right after sunset.
If you go to have a rest in Dzhemete, be ready that you will be unlucky and the sea will bloom. It used to bloom in July and August, but now, judging by the reviews of tourists, it happens even in June. We saw a small amount of algae in mid-September.
Arina Nechedova: "You should not be afraid of bad weather, going to Dzhemete in late June. I come every year at this time to enjoy the gentle sun, swim and return home rested.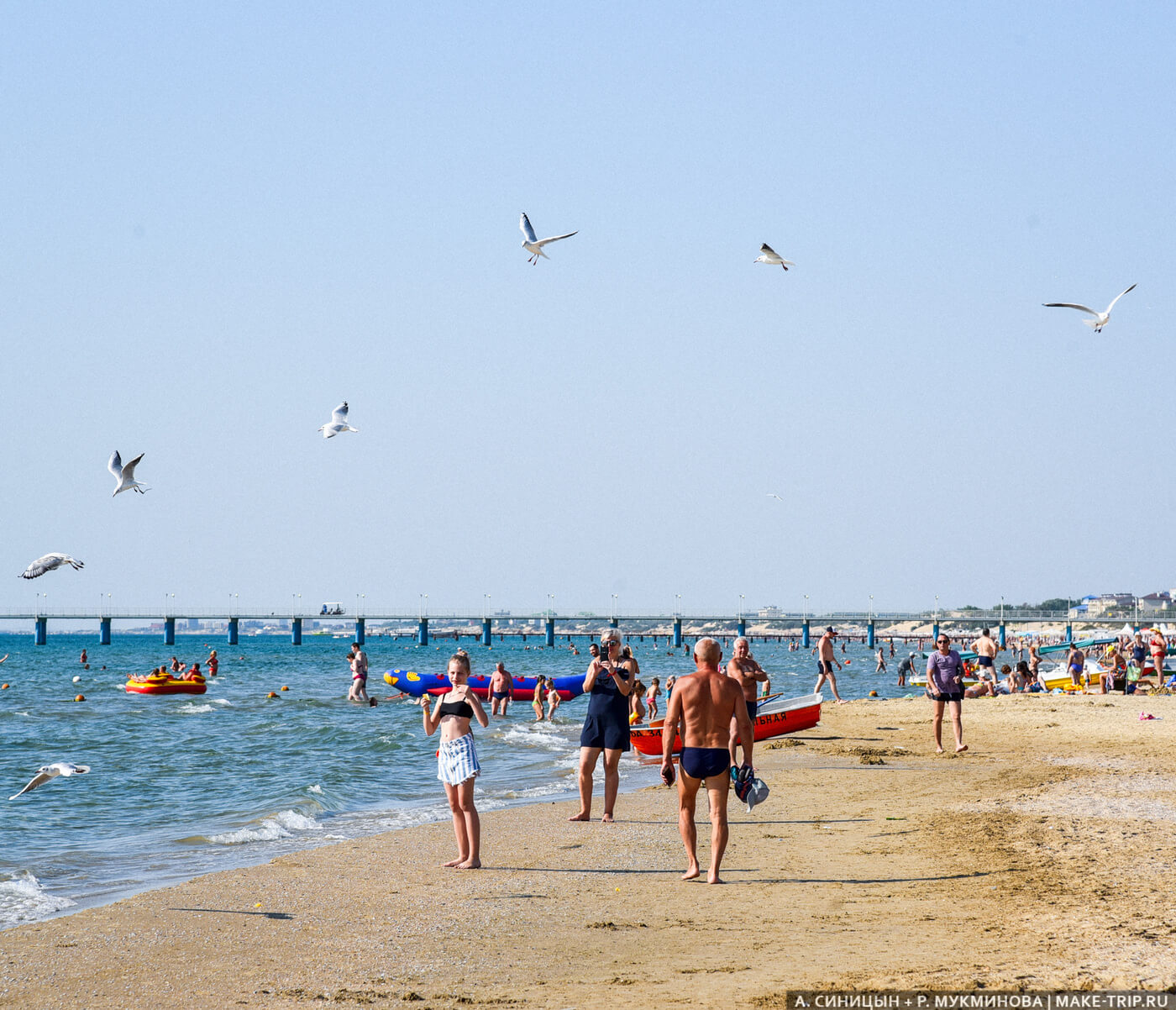 Dzhemete in September.
10 reasons to relax in Dzhemete.
A sandy beach, fine and pleasant sand.
It is spacious, there is no crowding.
Shallow water for children and bad swimmers.
Picturesque – beautiful dunes and sunsets.
It is possible to live inexpensively on the first line.
Near the airport and train station.
Near the attractions of Anapa.
You can relax on a budget.
You can walk through the pine alleys – terrenkur "Pearl".
Thalassotherapy.
6 reasons not to relax in Dzhemete
The sea is in bloom.
There will be fine sand everywhere.
To swim fully, you have to walk for a long time.
Intrusive suitors and sellers on the beaches.
Almost no entertainment, no attractions.
No promenade.
Jul.G.: "From minuses – unless the sand itself, which will be everywhere: on sun beds, in things, in hair, in bathing suits, etc. If you want to have a snack on the beach – the sand will be in your meal, be assured. Its fine fraction which in a wet kind sticks to everything and in a dry kind is easily carried by a wind" influences.
One of the passages to the sea. Shallow water is, of course, good for children, but many adults do not like it.
Conclusions: whether to rest in Dzhemete
If you want just a swim and sunbathing, that is needed lazy beach vacation, then you Dzhemete suit – provided that the sea does not bloom, of course. However, even in this case you can take a catamaran and sail away where there is no algae.
Also Dzhemete advised to go with small children – the sea and the sand are ideal for them. In case the sea blooms, I advise to choose a hotel with a heated pool.
If you need a cultural program and an abundance of entertainment in addition to the beaches, it is better to choose major resorts: Anapa, Gelendzhik or Sochi. Dzhemete has no beautiful nature, architecture, museums and steep attractions.
Pioneer Avenue is the only place where you can walk and see something.
Dzhemete beaches – the fullest review, marks on the map, photos, reviews, hotels near
Dzhemete – beach, located near Anapa, is known as one of the most popular places for family holidays with children. The beach strip, covered with snow-white dunes, stretches along the Black Sea coast for 2.5 km, and its width in some places reaches 140 m. Sand on the coast of fine quartz, the sea in Dzhemete clean, enter the water is flat, and in high season here is not as crowded as in neighboring Anapa. What else attracts tourists beach Dzhemete, where it is located and what to do in this part of the coast in the season, tell in the review.
Pros and cons of recreation in Dzhemete
One of the most beautiful resorts on the Black Sea is known for its unique climate, wide sandy beaches, sulfide therapeutic mud and mineral water springs. According to reviews, holidays in Dzhemete near Anapa like parents with children, elderly tourists and fans of sea fishing.
The pluses of rest in Dzhemete in 2022, according to reviews of tourists:
Near the airport and train station.
Good hotel base.
Warm sea.
Excellent sandy beaches.
Near the attractions of Anapa.
Excursions to the Black Sea coast and Taman.
Annaanna25: "The coastline and the sea for kids is great – shallow for a few tens of meters, excellent sand.
Minuses :
In the summer season, the prices are inflated.
Pushy sellers on the beaches.
Few ATMs and payment terminals.
In August, the water blooms.
Lenok-1982: "Along the beach porridge of seaweed, and mixed with bags, plastic dishes and other garbage.
Rest in Anapa with children.
Reviews on vacation in Anapa
The beach in Dzhemete (Photo: booking.com / Magnate)
Why love the sandy beaches of Anapa
And love them mainly for a very smooth descent into the water. And there is a peculiarity: you go into the water, after a few meters for an adult on the knee, then a couple more steps and again on the ankle, and then a smooth-smooth decline. For an adult who knows how to hold on the water, it probably will not be a plus, but the resort is usually all with children. Many parents, who have older children, do not even go with the child into the water, and sit around and watch their child splashing in the shallows.
A place in the sun
If you have a rest in a sanatorium / boarding house / hotel, then most likely you will have its own place on the coast. It is a fenced area with sun loungers, umbrellas, lifeguards. Be sure to ask about it before you book accommodation. Of course, when the resort has its own beach, it is a huge advantage.
If you are not a guest of the resort and just decided to come to the sea, a free piece of sand you will have to look for, especially in the season. Many fenced "private" areas have some number of places that they rent out. And the cost can vary greatly depending on the season (from 150 rubles to 300 rubles). It usually already includes a sun lounger and an umbrella. If you don't need it you can just spread a towel on any vacant spot.
Entertainment
During the season, the beach of Anapa Dzhemete is literally packed with entertainment. This is a ride on a banana and jet ski, this endless trampoline complexes, children's playgrounds, inflatable slides, jumping on ropes. The cost depends on the season. On average from 300 to 1000 rubles. In my opinion, this goodness is just too much. It is especially annoying when everyone is calling to him, shouting into the horn. But for many adults, this is an opportunity for a quiet break. Your child jumps on the trampoline or is on the playground, you lie down and sunbathe.
But! Please note that usually children under 3 years old enter only with an adult, and the older kids need supervision. In the season, when the accumulation of a lot of children, such entertainment can just become dangerous. And in the off season (before June) all this beauty is not installed, so even if you want to entertain a child, and especially there is nowhere. In May I saw a couple of sets installed (one trampoline and one slide), but mostly they were closed (or cold, or rain, or wind).
By the way, do not look for an evening promenade in Dzhemete. The embankment in its traditional resort form is only in Anapa – here for 5 km along the Black Sea coast stretches pedestrian zone with cafes, attractions and museums.
Colorite, or our heritage
"Baklava, homemade wine, boiled shrimp," is just part of beach life. People will walk past you all the time and offer you something. Many vendors with horns, bags, and sacks. They walk around all day. On a quiet rest and relaxation do not count! In principle, you can buy everything on the coast: food, snacks, cotton candy, wine, beer, children's books, tours, jewelry. You can take pictures with camels, donkeys, raccoons.
Reviews about the weather in Dzhemete
Dzhemete climate is influenced by the warm Black Sea, fresh winds from the Caucasus Mountains and the dry air of Taman. The low season lasts from mid-autumn to April. According to comments from tourists, good weather for beach holidays in Dzhemete is at the end of May and early July. The mass influx of tourists accounts for July and August, and the velvet season ends in late September – early October.
Air and water temperature in Dzhemete in the high season:
June – air temperature +26 ° C, water +23 ° C
July – air temperature +29 ° C, water +25 ° C
August – air temperature +30 ° C, water +26 ° C
September – air temperature +25 ° C, water +24 ° C.
Arina Nechedova: "Do not be afraid of bad weather, going to Dzhemete at the end of June. Every year I come at this time to enjoy the sun, swim and return home refreshed".
How to get to Anapa
Driving to Anapa by car
From right to left: the beach towards Dzhemete, Central and Lecherny (Photo: vk.com/anapabest)
Spa treatment
The presence of sanatoriums, water and mud clinics is of great importance for many vacationers, as people go to the Black Sea coast not only to rest, but also to be treated. We are talking about settlements located next to each other, their therapeutic means are almost equal – it's local mud, mineral water, curative air.
Resorts Anapa area is shown to patients with respiratory diseases, nervous and endocrine systems, musculoskeletal system, metabolic disorders, digestive system. The number of sanatoriums in the villages is approximately the same. Course of spa treatment, as practice shows, in Dzhemetovskie clinics a little cheaper than in Anapa and Vityazevo. Everyone decides for himself where to rest better – in Dzhemete or Vityazevo.
Reviews about the beaches and the sea in Dzhemete
Dzhemete beaches – one of the best in the South of Russia. The sea is cleaner and there is no crowds, as in Anapa. A wide sandy strip stretches along the Black Sea coast for several kilometers.
According to reviews of tourists in 2022, the most visited beaches Dzhemete – "White", "Dzhemete", "Fairy" and "Fairy 2". They have sun loungers, sun umbrellas, toilets, changing places and cafes. To make it easier for tourists to walk on the sand, there are wooden planking boards laid over the "barkhans".
Going into the sea smoothly, the section of shallow water is large, so Dzhemete, as well as other resorts Anapa, is ideal for recreation with small children. The sea water is transparent. At the bottom you can see small crabs, flocks of fish and jellyfish. During storms the sea becomes muddy, and in August the water usually blooms and turns green.
Roseanna: "The sand on the beach is clean and nice away from the shore, but sometimes there is some fine trash and crumbs from the shells closer to the sea.
Where to have a better vacation:
Anapa, Sochi or Gelendzhik
Anapa, Vityazevo or Dzhemete.
The beach strip in Dzhemete goes to Anapa (Photo: olympia-anapa.ru)
How to get there
Many people think that Dzhemete is the beach of Anapa. This is only partly true – Dzhemete is a village that is part of the municipality of Greater Anapa. How far is the beach Dzhemete from Anapa? On the map it is located 5 km north of the city center, just behind Chemburskoye Lake.
To get to the village from Anapa is easy because they (and more and Vityazevo) connects Pioneer Avenue, which can be overcome in 20 minutes by car or for 30-40 minutes by bus 112, 114 and 128. You need to get out at the turn (it is the only one on the whole length) near the children's camp "Pearl of Russia. The distance from the stop to the coast is about 500 meters.
Reviews about excursions and entertainment in Dzhemete
There are few attractions at the resort itself, but very close to Anapa. During a vacation in Dzhemete with a child visit the water park "Tiki-Tak" and the castle "Lion's Head", look at the presentation of dolphins, go to the aquarium, sturgeon farm and the local history museum.
According to reviews, from Dzhemete tourists enjoy going on excursions to the complex "Russia", Abrau-Dyurso, African Village, the park "Dobrodeya" and the mud volcanoes of Taman. Many were pleased with the sea cruises to the reserve Bolshoi Utrish.
Popular excursions in Dzhemete (Anapa):
Cypress Lake.
Crimea in 2 days
From Anapa to the reserved Utrish
Elena : "We really liked the tour "Visitor cards of Anapa". We saw the most beautiful views, heard the legends and history of Anapa."
Anastasia : "The beauties of Lake Abrau-Dyurso – a beautiful, interesting, rich tour. Galina is just an amazing narrator, a real professional, and has a great command of a variety of information".
On quad barchans Dzhemete (Photo: vk.com/baza_zdorovie_dzhemete)
Nutrition
What in Dzhemete, that in Vityazevo good and tasty to eat is not a problem. There are many different eating places, as they say – for every budget. In both settlements there is everything from expensive restaurants to street fast food.
For the finicky ones there is an opportunity to choose an establishment to their liking. Here they cook dishes of Russian, European, Asian, Caucasian cuisine. Quality food in sanatoriums and boarding houses. In season, a lot of local fruits. Dzhemete and Vityazevo are famous for their vineyards.
Conclusions
It seems to me that independent travelers have nothing to do here. Boring. But if you have a small child with whom you don't want to fly abroad, or you don't know a foreign language and are worried that you won't be understood there, Dzhemete is your option. Although, between us, for a holiday in the same Asia it is enough the most primitive knowledge of English, so do not worry and fly to Thailand or Bali!
And if all the same you have chosen our south, then have a pleasant rest, it is not so bad as they say.
Infrastructure
Infrastructure in Vityazevo is quite developed: there are enough stores (grocery and household), and pharmacies, ATMs, and tour bureaus. Chain stores like "Magnets" and "Pyaterochka" are also present, as well as wine shops, where the products of the Kuban wineries.
In Dzhemete infrastructure is simpler, but stores, souvenir shops and retail outlets with beach accessories enough. Trading rows are concentrated on Pioneer Avenue, and supermarkets, and everything else (pharmacies, bank branches, cell phone shops, etc.) are within walking distance.
In stores Vityazevo and Dzhemete you can buy souvenirs, such as pottery, jewelry, wooden figurines and the like, as well as gastronomic gifts – honey, jam, spice kits, etc. For clothing and other goods will have to go to Anapa, where you will find a couple of shopping centers.
For infrastructure Vityazevo gets 2 points, Dzhemete – 1 point
Stores and outlets on the streets of Vityazevo. Photo: wikiway.com