Horrible Vietnam! 8 reasons not to go on vacation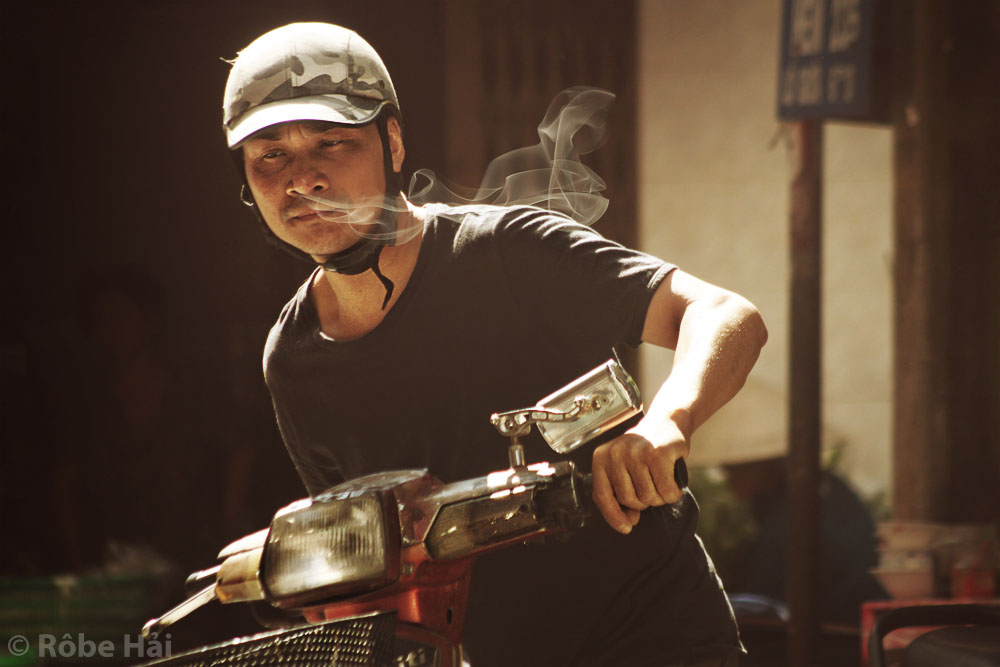 Learn about Vietnam what travel agents will not tell you! Honestly show all the horrors of rest in this country: dirt, unsanitary, noise, rats, cockroaches, deception, and more. Get ready, it will be scary!
This article is not to discourage you from vacationing in Vietnam. Not at all! I have so detailed the disadvantages of the country, so you know what you may encounter. Vietnam is un combed, rough, but extremely colorful. And this natural sloppiness is very much to its advantage.
We have traveled all over the country from south to north and have seen many things – from luxury boutiques and hotels with crystal chandeliers to the poor shacks in Fukuoka. But when we fly back to Vietnam, we come back as if home: eager to hear the "meow" of the Vietnamese, feel the pressure of moist steaming air, taste the basil in the soup Pho and drink delicious fruit shakes. Well now enough about the good, let's talk about the bad – why some people should not vacation in Vietnam.
Search for last minute trips on Level.Travel and Travellata services – they will find the best deals among different tour operators. Want to save your money? Explore our 7 rules for buying tours online.
Content:
1. Cigarette Smoke.
Vietnamese smoke almost everywhere: in cafes, hotels and even sometimes transport! The same goes for the Chinese. Cigarettes are far from top quality, so the smell is killer. The worst thing is when your neighbor decides to smoke in the hotel bathroom – the smell of tobacco stays in your room for a long time.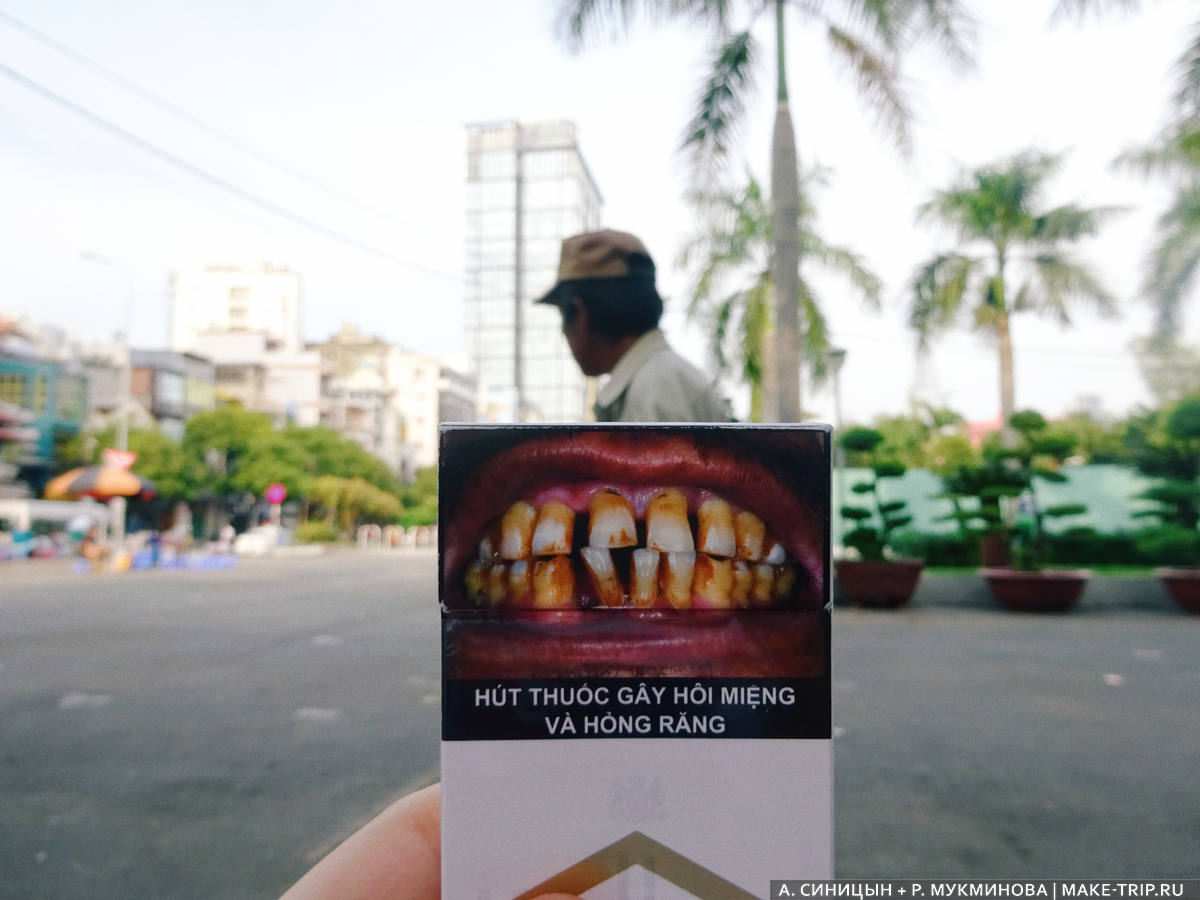 This is what a pack of cigarettes looks like in Vietnam.
2. Cleanliness ≠ Vietnam.
Toilets. If the thought of visiting a public toilet you twist your nose – Vietnam is definitely not for you. The nervous person should better avoid toilets a mile away: smells knock you down, booths are rarely closed, there is almost always no paper, no soap either. There are happy exceptions (usually in shopping malls and nice cafes and restaurants), but always advise to have paper and antibacterial wet wipes. We've been in the provinces in such toilets that it's not a nightmare. What can I say, even in tourist places there are such – I've always remembered one toilet in Ho Chi Minh City.
The filth and garbage on the streets. Cleanliness is not about the Vietnamese. They throw trash on the ground and pile up bags on the sidewalks, and at night the janitors clean it all up. They wash dishes on the pavement and pour water under the feet of passersby.
That's how they wash dishes in Vietnam. A kitty cat and leftover trash.
Housekeeping. Cleaning the rooms in many inexpensive hotels is a pure formality. No one will thoroughly wash the floor, often change bed linen and disinfect the toilet bowl. Usually they walk with a broom, make the bed and take away the trash – that's all the service. For example, we clean the shelves of cabinets and tables ourselves when we check in – you should have seen how much dust is there!
Unsanitary. Ice is cut on the asphalt, herbs and coffee are dried along the roads on the sidewalk, meat and fish at markets are sold without refrigerators and mercilessly bombarded by flies.
After this you cannot help but become a vegetarian! The ice for drinks is poked on the pavement. 3.
3. insects and rats
Vietnam has taught me to be calm about ants, cockroaches, and rats. But if the sight of them makes you clutch your heart, think hard about whether you should go there.
Ants are ubiquitous – even in expensive hotels they can be, it should be taken for granted. If you do not leave crumbs and fruit – you may not encounter them.
Rats at dusk sneak around in bushes and on the streets and rummage in garbage cans. They are especially numerous in Ho Chi Minh City. Less in Nha Trang, but even there on a bench in the park you can hear the hungry squeak behind you. Least of all in Phu Quoc.
There are two kinds of cockroaches in Vietnam: common cockroaches and large tropical cockroaches. The first are found in cheap eateries for the locals – they can run across the table or floor, lurk among the baguettes in the macarons. The latter inhabit the street, sometimes flying into hotels. They are the size of half a palm, stupid and clumsy – easy to kill.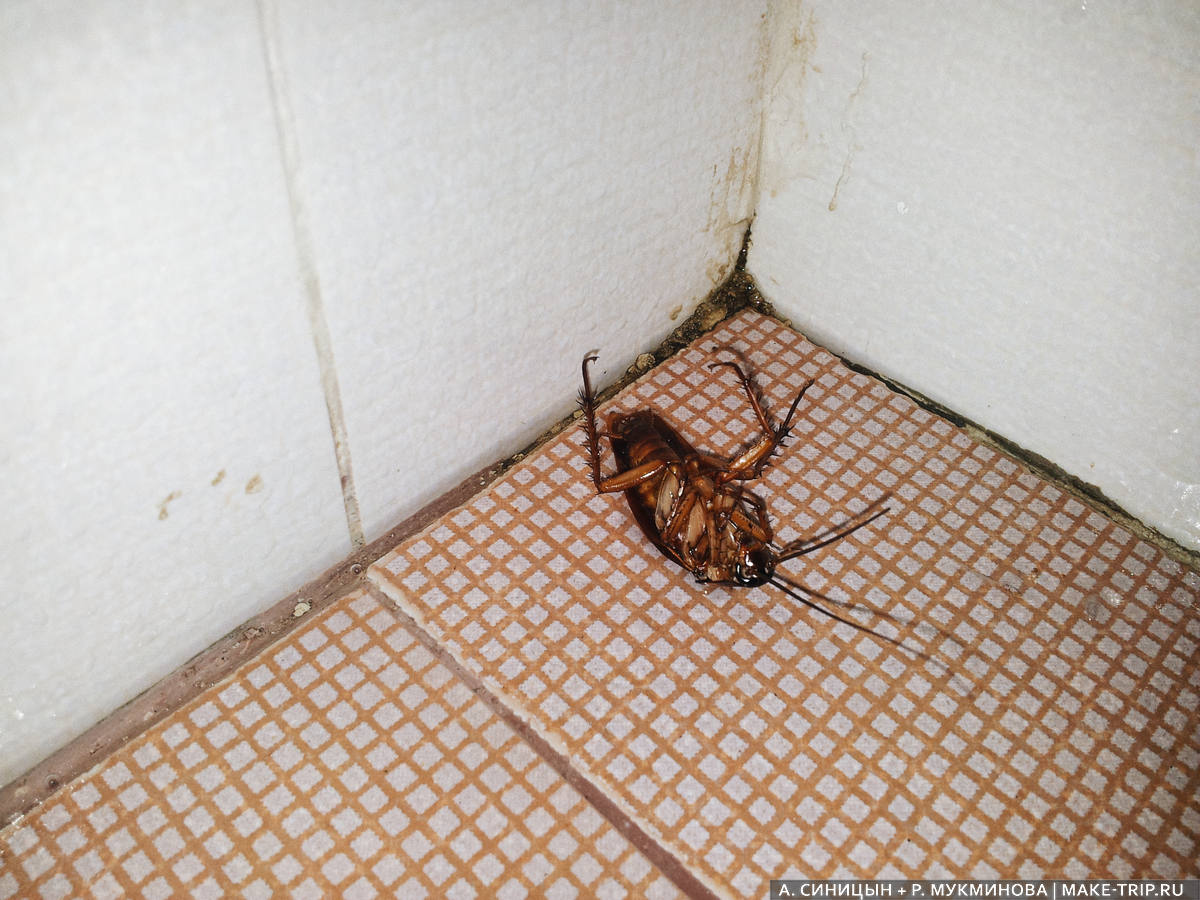 We killed a cockroach in a hotel in Hoi An.
4. monotonous food
Vietnamese cuisine is simple and unassuming, there are no complicated gourmet dishes. Do not count on variety, because the basis of the cuisine – rice and noodles of different kinds and methods of cooking. But we love it all the same! However, sooner or later gets bored with everything, and with a long stay we suffer: the search for new food (namely with potatoes), experiments with frugality and flirting with restaurants of Russian cuisine begins.
: prices, tips, excursions : weather, prices, reviews : description and photos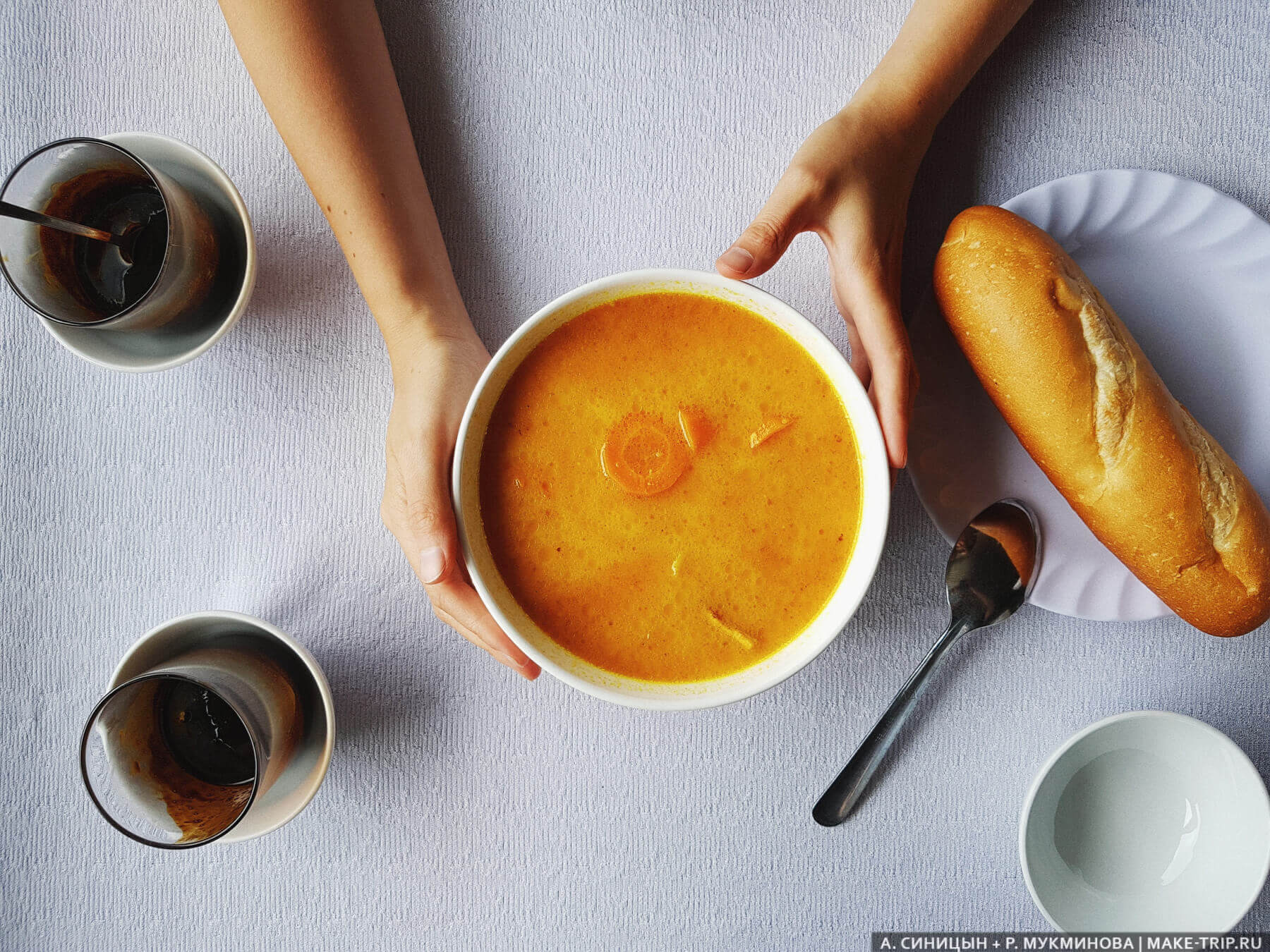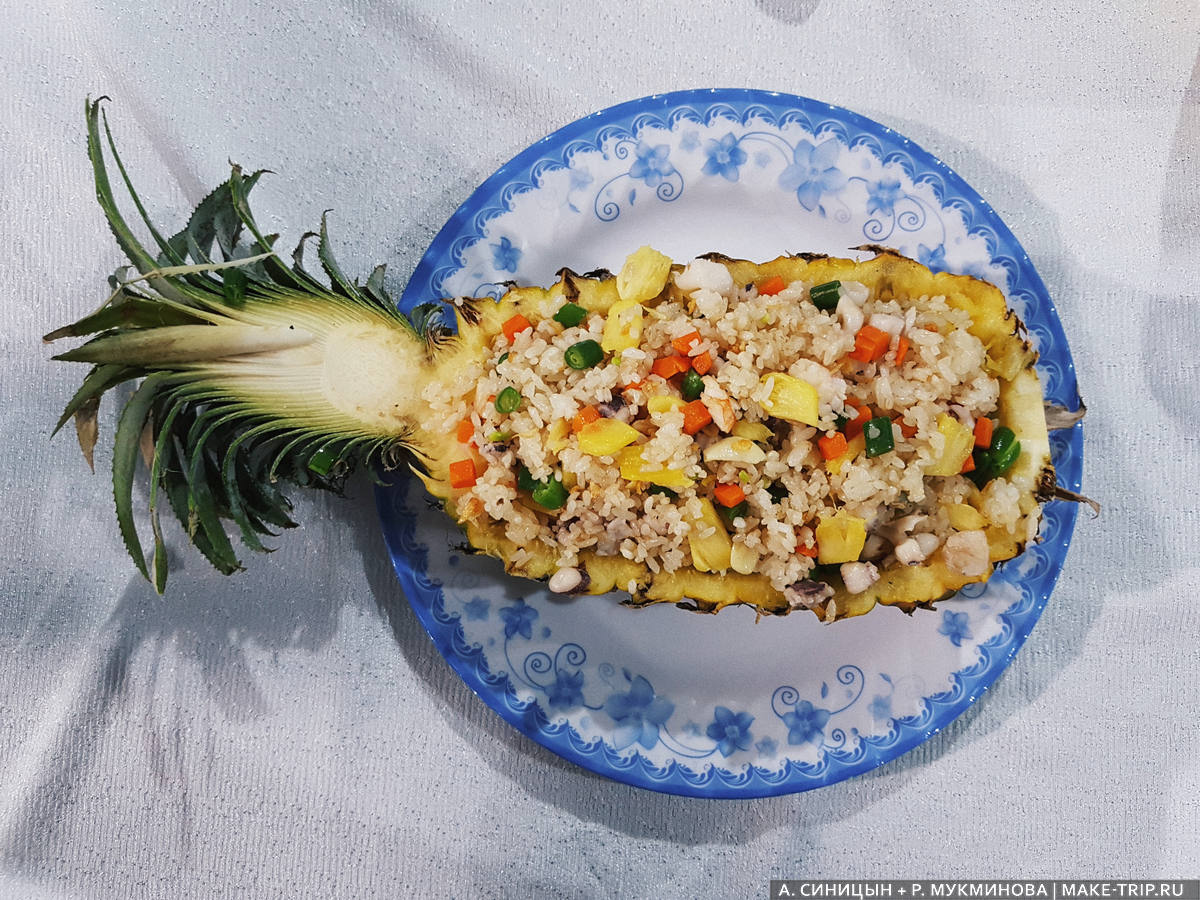 Even something as delicious as seafood rice in pineapple gets boring quickly.
5. Noise pollution.
The ringing voice combined with the tonal language and tactlessness is something to behold. The Vietnamese are probably second only to the Chinese in loudness.
The level of noise pollution in the cities is off the charts. On busy streets because of bikes and cars it is sometimes difficult to hear the person you are talking to. The Vietnamese on the road honk their horns for any reason, and it's annoying. Loudspeaker salesmen offer their goods, annoying music blares from the stores, and a talentless karaoke singer makes the whole neighborhood resound with deafening shrieks. It is relatively quiet in the smaller towns and villages: Dalat, Can Tho, Mui Ne, Hoi An.
"I need your clothes, your shoes, and your motorcycle." I suspect these cheerful school kids don't have driver's licenses.
6. Not a model beach vacation.
For bounty beaches, go to the Maldives, the Seychelles or the Dominican Republic. Vietnam's beaches and sea are good, but not the best, plus the infrastructure is inferior. The underwater world is also not the richest. The best resort is considered Phu Quoc Island – we agree, but be warned: good beaches will need to be reached by bike or cab. Read about the best beaches in Fukuok →
As inexpensive as in Vietnam, you can rest in Thailand or Cambodia – the beaches there are much better.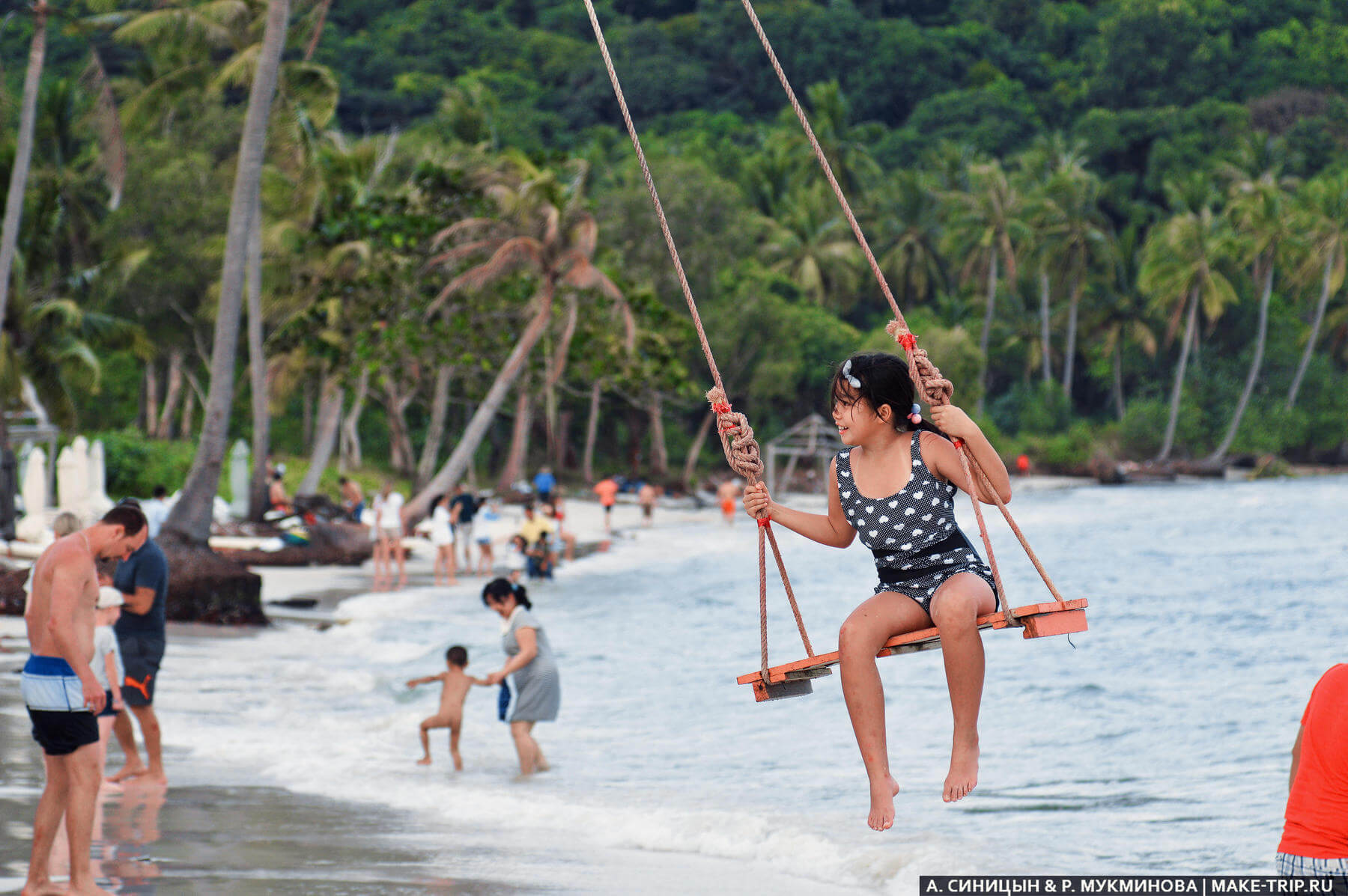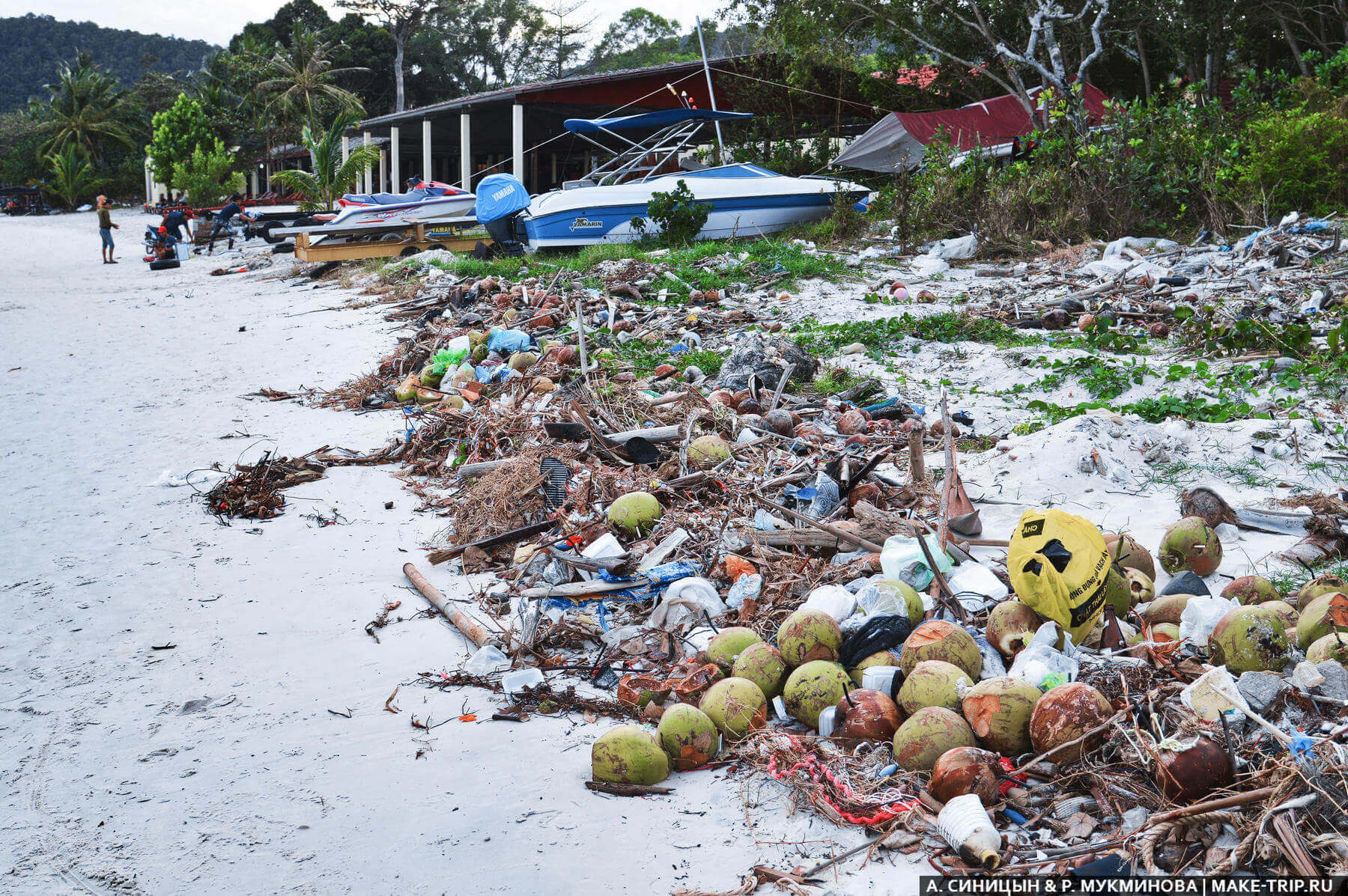 Even Vietnam's most famous beach, Bai Sao, has a lot of trash.
7. PDD? Not heard!
Any self-respecting Vietnamese does not comply with the traffic rules. Almost no one turns on their blinkers or looks around when exiting an alley. The roads seem to be chaotic, but it has its own system – it's important to feel the flow. So cross the road slowly and without sudden movements, with your hand up. And if you are driving, move smoothly in the flow.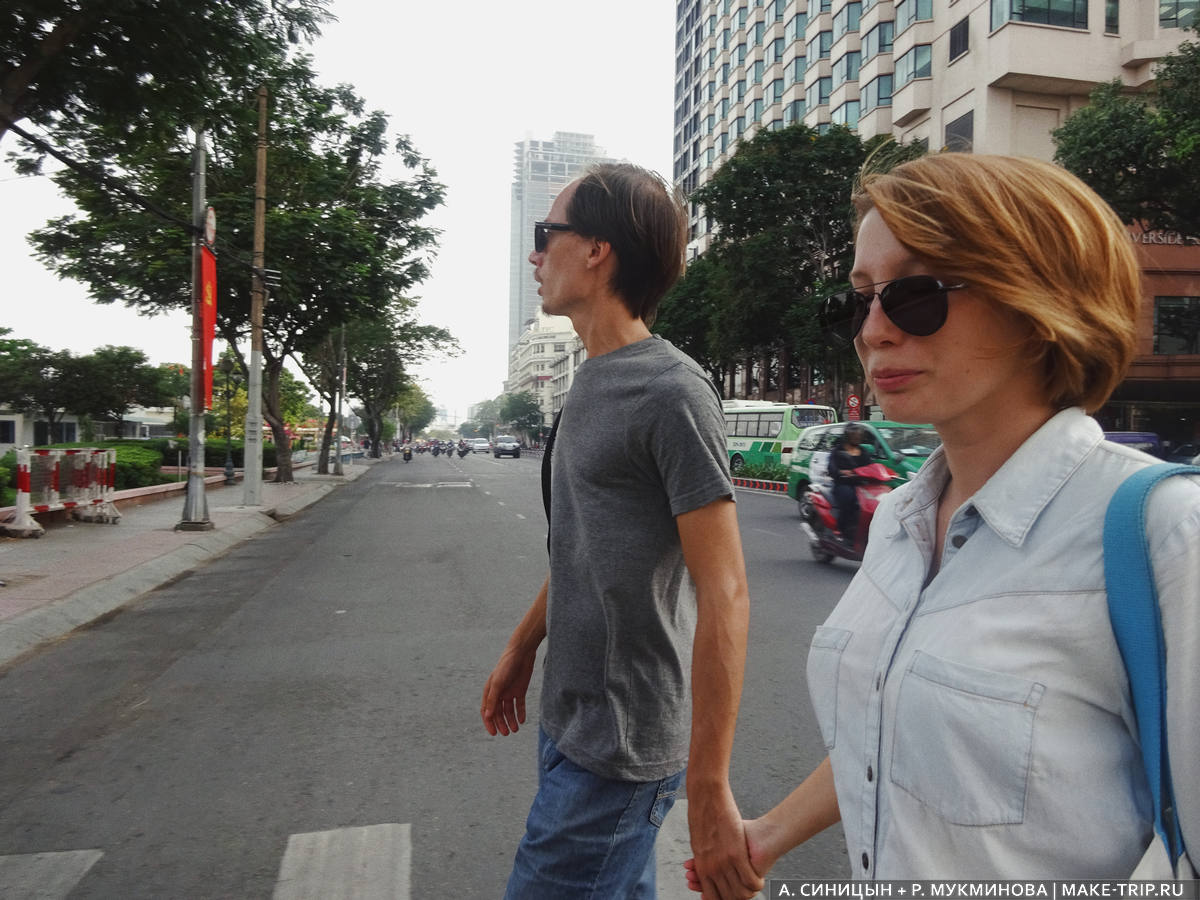 This is how we cross the road in Ho Chi Minh City.
8. Deception
In general the people are open and friendly, but the tourist business spoils the character of the people – some tend to swindle tourists. It is important to know the real price of a good or service, always negotiate it, or better yet, fix it. Sometimes fruit vendors can cheat. Read our notes on prices in Vietnam and Fukuoka.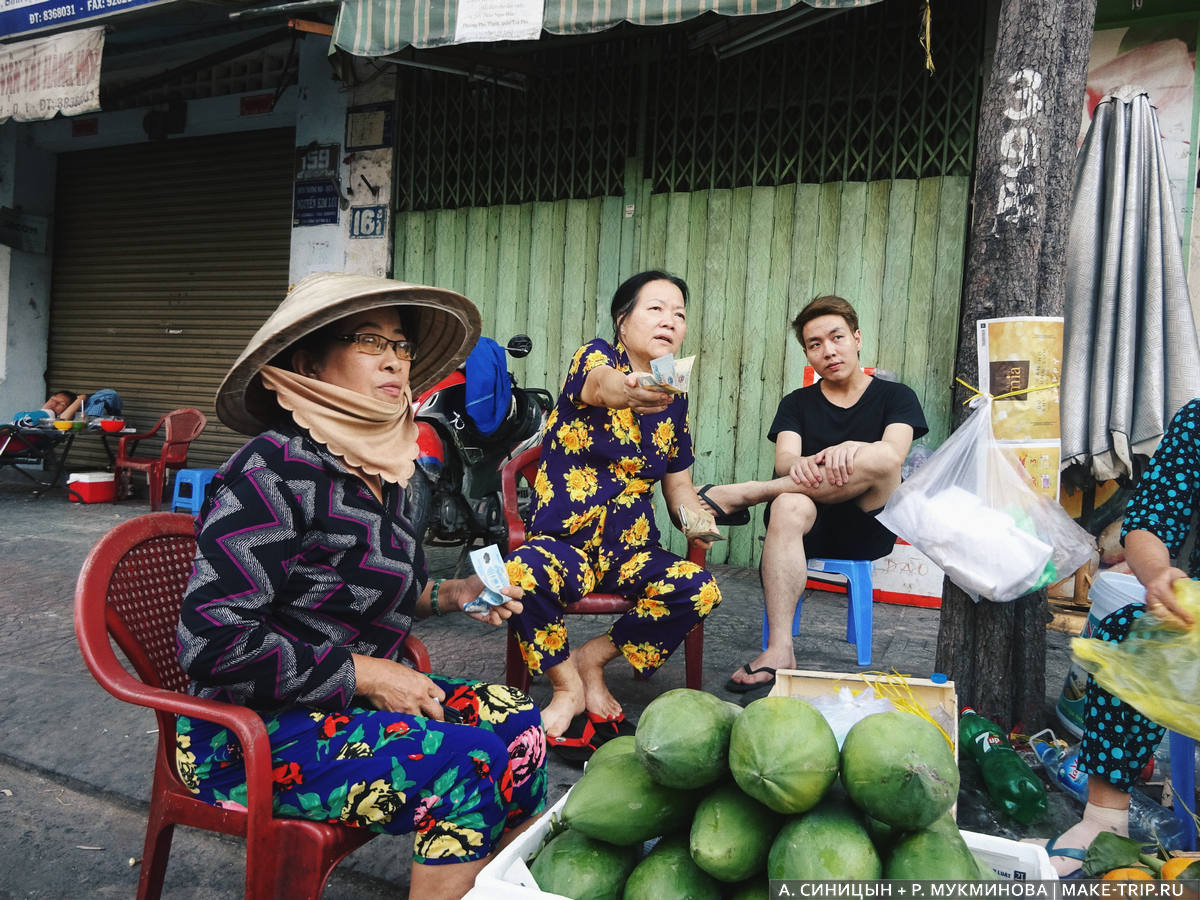 Fruit vendors are trying to charge you more money.
Why not to go on vacation in Vietnam?
For about half a year my friends and I have been having a discussion about vacationing in Vietnam. My wife and I generally have a positive attitude to this country, but friends say that there is nothing to do, the beaches are dirty, a lot of crooks, etc. What do you think? What are the disadvantages of traveling to Vietnam? Is it worth going there?

Evaluate
You have to understand that the rest in Vietnam is not only the beaches and the sun, but there are some disadvantages that can seriously screw up the rest. First of all, you should pay attention to the fact that the country is very dangerous traffic. The Vietnamese have virtually no such thing as traffic rules, everyone drives as he pleases. It is dangerous not only to be a driver, but also a pedestrian, it is not accepted to give way even on crosswalks. If you plan to rent a vehicle, it is better to refuse this idea and rent a car with a driver, it will be a little more expensive, but much safer. Before crossing the road, even on a crosswalk, you need to look carefully to the sides and make sure there is no danger.
In travel agencies often emphasize that the local population is most welcome to Russian-speaking tourists, but not everything is so simple. Even if you are fluent in English, it will not solve your problems in communicating with the local population. Only in major tourist towns the local population speaks a little English, but the rest is a complete disaster. If you are planning a trip on your own, then be prepared for all sorts of language difficulties.
If you have health problems, especially digestive tract, then it is better from the trip to this country to give up, otherwise you can exacerbate the problem. Local cuisine is quite greasy and spicy, and to spend the entire vacation on fruit and rice will not be easy. Yes, you can eat in European and even Russian restaurants, but for that you will have to pay a lot of money.
Far from always true stories about the paradise beaches in Vietnam. City beaches are often dirty and untidy. Clean can boast hotel beaches, where staff are making every effort to ensure that the beach area was in perfect order. Water on public beaches are also not always crystal clear, except for algae there may be floating cigarette butts, plastic utensils and other trash.
Very often, tourists who come to Vietnam on vacation face with fraud and deception by the local population. There are a lot of options, from overcharges by cab drivers and hidden fees in exchange offices, to machinations with bank cards. If you are planning to take a credit card with you on vacation, then you should not use it to pay anywhere. Nobody and under no circumstances do not pass a card, and when you enter a pin code cover the terminal with his hand.
In the busy tourist areas and streets can be operated pickpockets and robbers on motorcycles. Do not leave your belongings unattended on the beach, in cafes, restaurants, unattended, otherwise they are more likely to be stolen.

Evaluate
Vietnam is a wonderful country, and as for the flaws, I can say that they are in any country, so I would not be so skeptical about the opportunity to rest in the Vietnamese resorts.
The disadvantages, of course, there are, and the main one is that many Vietnamese will want to cheat you. And it is for this reason that many tourists after one trip to this Asian country refuse to go back and leave negative reviews. Isn't the situation the same in Thailand? There, too, cheating, overcounting, driving in circles, asking fabulous amounts of money for the trip. These are all the "charms" of vacationing in most Southeast Asian countries, and you either have to put up with it, or look for other destinations.
Another reason is that the infrastructure of Vietnam, although it is developing rapidly, but most of it is stuck in the past and not always and not in all hotels, cafes, restaurants and other institutions, the tourist receives what he originally expects. If you compare it with Thailand, the latter in this respect has gone far ahead.
I could not agree more with the fact that a serious disadvantage of Vietnam is a dangerous chaotic traffic. Motorcyclists in general is a separate topic for conversation, for them there are no rules or prohibitions or restrictions. Driving on the sidewalk is quite normal. Pedestrians are not considered full-fledged road users in this country.

Evaluate
You can read a lot of reviews on vacations in Vietnam, but they are very controversial at times. And unlikely to read these reviews and listening to their friends you can make any kind of a certain impression about this country. Rather, it is necessary to take a chance and go for the first time by yourself, then you will have your own opinion. Also, do not forget that all the tourists write reviews having been to a particular resort on vacation.
First of all I want to say that if you are primarily interested in quality beach vacation, then Vietnam is not the right country for this. He is here, if it is possible, but only in a few limited places. By and large good quality beaches in Vietnam. But then again – everyone has his own idea of "quality" beach.
After all, in fact, it all depends on what level of comfort you are generally used to. If you used to go rest exclusively to Turkey or even only to Russian resorts, Vietnam you may certainly like. But! If you are spoiled resort Maldives, the UAE, the Mediterranean resorts, etc., it is unlikely you Vietnamese beaches seem comfortable.
There is absolutely no snow-white beaches with azure transparent water, and where you will pass flocks of colorful fish. These beaches in Southeast Asia you can find perhaps only on the Thai island of Phi Phi. Well, in Vietnam unfortunately many beaches are still dirty and untended. In the busy tourist areas for them is somehow trying to watch, but if you go away from the beach no more than a kilometer away, then you have before your eyes opened a real picture of Vietnam's ecology.
However, there are beautiful pristine unspoiled areas, completely untouched by civilization. It is only necessary to rent a bike and find a place. Do not forget also that the level of service in Vietnamese hotels is still very far from the generally recognized. Still more recently the country was in ruins and there is still mud and unsanitary conditions, lack of compassion for people and traffic without any rules.
The Vietnamese simply haven't learned how to take care of their customers and serve them properly. For them it's completely incomprehensible why people are outraged when they notice a worm in their plate or, for example, some garbage. They can not understand why you're shouting and nervous, just pretend that they do not know what you're talking about at all.
For them it is not clear why you are indignant that you were not in time to change towels, badly cleaned, kept in the lobby for a very long time during the settlement. All these trivial things are above their comprehension. Or you have to put up with it, or just do not go to Vietnam on vacation.
Well, if you are not spoiled by the European level of service, unpretentious and not picky, then the beach holiday in Vietnam you may well like. And the best way for you to go to such a wonderful city like Nha Trang. This is a very good combination of beach vacation with entertainment and educational. Here not bad and quite clean city beaches, good restaurants and nightclubs, large parks and interesting attractions. And here you can take mineral and curative mud baths. In general Nha Trang is just a very nice and neat town.

Evaluate
I would consider not only the negative sides of Vietnam but also positive. As for me, the latter is much more. The main advantage in this Asian country is that at the moment Vietnam is not visited by so many vacationers and local nature can please its pristine beauty and tranquility. Even on the busiest beaches can easily find a secluded corner where there will not be a large crowd of tourists.
Vietnamese food you called one of the minuses, but I think it's the opposite of a plus. Everywhere in the country there are many cafes and small street eateries that offer a good selection of delicious and inexpensive food. It is not always spicy dishes and exotic in nature. At the local markets and you can eat a hearty meal for ridiculous money.
Vietnam offers a lot of exciting, and sometimes even unique excursions. To fully enjoy the trip, it is necessary to choose the right guide, as saved a few dollars can completely spoil the impression of the excursion.
A separate subject is Vietnamese alcohol, without which many tourists can not imagine their holiday. Quality liquor here is not so much money, especially tourists love refreshing Vietnamese beer.
In addition to the fact that the country offers an accessible in all respects, here will feel equally comfortable for tourists with children, and those who give preference to different youth hangouts. Recently, more and more holidaymakers are coming to Vietnam to combine rest and treatment. Local resorts widely apply muds, massages, bathing in mineral springs, and other procedures.
If all the same when planning your trip you guided by the negative aspects, as in any other country, they certainly are. One of the positive aspects of rest in Vietnam called the friendliness of the local population, but this medal and has a downside. As tourists develop and increase the number of tourists, the consciousness of local residents is changing. Now they go to all sorts of tricks and stratagems to lure tourists by hook or by crook to get as much money as possible. Every year the number of pickpocketing increases, you have to be especially careful in public transport, tourist spots, supermarkets, markets.
Dirty beaches can significantly spoil your vacation. One thing to observe the paradise beaches, bounty in the pictures and quite another thing to encounter them in reality. Yes, the hotel beach no questions, there is almost always clean and tidy, but many public beaches and do not look tearless. The sand on these beaches is usually mixed with garbage, and besides in the water can swim anything. Usually in tourists abruptly no desire to swim in such water, because it can even be dangerous to health. Often at the beaches there are different insects, which can cause a lot of trouble and trouble (with itself on the beach should take not only goggles, hats and sunscreen, but also various means of protection against mosquitoes and other blood-sucking insects).
A lot of danger lurks in the South China Sea, whose waters are washed almost all the popular resorts in the country. It is one thing to look at the different critters in the depth with a mask and snorkel or scuba diving, and another thing to step on a hedgehog or get burned by jellyfish. Most often these creatures are hidden among the corals and buried in the sand near the shore. After storms, there is a great risk of running into a huge jellyfish, so it is best to go into the water in special shoes, not barefoot.
Roads in Vietnam for the most part are the same trouble as in Russia. In many places there are no roads. Good roadbeds are between the major cities of the country. At rush hour on the roads there is complete chaos and the average tourist to understand what to do and what is almost unreal. If you rent a vehicle, and then only a bike or bicycle.
Going back to the theme of the locals, it is worth noting that they know English rather poorly, for many of them it is a dark forest, so if you need to get some basic information, it will be difficult to find a common language with the Vietnamese.