Best Hotels in Nha Trang with its own beach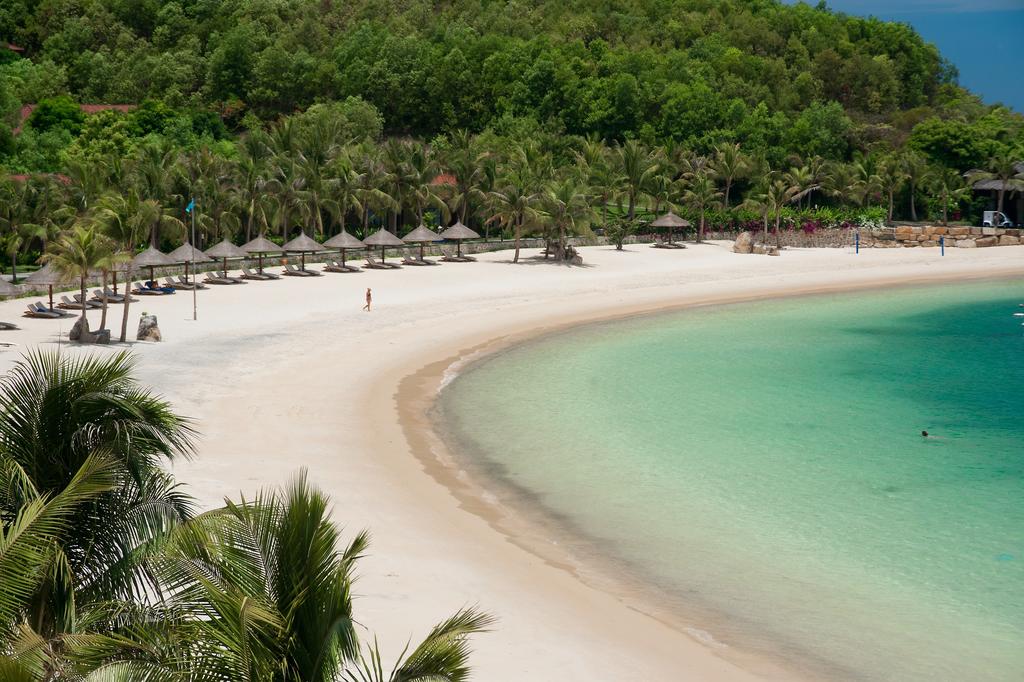 Going to go to Nha Trang, Vietnam? If you want to relax in good 3, 4 or 5 star hotels with their own beach, this selection will help you choose the best hotel on the first line.
On the territory of the popular Vietnamese resort of Nha Trang operates more than a hundred hotels of different levels and price categories. Many are located on the first line, but very few can boast the presence of closed private beach, as the beaches in Vietnam public. In most cases, hotels are equipped with a small section of the central city beach for their needs.
We have made a selection of the best hotels on the coast in Nha Trang (1 line) both with its own beach and with its own area on the public beach, according to tourists' reviews. We chose hotels according to the principle "price – quality", with high ratings and good reviews. All options are found on the service Roomguru.ru – we advise all independent travelers to look for hotels on this site, as it compares prices in different booking systems and finds the best. We recommend booking tours to these hotels on the search engine Travelata, which works according to the principle described above. If you do not know how to find a cheap tour, our guide will help you.
Where to look for cheap tickets? It is most convenient to do it with the help of search engines Aviasales and Skyscanner. To find the best price, check into both and see tickets for different dates. Read also the instructions on how to search for cheap airline tickets and how to get to Vietnam cheaply.
Content:
3-star hotels in Nha Trang with its own beach
Soho Hotel 3*
Soho Hotel has no private beach, but is located across the street from Nha Trang Beach. Near the famous Gorky Park with swimming pools and restaurants. The nearest attraction in Nha Trang, Long Son Pagoda, is a 10 minute drive away. The rooms have everything for a comfortable stay. Some have balconies and beautiful sea views. Visitors advise not to take breakfast, as it is monotonous. The price is affordable: a double standard in high season will cost 2000-2500 rubles per day.
Paragon Villa Hotel 3*.
3-star hotel Paragon Nha Trang has gained its popularity thanks to its own beach with a breakwater. Tourists count it among the best beaches in Nha Trang thanks to the gentle entrance and the absence of waves. It is ideal for holidays with children. The hotel is located near the cable car to the island of Wynperl. There is a swimming pool, restaurant and private parking, spacious rooms with light colors in an understated style. Of the drawbacks – Paragon beach is open to all comers (though, for outsiders entrance fee – 20 thousand dong), so in high season here can be crowded. Accommodation for two people costs from 2000 rubles per night.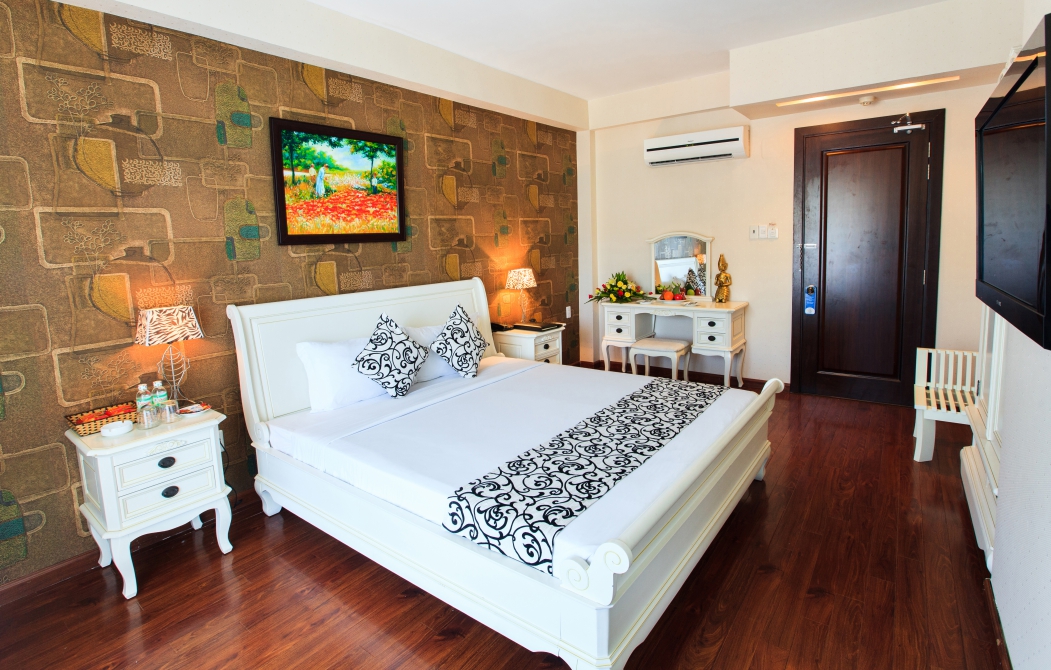 (Photo: paragonhotel.com.vn / Paragon Hotel)
Nha Trang 4 Star Hotels with its own beach
Diamond Bay Condotel 4*
The 4-star Diamond Bay Condotel has its own stretch of beach in Nha Trang Beach. The hotel is located in the central part of the city. There are views of the city and the sea. It only takes a few minutes to walk to the beach. The hotel has a swimming pool, restaurant, bar and nightclub. Nearby are popular attractions in Nha Trang – Alexander Jersen Museum and the Museum of Khanh Hoa Province. Of the minuses – a little boring breakfast, although this is a matter of taste. A budget studio for two will cost at least 5,500 rubles per day.
Novotel Nha Trang 4*
Novotel Nha Trang Hotel is located at 50 Tran Phu Street in the heart of the resort. The building looks luxurious: zoned stylish rooms, panoramic views from the windows, glass doors and spacious terraces. The beach is just a few dozen meters away. On Nha Trang Beach the hotel has its own flagged area, where towels, umbrellas and sun loungers are given to guests for free. There is its own restaurant, bar, fitness center, swimming pool and spa center. As our compatriots noted, the hotel confidently aspires to reach the 5* level. In this case observes a loyal pricing policy – double standard costs about 5.5-6 thousand rubles per day. From the disadvantages of our tourists noted lack of Russian-speaking staff, as well as someone was not very pleased with breakfasts.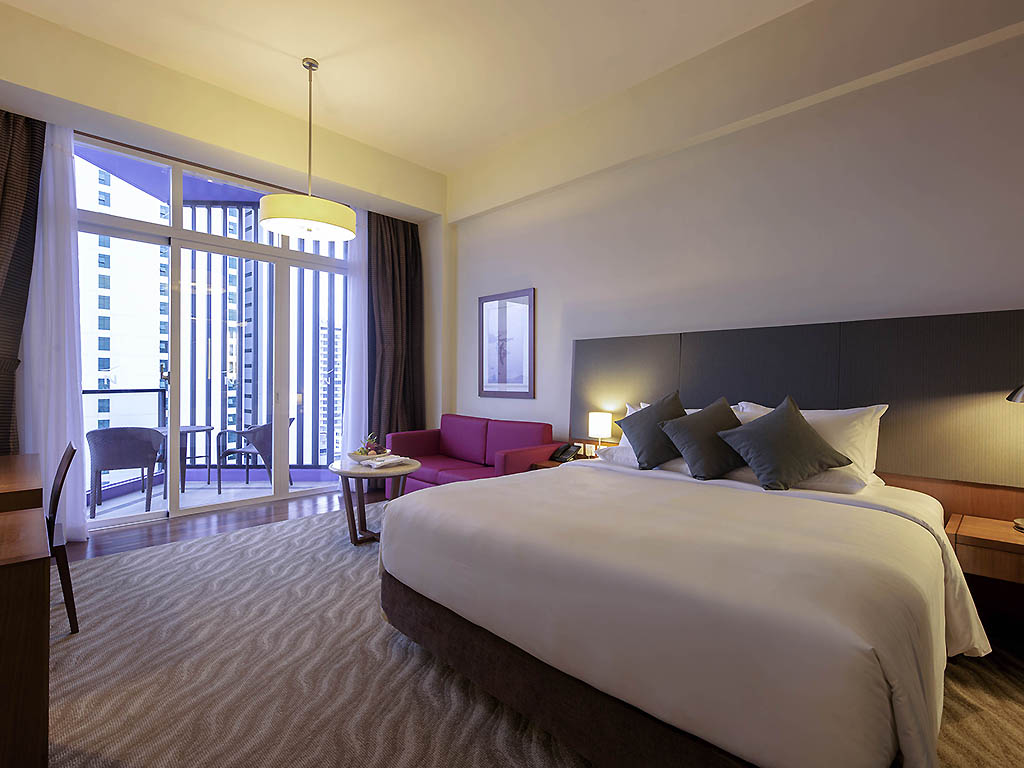 (Photo: novotel.com / Novotel Hotel)
5* hotels in Nha Trang with its own beach
Sheraton Nha Trang Hotel and Spa 5*.
The Sheraton Hotel, which tourists rank among the best hotels in Nha Trang, is located in the center of the resort, 8-10 minutes from the beach, which has its own area with sun loungers. "Sheraton" is known for its own culinary school and beautiful swimming pool. Here you can get SPA services, for children there is a children's club. Breakfasts are served buffet style. Near the hotel there are a lot of bars and nightclubs, a little further – the Jersen Museum. The price for a luxurious semilux with the view on the sea range is 12 thousand rubles; for a two-bed apartment a modest price starts from 8,5 thousand rubles per day.
Vinpearl Luxury Nha Trang 5*.
If you want a really perfect vacation where you don't have to think about anything, then you should go straight to Vinpearl Luxury Nha Trang, which has 5 stars. This is one of the few hotels in Nha Trang that has its own private beach and can offer a luxury vacation. Accommodation in this luxury hotel will cost tourists a pretty penny – from 20 thousand rubles per day for two. For that money the guests may enjoy a nice clean beach, a giant swimming pool, a beauty salon, a Turkish bath and a Jacuzzi, to have lunch in a restaurant right on the seashore, to play golf and tennis, to go scuba diving and fishing. Provided a lot of children's entertainment: near amusement park, water park and oceanarium. Of the minuses: there are almost no stores on the island where the hotel is located, and for shopping have to go to the mainland.
Hotels in Nha Trang with a Beach: from 2 to 5 stars
Nha Trang's beaches are mostly public. They are popular with the locals, which makes them crowded, especially in the evenings. Therefore, it makes sense to choose hotels in Nha Trang with its own beach – locals are not allowed there, which means you will rest in peace and quiet.
Five-star
Evason Ana Mandara Nha Trang
Evason Ana Mandara Nha Trang Hotel
Technically, this is the only hotel with a beach exactly in Nha Trang. Five stars, villas overlooking the garden and the sea. There is a large spa, tennis courts, outdoor pools for swimming during the waves, all-day restaurant.
It takes about two minutes to walk to the beach. The coast is clean, with grayish sand. The waters are calm. There is a large center of aquatic entertainment – organized diving, snorkeling, fishing and walks to the neighboring islands. On the shore there is a bar, of course, are sun beds and umbrellas – they are usually enough for all. Guests are served refreshments at 12 o'clock.
The overall average score on the popular Booking.com service is 9. Guests especially like the location just a kilometer from the city center – it scores 9.2. Other indicators are also at a high level, so the considerable prices for accommodation in this hotel are quite justified.
Diamond Bay Resort & Spa
The five-star hotel is located 10 kilometers south of Nha Trang. You can get to town by free transport that runs daily to the Nha Trang Center store, or by inexpensive cab. The hotel specializes in spa and has its own pool.
The first beach on the property is shallow, mostly for children, you can't swim at low tide. The second is very beautiful, you can always swim, but it is a bit farther to get to it – the hotel guests are taken on beach cards for free. There are always enough sun loungers, not a lot of people.
The rating on Booking is high, 8.1. Guests do not like too much only the location of the hotel (not very convenient to get into town) and the quality of free Wi-Fi.
Mia Resort Nha Trang
Mia Resort Nha Trang Hotel
One of the best hotels in Nha Trang with its own beach. Located 19 kilometers from the city, but the remoteness from the center of the city is compensated by other advantages: the hotel is located in a separate bay, its territory is huge and has a large swimming pool with sea water. The hotel rating is 9.3.
As for the beach: it is small, with fine sand and calm water, very clean. For complete relaxation it is better to take a room on the coast itself. Right on the beach you can order drinks.
The Anam Resort
The Anam Resort
A five-star hotel with villas, it is usually attributed to the Cam Ranh resort, which is near Nha Trang. The hotel has a high rating (9). Guests speak particularly well of the cleanliness and comfort.
Since the hotel is new, the beach is quite deserted. A lot of sun loungers and sun beds, the area is clean, the sea is calm. The entrance to the water is shallow, but not far from the depth, so you can swim well. If waves attack all the same, you can swim in the pools – there are three, but the water is warm, some even feel hot.
Cam Ranh Riviera Beach Resort & Spa
Cam Ranh Riviera Beach Resort & Spa
A five-star all-inclusive spa hotel – not every Vietnamese hotel can boast this. Families with children especially like it here – it's quiet, you can completely relax. Rating on Booking 8.2.
The beach is large, with white clean sand. We have a lot of sun loungers, but with a 100% fullness of the hotel is not enough for everyone, the sea is quiet and calm. We give out towels. There are toilets and a shower, have recently opened a snack-bar and have put a scene for entertainments of tourists. In general, you can relax without leaving the hotel, almost like in Turkey.
Fusion Resort Nha Trang
Fusion Resort Nha Trang
A five-star hotel with spa treatments included in the room rate. Another feature is yoga for children and adults. The beach is white-sandy, with a gentle descent to the water. There are few people. The sand is smoothed twice a day, so the view of the coast is almost always perfect. There are no beach beds, but it does not confuse tourists – they come here not so much to sunbathe, how many to bathe. The rating is around 8.2.
Vinpearl Luxury Nha Trang
Vinpearl Luxury Nha Trang Hotel
This is one of the hotels in Nha Trang with a nice beach, located on Hong Tre Island, near the famous Wynperl Park. It offers fully equipped spacious villas, spa treatments and delicious meals. The rating on the same Booking is 9.1. Unlike other beaches on the island, it's quiet, no noisy appliances.
The hotel beach is deserted, with sun loungers and umbrellas. Sometimes after high tide there is trash on the beach, but by lunchtime the coast is cleaned and it is clean again.There is also a bar here. In addition, there is a waiter on the beach, where you can order snacks and drinks. There is a children's area.
Four star
Diamond Bay Condotel – Resort Nha Trang
Diamond Bay Condotel – Resort Nha Trang
A fairly new hotel, there is not much information about it yet. The shortcomings of the service, which is often noted by tourists, are more than offset by the advantages of the beach – it is not crowded, it has a lot of sun beds and very clean sand.
When looking for reviews, note that the request Diamond Bay Condotel is often a hotel in the center of Nha Trang, not this hotel with its own beach.
Dessole Sea Lion Beach Resort
Dessole Sea Lion Beach Resort Hotel
Another Nha Trang 4 star hotel with its own beach. It differs from the others with an interesting and rich animation program and convenient food system "all inclusive". The area is well maintained.
The beach is spacious, but the sun loungers are better to occupy early. The sea is calm, there are almost no waves, the tides are felt weakly. The water is much cleaner than in town.
Some Days Of Silence Resort and Spa
Some Days Of Silence Resort and Spa
A quiet four-star hotel on Docklet Beach. Located near the local markets. Due to its good location and service it has a 9.3 rating on Booking.com. Judging by the reviews, the place is truly heavenly, suitable for a quiet rest and relaxation.
The beach is good, clean. It is convenient to rest here with children – the entrance to the water is slow, gentle. But also adults have where to swim. To borrow sun beds it is not necessary – at each number they have own. In the afternoon the water can be a little rough, sometimes there is trash, but in the morning it is always quiet and clean.
Two and three star
Paragon Villa Hotel
Paragon Villa Hotel
This three-star hotel is also close to town, but you have to walk 200-300 meters to the beach. Guests praise the value for money and free Wi-Fi.
The beach is not too big and sometimes the sun loungers are not enough for everyone. After four o'clock in the afternoon, the beach is open to Vietnamese. The sea is quiet and shallow, the entrance to the water is shallow – it is good to relax with children. The sand is clean and white. Every morning the beach is cleaned.
Doclet Resort and Spa.
Doclet Resort and Spa
A very inexpensive two-star hotel in Nha Trang with a beach. Rating is only 6.7, but for two stars is quite good when you consider the proximity to the beach. Suitable for those for whom the first place in the romance, not comfort: come here for rest in simple bungalows near the beach, but not for the convenience and service.
The beach is clean and well maintained. It is not fully owned by the hotel, but guests are given a free sunbed and umbrella, and there are usually few people in this area. The beach itself is considered one of the best in Nha Trang, beautiful terrain and sea. There is no special infrastructure, the rest is rather wild, but very quiet.