Prices in Dubai : how much money you need in the Emirates 2022 – Travel Budget
32.8 € (114.9 AED / 2,048.0 ₽) is the minimum budget for a day in Dubai . This is enough for a good budget hostel, two trips on public transport and food (the amount equal to two dinners in inexpensive cafes).
This amount does not include the cost of the flight and insurance. A round-trip ticket from Moscow to pandemim could be found for 14-17 thousand rubles. In 2021, everything is much more expensive. To react in time and buy bargain tickets, subscribe to our Telegram channel @samokatus.
Insurance in the UAE will cost you about 0.8 € per day. Insurance can be picked up on the service Cherehapa. Cherehapa is Aviasales in the world of insurance, selects from dozens of options the cheapest or the most suitable in terms of parameters. Cherehapa is our partner and we recommend it as the best insurance aggregator.
Current exchange rate of the Emirati Dirham: 1 AED = 0.3 EUR = 16.7 RUB. It's very convenient to change dollars as the exchange rates in the exchange offices don't differ much. You can pay by card almost everywhere.
The United Arab Emirates is a destination that offers attractive package tours. A typical tour includes a direct charter flight, hotel accommodation and transfers to and from the airport, insurance and meals (your choice). The average tour for a week in 2021 costs 45-60 thousand rubles per adult. But the "hot tour" 1-7 days before the trip can be bought for 30-45 thousand rubles per person, or even cheaper. You can subscribe to the tours on our Telegram-channel.
Tours should be sought on the meta tour finders: Level.Travel, Travelata. If you are only planning a trip to Dubai, the tour will be more profitable than buying a ticket, hotel and insurance separately.
Entry rules and restrictions in the UAE
Need a PCR test in English, which must be done a maximum of 72 hours before departure (the time counts from the time the material is taken). Another test has to be done at the Dubai airport. Electronic certificates are not accepted. Children under the age of 12 do not need the test. In transit a PCR test may be required at the final destination.
Quarantine: In the hotel until the result of the test taken on arrival.
Insurance is compulsory. Also on arrival you may be checked for a return ticket.
Abu Dhabi Emirate is virtually closed for tourism (transit at the airport is possible), but Sharjah is open.
Russians can get a visa for 90 days upon arrival.
How much does it cost to get from Dubai airport to the city?
There are several ways to get from the airport to downtown Dubai:
Buses have routes to different parts of the city. It takes about an hour to get to the center, but there can be traffic jams. The ticket costs about 10 dirhams (167.4 ₽).
The subway can be reached more quickly, in about 45 minutes. For the trip to the center, the ticket will cost about 8 dirhams (₽167.4).
A cab to downtown Dubai will cost an average of 70 dirhams (1,172.1 ₽). The price of landing at Dubai airport is 20-25 dirhams (while in the city – from 5 to 8).
Individual transfer (cost from 40 €) can be ordered at KiwiTaxi and Intui.Travel.
Important: look at what terminal you arrive at. There are three terminals at Dubai International Airport (DXB):
Terminal 3 . Let's start there. It's the most modern and comfortable, designed only for Emirates Airline aircraft.
Terminal 1. Most flights by other airlines (except low-cost airlines) arrive there. Terminals 1 and 3 are located next to each other and connected to the city by a subway line.
Terminal 2. Low-cost airlines (e.g. FlyDubai) arrive there. Terminal 2 is separated from the others by a runway. There is a shuttle between the terminals, which can only be accessed if you have a boarding pass to the terminal of departure or a hotel is booked at the terminal (you can make a fake reservation). The problem is that the shuttles go every 20-30 minutes, and it takes at least 10-15 minutes to get there. So make sure that the transfer does not go through different terminals (and if it does, you should have at least 1.5-2 hours to spare). From the second terminal you can go to the city by bus or cab. The subway is a 20-minute walk along a road without a sidewalk. If you arrive only with hand luggage and in the evening, it is not difficult, but not the most pleasant walk.
How to get around the city?
How much does public transport cost?
Public transportation in Dubai includes subways, buses and streetcars. The price of a ticket depends on the type of fare and the distance.
The cheapest option is the NOL Red Ticket. The pass itself costs AED 2 (33.5 ₽). It costs AED 4 (67.0 ₽) for a trip within one zone, AED 6 (100.5 ₽) for two zones, AED 8.5 (142.3 ₽) for more zones. A 1-day pass costs 14 dirhams (234.4 ₽).
Those who plan to travel frequently by public transport should buy the NOL Silver Card. It costs 25 dirhams (418.6 ₽), of which 19 will be on the card. A trip within one zone costs AED 3 (50.2 ₽), within two zones it costs AED 5 (83.7 ₽), for more zones it costs AED 7.5 (125.6 ₽). Current prices can be viewed at nol.ae.
The NOL Gold Card costs the same as the Silver Card but doubles the cost. This pass gives you the right to travel in "gold cars" subway and streetcar. They are usually crowded and there is always a seat available.
The NOL card can be purchased at some of the ticket machines in subway stations (at the information desk) or at the windows. Click here for more information.
The NOL card can be redeemed for a bus into Abu Dhabi (costs Dh25, departing from Ibn Batuta and Al Ghubaiba stations) or for food at the Zoom vending machines located outside the Metro stations.
Dubai Metro Map
How much does a cab cost?
The price to board a Dubai cab is Dhs 5-8 (1.6-133.9 ₽) and the price per kilometer is Dhs 1.82 (30.5 ₽). Uber in Dubai is slightly cheaper than a regular cab, but also not very popular – few cars. The local app Careem is popular.
For example, the beige National Taxi cabs cost as follows:
ride start – 5 dirhams (5.5 at night). A cab that is booked in advance will ALWAYS cost 2-3 Dirham more. The easiest way is to catch one on the street – there are lots of cabs, it won't take more than 1-2 minutes.
1 kilometer ride is AED 1.82.
1 minute of waiting (in traffic and at the traffic lights) – 0,5 dirham. Minimal price of the trip is AED 12.
A total trip of 5 kilometers will cost you about 16 dirhams (267.9 ₽).
The minimum price for a ride is 12 dirhams (₽200.9).
You can calculate the approximate cost of the trip on this website – dubaitaxi.ae/en/Pages/TaxiFareCalculator
How much does gas and parking cost?
A liter of gasoline in Dubai costs on average just under 2 dirhams (33.5 ₽). An hour of paid parking in central Dubai will cost about 3 dirhams (50.2 ₽).
Electric scooter rentals in Dubai
In Dubai, you can easily rent an electric scooter through an app. For example, the Qwikly service will allow you to use a scooter for only 3 dirhams (50.2 ₽), and each minute of the ride will cost 0.5 dirham. An alternative option is the kiwiride.
How much does it cost to live in Dubai?
Hotels : Prices for double rooms in hotels in Dubai start at 20-25€ (e.g. Dream Palace Hotel or Mayfair Hotel). Options with good ratings will cost from 30-35€ (eg Premier Inn Dubai Al Jaddaf or Citymax Hotel). Rooms in three-star hotels are also available at such prices. Rooms at four-star hotels cost from €35-45 (e.g. Emirates Concorde Hotel, Raviz Center Point Hotel or Grand Central Hotel) and rooms at five-star hotels start at €50-60 (e.g. The Canvas Hotel, Jood Palace Hotel or Carlton Palace Hotel). During high season, prices go up 15 to 30€ and good
Hostels: Hostels offer beds in shared rooms for 16-20€ in various parts of the city (e.g. BackPacker Hostel), most hostels do not have double rooms and if they do, the prices are comparable to hotel rooms.
In the cost of hotels and hostels in the reservation systems usually do not include taxes. Usually it's a 15% tax + 10% Swiss surcharge and tourist tax. Be careful! It looks like this (Bookings booking page):
Dubai has been a tax-free paradise in recent years. But as of January 1, 2018, the country introduced VAT, which is 5%. Many purchases are listed without the price of this tax. You can often expect a 5% price increase when you pay.
AirBnb : You can find an apartment for 35-45 €, but there are not many options at that price, so it is worth booking in advance. For around 30€ there is a wide range of rooms in Dubai, however cheaper options are rare.
So, a good budget accommodation in Dubai will cost you 14-20 € per night per person.
How much does it cost to connect?
Both mobile operators offer travel sim cards. Etisalat has two options available for AED 100 (1,674.4 ₽): a package with calls and texts and 500 MB of internet or a package with 1GB. The tourist option from Du costs AED 55 (₽920.9) and includes 200 MB of Internet.
So it is easier and cheaper to buy a roaming plan of a Russian operator.
Most malls and other public places (City Walk) have WiFi, but its speed leaves much to be desired. And the public Wifi UAE network can be connected only if you have a local number.
How much does it cost to eat in restaurants?
Lunch at a cheap cafe: from 30 dirhams (502.3 ₽). Special Ostadi, for example.
Fast food :

Shawarma or falafel – 8 dirham (₽ 133.9).

A cup of cappuccino – 12 dirham (₽ 200.9). For example, The Espresso Lab or Double B (a bit more expensive, but tasty specialty coffee and Russian-speaking staff).
A glass of beer – AED 40 (₽669.7).

How much does groceries cost in the supermarket?

Prices in Dubai for groceries in the supermarket are 60% higher than in Moscow. Almost all categories of goods are more expensive. In order to save money, it is worth to go shopping in the supermarkets Choitrams or Carrefour.

How much does entertainment cost?

There is a free tour in Dubai by Airotour, but a reservation is required to visit. A city tour will cost about 25-30€. A Russian-speaking guide can be found on Tripster or Sputnik8.

offers a 24-hour hop-on-hop-off bus ticket for 58 €. BigBus has combined tickets: e.g. hop-on-hop-off bus, night tour and cruise for 60.8 € (10% discount when ordering online).

Prices for cruises start at €35 and a desert safari will cost at least €75.
The price for a desert safari starts at 130 Euros
Climb to the observation deck of the Burj Khalifa, the tallest building in the world, you can start at 135 dirhams. Tickets can be purchased at the official website – burjkhalifa.ae
In Dubai Mall you can go to the Aquarium. It is considered one of the best in the world. The ticket costs 210 dirhams.
The GoDubai card for 2 days costs AED 840 (14,064.6 ₽), there are also options for 3,4,5 or 7 days. The cost of the card includes tickets to major attractions, tours, cruises, hop-on-hop-off bus and other tourist attractions.
How much do souvenirs cost?
On average, prices for souvenirs in Dubai are as follows:
Basic souvenirs: postcard €0.6, magnet €1.7, T-shirt €5;
Prices for special items: water pipes from 10 €, spices from 7 €, a turkey from 5 €;
The flea market near Zabil Park (Al Jafiliya Metro Station) is an excellent place to buy unusual items. Open daily from 8am.
Tax Free Dubai
Every tourist leaving the UAE is entitled to a refund of 5% of the tax (VAT). However, in order to qualify for a tax free, the traveler must purchase goods worth 250 dirhams. Details on the rules of tax free refund can be found here.
Museums and attractions in Dubai
Entrance fees to museums are inexpensive, but there are not many museums in Dubai. You can visit the City Museum in Al Fahidi Fort for 3 dirhams (50.2 ₽), the Archaeological Museum for 20 dirhams (334.9 ₽), the Etihad Museum of Emirate History for 25 dirhams (418.6 ₽).
A visit to the Green Planet Zoological Park costs 95 dirhams (1,590.6 ₽) and the aquariums 100 dirhams (1,674.4 ₽).
Tickets to water parks cost on average 270 dirhams (4,520.8 ₽), and amusement parks like IMG Worlds of Adventure cost 300 dirhams (5,023.1 ₽).
The cost of visiting the Burj Khalifa Skyscraper observation deck depends on the height, time of visit and how you purchase your ticket. For example, you can visit the base level in the morning and evening for Dhs 125 (2,092.9 ₽), in the afternoon for Dhs 200 (3,348.7 ₽), and if you buy a ticket on the spot for Dhs 300 (5,023.1 ₽).
How much more expensive is it in Dubai compared to Moscow?
Holiday prices in Dubai are higher than in Moscow. Groceries in supermarkets cost up to ~60%, and food in cafes and restaurants by ~27%. Read more at numbeo.com.
When to come to Dubai?
It is worth coming to Dubai for 3-4 days. In summer the city is very hot, so you should come from October to May. During the same period, the main events and festivals take place. In winter, there is a shopping festival, during this period, because of the sales significantly increases the flow of tourists. In early December, there is an international film festival DIFF. Calendar of events can be found on the tourist portal.
Many travel agencies offer our tourists huge discounts during the month of Ramadan. In the UAE during this time, "dead season", as all the entertainment facilities are closed, and even most stores do not work until sunset. During this period, tourists in the UAE have absolutely nothing to do but lie in the sun and walk around the empty shopping malls.
How much does a vacation in Dubai cost
Dubai is expensive. We find out how much money you need for a vacation in 2022. The prices for tours, tickets, hotels, food, transportation, tours. We calculate the cost of the trip for a week. We find out how to go better: by tour or on their own.
Exchange rate: 1 UAE dirham (AED) ≈ 15 RUB.
Contents:
Ticket prices
Tickets to the Emirates have traditionally been cheap, but since March 2022 the prices have increased dramatically. There are several reasons for this. First, the number of airlines that fly there from Russia has decreased. Secondly, the number of cities connected to Dubai by direct flights has fallen. Thirdly, the destination has become very busy, because many people fly through the UAE to other countries.
Usually, the cost of tickets to Dubai directly depends on the season: in winter and summer – cheaper, in spring and autumn – more expensive. However in 2022 the time of buying tickets is more important: the further away is the departure date, the more reasonable prices are. It is advisable to buy tickets at least 2-3 months in advance, or even earlier, otherwise you will be overpaid.
Look for cheap tickets on Aviasales.
Let's see how much tickets to Dubai in 2022 (round trip) cost if you buy them in advance:
19,000 ₽ for a direct flight from Sochi and Mineralnye Vody,
20,000 ₽ for a connecting flight from Moscow to Amman or Doha,
35,000 ₽ for tickets from Moscow on a direct flight by low-cost carrier Flydubai,
40,000 ₽ for tickets from Moscow on a direct Emirates flight,
from 30,000 ₽ – tickets from Kazan, Yekaterinburg, Makhachkala, St. Petersburg.
Tickets for a direct flight from Moscow used to cost 15,000 ₽. And the tickets at the action or on a charter you could get even cheaper.
How to fly to Dubai for free . It's real if you show a little ingenuity. The trick is not to fly to Dubai specifically, but to combine a visit there with a trip to another country. Many countries in Asia and Africa (Thailand, Vietnam, Maldives, etc.) from Russia are flown by Etihad and Emiarates with connections in the UAE. When you want to go to these countries, you can buy the tickets with a stopover in the Emirates for several days. You don't have to pay extra, and they even give you a free airport transfer. We flew to Dubai for free this way. Read more about this method.
Hotel prices
How much a trip to Dubai will cost, primarily depends on the level of the hotel and the season.
When expensive. October-November and March-April are the high season in the Emirates. At this time it is neither cold nor hot: the temperature is about +30°C. During these months, prices for holidays in Dubai are the highest.
When it's cheap. From May to September to go on vacation in Dubai is significantly cheaper, but the heat in the +50 ° C can not withstand everyone. If you want to save money and not to boil in the sun, you should go on vacation in the winter. It's +25°C during the day, it's quite fresh and warm, but not everyone swims in the sea in winter – the water temperature is +19°C. We flew to Dubai in early December – for us it's the perfect time.
Hotel prices in Dubai in 2022 (room rates for two people, excluding the hostel, are shown):
| | |
| --- | --- |
| Hostel shared room. | From ₽600 per person. |
| Cheapest hotel with bad reviews and in the middle of nowhere | From 2,000 ₽ |
| A decent hotel with a rating of 8 or higher (we recommend Orient Guest House in Old Town – we stayed there) | From 4,000 ₽ |
| Aparthotels | from ₽3,000 |
| 5 star hotel | From 7,000 ₽ |
| Jumeirah Beach apartment complex | from ₽9,500 |
| Hotel on 1 line | from 9,000 ₽ |
| Hotel Sail 5* (Burj al Arab) | from ₽ 130,000 |
| Hotel Armani 5* (Burj Khalifa) | From 40,000 ₽ |
Where to book:
– hotels with cashback, you can pay with your Russian card. – Search hotels with discounts and compare prices in different booking systems.
Popular hotels in Dubai with high ratings and excellent reviews (price per room per night for two people):
– from 8000 ₽ – from 65000 ₽ – from 21000 ₽ – from 55000 ₽ – from 63000 ₽.
Tips for choosing a hotel:
Choose a hotel based on reviews and with a score of at least 8.
Look at the map to see where the hotel is located: is it far from the subway, beach, cafes?
Book a hotel with breakfast – you can save time and money.
Choose the right area of the city. For example, the cheap hotels and cafes are in Deira and Bur Dubai. Learn how to choose a neighborhood in Dubai.
Check out inexpensive apartments in Dubai for short vacation rentals.
The famous Sail Hotel in Dubai is one of the most expensive and luxurious hotels in the world. Photo: jovannig / Depositphotos.com. Orient Guest House is our hotel in Dubai. Authentic, located in the beautiful and quiet Old City, hearty breakfasts and great staff. Recommended!
Tour Prices
Look for the best value tours on Level.Travel and Travellata – they will find the best deals among different tour operators. For years we've been buying tours only there, because it's more convenient and cheaper than in travel agencies. Learn 7 ways to buy tours cheaper.
The cost of tours to Dubai from Moscow and St. Petersburg after February 2022 has increased dramatically. If before a vacation for two in a 3-4* hotel in Dubai was worth from 40 thousand rubles for 7 nights, now the prices start from 90 thousand . Stay for 11 nights cost from 115 thousand.
The low season tours are 15-20% cheaper than in the fall or spring.
The cheapest stays usually include accommodation in mediocre hotels and far from the beach (5-10 km) . There are even hotels 30 km away from the beach! However, many hotels arrange a free shuttle to the beach. Tours in a hotel closer to the beach are at least 20-30% more expensive.
A week of rest in high season in a simple five-star hotel in Dubai will cost from 120 thousand for two.
The "all inclusive" tours to a five star hotel in the high season cost from 200 thousand rubles for two persons.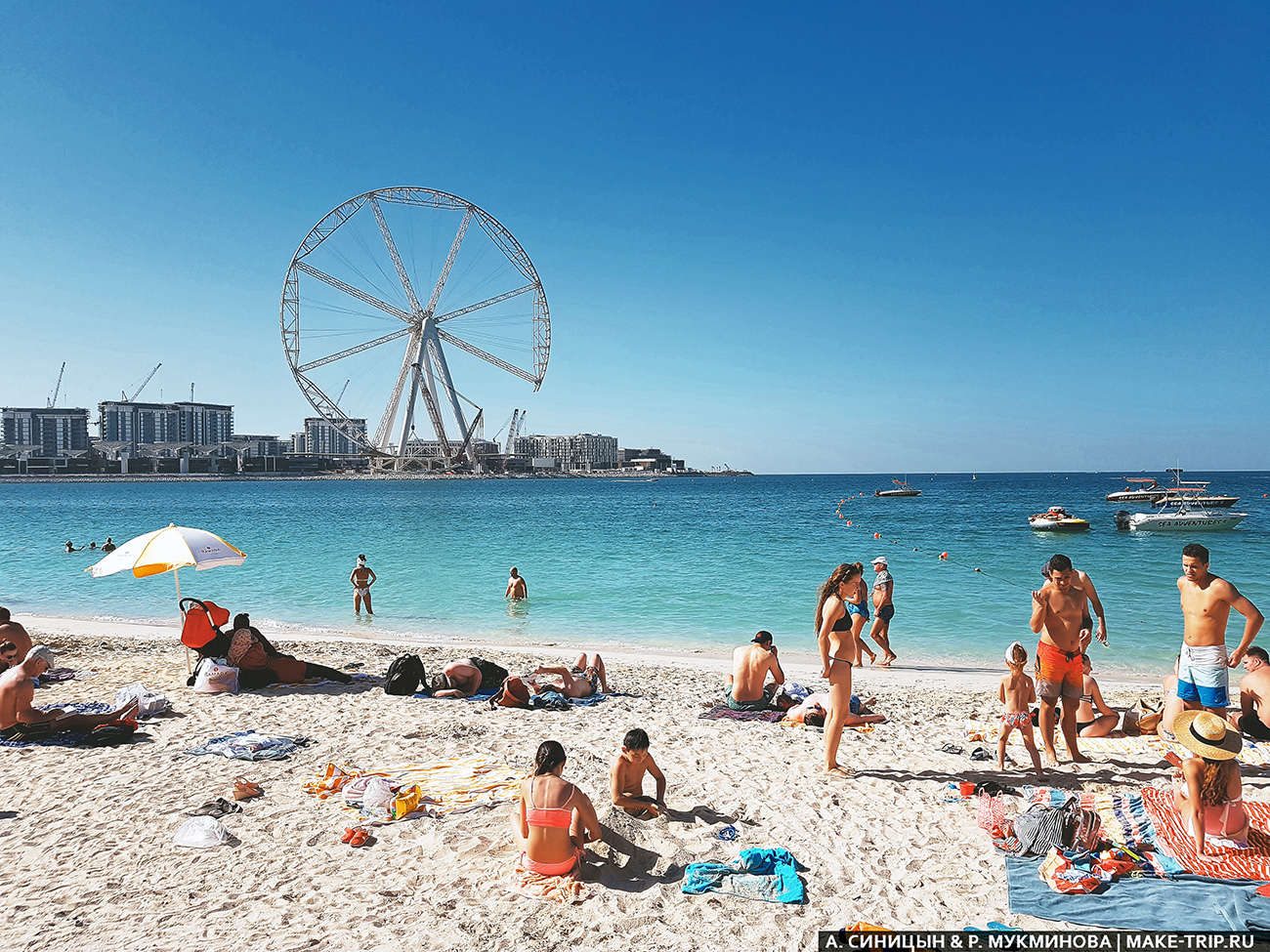 The beach in the area of Dubai Marina in December.
Food prices
How much money will be spent during the holiday in Dubai on food, depends only on your gastronomic preferences and the thickness of your wallet. In the Emirates you will find a restaurant of any cuisine and any price category. You can eat Arabic shawarma or a meal at a Michelin restaurant – the choice is yours.
A hearty meal for two will cost about 50-60 AED (≈$15) at Indian and other Asian places. There are a lot of such restaurants in the Bur Dubai and Deira areas. To have breakfast in an inexpensive cafe is possible for 15-20 dirhams per person (≈5 $).
In restaurants breakfast will cost about 50 AED and lunch or dinner about 100-200 AED per person. The cost of drinks: cappuccino – 15 AED, fresh juice – 20 AED, imported beer (0.33 liters) – 40 AED.
And now let's see what the prices for products in stores in Dubai. Most products in the UAE are imported, so they are not cheap. Here are examples:
milk (1 liter) – 5.5 AED,
a loaf of white bread (500 grams) – 4,6 AED,
eggs (12 eggs) – 11 AED,
chicken breasts (1 kg) – 26 AED,
tomatoes (1 kg) – 7 AED,
potatoes (1 kg) – 4,5 AED
onions (1 kg) – 4 AED
cucumbers (1 kg) – 13 AED,
apples (1 kg) – 9 AED,
oranges (1 kg) – 8 AED,
watermelon (1 kg) – 6 AED.
In large supermarkets you can buy ready-made food: salads, meat, desserts, juice. This meal for two costs 40-50 dirhams, but it's not easy to do, because it's hard to find a big supermarket in Dubai, and it's uncomfortable to eat on the street.
Check out a good overview of the prices of groceries, street food and food at restaurants in Dubai: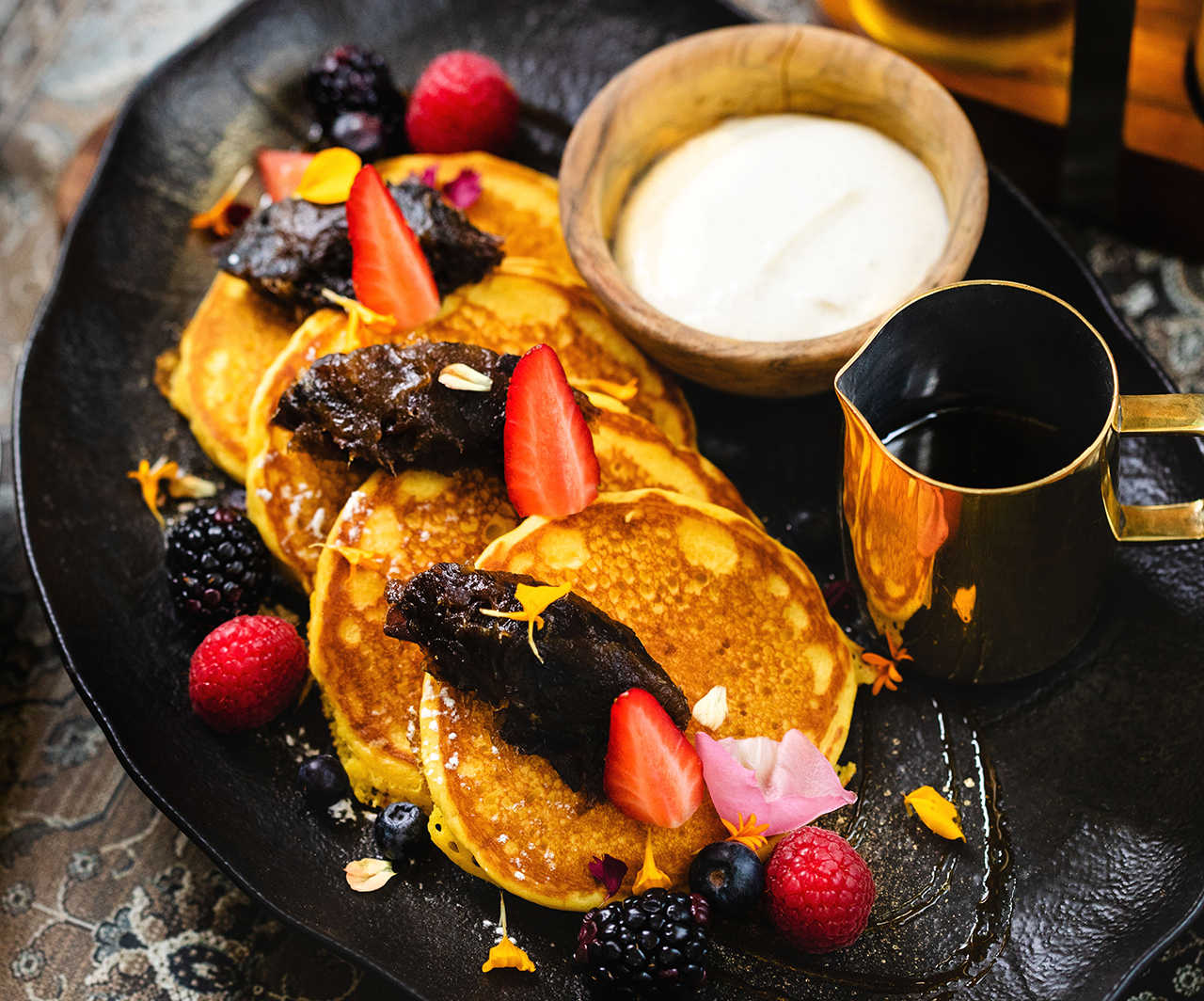 Chebab (unleavened pancakes with sweet syrup or cheese) for breakfast. Photo: unsplash.com / @eilivaceron.
Attractions and entertainment
How much your holiday in Dubai will end up costing depends heavily on your level of interest in sights and entertainment, as they are quite expensive here. However, there are plenty of free places and inexpensive attractions in the emirate: the singing fountain, the Jumeirah Mosque, the Dubai Mall Aquarium (partly), the Old City, the gold and spice markets, beaches, the pink flamingo park and other places.
Download a map of Dubai – our guide to the best sights with descriptions, photos and tips. The map costs ₽300 and will save you a lot of time. It is installed on any smartphone and works without internet.
Prices for popular attractions in Dubai:
Burj Khalifa Lookout – adult ticket 135 AED, kids 100 AED (read our tips on how to save on buying tickets at the link).
Safari Park – from 20 AED for children, from 50 AED for adults.
Dubai Miracle Garden flower park – 30 AED.
Wild Wadi Water Park – adult ticket 275 AED, children 220 AED.
In Dubai, a large selection of exciting excursions. Look for them on the service Tripster – thanks to reviews of tourists you can easily find the best tour, plus there are often good discounts.
How much do excursions in Dubai:
– 300$. – 300$. – 250$. – 110$. – 280$.
Prices for group tours will be lower, but it is easier for a company of three or more people to book an individual tour.
Dubai Mall. The famous aquarium can be seen for free, but only partially, from the outside. The Aquarium at the Dubai Mall. Entrance to this tunnel is paid. Photo: Cazz / flickr.com. Jeep safari into the desert. It is difficult to plan such a trip on your own, it is easier to buy a tour. Photo: tesKing (Italy) / flickr.com.
Transportation in Dubai
Public transportation and cabs in Dubai are cheap.
If you're too lazy to figure out the system of routes and fares, opt for a cab . For such a rich city it is cheap – a trip costs on average 10-20 dirhams. For a family or company a cab ride will be even cheaper than taking the bus or the metro.
However, even for the laziest of people I still recommend at least once a ride on the ultra-modern metro and streetcars. The subway trains run without a driver and are controlled remotely. The stations are interesting and beautifully decorated. Also take a ride on the national boat, the Abrahas, along Dubai Creek. The fare is only 1 dirham.
Here's how much it costs to travel by public transport in Dubai :
Cab: boarding – 5 dirhams, a kilometer – from 1.7.
Subway and streetcar: from 4 dirhams for a ride, from 20 for a pass.
Abras: from AED 1, water buses from AED 2.
Individual transfers from the airport by Kiwi Taxi – from ₽ 4,500 for the whole car.
There is no cash fare available but you can buy your Nol Card from special vending machines. The cards need to be attached at the entrance and exit. Dubai transport system consists of 5 zones, the fare depends on the number of zones you passed through. Usually tourists only drive within 1 or 2 zones. Read more about transportation in Dubai.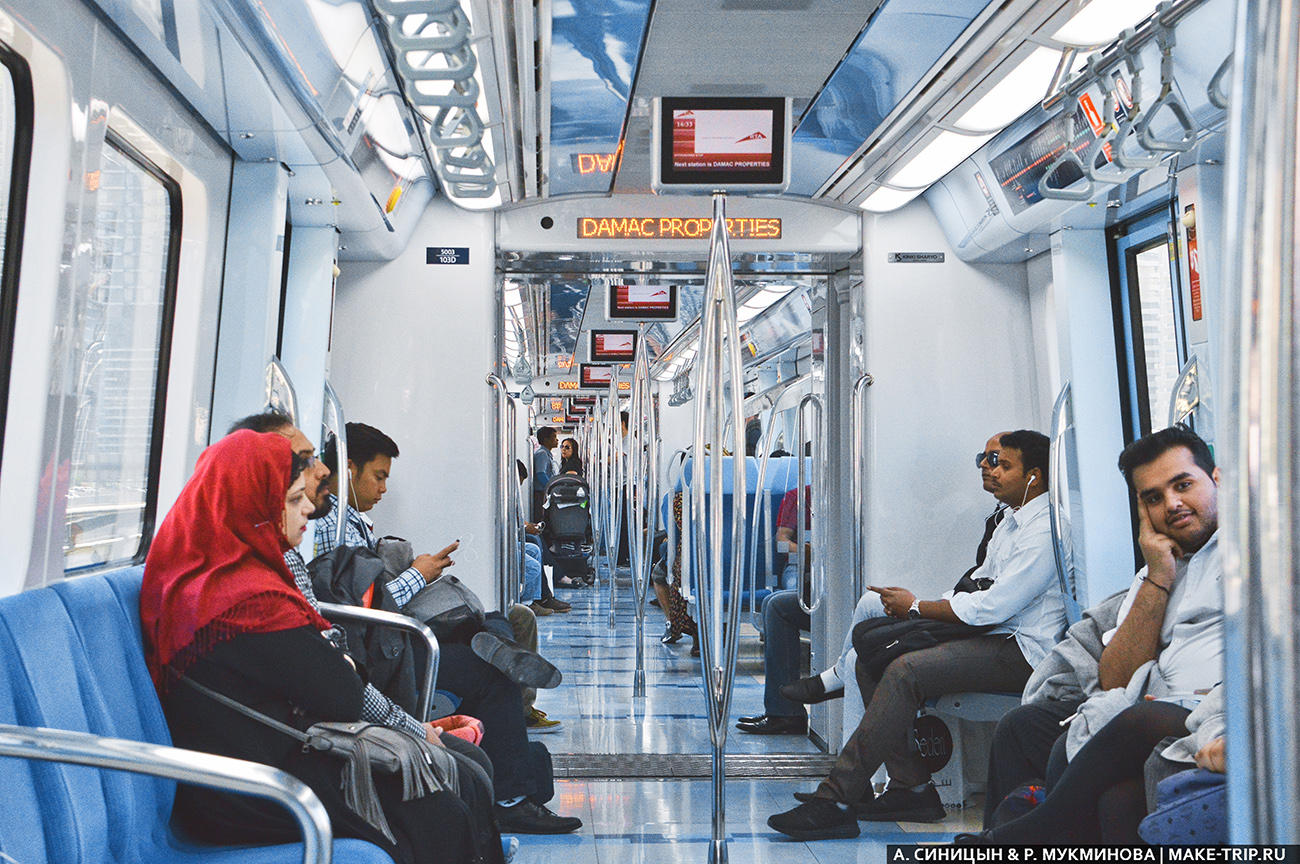 In the Dubai Metro car. Pink cars are only for women and children, the rest are mixed.
How much does it cost to go to Dubai
Let's calculate the approximate cost of a week trip for two to Dubai in 2022. Everyone has a different budget and style of vacation, so we have described two options: comfort and economy.
Comfort vacation
Tickets from Moscow on a direct flight – 80000 rubles for two people.
Accommodation in a good hotel 4-5 stars – 10000 rubles for two per day, that is 70,000 rubles for a week.
Meals in cafes and restaurants for two – about 300AD per day, or about 550$ for the week.
Metro and cab – about 200 dirhams ($ 55) for two people for 7 days.
Sightseeing and a couple of excursions for two is $400.
So, how much does a comfortable vacation in Dubai cost? The cost of a week's trip will be about 200 thousand rubles for two .
Economy vacation
Tickets from Moscow with a transfer – 40000 rubles for two people.
Accommodation in a hostel – 1200 rubles per night for two people, that is 8400 rubles for a week.
Meals for two people – about 100 dirhams a day, or 700 dirhams ($200) a week.
Metro – about 100 dirhams ($30) for two people for 7 days.
Seeing only free sights.
The total cost of a very budget holiday in Dubai – about 60-65 thousand rubles for two people for a week. But it is better not to save so tightly, choose a better hotel and visit a couple of excursions or pay attractions. And for a full meal the mentioned 100 dirhams a day will be quite enough. See how much money you should bring to Dubai.
Our costs
I will calculate the budget of our trip to Dubai for two for 4 days. We had an active program – we saw the city and the sights, we were not interested in beach vacation. We chose a good hotel with hearty breakfasts, ate in Indian restaurants.
We spent: zero for airfare and transfer, 16000 rubles for hotel, 5500 rubles for food, 1700 rubles for transportation, 6000 rubles for sightseeing. In the end it cost us less than 30 thousand rubles for two people to go on vacation to Dubai.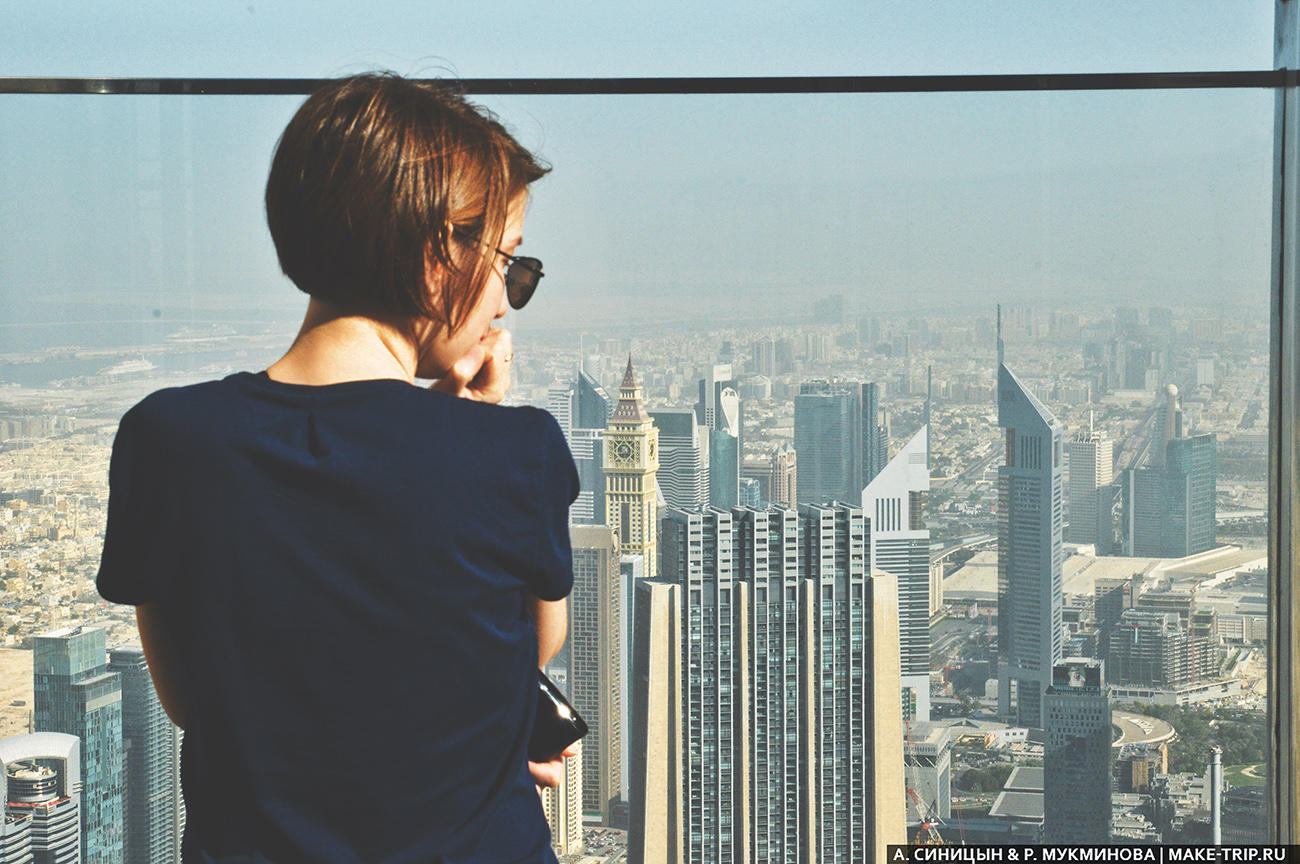 The observation deck at Burj Khalifa, 124th floor of the skyscraper. From paid attractions in Dubai we went only to the observation deck, the Aquarium and the zoo with a combo-ticket for 200 dirhams per person.
How to rest in Dubai: on your own or by tour
If you want to go to Dubai as cheaply as possible, you need to go on your own. So you can choose the most inexpensive hotel or hostel, which are usually not available from tour operators.
In other cases, the cost of recreation on tour and independent are comparable. But in the end it all depends on what is cheaper specifically on the dates you want: a ticket or airfare. Often just the tickets alone are more expensive than the tour, which in addition to the flight, includes accommodation, transfers, insurance and possibly even meals. So I advise you to compare prices for tours and tickets for the dates of your trip. This is especially true in 2022, when the travel market is feverish.