How much does it cost to vacation in Sochi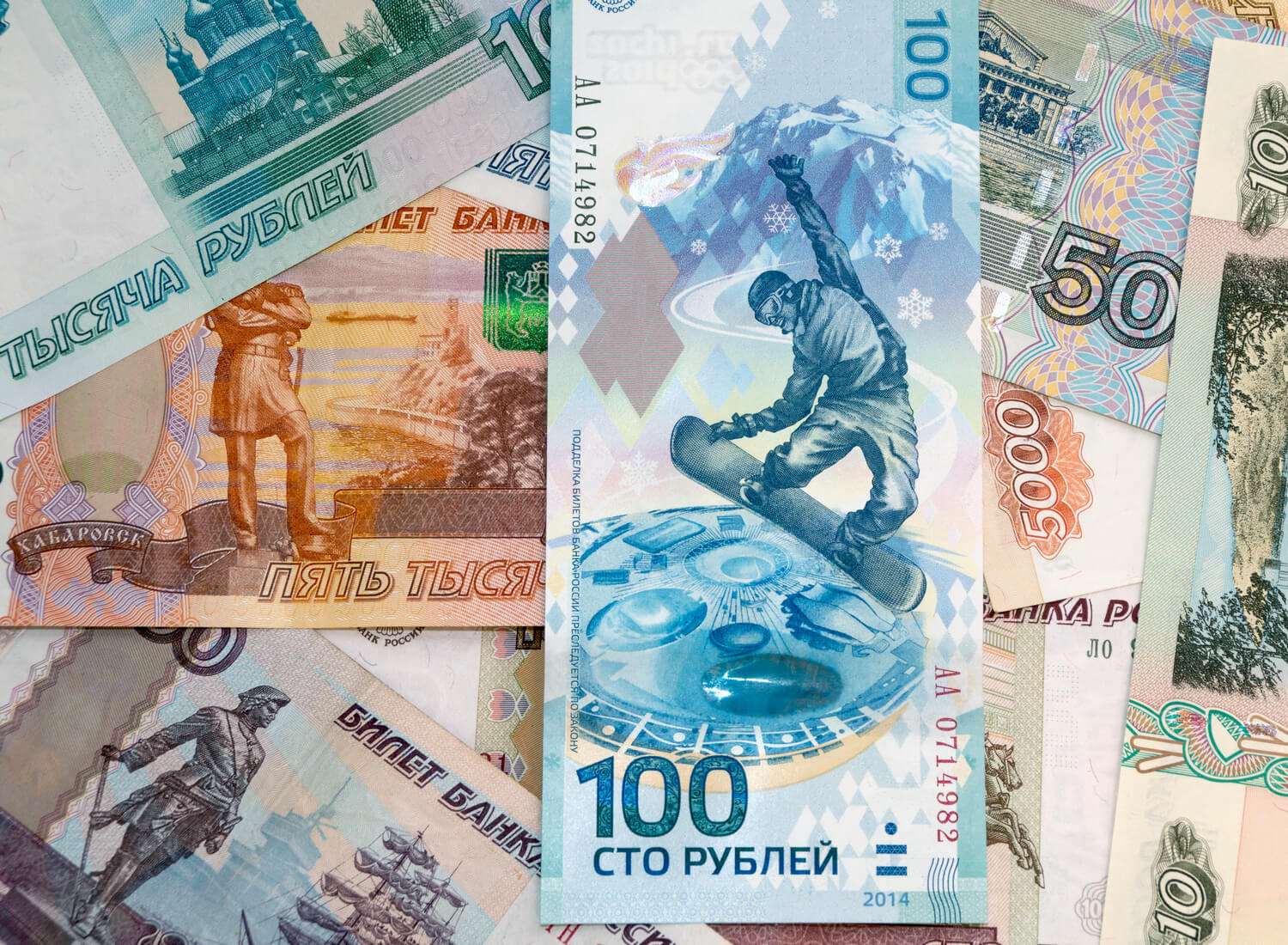 Sochi – is it expensive or cheap? Let's find out! We will tell you about the prices at the resort and calculate the cost of the trip for a week. Find out how much money to take on vacation in Sochi in 2022.
Content:
The cost of tickets to Sochi.
2,400 ₽ – that's how much a one-way air ticket from Moscow to Sochi costs in 2022, but a round-trip flight will cost twice as much. But in summer, a round trip flight back and forth will cost at least 7,500 ₽. Among all resorts in Russia, the cheapest tickets are usually in Sochi. Inexpensive flights are available from many cities in Russia. Buy tickets in advance! Look for them on Aviasales. Find out 15 ways to buy tickets cheaper.
3,000 ₽ is the cost of a train ticket from Moscow to Sochi in a coach or in the top compartment. But a trip in a luxury car will cost 17,000 ₽ one way. I advise looking for train tickets on Yandex.Travel and Tutu.ru. The latter has a handy site and has real reviews of all trains and carriages, so it will be easy for you to choose the best one.
Sochi delights with almost Mediterranean scenery. This is what almost all the beaches in the Imereti Bay look like.
Let's see how much a trip to Sochi cost under this scenario: a week of rest, two people, flying from Moscow. Be warned right away, the prices in the south of Russia are heavily inflated: vacationing in Turkey is much cheaper.
For example in the low season with accommodation in a simple guesthouse in Adler or in the complex "Velvet Seasons". In July and August a similar vacation will cost from 30 thousand rubles.
A 50,000 ₽ trip to a decent four-star hotel in Adler, Imeretinka and Sochi with a high rating. Summer price tag on similar tours starts at 70,000 rubles.
90 000 ₽ is the price for a tour to the Radisson Blu Resort 5* during the low season, and in the summer it starts at 125 thousand.
500 000 ₽ – the cost of a tour to the "Rodina Grand Hotel and Spa" 5*. And this is not the limit: vacation in a semi-luxury will cost from 800 thousand. But the prices for tours in low and high season almost do not change.
Look for bargain tours on Travelate and Level.Travel – they compare prices of all tour operators, they are convenient and reliable online stores, where we buy our own tours. Learn how to buy tours cheaper.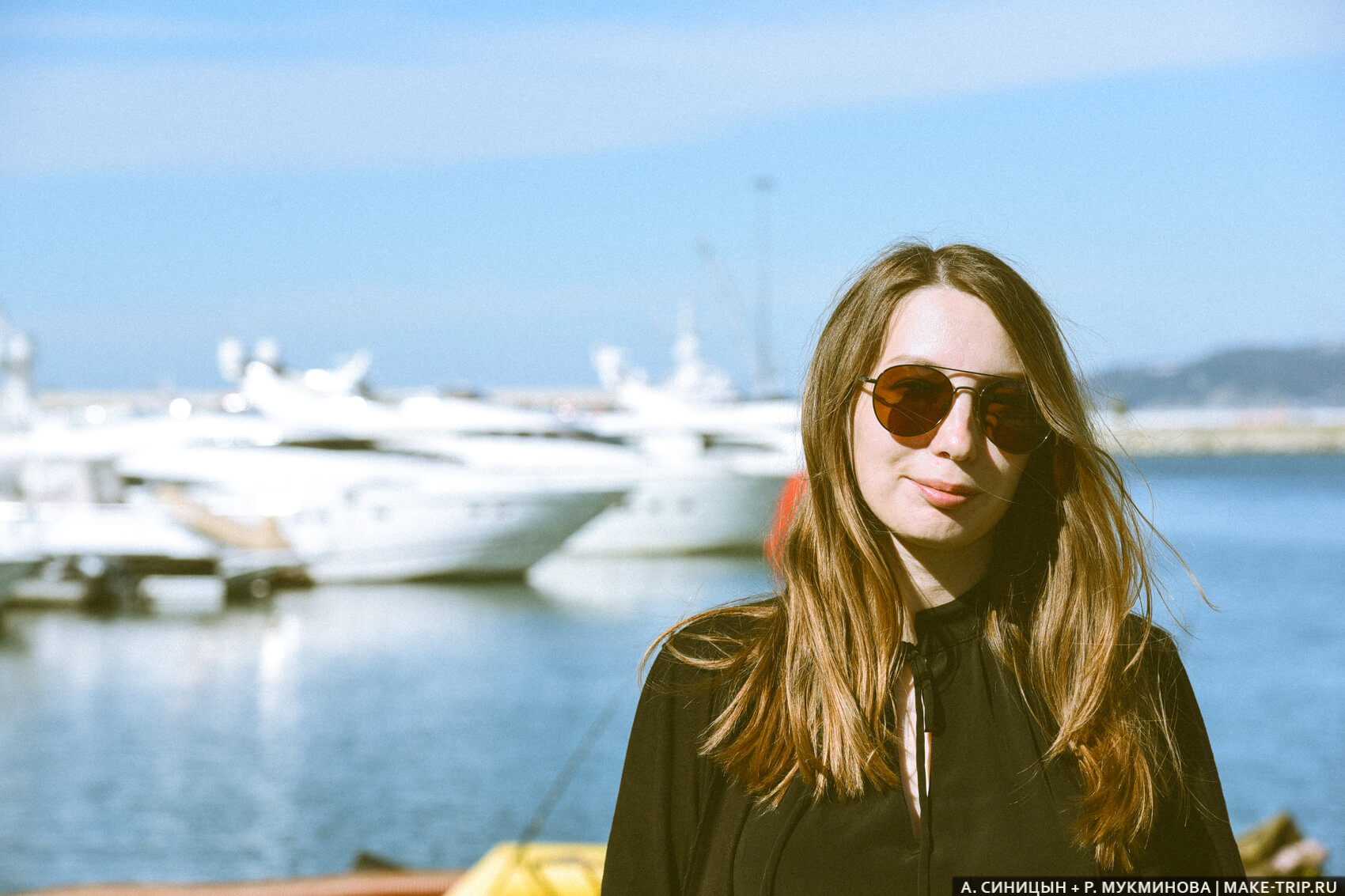 Renata at the seaport of Sochi.
Hotels and Apartments
In summer, hotels and private sector in Sochi are one and a half to two times more expensive than in other resorts of Krasnodar Region. The highest prices in hotels in the city center and by the sea. Personally, we come to Sochi to rest at the end of the Velvet season, when the weather is pleasant, there are far fewer people and prices are much lower. Learn about 10 ways to book a cheaper hotel.
500 ₽ – for this price you can get a double room in guesthouses in small settlements of Big Sochi (Vardane, Loo) even at the height of the summer season. Of course, the conditions will be utterly Spartan.
1,400 ₽ – that's how much we paid for staying at the famous "Sochi Park Hotel" 3* in Imeretinka at the end of the Velvet season. In summer the price for the same room is 11,000 ₽, which this hotel does not cost at all. Here it is, the Sochi seasonal price difference!
1,900 ₽ – that's what we paid for a double room at the wonderful Grace O'Dean Congress Hotel 3* when we vacationed in Sochi itself. In the summer, however, that room will cost ₽6,500.
It is hard to believe, but for this price you can get a great apartment in the center of Sochi even in summer! Admittedly, these options are sold out immediately, so usually renting a good apartment with a stylish renovation will cost between 5,000 and 8,000 ₽ per day. Check out 6 great apartments in the center of Sochi.
For example, in the summer you will have to pay about 7,000 ₽ for a double room in a nice three-star hotel in Sochi. Prices in the Imereti Bay and Sirius will be a little lower.
17,000 ₽ – that's how much a room for two with a sea view in the Mercure 4* hotel costs in the summer. Other decent hotels in Sochi and Imeretinka of the same stardom charge about the same. We can recommend Bridge Resort, Marina Yacht and Grace Horizon.
27,000 ₽ – the cost of a vacation in the summer of 2022 in the most prestigious hotels in Sochi. For example, that's how much a superior room with a sea view costs at the Radisson 5*. But in the "Arfa Park Hotel" 5 * now you can book a room in August almost twice cheaper.
Where better to look for accommodation:
– apartments, houses and villas. and Yandex – hotels and guest houses. – The private sector and hotels. .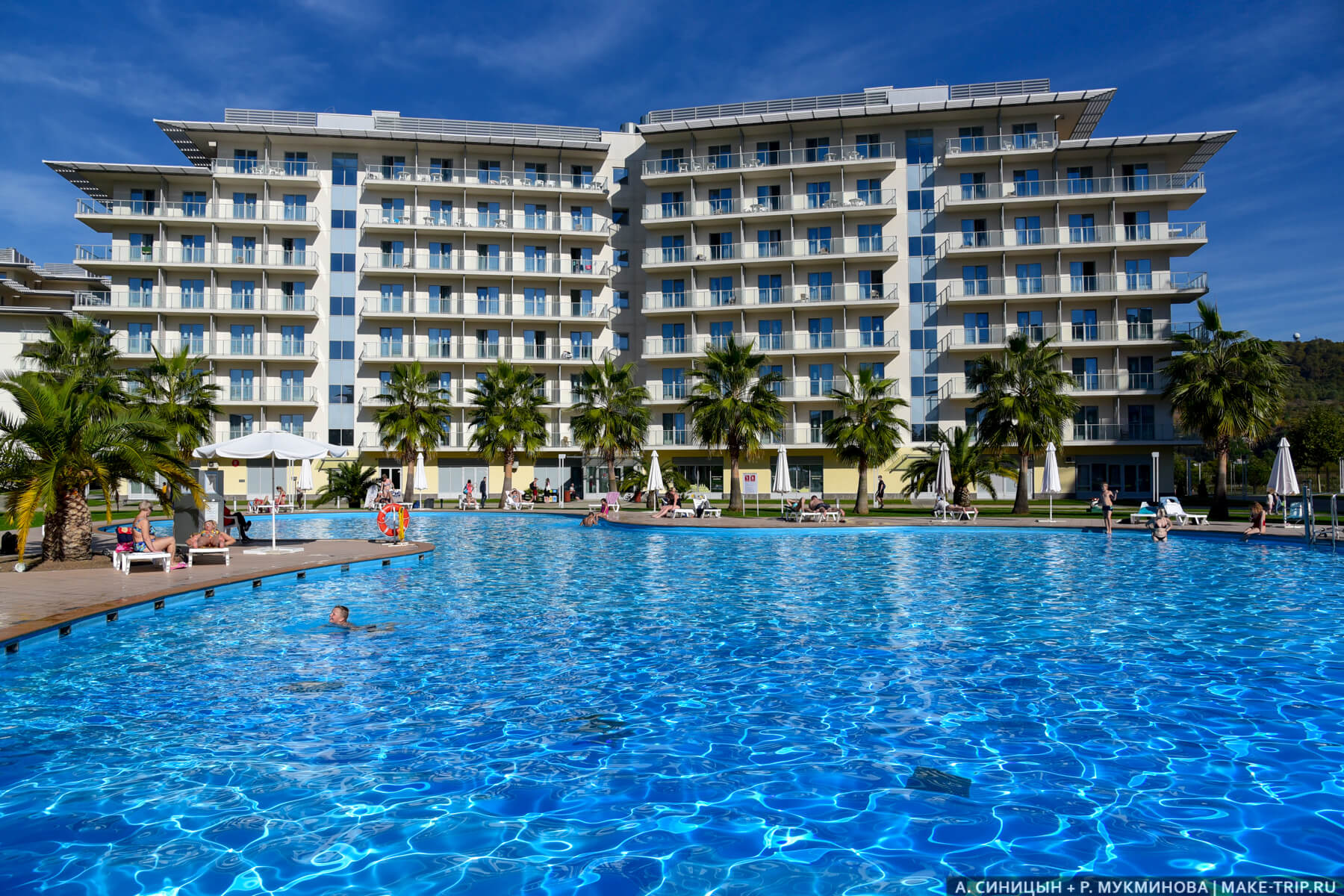 "Sochi Park Hotel" 3*, where we vacationed in the Imereti Bay (Sirius).
Food prices
In Central Sochi and Imereti Bay there is a wide choice of establishments, both in terms of cuisine and price level. The level of establishments in general is quite decent, much better than in many other resorts in the south of Russia, where there is a real problem with catering. There are a lot of excellent canteens with a diverse menu, pastry shops, inexpensive cafes and respectable restaurants – everyone will find a place for themselves. After hungry days at small resorts on the Black Sea, where we used to be served soup with flies and had only to eat churchella and supermarket products, in Sochi we finally had a chance to relax and have a delicious meal.
350 ₽ for a hearty meal for one person in a good canteen.
1,500 ₽ – a delicious meal overlooking the sea at restaurants on the beach.
3,000 ₽ – a dozen large oysters in restaurants.
15,000 ₽ – dinner at Sochi's most expensive restaurants: for example, at Red Fox or Seagull.
Oysters. Photo: Viviana Rishe / unsplash.com.
Rent a car
I advise to rent a car in Sochi and drive yourself through the most beautiful places. Rent a budget car from 1000 ₽ per day, a crossover from 2200 ₽, a luxury car from 3400 ₽, a BMW convertible from 6500 ₽. You'll love it for sure!
Excursions and activities.
We traveled around the south by car and visited all the most interesting places in Sochi on our own. But most tourists prefer to take excursions in Sochi. Here's how much popular excursions cost in 2022:
– 650 ₽ – 3900 ₽ – 3000 ₽ – 9700 ₽
Now let's take a look at ticket prices to popular attractions in Sochi for summer 2022.
200 ₽ is the entrance fee to most canyons and gorges in the Sochi Reserve. I especially recommend a trip to the beautiful canyon of the Psakho River.
300 ₽ is the price of a ticket to the Yew-Box Grove for an adult, and a children's ticket costs 150 ₽ (under 7 years old – free).
320 ₽ is the price of a single ticket to the Sochi Arboretum for adults, and admission for children is 150 ₽ (up to 7 years old – free).
1,000 ₽ – admission to the Riviera Dolphinarium, children from 5 to 11 years old are charged 800 ₽, under 5 years old – free.
1,500 ₽ is the average ticket price for the elevators in Krasnaya Polyana.
1,500 ₽ – one day ticket to Sochi Park, children are charged 1,300 ₽.
Such beauty can be seen in the canyon of the Psakho River. A roller coaster at Sochi Park.
How much is a week's vacation in Sochi in 2022?
27,800 ₽ – that is how much we spent for two people during eight days of vacationing in Sochi and Imeretinka at the end of the Velvet season. I did not include our expenses for the week in Krasnaya Polyana. We drove to the south from Perm and spent ₽44,000 in total on gasoline. Yes, I have a very voracious car! The cost of the vacation was so small because we chose the perfect season for a vacation, and we did not spend money on excursions and souvenirs. Our trip was full and active, the emphasis was on visiting the natural beauties of the region, and the rest of the time we walked around the resorts and sightseeing.
| | |
| --- | --- |
| 3 star hotels | 14 500 ₽ |
| Meals | 10 500 ₽ |
| Sightseeing | 2 000 ₽ |
| Cabs and buses | 800 ₽ |
Now let's see how much money you need to vacation in Sochi at the height of the 2022 summer season . Let's calculate the budget for a week trip from Moscow for two adults.
That's how much it will cost you to stay in the cheap areas of Sochi (Adler, Dagomys, Lazarevskoe, Loo) by plane (15,000 ₽) or in a decent hotel or guesthouse (25,000 ₽), eat in cafes and canteens (15,000 ₽), visit a few attractions (2,000 ₽), take buses and cabs (1,000 ₽) and buy inexpensive souvenirs (2,000 ₽).
110,000 ₽ – that's about how much a comfortable and carefree vacation in Sochi or Imereti Bay will cost if you arrive by plane (15,000 ₽), live in good three-star hotels or rent an apartment (45,000 ₽), eat in cafes and canteens (15,000 ₽), go a couple or three times to a good restaurant (10,000 ₽), and go on several rich excursions (15,000 ₽), visit attractions and theme parks (5,000 ₽), buy souvenirs (5,000 ₽).
300,000 ₽ is how much a luxury vacation in Sochi would cost if you fly Aeroflot (30000 ₽), live in five-star hotels (150,000 ₽), eat at the best restaurants (700,000 ₽), take only individual tours, go to theme parks several times (30000 ₽) and buy lots of souvenirs and gifts (20000 ₽).
Compare the cost of vacationing in Sochi with other resorts and countries:
Prices in Sochi
Central Sochi is one of the most expensive resorts at any time. And the increased demand in summer increases the prices many times over. Traditionally, the peak is in July and August, when the sea is as warm as possible. During this period, a lot of families with children, who rush to enjoy the sunny vacation before the school year.
Well, this year prices were affected by another unexpected circumstance. The growth of coronavirus illnesses in Turkey forced the Russian authorities again to stop flights with this country. Many of those who had planned a visit to the Turkish coast, but did not want to refuse a sea vacation, had to hurriedly change plans. And often their new choice fell on Sochi. This led to an increase in popularity of local hotels by about 40% and, unfortunately for tourists, a price increase. Hardly anyone doubted that this would happen. So how much does a vacation in Sochi cost now?
All beaches in Central Sochi are pebbly with coarse or fine pebbles. Photo: Vladimir VELENGURIN
The opportunity to have a vacation without going broke still exists. Experienced travelers advise to stop not in the hotels of the first coast line, and in guest houses or private sector. It will significantly save your costs, given that you can cook in your own kitchen.
Many interesting places you can get to on your own: transportation is excellent. Most beaches are free and well equipped.
We found out the prices for holidays in Sochi in 2022.
Three reasons why you should go to resorts in the Krasnodar region in winter
Winter holidays are a great chance to be with loved ones, relax, relieve stress. You can do it at the well-known resorts of the Krasnodar region. We found at least three good reasons why you should go to local resorts and recreation in the winter. At this time of year, the resort towns will appear in a new way, and the beginning of the new year will be remembered for a long time as a time spent with health benefits and interesting. Take a look at how and where you can rest in winter at the resorts of Krasnodar region.
Rent a hotel
Prices in Sochi for hotel rooms with breakfast in mid-June 2022 start from 3000 rubles per day for a standard double room. Of course, this is not the first coastline and, most likely, we are talking about mini-hotels "two stars". Their price usually does not change significantly throughout the summer. In addition, some tourists for several years in a row purposefully go to the same hotel – the owners are unlikely to offend the regular customers a significant increase in prices.
It is interesting that the price of this hotel segment has "tightened up" to the category of "three stars", where you can now easily find options for 3000-3500 rubles per night for a double room with breakfast, and there are options for the first line. Here, too, the price variation depending on the summer month is minimal. Moreover, if you are not interested in breakfast at the hotel, and you are willing to visit the nearest cafe daily (most likely, it will be located within ten meters from the entrance), the three-star accommodation is quite possible to find for 1800 – 2000 rubles per day for a standard double room.
Price increase in Sochi has strongly affected the segment of "four stars". If you went with open Turkey the prices for them started at 4000 rubles, now you will not find a double room for less than 7000 rubles during peak season (mid and late July) and with breakfast. Prices are not much different from July prices in other periods of summer.
Grand Hotel "Zhemchuzhina" is considered one of the best hotels in Sochi. Photo: Vladimir VELENGURIN
The options to stay in five-star hotels can already be counted on the fingers, despite the high price tag. The cheapest option is 22,000 rubles per night. But here, as usual, there is a very wide spread. For example, for two weeks in one of the premium hotels on the beach, with private beach and other VIP-attributes it is possible to lay out more than 3.2 million rubles.
But back to the accessible segment for most tourists. In addition to hotels, Sochi is literally stuffed with all kinds of guest houses of different levels of comfort. Walking down any street, sometimes it begins to seem that there are no guest houses here at all. There is no doubt that even if Turkey remains closed for the whole summer and everyone who was planning to go there take a flight to the Russian south, there will be enough space. And the prices in Sochi 2022, despite the fact that they have gone up, are quite affordable for most holidaymakers.
So, a double room with bathroom in the guest house in the middle – end of June is quite possible to find for 20000 rubles for 14 days. The price depends on the conditions and remoteness from the sea. Closer to the middle of the summer should be prepared for a budget of 25,000 rubles and above, which is approximately 1800 rubles per day. Moreover, these options are almost nonexistent.
Apartments in apartment buildings in Sochi are also in demand. For two weeks in early to mid-July you can rent an apartment in the house on the first line for 35000 rubles, a studio in a house of one of the residential complexes, but farther from the sea – for 33000 rubles. The prices for these options will not change much during the summer.
How to find a good realtor in Sochi
More than 86% of deals at the Domklik site are settled with the participation of a realtor. A client in this case saves 12 days of time, because all the hassle of paperwork and interacting with the bank is taken care of by a professional. Learn how to find a good realtor and where to read reviews about his work on real deals.