How much money to take to Cyprus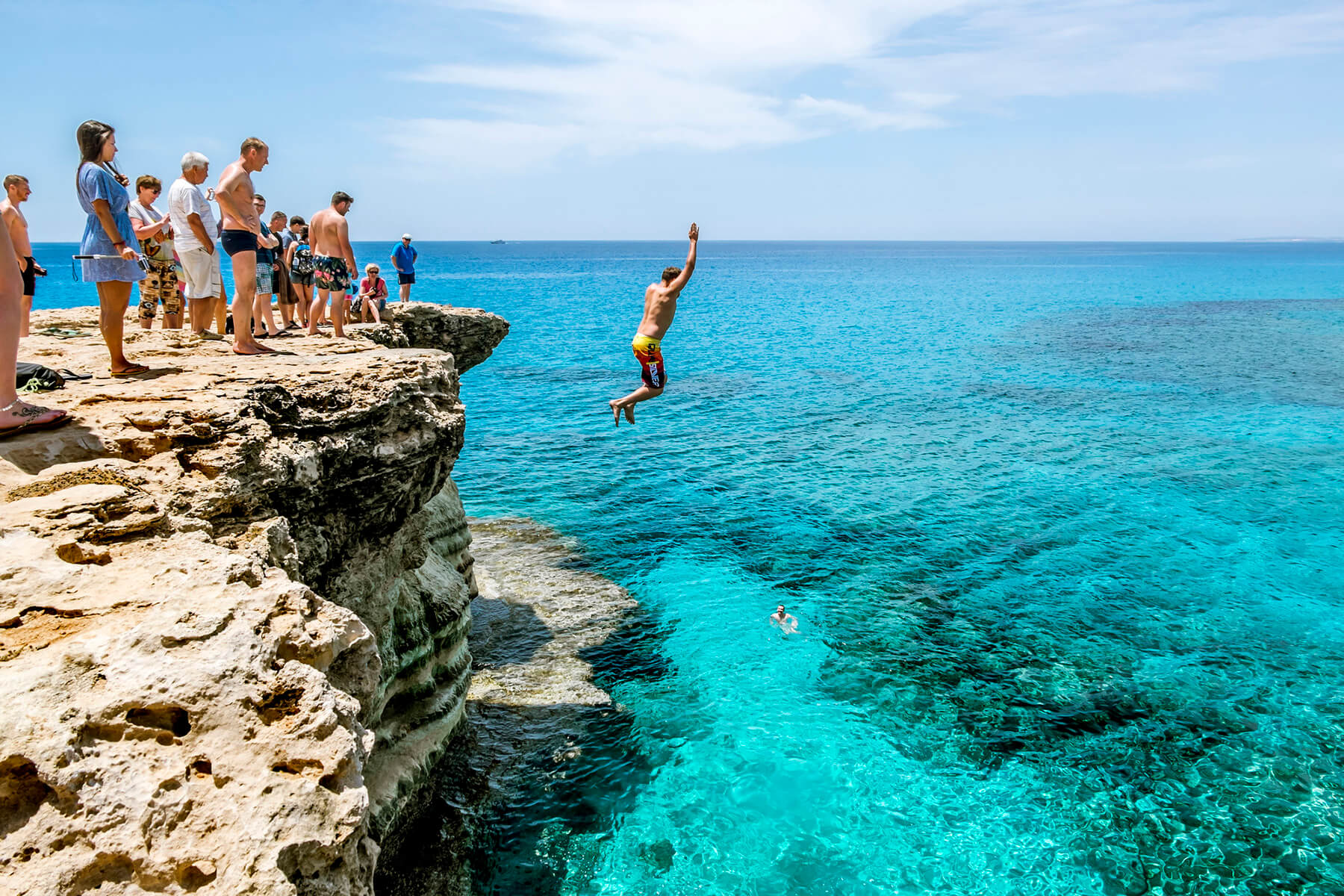 Figuring out how much money to take to Cyprus for a budget, comfortable and luxurious holiday in 2022. Current prices for food, tours, entertainment, shopping, souvenirs and transport in Cyprus. At the end, we calculate the costs per person for 10 days.
Contents:
Meals
In addition to paying for tickets and hotel, you need to decide how much money to take for food in Cyprus in 2022. If you will eat in inexpensive cafes and establishments for locals, you will spend 20-30 € per day for three meals a day. Local fast food will cost 2-4 €, and for a Big Mac, fries and coke at McDonald's you'll pay 5.5-5.7 €.
In the cafes and restaurants in Cyprus try the local specialties first – they're delicious! A portion of olives costs 2-3 €, tuna salad – 5-8 €, sea bass, 300g – 10-12 €, moussaka – 8-12 €, stefado – 12-15 €, and lamb with fries – 12-15 €.
Tourists are advised to rent apartments with kitchen and cook by yourself. Everything you need and at a good price are in the supermarkets Lidl and in the markets.
Those who do not want to spend time and energy on cooking, we recommend to set aside for food in cafes and restaurants from 50 € per day. For this money you can enjoy dishes of national cuisine with a glass of local wine. How much money should I spend on food to have a royal vacation? Plan from 60-70 € per day.
Natalia Vasilyeva: "Although in Cyprus it is sunny almost all year round, from January to March prices for fruit and vegetables are slightly higher than in summer, spring and autumn. In winter it is recommended to buy food and products in supermarkets, and in the warmer seasons to go to local markets.
Natalia: "200 euros per person is very little, but for ten days you can stretch. And this is provided that breakfasts and dinners at the hotel are paid. Count yourself. The modest dinner in a cafe – about 10 euros without drinks. A bottle of cheap wine in a supermarket – from 3,5 euro".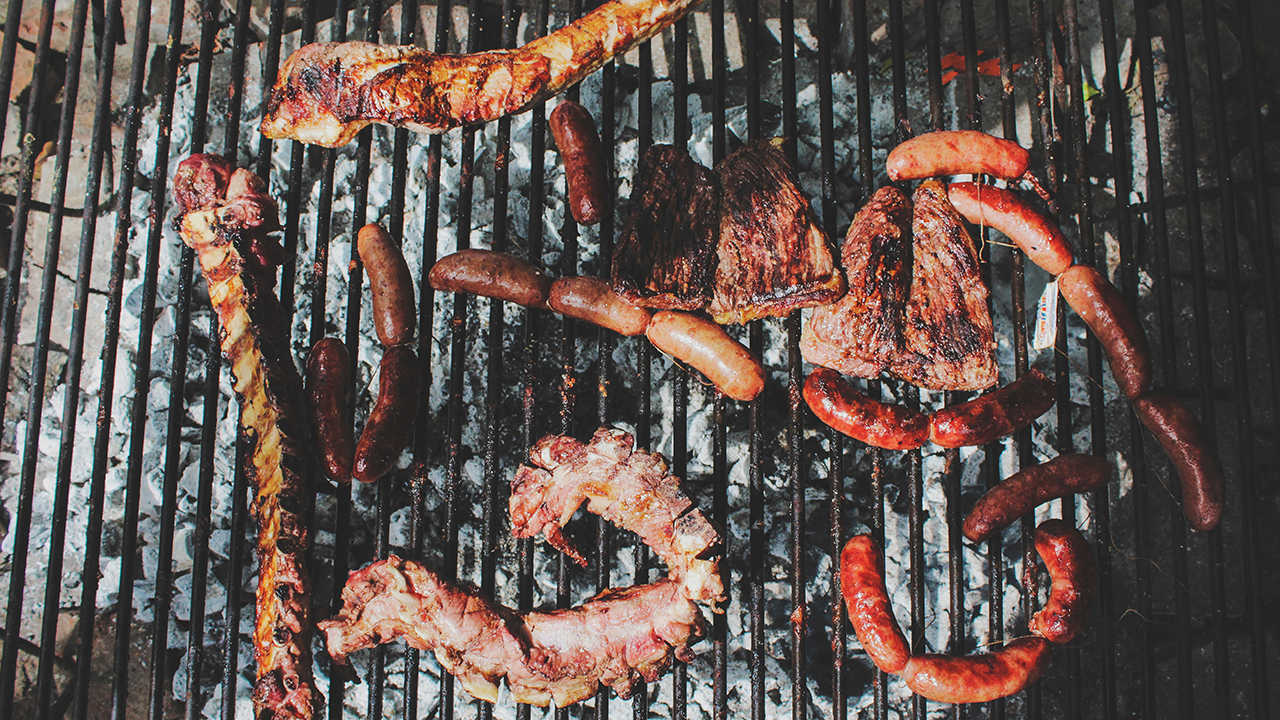 Grilled octopus (Photo: unsplash.com / @andriklangfield)
Excursions and entertainment
How much money to take to Cyprus for lovers of outdoor activities and excursions? Everyone has different requests. If you have limited financial resources, don't be upset! In Cyprus, there are enough places, where you can go absolutely for free. No money is charged for entering ancient monasteries, ancient villages and picturesque gorges.
Rental of a deck chair on the beach will cost 2,5 – 5 €. The price depends on the beach. The same price must be paid for an umbrella from the sun.
Tourists usually enjoy riding buggies – rent per day costs 50 €, electric scooters – 15 €, bikes – 5-7 €. As for entertainment we also like to go parachuting – 60 €, "banana" – 20 € and ATV safari – 45-50 €.
How much money will I need for sightseeing in Cyprus in 2022? Sightseeing tours cost from 25-30 €, day trips with a guide from 40-50 €, and tours of wineries from 60 €. Many resorts take holidaymakers on a boat with a transparent bottom. In Protaras harbor such pleasure costs 10 €.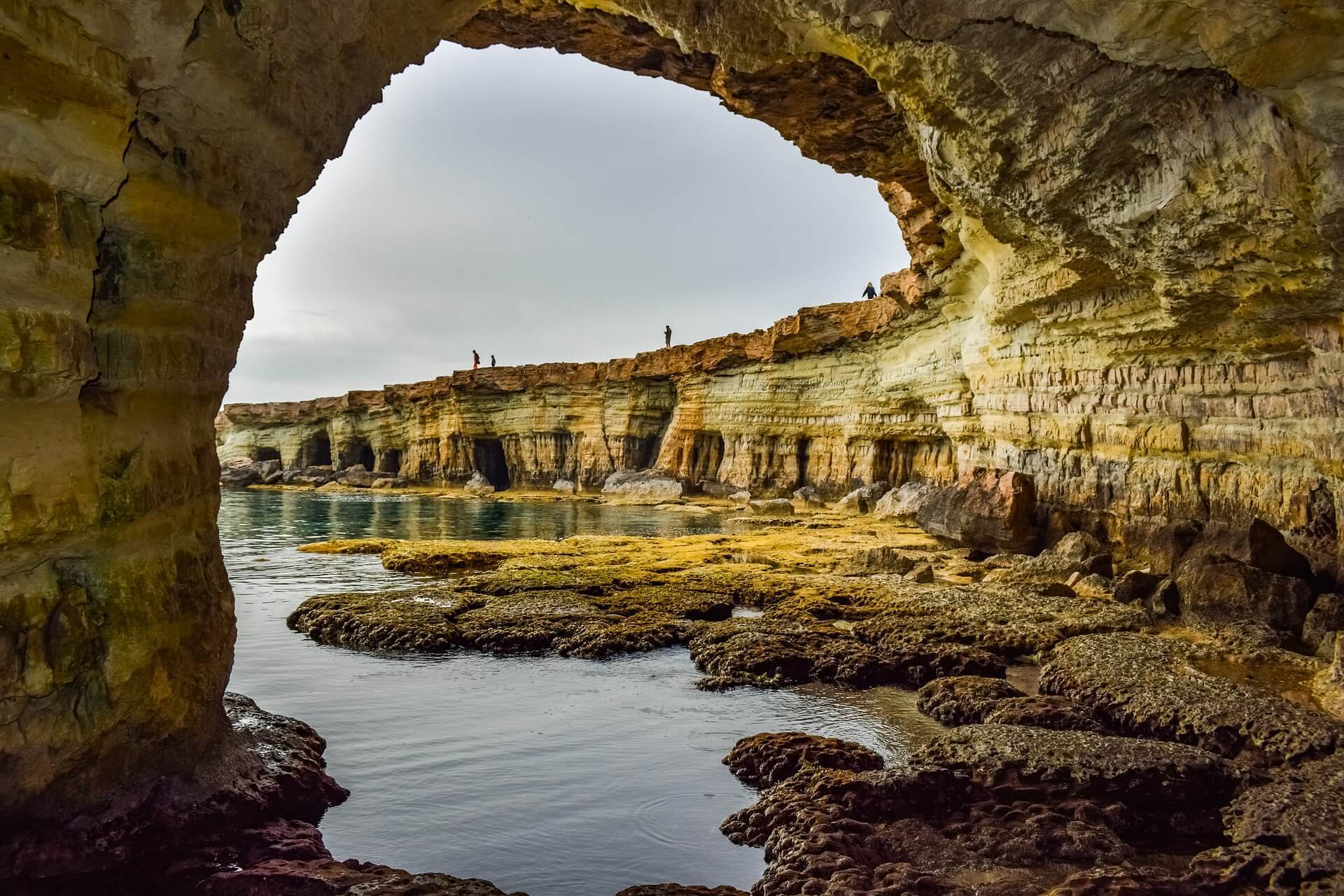 Cape Greco. Photo: dimitrisvetsikas1969 / pixabay.com.
Shopping and souvenirs
Clothing in Cyprus is quite expensive, but on the island there are sales, during which you can buy good things at a discount of up to 70%.
Prices for popular souvenirs, which tourists take from Cyprus:
ceramics – 2-7 €
T-shirts with prints – 5 €
souvenir caps – 5-6 €
Olive oil, 1 liter – 5-11 €
Olives, 1 kg – 2-6 €
Goat cheese, 1 kg – 10 €
Cyprus honey, 0,5 l – 5,5 €.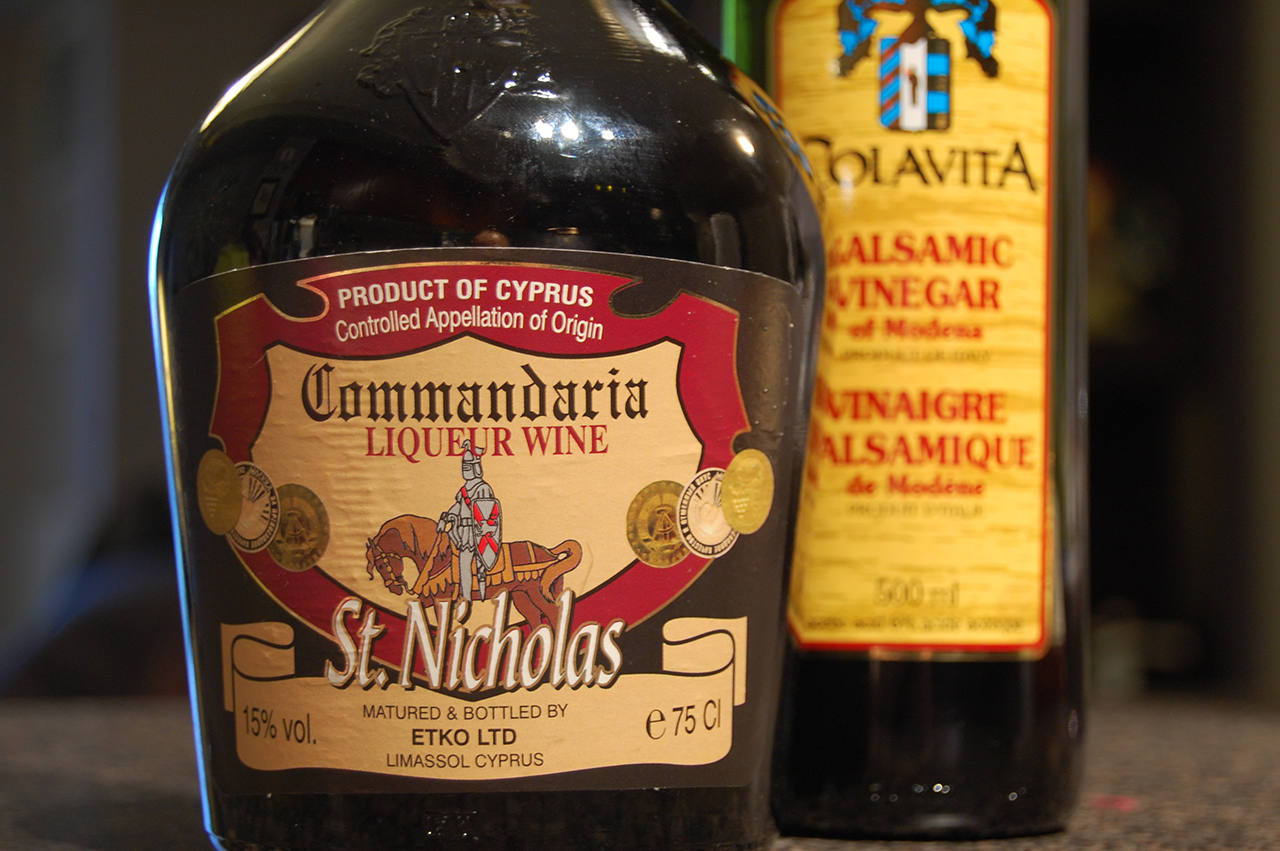 Cyprus dessert wine Commandaria. Photo: basecadet / flickr.com.
Transport
The most accessible mode of transport is buses. Daytime fares are €1.50 and from 9 p.m. to 4 a.m. they cost €2.50.
Cab services are expensive. During the day, a ride costs 3.5 € and 1 km costs 0.73 €. At night the fare is 4,4 € and 0,85 € for 1 km. According to the tourists' responses, at the evenings the cab drivers don't agree to take a cab for less than 8 €.
Conclusion: How much money to take to Cyprus
For a budget holiday in Cyprus for 10 days take 300 €. Meals for one person – 250 €, excursions and entertainment – 20 €, shopping and souvenirs – 10 €, bus fare – 20 €.
The comfortable rest will be more expensive – from 800 €: 500 € for food, 80 € for two excursions, 190 € for shopping and souvenirs, and 30 € for 3-4 cab trips.
How much money do I need in Cyprus to feel like in paradise? For a luxury holiday, you must buy from 1100 €: food from 700 €, 2 excursions, quad bike safari and parachute flight from 180 €, shopping and souvenirs from 150-200 €, daily cab service from 40-50 €.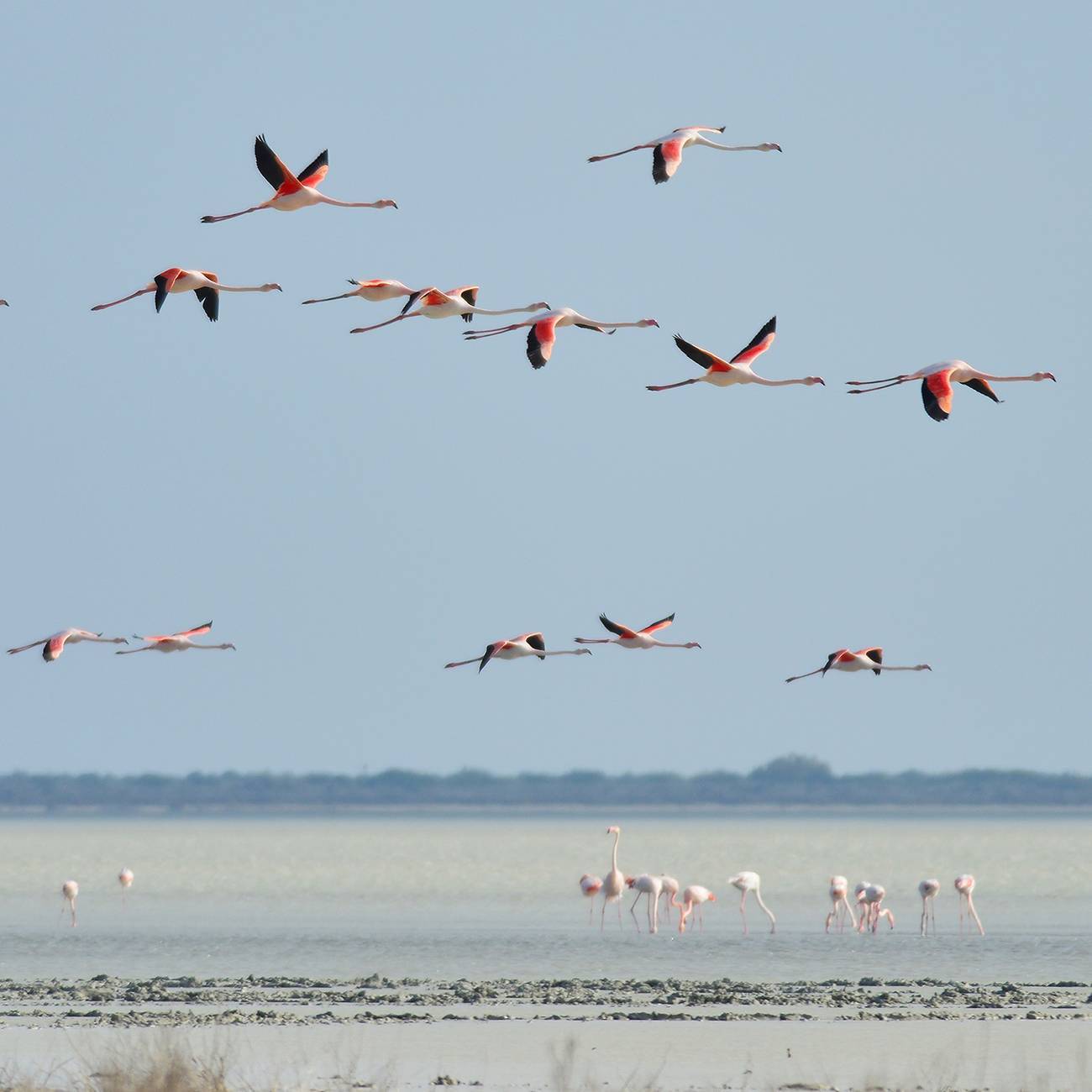 Flamingos on the salt lake of Limassol. Photo: orientalizing / flickr.com / CC BY-NC-ND 2.0.
How much money to take in Cyprus
To calculate the cost of a day in Cyprus (not counting the price of the tour or hotel and airfare) is quite difficult. The amount depends on the purpose of rest, someone will devote his body and soul to the beach, someone will rush to see the sights, someone will plunge into the life of nightclubs and discos. Each case has its own amount, but we will try to consider different options.
How much does it cost to eat in a cafe
In Cyprus, there is almost no All Inclusive system, but almost all hotels are located in the city, and there are cafes and restaurants within walking distance.
Portions in Cypriot public catering establishments are large, and often for two you can order one dish, and it will be enough. We recommend to do so, you will save money and save your waistline. Order a main course of meat or fish and get for it a side dish and a salad, bread and sauces. The cost of such a dish is from 10 to 20 euros.
In Cyprus it is customary to sprinkle the dish with lemon juice, lemon is also included in the price. Who this tradition came from, it is difficult to say now, because the Cypriot cuisine was influenced by the culinary traditions of the Greeks, Arabs, Turks, Venetians and English. Read our article "Cypriot Cuisine.
You must try meze at least once, it is not a single dish, but several (up to three dozen) small portions. The dishes are served with bread, sauces and seasonings. The price for meze in Cypriot cafes is from 20 to 35 euros.
– A snack of eggs or sausages and a cup of coffee – 5-6 euros;
– A portion of soup as the most budget option to snack – 2-5;
– One course for two (light lunch or dinner) – 10-20 euros;
– A big dinner for two with a bottle of local wine – 50-70;
– Tip – 5-10% of the bill.
For example, in an inexpensive cafe on the waterfront in Limassol: Masaka – 10 euros, Kleftiko (lamb meat) – 13, desserts – 4-5, coffee – 2-3. Dishes from fish and seafood in Cyprus (as well as everywhere else) are rather expensive: squid rings – 12 euros, shrimps – 17, grilled octopus or swordfish – 15.
Important advice: if you do not get lazy and walk away from the tourist routes for a couple of hundred meters, you can eat in the cafe by 20-30% cheaper.
How much does it cost to eat in a restaurant
In restaurants there is a variety of dishes, better service and you can often find Russian-speaking staff. But also the prices are higher than in simple cafes.
– Snacks: pickled vegetables, olives, nuts – from 2 to 4 euros;
– Vegetable salads with chicken or tuna – 7 to 10;
– Soups and side dishes – 5-6;
– Main courses (without side dishes) – 8-11 meat, 12-17 fish;
– Shish kebab for two or assorted meats – 14-19;
– Small portions of grilled dishes: chops, chicken wings or breast, beef or lamb – 7-9;
– Squid, octopus, or fish fillets – 10-15;
– Tea, coffee, hot chocolate – 1-3;
In restaurants you can order meze, but prices below 20 euros don't wait. However, compared with the cafes, the range of meze ingredients is more refined. Order meze for at least two people.
Some restaurants offer the usual Russian "business lunch", it will cost 10-16 euros.
Sometimes, after paying the bill, customers please the chef with fruit slices, ice cream or dessert. Do not be surprised, the competition in Cyprus is fierce, there is a struggle for customers, and every institution wants you to come back again.
Prices in supermarkets
If you can cook, you can seriously save money. Moreover, the prices for most products in Cyprus supermarkets are comparable with Russian.
Bread – 1 euro, cereals – 1,2-1,5 per kilo, red meat – 8 per kilo, chicken – 6, local cheese – 6-7 per kilo. Potatoes, onions, cabbage 0.5-0.75 per kilo, apples, oranges, bananas, tomatoes 1.2-1.8 per kilo.
Of course, prices vary depending on the location of the store. In resort areas, prices are higher, in supermarkets away from the beaches a little lower.
Transport
In Cyprus, the public transport system consists of buses and cabs. The bus costs 1,5 euros during the day and 2,5 in the evening (after 21:00). Full day pass – 5 euros. About the routes and rules of Cypriot buses, read our article "Buses in Cyprus".
Cabs are expensive, about the prices read our article "Taxis in Cyprus.
Sightseeing
Like beads in a beautiful necklace, there are ancient monasteries, churches and chapels scattered all over Cyprus. All of them are beautiful and tell us the complicated history of Cyprus. Even if the majority of them were rebuilt and have not reached our time in their original form, it is still worth seeing them.
The heritage of the ancient Greeks and Romans is also interesting. As you know, Cyprus is the birthplace of the goddess Aphrodite. But how much does it cost to see it all?
Natural attractions can be seen for free, in most churches and monasteries admission is free. But you will have to shell out for transportation.
Prices for entry to Cyprus water parks are available: WaterWorld Waterpark in Ayia Napa – 38 euros, Fasuri Waterpark in Limassol – 29, Aphrodite Waterpark in Paphos – 30.
A visit to local zoos costs 5-10 euros, theme park rides – 3-4 euros, or 1 euro for a token on vending machines. A trip to the oceanarium "Ocean Aquarium" in Protaras will cost 13 Euros, the show of dancing fountains in Protaras – 23 Euros.
Visiting museums, ruins and archaeological parks – from 2 to 5 euros. For example, the castle of Kolossi – 4,5 euros, the royal tombs in Paphos – 2,5 euros, the Archaeological Park of Kato Paphos – 4,5 euros.
Prices for excursions
Excursions are a great way to save time, because in one day the sightseeing bus will take you to several attractions. But the money excursions are less profitable than independent travel.
On average, tours in Cyprus cost 40-50 euros. Diving – 55-65 for one dive. Some tours can cost up to 100 euros, especially if the destination is far from the resort, gasoline in Cyprus is very expensive.
Especially popular with tourists are excursion trips to the Toodos Mountains, where it is problematic to reach on your own. See the villages of Omodos and Lefkara, Kikkos Monastery, ancient Kurion, Cat Monastery.
Prices for souvenirs and gifts
We told in detail about souvenirs, gifts and prices in the article "What to bring from Cyprus".
If you smoke.
Cigarettes are very expensive in Cyprus, it's better to take them with you. We talked about import regulations and prices in the article "Cigarettes in Cyprus.
For Those Who Like Drinking
The situation is much better with alcohol, it is cheap and varied here. You can read about prices and laws in article "Alcohol in Cyprus", and about local drinks in article "Cyprus alcohol.
Telecommunication Expenses
Phone calls home from abroad are expensive, Internet in Cyprus is not cheap. Check out our articles "How to Call from Cyprus" and "Internet in Cyprus" for more details.
More expenses
– Few hotels in Cyprus can boast their own beach. Beaches are public, where you have to pay for sun loungers and umbrellas. Rental price for the day – 2-3 euros;
– Not all illnesses and injuries are covered by insurance, in some cases you will have to pay for medical services. Read more in our article "Insurance in Cyprus;
– Rent a car – from 30 euros per day and up, up, up. Fines for violations on the road are substantial, we told about them in the article "What is not allowed in Cyprus.
Results
– The option of a holiday "on a grand scale": breakfast at the hotel, lunch and dinner in restaurants, visit a few attractions by cab, in the bars do not deny yourself anything. Prepare 150-200 euros a day for two.
– Option "moderate": breakfast at the hotel, lunch and dinner in a cafe, a couple of times we go to a restaurant for dinner, go to the sights by bus, in the bars do not go. 70-100 euros a day for two.
– The variant of "student": we eat food from the supermarket (culinary departments), the sights only free of charge and by bus (or on foot), on the beaches do not pay for deckchairs and umbrellas, sunbathe on their towels. 30-50 euros per day for two.
We wish you a fun and inexpensive holiday in Cyprus, and read our informative and interesting articles about this island and country (links below).
| | |
| --- | --- |
| Leave your comments. Your opinion is important to us! Show Comments | Hide Comments |
this is very useful information and for me this is the only information source among all google searches