Greece open to Russians: the rules of entry in 2022
Photo by Spencer Davis / unsplash
Is it possible to fly to Greece now and is it worth planning a vacation to Greek resorts in 2022? Yes, Greece opened for Russian tourists back in the spring of 2021, though at the moment it's not the most affordable vacation destination!
Direct flights to Greece from Russia are temporarily suspended since February 2022. But you can fly to the country with connections in other countries. Where is the easiest place to fly to on vacation now – read in our review.
In this article we publish the latest news related to the opening of this tourist destination. Here is collected up-to-date information with the requirements for Russians entering Greece.
Do you want to be aware of the tourism news, as well as receive a newsletter hot deals on open destinations? Subscribe to us on Telegram
Content
The latest in border opening news.
From May 1 to August 31, 2022, Greece simplifies the rules of entry as much as possible, including for tourists from Russia. The requirements of tests and certificates of vaccination both for entering the country and for visiting public places have been abolished. Only the wearing of masks remains mandatory – in closed rooms and vehicles.
(Abolished until August 31, 2022) Requirements for tourists, valid until May 1, 2022: psr test or antigen test must be taken before departure. If you are vaccinated with the Russian vaccine, you must take the test. If you have a vaccine recognized in the EU, you do not have to take a test. It is also possible to have a random test on arrival (free of charge). This does not apply to children under 5 years old.
Minister of Tourism of Greece Charis Theoharis / Photo by Paris Sarrikostas
Entry rules for Russians to Greece
We summarize the current requirements for tourists from Russia. Now you can fly to Greece only on your own, there are no package tours from tour operators at the moment.
Russian citizens to enter Greece will need:
A valid passport, issued no more than 10 years ago and the validity of which should not expire for at least another 3 months after leaving Greece.
Schengen visa.
Copies of hotel and return ticket, voucher.
Traveling as a family, you must take child's birth certificate, and if the child flies with one parent, and notarized exit permit from the second parent.
For anti-covid requirements, you must take a PCR test before you leave for Greece.
Negative test for COVID-19 must be taken not earlier than 72 hours before arrival. It is acceptable to take the rapid antigen test 24 hours before travel.
Greece grants tourist schengen and you can apply for a visa now. Let's answer the frequently asked questions:
Greece issues visas fairly quickly, usually within a week of application, but it has happened in 2 days! In the summer of 2021, even with a heavy workload, the visa was issued in an average of 5 working days.
Yes, they can issue long visas for 3 and 5 years, if you have already received, for example, a three-year Schengen visa before.
Before the pandemic it was possible. Now in many EU countries there are restrictions on entry and movement of tourists, and this should be clarified before the trip.
Yes, you can, even with a visa that is not yet open. The main thing is that it must be valid for its duration.
(Greek visa centers work in Moscow, St. Petersburg, Yekaterinburg, Novosibirsk, Kazan, Nizhny Novgorod, Samara, Krasnodar, Rostov-on-Don, Arkhangelsk, Murmansk, Petrozavodsk, Pskov.
If you travel with a child, you would need to have a notary's permission to travel. And this document is necessary in any case, even if both parents will be on a trip. If you apply for a multischengen visa, the period of consent must be for the entire period of the visa, plus add another 15 days.
And do not forget about the biometrics, if you do not pass it the last 5 years.
Additional conditions of entry
Citizens of the Russian Federation for visiting European countries must have medical insurance. You can take out an insurance policy online through the service Compare.ru.
Upon arrival from Greece to Russia, you must take one PCR test 3 days in advance and upload it to the questionnaire on Gosuslugi no later than the 4th day. If you were vaccinated in the last 12 months, or have had coronavirus (medical certificate), then you do not need to pass the test.
Russian bank cards do not work in Greece now, as well as in other European countries. You will need to take cash Euros with you on your trip. It is better to get a card from a foreign bank specifically for traveling. Visas and MasterCard for Russians are issued by banks in the near abroad. We have already tried the Belarusian MasterCard on the Greek island of Samos in June 2022 (we travelled via Turkey). Read more about how to get one on a separate page.
Restrictions and requirements for tourists in Greece
Photo by Artiom Vallat / unsplash
The islands are open to tourists and can move from one region to another.
From May 1 to August 31, 2022 the requirement to provide a covid certificate when visiting public places will be abolished! By September, a decision will be made whether to extend or tighten the requirements.
The restrictions in place, they apply to tourists as well:
(repealed June 1, 2022) while masks are mandatory in indoor areas.
(Abolished as of May 1, 2022) without a vaccination certificate will not be allowed in enclosed areas – such as cafes and restaurants (not required for outdoor verandas), cinemas, museums, exhibitions, shopping centers. The period of validity of the vaccination certificate is 9 months after the second vaccination (after this period you will be considered unvaccinated, revaccination is necessary). Instead of a certificate of vaccination, you can present a document of a transmitted encephalitis. This certificate is valid for 90 days and must be issued no earlier than 30 days after the first positive test for coronavirus.
You can visit grocery stores, pharmacies and take public transportation without restriction.
Opening of air travel to Greece in 2022
Now there are direct flights from Moscow to Athens, Thessaloniki, Heraklion (Crete), Rhodes, Zakynthos and Kerkyra (Corfu). You can also fly to Thessaloniki from Rostov-on-Don, Mineralnye Vody, Samara, Krasnodar and Kazan.
There are no direct flights from Russia to Greece. Flight to Greece is possible with connections in Istanbul, Belgrade, Abu Dhabi, and other cities and countries, currently having direct flight connection with Russia.
You can find a suitable ticket on the website of Aviasales. If you want to learn how to find cheap air tickets – read our guide.
How to save on vacation in Greece
Greece is primarily a popular destination for beach vacations, and before the closure of the borders a number of major tour operators had charter programs on a regular basis.
Photo Hello Lightbulb / unsplash
Tour operators often make discounts on last minute tours – this is when the cost of a package tour with flight and accommodation is often cheaper than the cost of tickets for a regular flight to a similar destination (our favorite topic – tours for the price of the flight and even cheaper ❤).
Hot Tours can be tracked through the newsletter in the Telegram channel Tour Scanner or in our LuckyWings community on Vkontakte.
Sign up to stay up to date on important news about countries opening or closing.
Who else is opening the borders?
Greece isn't the only one opening its borders. If you are planning a vacation and have not yet decided on a destination for a beach vacation, read our article with an overview of destinations open to Russians in 2022 for May, summer and fall ☀
How to get to Greece now.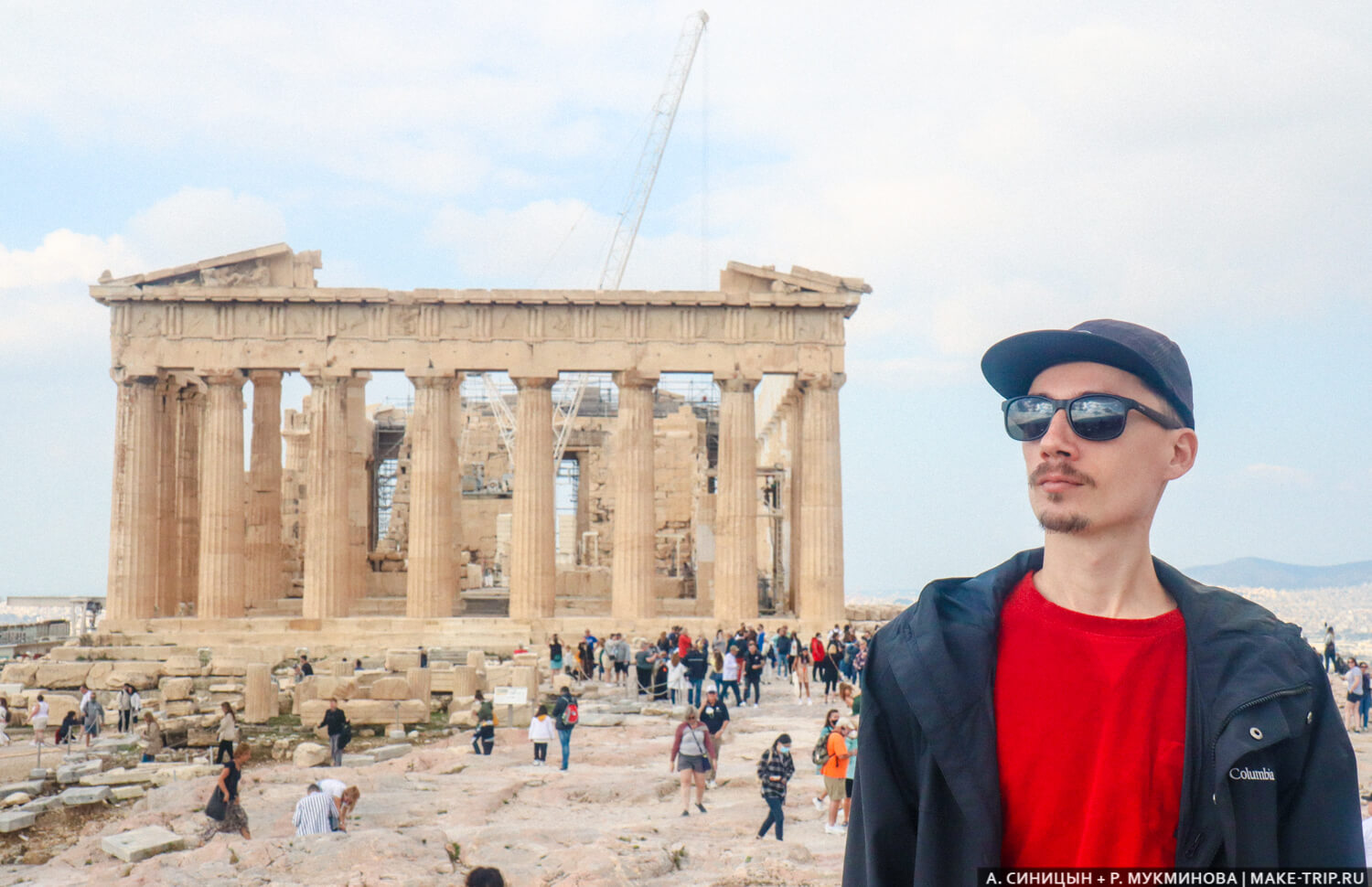 Learn the rules of entry and how you can fly cheaply from Russia.
Content:
Rules of entry.
The country accepts tourists from Russia without restrictions. Neither tests, nor vaccination, nor PLF form are needed anymore. In museums, transport, restaurants these documents are now also not asked. Total freedom!
We have been to Greece several times and during the pandemic we went to Athens, Thessaloniki, Meteora, Crete and climbed Mount Olympus.
You can only enter Greece with a Schengen visa. If your passport already has a Schengen visa issued by any country, you can safely go. If you do not have a visa, then make an appointment at the nearest visa center in Greece. They are already working, we ourselves during the pandemic made a Greek Schengen. However visa centers are not open in all cities in Russia now. For instance it was not possible to get a Greek visa here in Perm, so we had to go to Ekaterinburg to apply. You may get your passports via a courier service.
Note: there are some important nuances, so be sure to read about getting a visa to Greece. For example, our relatives were completely unfairly denied, resulting in a loss of ₽ 90000. Alas, for many years now there has been real lawlessness in SFD, caused by Deputy Consul General in Novorossiysk Ktenidis (see VK post about these incidents).
You need health insurance to enter Greece. You can arrange it online at Compare.ru or Cherehapa – they compare prices of all major insurance companies. So you can choose a policy with the right parameters and the best price. The cost of the policy – from 300 ₽ for a week.
Vouchers to Greece are not yet on sale. Or rather, they can be found on sale, but don't even think about buying them! With a probability of 99.99999% these tours will be canceled, because of the soon resumption of air links is ridiculous (and sad, of course).
We find the best deals on Travelate. Learn how to buy tours cheaper.
Direct flights
The skies of Greece are closed to Russian planes, and will remain so for a long time. So now you can get to Greece only with flight connections.
How to choose an inexpensive flight to Greece
Getting to Greece in 2022 is easier than it seems! There are several options, and they can't be called particularly complicated.
Connecting tickets.
The easiest, fastest and safest way: buy a ticket to Greece with a connection. Go to a special page of Aviasales. Type the departure city, the city of arrival and travel dates. The search engine will show all the available flight options and all we have to do is to choose the most convenient and affordable one.
Most often the most convenient option is flying through Istanbul on Turkish Airlines, and their luggage is usually already included in the price.
Be careful: not all European airports allow transit during a pandemic. Aviasales usually warns about this with an announcement: "This ticket is not suitable for tourists". But to be on the safe side, it's better to check the possibility of transit yourself.
Round trip tickets for summer 2022 cost ₽30,000-50000. For fall, winter and spring, from ₽18,000.
Do-it-yourself transplants.
It's often more advantageous to buy individual connecting tickets yourself. For example, like this:
Buy tickets to Istanbul for 10,000 ₽ (fall and winter) or 20,000 ₽ (summer),
Buying tickets from Istanbul to Greece for ₽4,000-8,000.
As you can see, the sum total of these airfares comes out cheaper than the ones we found earlier. This is because not all airlines have agreements with each other and can arrange tickets for joint flights.
All you have to do is dock all the flights so that the time in between is as convenient as possible for you. If you don't book your trip well in advance (2-3 hours beforehand) you may notice that Thursday flights are late, but if you miss your first flight the second one will be cancelled without any refund. And in general, I'd advise you to allow plenty of time. For example, I try to plan my connecting flights so as to have time to see the transit city. If you fly through Istanbul, that's out of the question: you must stay for at least a day. It never ceases to amaze and delight, no matter how many times you get there. Read our guidebooks about Istanbul.
Which cities is the cheapest way to get to Greece? It's easy to find out: go to Aviasails and fill out a form like this:
| | |
| --- | --- |
| From | Write your destination (for example Athens, Rhodes, Heraklion, etc.). |
| Where | Write 'Anywhere'. |
| When | The month or months you want |
You will receive a list of cheap destinations from Greece, but the rule also works in the opposite direction. Choose from the list those destinations to which you can fly inexpensively from your city. See where there are cheap tickets from your city by clicking here.
Inexpensive flights to Greece are now available from Istanbul, Yerevan, Vilnius, Belgrade, Kutaisi and many other places.