How many flights to Barcelona
Barcelona is the most popular air destination from Spanish cities among Russian travelers. Many Russian tour operators from major cities in the European part of Russia put charters to Barcelona in the summer months. On average, the flight takes 4.5-5 hours. The exact time depends on the departure city. Below you can find more information about direct flights to Barcelona from Russia, flight duration and airlines that fly to Spain.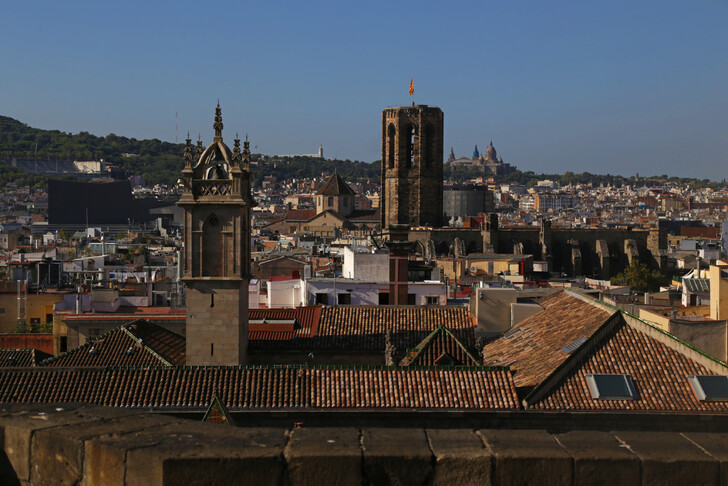 How long it takes to fly to Barcelona from Moscow
The distance between Moscow and Barcelona is 3010 km. You can get from the Russian capital to the main city of Catalonia without changing flights all year round. Direct flights are operated both by regular and charter air carriers. Flights to Barcelona from Moscow are made from Vnukovo, Domodedovo and Sheremetyevo airports.
From Vnukovo to Barcelona fly Azur Air and Utair. Flight time is 4.5 hours. The Domodedovo schedule has flights of the Spanish airline Vueling airlines, as well as the Russian carriers S7 and Royal Flight. Charter flights from Sheremetyevo are operated by tour operators, among them is Nordwind. Aeroflot, Ural Airlines, Air Europa and Utair are responsible for scheduled flights from Sheremetyevo. Spanish airlines usually fly a little faster – by 10-20 minutes. The longest flight is with Aeroflot: 4 hours 45 minutes. Flight time from Barcelona to Moscow is not significantly different. The return flight is 10 to 15 minutes quicker.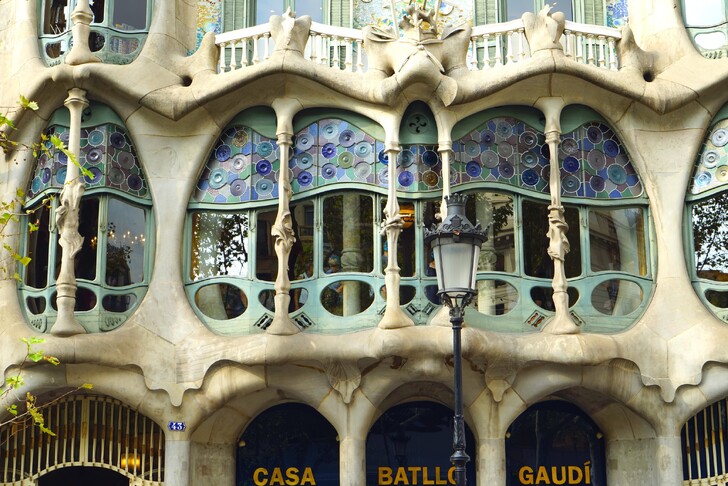 How much it takes to fly to Barcelona from Russian cities
There are direct flights to Barcelona from many major cities in Russia. Usually there are charter flights in the summer months. Tourists arrive in Barcelona and then go to resorts of Costa Brava and Costa Dorada.
The flight from St. Petersburg to Barcelona is slightly closer than from Moscow. The distance between Barcelona and St. Petersburg is 2821 km. There are regular year-round flights in Pulkovo airport schedule. Flights to Barcelona from St. Petersburg are operated by the airlines Russia, Vueling airlines, Azur Air, and Ural Airlines. The flight time from St. Petersburg to Barcelona is 4 hours and 10 minutes.
The distance between Yekaterinburg and Barcelona is 4,426 km. Regular flights to Barcelona from Yekaterinburg are operated by Ural Airlines. Charter flights are performed every summer by different airlines, flight time is usually the same as for regular flights. The flight time from Ekaterinburg to Barcelona is 6 hours and 20 minutes.
How long it takes to fly to Barcelona from Russian cities
| | |
| --- | --- |
| City of departure | Flight time |
| Saint-Petersburg | 4 hours 10 minutes |
| Ekaterinburg | 6 hours 20 minutes |
| Kazan | 5 hours 30 minutes |
| Ufa | 6 hours 10 minutes |
| Krasnodar | 3 hours 50 minutes |
| Rostov-on-Don | 4 hours |
| Samara | 5 hours |
| Perm | 6 hours 10 minutes |
| Chelyabinsk | 6 hours 10 minutes |
| Nizhny Novgorod | 5 hours |
Charter flights from the regions are mostly operated in summer months. In winter you can reach Barcelona with a connection in Moscow or other European cities.
How to fly to Barcelona from other Spanish cities
It is convenient and pleasant to travel around Spain by land transport. The country has an excellent network of bus routes and high-speed trains from Madrid to Barcelona in 2.5-3 hours. But it's often cheaper to take a plane. Moreover, many travelers have limited travel time.
On average, a flight between the cities of mainland Spain does not take more than 1.5 hours. You can get to Barcelona by air from any major city in the country. There are several flights a day from the capitals of the Spanish regions. The longest flight to Barcelona within the country are the flights from the Canary Islands, located in the Atlantic Ocean. Average flight time to Barcelona from Tenerife is 3 hours 30 minutes.
How many hours it takes to fly to Barcelona from other Spanish cities
| | |
| --- | --- |
| City | Flight time |
| Madrid | 1 hour 20 minutes |
| Mallorca | 55 minutes |
| Ibiza | 1 hour 10 minutes |
| Alicante | 1 hour 10 minutes |
| Tenerife | 3 hours 30 minutes |
| Malaga | 1 hour 40 minutes |
What planes fly to Barcelona
Barcelona El Prat Airport has the infrastructure to receive and depart all types of passenger aircraft. Flights from Russian cities are mostly operated by Boeing 737-800 and Airbus 320. On all flights, except budget carriers, passengers are offered standard services: hot meals and drinks on board. Low-cost carriers offer only water free of charge.
A day before departure passengers can check in for the flight at the airline's website. An exception – some charter airlines do not offer an online check-in service. When choosing a seat on the flight, it is worth considering the travelers' recommendations and checking the cabin layout in advance at the links below: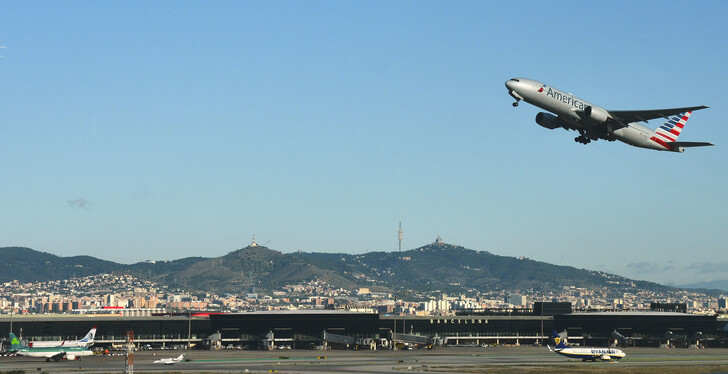 Buy a ticket to Barcelona
Tickets for direct flights of regular carriers can be purchased on the websites of airlines. For charter flights there are usually no tickets on sale. Search options with a transfer in other cities or countries is easy with the form below. You can compare the cost of direct flights and flights with a connection, and choose the flight with the most convenient departure time.
Barcelona Airport
Barcelona airport is the second largest passenger airport in the country after Barajas airport in the capital. The airport receives around 40 million passengers a year. El Prat Airport has more than 100 destinations including flights to Africa, Asia, Europe and America. The airport is called by the name of the nearest settlement – El Prat de Llobregat. The distance to Barcelona is about 10 km. The airport is located southwest of the Catalan capital.
Passengers are taken by 2 terminals, which are connected by a bus shuttle. The airport has an outdoor observation deck with a view of the approach line. There are several hotels of different star ratings near the airport.
You can get to the center of Barcelona by public transportation. There are buses and Metro services from the airport to the Catalan capital. Other places can be reached by train or local buses.
Flight time to Barcelona – how long is the flight?

How many hours should I spend in a plane to get to Spain? It depends on the carrier, aircraft type, route, and many other things. You can easily find this information with the help of flight search services such as Aviasales, so let's figure out how long it takes to fly to Barcelona.
Update in 2022: We published this article before the pivotal events when travel suddenly became harder and more expensive. Nevertheless, the information about resorts, attractions and weather in Spain is not outdated – not much can change with them. But to enter and stay in Spain, although the task is difficult, but already possible. It is possible to go to Spain through the third countries (for example Hungary or Greece) or directly, if you have a certificate of vaccination, which was issued in Europe. On the rules of entry, we have a large article, which we try to update in a timely manner. We have corrected this article too.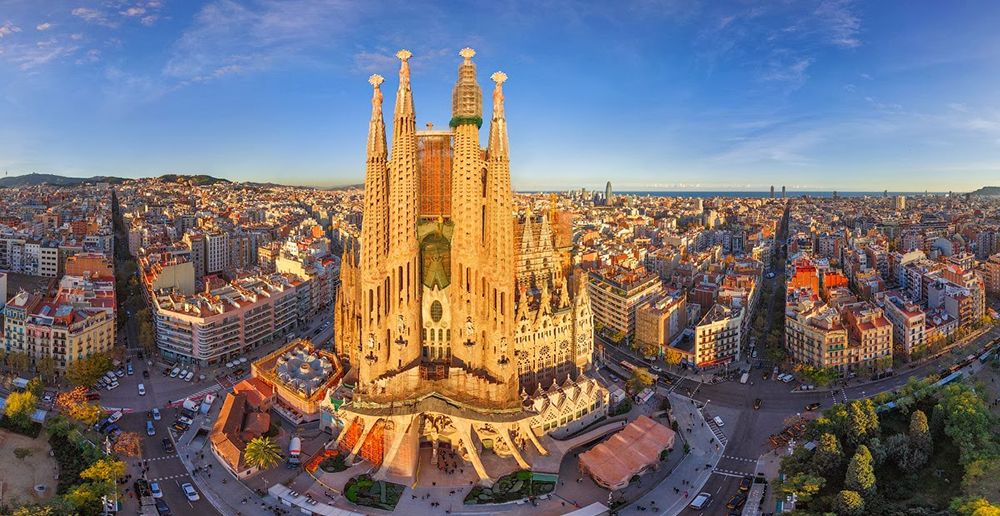 How long is the direct flight to Barcelona?
The minimum travel time required to fly from the capital is 4 hours and 30 minutes.
That's about how long you'll have to spend in the sky for those traveling with Aeroflot.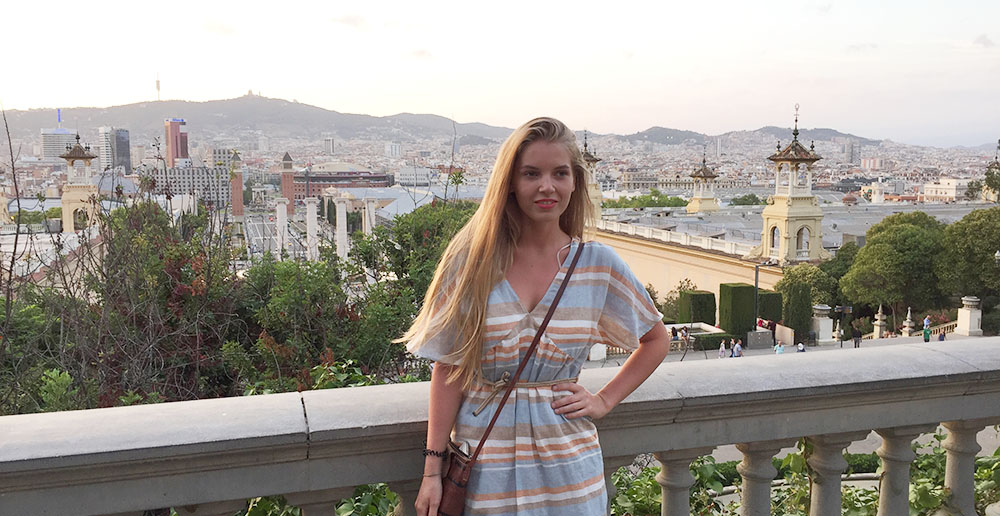 Barcelona (Monjuïc) – our trip in July
The flight from Saint-Petersburg to Barcelona lasts about 4 hours and 40 minutes but a lot depends on the chosen carrier and the weather conditions. Below is the price range for the August-September-October round trip flight.
Direct flight time from Moscow
A flight to Barcelona from Moscow is very popular not only among citizens of Moscow, but also among citizens of other cities, where there is no possibility to make a flight to the Catalan capital.
As we wrote above, a direct flight will take tourists from Moscow an average of 4.5 hours .
The most "fast" conditions of travel offers "Aeroflot": planes of the airline travels between cities only 4 hours and 30 minutes . There are also other options. Listed below are different airlines and their proposed flight times to Barcelona from Moscow:
"Aeroflot" – 4 hours 30 minutes ;
"Ural Airlines – 4 hours and 35 minutes;
Vueling airlines – 4 hours 40 minutes;
"UTair – 4 hours 40 minutes;
Iberia – 4 hours and 40 minutes.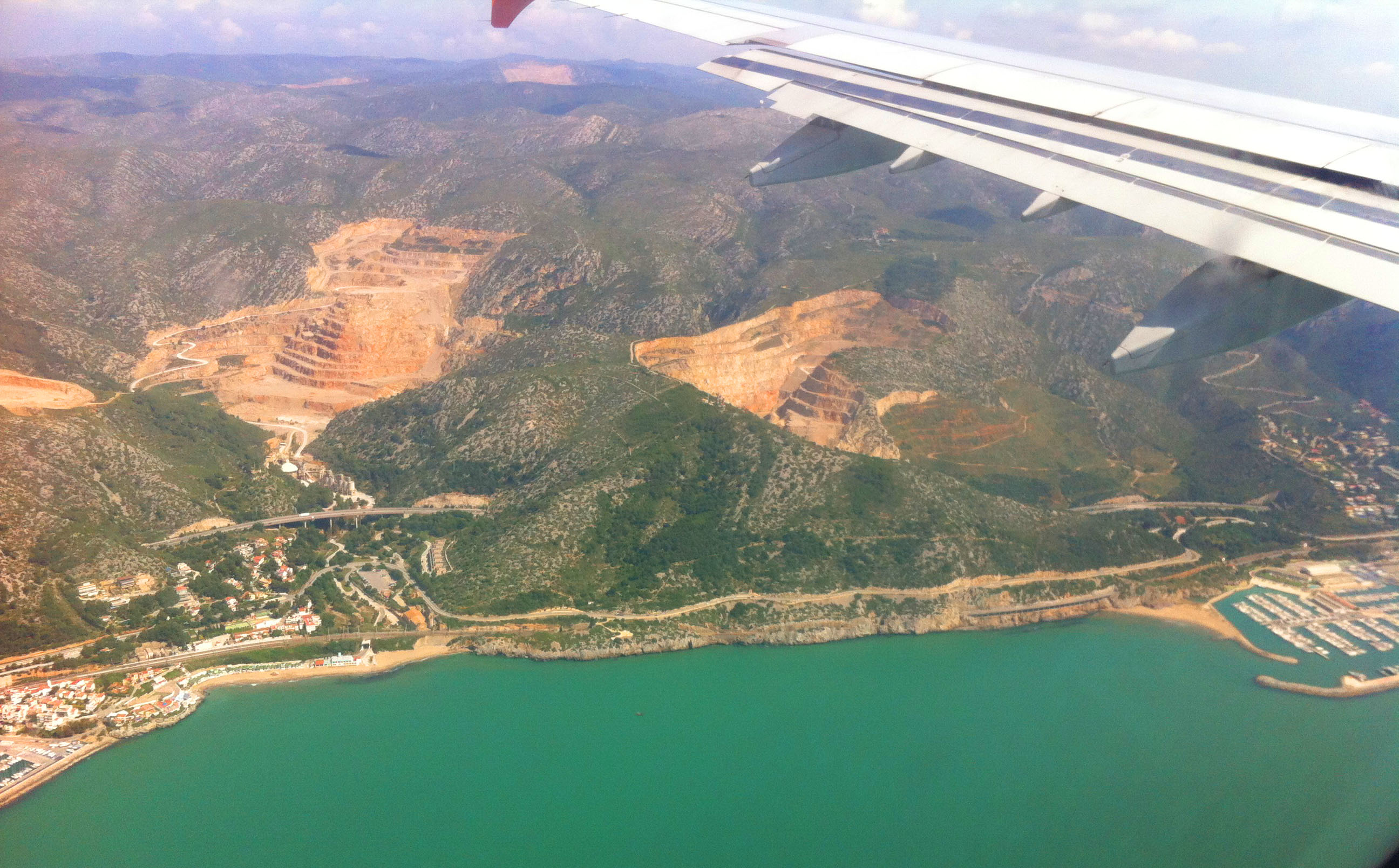 This view opens when approaching Barcelona airport.
Connecting from Moscow to Barcelona
Now that we have figured out how long to fly direct, let's look at the airlines that offer a Moscow-Barcelona flight with connections:
Turkish Airlines – 12 hours (change in Istanbul);
Finnair – 13 hours 10 minutes (change in Helsinki);
Air Baltic – 12 hours 20 minutes (change in Riga);
FlyOne – 11 hours 45 minutes (change in Chisinau and Birmingham);
"Pobeda together with Ryanair – 20 hours and 25 minutes (connections in Memmingen and Palma de Mallorca).
Not always a direct flight can be advantageous. On the contrary, air carriers often compensate for a longer flight with a lower price, and therefore, when buying tickets one should pay attention not only to how long it takes to fly direct from Moscow to Barcelona, but also to the combined offers with one or even several connections.
Charter flights from Moscow to Barcelona
Another option to get to the capital of Catalonia from Moscow is to use a charter flight. They are organized by tourist airlines at the height of the holiday season – in spring and summer. Charter flights can be quite cheaper, and you can buy a ticket to Barcelona for only 6000 rubles!
How much is flying to Barcelona from St. Petersburg
St. Petersburg and Barcelona are also connected by several direct flights. Flying time takes about 5 hours .
The most advantageous flight time is offered by the Spanish airline Iberia, which planes bring its passengers in just over 4 hours. Even faster than the Aeroflot flight from Moscow.
Another advantageous flight is the offer of the company Red Wings, the flight with which will take about 4 hours and 40 minutes.
The flight to Barcelona from St. Petersburg is possible and Russian airlines: the journey with S7 will take about 17 hours, you will have to change in Moscow. But a trip with Aeroflot will take even more time: if you change planes in Moscow you will not only have to change the plane, but also move to another airport. Given the long distances, such a trip can become inconvenient.
Flight time to Barcelona from Yekaterinburg
First of all, tourists, especially those traveling with children, are interested in the question of how long the direct flight Ekaterinburg – Barcelona is. Unfortunately, the airlines servicing the local airport don't offer such a flight. A flight to Barcelona from Ekaterinburg can only be made with a connection and the shortest flight will take 8 hours.
Czech Airlines, for instance, will take Ekaterinburg citizens to Spain with a connection in Prague. Turkish Airlines will offer the most economical flight with a stopover in Istanbul. These options are much more affordable than flights with connections in Moscow. And you can also discover new cities for at least a few hours
Rostov – Barcelona: how long is the flight?
The flight will take a total of about 9 hours . There are no direct flights in this direction, but also Rostov citizens can take advantage of the offer of the Czech Airlines and go to the capital of Catalonia with a connection in Prague. The change is rather short and does not allow getting tired while waiting for the next flight.
How many hours does it take to fly from Kazan to Barcelona?
There are no direct flights from the capital of Tatarstan, so the flight Kazan – Barcelona takes from 8 to 18 hours depending on the flight with a single connection.
The best and cheapest option at the moment is a Aeroflot ticket with a connection in Moscow. Journey time is 8 hours .
| | |
| --- | --- |
| | Читайте по теме: Аэропорты Барселоны >> Сезон в Испании >> |
How many kilometers to Barcelona?
The direct distance between Moscow and Barcelona in kilometers is 3011 km. By plane this way can be done in 4-5 hours: in a comfortable liner during the trip you will have everything you need not to feel discomfort.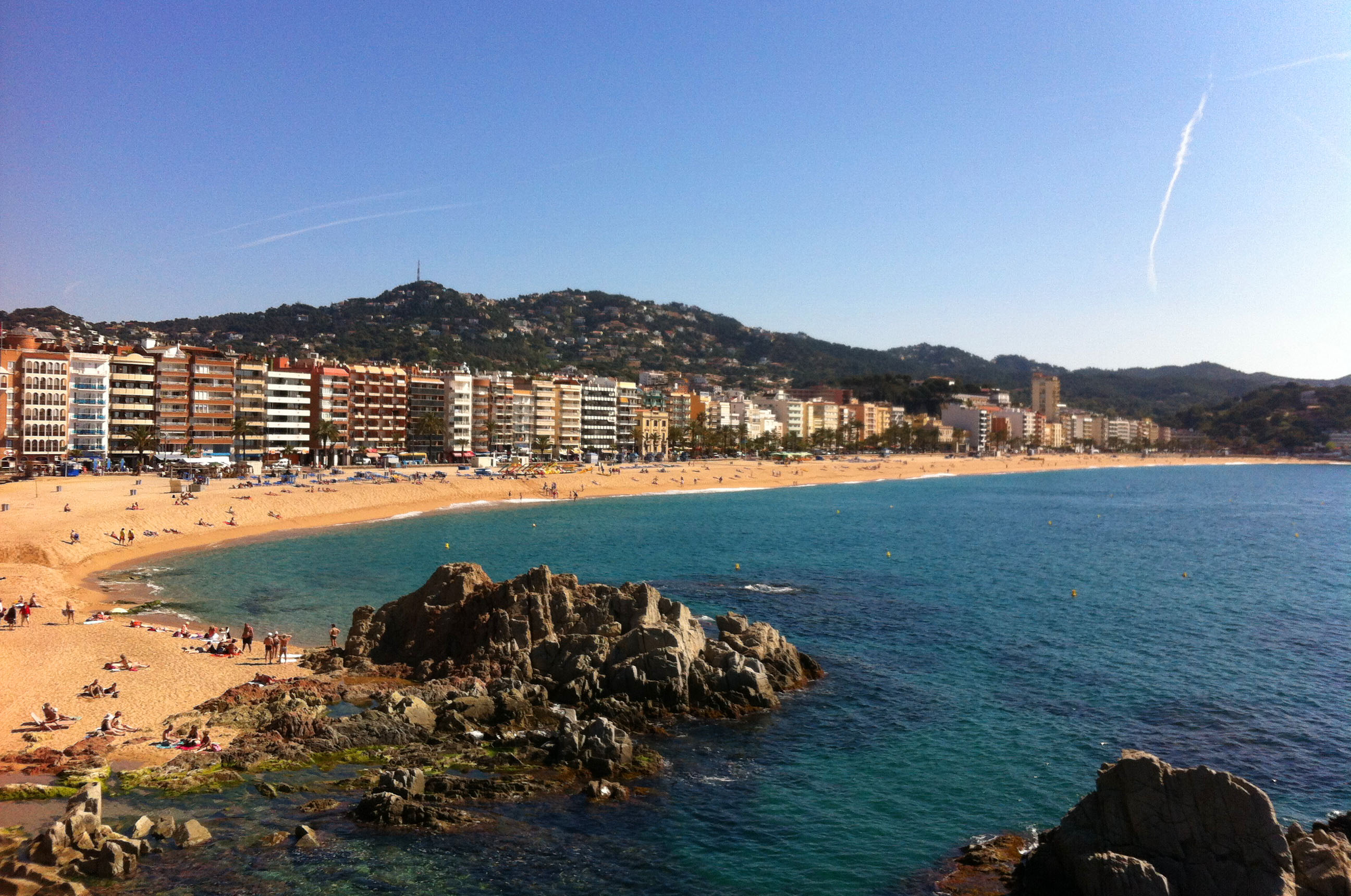 First trip to Europe (Lloret de Mar, May 2014)
On the way, the distance to Spain by car is already a little more: Moscow and Barcelona are separated by 3580 kilometers. In ideal conditions (no queues at customs and highways) it is possible to cover them in 3-4 days. Although, after such an adventure would probably need another rest!
Why is there a difference of almost 600 kilometers? The fact is that the plane takes a completely different trajectory. Like cars, airliners have their own air corridors, but they run in straight lines, allowing airplanes to cover the minimum distances. Even without considering the tremendous speed of an airplane compared to a car, the distance by airplane will be shorter.
What is the time difference between Moscow and Barcelona?
The time difference between Barcelona and Moscow is only 1 hour from Moscow time. When it is midnight in Russia, it is 11:00 PM in Spain.
There is almost no time difference between Moscow and Barcelona. However, make no mistake about the acclimatization process: despite the lack of a significant change of time zones, the climate is very different.
How much is a ticket to Spain in 2021?
The cost of a ticket to Spain depends on the time of year: in summer months, prices reach their record highs. The minimum price for an air ticket Moscow-Barcelona in August is 7 018 rubles. During high season the price of the cheapest ticket to Spain from Moscow can vary between 8000-15000rub. During the cold season the prices for plane tickets go down: in October the prices already drop to 4700 rubles.
It is much more advantageous to buy tickets in advance, several months in advance, then the prices will be more democratic. You should not always look for a direct flight. Compare how much a ticket to Spain costs for flights with connections, and estimate the difference
The capital of the Spanish Kingdom and one of the largest tourist centers is Madrid, most tourists begin their acquaintance with Spain from this city. Tickets to Madrid, as a rule, turn out to be somewhat cheaper than similar offers to Barcelona, even from the same companies.
| | |
| --- | --- |
| | Читайте по теме: Поездка в Испанию максимально дешево >> |
Where and how to buy cheap tickets to Barcelona?
The most convenient way to buy tickets online: reliable and proven scanners and flight search engines scan the offers of hundreds of airlines from around the world every minute and offer the most attractive options:
The convenience of online ticketing also lies in the fact that travelers can independently monitor desired destinations through a low-price calendar and buy tickets that fit their budget and time.
Once you've analyzed the offers from different airlines and found out how much a ticket to Barcelona from Moscow or any other city in the country costs today, you can objectively evaluate different airline offers. And remember, not always the direct flight is the most profitable – sometimes it's worth losing a few hours on the way, but to get tickets at a better and lower price.
This material may only be copied with a direct, active and open for indexation hyperlink to howtrip.ru.