How to get to Bali Airport
After arriving on vacation in Bali at Ngurah Rai Airport in Denpasar, independent tourists are faced with the question of how to get to the desired resort town or to a particular hotel? In this article, we will look at all possible options for travel – from the most comfortable by cab to the most extreme and cheap options by tuk-tuk.
Ngurah Rai Airport in Denpasar is Indonesia's third largest airport after Sukarno Hatta International Airport in Jakarta and Juanda International Airport in Surabaya. Part of the airport lanes are used by the Indonesian Air Force.
Airport Information
Airport Name : Ngurah Rai International Airport in Denpasar or Bandar Udara Internasional Ngurah Rai
Airport Code : IATA : DPS; ICAO : WADD
Airport Address : Jalan Raya Gusti Ngurah Rai, Tuban, Kuta, Kabupaten Badung, Bali 80362, Indonesia
Airport Location and Distance to City : Located in Indonesia at the very south of the island of Bali, 13 km from Denpasar and 3 km from the resort of Kuta
Airport Phone : +62 361 9351011
Airport website : https://bali-airport.com/ and https://www.baliairport.com/
Passenger traffic : Indonesia's third busiest airport with an annual passenger traffic of 20 million.
Fares from Moscow and Saint-Petersburg: round-trip ticket Moscow – Bali (Denpasar) from 575 euros; round-trip ticket Saint-Petersburg – Bali (Denpasar) from 616 euros. Usually, these prices on airline tickets are special offers and promotions. The cheapest tickets I found for November.
Direct flights to Bali are available from the following popular destinations: Bangkok, Kuala Lumpur, Dubai, Singapore, Moscow, Irkutsk, Vladivostok, Saint Petersburg, Amsterdam, Doha
Local time : UTC+08
Local currency and exchange rate : Indonesian Rupiah (Rp); $1 = IDR 13332
Visa for Russians : No visa required, you can stay 30 days after arrival as a tourist. There is no airport fee or paid visa, so if you are asked for money, refuse.
Weather at the airport : It's summer here all year round. November-April – low season, high temperatures, frequent rain. May-October – high season, minimum rainfall, heat. Water temperature year-round is 26-29 °C. Air temperature all year round is 26-32 °C.
Restaurants and eateries : House of Beans coffee house, The Merchant breakfast bistro, Bakso café, Kantin Modern café, Bread Bakers bakery with delicious freshes, Singgalang Jaya local restaurant, Tridatu Indonesian restaurant, The Coffee Club coffee house, TG Food Corner sandwich and pastry café, Last Wave café, Two Tigers noodle shop, Kantin Kafe cozy café, Two Dragons Asian café, The Coffee Club café, Pizza Hut, Hard Rock Cafe and others.
Shopping: Periplus Bookstore with magazines, Emax Store with electronics, Red & White Wine and Spirits, POD Chocolate, WHSmith Convenience Store with prints and food.
Additional services: Wahana Money Exchange, Sinarartha Exchange, Bank BNI Money Exchange, Prasarana The Airport Travel Agency, relaxation lounges, spa.
Ngurah Rai Airport in Denpasar is small, with navigation signs throughout the terminals, so you should have no trouble navigating your way out of the terminal building.
The international terminal is located in the new L building. On the map below you can see a map of the international terminal.
The airport has two minuses. The first minus is the very small number of waiting areas for flights. Another minus is that the border guards are very slow, because you can easily wait in line for 1.5-2 hours at the passport control, no one is in a hurry! Therefore, after the flight buy water with you or you can die of thirst.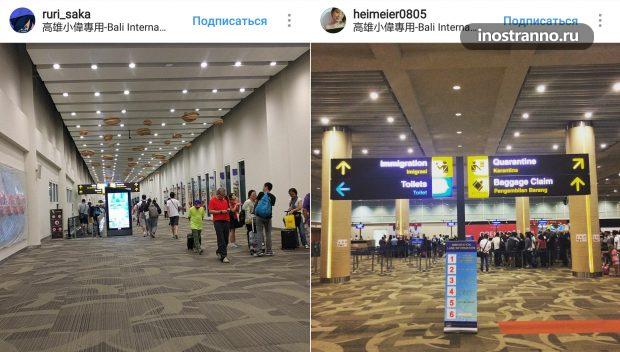 Distance from the airport to the nearest resorts
Before planning a vacation you need to decide on the resort and understand the distances on the island. Below you'll find a map of Bali and a list of the main resort towns with their distances from the airport.
Benoa (exotic paradise for relaxation): 15 km
Denpasar (Bali's largest city): 13 km
Jimbaran (great for families with kids): 11 km
Kuta (party resort and surfer's paradise): 6-10 km
Legian (luxury resort): 9 km
Lovina (beautiful sea, good for divers): 93 km.
Nusa Dua (luxury resort): 13 km
Sanur (suitable for families): 16 km
Seminyak: 10 km
Tabanan: 51 km
Tanah Lot: 27 km
Tanjung Benoa: 17 km
Tuban
Ubud: 37 km
Uluwatu: 22 km
Chandidasa: 65 km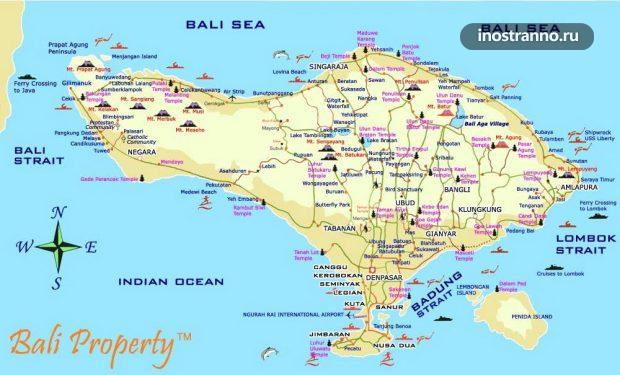 Bali Airport Buses
The only way to get somewhere from the airport by public transport is on Sarbagita buses.
They are fairly new and air conditioned and have a luggage compartment. The bus stop is located near the exit of the terminal of local lines (Domestic). The bus schedule is approximately as follows: from 5:00 to 21:00 every 15 minutes.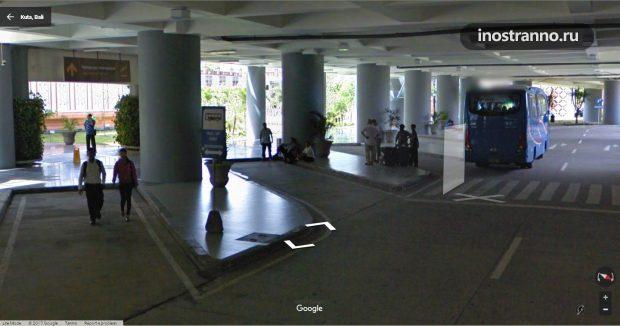 Buses go only in the following directions.
Perum DAMRI (Sarbagita) bus operating from Bandara (Bali Airport) to Tabanan (Denpasar Bus Terminal). The fare is IDR 7000. The bus passes the following stops: Terminal Mengwi, Kapal, Sempidi, Jalan Kargo, Jalan Mahendradata, Jalan Soputan, Imam Bonjol, Sunset Road.
Perum DAMRI (Sarbagita) bus between Bandara (Bali Airport) and Nusa Dua (Nusa Dua). Fare: IDR 3500
Perum DAMRI (Sarbagita) bus operating on the route Bandara (Bali Airport) – Batubulan. Fare: IDR 3500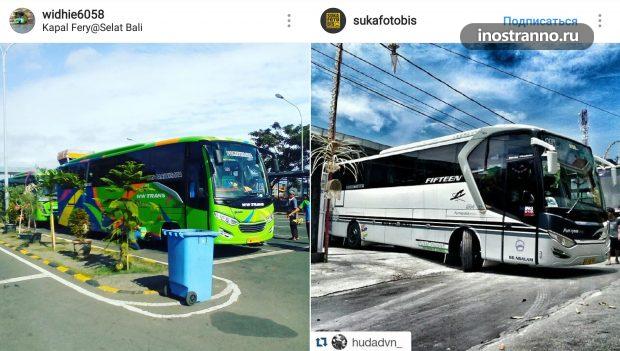 Bemo shuttles
Purely hypothetically you can get from the airport in Bali to the nearest destinations on Bemo.
Bemo are small minibuses or shuttles in our native language, which can fit about 12 passengers. Bemo are usually very slow, dirty, dusty, stuffy and noisy! But you can take in the local color. If you choose this transport, you must take into account that Bemo stops very often and slowly crawls through the streets, picking up passengers at every pole.
BEMOs take a certain route, but without knowledge of the language it's hard to know where they're going. You can get off and land anywhere: at any point of the route, just with a wave of the hand, or at the Airport Terminal. When you get to the bus stop you pay a certain price, and when you get from point A to point B the driver tells you the price from the ceiling and if you don't want to get there, you may refuse to get on or you can try bargaining, just like in Thailand.
But the fare is much more expensive for tourists than for locals.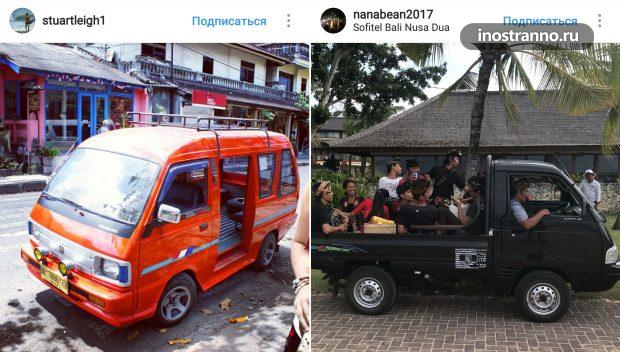 Bali Airport Taxi
The most comfortable way to get from the airport to the resort is a cab, but there are many pitfalls in this method of travel. After leaving the arrival area local cab drivers will immediately call you, but there is no bargain with them, they drive without a meter and can name any amount upon arrival, and since they know that tourists come with money in a wild country, you as a tourist would rather pay what he says than take risks in Indonesia. At the exit of the arrival area there is a Prepaid Taxi stand on the left, this means that you pay the employee in advance for the trip, give the address of your destination, and the cab driver will take you to the specified address without charging you more money, there is usually a line for such cabs. There are also Blue Bird cabs that charge by the meter.
When several flights arrive, the arrival area is crowded, hectic and chaotic, it will be very difficult to find a free cab, so there are usually lines.
Another minus when traveling by cab with a meter is a traffic jam on the island, so when you stand in traffic you can get a considerable amount of money.
And the last minus is the insecurity of local cabs, which can take you not to your destination, but to an unknown direction, or on arrival to extort from the tourist much higher fare, with the support of cab driver friends.
If you want after hours of flight with comfort and go straight to the hotel, then as an option you can order a cab transfer in a Russian company. After booking you will have a fixed amount to pay, which will not change despite the traffic jams or changes in the exchange rate. Also the advantage of such cab is that the drivers respect the rules of the road, the cars are comfortable with air conditioning and you will not be nervous during the trip.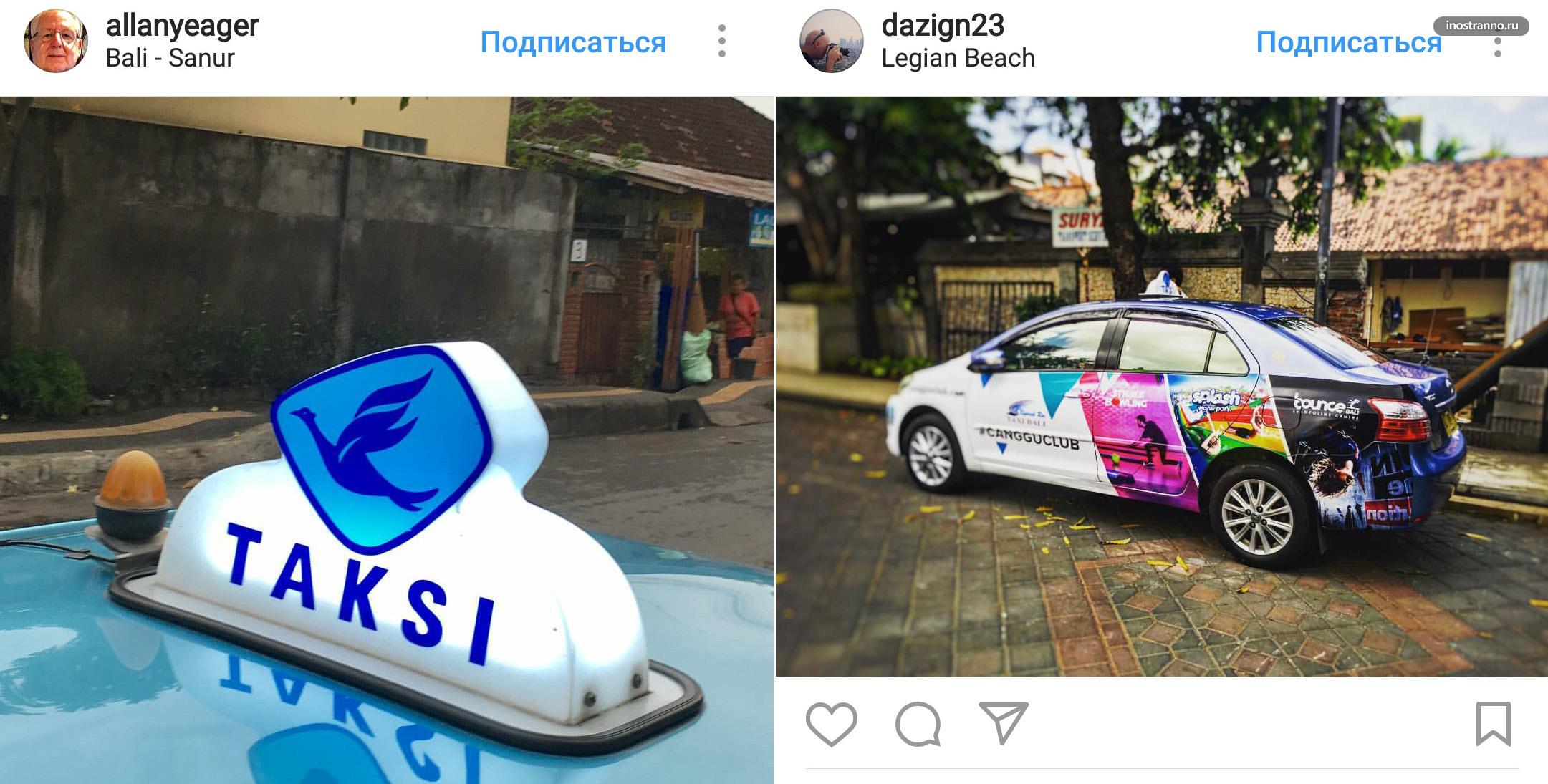 Rent a car in Bali airport
Tourists on their own have long been fond of renting cars after arrival. In Bali this is very relevant, as you realized that public transport is very poorly developed. In a rental car you can get to the most beautiful sights and natural beauties of the island, as well as to your hotel. In addition, every day you can drive to a new beach.
During the trips we rent cars through Rentalcars service, where you can choose any car without risk, even in peak season. The site compares prices from all suppliers and you can find a cheap rental option.
The only thing for traveling by car in Bali will need to get used to the right wheel and accustomed to the driving style of the locals.
Getting to and from Bali Airport
Ngurah Rai Airport is the only airport in Bali that receives international flights. From the airport, visitors are driven to their destinations. You should therefore think beforehand how to get from there to your resort and how to get back. This will help to avoid unpleasant surprises and not to waste time looking for a vehicle. You will learn about all available ways in this article.
How to get from the airport?
Bus
This is the most budget-friendly option to get to your desired destination from the airport.
The official carrier Sarbagita operates three routes:
to Tabanan;
to Nusa Dua;
To Batubulan.
The buses are air-conditioned. This is important, as the weather on the island is hot. Leaving by bus will not be a problem. You will see the stop at the regional terminal. A pedestal with stairs will serve as a landmark. The ticket will cost about 50 cents. Transportation runs every 20 minutes from early morning to 9 p.m.
If going to other resorts, for example, Sanur, Semenyak or Ubud, use the services of other carriers. There are two major carriers to these destinations:
Perama;
Kura-Kura Bus.
I have heard that they operate buses but I haven't seen them myself. Be careful when searching for the right bus. Pay attention not only to the carrier, but also to the appropriate route sign. Before boarding ask the bus driver for directions.
Cab
This is a comfortable, but not budget way to get to the place. Prices are obviously inflated, especially if you use the services of a private driver. They are waiting for tourists in the arrival area and offer their services.
So I recommend looking for a kiosk with a Prepaid Taxi sign. Here you will officially pay for the service and get to your destination. But in this case you may encounter another problem: there may not be a free driver. Therefore, the best way is to order a cab online in advance, which will be discussed below.
Transfer .
You can order it online while you are still in your home country. You can do it on this website. The driver will meet you with a sign in the arrivals area and take you to the right place. The trip costs from 14 dollars. This is the preferred option if you are traveling with children or value comfort. In this case, you do not have to wait until the cab driver is free or overpay for a private person. The driver of the transfer is guaranteed to get you to the right place at the appointed time.
Travel time depends on the distance, but usually not more than an hour. Island resorts are located near the airport.
Rent a car at the airport
This method is suitable for tourists who prefer to travel around the island on their own. You can see all the sights of Bali independently of the guides. This option will appeal to people who are accustomed to organizing their own vacation and do not rely on chance.
It is easy to rent a car at the airport in Bali. You can rent a car from one of the big international companies online, or you can rent one on your arrival at the car rental counter.
You can check your car rental online on this website, or at the car rental counter on your arrival. Some renters do not issue insurance for the car. In the case of damage or theft of transport, the renter has to pay for the costs himself. Rent a car from a trusted rental company.
It will cost about $13 per day. But here it all depends on the car model, the company's prestige, and the duration of the lease. The longer the rental term, the lower the cost. Thus, if you rent a car for a month, the rental price is $220.
To rent a car you need an international license and a passport. Read more about car rentals in this article.
How to get to the airport?
Cab
One way to get to the airport is to take a cab. You can use the service Uber. Uber cabs are notable for their low prices. There are drivers all over the island. So you can order it by yourself or ask the hotel receptionist. By the appointed time, the driver will drive up to the specified address and take you to the airport. Employees of the company are punctual and guaranteed to arrive at the appointed time.
There are also local cab companies operating on the island. Blue Bird has a good reputation. Passengers leave good reviews about the drivers.
On the beaches and near the hotels, there are private drivers offering their services. The prices of unofficial carriers are many times higher, and no one can guarantee the safety.
Transfer .
If you know the departure date, then order a transfer in advance. The driver will pick you up, help with luggage and deliver to the airport on time. The price is quite reasonable. You can also book a transfer to the airport online on this site. Then, on the day of departure will not have to worry about finding a free cab.
Bus
Airport buses leave from Denpasar. You can catch one at the bus station. But it is unlikely that some tourists will drive to Denpasar especially to get to the airport. Therefore I will not consider this way in details. But in any case you will know that it is possible.
The trip will be successful only if you carefully plan all the nuances, including the route from the airport and back. The optimal way to Bali will be able to choose each traveler based on individual preferences.