How to get from Budapest to Vienna
Communication between Budapest and Vienna is excellent, tourists can easily overcome this route on their own. It is only 243 km, which can be traveled in about 3 hours. We will tell you about all the ways, highlighting their pros and cons.
Train
Direct train departs from Keleti station. The interval of movement is every hour. This is the fastest and cheapest way to get to the Austrian capital. You will have to travel only 2 hours and 38 minutes in a comfortable seated car.
The first train leaves for Vienna at 05:40, the last – at 20:40. The ticket price in second class is 13 euros. There are two types of trains RailJet and EuroCity, which are not very different from each other in terms of comfort and speed. They make three stops along the way and arrive at Wien-Meidling in Vienna.
Buy a ticket
On the official website of Hungarian Railways you can buy a ticket for 50% less than at the ticket office. Austrian railroads do not offer discounts.
You only need to print out your booked ticket at a ticket machine in Hungary. To do this on the screen it is necessary to type a 10-digit code, which is contained in the booking document.
For tourists the best fare is Sparschiene-Fortuna (13 euro one way, 26 euro round trip). It does not provide refunds and discounts for children. Departure only at a fixed time on a specified date. The choice of the place is free. But this option allows an inexpensive and comfortable trip from Budapest to Vienna.
Orientation at the station
The address of the station is Baross tér square in the 8th district of Budapest. The subway station Keleti Pályaudvar is connected to the platform by a crossing.
The train will be served 30 minutes before departure. If you have some free time, you can have a bite to eat in the café of the Arena Plaza, next to the station.
Boarding the train
Trains Railjet (Austrian Railways) – comfortable cars, second class here is not much different from the first and business.
If you have a ticket without a seat, get there early and take any available seat (follow the light indicators). The train has a dining car, on the way you will be offered snacks and drinks. Children are entertained on the way by cartoons, adults have a possibility to read booklets.
On the route there are two teams of controllers (Austrian and Hungarian), after the first check do not throw away your travel document. A reservation without a printout at the station is not considered a ticket, and passengers are fined.
Bus
Buses to Vienna depart from the main bus station "Nepliget". Travel time is 2 hours and 40 minutes. The cost of a round-trip ticket starts at 20 euros and higher, depending on the time and the transport company.
You can buy tickets in different ways:
Through the Internet.
At the ticket offices of bus stations.
From the driver.
Among the dominant transport companies are Flixbus and Orange Ways. The first transport company has a website in Russian, so it is most convenient for Russian tourists. All machines have a bio-toilet and provide free Wi-Fi.
It is not necessary to print out bus tickets. It's enough to show the paid ticket on your smartphone screen.
Rules of travel on Flixbus buses:
The ticket price includes transportation of two pieces of luggage (size 67 by 50 by 27 cm and total weight not more than 30 kg).
In the cabin you can take a hand baggage up to 7 kg and with dimensions 42 x 30 x 18 cm.
All tickets are sold without seat assignment.
You can return or change your fare almost before the bus departs.
Orange Ways buses are easily recognized by their orange color. Rules of carriage are slightly different from the first option. So you have to pay extra for child seats, but the child on the hands of an adult goes free. It is strictly forbidden to carry pets. The return conditions, unlike on Flixbus, are very unfavorable.
The car
Traveling around Europe by rented car is convenient in every way. You are not tied to dates, you spend only on gasoline and vignette, you stop on the road wherever you want. From Budapest to Vienna by car it will take you two and a half hours (if there are no stops).
The rental price may or may not include toll roads. Please ask the transport company in advance.
Vignettes (a kind of toll road pass) are purchased separately for Hungarian and Austrian territory. For Hungary it's valid for 10 days and costs 10 euros. It is not obligatory to put a vignette on the windscreen.
For Austria the rules are different: the document costs 8,8 euro, is valid for 10 days. But, don't forget to glue the vignette on the windshield. For driving without a vignette you have to pay a fine of 120 Euros in Austria and 50 Euros in Hungary.
If you add up these expenses with the cost of gasoline (Ai-95 Euro 1 per 1 liter) the budget is much higher than by train or bus. You can save money bypassing toll roads, but then the trip may take up to 4 hours.
You can use BlaBlaCar service, but it has some nuances: you should use only the local version of the site (BlaBlaCar.hu) and know at least one European language.
The boat
Navigation on the Danube begins on May 10 and ends on September 30. During this period you can take a short cruise on the Meteor. It can not be called a fast and cheap, but you will have a lot more fun on a sultry summer day than on a traditional transport.
Travel time is 6 hours and 30 minutes. The cost of round-trip tickets is 250 euros. This way is suitable for trips to Vienna for a few days. On the way you will enjoy the picturesque banks of Europe's main river. Budapest from the river looks very spectacular: the Parliament building, the Royal Palace, the Fishermen's Bastion, the bridges appear in a single panorama that takes your breath away. You will sail past the Visegrad Fortress and the Cathedral of Esztergom, get acquainted with the technology of locks, admire the panorama of Bratislava and many Austrian castles.
Such a trip in itself is a fascinating excursion.
sightseeing tour
To "not bother" with the intricacies of logistics and spend time with benefit, listening to the fascinating stories of the guide, you can go from Budapest to Vienna on a tour bus or personal guide car. There are many variants of such trips, please refer to the corresponding page of our website or call our managers by phone.
How to get from Budapest to Vienna – all ways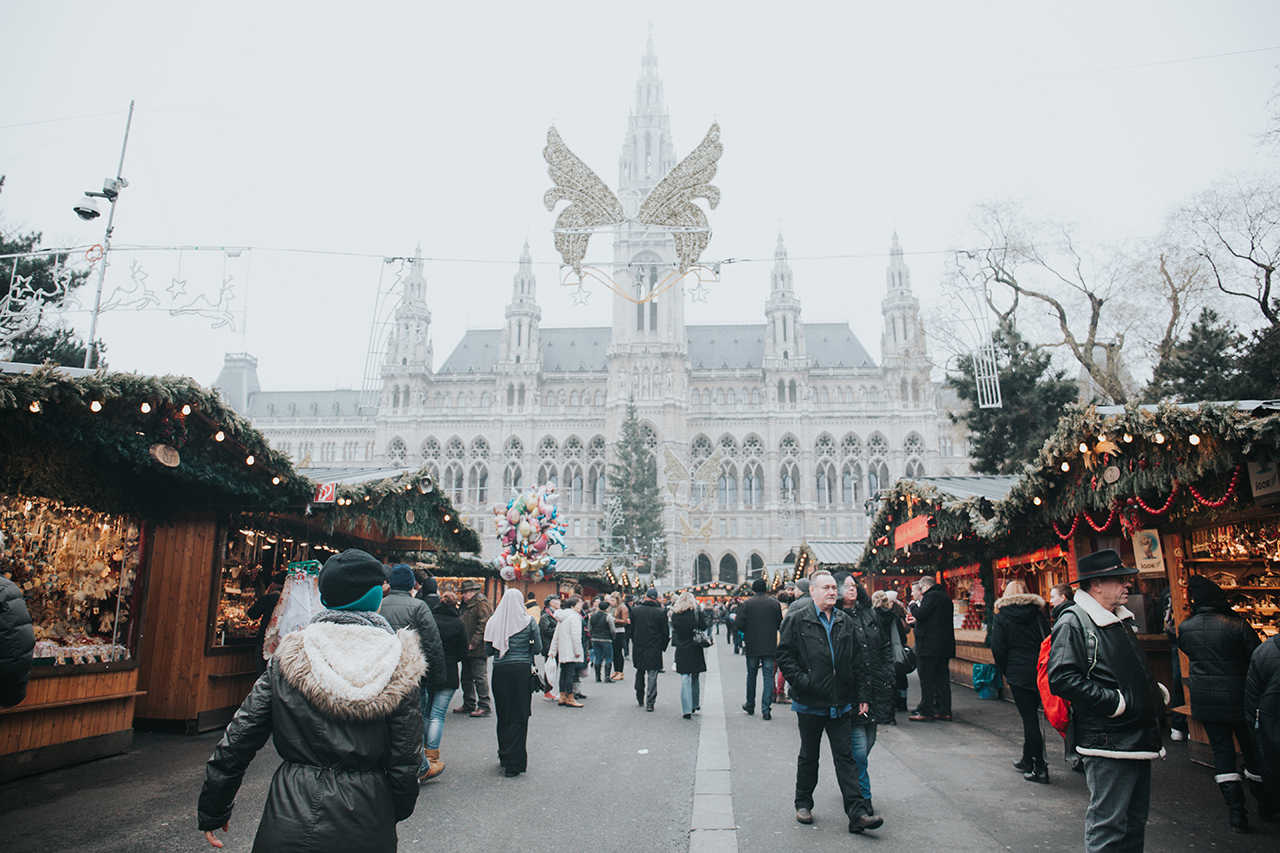 We tell you how to get from Budapest to Vienna on your own. Overview of transport, timetables, names of stops, ticket prices, excursions. What is the best way to get there and what is cheaper? Tips on how to save money.
Search for excursions on Sputnik and Tripster sites. Individual and group, without the crowds of tourists and in Russian.
Exchange rate: 100 forints (HUF) ≈ 25 RUB.
How to get from Budapest to Vienna by bus
The two European cities are separated by 243 km, so it is convenient to travel from one country to another. The cheapest way to get from Budapest to Vienna on your own is by bus. Passengers are transported by several companies: Flixbus, RegioJet, Eurolines, Nomago, Karat-S and others.
Buses have modern air-conditioned salons with toilets, comfortable seats, free Wi-Fi and outlets for recharging. On some flights, passengers are offered hot drinks.
The journey takes 2.4 to 4 hours. Evening flights tend to last 15 minutes longer due to traffic jams at the exit of Budapest and the entrance to Vienna.
Stops . Buses from Budapest to Vienna depart from the bus station near the subway station Nepliget (line M3), from the train station on Kelenföld street or from the airport. In Vienna they arrive at Vienna Central Train Station S+U Waldmanngründe, the Vienna Central Bus Station VIB or at Vienna Hauptbahnhof on Südtiroler Platz. Some buses terminate at Vienna Airport.
Timetable . Buses run at half-hourly intervals from 4:00 to 23:45. Most flights are direct.
Where to buy a ticket . Tickets for the bus Budapest – Vienna buy at the bus station or directly from the driver. It is convenient to buy tickets through the service Omio or on the websites of carriers. Fares range from 3000 to 6580 HUF. The ticket price includes two pieces of luggage and hand luggage.
If you buy online, you pay by card. You can print the ticket or save it on your phone. You will need your passport at the bus station.
How to save money . Keep an eye on the websites of carriers. There are nice promotions and discounts. The cheapest tickets are on Flixbus. If you buy in advance, the trip from Budapest to Vienna will cost only 1700 HUF.
A street in Budapest (Photo: unsplash.com / @akoto)
How to get by train from Budapest to Vienna
A dozen trains run between Budapest and Vienna daily. The first ones leave at 5-6am and the last ones at 6-19pm.
The EuroCity and RailJet trains do not differ much in comfort and run at the same speed – 240 km/hour. The carriages have soft comfortable seats, and there are toilets. All trains have dining cars. In addition, food and drinks are sold from movable carts. For snacks and coffee you can pay in cash or by bank card.
Stops. Almost all trains from Budapest to Vienna leave from the east station Keleti pályaudvar . During the 2.5-3 hour trip they make several stops and arrive at Wien-Meidling via Wien-Hbf . There are subway stations near all of Vienna's train stations.
Where to buy a ticket . Budapest – Vienna train tickets are sold at the train stations in the city. It's cheaper to buy through the Omio service, but the lowest prices are on the Hungarian Railways website. There you will also find the current train schedule. The site has an interface in English and German.
Fares start at HUF 13170. Children, students, disabled people and senior citizens enjoy discounts.
After you have paid for your train ticket between Budapest and Vienna, you will receive a ten-digit code by e-mail. At the train station, enter it at a ticket machine and print your ticket out! Hungarian and Austrian controllers will not be satisfied with a simple reservation, they will definitely require a printout.
How to save money . Buy a ticket for the Sparschiene-Fortun discount fare , then it will cost from 4300 HUF. Fare in the second class carriage is cheaper than in the first class.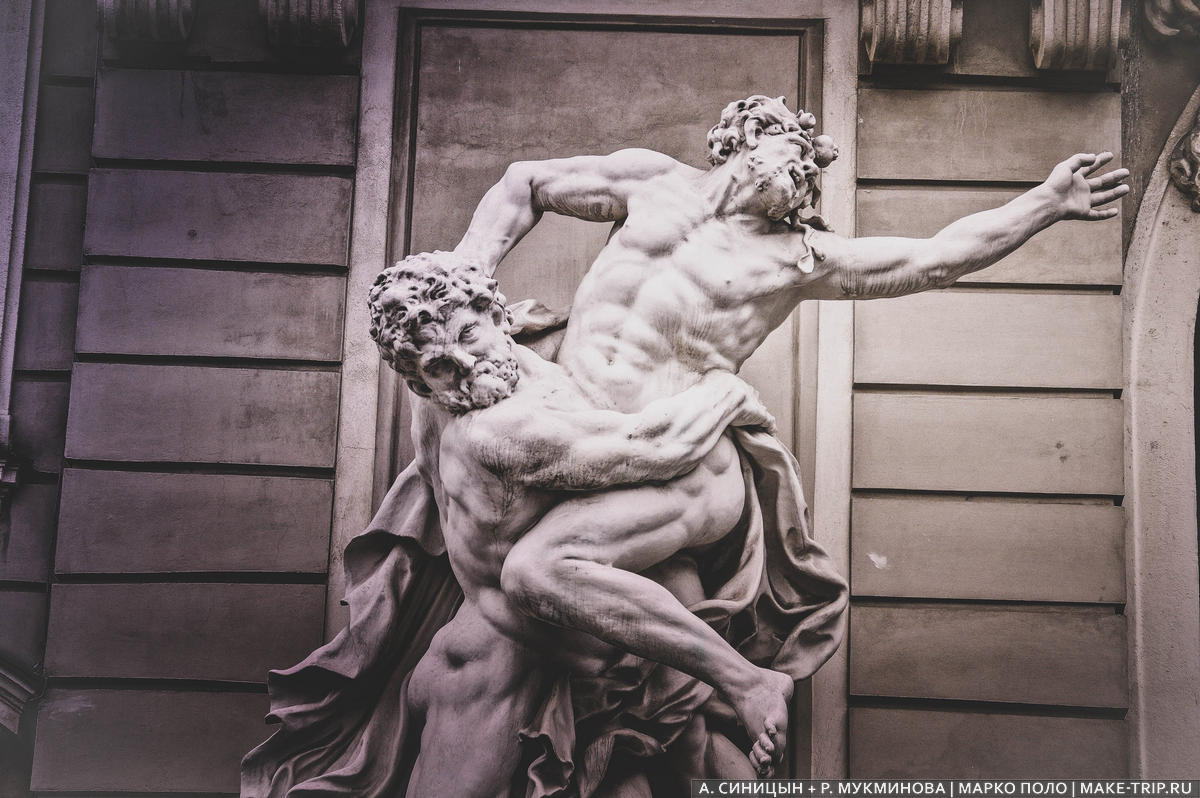 Hercules fighting Antaeus, Vienna
Excursions from Budapest to Vienna
A convenient way to get from Budapest to Vienna is an organized trip with a guide. From Budapest they offer one-day bus tours to and from Vienna at a cost of 60-78 euros. Along the way, a chaperone tells you about local sights and gives you a sightseeing tour of Vienna.
If you don't like to travel with a large group, buy an individual "To Vienna for a Day" tour for 420 euros. Up to 4 people can take part in a comfortable guided car trip. Such a tour lasts about 12 hours.
Tour operators offer transfers from Budapest to Vienna and back without a guide for 190 euros. An experienced driver will take you to Vienna, pick you up after 6 hours at the agreed place and take you back. Cab service costs about the same.
Popular excursions in Budapest:
BlaBlaCar hitchhiking.
Planning to get from Budapest to Vienna by car? The popular service BlaBlaCar will help you find hitchhikers! Travelling with a hitchhiker is a great solution for young people and everyone who wants to save money and get along on the road.
Go to the site, set your start and end points, the right date and time, and browse through the drivers' requests. Sort the offers by price and you'll easily find options starting at 4,400 HUF (€13.5). Very inexpensive!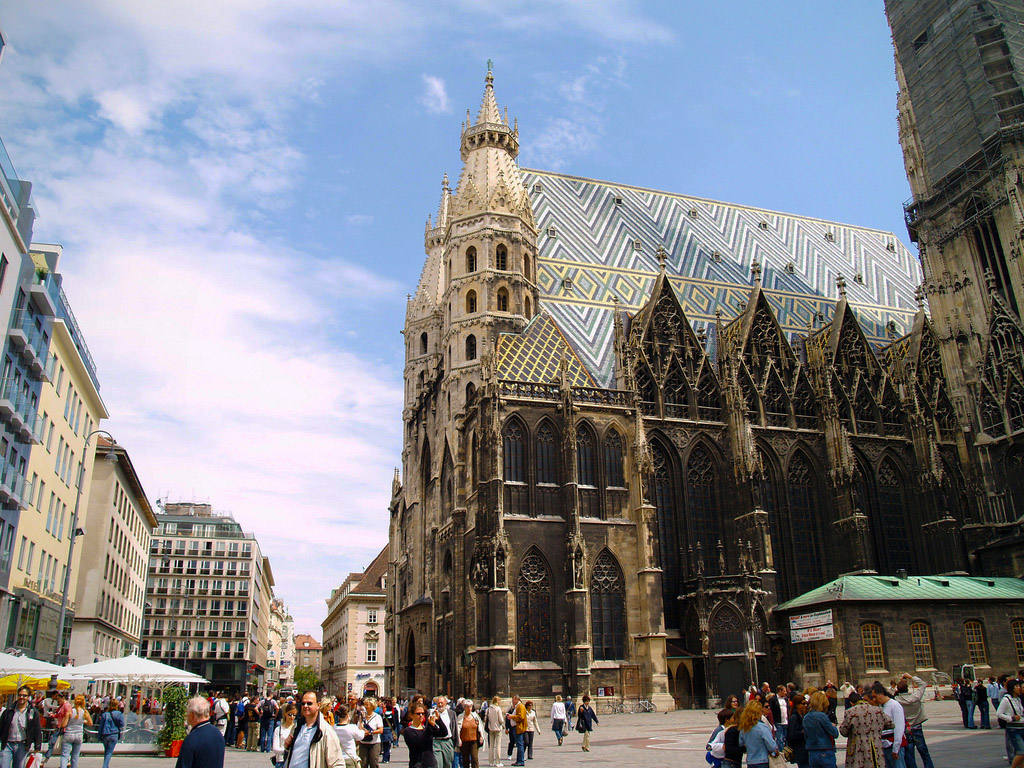 St. Stephen's Cathedral (Photo: –Filippo– / flickr.com)
Rent a car
A popular way to get from Budapest to Vienna on your own is to rent a car. Renting a car is suitable for anyone who likes to drive and feels confident behind the wheel in a foreign country. By renting a car you can not only come to the capital of Austria, but also travel to other cities and countries of Europe.
Hungarian offices and international firms are engaged in renting a car. The price depends on the type of car, accessories, and the term of the lease. The compact cars cost 20-25 euros, medium cars cost 30-60 euros and off-road cars cost 70-100 euros per day. You must pay a deductible of 300-1000 euros.
The trip between the two cities takes 2.5 hours. Keep in mind that the shortest way is on the toll roads. Apart from the rent you have to pay for the vignette – about 10 euros and gasoline. It is easy to buy a Hungarian vignette at virpay.hu.
How to save money . Rent a car for a longer period. Rent a budget car for a week costs from 80 euros.
Popular excursions in Vienna: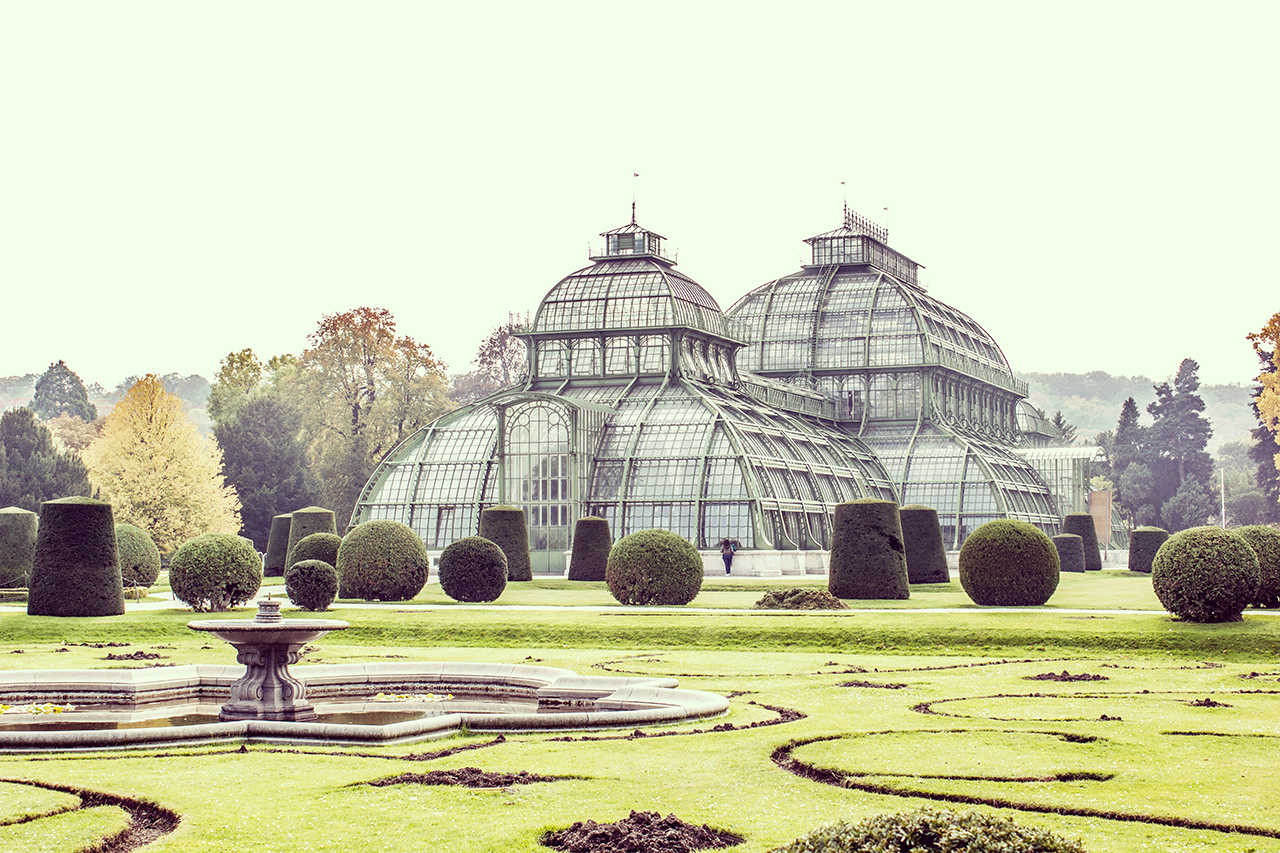 Schönbrunn Zoo (Photo: unsplash.com / @schaffler)
The best way to get from Budapest to Vienna
The cheapest way is by shuttle buses. A bus trip from Budapest to Vienna costs half the price of rail.
Trains are chosen by tourists who like comfort and want to travel safely. Riding the train is always interesting and not tiring!
Excursions from Budapest to Vienna are enjoyed by everyone who does not speak foreign languages well and does not want to spend time and effort to find a schedule and buy tickets. The downside of any tour is a strict schedule. There is very little time to get to know Vienna!
How to get there:
Cab or shuttle will suit those who are willing to shell out any money for maximum comfort. This is the fastest way to get from city to city.
Vacationers who appreciate the freedom of movement choose to rent a car to travel from Budapest to Vienna. Just like a cab, the journey by rental car takes little time, but you will need to look for parking lots, adjust to the local traffic rules and solve problems if an accident occurs.