How to get from Rimini to Rome
The distance from Rimini to Rome is about 400 km. For a trip in this direction you can spend only 16 euros if you choose a bus. Travel time is from 6 hours by bus and from 3 hours 30 minutes by train.
Read more about how to get from Rimini to Rome on your own and where to buy tickets cheaply below. Ticket prices and timetable information are as of 2022. Check departure times, flight availability and costs for a specific date when you book your ticket.
From Rimini to Rome by bus
Perhaps the cheapest way to get there is by bus. If you choose a direct flight, you will spend 6-7 hours on the road. Alternatively, you can transfer in Bologna, but then the journey will take longer. The destination is served by carriers FlixBus and Itabus.
Bus FlixBus
The direct route FlixBus departs from the bus stop on Via A. Fada at around 10:00 p.m.: get off at the Tiburtina bus station in the Italian capital at 5:05 a.m. Check the timetable for your desired date: this flight doesn't take place every day.
In total, the trip will take 7 hours and 05 minutes. This option will be suitable for those who can tolerate overnight travel and want to save money on hotel expenses.
The other flights are connecting in Bologna or Ancona: you will spend 8-9 hours en route.
The ticket price starts from 16 Euros if you booked at an early stage.
Itabus
Competitive tickets are also available from Itabus. A day there are two trips: about 9.00 and 15.45. Please pay attention to exact timetable, it may change.
Travel time: 6 hours 05 min. It's faster than by FlixBus. And you can choose a morning or evening departure. Arrive at the Roma Tiburtina bus station.
If you leave in the morning, you'll be in Rome in the afternoon. Convenient time to check into the hotel (in most check-in starts after 14:00) and go for a walk in the capital of Italy.
Tickets on Itabus when purchased 2-3 weeks in advance cost from 16 euros.
Buy a bus ticket Rimini – Rome
Compare flights of different carriers on the Busbud.com website in Russian. There you can set the sorting by price, travel time and departure: for example, select the filter "cheapest" or "fastest" and find a suitable option.
The site has the ability to purchase a ticket in advance, which will come to your e-mail. In this case you do not have to wait in line at the ticket office, plus the cost of tickets is usually lower with an early booking.
From Rimini to Rome by train
Direct trains from Rimini to Rome are rare: there is only one flight per day. It is the Frecciabianca of the Italian company Trenitalia, which leaves early in the morning.
If you can't take a direct train, you can get to Rome even quicker with a connection to Bologna. The main thing is to choose flights with minimum transfer time.
Direct high speed train Frecciabianca
If you want to take a direct route, choose the Frecciabianca express train. It departs from the station Rimini at about 6.52 am and arrives at the main station Termini at 10.57 am. Check the schedule when making your reservation.
Photo: zefart / Shutterstock.com
Thus, you'll reach Rome in just 4 hours and 05 minutes: you don't need to change anywhere. The train is comfortable, with padded seats, air conditioning and other amenities.
The ticket price is:
From 32 Euro for the Super Economy fare;
From 36 Euros for Economy fare;
From 55 Euro in Base fare.
Fast trains with a transfer
You can travel less than 4 hours with fast trains Frecciarossa, Frecciargento, Frecciabianca with a connection in Bologna. The minimum travel time is about 3 hours and 30 minutes. It's even faster than by direct train.
Photo: S-F / Shutterstock.com
From Rimini station to Bologna Centrale station, it takes about an hour. Then to Roma Tiburtina station for about 2 more hours. Transfer in Bologna takes on average 20 minutes.
Tickets in total come out more expensive than the direct train:
from €54 for the Super Economy fare;
From 70 Euros for the Economy fare;
From 92 Euro for the Base fare.
Regional trains
Several times a day regional trains Regionale and Regionale Veloce run to the transfer station Falconara Marittima. There you can transfer to another regional train and go to Rome.
Photo: TDway / Shutterstock.com
Transfer time: from 15 minutes to 1 hour. In total, the entire route will take 5-6 hours. On the first regional train you can leave in this direction at 5.45 am, on the last one at 10.05 pm.
In addition, you can choose a regional train in conjunction with the high-speed, then the journey will take as much time as the direct Frecciabianca.
The total cost of tickets for regional trains starts at 28 euros in second class.
Intercitynotte night train
If you want to save money on your hotel, there is an option to go from Rimini to Rome at night on the Intercitynotte night train with sleeping cars. You have to change trains in Ancona or Bologna. The journey takes a total of 5 to 9 hours.
Photo: Leonid Andronov / Shutterstock.com
The train leaves from Rimini station and arrives at Termini station early in the morning. Perhaps this way will suit those who plan to save time during the day to walk around the city and spend the night on the road.
A ticket with Economy fare will cost an average of 35 euros.
Buy a train ticket Rimini – Rome
View the train schedule of Trenitalia and buy a ticket on the website of the carrier www.trenitalia.com. The Busbud.com website is handy in Russian. In addition to buses, it sells tickets for trains: it's easy to compare different modes of transport.
The purchased ticket will be sent to your e-mail. You only have to go to the train, skipping the queues at the ticket office. In addition, you will have time to book a ticket in advance at a low fare.
From Rimini to Rome by Car
As an alternative to public transport, you can get on your own by car. Italy is very convenient to travel by car – picturesque places, the ability to stop for a picnic wherever you want. For those traveling with a family or children is also a good option.
The distance between the cities by car takes about 4 hours, the gasoline consumption is about 80 euros.
You can rent a car at a convenient Russian-language Rentalcars.com website.
How to save on hotel rentals in Rome
Book a hotel in advance at a low price on the Russian-speaking site Ostrovok.ru. The system contains more than 900 thousand hotels, as well as there are hostels, apartments, guest houses and others.
The service works with many accommodation facilities directly, so it offers great deals. Suitable hotel is easy to find by filters and location on the map.
Where to buy tours and museum tickets
The best way to get to know Rome is with a local – he will show you the most interesting and hidden from tourists locations in the city, tell you about the culture and traditions. The programs are different: sightseeing, individual, gastronomic, outings, museums and others. You can choose a fascinating tour on the website Tripster.
If you want to buy admission tickets to major attractions without queuing, we recommend using the service Tiqets. There you can book electronic tickets from your phone to museums, shows and attractions.
How to get from Rimini to Rome – all ways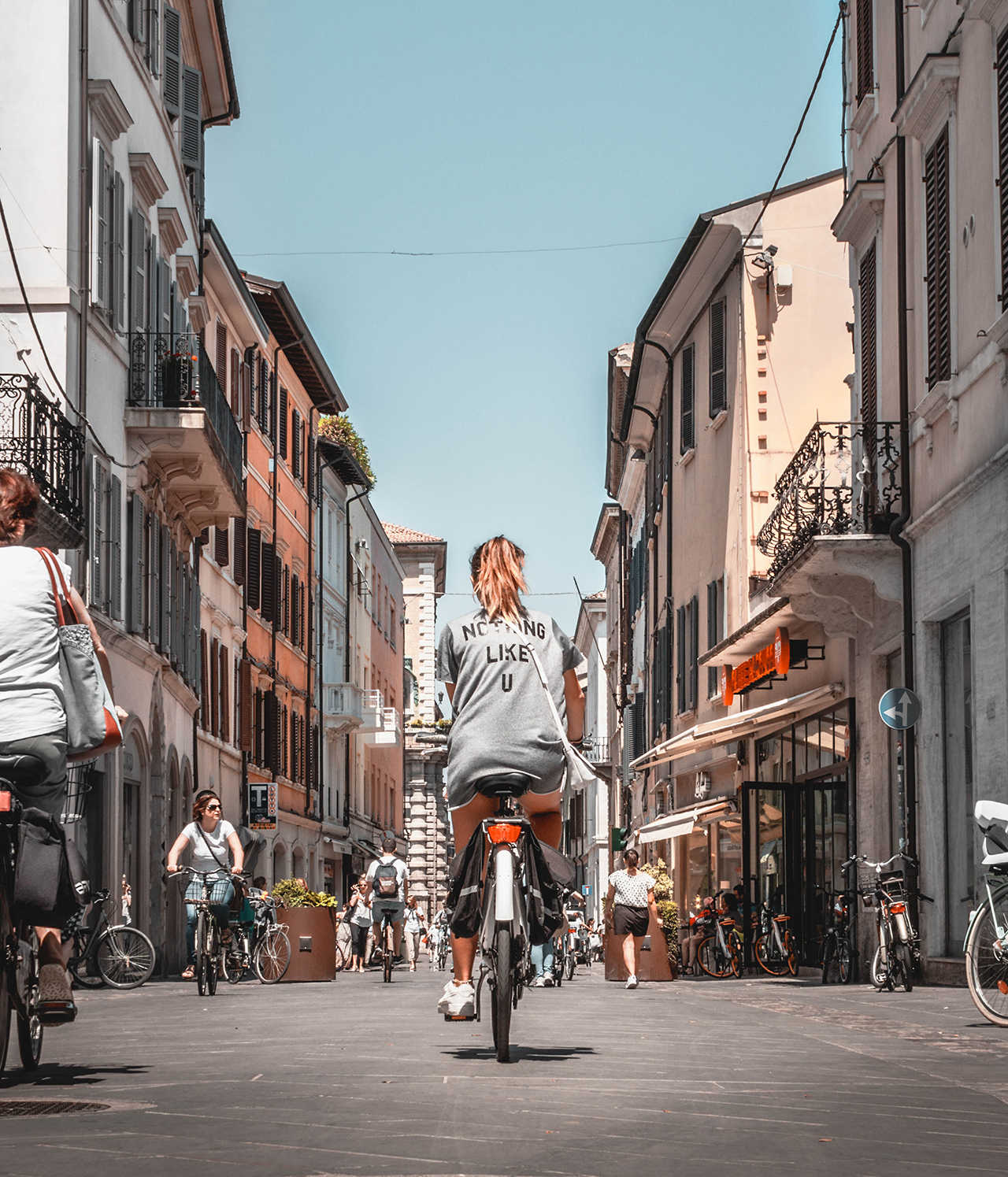 A detailed overview of how to get from Rimini to Rome on your own. What is the fastest and cheapest way to get to Rome? Schedule, names of stations and stops, excursions, fares. Where to buy tickets and how to save money.
Look for excursions on Sputnik and Tripster. Individual and group, without crowds of tourists and in Russian.
How to get by bus from Rimini to Rome
One of the most inexpensive ways to get from Rimini to Rome on your own is by intercity buses. The distance between the cities is 380 km. The road takes from 5.5 hours. Despite the rather long way, tourists from Rimini with pleasure go to the capital of Italy to look at the ancient monuments, visit excavation sites and interesting museums.
On the route there are modern intercity buses with air-conditioned cabins. Passengers sit in comfortable seats, use Wi-Fi and outlets for charging gadgets.
Popular tours in Rome:
Schedule . Flixbus buses run four times a day – at 9:40, 14:05, 17:05 and 22:15. They leave from the bus station in Via A. Fada in Rimini and arrive at Rome's Tiburtina station .
It is also possible to go to Rome from Cesena and Cesenatico, which are not far from Rimini:
Sulga buses run daily at 5:40 and 15:00 from Cesena, 35 km from Rimini, to Rome.
The company Bonelli Bus organizes 3 trips Romagna – Roma per week. On Tuesdays, Fridays and Sundays buses to Rome depart from the seaside resort of Cesenatico, which is 25 km from Rimini.
Where to buy a ticket. It's easy to buy tickets for the bus Rimini – Rome online at the Russian-language service Omio. You can also buy on the websites of carriers FlixBus and Sulga. Some tourists buy tickets at ticket offices, electronic machines. Depending on the flight, a one-way ticket costs from 17.9 to 32.5 euros.
How to save money . To avoid paying for a hotel, take the direct night bus Flixbus. It leaves Rimini at 22:15 and arrives in Rome at 4:05.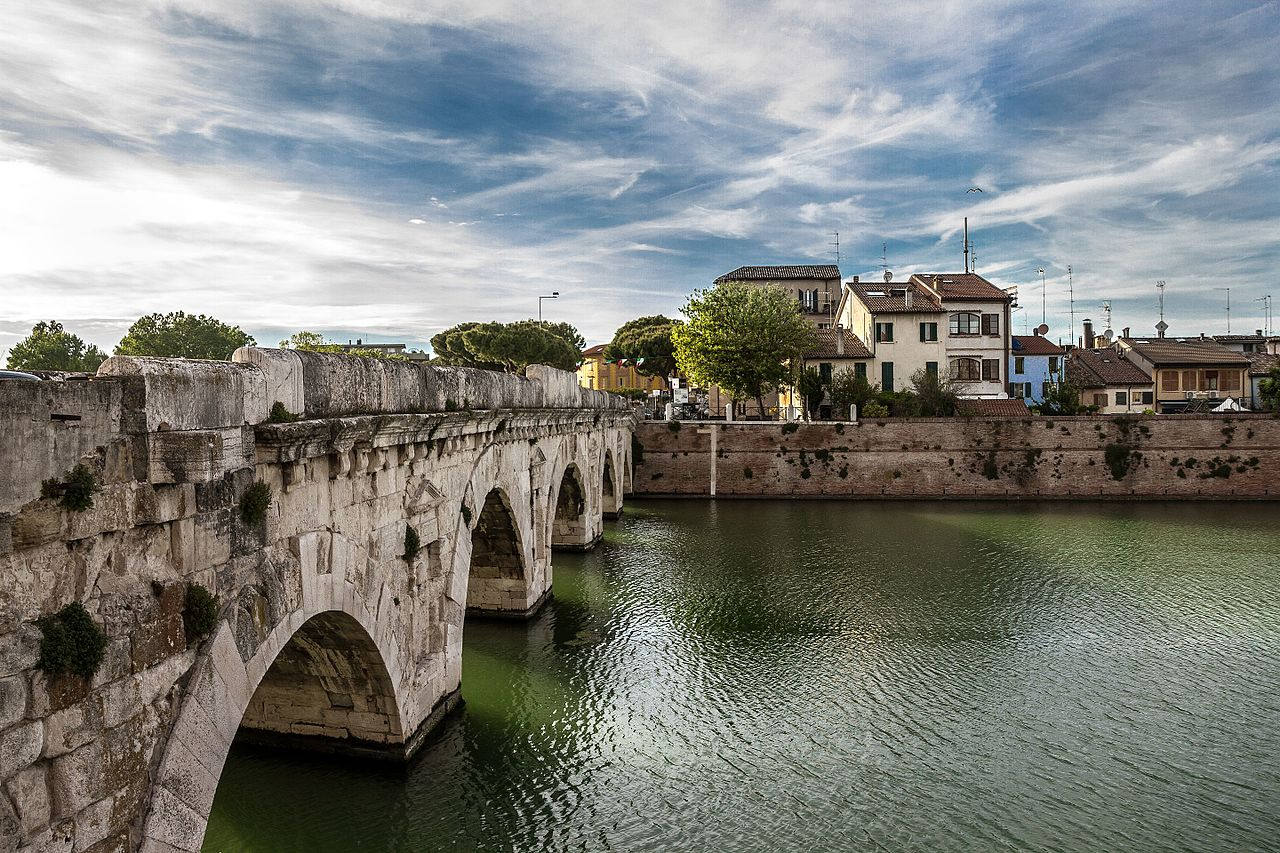 The Bridge of Tiberius in Rimini was built 2000 years ago. It is open not only for pedestrians but also for transport (Photo: wikimedia.org / Matteo)
How to get from Rimini to Rome by train
The most convenient and fastest way to get from Rimini to Rome on your own is the White Arrow, or FrecciaBianca train, which reaches speeds of up to 200 km/hour. The regional trains are slower (4-6 hours) because of the connections in Bologna or at the Falconara Marittima station. All trains from Rimini depart from the city railway station, which is located in the center of the resort, near Cesare Battisti square .
Schedule . The high-speed train departs at 6:36 and arrives at the Termini station in Rome in 3 hours and 44 minutes . The Intercitynotte night train leaves Rimini at 0:58 and arrives in Rome at 7:37. It's not very convenient because at night you have to change in Ancona for two hours. You can check the schedules of other trains at Omio and on the Italian railroads' official website.
Where to buy a ticket . Tourists buy tickets for Rimini – Rome trains at ticket offices or electronic vending machines, but this is not the best option. Before departure, there are usually no cheap tickets, and there are lines at the ticket offices.
To avoid wasting time, we recommend buying on the Russian-language service Omio or the Trenitalia website. The fare costs from 25 to 51 euros. After payment, the ticket will come to your e-mail in the form of a PDF file. Print it out and come to the train station!
How to save money . The earlier you buy, the less you pay for the ticket.
Rimini Beachfront (Photo: unsplash.com / @reddgio)
Excursions from Rimini to Rome.
A not bad way to get from Rimini to Rome is to travel with a Russian-speaking guide. Become a member of a group bus and walking tour.
Tourists are picked up from hotels, brought to Rome on a comfortable bus, conduct a sightseeing tour of the city and return to Rimini. For an hour of free time you can visit the Cathedral of St. Peter's and order a separate tour of the Vatican.
The trip is designed for 15 hours and costs 80 euros for adults and 65 euros for children under 11 years. There is one disadvantage – the excursion from Rimini to Rome is only once a week.
Popular excursions in Rimini:
BlaBlaCar shuttle.
Cab from Rimini to Rome is expensive – from 616 euros. To travel alone or in pairs, it's more convenient to find hitchhikers and share transportation costs with them. Find great deals on the BlaBlaCar service. To see offers from drivers that drive from Rimini to Rome, register on the site and enter the date and time. We found trips for 16.2 euros.
Ferris wheel in Rimini (Photo: unsplash.com / @reddgio)
By car from Rimini to Rome.
For a trip with family or friends, it is convenient to go from Rimini to Rome by rented car. The road will take 4-5 hours.
An economy car costs from 20 euros per day at the airport and almost twice as much in the city. Don't forget to add the gasoline costs – about 80 Euros, toll roads and parking lots to the rental costs. Learn all the nuances of renting a car abroad.
How to save . Arrange a rental agreement for a few days and take an interesting route through Central Italy. Renting a car for a week from Rimini with return in Rome costs from 130 euros. And it's also much more profitable to rent a car at the airport than in the city.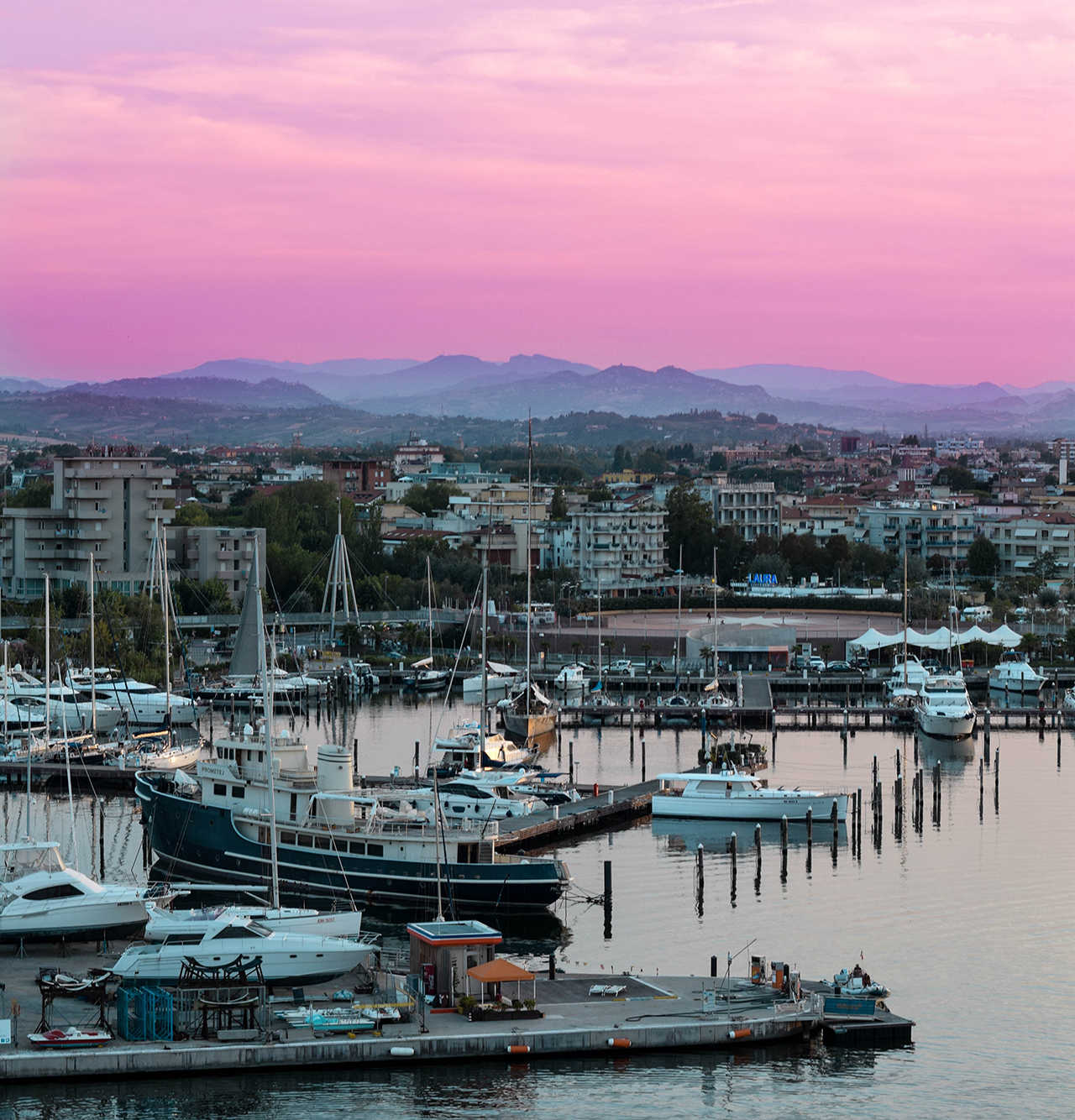 Port in Rimini (Photo: unsplash.com / @marijana_vasic)
The best way to get from Rimini to Rome
Economical tourists are advised to choose buses. Those who value time and safety – travel by high-speed train. If you want to hear the story of the guide, buy a tour from Rimini to Rome. The road with hitchhikers will stand up to tourists who want to drive with maximum comfort, but not to overpay for a cab.
Car enthusiasts like renting a car. An independent trip from Rimini to Rome allows you to see many interesting places and picturesque cities of Italy. Keep in mind that driving in Rome itself is not the easiest, especially if you have never been to this city. The best rental deals are when you rent a car for a few days at the airport.
How to get there: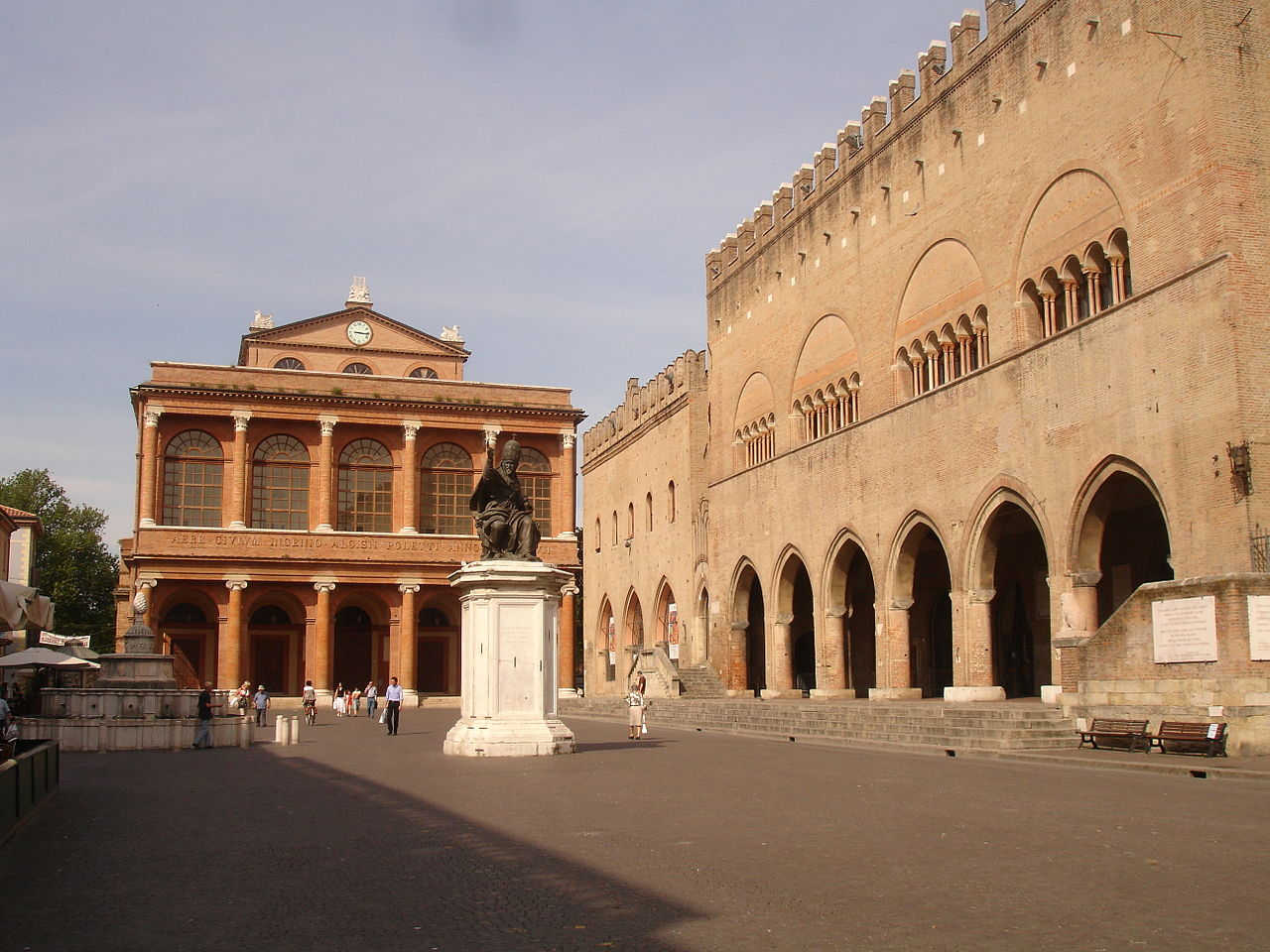 Piazza Cavour (Photo: wikimedia.ru / GuidoRN)