How to get from Rome to Venice
Since many people strive to connect the capital of Italy and the famous "city on the water" in one trip, the direction Rome – Venice always remains relevant. Fortunately, you can go by high-speed and night train, a comfortable and inexpensive bus, by car or by airplane directly.
The distance from Rome to Venice is about 393 km.
By train or bus you can arrive in Venice in the main station of San Lucia, or at the station Mestre. Mestre – is a suburb of Venice, where you can quickly get to the center of the city by bus or train just 10-15 minutes.
Read about how to get from Rome to Venice in the article below. Ticket prices and schedule information are as of 2022. Check departure times, flight availability, and cost for a specific date when booking your ticket.
From Rome to Venice by bus
The bus for this destination is represented by FlixBus and Itabus. If you compare with the train, a trip by bus on the direct route will be cheaper – from 15 euros.
Bus FlixBus
The bus FlixBus goes from the bus station Tiburtina several times a day from 7:30 am to 1:10 am. You arrive at the Tronchetto bus station in Venice or at the Mestre train station. You will spend about 7-8 hours on the road.
Alternatively, you can find connecting routes in Verona or Bologna, but in this case the trip takes about 9 hours.
A night flight is a convenient way to save on hotel expenses and not to spend time during the day on transfers, if you tolerate the night travels well.
Ticket prices start at 16 Euro if purchased in advance.
Itabus
Another economical option is to take a direct Itabus bus. The trip from the bus station Tiburtina takes 7-8 hours, which is comparable to the previous carrier.
Without any transfers the bus leaves from 8:15 am to 11:55 pm about five times a day. In the destination city you arrive at the bus station Venezia Tronchetto, and there is also a stop in Mestre.
By the way, on Itabus you can get tickets a few weeks before your trip for only 15 euros!
Buy a Rome – Venice bus ticket
It's convenient to compare flights of different carriers on the Busbud.com website in Russian. There you can sort your trip by price, travel time and departure, for example, select the filter "cheapest" or "fastest" and find a suitable option.
The site has the ability to purchase a ticket in advance, which will come to your e-mail. In this case you do not have to wait in line at the ticket office, plus the ticket price is usually lower with an early booking.
From Rome to Venice by train
The "city on the water" can be reached quickly by high-speed train or cheaper on Trenitalia's Intercity and Intercitynotte trains. There are also bargain options from the rail company ItaloTreno.
High-speed train Frecciarossa, Frecciargento
The Frecciarossa or Frecciargento high-speed train will take you directly from Roma Termini station to Venezia Santa Lucia central station in about 4 hours.
Photo: S-F / Shutterstock.com
High-speed trains start at 5:35 a.m. about every hour until 7:35 p.m.
A second-class ticket will come out:
From 50 euros for the minimum Super Economy fare;
From 69 Euro for the Economy fare;
From 92 Euro for the basic fare Base.
Intercity train
The Intercity train goes from Termini station to Mestre station with many stops, so you will spend about 6 hours on the way – about two hours more than on the express train.
There are only two services a day, at about 9:30 and 2:30 pm. See exact schedule when booking tickets.
The ticket price on these trains is much lower than on high-speed trains:
for the Super Economy fare – from 23 Euro;
Economy fare – from 30 Euro;
for basic fare – from 56 Euro.
The only thing is that the cheapest tickets for the initial fare are sold out very quickly and, as a rule, two or even three weeks before the trip they may not remain.
If you have the opportunity to buy tickets as early as possible for the minimum fare Intercity train to Mestre, then this travel option would be a fairly convenient, fast and cost-effective way to get to Venice.
Intercitynotte night train
A night trip on the Intercitynotte with sleeping cars is also cheaper than the high-speed train. The train departs from Termini main station at 10:35 a.m. and arrives at Santa Lucia central station in Venice at 5:34 a.m.
Photo: Leonid Andronov / Shutterstock.com
In total, you'll spend 6 hours and 59 minutes en route. This is a pretty good deal if you want to save money on a hotel and still get a good night's sleep on the train without a change.
The price of an overnight train ticket in second class with comfortable seats starts at:
from 15 euros on the Super Economy fare;
From 24 Euro for the Economy fare;
From 50 Euro for the Base fare.
If you want to take a sleeping compartment, the cost increases to 45 Euros for the minimum Super Economy fare.
ItaloTreno trains
There are also high-speed trains from another train company, ItaloTreno, between Rome and Venice. They depart from Termini station and arrive at the main station Santa Lucia.
In addition, there is a flight from the Roma Tiburtina station to the Mestre station in the suburbs of Venice.
Photo: S-F / Shutterstock.com
The earliest train departs at 7:55 a.m., the last one at 6:05 p.m. Interval of travel: about every hour. The duration of the trip is about 4 hours.
Low fare tickets for these trains start at 45 euros.
Buy a train ticket for Rome – Venice
View the train schedule and buy a ticket on Trenitalia website – www.trenitalia.com. In Russian, it's easy to understand the flights on Busbud.com. In addition to buses, it sells tickets for trains: it's easy to compare different modes of transport.
As for trains ItaloTreno, check the schedule and other information about flights on the website www.italotreno.it. There you can also buy a ticket in advance to save money.
The purchased ticket will come to your e-mail. The only thing you need to do is to go to the train, skipping the queues at the ticket office. In addition, you will have time to book a ticket in advance for the low fare.
From Rome to Venice by Car
If you decide to travel by car, you will get to the "city on the water" in about 6 hours. For gasoline costs, the trip will cost about 110 euros.
Of course, it's more expensive than traveling by train or bus, but you can admire the wonderful vastness of Italian nature and have a picnic in the most attractive places.
Compare prices and rent a car on the convenient Russian-language website Discovercars.com.
From Rome to Venice by plane
You can fly in just 1 hour by Alitalia direct flight. Take off from Fiumicino airport, arrive at Marco Polo airport. The initial price for a flight from Rome to Venice starts at 63 Euros.
You can find flights and compare prices on Aviasales.ru.
How to save on a hotel in Venice
Book a hotel in advance at a low price on the Russian-speaking site Ostrovok.ru. The system presents more than 900 thousand hotels, there are also hostels, apartments, guest houses and others.
The service works with many accommodation facilities directly, so it offers great deals. Suitable hotel is easy to find by filters and location on the map.
Where to buy tours and museum tickets
Get acquainted with Venice is better with a local – will show you the most interesting and hidden from tourists locations in the city, will tell about the culture and traditions. There are different programs: sightseeing, individual, gastronomic, visiting, museums and others. You can choose a fascinating tour on the website Tripster.
If you want to buy admission tickets to major attractions without queuing, we recommend using the service Tiqets. There you can book electronic tickets from your phone to museums, shows and attractions.
How to get from Rome to Venice – all ways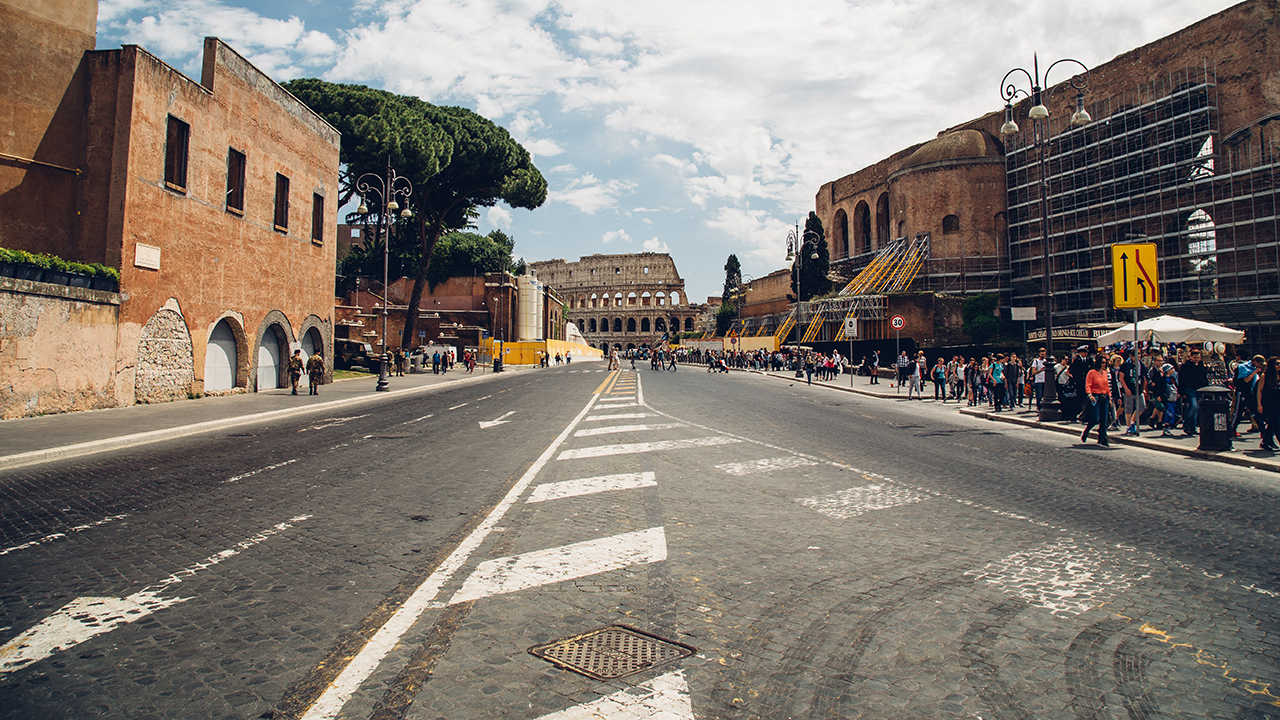 Learn about all the ways to get from Rome to Venice on your own. Which is the fastest transport? How to get there cheaper? Schedules, stops and ticket prices. Tips on how to save money.
Search for excursions on Sputnik and Tripster sites. Individual and group, without crowds of tourists and in Russian.
How to get by bus from Rome to Venice
There are 528 km between the Italian cities by road. An independent trip from Rome to Venice by bus is not the fastest and most inexpensive way to go. Bus routes on this route are served by FlixBus, MarinoBus, BusCenter, and RegioJet.
Stops . The buses depart from the Tiburtina and Anagnina bus stations in Rome and arrive at the Tronchetto or Mestre bus stations in Venice.
Schedule . There are 6-10 buses daily between the two Italian cities. They run at intervals of 1.5-2.5 hours. If the flight is direct, it takes tourists 7-9 hours to get there. A bus trip with transfers can stretch for 12-14 hours.
Where to Buy a Ticket . We recommend to buy tickets for Rome – Venice buses online through the Russian-speaking service Omio or on the website Flixbus.Also they are sold at ticket offices and electronic vending machines at bus stations. The fare ranges from 19.9 to 29.9 euros.
How to save money . The cheapest tickets are offered by Flixbus . If you buy in advance, the prices will be lower. Do you want to save money on a hotel? Take the night bus, which leaves at 22:50 from Rome and arrives in Venice at 5:30.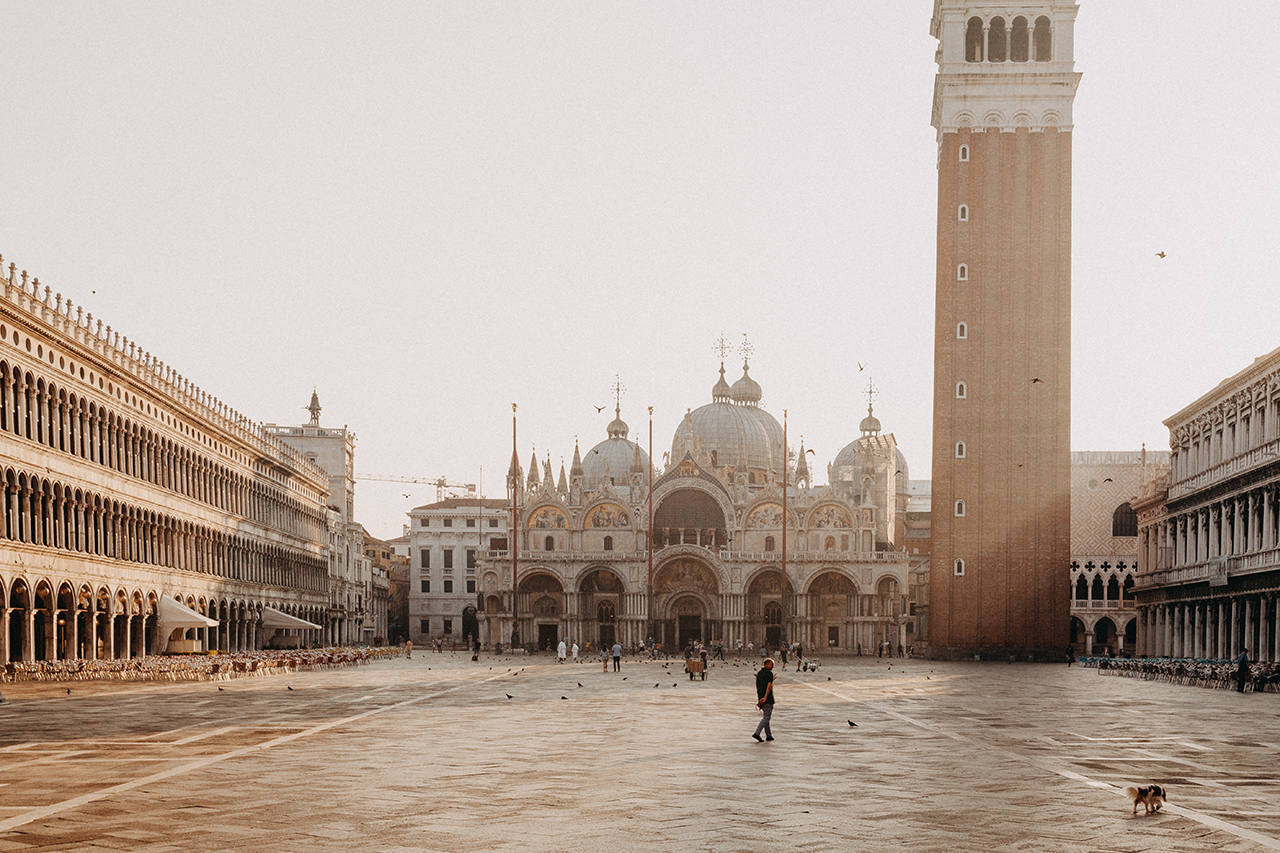 St. Mark's Square and Cathedral, Venice (Photo: unsplash.com / @dimush)
How to get from Rome to Venice by train
The safest and fastest way to get from Rome to Venice on your own are the Trenitalia and ItaloTreno high-speed trains . The journey time to Venice is only 3.5-4 hours. The slower trains Intercity – from 4 to 11 hours.
Stops. Trains leave from the Tiburtina and Termini stations in Rome and arrive at the Santa Lucia central station in Venice. They run daily from 5:35 to 22:35 at 15-30 minute intervals. If you leave early in the morning, you will be in Venice by 10:00!
Where to buy a ticket . For the train Rome – Venice tickets are sold at the ticket offices and machines at the train stations. To avoid standing in line, many tourists buy tickets online. This service is recommended to use Russian-language Omio service and websites of rail carriers ItaloTreno and Trenitalia.
Tickets for trains from Rome to Venice cost from 27.9 to 90 euros. If you buy 1-2 months before the trip, prices will be lower. Do not put off buying until the last day! It may turn out that all the cheap tickets are out.
Popular excursions in Rome:
Night Trains . A good option is to take the Intercitynotte night train from Rome to Venice . You do not have to spend money for a hotel. Inexpensive tickets are offered in a seated carriage class 2 at 12.9 euros. For a seat in a compartment you have to pay 60 euros, and a whole compartment will cost 100 euros.
How to save money . Watch for promotions on the ItaloTreno website in the Promo section. Sometimes tickets in 1st class, or Prima, sell for €18.9. On the Trenitalia website, if you buy several months in advance, you can catch a bargain Super Economy fare for €19.9.
Popular excursions in Venice: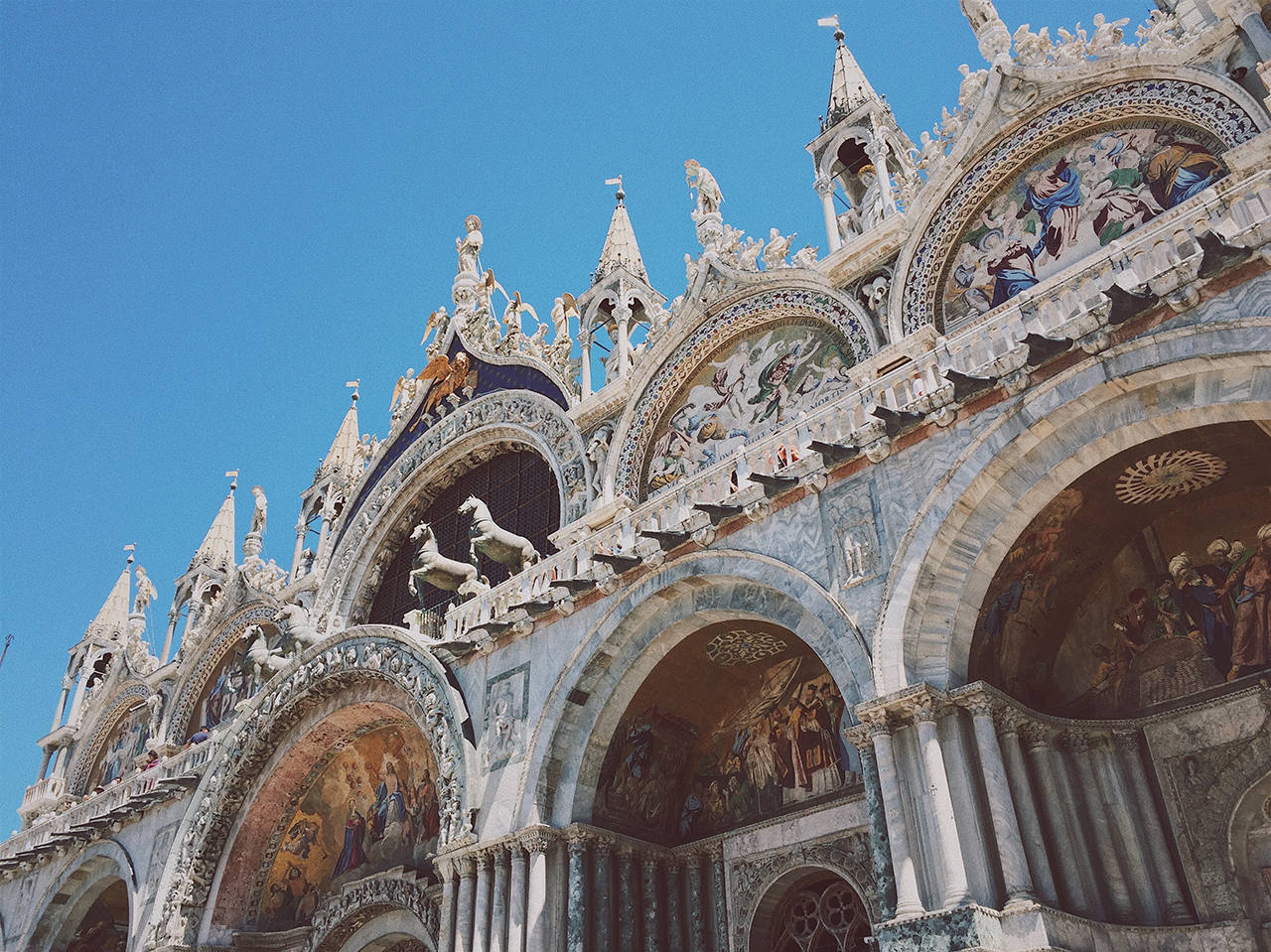 The graceful walls of St. Mark's Cathedral, Venice (Photo: unsplash.com / @timounesays)
BlaBlaCar hitchhiking.
Lovers of socializing on the road we suggest using the excellent hitchhiking service BlaBlaCar Enter the start and end point of the route – Rome and Venice, choose a date, time and you will see many offers from drivers.
The trip will take 5,5-6 hours. How much is it? We found an option for 24 euros. Not at all cheap!
Rent a car
If you like independent travel and feel confident behind the wheel, consider renting a car. Rental companies operate at Rome airport and in the city. The lowest prices for rentals are at Fiumicino Airport. Economy car will cost 70 euros per day. Use Rentalcars.com service and you can easily find the right car and rental conditions.
Renting a car just to get from Rome to Venice is not profitable. You can easily agree with this if you add fuel costs, toll roads (about 30 euros) and driving for 5.5-6 hours to the rental price.
For an enjoyable ride, continue the interesting itineraries in Italy for a few days. Make stops in Tuscany and other ancient cities. Spend time tasting Italian food and visiting places where famous wines, cheeses and prosciutto are made.
How to Save . Renting an economy car for a week will cost 91 euros.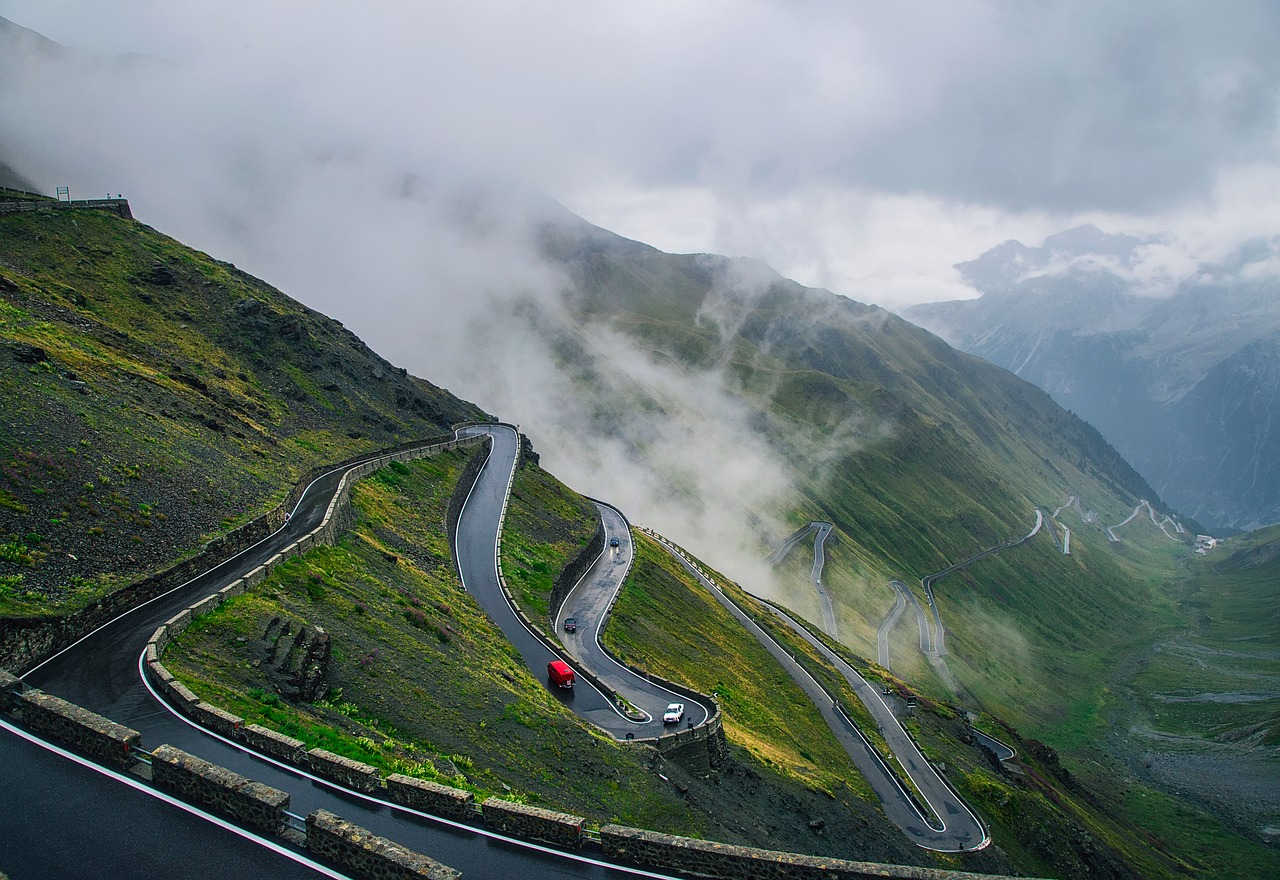 Serpentine in the Italian mountains (Photo: 12019 / pixabay.com)
The best way to get from Rome to Venice
Depending on which transport you choose, it takes anywhere from 3.5 to 14 hours to get there. The fastest way to get from Rome to Venice is to take the Frecciarossa or Frecciargento trains. If you buy tickets in advance, this option will not only be the fastest but also the most economical.
From Rome Fiumicino Airport (FCO) to Venice Marco Polo Airport (VCE) is a convenient flight. The flight lasts 1 hour and 5 minutes and costs 85.5 euros.
For group trips with friends or family, it's better to take a cab. If you are traveling alone and want to travel with maximum comfort while saving money, look for a car with hitchhikers.
Renting a car is good for a trip of several days. Not only will you get from Rome to Venice, but you'll also discover new sights in Italy.