How to get from Tbilisi to Batumi by All Ways
How to get from Tbilisi to Batumi comfortably and conveniently? By what is faster and cheaper, where to buy tickets and know the exact schedule? That's what we will talk about in detail in this post and try to answer all your questions. All information is current and constantly updated.
Distance Tbilisi – Batumi
The distance from Tbilisi to Batumi is 378 kilometers, so when you visit the capital of Georgia, it's a sin not to stop at the sea and bask on the beach. If you are traveling at other time of the year to visit Batumi is also worth it, because it is a very beautiful city and it is not in vain considered the pearl of Georgia.
Although the mileage between the cities is not great, the travel time takes 5-6 hours no matter what you'll get on what: car, train, bus, shuttle bus or shuttle service, the only exception is the plane.
Many do not believe in such figures, but it's true, the whole reason is that most of the way through the settlements, where much speed, there are also areas with winding roads and mountain passes. Currently, the Tbilisi-Batumi autobahn is being built, which will change the situation for the better and reduce travel time, but for now it is not less than 5 hours.
The train Tbilisi-Batumi
The train Tbilisi-Batumi is a very popular mode of transport, both among visitors and residents of the country. It is popular because all trains are new, comfortable and double-decker.
Anyone who wants to ride on the second floor, buy tickets from 49 to 60 seats
Some people prefer to ride facing the traffic and ask what seats to take, so they can sit this way. Unfortunately, no one will tell you, not even the cashiers and customer service of the railway station.
Also be prepared that if you buy two tickets, the seats are not necessarily next to each other and may even be with a couple of neighbors, because the four outer seats are opposite each other. But do not worry too much about this, changing seats is not forbidden and in most cases passengers do not mind.
In all trains from Tbilisi to Batumi there are only seats available, no matter whether it is a night or a day train.
The trains from Tbilisi to Batumi have two types of carriages: first and second class. They differ in softness and location of seats. In the first class the seats are softer and placed only 2 in a row, in the second class there are rows of 3 and 2 seats. The entire train has Wi-Fi and outlets for charging phones and laptops.
The price of first class ticket is much higher than second class and costs 61 GEL. The price of second class ticket is 25 GEL. During high season prices go up, but they also sell out quickly, so you should always buy tickets in advance in summer.
You can buy a train ticket for Tbilisi – Batumi on the official website of the railroad tickets.railway.ge, in payboxes or at the ticket office at the station. Tickets appear on sale 40 days before the departure of the train, if you choose an earlier date, the system shows their absence.
Printed version is not required, conductors have devices on which you can see electronic tickets, so when boarding just show your passport and ticket number.
The train leaves from the central railway station in Tbilisi, called Tbilisi Central. It is located at Station Square 2, 100 meters from the metro station Station Square.
Comes to Batumi at the new Batumi Central railway station, which is located a few kilometers from the city center. Do not confuse it with the old station, which looks like a carriage.
Tbilisi Batumi bus
The only Metro buses from Tbilisi to Batumi leave from Ortachala bus station (1 Gulia Street). Therefore, if you will be offered another bus from another place – don't believe me, you will take a minibus.
The station is located in the city, 2 kilometers from Isani metro. There are city shuttles and buses from different neighborhoods to it, but the easiest way to get there is to take a cheap cab.
All the buses are comfortable and have mini TVs on the backs of the seats in front. They are loaded with good movies in Russian, music and games, which is good enough to distract from the long road and relax on the way.
Also, each bus has a steward who makes sure that all passengers get off at their stop. You cannot eat sunflower seeds or take your shoes off on this transport. After three hours, the bus stops at a coffee shop for a snack.
The buses run approximately every three hours (10:00, 12:00, 20:00, 23:59 and 02:00) and tickets sell out quickly, especially on the convenient night trip. If you buy tickets online, the paper version must be picked up at the ticket office before your trip.
To see the number of remaining seats, the exact schedule, buy tickets and even choose a seat on the bus, please visit the official website of Metro – metrogeorgia.ge, news agencies or bus station booking offices.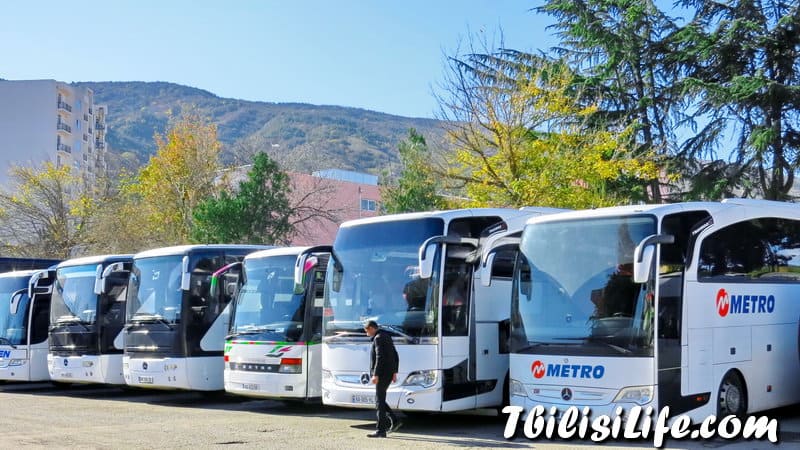 The price of bus ticket Tbilisi – Batumi is 30 lari and does not go up in high season. This is the same as the price of tickets for a shuttle bus and train in second class.
The buses come to new bus station in Batumi, it is located 5 kilometers from the city. To get there from there to the center, you can take buses # 25, 32, 39, 42 (cost 50 tetri), city buses # 9 and 12 (cost 30 tetri) or take a cab (price from 5 lari).
The official website is metrogeorgia.ge.
Driving from Tbilisi to Batumi
Travelling by car is most comfortable, you have time at your disposal and you can visit many interesting places on your way. For example: the canyons of Martvili and Okatse, Sataplia Reserve and Prometheus Cave, hot springs and Katskha Pillar, Borjomi and Rabat Fortress.
These are the largest natural attractions in Georgia on the road from Tbilisi to Batumi, which are worth visiting if you are traveling by car. Most of them are near Kutaisi, so it will be better to drive through the city. Of course, you won't have time to visit all of them at once, but you can go to a couple of them.
The site with the largest selection of cars is Localrent.
Renting a car for a trip will not be difficult at all. It's easy to do in the city where there are a lot of agencies, at the airport itself, or book in advance at the sites of rental companies. However, some of them are not very efficient or even slow, so we recommend you to use the services of Localrent.
When planning a trip by car you should know that there are three main routes from Tbilisi to Batumi that lead to different cities: Lanchkhuti, Poti, and Ozurgeti. The road through the first two is almost the same, only the distance through Lanchkhuti is less by 20 kilometers. This route is slightly faster and more common.
Cows are often found on the roadway and cause accidents. Be careful, and if possible, reduce the speed before the blind spots.
The route through Ozurgeti is the shortest by kilometer, but it leads on a very winding road through the mountains and takes more time than others. Although the views are better here, we don't recommend it, because after half an hour you get tired of the strong serpentine.
As for the road in general, it is quite easy and good, narrow and winding in places, with few potholes and potholes. About 50 per cent of the way is two-way through built-up areas and 50 per cent is autobahn.
All signs are in English, there are often police patrols, but they only stop the bad guys. The price of gasoline in Georgia is just under a dollar per premium (95th).
Airplane Tbilisi Batumi
From Tbilisi to Batumi is also reached by plane from VanillaSky. The company provides small planes that depart from Tbilisi airport. Check the schedule on the website. Travel time is 40 minutes. The ticket price is only 125 lari.
From Tbilisi to Batumi only VanillaSky aircraft fly, no other flights are available.
Planes arrive at Batumi Airport, which is located 12 kilometers from the city, and from there you can get to the center by local bus lines 10 and 12 (cost 30 tetri) or by cab (cost 15-20 lari).
The plane Tbilisi-Batumi is the fastest and cheapest way to get there.
Official website – vanillasky.ge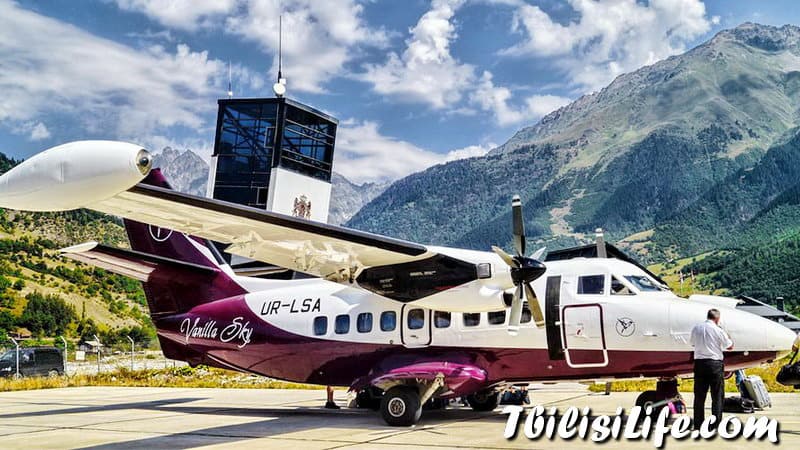 Transfer from Tbilisi to Batumi
When choosing the transport from Tbilisi to Batumi you can order a comfortable transfer. The advantage of it is that you have the whole car with a driver at your disposal.
In addition to the fact that he will pick you up at any place at the appointed time and take you to the right place, there is an opportunity to diversify the usual trip to visit sights on the way. To do this, discuss in advance about the visited places and the price of such an excursion transfer.
There are a lot of companies in Georgia providing such services, but we recommend a proven service from the international company GoTrip. To order a transfer through them, you do not need to contact anyone and pay in advance.
You simply go to their website, choose the starting and ending point, and then you will get a list of cars of different classes and their drivers, who have reviews. As well as the mileage, travel time and price. Make a choice, confirm the order and within a few minutes, your e-mail will come to you a letter with all the details of transfer.
All fast, easy and simple. As for the payment, it is made to the driver at the meeting or if you wish on the site. The cancellation is free for 48 hours and when you pay online you get a refund. The price of the trip from Tbilisi to Batumi from 89 dollars, depending on the car. By the way, the listed price does not change on the way, as sometimes happens with private drivers.
When ordering a sightseeing transfer, select the departure point, after the places you want to visit and the end point, after which the price, the number of kilometers and travel time will also appear. Be sure to add at least one hour for visiting each place to this time.
Take a cab from Tbilisi to Batumi
Cab is the most usual way of travel and it is almost the same everywhere. There are no peculiarities in Tbilisi cab too, except that not all drivers know Russian.
There are a lot of private drivers and different cab services in the city, but when ordering a trip from Tbilisi to Batumi, we recommend to use Yandex or Maxim cab services. They are the cheapest and you can call a car through convenient applications. The price starts from 225 GEL.
Tbilisi Batumi minibus
Bus is not the most comfortable way to travel, but if you don't have other options, you must take it. On the outside they are not bad, but the interior lags behind.
In addition to the fact that the seats are close to each other and there is very little leg room, the drivers often smoke in the cabin and blows from the cracks. But they run almost every hour.
The trains leave from two points: Didube bus station and Dedakalaki (Tbilisi railway station). The buses arrive differently – some take 5 hours to get to Batumi, while others take as much as 7 hours.
It all depends on traffic congestion and the driver. If you happen to be a Schumacher and a kamikaze in one person, then you will arrive faster, but the impressions after such a trip are not always good.
The bus fare is the same as the bus fare – 25 GEL. The driver pays the fare, but he doesn't give you a ticket, so the old fashioned way is to throw a bag or a bag on a chair and to reserve seats beforehand, so as not to stand all the way.
It's up to you to choose what kind of transportation to use. We hope that the information provided by us will help you, speed up and facilitate the process. We're waiting for your questions and comments.
How to get from Tbilisi to Batumi – all ways
I tell you how to get from Tbilisi to Batumi – by car, train, bus, shuttle, plane.
Article content:
How to get from Tbilisi to Batumi by car
There are two ways to get from Tbilisi to Batumi – via Gori, Kutaisi and Samtredia or via Borjomi, Akhaltsikhe and then Transajar highway. The first option is suitable for all cars at any time of year, the second – only in summer and preferably in SUVs: the mountain section of Transajar highway between Akhaltsikhe and Khulo is a difficult and in some places "killed" dirt track. By the way, the best way to travel around Georgia is to rent a car from Myrentacar or Economybookings.
The route through Gori, Kutaisi and Samtredia
The distance from Tbilisi to Batumi is about 380 km. The road is of very good quality; you can cover the entire distance between two cities in 5.5-6 hours.
From Tbilisi to Khashuri, the road is an excellent expressway, while from Khashuri to Zestafoni it is an ordinary two-lane road winding through villages and small towns (the Suram Tunnel is located in this section).
The road between Tbilisi and Khashuri
Entering Suram Tunnel
From Khashuri to Kutaisi, and on to almost all of Batumi, the road is again a decent speedway. The only relatively unpleasant part on the Kutaisi-Batumi section is just before the Adjarian capital, near Cape Verde and the Botanical Garden in Batumi: the road turns into a narrow serpentine, where you could lose some time in the summer.
Not far from Gori you can have lunch or coffee – there is an excellent service-zone with a supermarket, Wissoil gas station and several cafes – Dunkin Donuts, an American hamburger joint Wendy's (quite good, by the way). While in America, if I ever bought this kind of fast food, it was at Wendy's). There is also a small play area with children's arcade games and free wi-fi.
Service area near Gori
By the way, there is usually a disproportionately large (relative to the rest of Georgia) number of Europeans and Americans traveling around the country. Apparently, they are not used to healthy Georgian food and their poisoned bodies do not accept a lot of khinkali and khachapuri. And almost as soon as they arrive, these Georgian guests begin to pine for their native hamburgers, ribs, and wings.
The coordinates of the service area are 42.01607, 44.06583.
At the northern exit of Khashuri there is a balneological resort Surami, where you can also stay for a while and see the picturesque Surami Fortress and two churches.
The fortress in Surami
In addition, Surami is notable for its unusual sweet Surami bread:
As you drive through the town, you will repeatedly see locals offering to buy such bread. It has a strange taste – it is not the usual white loaf, nor is it a muffin – but something in between. For example, it is not suitable for a sausage sandwich.
Route through Borjomi and Akhaltsikhe
From Tbilisi to Batumi you can take another road – via Borjomi and Akhaltsikhe, but it is suitable only for off-roaders because of the condition of the Transajar highway. Unlike the Kutaisi road, which is accessible by any car both in winter and summer, not every Jeep can drive on the Transajar highway in winter.
The Transajar highway in winter
The road from Tbilisi to Akhaltsikhe is quite decent, with comparatively new asphalt. On this section you can visit the famous spa resort of Borjomi, and make a short detour towards Bakuriani (imho, it's the best ski resort in Georgia, which is interesting to visit in the summer).
If you have time, from Akhaltsikhe it makes sense to go to one of the most interesting attractions of Georgia – the cave city Vardzia. This trip will take no less than 6 hours (drive there and back, plus a tour of Vardzia), so in this case, you can spend the night in Akhaltsikhe. In the morning, have a quick look at the largest fortress in Georgia, Rabat (it is located right in the center of Akhaltsikhe), and then continue your arduous journey to Batumi, along the mountain Transajar highway.
If you don't want to reach Batumi as soon as possible, you can spend some time at Transajar highway – believe me, there's a lot to see there – it's rightfully considered one of the most beautiful roads in Caucasus.
It takes about four hours to drive on the unpaved section between Akhaltsikhe and Khulo. I recommend driving very carefully, so as not to stay in the mountains without tires or with a broken suspension. The section between Khulo and Batumi is a tarmac highway, you can cover it in about two hours. Here you also shouldn't relax – the road is good, but still mountainous, with serpentines and sharp turns.
How to get from Tbilisi to Batumi by train
All trains from Tbilisi and Kutaisi arrive at the new Batumi railway station, which is located in the northeastern part of the city, on the road to Kobuleti.
Batumi railway station
All seats in the carriages are seated, the carriages are single and double-decker (trains produced by Swiss company Stadler).
Train schedule Tbilisi – Batumi: departure 7:20, 9:10, 17:25 and 18:20. Train schedule Batumi – Tbilisi: departures at 1:35, 7:35, 8:00, 17:05 and 18:20. Prices: one place in a 1st class carriage costs 25 GEL (600 rubles/9$), 2nd class – 18 GEL (420 rubles/7$). Travel time: 5 – 5,5 hours.
In the first class they give a free bottle of water. Stadler double-decker coaches have wi-fi and outlets for recharging gadgets.
If you want to go to Batumi by night train so you don't lose a day on the road, then you can choose the Yerevan-Batumi passing train. Apart from the convenient time, it has no other advantages – as I understand it, it is an Armenian train, and Armenia is still significantly inferior to Georgia in terms of the speed of modernization of its railroads. The train is old, exactly like the ones that ran on the tracks of the former Soviet Union thirty years ago. It runs only from June to September, and is available in coach, coupe, and sleeper.
The sale of rail tickets opens 40 days before departure. In summer on popular tourist destinations (such as Tbilisi-Batumi and Kutaisi-Batumi), it is advisable to book tickets as early as possible.
Ticket availability and schedules can be found on two websites: – if you are already in Georgia and log in from a Georgian IP address, you can use the official website of Georgian railroads railway.ge – if you want to buy tickets while you are outside Georgia, you should use biletebi.ge.
If necessary, you can also buy a return ticket on these very websites. The full refund is issued if the return request is submitted no later than 15 hours prior to the departure of the train. Between 15 and 2 hours the cost of the ticket will be partially refunded, if less than 2 hours – no refund.
Having in hand the printout of the e-ticket you can immediately board the car, you do not need to change it at the station for a ticket. When boarding you must show the conductor printout (or the number of e-ticket) and a valid passport.
How to get from Tbilisi to Batumi by bus
Intercity buses from Tbilisi to Batumi depart from Ortachala bus station, located at 1 Gulia Street, Tbilisi. The nearest subway station to the bus station is called "Isani" (Isani), but it is about 2 km away from the station. If you have heavy and bulky luggage, it's better to take a cab from "Isani" metro to the bus station, it will cost you a penny.
In summer there are more buses to Batumi than in winter. Summer schedule Tbilisi – Batumi: 1:00, 2:00, 9:00, 10:00, 12:00, 15:00, 18:00, 20:00 and 24:00. Winter schedule: 12:00, 15:00, 20:00. Travel time: 5.5-6 hours, the ticket price is 25 lari (620 rubles/9$) from May to September and 20 lari (500 rubles/7.3$) from October to April.
The buses are air-conditioned, the seats recline, there's Wi-Fi and an airplane-like TV (movies, games and music in Russian), and you can pick up fresh newspapers, coffee and tea.
The buses make a 20 min stop in Kobuleti, where you can have a snack in a cafe and go to the toilet (no toilet on the bus itself).
After Grigoleti the road goes along the sea and the bus goes by turns to all the main resorts to the north of Batumi: Ureki, Tsikhisdziri, Kobuleti, Chakvi. So if you need to get off before Batumi, just ask the driver to stop at the right place.
You can buy tickets for intercity buses all over Georgia at geometro.ge, which is available in Georgian, English, and Russian versions. You do not need to print out the tickets – go to the ticket office 15-20 minutes before the departure and get boarding passes, naming your seat.
It is also possible to buy bus tickets at the carrier's (e.g. Metro Georgia) ticket office at Ortachala bus station.
The bus has one of the advantages over the train: it is a significantly less popular form of transportation in the area, so you can purchase tickets even before your departure.
How to get from Tbilisi to Batumi by shuttle bus
The buses go from Tbilisi to Batumi from the bus station near Didube subway station every hour from 7:00 to 24:00. The price is 20 lari (500 rubles/7,3$) in winter and 25 lari (620 rubles/9$) in summer, time in transit about 6 hours.
The shuttle buses Kutaisi – Batumi go every hour from 7:00 till 24:00, price 10 lari (250 rubles/3,6$), time in transit 2,5-3 hours.
The shuttles from Batumi to Tbilisi and Kutaisi depart from Batumi Old Bus Station (located near Batumi Seaport and Argo lower station) every hour from 7:00 to 24:00. Price to Tbilisi is 20 lari (500 rubles/7,3$), time 6 hours.
The main disadvantage of this mode of transport is a lack of space (especially if you pick up passengers with lots of luggage), as well as the habit of some Georgian drivers to smoke while driving through the open window, regardless of the passenger's opinion on this matter.
From Tbilisi to Batumi by plane
The Georgian Airways airplanes fly from Tbilisi to Batumi several times a week, the travel time is 40 minutes, prices start at $40. You can buy tickets here:
Transfer from Tbilisi to Batumi from GoTrip
If you're traveling to Batumi with a family or large group, you may want to consider a transfer directly to the door of your booked hotel. Comfortable transfers throughout Georgia can be booked with the Georgian online service GoTrip . During the booking process you have the opportunity to choose the class, make of car and a particular driver based on feedback from previous passengers. The price on the site is final, you do not have to haggle with anyone.
Lifehack: How do I save on insurance?
Good, functioning insurance was difficult to find before, and now it has become even more difficult because of the constant fluctuations in the ruble's exchange rate against the world currencies. For the last few years I've been taking out insurance through an online service Cherehapa – there is an opportunity to compare products from different insurers and choose what best suits your needs:
I also recommend reading a detailed article on choosing the right travel insurance – it may well save you from unnecessary overpayments and more serious trouble.
Useful articles about Georgia:
P.S. Don't forget to join Facebook groups www.facebook.com/allmyworld.ru and Vkontakte vk.com/allmyworld.ru , and subscribe to AllMyWorld.ru email updates to keep track of new articles about independent travel around the world.
Have an easy trip from Tbilisi to Batumi! Your Roman Mironenko