MIR Cards in Turkey – 2022
Friends, we want to tell you how the MIR card works in Turkey in 2022. Due to the well-known events, Visa and Mastercard payment system is disconnected from all Russian cards. Now it is impossible to pay for purchases and withdraw cash abroad, to make transactions on foreign sites.
C 25.08-10.09 action with a cashback of 20% for tours in Russia lasts. You must register your MIR card and book a tour at Level.Travel (promotional code of 1500 ₽ when buying from 70,000 ₽ – LT-SEPT-RU1) or Travelate (promotional code of 1000 ₽ when buying from 60,000 ₽ – AF1000travelinka). Tour is more profitable, because this way you get a cashback for everything – flight, hotel, transfer.
But you can pay with a MIR card in Turkey. Although in practice, it is not always possible. Let's understand how the MIR works in Turkey, how to withdraw cash lira, what are the reviews about the payment system.
What is the MIR card
MIR is a payment system of Russia, transactions on which are in rubles. At the moment, all major Russian banks issue MIR debit and credit cards with overdraft support.
Cards with the national system MIR according to the information for 2022 are accepted in some friendly countries, including Turkey, Armenia, Vietnam, Kazakhstan.
Does the MIR card work in Turkey?
Yes! It works, but only physically, using the plastic card. Mir Pay does not work in Turkey. MIR cards do not work with any banks. Contactless payment does not work, pay by phone does not work either!
MIR cards in Migros
Where does the MIR card work in Turkey?
Remember these five banks. They are the only ones connected to the MIR payment system: Türkiye İş Bankası, Ziraat Bankası, Vakif Bank, Deniz Bank and HalkBank . Cash lira in Turkey can be withdrawn from ATMs of these partner banks. You can make purchases with your bank card at the points of sale, equipped with terminals from these banks.
Ziraat Bankası and Vakif Bank are the major state banks in Turkey. If you compare, conventionally they are Sber and VTB.
Deniz Bank is a partner bank of Sber. I could withdraw my money from Sberbank cards without any fees. Later, this function was removed. But the bank accepts MIR cards.
Türkiye Is Bankası is a big private bank like our Alfa. ATMs of partner banks in Turkey are many. Often stores, cafes, restaurants, hotels and pharmacies have terminals of these banks. For example you can pay for spa services and imported drinks in Xanadu High Class Resort 5* or extra services in the new Side Amour 4* with your MIR card.
HalkBank is a new partner bank, connected to the MIR system on June 23, 2022. A state-owned bank, controlled by the Turkish government.
The "all inclusive" system in Turkey is very helpful. You can go without money or cards at all, spend time on the hotel premises, because everything is all-inclusive! Compare prices and choose your dream tour online at Travelata and Level.Travel.
What else do tourists spend their money on while on vacation? Excursions! They are quite easy to book in Russian with the payment online on Sputnik8 and Tripster. Then you can not worry about money exchange.
If you want to drive yourself around Turkey, you can rent a car at Localrent or transfer Kiwitaxi.
ATM DenizBank in Turkey
How to withdraw money from the MIR card in Turkey
First, you need to find an ATM from Türkiye Is Bankası, Ziraat Bankası, Deniz Bank, HalkBank and Vakif Bank. They have stickers of payment systems, and MIR is also among them. True, not all of them. After you insert the card there is a switch to the Russian language.
ATMs are located in large cities like Antalya, Alanya, Manavgat, Kemer. There are no ATMs in small villages like Turkler, Beldibi, etc.
The withdrawal is made at the rate of the bank. Each bank sets its own rate on MIR cards. But usually it is close to the Central Bank. The rate varies every day! Usually write off a certain amount, and the next day there is a recalculation. So the first amount in the sms is not final.
It is advantageous to withdraw large sums, as many banks have a commission for transactions in other ATMs. All Turkish ATMs have a withdrawal limit of no more than 2500-3000 TL (İş Bankası 3000 TL, Ziraat Bankası 2500 TL), Deniz Bank up to 10000 TL.
ATMs of all five banks do not charge cash withdrawal fees. But: Russian banks charge ALL fees. The amount of the fee is specified in the terms and conditions of your bank under "withdrawal at ATMs of other banks". The minimum amount of the fee is 90 ₽, so it is better to make one transaction for a large amount than to withdraw a little bit more than many times. VTB and MKB have a withdrawal fee of 300 ₽. Alfa Bank has a 2% fee on the amount withdrawn.
Tinkoff MIR issues liras without commission from 3000 ₽, the equivalent in liras is obtained from 400-550 TL, depending on the exchange rate. Otherwise 2%, but not less than 90 ₽. Also, there is no commission on all premium cards. Withdrawing lira from Tinkoff you can only withdraw rubles and foreign currency accounts, but only lira.
There are also other travel cards: Alfa Travel and Home Credit – with cashback and other perks. But you cannot pay with them in Turkey, you can only transfer lira to yourself by "Golden Crown", "Unistream", "Contact" system, and withdraw them at the post office (Turkish Post – there are many branches all over Turkey). The transfers come instantly. You need a Turkish SIM card (with 10 GB of Internet costs 350 TL). By the way, "Golden Crown" has a very nice rate!
You can link a foreign currency account to the MIR card, then you can buy dollars online in the bank app. But there is no point in this. Because you can not withdraw dollars anywhere in Turkey, only lira! When paying by card will be a double conversion from dollars to rubles to liras. Deniz Bank offers you the choice between dollars, euros, or liras at the withdrawal stage. But it goes no further, selecting €€€ or $$$ makes a mistake.
MIR cards are converted in rubles. Therefore, when buying or withdrawing liras, there is only one conversion, "rubles to liras". There is no double ruble-dollar-lyr conversion, as they say in the "Internet", NO! But it is not very profitable to withdraw cash anyway. And from the dollar account, even more so, because there is the conversion of dollars-rubles-lyers. Plus, there's the added commission.
Again, you can't withdraw $$$ or €€€ from a MIR card in Turkey. Only the local currency, i.e. liras. If you need dollars, euros to travel in other countries, the option is one: to remove the liras from your MIR card and take them to the exchanger, where they will change into dollars/euros. Option two – to transfer dollars from Visa and Mastercard to yourself "Gold Crown", "Contact".
At Tinkoff you can buy lira on the exchange at a good rate. But to attach them to the card MIR, you need to submit a personal order at Tinkoff's office, or send a notarized order to the post office.
LC WAIKIKI in Side Center
What services in Turkey can be paid by Russian cards
(5% discount with travel5 promo code) – transfers in comfort from the airport and between resorts. You specify the flight number, last name, etc., you are met with a sign in the arrivals hall. There is support on taksap, no need to spend money on calls. The prices are a little higher than at Gettransfer, but at Kiwitaxi you can't pay by Russian card. Good prices on vans 10-seater. It's great for big groups and families with kids.
– If you book any hotel in Turkey and around the world, you can pay with a Russian card (while on Buking, for example, can not, so you need to look for hotels with payment at the check-in). But Ostrovka prices are higher than they were on the same Bookings.
Tripster – tours in the resorts of Turkey, all with Russian-speaking guides. Many unusual itineraries, there are individual trips. All perfectly paid by any Russian card.
Sputnik8 – tours for budget tourists, sometimes found in English, you need to read the description. Many group trips, very cheap!
Aviasales – flights around the world, pay with Russian cards, unlike the sites of foreign airlines, where you can't buy anything with our cards. The company is registered in Hong Kong (although it is in fact Russian, and has accounts in Russian banks), so they can "redirect" the payment to any foreign airline. – car rental in Turkey. The website is in fact Russian, although it is designed as a foreign site. You can book a car for rent in advance, so that you can get it at the airport upon arrival (the most cost-effective option, there is no need to pay for shipping). Payment by all Russian cards, including MIR.
HalkBank is a new partner of MIR cards
Reviews of the work of cards MIR in Turkey
Reviews about the MIR card in the network is already enough. And why? Because the cards work BAD, about 50/50. And people willingly share negative reviews.
It is worth noting that the Turks are very loyal, ready to try to pay for all available terminals. And if the payment failed – to accept dollars, euros, and liras, of course. In small stores they do the following: if there is no terminal, they send it to a neighbor who has the necessary terminal. And then they pay themselves.
In the MIR payment system, failures are possible. ATMs periodically fail to dispense cash in lira. Periodically, the payment in terminals does not work. But then everything miraculously works again. The most frequent failures occur at İş Bankası. From personal experience we may say that a card did not work at an Ish Bank ATM, while at another one it worked fine. There is information that the old ATMs need to change the software manually, and the Turks purely physically have not yet had time to update all ATMs.
Tourists complain that the cards work intermittently. One day you can withdraw cash from one ATM, the other does not (writes "technical error"). From an MIR card of one bank is payment, the other is not. In another ATM of the same bank everything is fine. There are several ATMs of the same bank in the same street – one is OK, the other is not, even if you try 10 times. If you have found an ATM in a block, even if it is 1 meter away, you need to try it too. Tourists can try to pay in the Migros supermarket 3 days in a row without any success and the fourth day the payment is made without any problem.
No one can find any regularity, logic or system. So try, try and try again. At 3-4 times may succeed.
Which bank to choose
We do not recommend taking a card from a bank that is under blocking sanctions and is cut off from SWIFT. Sber and VTB are bad choices. They get scolded most often. It's bad enough to travel with only one card from a sanctioned bank. There is a risk of staying in Turkey with no money at all. Tinkoff has a lot of good reviews. Their cards work, tested.
Tourists note that sometimes payment with the MIR card goes in the terminals of other banks – Akbank, Yapı Kredi . Very curious as to how they did it. So again, you have to try!
ATMs at the airport
If you go to small resorts, we recommend that you withdraw cash at the airports in the arrival hall! There are always ATM's at the airports of Turkey! So as soon as you arrive in Turkey you may start withdrawing cash right away.
Antalya Airport (AYT) has a Ziraat Bank ATM. You can withdraw cash with an MIR card right away.
Istanbul New Airport (IST) has 3 Ziraat ATMs and one Vakif Bank ATM in the arrivals hall.
Sabiha Gokcen Airport (SAW) has Türkiye İş Bankası and Ziraat Bankası ATMs.
You can also exchange rubles for liras at Antalya Airport. The exchange rate is about 1 TL = 4 ₽. The exchange rate is not super profitable (with MIR card 1 TL = 3,2-3,5 ruble), but it is worth keeping in mind as a backup.
Ferries to Turkey are launched from Sochi. Itinerary for 8 days Sochi – Istanbul – Cesme – Bozcaada – Sinop – Sochi. You can learn more here.
Ziraat ATM in Antalya airport
How to pay in stores
Pay with your MIR card in Turkey favorably! Exchange rate is equal to the Central Bank. No commission. It's more advantageous than withdrawing cash from ATMs, or carrying dollars in Turkey and exchanging them into lira.
Not all shopping centers accept the MIR card. But it should be noted, with each passing day there are new stickers with the MIR inscription, and more and more stores are connecting to the system. We spent the entire month of June 2022 in Side. Nova Mall had MIR badges on almost every store. We paid at LC WAIKIKI, US Polo, Ebebek, MMM Migros. Everywhere we paid with the MIR card.
Although some chain and brand stores usually do not accept MIR. They work with other banks.
Stores in Antalya and Kemer in 99% of cases do not have stickers on retail outlets that accept MIR cards. They are not advertised at all. And Turks themselves may not know about these cards. So you have to ask, and if they don't understand about MIR, find out which bank the terminal is from.
It's surprising, but in Alanya MIR stickers are everywhere: there are a lot of Russians living here, and the stores quickly figured out how not to lose customers.
Is it possible to get a Visa and Mastercard in Turkey?
Theoretically it is possible, and some tourists have already done it. But not all bank branches are willing to do it. No one makes it remotely, you have to go to the bank and ask there. Constantly tighten the screws. To open an account you need two passports (Russian and foreign), a Turkish SIM card (sold everywhere), the Turkish TIN (you can arrange online). But the problem is that the Turkish sim cards "live" for 3 months. A card payment of more than $ 60 (approximate amount) is confirmed by SMS. Keep "eternal" Turkish SIM card is very expensive. However, now we are looking for a maneuver. And maybe the Turks will come up with something to help Russian tourists.
If you need a Visa or Mastercard that you can pay with worldwide, you can order it with Travelbelka here. It is a verified site with 8 years history, almost 300.000 subscribers on VK, 100.000 on FB, 35.000 on Telegram. They are in the business of making cards legally. There's no point in risking your reputation.
To summarize, we note that Turkey is very much looking forward to visitors with Russian MIR cards. By the peak season, the Turks are ready to equip their outlets and restaurants with terminals of the necessary banks. They are already actively working on it. But in the meantime it is a good idea to bring cash rubles or dollars. So to speak, to be on the safe side in case of unforeseen circumstances. They, unfortunately, occur with enviable regularity. Read also: What currency to take to Turkey in 2022 .
How to withdraw money in Turkey without a fee
What card to use, what ATMs to withdraw cash from and how not to lose money on conversion. Relevant for the situation in 2022!
We went to Turkey five times, we stayed there for three months in total, and we never had to pay a fee for cash withdrawal. All you need is the right bank card and the right ATM. Now I will tell you in detail about each point and a few other important points.
The situation in 2022
In March 2022, Russian Visa and Mastercard cards no longer work abroad: you will not be able to withdraw money or pay for purchases with them. There are four ways out of this situation:
Go with cash dollars or euros, but it is almost impossible to buy them in Russia now.
Travel with a Visa or Mastercard issued by a foreign bank, but not everyone has one.
Go with a card of the Chinese payment system UnionPay, but it is issued only by some Russian banks, and the cost of registration is high – 5-10 thousand rubles. These cards are valid in 157 countries, but you still need to try to find an ATM that accepts them.
Go with the card "MIR". It works in Turkey and 10 other countries. The card is currently accepted by four Turkish banks: Ziraat Bankası, Vakıfbank, Iş Bankası and DenizBank. To withdraw money from it you need to find an ATM of one of them. The card can also be used at stores with a terminal of any of these banks.
In my opinion, the last option is the easiest and least expensive. You can get a "MIR" card in many banks in Russia.
What card to use
I advise to get a card from "Tinkoff Bank" – it has the most loyal terms and the best service. Unlike many other banks, it doesn't charge its customers extra money. For the last six years I have been traveling only with their cards.
Let me remind you the conditions for withdrawing cash from Sber cards at other ATMs: this bank charges customers a 1% surcharge, but at least 150 ₽. So there is no way to withdraw money from their card in Turkey without paying a fee.
But now for the good! The Tinkoff Black debit card allows you to withdraw money without fees at any ATMs in Russia and abroad if the withdrawal amount exceeds ₽3,000 or $100/euro, depending on which currency your card is in. Maintenance of this card costs ₽99 per month or will be free if you have 50,000 or more rubles in your accounts. Right now, you'll get one year of free service and another ₽500 as a gift under the promotion. This card can be issued in the "MIR" payment system, from which you can withdraw money in Turkey without a fee. The banks that accept MIR cards I listed above.
Some other banks also boast about the possibility of withdrawing money from other people's ATMs without a fee, but there are often restrictions. For example, no fee may be withdrawn only up to 10 thousand rubles a month (not enough for a vacation abroad), a few times a month or with the monthly expenditure of 70-100 thousand rubles. Tinkoff Bank has no such reservations – everything is simple and straightforward.
I have sketched the picture. It's up to you to choose a travel card.
See also my tips for a smart approach to finances when traveling: all about exchange, withdrawals, bank cards and security.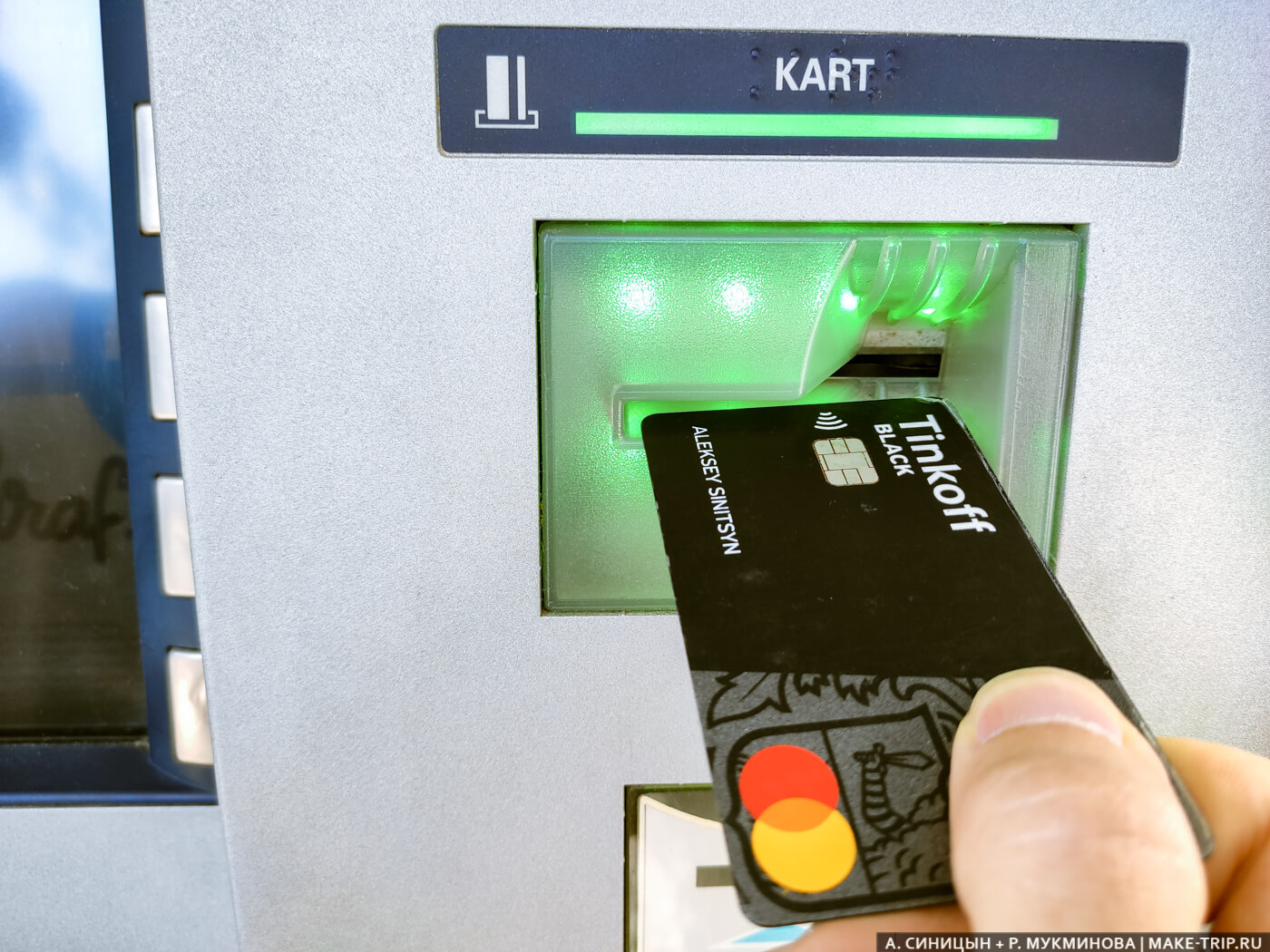 I use the Tinkoff Black card to withdraw money around the world.
Can I withdraw money from my credit card?
You can, but it will cost you a lot of money. As far as I know, all banks charge a big fee for withdrawing cash from a credit card, and even Tinkoff is no exception here. This is standard practice. So be sure to take a debit card on vacation! With her and withdraw money in Turkey. Credit card is also worth taking, but use it only for shopping, museums, sightseeing tours, car rentals and entertainment. Also read my review of the All Airlines Credit Card.
Remember: a credit card is for purchases only, a debit card is for withdrawals and purchases.
It is worth knowing:
ATMs in Turkey with no fees
The fee for cashing out you can get only two banks: yours and the one whose ATM you use. With the first point we have solved – take a debit card Tinkoff Black and withdraw money from it profitably. Now let's find out which Turkish banks issue cash without fees.
When I used to travel around Turkey, I used ATMs of two banks: Halkbank and Ptt. You can find them everywhere and they do not take money for withdrawal – verified many times all over the country. I have read in reviews that Akbank and Ziraat ATMs give out money without any fee, but I have not tested it myself. A few years ago I successfully withdrew money from Deniz Bank without a commission, but during my trip to Turkey in the spring of 2021 I found out that the bank has also started to collect bashish from tourists. But the interface is in Russian and it is possible to withdraw money in euros and dollars.
However, in 2022 you can withdraw money from the card "MIR" only in four Turkish banks: Ziraat Bankası , Vakıfbank , Iş Bankası and DenizBank . It is possible that other banks will be connected soon. If nothing has changed, Ziraat should dispense money without fees. However, ATM fees are usually only a few dollars, so you do not have to worry too much and do not spend too much time searching for the most profitable ATM. Those who do not speak English well, it is easier to pay a few bucks a fee, but withdraw money from an ATM with a Russian-language interface – for example, in Deniz Bank. In these challenging times at least it is a good thing to get money out of the country!
There is another important point! Some ATMs offer to convert the currency at their exchange rates at the last step of the withdrawal process. Always refuse this service, because their rate is unprofitable. Adhere to this rule in any country of the world.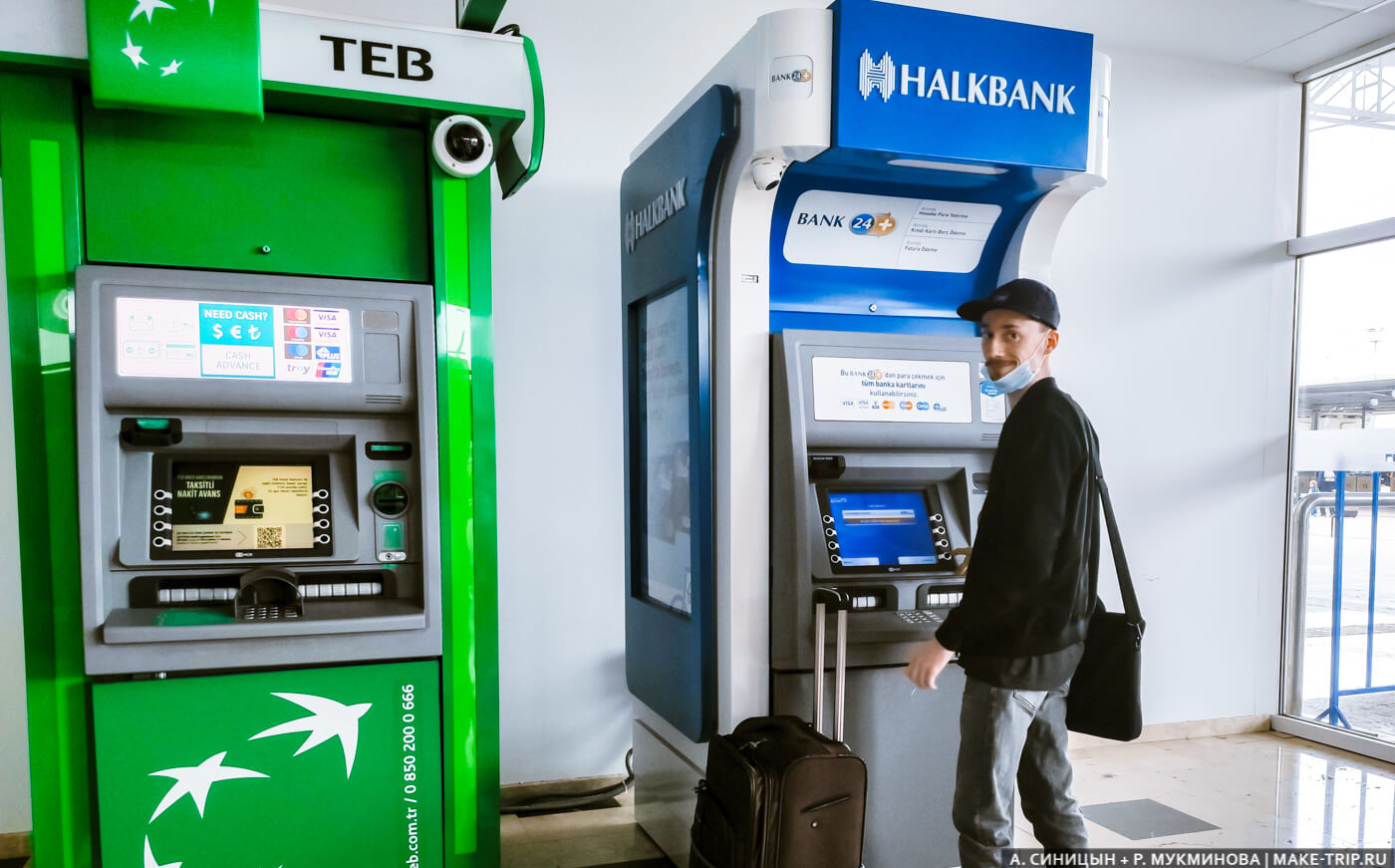 I used Halkbank ATMs to withdraw money without any fees in Turkey. This one is at the Antalya Airport exit.
The photo guide for withdrawing money
I will show you with my own example how to withdraw Turkish Lira from an ATM of Halkbank. The process of withdrawing money from other ATMs in Turkey looks almost identical. The interface of this ATM, like almost all the others, is in English, but it's all intuitive.
I apologize in advance for the glare on the screen – the Turkish sun shines a lot.
Step 1. Choose English. Step #2. Enter the pin-code and press the green button on the keyboard. Step #3. Choose a type of operation. Usually no other options, except for cash withdrawal, are offered. Step #4. Enter the desired amount in Turkish liras. It is always advisable not to withdraw a round sum, and such that the ATM gives out even small money – they are always needed. Step 5. Confirm the amount. The ATM will tell you whether or not to print the cheque – take your pick. Take the card, get the money. Mission accomplished!
How to save on conversion
You and I have learned how to avoid commissions when withdrawing money in Turkey. But it is impossible to avoid loss of money when converting from one currency to another. But we can minimize it. Let's see how.
Already mentioned card Tinkoff Black has another nice feature – its owner can in a couple of clicks in the mobile app for free to open accounts in 30 popular currencies. There is also the Turkish lira among them. If you open the account in this currency and there in the application exchange the necessary amount of rubles to lira, then minimize your losses on the conversion.
Try to exchange your currency during working hours on weekdays, so you will get the rate, which is almost equal to the stock exchange rate. It is simply impossible to exchange money more profitable. Before every trip to Turkey I exchange my roubles to lira via the app, and if there is not enough, I exchange more during the holiday. I calculated that exchanging 10 thousand ₽ only loses about 40 ₽ compared to the exchange rate for the same hour – that is only 0.4%. Very profitable.
If you want, you can also withdraw money from your account in rubles, dollars, or other currency, but then you will lose about 2.4% on the conversion (yes, I was not lazy to calculate). For small expenses the difference is not large, but for large expenses it is felt. On our last trip to Turkey in spring 2021 we exchanged and spent 150,000 ₽. If I hadn't set up an account in lira, I would have lost about ₽3,000 on the conversion. With my frequent trips around the world, you can save up to ₽10,000 in a year on a flat rate. I am glad that Tinkoff has this option. I use it willingly.
Where to withdraw euros
Do you want to withdraw euros from an ATM instead of Turkish Liras? It's widely available. True, without the commission will not work. I saw in the reviews of tourists that the minimum fee at QNB bank – about 2.5%. TurkishBank will take even more – over 4%. Some other ATMs also issue euros, but their commission is even higher – 5%.