All you need to know about Phuket
What a person planning a trip to Phuket needs to know about Phuket? There are a few things to keep in mind to have a rich and trouble-free vacation: choosing a beach and the best time to go, safety issues, recommendations for shopping, local cuisine, and more.
Note from the author: this is only superficial information about the island, general information. The rest of the articles on the site is more detailed about everything.
Phuket – this is one of the most popular resorts in Thailand, where each year come to rest more than 8 million tourists. It is famous for its beautiful beaches, picturesque nature of the neighboring islands and a variety of entertainment for adults and children. The island is great for families with young children and young couples without children.
The choice of activities in Phuket is huge. Here you can:
Swim in the sea to your heart's content;
sunbathe on different beaches;
Scuba dive the coral reefs;
master kitesurfing or windsurfing;
Hike through the real jungle;
ride an elephant;
Sample a variety of exotic foods;
Go on a boat cruise to nearby islands;
visit Buddhist temples;
touch a crocodile or pet a tiger;
buy inexpensive clothes and natural cosmetics.
And this is not a complete list of activities available on the island. Below you'll find everything you need to know about Phuket, to have a great time, to avoid disappointment and unforeseen situations.
Useful things to know about Phuket
Geography
Phuket is the largest island of Thailand. The island is 850 kilometers away from Bangkok, the capital city. It is located in the Andaman Sea (Indian Ocean), which differs from other popular resorts – Pattaya, Hua Hin, Chang Islands or Samui, which are located in the Gulf of Thailand (South China Sea). More than half the area of the island are low hills, covered with jungle. Coconut palms, mangroves and rubber plantations are also common in Phuket.
The administrative center of the island is Phuket Town. Tourists visit it rarely, as it is located away from the popular beaches. Typically, Phuket Town is visited for shopping and walking through the colorful streets with old buildings in the colonial style.
Beaches
Most of Phuket's beaches are on the west and southwest sides of the island. Generally these are long stretches of sand 15-30 meters wide along the shores of large bays. On the seashore there are often waves and strong wind, which is undoubtedly happy surfers, but sometimes it prevents inexperienced swimmers to swim. But there are many beaches on the island, so vacationers can always find a stretch of beach with calm water.
The busiest places on vacation in Phuket – Karon, Kata, Patong, Surin beaches. They are usually crowded, but thanks to the spacious area, vacationers do not disturb each other. The area around these beaches are concentrated tourist infrastructure of the island: stores, restaurants, travel agencies, shopping and entertainment centers, pharmacies, exchange offices and more.
Climate
It is always hot on the island. Wet and dry seasons differ from each other not so much in temperature as in the amount of precipitation: if the thermometer readings all year round rarely go beyond the range of +25-33, the intensity of rainfall is markedly different: from May to October they are four times more frequent than in the period from November to April, when the high season begins. The best time to visit Phuket is from late fall to mid spring. During this time there is a good, sunny weather.
Religion
The vast majority of Thais are Buddhists. There are many Chinese people on Phuket, whose ancestors came to the island in XVIII-XIX centuries to earn money in the tin mines, so the island has many Chinese temples. The proximity to Malaysia has also contributed to the diversity of religions in Phuket, with the descendants of immigrants from a neighboring country practicing Islam, so mosques can also be found on the island.
Currency
Thailand's national currency is the Thai baht (denoted by the symbol ฿), consisting of 100 satangs (they are rarely found in circulation). Banknotes come in denominations of 10, 20, 50, 100, 500, 1000 baht, coins – 1, 2, 5, 10 baht. Official payment in Thailand is made only in Baht. You can exchange dollars for baht in numerous exchange offices operating in airports, large shopping centers and on the main streets.
The main language of Thailand is Thai. The language is not simple, so few foreigners manage to learn anything but a few common words and expressions. Unlike Malaysian or Vietnamese letters, Thais do not use Latin script, so the inscriptions in Thai cannot be read by tourists. Since tourism in the country is very developed, it is customary here to duplicate names in English for the sake of foreigners. It is the same with figures: Thai script has its own figures, but Arabic ones are often used.
Thais employed in tourist sphere, speak more or less tolerably good English. Though, they speak with such an accent that it can be rather difficult to understand them. Russian is also common on the island: local businessmen translate their price lists, advertisements and menus into Russian for the numerous Russian-speaking tourists. A lot of employees of hotels, travel agencies, trading companies are natives of the CIS countries, permanently residing in Phuket, so you can have a good rest on the island, even not understanding English.
Transportation
Getting to the island can be by plane: there is an international airport in Phuket, which receives flights from Bangkok, neighboring countries and Russia. In addition, Phuket has a bus service to the capital of Thailand. The island is connected to the mainland by a bridge, so unlike the road to the islands of Chang and Samui, the bus passengers do not have to transfer to the ferry.
There are buses between Phuket's beaches and its administrative center, but tourists prefer to move around the island by tuk-tuks (cabs) or rented vehicles. There are plenty of moped rentals in Phuket, and it's easy to rent a car, too.
As in other resorts in Thailand, in Phuket tourists do not have problems with food. Traditional local cuisine, of course, is not to everyone's delight, but there is always an alternative: cafes with a European menu, fast food, Russian restaurants, pizzerias, grocery stores, coffee shops, institutions with a buffet and more. On the island you can try dishes of different cuisines: Indian, Chinese, Mexican, Italian and others. The level of establishments also vary from unassuming eateries to solid haute cuisine restaurants.
In Phuket, you must try the street food, cooked on the makashnikh, mobile carts with a counter and mini-kitchens. They cook and sell fried pancakes with banana filling, non-spicy pad Thai noodles, kebabs of all kinds of meat and seafood, fruit shakes, and more. Another indispensable item of tourist culinary program – evening markets, where half of the rows of shops are reserved for food. After a stroll through the market, you can taste a variety of exotic snacks and desserts.
Shopping
Phuket has large shopping centers with dozens of boutiques – Central Festival and Jung Ceylon, as well as large hypermarkets Big-C and Tesco Lotus, which besides food sell clothing, shoes, cosmetics, and so on. Much of the trade accounts for markets, for example, for inexpensive things tourists go to the Expo Market or the market near the temple of Karon. A very popular place for shopping – the night market.
Not counting souvenirs, most Phuket brings: summer clothes and shoes, which in Thailand are sold at low prices, spices and kits for cooking Thai dishes, silver and pearls, bought in certified stores, pillows made of latex, which has several unique properties, ointments, balms and medicines made of natural ingredients.
Safety
Important things to know about Phuket.
If there is a red flag on the beach, it means that swimming in the sea is prohibited. This precaution is due to the high waves and strong currents near the shore. In the high season, red flags appear infrequently, as a rule, the sea is dangerous during the rainy season.
Traveling independently on the island by rented vehicles must be very careful: Thais drive peculiarly, tourists – irresponsible. As a result, dangerous situations often occur on Phuket's roads.
Transvestites only look like flirty fragile girls, do not forget that these are strong young men who have enough strength to take the purse of a tourist walking at night on the street unlit.
Everything to do with gambling and drugs should be avoided in every possible way, because in Thailand you can get a long time in prison for it. In the busy tourist areas there are scammers who try to draw the foreigner into the entertainment banned by the law, so that after losing the money he was afraid to report to the police.
Excursions
One reason for the huge popularity of Phuket among tourists from around the world – is a variety of excursions available vacationers. The list of options for an exciting pastime is huge: sea cruises to nearby islands, exciting shows with trained animals, activities (rafting, diving, quad bikes, etc.) or educational programs (cooking classes, visiting temples or pearl farms).
Excursions that are most in demand among Russian-speaking tourists in Phuket are listed below.
Cruises to James Bond Island and Phi Phi Phi Archipelago. Of all the natural attractions around Phuket, these islands are the most visited. The reason for their popularity: incredibly beautiful nature, lush greenery, luxurious beaches.
Tour to the Similan Islands. Another destination, where every day dozens of boats with tourists go: fantastic landscapes and beaches Similan for all without exception become the most vivid memories of vacationing in Phuket.
Trip to Cheo Lan Lake. The lake is amazing: the transparent water is rich emerald color, it is dominated by rocky islands of bizarre shapes, on the shores – impenetrable jungle, and in one of the mountains – a huge cave. Floating hotels: thatched huts built on bamboo rafts are open in the quiet bays of the reservoir.
Attend shows at Fantasia Park and/or performances at Siam Niramit. Spectacular costume plays are staged every evening at two of the island's largest concert venues to educate Phuket's guests about the country's history and culture.
Elephant rides through the jungle. Riding on the giant with pleasure, both children and adults. The animals are trained, so do not pose a threat to humans. Duration of the ride: from 20 minutes to an hour.
Attractions
The following are the main (but not the only) attractions of Phuket, which is definitely worth a holiday on the island.
Big Buddha Statue
The symbol of the island and its most notable shrine. The marble figure is installed on top of the hill, so it is impossible not to notice it. Tourists come to the statue out of interest in Buddhist rituals and traditions, and for a bird's-eye view of Phuket: from the 400-meter-high hill, the western part of the island is visible as in the palm of your hand.
Wat Chalong Buddhist Temple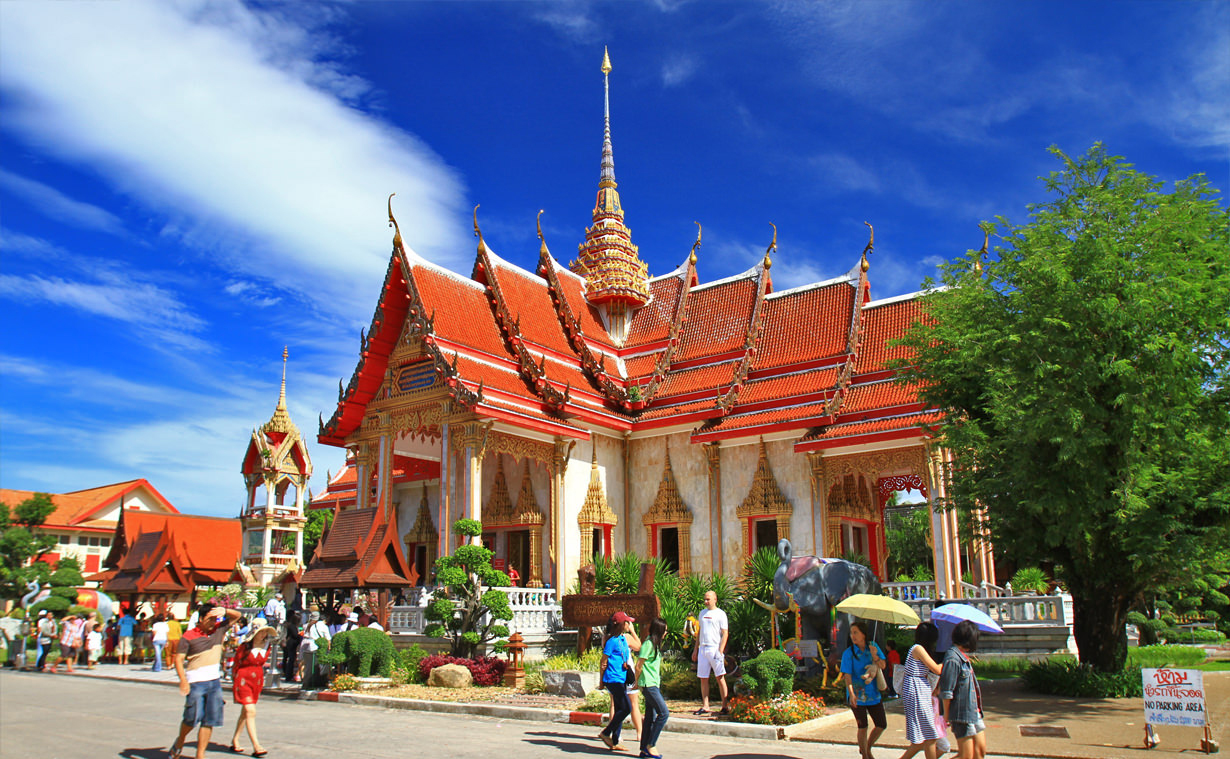 This temple complex with the intricate architecture of the most visited: it looks more beautiful than the other temples of the island, and some of its buildings were built in a rather unusual for Thailand style. For Thais, Wat Chalong – this is the most important place of worship of the Buddha, as the temple contains revered relics.
The kingdom of tigers
There are not many places in the world where any visitor can pet a dangerous predator without fear for his life and health. In Phuket you can do it in a nursery, where they keep tigers. Baby tigers can be fed with milk from the hands, and with the adult animals are allowed to be photographed.
Botanical Garden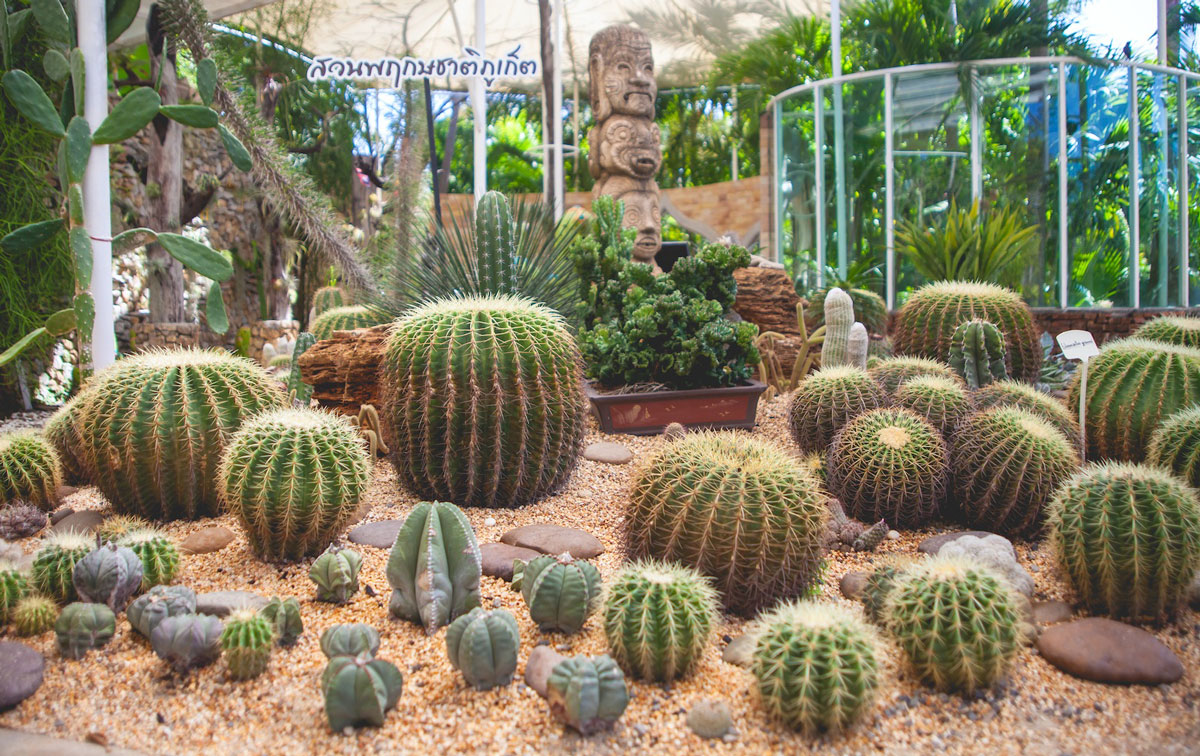 An excellent opportunity to combine a pleasant walk through the well-groomed park with visual lessons in botany: in the garden you can see dozens of species of tropical plants and trees, learn how cashews grow and how pineapple ripens, meet many varieties of cacti and orchids, admire the lotus lake.
Monkey Mountain
Phuket has many high hills with observation decks, but this hill differs in that on the way to the top, visitors are waited for by a huge pack of monkeys. The macaques do not mind being filmed, but on one condition: the photographer must treat them to something tasty, otherwise they will snatch him everything they can reach – the bag, glasses, cap, camera.
The Old Streets of Phuket Town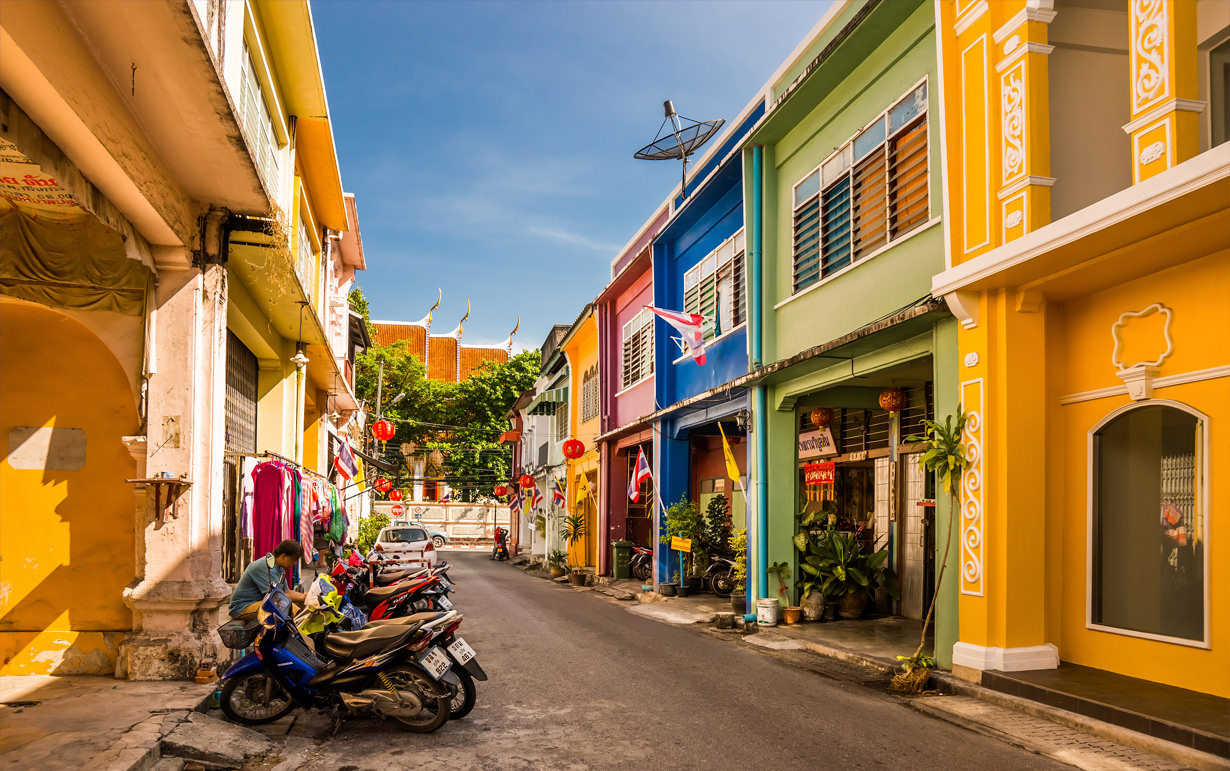 To see what was the island before the influx of tourists, you need to walk through the neighborhoods of old Phuket Town, where the houses of the XIX century. You do not have to walk a lot, because all the architectural heritage of the island is compactly arranged in several streets: Talang, Krabi Road, Dibuk and Phang Nga. It's best to leave the promenade for Sunday evening to combine it with a trip to the night market, which is held every week in this area.
Night Market
The market is a free tour that introduces the culture and mentality of the locals. Dozens of vendors and hundreds of their customers act as guides. The lecture is in Thai, but the meaning is conveyed with smiles, good-naturedness, and cheerfulness rather than words. As a bonus: cheap fruit, exotic food, strange souvenirs and cheap consumer goods.
How to rest on your own in Phuket
Briefly and to the point, how to organize an independent trip to Phuket. Useful tips and relevant information for tourists. Where to buy tickets and book a hotel? How to get from the airport and to rent a bike? What to see on their own? When to go and which beach to choose?
Contents:
Our review of an independent holiday in Phuket
We love Phuket for the good beaches and that elusive veneer of tropical laziness that lays over everything. Thais are very relaxed and optimistic.
We've lived in Phuket three times and have always come on our own. Why is it better? We're not saying that vacationing by tour is bad – it's often even cheaper! Just when you travel independently you have more freedom of choice: you can move to another beach or change hotel, eat at different restaurants, to live not 7-14 days, and as long as the visa is valid. However, if you prefer not to plan anything or vacation is very short, choose a trip.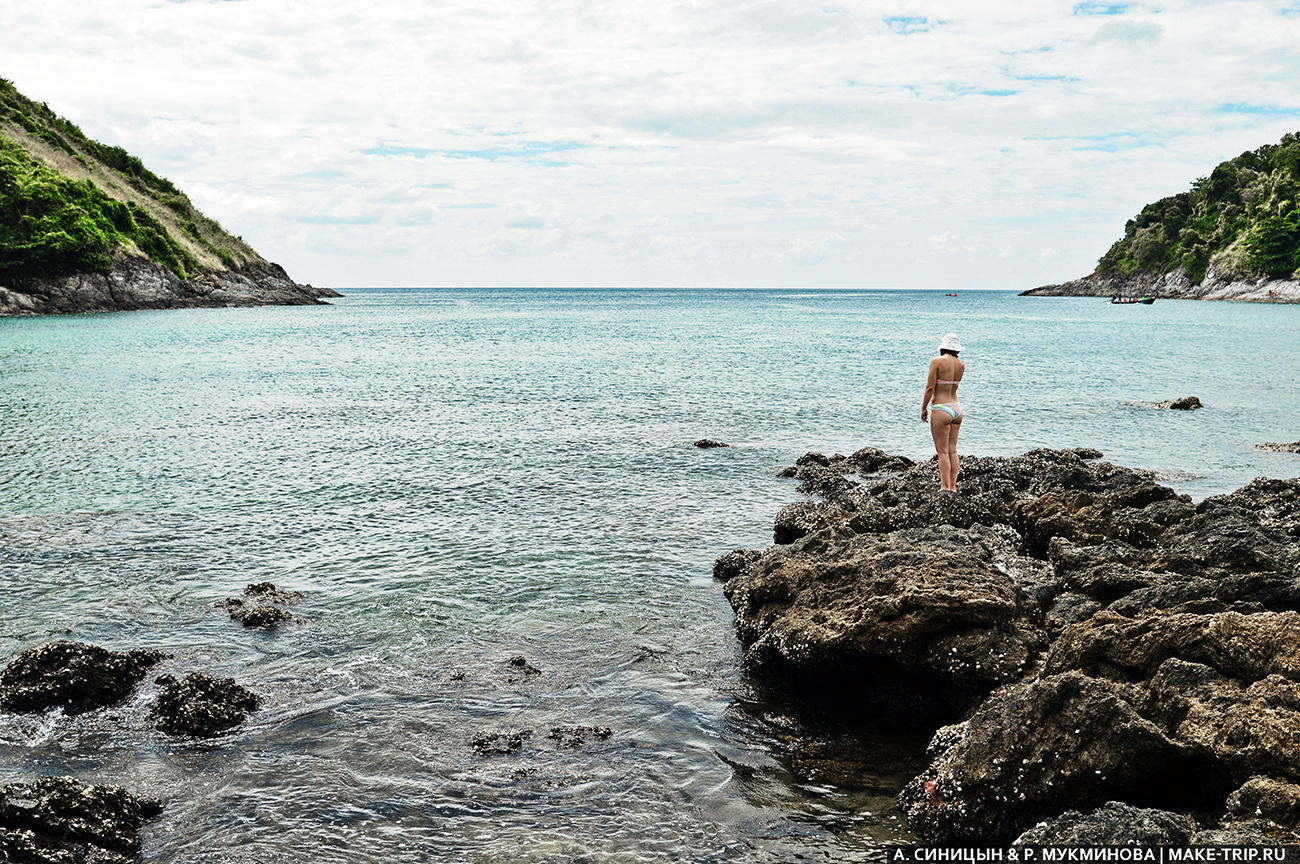 How to get to Phuket by yourself
Look for tickets on Aviasales – it compares the prices of all airlines. It's cheapest to fly to the island from Moscow, as well as from the cities of Siberia and the Far East (from 28 thousand rubles round trip).
При подготовке самостоятельного путешествия на Пхукет есть простор для фантазии. Можно выбрать обычный прямой рейс и долететь быстро, а можно стыковочный. При длительной пересадке успеете посмотреть новый город. В разное время мы так посетили Гонконг и Дубай — на каждый было по 3-4 дня. Еще можно составить классный сложный маршрут — это дешевле: сначала долететь до Бангкока, Куала-Лумпура или другого города, а затем лоукостером на Пхукет. Читайте подробнее, как дешево долететь до Пхукета >>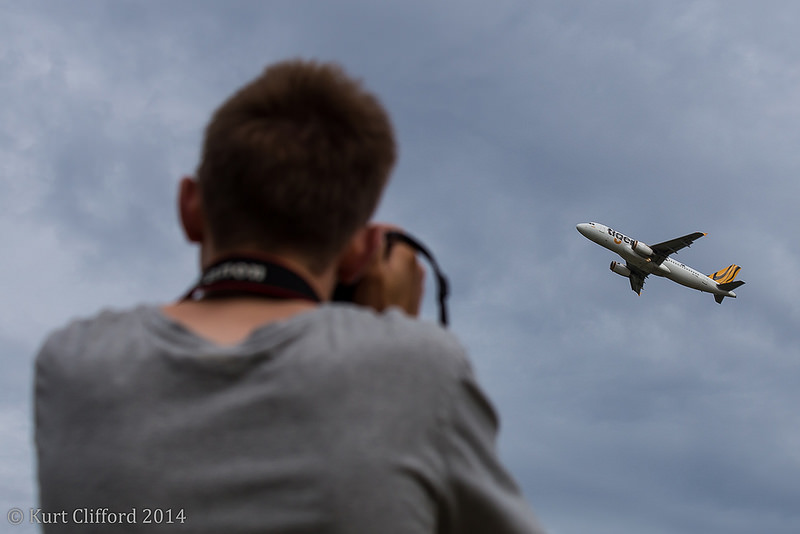 (Photo: kurt.clifford / Flickr.com)
How to get from the airport to the beach
Optimal – by minivan for 180 baht directly to the hotel! You can find the ticket office on either side of the terminal exit. There are a lot of buses, leaving as they fill up. There is not enough room not only for people but also for luggage – but it's cheap. You can get back to the airport by the same buses – you will see announcements about a transfer.
There is also a bus for 120 baht to the major beaches, but we are on it and did not get. Walks on schedule.
Cab – an expensive but comfortable option. We booked a car at Kiwi Taxi from Patong to Phuket airport for $25. We were given a whole minivan for two – rode like kings.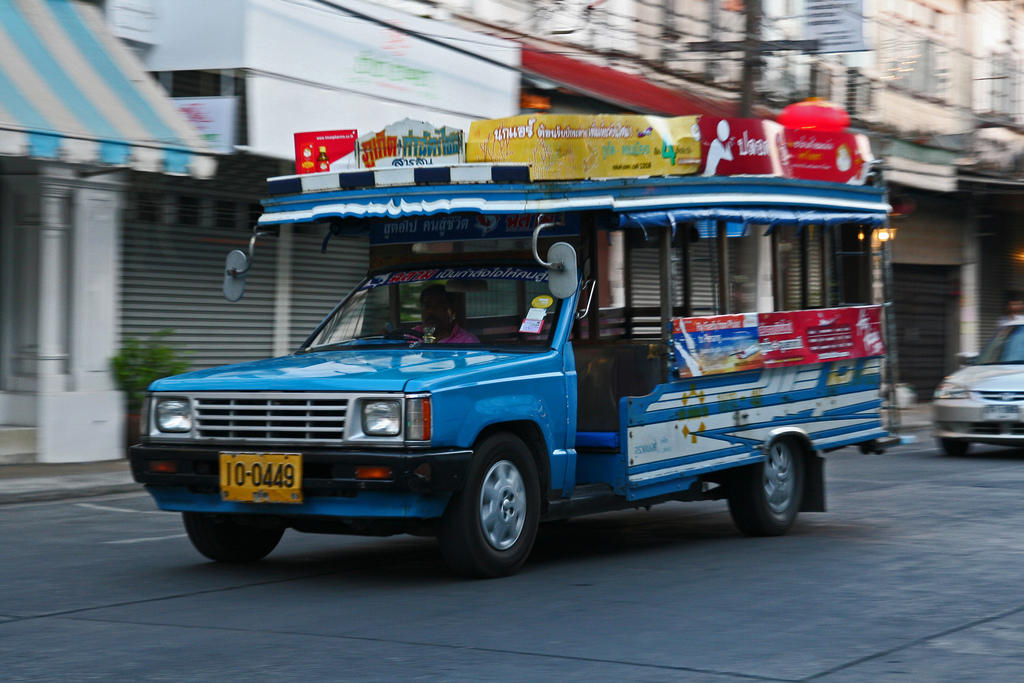 (Photo: grolli77 / flickr.com / CC BY-SA 2.0 license)
Visa to Thailand.
Planning to vacation in Phuket for no more than 30 days? Then you do not need a visa. At the border will put a stamp in your passport. If you want to spend more time, make a visa in advance – in Russia or a neighboring country. We made out a Thai two-month visa in Malaysia (Penang).
You can also get a visa-aran once, and then get a tourist visa. Multiple-visa-ran, as before, do not roll – the requirements are more stringent.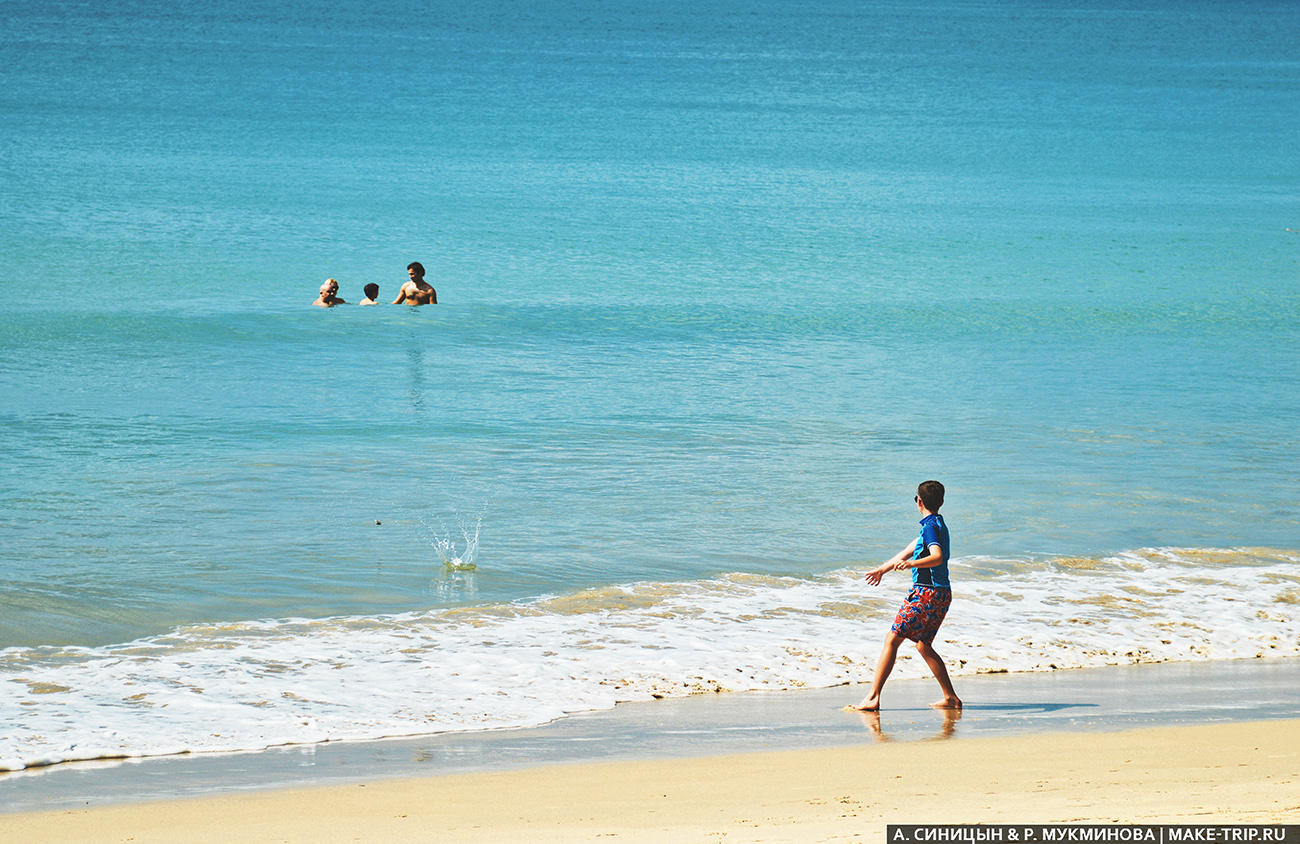 When best to go to Phuket
The high season on the Andaman coast is from December to April. This is when Phuket is overcrowded, especially for New Year (including Chinese). There are brief rains, mostly in the evening or at night, but this is rare.
From May to November is the rainy season. Waves rise and the sea is muddy. The weather is unstable: there may be a few sunny days in a row, and a few rainy days. How lucky you are! Don't swim in the sea: debris and jellyfish will be swept up and the currents will batter you.
Advice: do not swim if there are big waves and red flags.
Which beach to choose
This is an important question not only for those going to Phuket on their own, but also for package tourists. The quality of the vacation depends on the choice of the beach. Decide what you want: solitude, rough nightlife, quiet family vacation?
All beaches here are good – take your pick! Patong, Kata and Karon are universal – it all depends on the area of the resort. And with less popular or small beaches is more difficult, there are nuances. For example, Nai Harn is wonderful, but the beach itself is only expensive hotels. Read at the link below an article about all the beaches of Phuket we visited – our tips and reviews.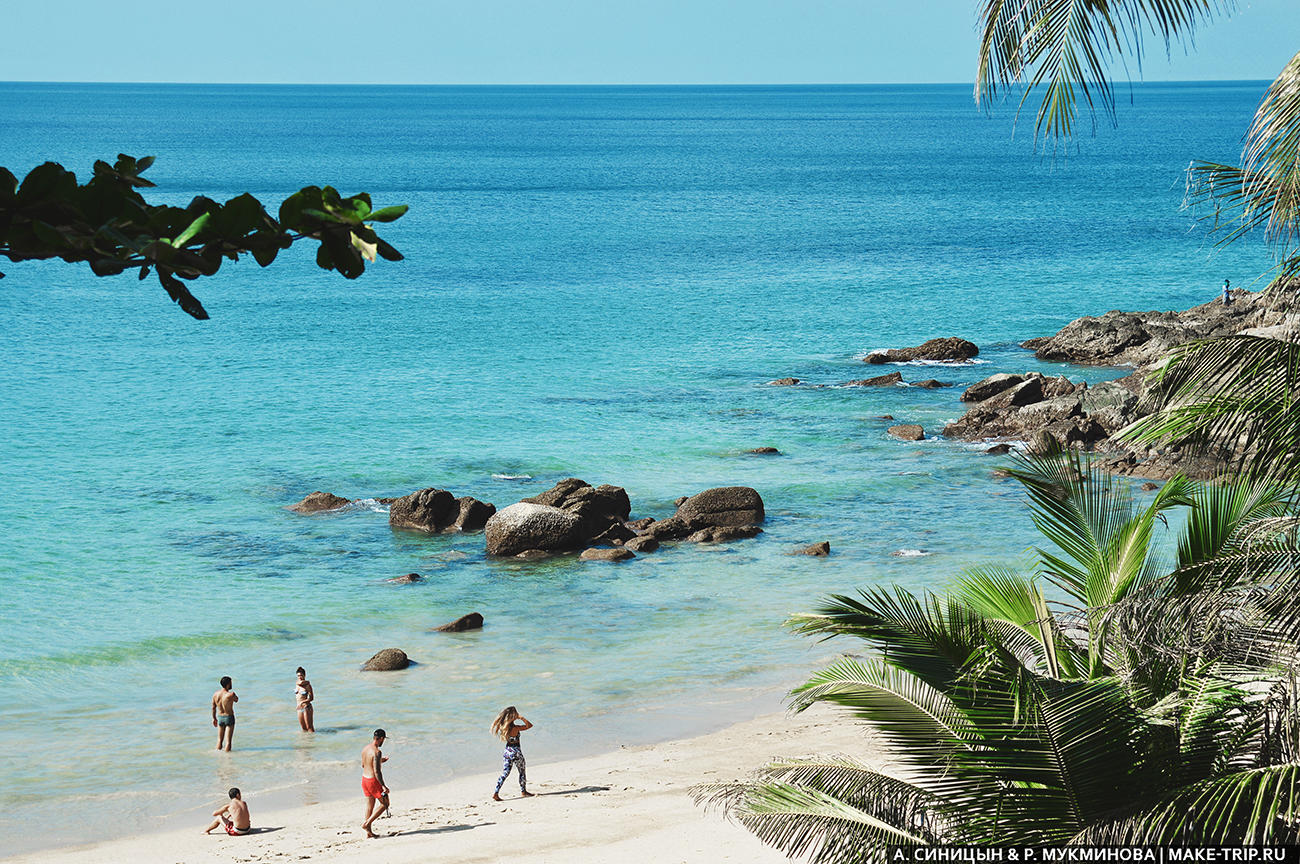 How to book a hotel in Phuket on your own
We like Phuket for the huge variety of accommodations, from modest gestos for $10 a night to villas and luxury resorts. Booking a hotel in Phuket by yourself is easy – on Booking.com. There you can also find villas and apartments.
A great option for longstay: stay in a hotel or resort for a while, and then explore the neighborhood by bike, looking for houses for rent.
Holidays in Phuket in the low season – cheaper: the cost of hotels can fall by half. Also, the price of hotels is highly dependent on the distance to the sea. During the high season book accommodations in Phuket a few months in advance, before the coolest options are gone.
Prices for food. Where to eat
Phuket is said to be more expensive than other islands and resorts. But the prices are reasonable – it all depends on your requests. Almost everywhere you can find inexpensive local food for 50-100฿ per dish and exotic fruits.
Prices on the beach are higher than in the interior of the resort: a dish costs 150-200฿ in a café, in a restaurant the average bill is about 500฿. On the second and third lines is already significantly cheaper: in a restaurant or cafe a dish from 110฿.
Tip: The cheapest place to eat in Phuket is in local cafes, makashnikas and night markets.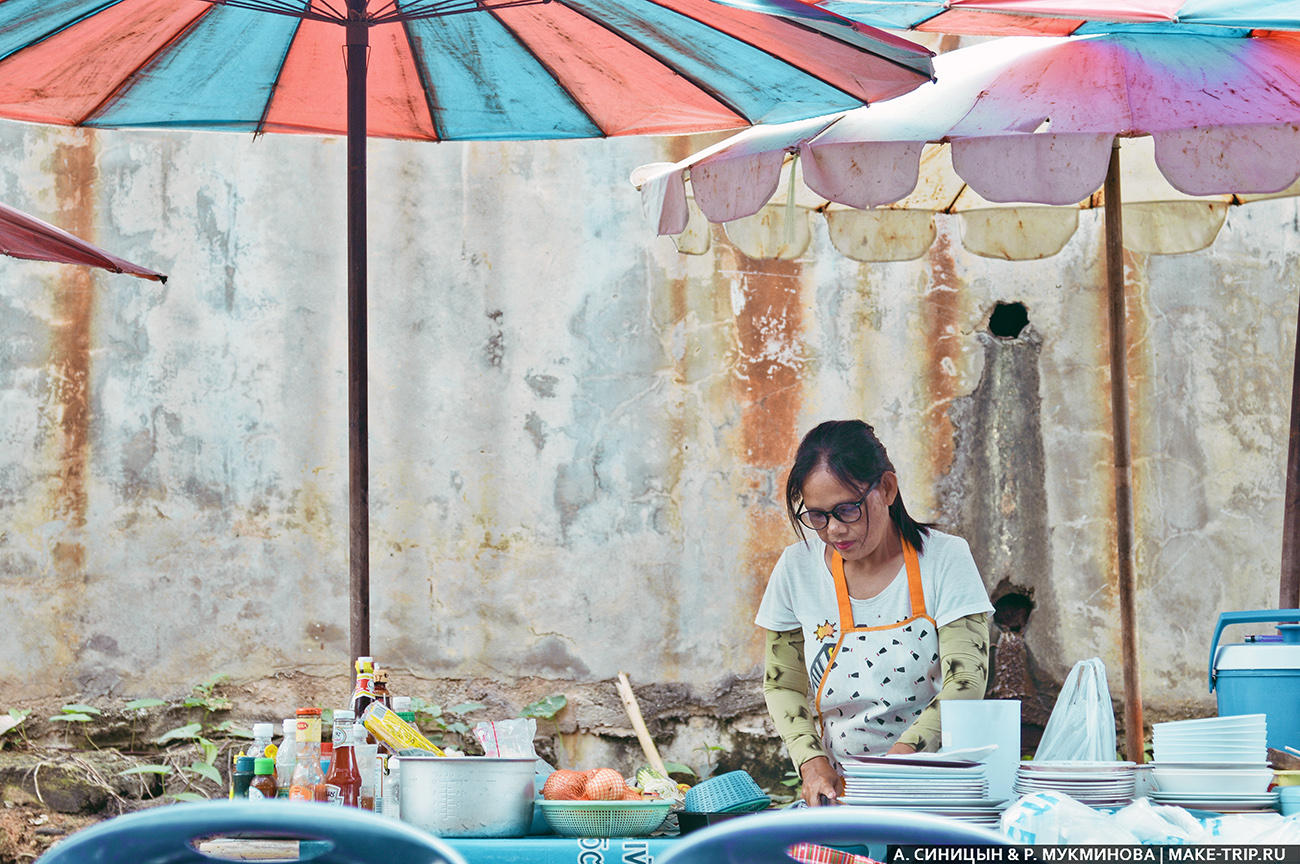 Sightseeing in Phuket on your own
Most often in Phuket, tourists do not bother with the organization and take excursions. We prefer an independent vacation – it's more exciting.
What to see in Phuket by yourself? Yes, all it takes is the will! Part of the attractions can be visited by sngteo (bus) or cab, but it's uncomfortable and expensive. It's much easier to rent a bike or a car if you have a driver's license.
Use MAPS.ME app to find places of interest in Phuket:
Beaches. Some are very beautiful: Nai Harn, Banana Beach, Kata Noi, Yanui, Ao Sein, Mai Khao.
Viewpoints. We were at Phromthep Cape, Windmill Viewpoint and Karon Viewpoint (view of three beaches).
Entertainment. There is a zoo, aquarium, dolphinarium, parks, gardens, farms. Extreme: "Hanuman's Flight, elephant rides.
Shows. The most famous: Simon Cabaret and FantaSea transvestite shows.
Temples are scattered all over the island.
Islands: Similan, Phi Phi, Racha, James Bond, Coral. Some you can visit on your own – just find someone who will take you. Most of the islands are visited with a tour.
Our advice: arrange a tour of Phuket by yourself! Why do you need to walk in the crowd?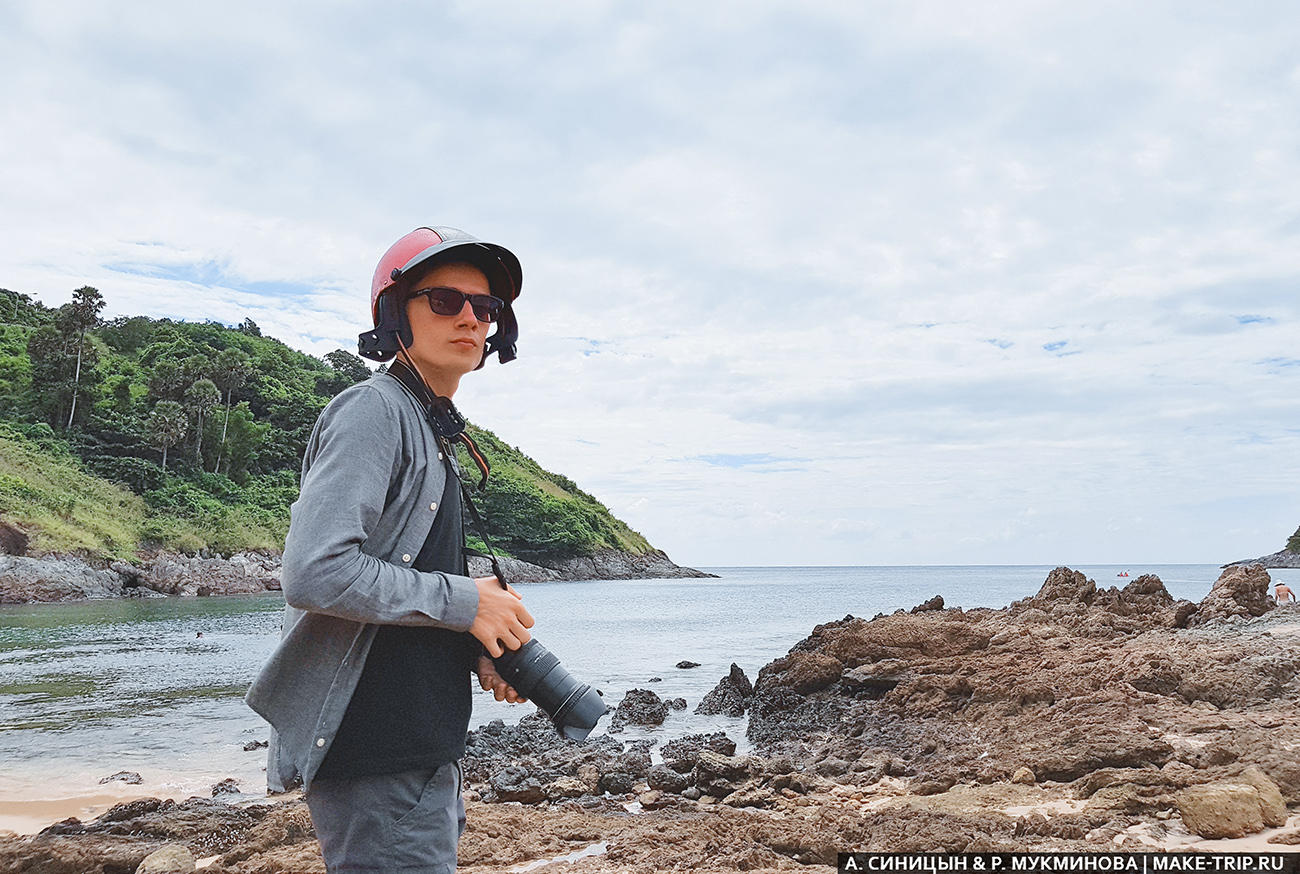 Rent a Bike and Car
There are more rental agencies in Phuket than massage parlors or bars. But this applies only to bikes – cars are more difficult. You can rent a car at Rentalcars.com from 700 baht per day. Keep in mind that the traffic on the roads is chaotic and expressive.
We rented a bike on BikesBooking.com. The cost is 250 baht per day. A real find, because the owners do not take a passport as a deposit. This for us (and for many) is very important. Do not trust the documents to strangers! On the Internet a lot of horror stories about scams tourists trustingly gave their passports. But we can also understand the owners of the bikes: the tourists break the transport and fly home, without giving a cash deposit. Therefore, they began to ask for a passport.
Tips for renting a bike in Phuket:
A driver's license is needed (there is a fine), but no one asks for it.
Do not give your passport as a deposit.
ALWAYS take pictures of any damage to the bike.
Do not ride without a helmet.
Do not park at the red-and-white line – your bike will be chained and you will have to pay a big fine or get it towed to a parking lot.
Do not drive – the roads are mountainous, and the turns are steep.
If you have little driving experience, practice on safe roads.
Read about independent travel by motorcycle in Indonesia.
(Photo: linvoyage / flickr.com / CC BY 2.0 license)
Money and ATMs.
Exchange offices at major resorts in Phuket (Patong, Kata, Karon) are everywhere, it is very easy to change currency. The exchange rate in exchange offices is very good. If you change a large amount, we recommend to walk down the street and compare the rate in a few exchange booths to choose the best offer. Come to Thailand with dollars or euros, it is not profitable to change other currencies, including rubles.
Another way to get cash in Thai Baht is to withdraw money from ATMs. There are plenty of them in Phuket: in the streets, shopping malls, supermarkets. All ATMs charge 200 baht per transaction. Almost all Russian banks will also take its withdrawal fee (usually 300-500 rubles). Tinkoff Bank allows you to withdraw money around the world without any fee.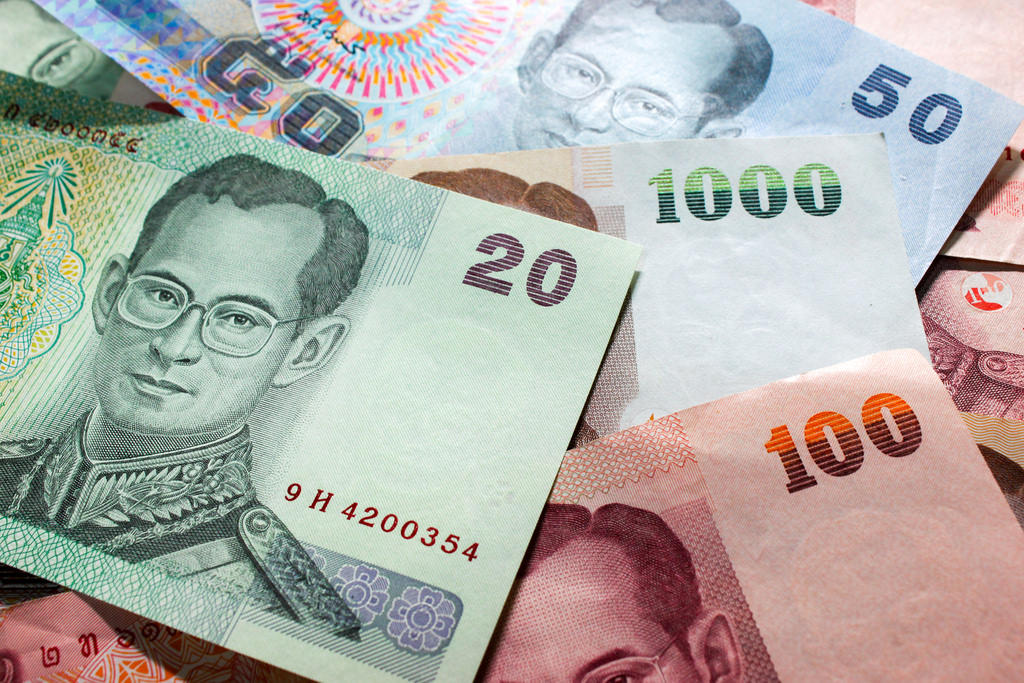 (Photo: karnbulsuk / flickr.com / CC BY-NC 2.0 license)
Insurance
Take out insurance before your trip, especially if you're planning an active vacation. We had free annual worldwide insurance from Tinkoff – it's given when you sign up for an All Airlines credit card. You should try it too! Suitable for those who actively travel.
Another option is to buy it on Cherehapa. The service selects the most favorable policy – we also repeatedly used it.
Internet
In hotels Wi-Fi is usually good, but it is better to read reviews before booking. You can buy a local SIM card with mobile internet and use your phone as a router. We didn't do that in Thailand – hotel Wi-Fi was always enough.
Read about our experiences traveling to the Philippines and Vietnam on our own.