How to get to Bali in 2022
Before the pandemic, travelers from Russia got to Bali without a visa or any restrictions.
They would fly into Denpasar International Airport and get a free stamp in their passport, which gave them the right to stay in Indonesia for up to 30 days. They could spend them all on the island or travel around the country. With the onset of the pandemic, the rules changed: Indonesia closed entry to tourists. But travelers still found loopholes to relax in Bali.
Since February 1, 2022, tourists were officially allowed on the island. But visa-free entry to Indonesia has not yet been returned. If you want to travel to Bali you should get a visa on arrival, which is pasted into the passport, or make a business visa beforehand.
I will tell you in detail what documents are required for each visa, how to get from Russia to Bali, and what are the rules for entry.
I earned 100,000 rubles at Tinkoff Black
How the rules of entry to Bali changed during the pandemic
In March 2020, Indonesia closed to tourists and began accepting only those Russians who came to the country on a business visa. They had to have an official invitation from a local sponsor.
It was impossible to fly to Bali under that scheme. You had to take a ticket to Jakarta, the capital of Indonesia on Java. From Jakarta to Bali is a little over 1000 km. After arriving in Jakarta, travelers were quarantined in a special hotel, and then, if they wanted, flew to Bali.
It was expensive: you had to pay for a quarantine hotel with full board for all days, two PCR tests. A transfer in Jakarta for a family of two adults and a child cost about R120,000. Three business visas cost another 50,000 P .
On February 1, 2022 the Indonesian government simplified the rules of entry. Since then, travelers from Russia could fly directly to Bali and the Riau Archipelago without visiting Jakarta. They still needed a business visa, but on entry they could officially state the purpose of the trip as tourism. This is confirmed by the rules published by the Indonesian government.
Entering the rest of Indonesia, unless there was a real business reason for the trip, was risky: at the border crossing, travelers could be asked what business they were going to do. If the border guard was not satisfied with the answer, they could be denied entry into the country. But judging by the reviews on Bali-forum Usually there were no problems at passport control and Russian tourists were allowed to rest freely. Travelers write that they have not had any problems at entry.
On March 23 Indonesian authorities canceled the arrival quarantine for vaccinated travelers on all Indonesian islands, including Bali.
How to get a visa on arrival in Bali
Starting May 30, 2022 Russian travelers may enter Indonesia with Visa on Arrival for Tourism.
You do not need to apply for the visa in advance, it is issued on arrival in the country – for example, at the airport in Bali. To get such a visa you need:
Have a passport with a validity of at least six months.
Show return ticket to Russia or any other third country.
Show insurance with $25,000 coverage ( 1,584,375).
Р ).
Pay visa fee of $35 ( 2,218
P ) or 500,000 Rp ( 2,174.
Р ).
How to apply for a business visa to Bali
If a traveler plans to spend more than 60 days in Indonesia, he or she needs to apply for a B211A business visa. You can apply for the visa online at the Indonesian immigration office. There is no need to visit the embassy.
You do not have to spend all that time in Bali: you can enter the island as a tourist, and then travel all over Indonesia. Let me tell you about the requirements for the documents you need to apply for a B211A visa.
A passport which will be valid for a minimum of six months before entering Bali.
Letter of guarantee from a sponsor. It can only be an adult citizen of Indonesia. His name will be noted on the visa. The sponsor vouches that the traveler will comply with the laws and leave the country when the visa expires. That is, he is responsible for the individual's visit to Indonesia.
Business visa can only be renewed at the sponsor's place of registration. If a tourist plans to renew his Bali visa, the sponsor must be a Balinese person, not any resident of Indonesia.
Judging by the reviews on the Vinsky forum and telegraph chat "BaliChat – Baliforum", almost none of the Russian tourists do the visa on their own, as it is difficult to find a sponsor from the locals.
A return ticket to Russia or the country the tourist plans to visit after vacation in Bali.
Portrait color photo as for Russian passport.
Certificate of full vaccination in English. In Indonesia, Johnson & Johnson, Pfizer/BioNTech, Moderna, Sinovac, Sinopharm, AstraZeneca, Novavax, Convidecia and Zifivax vaccines are approved. Of the Russian vaccines, only Sputnik V will do. A minimum of 14 days must elapse after the last shot.
Letter of declaration of readiness to observe all coronavirus restrictions in Indonesia. It must be printed out and filled in.
What documents do you need to enter Bali during a pandemic?
In addition to a visa on arrival or a B211A visa, every traveler is required to provide a documentation package. Here is what it includes.
A full vaccination certificate with the same requirements as for the B211A visa. The document is not required for children under 18 years of age and for transit passengers who will not be leaving the clear zone of the airport.
Those who have a vaccination certificate do not need to take a PCR test before departure and upon arrival in Indonesia. Vaccinated travelers are also exempt from quarantine.
The rules do not specify whether children who have not been vaccinated need to take PCR tests. The Bali Forum writes that children under 18 are subject to the same testing conditions as the adults accompanying them: if the adult doesn't need a document with a negative covid test, the child isn't asked for one either.
Proof of payment of Bali rent for the duration of the trip.
The e-HAC International form. It is filled out in the PeduliLindungi app and shown at the border crossing.
In April, in the "BaliChat Visa" telegraph chat, tourists reported that when entering Indonesia, they are asked for a return ticket to Russia or another country.
You can sign up for the PeduliLindungi app with an email address. There is a separate block on the home page with an e-HAC form
Who will be quarantined in Bali
If a traveler arrives in Indonesia without a vaccination certificate, or if less than 14 days have passed since vaccination, you will have to take a PCR test on arrival and go for a five-day quarantine at your own expense. But only if the tourist has no symptoms of coronavirus. The same rules apply for unvaccinated children 6-17 years old if they are traveling with unvaccinated parents.
Hotel for quarantine must be booked in advance. At the border you will be shown the booking confirmation. Not every hotel is suitable, but only those that are on the list of approved hotels of the Indonesian government.
I checked the price of different hotels in Bali in this list – the price varies greatly depending on the hotel. For example, 100 Sunset Hotel for five nights from July 18 to 23 asks only 5227 P for two, and Alila Villas Uluwatu for the same dates costs 230 223 P. You should also keep in mind that the price is only with breakfast. For quarantine you will need to make additional arrangements with the hotel for lunches and dinners.
To complete the self-isolation, travelers must obtain a negative PCR test result on the fourth day of quarantine.
How to get to Bali from Russia
Russia has resumed air links with Indonesia since March 14, 2022, and since April 9 lifted restrictions on the number of flights between the countries, but there are still no direct flights from Moscow to Bali. One can get to the island only with connections, for example, Qatar Airways flights with connection in Doha, Turkish Airlines flights with connection in Istanbul or Emirates flights with connection in Dubai.
If you fly directly to Bali, you will have to spend a lot of money. For example, Emirates is selling round trip tickets from June 23 to July 14 for 247,790 P per passenger with luggage.
It will be much cheaper to fly to Thailand and from there to Bali. For the same dates tickets will cost a total of 90,129 P.
Tickets from Moscow to Bangkok and back from June 23 to July 14 with Etihad Airways are 70,776 P . Then you can spend the night in Thailand and go to Bali on a Thai AirAsia flight at 19,353 P for round-trip tickets. On the way back it is also better to spend the night in Thailand and rest before a long flight to Russia.
All prices are valid at the time of publication of this article.
News that are relevant to travelers – in our telegram channel. Subscribe to stay informed: @t_chemodan.
Entry rules to Bali for the Belarusians
Previously, to visit the Republic of Indonesia, the citizens of the Republic of Belarus had to obtain a visa in advance. But today the situation has changed. According to the innovations in 2018, citizens of Belarus can visit Indonesia without a visa on the condition that the estimated period of their stay in the country will be less than 30 days.
Indonesia on the map
Do I need a visa?
Many foreign tourists, including Belarusians, go to Indonesia to visit the island of Bali, one of the most expensive resorts in the world. The new rules apply to the territory of Bali, so a visa to Bali is not necessary for Belarusians.
But it is worth noting that a visa to Bali will be needed in cases such as: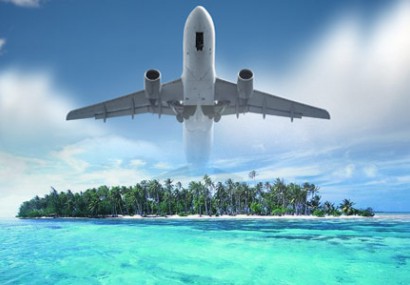 The estimated period of stay exceeds 30 days.
The purpose of the trip is not tourism and recreation, but for example to visit relatives or work on the territory of Indonesia.
Visa-free entry.
To cross the border of the Republic of Indonesia without a visa, you will need to present documents such as:
A valid passport. Validity of the passport must be at least six months from the date of entry into the territory of the Republic.
Ticket confirming the departure from the territory of the Republic of Indonesia to your home country or a third destination country.
But it is worth remembering that you can enter Indonesia without a pre-issued permit only through certain checkpoints.
Border crossing points
Airports
Seaports
"Sukarno Hatta" is located in the city of Jakarta
"Sri Bintan Pura" is located in the city of Bintan
"Ngurah Rai is located directly in Bali
"Sekupung" is located in Batam
"Kuala Namu" is located in Medan
"Batam Center" is located in Batam
"Hang Nadim" is located on the island of Batam
"Nongsa Terminal Bahari" is located in Batam
"Teluk Senimba Marina" is also located in the city of Batam
"Tanjung Balay Karimun" is located on an island called Karimun.
All about Bali: accommodation and food – in the video.
The visa-free stamp cannot be renewed.
The procedure for obtaining a stamp is very simple. It is enough at the checkpoint to present documents to the customs officer and answer a few questions. If the foreigner does not arouse the border guard's suspicions, a visa stamp is affixed to his passport.
Visa on arrival
If you intend to travel to Indonesia in 2022 for more than one month as a tourist, you will need a visa. But you do not need to apply for it at the embassy. You can get it directly at the airport. The cost of a permit is $35. This visa is called in Indonesia "Visa on Arival".
If you plan to stay in the island state more than 60 days, you should make out a permit type "VOA".
You can pay for the visa directly at the checkpoints. Payment is made in two currencies:
American dollar.
Indonesian rupiah.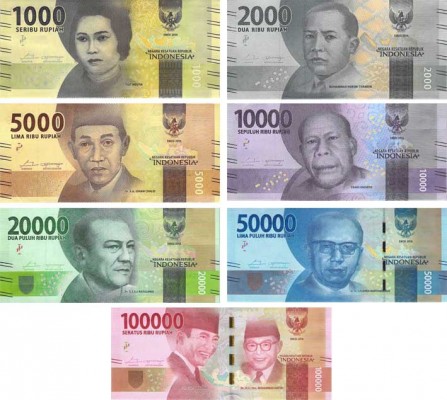 These types of permits can be renewed at immigration offices, which are located in cities in the Republic of Indonesia such as:
You should apply for an extension of your visa stamp at least 5 days before its expiration date. Renewal takes place in 3 stages:
Submitting the necessary papers to the immigration office.
Visiting the organization to pay the fee.
Receiving a completed passport.
That is, you will need to visit the immigration office 3 times to extend your visa.
Visa extension
To extend a visa stamp, a package of papers is submitted, consisting of:
Passport.
A photocopy of the passport and the page on which the visa stamp is present.
A ticket with the exact date indicated. The ticket is necessary to confirm the person's departure from Indonesia.
Extension application form.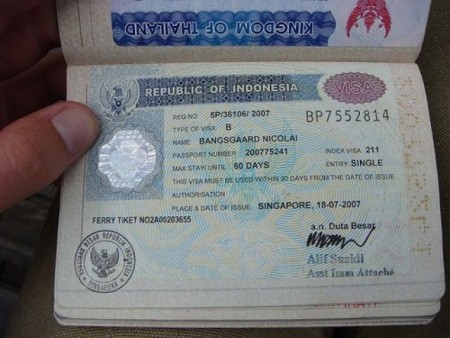 Example of visa to Bali
After submitting the papers, the immigration office visits to pay a fee of $30 (335 thousand Indonesian rupiahs). After the payment, a person is required to take a photo and undergo fingerprinting procedure. After completing all the procedures, the Belarusian is given a notice with the date of the next visit to the immigration office.
After 4-5 days, a resident of the Belarusian Republic can come to the organization for an already extended visa stamp and passport.It is possible to extend the permit only once. If a person needs more time to be in Indonesia, he/she will have to cross the border of this country again to get the initial visa stamp.
Social visa
A social entry permit will be required for a visitor's visit to the Republic of Indonesia. To obtain it you should visit an embassy or a diplomatic mission of this state. Usually it takes 1 -2 days to get a permit. The fee for registration is 50 US Dollars.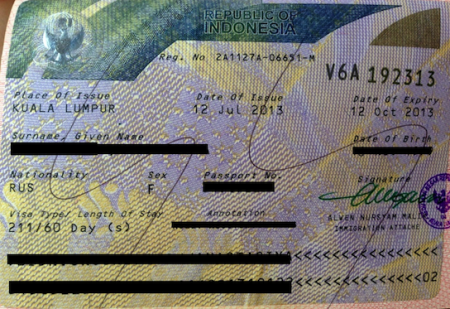 Example of social visa to Bali
The period of validity is 2 months.
This type of visa does not allow employment in the country.
Required papers for opening social permit:
Letter of invitation from a person with Indonesian citizenship.
A photocopy of the CTR of the inviting person. KTR is an internal ID card in the Republic of Indonesia.
Photographs in the number of 2 pieces.
Valid passport of a citizen of the Republic of Belarus.
Application form.
Photocopy of the first page of your passport.
Ticket to the Republic of Indonesia.
Work and business visa
Do not confuse business and work visa. A business permit does not allow you to work in Indonesia, while a work visa provides for this privilege.
Both types of permits are also issued at the diplomatic mission.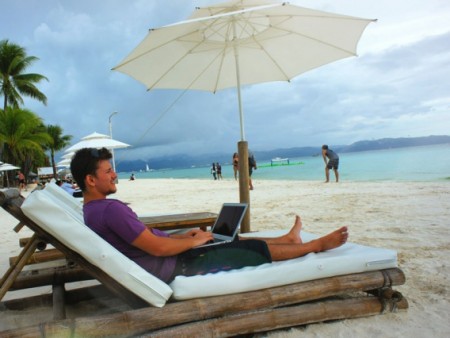 Business permit comes in two types:
Single-entry is issued for a maximum of six months. The cost of registration – 50 dollars.
The multiple entry is valid for one year. But such a visa allows you to stay in the state for no more than 2 months in a row. The registration fee is 100 US dollars.
A business visa is issued in 2 to 3 days.
Work permit is issued for 2 days. It is valid for only six months. Formally the visa is not a work permit, it only allows the citizen of Belarus to obtain a working KITAS (permit to work in the territory of the Indonesian Republic).
It is worth noting that obtaining a working KITAS is a very long and expensive procedure. A work permit is issued not less than 2 months, and its cost is equal to 2 thousand dollars.