Airlines in Thailand – low-cost and domestic flights
I have already written about how to fly cheaply to Thailand from Russia. There are also a number of articles on the blog about moving between different cities and islands, and there just mentioned all the ways to transport travelers. However, when it comes to domestic flights within Thailand, only AirAsia is mentioned, although there are several airlines flying in Thailand. As a matter of fact, this article is intended to partially fill this gap.
By the way, as it turned out that the Internet is full of outdated information, some airlines simply do not exist, had to Google for a couple of days on this topic. Well, I remind you, the best way to look for tickets is to use specialized flight search engines: Aviasales.ru or Skyscanner.ru.
AirAsia.
The most famous and popular low-cost airline among travelers. The number of destination cities is large, it flies not only in Thailand but in all neighboring countries. Airasia is all flying to Malaysia, Cambodia, Laos, Myanmar, Hong Kong, Bali, Singapore, India, China, Japan, etc. Often holds promotions and you can fly for pennies. So if you live long in Asia, sign up for their newsletter specials.
Flights most often through Bangkok (Don Muang), but there are also direct flights between major cities. Major destinations include Bangkok, Chiang Mai, Chiang Rai, Pitsanulok, Udontani, Ubon Ratchathani, Khon Kaen, Suratkhani, Krabi, Phuket, Hat Yai, Nakhon Si Tamarat. In addition to direct flights, offers transfers (plane + ferry) to Koh Samui, Koh Phangan, Koh Lanta, Koh Lipe, etc. Flying them in Thailand and Malaysia.
Nok Air
Another popular low cost airline in Thailand. The ticket price is not much different than AirAsia, and the service is high on reviews. Yes, I myself have flown with them a few times and liked it better than with AirAsia. Flights mostly just around Thailand, the number of destination cities is about the same as AirAsia as far as Thailand is concerned. The bank card with which the ticket is purchased should be with you, as it may be asked at the airport.
Flights mostly through Bangkok (Don Muang), but there are flights from Chiang Mai to Udontani, Mae Hong Son and Mae Sot. From the main cities: Bangkok, Chiang Mai, Chiang Rai, Pitsanulok, Ranong, Hua Hin (Thu, Friday and Sunday), Chumphon, Surat Thani, Krabi (Ao Nang), Phuket, Hat Yai. Also offers transfers to Koh Samui, Koh Phangan, Koh Tao, Koh Lanta, Koh Lipe and other islands (by water, the company Lompraya). I flew them to Vietnam (Hainoi).
Nok Mini
The official website, www.sga.co.th leads there as well.
The former SGA Airlines. Represents flights on small planes to several destinations. All reservations and ticket searches are done through the Nok Air website, which means you do not need to go to the Nok Mini website.
Bangkok Airways
This company is not a low-cost, so the tickets are twice as expensive as previous airlines. It flies not only within Thailand but also to neighboring countries (Malaysia, Cambodia, Laos, Singapore, Hong Kong). Unfortunately, only Bangkok Airways flies directly to Samui, so if you want to get to the island quickly, you'll have to shell out some money. A cheaper option is plane+ferry transfers from AirAsia and Nok Air.
Flies between many cities, not just through Bangkok (Suvarnabhumi). Destinations in Thailand: Bangkok, Chiang Mai, Krabi, Pattaya, Phuket, Samui, Sukhothai, Trat, Udontani. Flown by them on Samui.
Thai Airways
Flies all over the world, including flights from Russia to Thailand. Great service, praise all, but tickets are more expensive than others. In Thailand, prices are about the same as Bangkok Airways or even more expensive.
Flights between many cities, and not just through Bangkok (Suvarnabhumi). Destinations in Thailand are Bangkok, Chiang Mai, Chiang Rai, Khon Kaen, Krabi, Phuket, Samui, Hat Yai, Udontani, Ubon Ratchatani.
THAI Smile.
The budget division of Thai Airways. Flies mainly within Thailand, but also flies to Cambodia, Burma, Macau.
Orient Thai Airlines
For 10 years I spent 16 hours a day doing travel guides. One and a half years ago, a stroke almost killed me. I survived, but am struggling with paralysis.
If my blog has helped you, I would appreciate a donation. You can pay with a card of 100 rubles, 500 rubles or 1000 rubles.
Used to be called 1-2-go. Flies only from Bangkok (Don Muang) to Phuket and back. Tickets are inexpensive. You can also fly to Hong Kong, but only from Bangkok (Suvarnabhumi) and Guangzhou.
Firefly
Does not fly in Thailand, but may be useful for those who want to fly inexpensively from Samui or Phuket to Penang for Thai visa. While there are other options in the case of Phuket, only expensive Bangkok Airways flies from Samui.
Lion Air
Flies many places (Malaysia, Indonesia, Vietnam, Singapore, Thailand, etc.), routes are on the map, tickets are cheap.
U Airlines
Charter flights, not regular. It's like they have only one plane. Book only by telephone, you can not buy on the website. Prices do not know. Flies from Bangkok to Chiang Mai and Phuket, as well as neighboring countries (Korea, India, Indonesia, Japan).
Kan Air
A small airline, flies from Chiang Mai to Pai, Mae Hong Son, Nan and Pitsanulok. Does not fly every day, so check the schedule. Ticket prices are relatively high for short distances, but you can fly Cesna.
Non-flying airlines.
Happy Air www.happyair.co.th Ceased operations in February 2015. The airline flew to Chumphon and Ranong from Bangkok (Suvarnabhumi) several times a week.
Phuket Air (Phuket Air) www.phuketairlines.com The airlines were banned from flying to the EU quite some time ago, then they stopped flying in Thailand. As far as I know, they don't fly now. There is no information on their website.
Solar Air.
Through the ticket search form on the website, I could never get anything other than "Not Flight Route". That is, what this airline now offers is unknown. It used to fly from Bangkok (Don Muang) to Chumphon, from where people would transfer to Lomparaya speedboats and sail to Samui, Phangan and Tao. But now Lompraya cooperates with Nok Air.
TonleSap Airlines
The company itself is Cambodian and used to fly from Pattaya to Siem Reap. It was comparable to AirAsia, which flies to Siem Reap from Bangkok, but more convenient if one lives in Pattaya. The airline's website is not opening at the time of writing, so it's not clear what became of it.
P.C. Air http://www.pcairline.com Their only plane was impounded in Korea in 2012, haven't flown since.
Destination Air Shuttle.
Private airline offered flights from Phuket to places nearby (Phi Phi, Krabi, Yao Noi, Ko Lanta, etc) by seaplane. Closed in 2009.
Air Phoenix, SkyStar Airways, Crystal Thai Airlines – do not fly.
P.S. Did you forget something or write it wrong? Write it in the comments. By and large, it's enough to know AirAsia, Nok Air and Bangkok Airways…
Choosing insurance is difficult, so my Top Insurance to Asia is to help you out. I read forums all the time and use insurance myself. From experience, the best place to buy from Polis812. They accept Russian cards.
Large database of hotels are on Yandex.Travel. Keshbek 10-30% points Yandex. Also need to check prices on the Russian copy of booking Ostrovka. All accept Russian cards.
Low-cost airlines in Thailand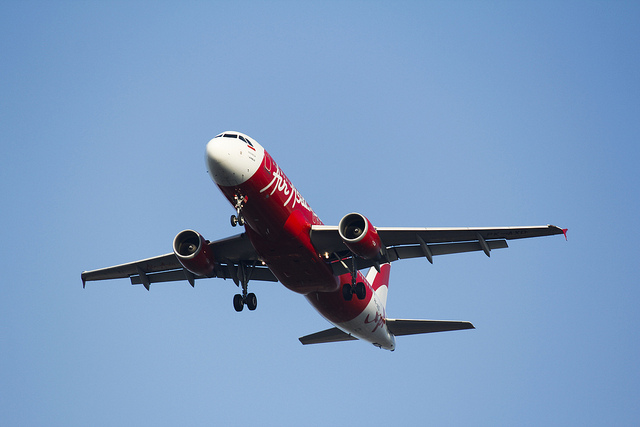 Flying on low-cost airlines in Thailand is a pleasure. Often the flight costs less than a bus ride. With $100 in your pocket, you can easily fly around the country. In this article I will talk about the major low-cost airlines that fly in Thailand and neighboring Asian countries. And most importantly – I'll share the most effective algorithm for finding the cheapest tickets to any low-cost flights.
Due to the possibility of cheap flights on lowcost airlines both within Thailand and to other Asian countries, independent travel in Thailand is easy in terms of organization and extremely budget-friendly.
Below I'll reveal the most effective algorithm for finding cheap tickets for discount airlines; give examples of ticket prices for a number of destinations; list the main low-cost carriers that fly within Thailand and from its cities to other Asian countries; and give a list of the codes of the main airports in the country.
Specifics of
Asian low-cost carriers, in my opinion, are more friendly to the traveler than their low-cost counterparts from Europe. Many Asian low-cost airlines have free baggage allowance, free seating options, and no bank card fees. Many, but not all – for example, the well-known Asian low-cost airline AirAsia is very strict to its passengers, and you should be careful with it.
The most useful articles on our site for those who are going to Thailand:
(cheapest ways to get into the country). (cheapest ways to get to the main resort island). (specifics of each spring month, comparison of weather conditions). (a large and comprehensive comparison of the two main Thai resorts on all parameters). (on food, hotels, transportation, etc.).
Algorithm of finding low-cost tickets
Tickets for 10-30 dollars is a normal phenomenon for low-cost airlines (both Asian and European), it's not difficult to find and buy them. The main thing is to know where to look. Indeed, where to look for them? There is, alas, no one-size-fits-all solution – you need to do a little quest to find them.
I would outline the procedure for the most effective search for the cheapest airline tickets for low-cost flights in Thailand (however, it is also suitable for other countries) in three points. To maximize your chances of finding cheap tickets, you need to follow these steps:
Go to the search engine sites Skyscanner and Aviasales and check ticket prices for the destination of interest. Check all the dates that suit you. Take full advantage of the search engines: for example, in the Skyscanner ticket search form you can search monthly or even yearly instead of a specific date, and you can specify the entire country instead of a certain city. Don't be lazy, and increase your chances of finding the cheapest ticket.
Check the official websites of airlines to see what prices they offer when you buy directly from them. It's always cheaper to buy tickets with traditional airlines if you buy them through a travel agent instead of directly from the airlines' websites, but it's more complicated if you buy them with a low-cost airline – you may get the best price from an agent, or from an official website. So check both there and there.
Check the prices on the Bravoavia website. If that agent has tickets at a low price, you can get the tickets you want for free by doing some simple steps. So register in Bravofriends loyalty program: at the beginning you will get a voucher for 20 euros, and then you can invite your friends to register in the program (1 friend = 1 extra euro) – so you can accumulate for a bigger voucher to cover the cost of your ticket. That's how we do it ourselves: over the past 2 months we have flown for free in Vietnam and Thailand four times on local low-cost airlines. I wrote more about vouchers in a separate article. Note: The Bravofriends program ended in October 2015.
First, however, you need to read this article to understand what lowcosters there are in Thailand, what destinations they fly to, and how much tickets for their flights cost.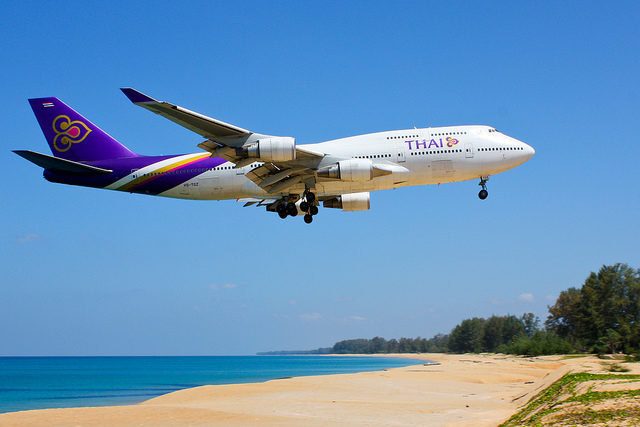 (Photo: monstermunch / Flickr.com)
Prices for flying around Asia by lowcosters from Thailand
Here are some starting ticket prices for flights from Thai cities to other Asian countries offered by low-cost airlines (here and below is the cost per one-way ticket):
Flights within Thailand are from $15;
Vietnam, Malaysia, Singapore – from $20-30;
Indonesia, Cambodia, Myanmar – from $50;
India, Hong Kong – from $ 70;
Philippines, Sri Lanka, Brunei, Macau, Taiwan – from $100;
China, Laos, South Korea, Japan – from $110-120;
Australia, Nepal – from $140-$150.
By the way, you can fly from Thailand on Norwegian lowcost airlines to Norway and Sweden for $160-180 per one way ticket.
Low-cost carriers flying in Thailand
Here we will discuss low-cost carriers flying within the country.
Orient Thai Airlines.
The lowest-flying airline I've met – this low-cost carrier flies to just two destinations: Bangkok (Don Muang) to Phuket and Bangkok (Suvarnabhumi) to Hong Kong.
We flew this airline from Bangkok to Phuket. Our flight was free (we didn't even pay for the luggage – it's already included in the price). And in general, the tickets for that flight cost about 700-800 baht ($ 25), and you can buy at such a low price even a few days before departure.
An example of using our 50 euro Bravofriends voucher to cover the cost of two tickets from Bangkok to Phuket: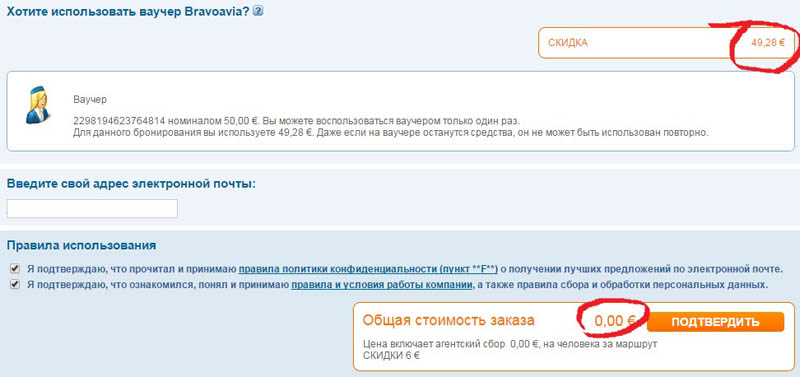 According to airline rules, you'll fly with you free hand luggage up to 7 kg and luggage up to 15 kg; you'll be treated to peanuts and water on board; and you can also self-book any seat in the cabin for free online. This is probably the kindest low-cost carrier on earth.
Thai Lion Air
Destinations: from Bangkok to Phuket, Krabi, Udon Thani, Surat Thani, Hatay, Chiang Mai and vice versa, as well as between Hatay and Udon Thani.
Bonuses: free luggage up to 15 kg (including sports equipment), free choice of seats in the cabin.
Often it is this low-cost airline that offers the lowest prices for flights within Thailand. Here is an example of prices from Skyscanner: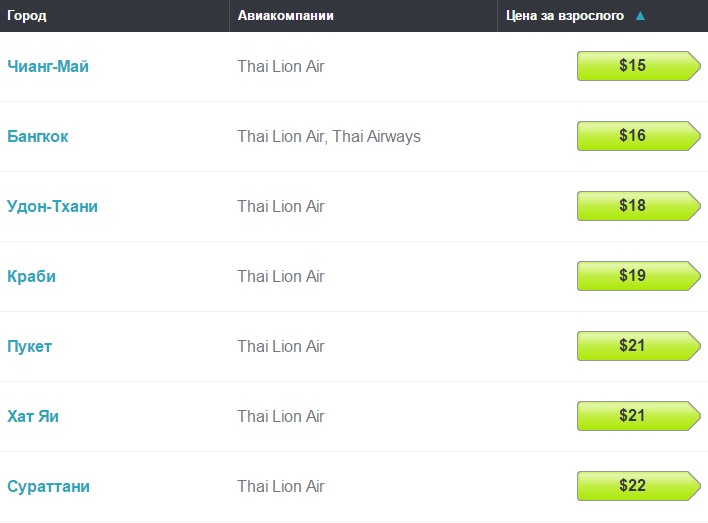 Nok Air
Destinations of flights are marked on the map.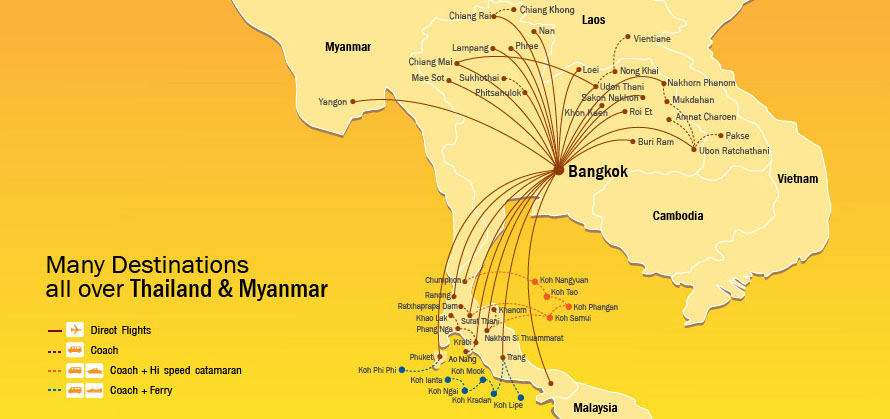 As you can see, there are many routes, and combined solutions (flight + bus / ferry to the desired location) are also possible.
Airfare with this Thai low-cost airline starts at 800-900 baht.
AirAsia
Malaysia is home to what is undoubtedly Asia's most famous low-cost airline, but its network is so vast that whichever route you take across Asia you are likely to come across an AirAsia offer. It flies from Australia to Saudi Arabia, from Japan to Indonesia. The airline also flies intra-Thailand, and good prices are regularly found.
Map of the route network of AirAsia in Thailand and neighboring countries: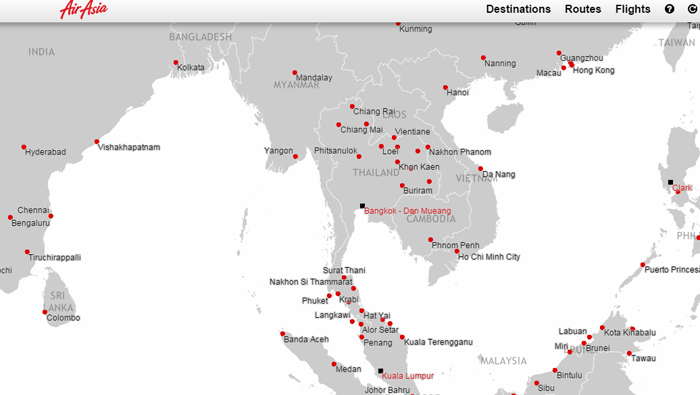 List of cities AirAsia flies to: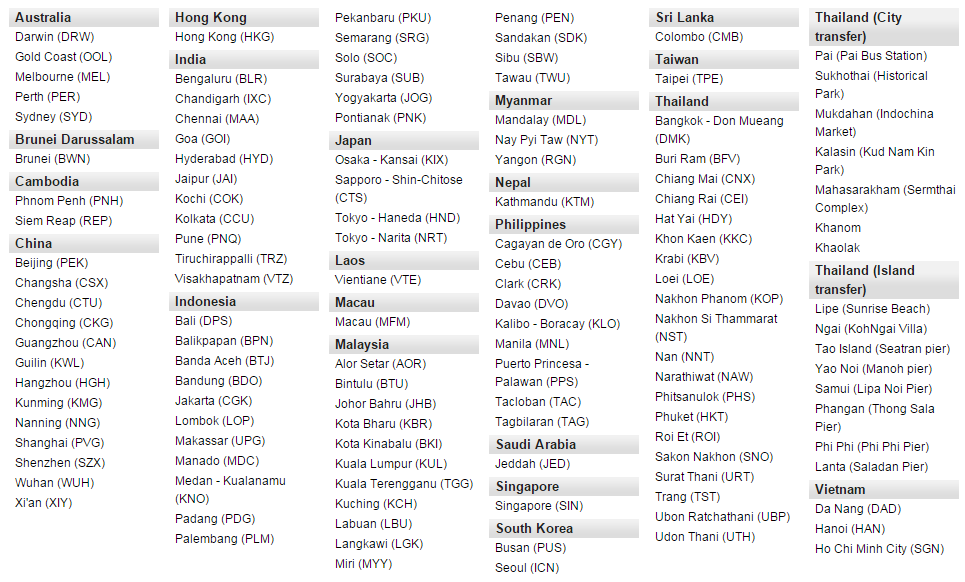 Other airlines.
Bangkok Airways (+ flights within Asia) and Thai Airways (+ flights around the world) are not low-cost airlines, but even these airlines occasionally have good deals on domestic flights, so don't ignore them.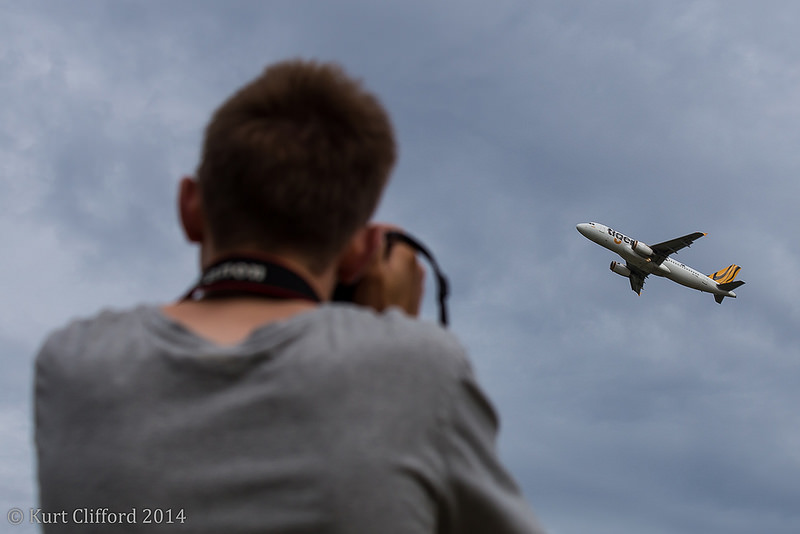 (Photo: kurt.clifford / Flickr.com)
Travel lodging. Search for hotels on Hotellook.ru – it compares prices from a variety of booking systems and finds the best one.
Low-cost airlines that fly to neighboring countries
A list of major airlines that allow you to fly inexpensively from Thai cities to other Asian countries.
VietJet
Vietnam's top budget airline with extremely low prices and excellent punctuality. During our month and a half trip to Vietnam, we flew on this airline three times (flew for free thanks to Bravoavia vouchers). Our third flight was just from Vietnam (Hanoi) to Bangkok.
The airline asks to pay separately for luggage: the cost depends on weight and destination (from $7 and up). On board you can buy inexpensive food and drinks: for example, lunch costs about 2-3 dollars.
TigerAir
Large route network throughout Asia and Australia. Flies through Singapore. Cities in Thailand: Bangkok (both airports), Chiang Mai, Hatay, Phuket, Krabi.
Flights from Bangkok to Singapore usually cost $60-70.
Jetstar Airways
An Australian low cost airline with a large route network (even reaches Hawaii). This low-cost airline flies from two Thai airports: Bangkok and Phuket. It connects in Singapore and its fares are not especially low; however it makes it possible to transit through Singapore (in this case one may spend up to 96 hours in the city-state without having to get a visa).
Vietnamese low-cost airline Jetstar Pacific Airlines (part of the route network of the Australian discounter) flies direct from Bangkok to Ho Chi Minh City.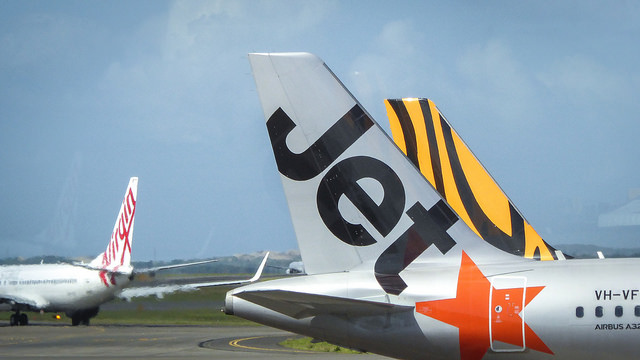 (Photo: theenmoy / Flickr.com)
Scoot
Flies from Bangkok (Don Muang) to multiple destinations via Singapore. List of cities:
Frefly
Malaysian low-cost carrier. Flies to Southern Thai resorts: Phuket (from Penang), Krabi (from Penang), Samui (from Penang and Kuala Lumpur). Often offers good prices. Great as an alternative to ground transportation for those going to do Thai visa to Penang Island.
IndiGo and SpiceJet
IndiGo is an Indian airline that originally only operated domestic flights, but now flies to other countries (Thailand, Nepal, UAE, Oman, Singapore). From Bangkok you can fly to the following cities:

SpiceJet also flies from Bangkok to many cities in India.
Cebu Pacific
The main low-cost airline and the largest airline in the Philippines with a large route network throughout Asia.
Flights to Bangkok, Krabi, Phuket, and Chiang Mai.
Philippine Airlines , Kuwait Airways (direct flights) and Jetstar (connecting flights in Singapore) often offer about the same price for tickets from Bangkok to Manila.
Hong Kong Express Airways
Low-cost airlines from Bangkok to Hong Kong.
Airport codes
Somehow, when designing a flight itinerary around Thailand, I needed a list of the codes of all the major airports in the country. I made it up and broke it down by geography. I'm sharing, maybe you may find it useful.
1. Southern Thailand
The central part of southern Thailand: URT (Surat Thani), HKT (Phuket), KBV (Krabi), USM (Samui), UNN (Ranong), NST (Nakhonsithammarat).
The southernmost airports are HDY (Hathai), TST (Trang), NAW (Narathiwat).
2. North of Thailand.
Northwest: NNT (Nan), PHS (Phitsanulok), CEI (Chiang Rai), LPT (Lampang), PRH (Phrae – Phrae), CNX (Chiang Mai), THS (Sukhothai).
Northeast: LOE (Loe), SNO (Sakon Nakhon), UTH (Udon Thani), KKC (Khon Kaen), KOP (Nakhon Phanomthom).