New Year 2023 in Bali
The true wilderness, which makes your heart skip a beat, makes your breath catch, gives you goosebumps, and your mouth opens with delight. For these emotions need to go to Bali.
Here we will communicate with friendly locals, smile to the world, swim in the ocean, sink our feet in the soft sand, squinting from the warm bright sun, trying the local food.
We will also experience the mystery of local culture while listening to the magical music of Degunga and inhaling the smell of incense. Every place on the island, whether it's a coffee shop, a gallery or a local shop, is a real temple, a temple of Balinese life. So we will join them, and we will also live, hear, feel and enjoy every moment.
Java will be the perfect continuation of a trip to Indonesia. The mighty ocean will be replaced by Martian volcanoes, which we will climb.
Getting to know volcanoes is the perfect opportunity to experience how our planet lives and breathes. Such greatness of nature always inspires us to do new things, so after the ascents we will have an irresistible desire to do everything we want.
Nusa Penida
Why this place has not yet been named the 8th wonder of the world? It is unknown what the laws of physics came together, how nature tried to create such beauty. The island of Nusa Penida, remember this name, because here the most beautiful ocean we have seen. The clash of the vibrant, emotional ocean with the stubborn, unbreakable cliffs. The bright blue relics of water break into millions of droplets against the solid rocks, and then return in white foam. Millions of years of confrontation between the elements, forming breathtaking views.
Well that's it, time to stop with the stories and let you experience every detail and see everything for yourself by joining our journey.
December 25, 2022 – January 7, 2023
The first day of our journey has arrived. You arrive in Bali, our driver picks you up at the airport, and you head straight to Ubud. Today you need to rest and adapt to the different time zone and climate, because tomorrow you already start the excursion.
In the evening all participants of the trip gather for a joint dinner. You will get to know each other better and get to know each other, and we will tell you in detail about the program of the trip and our concept, and answer all your questions.
Today we start exploring the island of Bali. Even though we're in its spiritual capital, that doesn't mean you won't see the ocean. Today we are going to the eastern beaches of the island.
The island of Bali is known for its lush ocean and big surfing waves, but there are a few beach gems on the east side of the island where you really get a chance to not only see the ocean, but to get in touch with it. Today you can swim in the ocean, sunbathe, enjoy stunning views and get energized, because the most active part of the program is yet to come.
We continue to introduce you to the island, showing you our favorite places that reveal its versatility and diversity. Today you will be inspired by the rice terraces that look like a work of art. Every line, every shade of green, and the reflection of every ray of sunlight in the fields is a perfect combination of detail in one picture. But not only will we take a look at the terraces from the observation deck, we'll also take an easy trekking route to see the beauty of the terraces from different angles.
But that's not all for today. Next, we head for the waterfall. And waterfalls in Bali are a separate art form because they are special here. Imagine that a cliff that is thousands of years old is overgrown with greenery on its slopes, and water falling down from the tops of the relics make its way through this greenery. There's a sense that you've found a secret place and the best part is that there's a chance to touch it directly by taking a swim in the pool of the waterfall.
You have already had a partial introduction to the nature of the island, and today you will learn another important facet of the island – the spirituality that is embedded in every detail and in every centimeter. We will start the day with an interesting experience in which you will experience the peculiarity of life and religion of the locals, because religion here is not something separate, but a huge part of every Balinese's life.
Then we will go to the island's most important temple, Besakih, which is called the mother of all temples. Here you will further understand the local beliefs and you will be just amazed at the number of details in the temples and unusual sculptures that protect the temples from evil spirits.
In the evening we will go to the palace of Ubud, where we will watch the national dances in which through the costumes, eye and hand movements convey the stories of local legends. All the action is accompanied by the local orchestra – Gamelan. Perhaps, such sounds you will hear for the first time in your life.
You have already managed to get a general impression of the beauty and essence of the island, so we move on. Today we move closer to the ocean and will explore the beaches of the Bukit Peninsula, where you will see the vast expanse of water and feel the power of the ocean. Even on such a small section of the island, the beaches leave a very different impression. We will look at the ocean and from the viewpoints, where you will take your breath away from the beauty and infinity of the ocean, and down to the beaches, where you can jump in the waves on the shore, surf and sunbathe.
We will meet sunset on one of the beaches and watch the sun sink into the ocean waters, leaving behind a golden light that spills over the water and is reflected in a variety of colors in the sky.
The gradation of the island experience will only increase. The bright and memorable point of the trip today is Bali's neighboring island, Nusa Penida. We go to Nusa Penida by speedboat, travel time will take about 1 hour, then have breakfast at an oceanfront café and head to see the western part of the island.
The ocean here is so stunning and incredible that it's hard to put words together to describe the beauty. For many, it will be the highlight of the trip. The collision of the living emotional ocean with the stubborn unbreakable rocks. The bright blue relics of water break into millions of droplets against the solid rocks, and then return in white foam. Millions of years of confrontation between the elements, forming breathtaking views. We are very lucky to be able to come to this island and capture the wild real nature as it really is, without human intervention.
Perhaps we have chosen the perfect place to spend the old year and welcome the new. Today will be filled not only with stunning views, but we will also swim at one of the most beautiful beaches. All day, until sunset, we'll watch the eastern beaches and viewpoints of the island.
And in the evening we will celebrate New Year 2023 with our friendly and cheerful company, in which everyone has already met and gotten to know each other.
January 1 of the new year will be no less bright and impressive than the previous days. First, we'll start the year with breakfast on the ocean and overlooking a volcano. A great place to set the potential for the whole next year. Then we go for a manta swim, for many this experience will be a once in a lifetime experience and is sure to leave a vivid impression.
Then we will go to one very beautiful and comfortable place, which we will keep secret, and here we will spend the remaining hours until our boat, on which we will return to Bali.
Ijen Volcano, Java Island
We are sure that this trip will be one of your most active ever. You've already seen a lot of things on the island, except for one thing: volcanoes. The next two days will be very active and intense, because we will climb not one volcano, but two, which are completely different in views and experiences. To have this experience, we go to the neighboring island of Java.
In the morning we leave by rented vehicle to Gilimanuk port, the trip takes 5 hours. Then we take a ferry 40 minutes to the neighboring island of Java. From there we drive to a village near Ijen.
We will start climbing the active Ijen volcano at night to be at the crater by sunrise. And when the sun rises, we will see the beauty of the bright acid lake at the heart of the volcano and the clouds of sulfuric smoke coming out of its crater. You will also see with your own eyes what one of the most dangerous and difficult occupations in the world looks like.
Bromo Volcano, Island. Java
Early in the morning, after seeing Ijen volcano, we return to the village where we can sleep for a few more hours before checking out of the hotel. Then we move to the next point, Bromo Volcano. The move will take 6 hours, depending on how many stops we make.
In the evening we check into Probolingo, a town about an hour away from the volcano. We also leave at night at 2-3 hours. Upon arrival, we will climb the viewpoint, the road takes 20-30 minutes, where we meet the sunrise with a view of Tenger caldera. Then we will take a jeep ride to the foot of Bromo Volcano, where we will climb to the top and walk along its crater. Emotions at this point will be off the charts.
Imagine that you have moved to an uninhabited Mars. The same view is represented by Caldera Tenger, in which there are 5 volcanoes. The active Bromo volcano, which is constantly spewing fumes and smoke, breathes some life into this picture.
The most active part of the trip is behind us. At 9 a.m. we will finish our tour of the volcanoes and return to Probolingo. We will pack our bags and take a comfortable car to Surabaya, the big city where the airport is located. The transfer takes 3 hours.
From here we take a short one-hour flight back to Denpasar, Bali. From the airport we drive to Ubud. The transfer takes 1.5 – 2 hours, depending on traffic.
After such busy days, you need to rest and relax, so don't expect an active program today. We are not going to climb anywhere today.)
We will send you to an atmospheric and very beautiful spa, where you can enjoy the beauty and aesthetics of the place, as well as relieve muscle tension after the volcanoes. The Spa is located on a scenic trail that winds along the dense thickets and rice terraces, along which we will walk. The walk will be on a flat road, with one small climb
The rest of the day is at your disposal. You can stroll through the streets of Ubud, or stay to rest at the hotel.
Today is the penultimate day of our trip, but that doesn't mean we're sending you packing, because we have another active day ahead of us that will be full of vivid experiences.
In the morning we will drive to the north of the island, where a boat will be waiting for us, on which we will go swimming with dolphins. This is an amazing experience that will be the highlight of our two-week adventure.
On the way to Ubud, we will also stop at a village with a view of Batur Volcano. Don't worry, we won't be climbing it). We will sit on a nice terrace in a cafe and watch the lava scorched slopes of the volcano, drinking coffee and sharing our impressions of the trip.
Today you fly home. In 2 weeks you've had the most emotions and experiences, seen 3 islands and fallen even more in love with travel. The energy and inspiration from this trip will last you for a long time. Well, and we are always happy to see you around the world in our next travels. See you next time.
Trip conditions
The cost of a 14-day trip: $2100
To book this trip you must leave a reservation form and pay a $350 deposit.
If you have a sudden change, the prepayment can be refunded, but depending on the stage of booking the services needed. We will decide individually!
Trip price includes:
Meeting at the airport on the day of arrival and transfer to the airport on the last day
All movements along the route: rented cars with driver, ferry, speedboats, jeeps, cabs as part of the program
Domestic flight Surabaya-Denpasar
Accommodation in double rooms in comfortable hotels en route with breakfasts
All entrance tickets on the program
Hike to Ijen and Bromo volcanoes (includes national park permits, flashlights, masks, warm jackets)
Balinese dance show in Ubud
Spa treatments in Ubud
Snorkeling with manta rays and swimming with dolphins
Our escort throughout the trip
Price not included:
Flights to Denpasar and back home (from $1200)
Meals ($20-30 per day per person; ~$400 for the entire trip)
Health insurance
Visa ($35)
Citizens of Russia, Belarus and Ukraine can get visa on arrival at the airport. The cost of the visa is $35 (one month).
A certificate of complete vaccination is required. Indonesia recognizes all possible vaccines, including Sputnik-V and Sputnik-Lite. The last dose of vaccine must be given at least 14 days before arrival in the country.
The passport must be valid for at least six months at the end of the trip.
To enter Indonesia you must: * Have a certificate of full vaccination in English (all vaccines are accepted). * Arrange medical insurance with COVID-19 coverage for any amount (recommended 50-100 thousand dollars). * Fill out an electronic customs declaration form and download the Peduli Lindungi app before your trip.
It will be very cold at night when climbing volcanoes, about +10C, but we will rent warm down jackets. Do not take light and new clothes either, as the clothes will be all in volcanic dust. But they can be washed at our hotel in Bali.
Also bring sneakers for climbing volcanoes, preferably with ribbed soles to be slip-resistant.
At the entrance to Balinese temples, you will be given a sarong and a belt to tie around your waist. You can enter Balinese temples with your shoulders uncovered, but not your legs.
Bring mostly summer clothes and something warm for the volcanoes. The most comfortable shoes for a beach vacation are flip-flops. Be sure to bring sunscreen with at least 30 SPF and mosquito spray (if you are sensitive to their bites).
We recommend that you bring a beach mat or towel, or buy one here on the beach.
Payment of travel and currency exchange
We can accept payment for the tour in rubles (according to the exchange rate to USDT), or in cash in dollars. Also we'll help you to cash rubles to the local currency (Indonesian rupiah) for personal expenses (just transfer to a Russian card, and we'll give you the rupiah). So your headache of not having cash dollars is removed
If you are bringing dollars for personal expenses, then there are a few nuances on the general currency:
The exchange rate at the island's airport is the most unfavorable, so you can only change a small amount.
There are many different points of currency exchange in the city, but choose official exchangers to avoid fraud (never change money in the exchangers with an inflated rate). Always count your money and be vigilant.
Usually the tip is already included in the bill in restaurants. If you porter helped you carry your bags, you should definitely leave a tip.
In Bali, the outlets are the same as in our country.
Cell phones and internet
Mobile: For those who constantly need to be in touch and with access to the Internet, you can buy local SIM cards. The cost of a SIM card with 30 gb of Internet (200 IDR – $13).~200 IDR – $13).
The hotels and most restaurants will have WiFi.
Be sure to take out travel insurance for the duration of the trip.
For citizens of Russia: https://cherehapa.ru/ For citizens of Ukraine: http://safetravel.com.ua/
Or at any other site.
Suitcase or backpack
It's up to you. We strongly advise not to take huge suitcases.
If you want to go to the volcanoes and Nusa Penida, you can leave your suitcases at the hotel, and take the necessary things in a backpack, but only if it's convenient for you.
How to celebrate the New Year in Bali
How to celebrate the New Year in Bali? We find out what to do, how much to buy a tour, what tourists advise in their reviews and what prices to expect in 2023.
The desire to escape from the embrace of winter to meet the New Year under the palm trees often visits the residents of our harsh latitudes. The island of Bali is not the closest to the world, but compared to the elite Maldives and Seychelles so far does not require a large financial outlay. And against the background of other popular resorts, designed exclusively for beach holidays, Bali attracts tourists with its unique attractions, unique culture and exotic nature, very supportive of man.
Content:
How to celebrate the New Year in Bali
Balinese people celebrate their New Year in spring and organize winter celebrations for tourists. The traditional entertainment program with a banquet is organized by hotels. The level of celebration is determined by the stars of the institution, and the more of them, the more serious preparations, some even invite Russian pop stars. You can see a similar picture in 5* hotels of the most "Russian" resort – Nusa-Dua.
Budget hotels are limited to a dinner buffet and a small disco. After midnight the official part usually ends, and all eager to continue amicably move to the beach or to a night club, if available nearby. This option is preferred by young people, and the most popular as a place to rest in Bali on New Year in their favor is Kuta . There by the evening of December 31 all traffic is blocked, and people flock to the beach to admire the festive fireworks. After the deafening salvos everyone returns to their tables in the bars.
Things to Do on Holidays
Bali is a big hit with surfers, but apart from all the water fun, you can still enjoy a lot of sightseeing after New Year in 2023. Sacred temples, rice terraces, the ancient architecture of Ubud, parks with exotic animals and birds – all this you can see by yourself, just rent a scooter. And how nice after a wild New Year's Eve to soak in a bath with petals and spices or cool in a thermal spring at the foot of Mount Batur volcano!
Those who are interested in local culture, be sure to go to Ubud – this center of folk arts and crafts in Bali. Here you can buy unique handmade products or paintings of one of the local artists. Gourmets can taste the famous Kopi Luwak coffee at the plantation, where small animals are bred and receive the most expensive type of coffee in the world.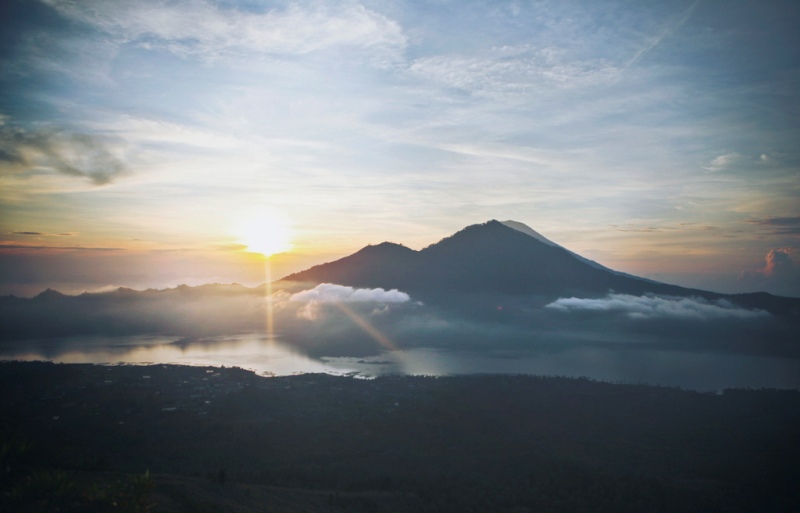 (Photo: aeror / flickr.com / License CC BY-NC-ND 2.0)
Weather in Bali for the New Year
Bali is warm and rainy on New Year's Eve. Nusa Dua, Seminyak and Sanur receive the most rainfall, with the warmest in Jimbaran. The air temperature is +31 ° C and above, the water temperature is +28 ° C and at night it's +25 ° C.
It rains less often in January, most of the rain falls at night or in the afternoon, lasting from 15 minutes to 2 hours. Sunny 'windows' appear after overcast days, but there will be some rain anyway. In general, the weather in Bali is not bad for welcoming the New Year – 2023.
Prices in Bali
New Year is a long-awaited holiday for every Russian and is usually accompanied by copious alcoholic libations. In Bali, you can bring a limited amount of alcohol – only up to 1 liter per person. Imported alcohol is expensive and often counterfeited, but the local here in abundance. Experts say it is of decent quality if bought in a good supermarket. The price range – from 25 thousand rupees (120 rubles) for 0.5 liter of beer to 200 thousand rupees for a bottle of rum (1000 rubles).
Prices in Bali have increased over the past couple of years, especially felt by vacationers in the upscale resorts of Nusa Dua and Seminyak. Tourists were shocked by Moscow prices for food in cafes and fruit in stores.
However, if you move away from the promoted tourist spots away, the price tag in the catering industry will be reduced by at least half. No culinary delights – traditional Indonesian cuisine with a standard set of ingredients: rice, chicken, seafood, spices.
Juices fresh cost 14 thousand rupiah (60 rubles), the most popular and cheapest dish – rice with chicken – costs from 40 thousand rupiah (200 rubles), you can find even cheaper in varungas for locals. And fruits and seafood should be purchased in the market or in stalls. Inexpensive stores in Bali are chain stores Nirmala, Indomart and Pepito.
Prices for entertainment: Rent of a kayak will cost about 1000 rubles, and a scooter – from 350 rubles per day, 1 liter of gasoline costs about 38 rubles. Climbing Mount Batur volcano will cost 700 roubles per person, ticket to visit Uluwatu temple – 150 roubles.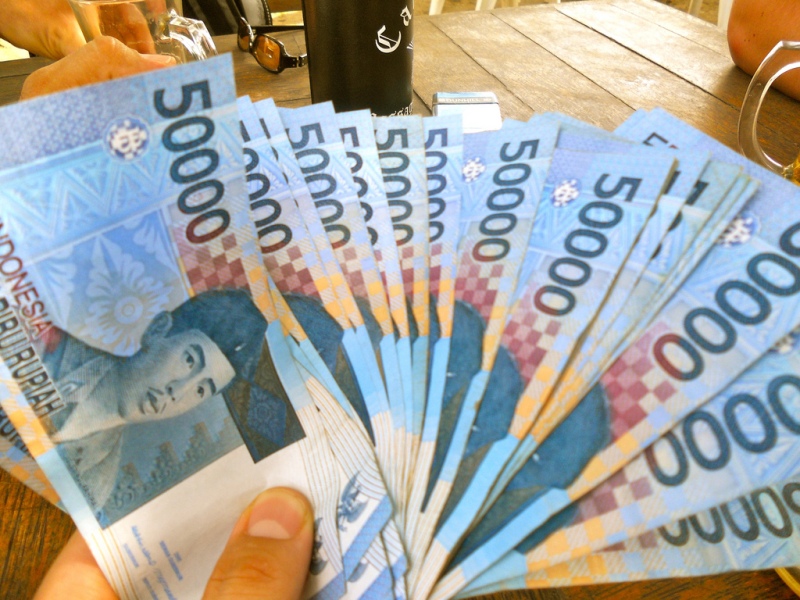 (Photo: JasonParis / flickr.com / CC BY 2.0 license)
Bali New Year tours
At a regular time tours for 7-10 nights with accommodation in a three-star hotel cost from 90 thousand rubles. On New Year's Eve you can find tours to Bali in a 3 * hotel now from 160 thousand rubles for 9-12 nights rest (departures December 28-30).
The same situation is observed with more expensive tours. The tours with full board in a three-star hotel, not on holidays, cost from 115 thousand rubles for 10 days. During the New Year's Eve similar packages for 10 days cost from 200 thousand rubles. Rest on Bali on an all-inclusive basis is not very popular. As a rule, it is offered by expensive five-star hotels. On New Year's Eve such tours in Bali cost from 280 thousand rubles.
You can find last minute tours at the best prices on Travelate and Level.Travel – there you can buy an inexpensive trip online without leaving home. Want to save your money? Read our 7 rules for buying tours online.
Find the best hotels for your New Year's Eve vacation
Accommodation should fully meet the expectations of the tourist. Below are hotels in Bali, where tourists have already vacationed, were satisfied with their choice and left good reviews. More information on accommodation can be found on the websites of Roomguru (for independent travelers) and Travelata (for those who want to buy a tour to Bali for New Year).
Discovery Kartika Plaza Hotel (5*)
A new modern hotel, located on the ocean, surrounded by tropical gardens. There is a swimming pool, fitness center and three restaurants, to the beach of Kuta a few minutes walk. There is a large shopping center next to the hotel. Guests are entertained with interesting excursions and helicopter rides, on New Year's Eve in this Bali hotel put on an amazing show. Rooms on New Year's Eve cost from $147 a night.
Puri Mangga Sea View Resort & Spa Bali (4*)
The hotel is located in a quiet, secluded location near Lovina Beach. The design is in Balinese style with Tuscan elements, all rooms are furnished with wooden furniture. Most of the guests are British, Germans and French. There is a restaurant with national cuisine, babysitting, laundry and massage services, and bicycle rentals are available on site. The cost of double occupancy starts at $98 per night.
Tamukami Hotel (3*)
The hotel is designed in the traditional Balinese style: spacious bright rooms and well-groomed green area. Extremely convenient location: Sanur beach is just a short walk away, the main tourist attractions of Kuta and Denpasar – a few minutes' drive. There is a separate pool for children, a restaurant, a spa and a golf course. The activities available to guests include windsurfing and hiking. The price for a double standard in this Balinese hotel on New Year's Eve starts at $79 a night.
Tropical Bali Hotel (2*).
This small guest house is literally buried in exotic plants. An excellent budget option for lovers of a quiet secluded holiday in Bali in the New Year – 2023. In reviews, tourists praise the rooms with an outdoor terrace, rocky paths and the pool in the garden. Denpasar can be reached in 5 minutes. Double occupancy costs from $54 per night.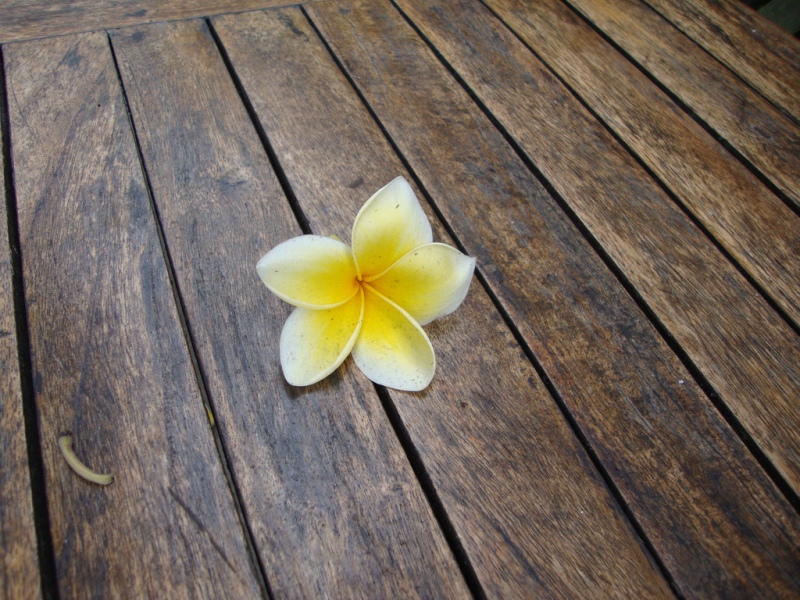 (Photo: VasenkaPhotography / flickr.com / CC BY 2.0 license)
Tourist reviews of New Year holidays
Tourists who celebrated the New Year in Bali have different opinions on their vacation. Putting aside the eternal disagreement between "package tourists" and independent travelers, let us note the disadvantages of New Year vacations in Bali:
Some tourists didn't like the fact that they had to pay extra for alcohol they drank during the hotel banquet. Either the Balinese have a bad idea how to celebrate the New Year, or it is a way to get money out of visitors, but such cases were noted repeatedly.
New Year's holidays bring some dissonance in traffic, on the roads there are drivers in a drunken state. Rent a scooter on the island is inexpensive, there are a lot of tourists on the holidays, so in some parts of the island often create traffic jams.
And the main disappointment is the increased prices . Some products in rubles are more expensive than in Russia, and because of currency fluctuations, this difference is felt more strongly. But on the other hand, Bali is stunningly beautiful and interesting island with unique nature and unique culture. It is definitely worth a visit. As a result, the feedback from tourists come to the conclusion that in Bali you can celebrate the New Year – even a tropical rain does not spoil the festive mood.