How not to go broke in Iceland and save money. 5 proven tips
Filed: Iceland 1 777 4
The three main commandments of the thrifty tourist in Iceland:
– Don't kill your budget with mindless hotel reservations. – Don't steal the brilliance of the experience from yourself by riding expensive buses. – Love (and bookmark) your neighbor's article on how to save money in Iceland.
In 11 days in Iceland, we spent less than 2,000 euros. That's not including airfare, but with lodging, car rentals for that entire stay, food, gasoline. And it's VERY little – even though our trip was very busy, we drove around the whole island and saw the most interesting things. How to go to Iceland cheap and save money on a super-expensive island? All of our experiences are systematized in this article.
Take your tent with you.
If you are not tempted by the romance of camping, at least take solace in the thought that we are not close to it either. Before Iceland, I had to put up a tent 15 years ago in Seliger when I was a pauper student, after which I developed a strong antipathy to this type of recreation. But the prospect of spending every night in hotels for a hundred or two euros a night pleased even less. A night in an Icelandic campsite costs from 15 to 40 euros a night for two. Therefore, almost all of our suitcase was occupied by a tent with sleeping bags and sleeping mats.
And now the good news: practice showed, that a trip to Iceland with a tent is much more pleasant than we thought. All Icelandic campsites are equipped with toilets and washing facilities, and many also have kitchens, laundry rooms, showers, bunkhouses, and other amenities. Also, all Icelandic campsites are located in very picturesque places. Read about all aspects of camping in our article Everything you need to know about camping in Iceland. Also my Map of Campsites and Hotels in Iceland will help you . The first and the most detailed on the Runet, by the way! Use it, I did it for you.
IMPORTANT: you can stay overnight in Iceland with a tent only in campsites. Staying overnight anywhere is fraught with danger: you may get kicked out and fined, which does not fit the concept of budget recreation.
How to have an inexpensive holiday in Iceland? Take a tent, and you are guaranteed not only a cheap accommodation, but also a beautiful view!
But no matter how beautiful and cheap camping in Iceland is, at least sometimes I suggest staying in hotels. Camping is cool and cheap, but sometimes you want to take a break from all this exoticism in comfort. And here you can save money if you're smart about it. So our next advice is.
Book hotels wisely.
Hotels in Iceland are like a cul-de-sac at Latrabjarg Cape, but many of them are located in wild places. And the wilder the place, the higher the price of accommodation. The calculation is simple and cynical: the night catches the traveler on the road, he will have nowhere to go and he will book my roadside hotel at a steep (even for Iceland) price. That's why you should try to book hotels
a) in advance, b) in cities or towns, preferably not in the middle of nowhere.
Meet Akureyri, the northern capital of Iceland. Hotels here cost from 60 euros, but once you go away from the city, prices increase several times.
That is, your task in this case – to try to plan a route so that the night will NOT catch you away from settlements in the middle of nowhere. Why is it better to book in advance? Firstly, because inexpensive options fly away quickly, as deadheads from Cape Latrabjarg when the tiger appears. And secondly, because closer to settling and expensive may not be left. Of course, this does not always apply to large cities like Reykjavik or Akureyri, but to smaller towns – very much so. I remember we were weaving through the western fjords of Iceland and frantically looking for a hotel for the next night on the phone. Tired, cold, ready to pay any money. But there's no way around it: everything from cheap hostels to expensive apartments are booked a MONTH in advance, and it's not a figure of speech. I had to spend the night in a tent again, and then get treated for a cold.
In general, if you want to save money on hotels in Iceland, do not repeat our mistakes and book accommodation at the right time in the right place. Here are some links on Iceland booking on several settlements with inexpensive (by local standards) accommodation:
Prices in Iceland for hotels on booking.com
: from 60 euro : from 65 euro : from 60 euro : from 100 euro : from 50 euro : from 45 euro
3. Bring a gas burner and utensils
The advice "try not to eat in Icelandic restaurants if you are not Abramovich" was latched onto by Captain Hindsight, so let me put it another way: to save money on food, cook yourself. And keep in mind that not all hotels and camping sites have a kitchen, moreover, many times you will have to cook or heat food in the open field. To do that you need a gas stove and cooking utensils, including something for cooking: a saucepan and/or frying pan, and better a camping kettle, which you can buy at any sports store for a thousand to fifteen hundred rubles. We bought such a set in Sportmaster, it was enough for us. Burner gas is sold at many gas stations, and sometimes even at Bonus and Netto supermarkets. The supermarkets are much cheaper.
To travel cheaply in Iceland, you need eggs. Also a kettle, a burner, and a gas tank.
4. Bring food from home.
Not all, of course, but some food is worth bringing. In the Icelandic climate human food hardly grows, so food here is particularly expensive. We talk about food prices in Iceland here (photos are impressive). In the stores we often did not buy food, but the prices were photographed. We mostly bought things that are physically impossible to bring with us: bread, chocolates, eggs, yogurt, water, apples, tomatoes (let's go for a walk!). We brought a lot of food: canned goods, rice, instant noodles, salt, sugar, tea, coffee, tequila. Don't forget the accompanying "consumables" like dishwashing liquid and rags.
The cheapest places to buy food in Iceland are the chain supermarkets Bónus, Krónan, Nettó. These are chain Discount Supermarkets – "low price stores" (and how did they get their tongue) scattered all over the island. Just type each of these names into Google Maps and you'll find the store nearest to you.
Related articles:
How to have a cheap vacation in Iceland? Bring some of your own food and buy some from Bonus!
5. Book your car with the search engines
Traveling around Iceland without a rental car is not only inconvenient, but also unprofitable. Why? First of all, bus passes for tourist buses that stop by the attractions cost a hell of a lot of money – up to several hundred euros depending on the validity period. Cry over the cost of the fare (and everything else, too) with our Iceland Price Survey . Secondly, travelling by bus between settlements practically deprives you from sleeping in campsites – minus a few hundred more. Plus, you can stop at any beautiful place by car, and wonders in Iceland await you around every corner. That's why most tourists travel around Iceland in a rental car. We rented a car too, even though I haven't driven in seven years – since I passed my driver's license.
How do you save money on renting a car in Iceland? Very simple: you need to look for it in advance (otherwise they will take away the cheap options) and all the rental agencies at once. To do this we used a search engine Rentalcars.com . It's the world's largest car rental website, which automatically compares the prices of rental agencies and gives the best options.
How to save money in Iceland? Near many beautiful places – that is, almost every kilometer – in Iceland there are parking lots and rest areas where you can cook food.
I can give you three tips for saving money on renting a car.
1. It is cheaper to rent a car directly at Keflavik International Airport where you arrive. You arrive, get your luggage and get on a free bus that takes tourists to a special area at the airport, where all the rental agencies are based. Get on and go on your adventures. It's convenient, inexpensive and cool.
2. 2) You will be offered different insurance policies. It's up to you to decide which one to choose, but I strongly recommend buying Gravel Protection (protection from minor injuries and scratches). It is included in the rental price at some rentals, others are very inexpensive, but it can save you from a fine on the return of the car. On the roads in Iceland you are constantly flying at you some junk from under the wheels of other cars, we also got a little scratched on the hood and even the roof. Luckily, we had Gravel Protection. Savings, though!
3. There are three types of roads in Iceland: asphalt and gravel, as well as F-roads – virtually off-road, which can only be driven by four-wheel drive off-road vehicles. If you plan to travel within Highway 1 (the main tourist highway that encircles the entire island) and do not enter the F-roads, it is not necessary to take an off-road vehicle. All (or almost all) of the most important and must-see attractions are accessible by a regular sedan on asphalt or gravel. And the price difference between a sedan and SUV reaches hundreds of euros.
Everything you need to travel around Iceland by car is in our articles.
How to have a cheap vacation in Iceland? Two top tips are to rent an inexpensive car and sleep in a tent. The red car is ours, cheap. The dark car is someone else's, expensive.
Bonus tip: buy your airline tickets in advance…
…and if possible, from the European Union.
Before that, we told you how to save money on your travels, and at the end – briefly about how to get to Iceland cheaper. According to my observations, tickets to Iceland from Moscow, Kiev, and some other major cities in the CIS have gotten noticeably cheaper in recent years. And all thanks to low-cost airlines: even in July and August the flight to Reykjavik from the capital of Russia or Ukraine with connection in some EU city costs from 150-170 euros. All summer from Moscow to Reykjavik flies S7, the ticket price starts at 160 euros. But there is a detail: to get such a price you need to book tickets for a few months before the flight.
And the cheapest way to fly to Iceland, of course, is from the European Union. The cheapest tickets to Reykjavik are from Vilnius, Warsaw, Cologne, Budapest, Vienna, Stockholm and Oslo. Even in July from these cities you can find tickets to Iceland for 70 euros. But here it is important to consider the expense and effort to get to these places from your city.
Where to look for cheap tickets to Reykjavik, I think you know even without us – on the search engine Aviasales.ru, which automatically compares prices for all airlines. Also, Aviasales has a handy form that allows you to track the prices of airline tickets by month, all settings can be set yourself:
The most revealing photo on "How to vacation in Iceland inexpensively". Sitting in a campsite, eating a stewed doshirak brewed on a portable burner. Life was good.
All of this helped us save a lot of money in Iceland without losing quality. And if I had been asked what I would have changed if we had an unlimited budget, I would say: staying at least two or three times in a hotel instead of camping. Everything else I would leave as it was. Happiness is not about money, after all.
P.S.: 2 more tips on how to save money in Iceland. Unproven!
Already after the publication of this article we received a couple more tips on how to save money in Iceland. Both of them are suitable only for very… No, very, very thrifty tourists. We consider the first one useful, the second one not so. We have not tested them on ourselves, but just in case, we decided to publish them. Just in case it will help.
The Free Food at Campsites and Hostels.
Do not worry, we are not talking about stale food from the supermarket dump The fact is that many travelers, staying in campsites and hostels on the eve of the flight home, leave there a food "legacy" to other tourists. Some hostels and campsites even have special shelves labeled Free, where each departing can put the remaining products (and each new arrival, respectively, free to take them away). There you can also get hold of gas bottles for gas burners. As you can imagine, the closer you get to Reykjavik and Keflavik Airport, the more likely this freebie is. Look for similar places on our Icelandic Camping Map and our Reykjavik Hostel Review .
2. free overnight stays in the middle of nowhere
All land in Iceland is private, and if you want to camp overnight outside the campsite, you need permission from the owner of the land. But where to find that owner? This is why some tourists pitch their tents in the middle of nowhere, just in case they don't get turned away. But to deprive yourself of basic amenities such as a toilet and a washbasin for the sake of saving a couple of tens of euros personally I think doubtful pleasure.
Prices for holidays in Iceland and the secrets of savings
Iceland is a country where money runs like water. We talk in detail about the prices in 2022 and give tips on how not to spend your annual salary on a trip and to squeeze the most out of travel.
Iceland welcomes tourists from Russia. For your convenience, we provide pre-dedicated prices for flights. Information about visas and flights may not be up to date, please check official resources. Take a look at the list of open countries.
Iceland has become a super popular destination. This is not surprising: the incredible northern landscapes attract travelers from all over the world. However, it is not only one of the most beautiful, but also one of the most expensive countries in Northern Europe, so many tourists do not dare to visit it. We will tell you what the prices of holidays in Iceland in 2022 are and how you can save money on your trip.
Exchange rate: 10 Icelandic kroner (ISK) ≈ 6 RUB.
Contents:
Ticket prices
Where to find cheap tickets? Use Aviasales – it compares prices of all airlines. Learn the secrets of finding cheap airline tickets.
Ticket prices are round trip per person.
The tourist season in Iceland is the summer months when the air temperature reaches +15. +17 ° C and it is rarely warmer. In 2022 in the high season a ticket to Reykjavik costs from 34 thousand rubles. You can save if you fly in the second half of August, when prices are lower – 26-30 thousand rubles.
In the fall there is a sharp decline flow of tourists, and prices also go down. Already in September you can fly direct from Moscow for only 24 thousand rubles. And for almost the same price – 26 thousand rubles – from St. Petersburg, but with one connection. Tickets in the opposite direction also cost about 26 thousand rubles. And if you are lucky, you can manage to buy a ticket at all for 8-9 thousand rubles one way.
Do not forget about insurance! Apply for it at Compare.ru or Cherehapa. The price of the policy ranges from 350 rubles for a week.
Tips:
If you want to save money, fly in or out of Northern Europe and the Baltic States. It's also inexpensive to fly via Poland (for example, Gdansk).
To some European cities is more profitable to get by bus. For example, a bus ticket from St. Petersburg to Helsinki costs about 1000 rubles.
In Iceland you can fly inexpensively by low-cost airlines. Buy tickets in advance (two months in advance). For example one of the cheapest airlines in Europe is Hungarian WizzAir. The flight from Riga to Reykjavik in September costs from 8 thousand one way. In addition, WizzAir club card holders enjoy discounts of up to 800 rubles.
(Photo: unsplash.com / @antwoni)
Prices for accommodation in Iceland – 2022
The choice of accommodation in the country is wide – from a tent in a campsite and a real house on wheels to a hotel with several stars. Housing in Iceland is quite expensive, but you can cut this expense line as well. Here are the current prices for 2022 and tips on how to save money.
Hostels
The most extensive category is small hostels without stars. The price for a bed starts at 45€ per person per night. If you monitor prices in advance, you can find cheaper. Interestingly, these prices are valid for both low and high season.
What do you get for the money? You will live in a common room that accommodates from 6 to 16 people. Sometimes the room is mixed – for men and women. The facilities are on the floor. The interiors in hostels are minimalist in a Nordic way, but everything you need is in the rooms. In Icelandic hostels there is a tacit tradition to leave extra food in the common kitchen so you can diversify your diet and at the same time share with others.
Hotels
There are few 1* and 2* hotels in Iceland. In Reykjavik and other cities the price per night starts from 90 €. Almost all hotels are located in picturesque places (and other places in this country are difficult to find). In addition to excellent service many hotels offer shuttle service from the airport and issue room keys for the number of guests. Even the most modest rooms are equipped with a hair dryer, refrigerator and small stove.
3* hotels are slightly more expensive than 1* and 2* – from 90-100 € per night, but the price includes breakfast. At the 3* level, modern technology begins, such as an automated reception desk for self check-in and check-out.
Look for discounted hotels on Hotelluk. Here are the top rules for finding hotels.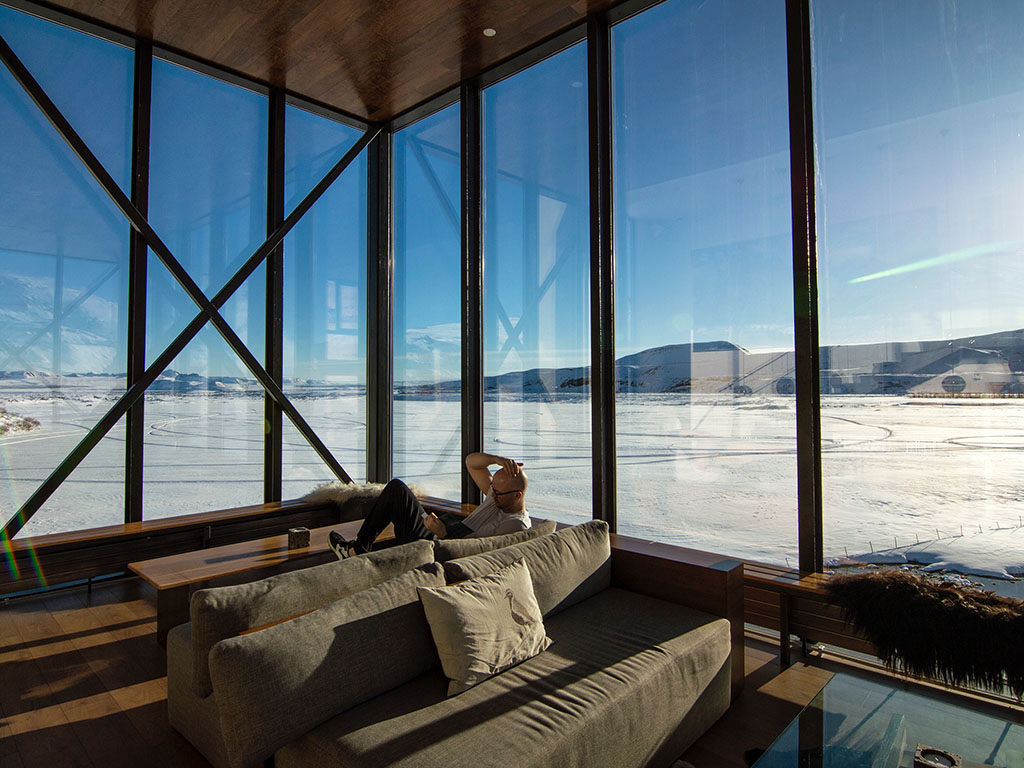 (Photo: unsplash.com / @roanlavery)
Rooms and apartments.
Prices for private accommodations in Iceland in 2022 are slightly lower than hotels. Take care to book a few months in advance of your trip, then it will be hard to find good accommodations even at an average price. Here are the minimum prices:
A room in an apartment costs from 25-30€ per night,
An apartment starts at 65€;
an apartment near Reykjavik for at least 150€ to 200€ a night.
Tip. If you are looking for an accommodation through Airbnb you can save money by reserving for 1-2 nights at the price of the site and then negotiating with the host to extend the lease. You are likely to save a lot more money the next nights (at least without cleaning fees and fees), and you will be able to pay for the extra night right there. This technique will work for any country.
Campgrounds
Perhaps the most common type of tourist accommodation in Iceland is camping. They come in a wide variety. The price per day – from 10 to 30 euros. It depends on location (near the capital or in the province) and availability of amenities – such as showers and full kitchen. Charging phones and appliances, laundry and hot showers may be included or paid for separately. The toilet is free everywhere.
Here's the trick: You report the number of people staying here, and they write it on your tent, but they never check it. You pay for three people, but you live with four.
If you want to stay in the campsite only, get a camping card. It costs about 100€ and entitles you to stay in over 40 campsites across the country (actually there are more).
You can charge your equipment for free in public places: e.g. cafes or libraries.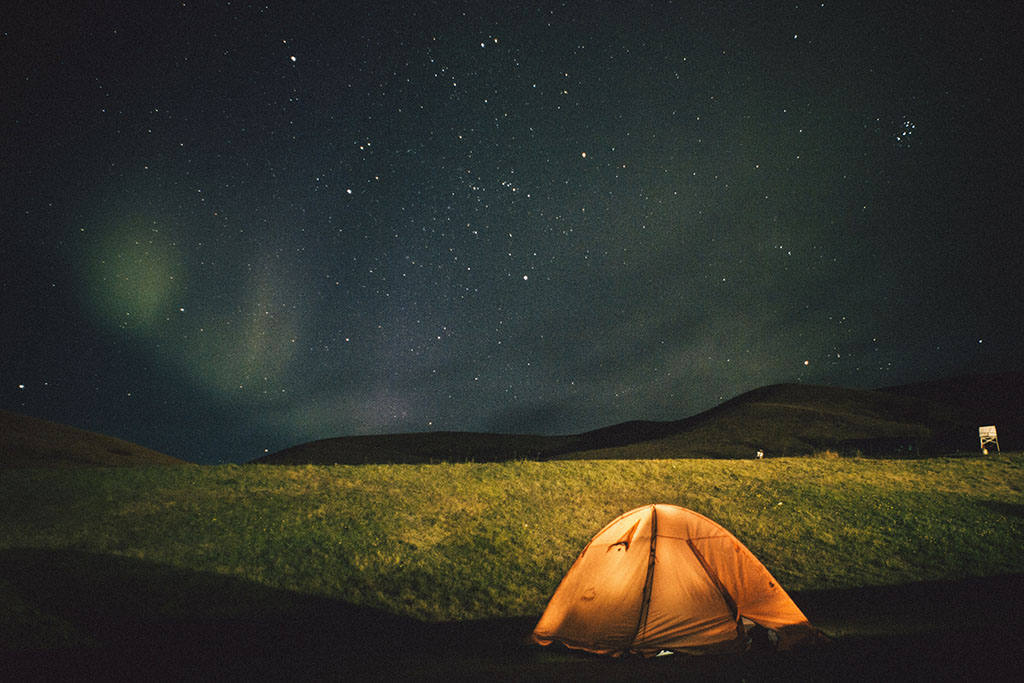 (Photo: unsplash.com / @ihor_malytskyi)
Unusual housing
Unusual accommodation options are popular in Iceland, and sometimes they cost less than hostels and hotels. Search for them on Airbnb – choose the "unique lodging" filter.
Motorhomes. Campers, or houses on wheels, are very popular in Iceland. Renting such a car costs from 150 € per day. Renting it for a week is a lot cheaper, but renting it for a shorter period is pointless, because you will need to travel around Iceland and not stay put.
The camper has a stove, a fridge, sleeping places for adults and children, and sometimes even a shower and a toilet, but such options are more expensive – about 200 € per day.
Farmhouses. Unusual option for those who love unity with nature and those who travel by car and not afraid to stay away from big cities. The pleasure is not cheap, but one of the most original. The cost of a day's stay begins at 50 € per night. The atmosphere on the farms is usually poor, but very atmospheric, plus it's a chance to stay with the locals (you live directly in the house of the owner) and get the most vivid impressions. There are many farmhouse options available on Airbnb.
A dome house is a small round structure with a very light construction. They are located away from civilization and are designed for 2-3 families. Dome houses have all the amenities: toilet and shower, kitchen and several bedrooms. The price starts at 100 € per night, but you need to book this option at least two months in advance, otherwise the price will be 2-3 times higher.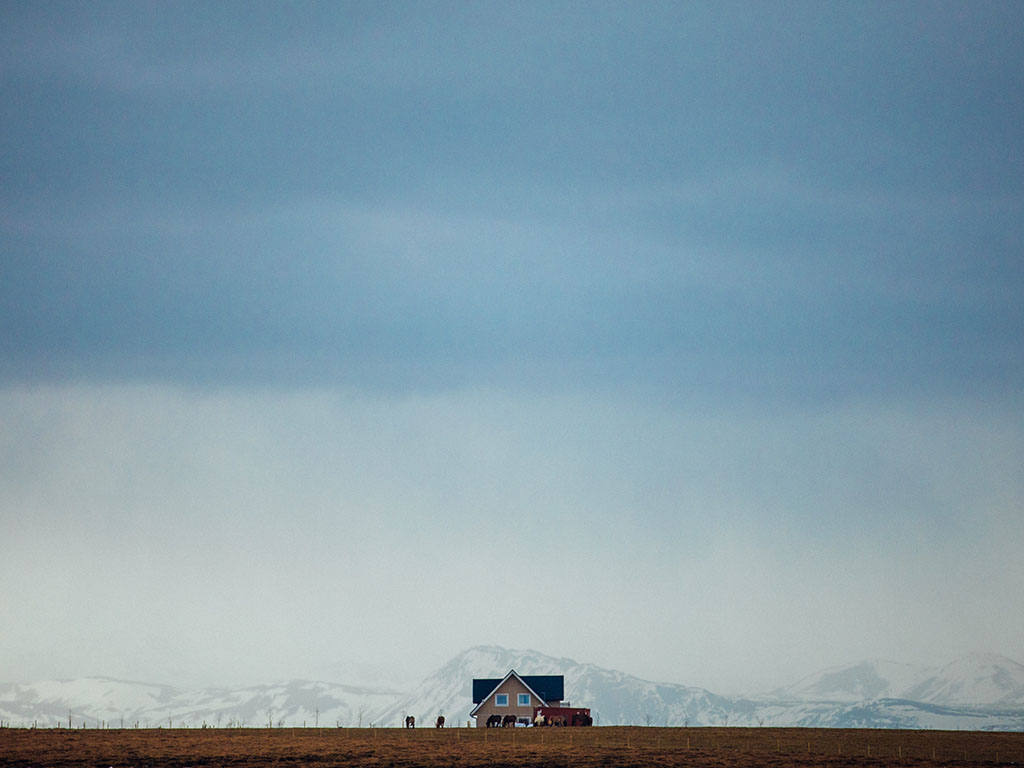 (Photo: unsplash.com / @maxboettinger)
Prices for transportation
Iceland is a country with well-developed air links, so it is convenient and inexpensive to use domestic flights. The most popular airlines are Air Iceland and Eagleair. A flight from Reykjavik to Akureyri by Air Iceland costs from 70€ and the flight takes no more than an hour. By comparison, a bus ride on this route will cost 150€ (about 19,000 kroner) and take about 8 hours to get there. Keep an eye out for sales on the airlines' website.
A cab from the airport to the city center costs from 16,000 kronor, and around the city about 2,000 kronor. You can pre-book a cab at KiwiTaxi – a car will be waiting for you on arrival.
Rent a car
If you have decided on a holiday in Iceland in 2022 to rent a car, it is also worth thinking about it in advance. From mid-June to mid-August prices skyrocket 2-3 times, and car rentals are no exception. While in early June renting a car for a week will cost about 350€, in July and August you'll pay 500€ or more.
A passenger car is good for traveling around the country, but in addition to paved roads, there are often unpaved roads. Because of this many tourists prefer to rent an SUV. Its price is much higher: from 70 to 100 € per day and more.
The price for gasoline in Iceland in 2022 is 230 kronor per liter. Gas up outside the city and you'll save 10-15%.
Rent a car online through Rentalcars.com.
Can I hitchhike?
Yes. Iceland is a country where hitchhiking is quite relaxed, but outside the big cities cars are rare and you can wait on the road for hours.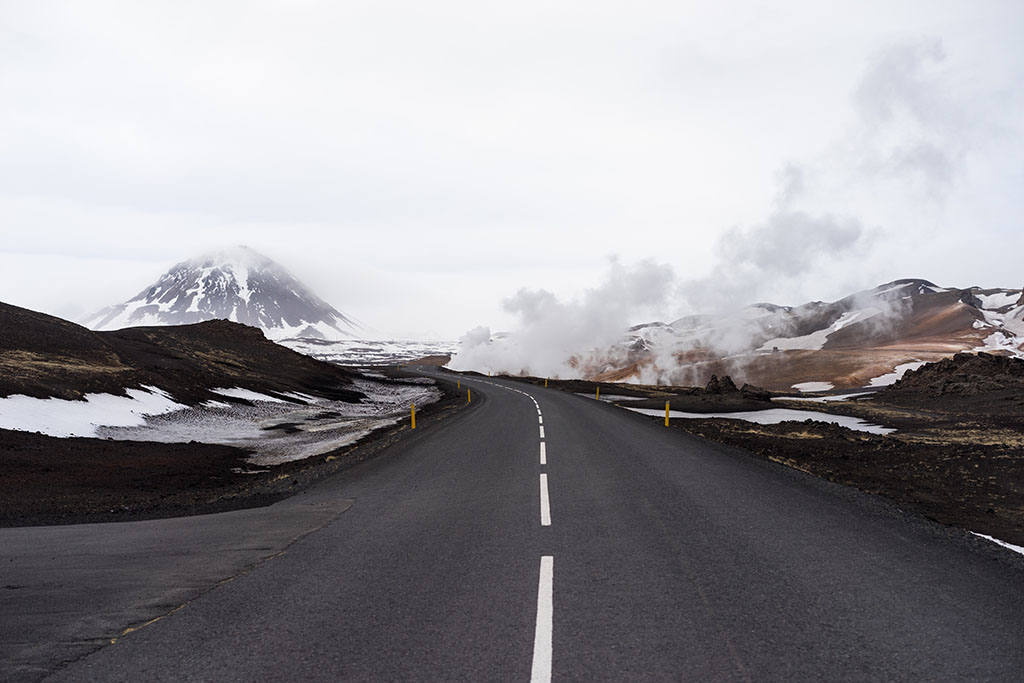 (Photo: unsplash.com / @robertbye)
Food prices in Iceland – 2022
Meals while vacationing in Iceland in 2022 are also a big expense item, as prices in the country are high. According to tourist reviews, if you eat in a cafe, you can get by in 3000 kroner per day (about 25€). A fast food lunch costs 1000 CZK, a simple lunch costs from 2500 CZK (for example a hot soup, potatoes and a drink), about the same price for a pizza and a coffee.
A cup of cappuccino costs 500 kronor or a little less (4€), and a bottle of beer ranges from 500 to 1000 (depending on whether you get a local drink or a regular one from the supermarket). A bottle of wine costs on average 2,000 crowns.
Food prices in Iceland in 2022:
A liter of milk – 135 kroner;
white bread, 300 kroner;
a box of rice – 370 kroner;
a liter of juice from 300 kronor;
A kilogram of apples or oranges – 270 kronor;
A kilogram of bananas – 400 kronor;
A pack of eggs, 500 kronor and a kilo of cheese, 1,800 kronor;
A kilo of cheese, from 1,800 kronor;
A kilo of chicken filet – 3,000 kronor;
Toothpaste – from 330 EEK;
shampoo – 200 kronor.
You can afford it – you can afford 2,000-2,500 kronor a day for two people.
It is better to buy products not every day, but a week in advance: large food packages are always cheaper than the ones you buy by the weight. All tourists without exception recommend supermarkets Bonus, but they are only in the big cities. In some villages there is only an alcoholic store, but no grocery store.
The most effective way to save money on a trip to Iceland is to bring food with you from Russia (unless you are flying on a low-cost airline, of course). And most tourists do exactly that. Especially since the plane tickets you'll still have luggage – most bring a tent, sleeping bag and other equipment, so as not to rent it on the spot. At the same time they take cereal, stew and pasta with them and save a lot on lunches. Every campsite or guesthouse always has a kitchen, and you can buy a gas burner and a disposable grill in the supermarket.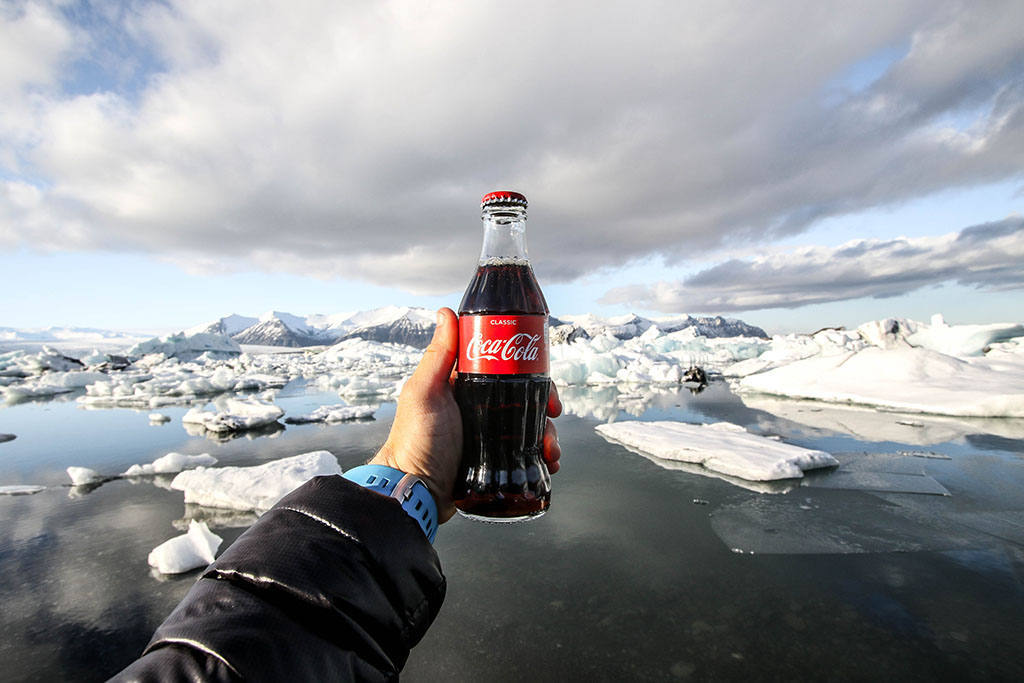 (Photo: unsplash.com / @tentides)
Prices for excursions and entertainment
Look for interesting excursions on Tripster. Individual and group, without crowds and in Russian.
Iceland is a country rich in natural beauty. Of course, there are temples and museums, but that is not why tourists come here.
Country's calling card is the Blue Lagoon. This is a geothermal lake with a unique mineral composition, located on the peninsula Reykjanes. The water here has a sky-blue color, and its temperature at any time of year is +37. +40 ° C.
Prices for admission to the Blue Lagoon depend on the season. During the summer months there is a full house in Iceland, and a visit to the lake costs 8,000 crowns, which is about 65€. In the fall or spring, tickets are cheaper at about 5,500 kronor, or 45€. The lagoon is open all year round.
In addition, there are three options to visit. The cheapest ticket includes a towel, a mud mask and a drink. If you have your own towel, it's a little cheaper. The premium package includes a bathrobe, slippers, wine and a seaweed mask – so the amount goes up by about 3,000 crowns. There is also a deluxe option – it involves a visit to the spa and some treatments, as well as coffee and tea.
Blue Lagoon in Iceland
If Blue Lagoon admission prices are high for you, there is an alternative option – Lake Miwatn in northern Iceland near the village of Reykjahlid. Geothermal hot baths here are much cheaper (a ticket in season costs about 5000 kroner), there are many times fewer tourists, and the Hverir area with mud springs is nearby. Children under 15 years old can visit the complex with their parents for free, and bath accessories can be rented. A towel costs 850 CZK.
By the way, this is where the TV series "Game of Thrones" was filmed.
Map of attractions in Iceland
The Golden Ring is the one route to start exploring Iceland's stunning nature. The itinerary includes Tingveldir Park, where the Icelandic state began, a visit to a geyser in the Höjkadalur Valley and the Gudlfoss waterfall. The tour includes a lunch of local dishes, including the national lamb soup. The tour at the agency costs 300 €, or 37500 kroner.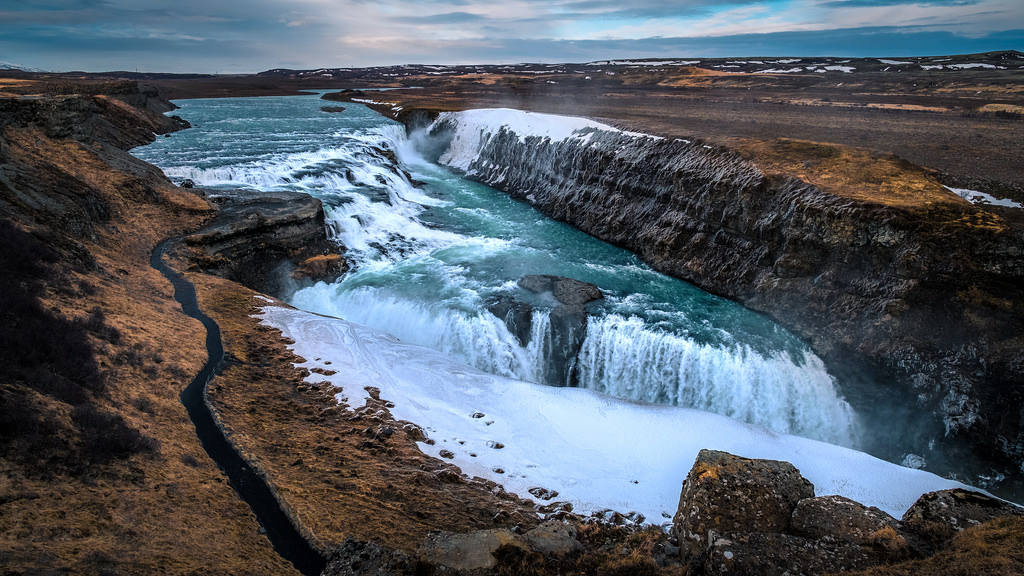 (Photo: giuseppemilo / flickr.com / CC BY 2.0 license)
In Reykjavik, take a walk around the city's main attractions: the Hadlgrimskirkja Church, the world's oldest functioning parliament, the Alting, and the monument to the first female parliamentarian. You can take a city tour: the walk includes a tour of City Hall and the "Sunny Wanderer" sculpture on the waterfront, a visit to the Hövdi House and the Harp Concert Hall. The tour also includes several viewpoints. The cost of the walk is 200€, or 2500 crowns.
Walk in Reykjavik.
Go to the south coast of Iceland and see waterfalls, walk on glaciers and volcanic ash, swim in a thermal pool and walk on black sand and see the cul-de-sacs at the same time. You can do all this on your own or take an excursion – it costs 250€ per person.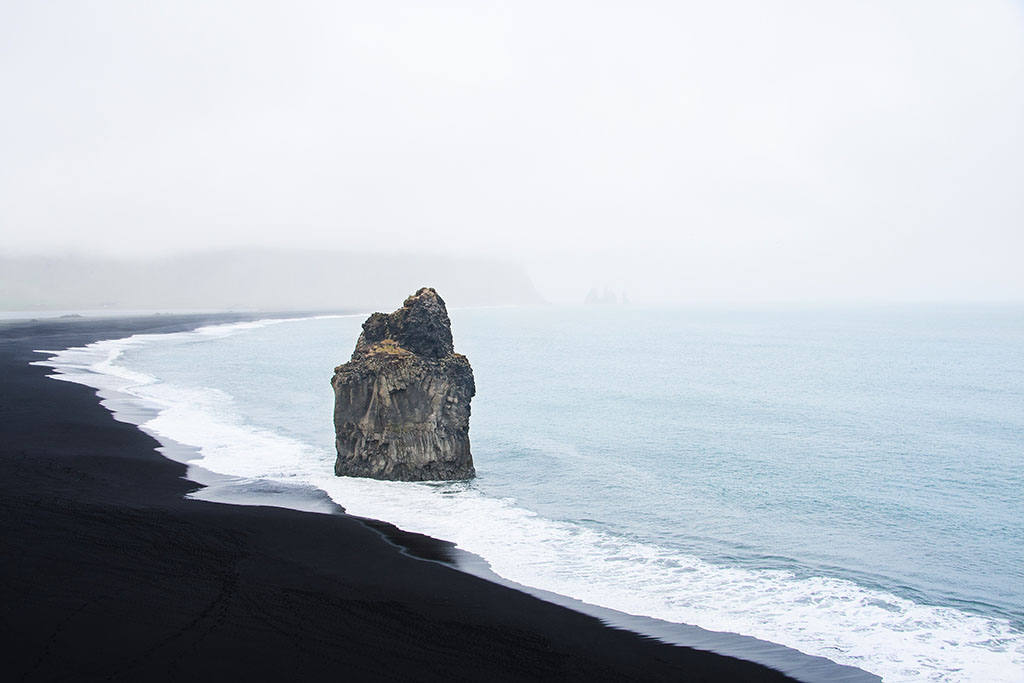 (Photo: unsplash.com / @tomcoe)
Prices for souvenirs
What to bring from Iceland? There are many options, but the most important souvenir was and remains sweaters made of sheep's wool . Lopapeisa, or sheep's wool is a kind of symbol of Iceland, it is expensive and in 2022 the price for a sweater can reach 200-400 €. Socks can be bought for 25-30€. Wool is better to buy in the market Kolaportið – according to tourists, the price is slightly lower there. However, the market is open only on weekends.
Another classic gift option is Blue Lagoon cosmetics. It is produced by unique technologies in the medical laboratory directly at the complex "Blue Lagoon". In the Duty Free Zone it is cheaper. The usual price is about 35-40 € for a small package of scrub or cream.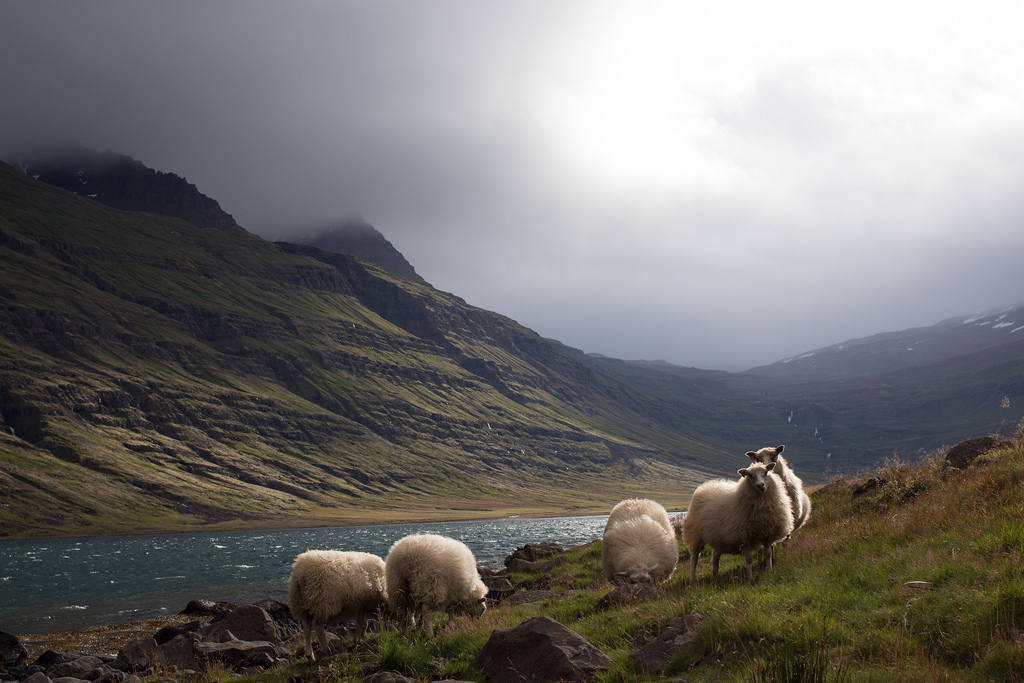 (Photo: 20'cents / flickr.com / CC BY 2.0 license)
Volcanic lava jewelry costs up to 15€.
For Iceland's enthusiastic hikers, there is an option to buy quality gear or equipment for yourself and your loved ones. Stores with products for outdoor activities in Iceland are very abundant.
Also here are popular liquorice candy and souvenirs with puffins – sea birds that live on the Icelandic coast. The choice of deadhead gifts is huge, from postcards to full-fledged large figures.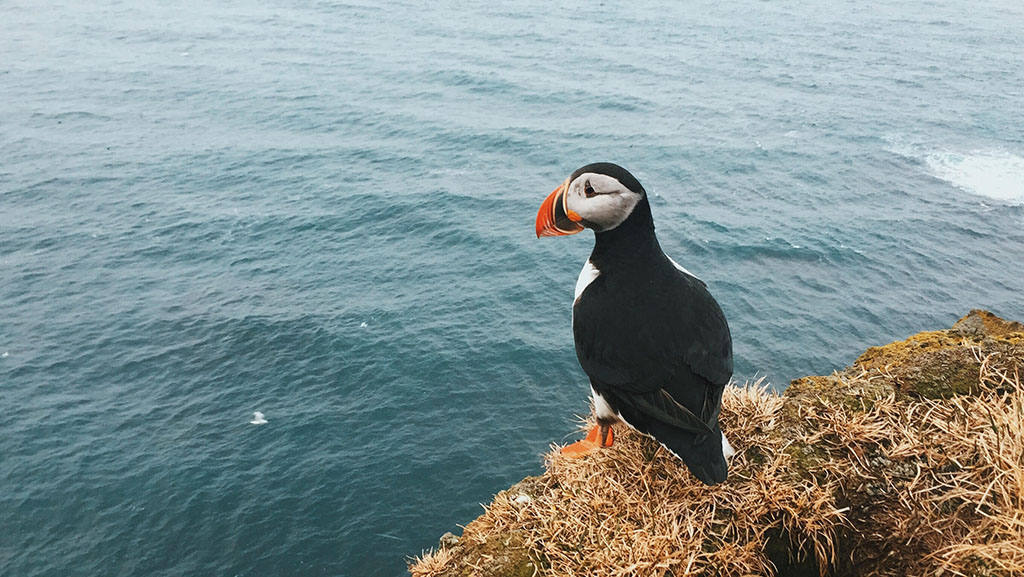 (Photo: unsplash.com / @nicholaskampouris)
What else to save money on.
In Iceland it is not customary to leave a tip unless it's a fancy hotel or a very expensive restaurant.
Change money in Iceland is possible at railway stations and airports (but the rate will be unprofitable). It is better to go to a cash machine, they are located everywhere.
Mode of operation of banks from 9:00 to 16:00 on weekdays. Also change money at the offices of The Change Group. The fee at the exchange offices is almost always 2-5 €.
As for bank cards, Visa and MasterCard are accepted everywhere: in campsites, gas stations, cafes, so don't withdraw the whole amount and don't take cash with you.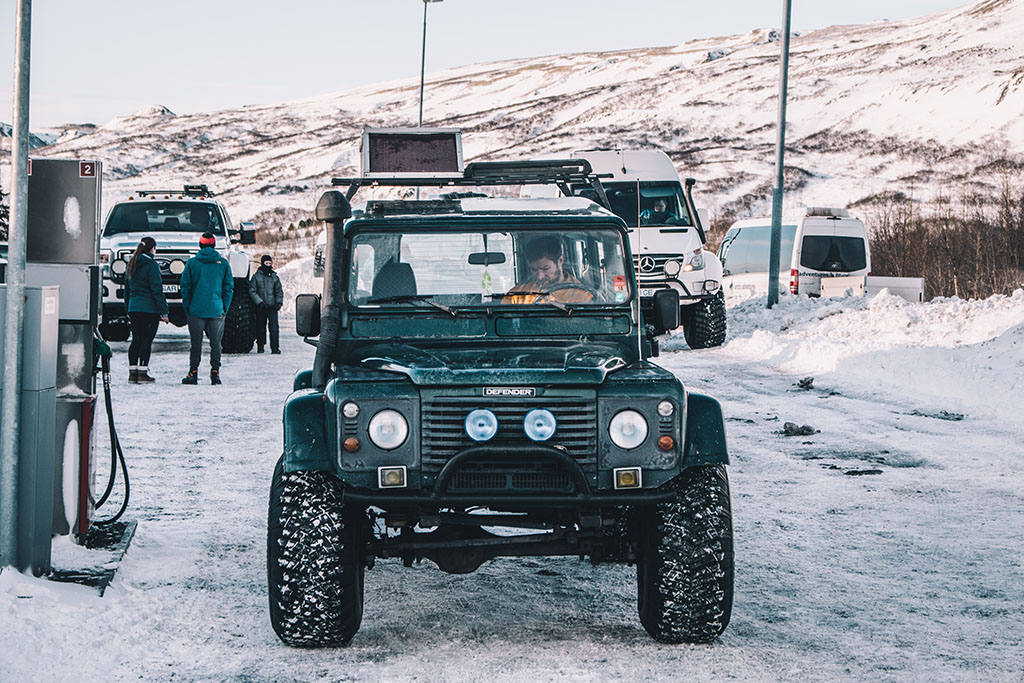 (Photo: unsplash.com / @nicolasjleclercq)
Good news for those who want to arrange for tax free. You only need a receipt for 6000 EEK or more to claim your tax refund. You will get your tax refund cheque and the tax free coupon at the same time. The coupon, receipts and boarding passes must be presented at the counter in the departure area. Since the counters belong to the bank, there will also be a commission for the operation. Refunds are issued in the currency of your choice: euros, dollars, or crowns.
And finally: when ordering a cup of coffee you pay only for the first portion, but you can ask for more for free (we do so refill the portion of boiling water in teapots).
Iceland – an unusual country with a rich history and fabulous views, it is an active, diverse vacation in a hospitable and beautiful country.