Food and housing prices in Finland in 2022
Finland is one of the most expensive countries to live in the vastness of Europe. In this article we have made an overview of the prices of gasoline, real estate, food, alcohol and cigarettes and tell you what salaries and pensions of the local population.
↑ Food prices in Finland.
Food prices in Helsinki, the capital of Finland in 2022. Prices in roubles are calculated basing on the rate of 89 r per 1 euro.
| | | |
| --- | --- | --- |
| Food and catering | Euro | Ruble |
| Dinner for 1 person at inexpensive restaurant | 12 € | 1 069 ₽ |
| Lunch for 2 at a mid-range restaurant | 86 € | 7 661 ₽ |
| McMeal at McDonald's | 9 € | 802 ₽ |
| Cappuccino at a coffee shop | 4,13 € | 368 ₽ |
| Milk (1 liter) | 1 € | 89 ₽ |
| Loaf of fresh white bread (500 g) | 2,4 € | 214 ₽ |
| White rice (1 kg) | 2,2 € | 196 ₽ |
| Chicken eggs (10 eggs) | 2,2 € | 196 ₽ |
| Local cheese (1 kg) | 7,5 € | 668 ₽ |
| Chicken fillet (1 kg) | 11,2 € | 998 ₽ |
| Beef ham (1 kg) | 16,3 € | 1 452 ₽ |
| Apples (1 kg) | 2,34 € | 208 ₽ |
| Bananas (1 kg) | 1,7 € | 151 ₽ |
| Oranges (1 kg) | 2,4 € | 214 ₽ |
| Tomatoes (1 kg) | 3,7 € | 330 ₽ |
| Potatoes (1 kg) | 1,2 € | 107 ₽ |
| Onions (1 kg) | 1,5 € | 134 ₽ |
| Lettuce (1 head) | 1,3 € | 116 ₽ |
| Water (1.5 l) | 1,6 € | 143 ₽ |
| Bottle of Wine | 12 € | 1 069 ₽ |
| Local beer (0.5 l) | 2,7 € | 241 ₽ |
| Imported beer (0.33 l) | 3,1 € | 276 ₽ |
| Cigarettes (20 pieces) | 9,2 € | 820 ₽ |
The most popular among locals are supermarket chains:
Prisma . The network is widespread in all major cities, the points are located mainly at the junctions of transport hubs. Supermarkets are equipped with a convenient parking lot. Assortment: technology, clothing and footwear, sporting goods, children's products, foods.
K-Supermarket . Here you can find a wide range of brand goods: Puma, Nike, Adidas, etc. Also sells food. In the days before Christmas and after the New Year there is usually a sale. A detailed story with impressions of the store can be read in the blog of the user under the nickname basilisk.
Lidl . The store chain appeared in the country relatively recently. Mostly on the shelves are products. Prices are cheaper than in other supermarkets, so stores are popular among tourists and locals.
S-market . Large hypermarkets, which, in addition to food, sell household chemicals, hygiene products, appliances, clothing, linens, automotive products, souvenirs.
It is important to note that in regular stores in Finland you can not buy strong alcohol. Alko chain has a monopoly on the right to sell alcoholic beverages. It also sells tobacco products. There are more than 4,000 different brands in the assortment. There is an online store.
Locals often shop at markets . This is where to go in Helsinki:
Kauppatori – one of the oldest shopping places in the capital. It is open year round. It is located near the pier of the sea. You can buy fish, souvenirs and handicrafts on the shopping aisles.
Hakaniemen – indoor shopping aisles. On the first floor of the complex sells meat, fish, vegetables, fruits. On the second floor – clothes, toys, souvenirs, dishes.
↑ Cafes and restaurants in Helsinki
Fast food outlets are very popular among tourists and Finns, but not McDonald's. More often you can find shops with Turkish food (e.g. kebabs). On average, you can eat at these outlets for 8-11 € (712 to 980 ₽).
At an inexpensive cafe, lunch or dinner would cost around €17 per person (₽1,514). In restaurants, the average check comes out to €38 (3,380 ₽).
To try traditional Finnish food, you need to go a little further away from the center, because there are so many fast food outlets in the center. In the cafes where the national cuisine is prepared, a tourist can order a business lunch or a set lunch for 17 € (1514 ₽).
Among the inexpensive chain cafes worth mentioning are:
Momotoko . It serves mostly Asian dishes. From 11 to 14 you can buy lunch for 17 € (1514 ₽).
ABC gas station café . From 11 to 16 for €12 (₽1,100), a buffet is available with a choice of soups, meat and fish dishes, side dishes, salads, and drinks.
Karl Fazer Cafe . Pastry shop with desserts and drinks from 8€ (712 ₽). Buffet meals are 10 € (890 ₽).
There's a lot of street food in Helsinki, here are approximate prices:
hamburger – 14 € (1,250 ₽);
Chicken wings 12 € (1070 ₽) for 8 pieces;
French fries – 4 € (356 ₽)
Caesar salad 11 € (980 ₽);
hot dog – 5 € (445 ₽);
Doner with various additions from 10 € (890 ₽).
↑ Cigarette prices.
The government supports the anti-smoking campaign: smoking in public places is forbidden and the prices of tobacco products are much higher than in Russia. Also, you will not find cigarettes on open stalls: to buy them, you need to learn a special code (number) and tell it to the seller.
Cheap cigarettes in Helsinki cost about 9 € (800 ₽), in other cities from 7 € (624 ₽). More expensive brands can cost 12 € (1,070 ₽) and higher. Tobacco products can be purchased from special vending machines. But some brands are not on sale in Finland: Peter Stuyvesant, Dunhill and Rothmans, for example, are hard to find.
↑ Gasoline and diesel
Three types of fuel are sold in Finland:
diesel;
gasoline A-95 (E10);
Gasoline A-98 (E5).
The average cost is 2.2 € (196 ₽) per liter. The price depends on the region, the season and the company that produces and supplies the fuel. The lowest price is in Tampere, and the most expensive price was recorded in Siinkalatva.
Diesel fuel is divided into regular, green disel and MPO. The former sells for €1.98 (176 ₽) on average, the latter for €2.12 (189 ₽), and MPO from €1.86 (166 ₽). In the same city at different gas stations, the price value is more or less the same.
↑ Real estate prices
The most expensive prices for housing are in the capital. The price of renting a one-bedroom comes out from 200 € (17800 ₽) to 2300 € (2040870 ₽) per month, you can rent a two-bedroom apartment for 550-5200 € (49000-43200 ₽) per month. In the bedroom district, you can rent for 350 € (₽31200) per month or more.
To rent a communal apartment, you have to apply at the housing office. This housing is cheaper. In order to rent a flat, you must be a Finnish citizen, have a residence permit, or at least be permitted to stay and live in Finland for one year. Students need to have a student's residence permit while studying.
↑ Average Salary and Pension
The wage level in Finland is quite high even for the EU. According to the local statistics office, the average salary in 2018 was about €3,692 (₽329,000) per month without tax deduction. After all payments on hand, a Finnish resident receives on average about 2,700 € (240,500 ₽).
The highest salaries are traditionally in the IT sector (4,250 € or 3,786 ₽ per month), and the lowest income – in the catering sector (1,980 € or 1,76400 ₽). Those who work in the capital receive 20% more than those working in other regions. Taxes in Finland are very high: in addition to income tax, municipal, church and social contributions are also deducted.
Pension, as well as wages, is also higher than in other European countries. Pensioners can receive more than one type of pension:
age pension;
guaranteed;
national;
work pension;
Disability pensions;
Widow's or widower's benefits.
The average pension contribution in Finland is 1,632 € (1,43370 ₽). Taxes are levied on this amount as well.
Finland is a tourist country, visited by millions of travelers each year. Although it has fairly high prices for lodging and food, with a little effort to rest here on a budget is also possible.
Yandex Travel – a service where I now book accommodation before a trip to Russia and abroad: hotels, hotels, hostels and apartments. Options can be filtered by budget, location, rating and other parameters. You can pay for reservations with Russian cards, including MIR . As an alternative to Booking and Airbnb.
Recreation prices in Helsinki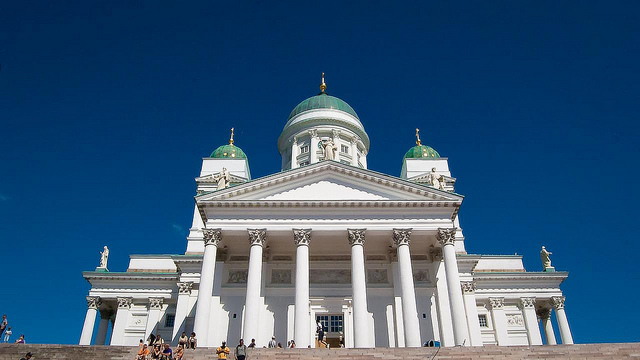 Get useful information about holidays in Helsinki: the price of food, hotels, transportation, cabs and attractions in 2022.
Finland is not yet receiving tourists from Russia. Take a look at the list of open countries. For convenience, we give pre-dedicated prices for travel and flights. Information about visas and flights may not be up to date now, check with official resources.
Helsinki is one of the most relaxed and peaceful cities in Europe, but also one of the most expensive. Of course, it can't compare with Oslo and Stockholm inexpensiveness, but still the tourist will have to pay a lot. Below we tell you about the prices of hotels, food and transport in Helsinki in 2022, so when planning a vacation in the capital of Finland, you can properly allocate your budget.
Exchange rate: 1 euro ≈ 57 RUB.
Contents:
How much is a ticket to Helsinki
A round-trip ticket from Moscow to the Finnish capital costs from 8000 rubles – inexpensive trip offers airBaltic (with connection in Riga). The cost of tickets for direct flights starts from 11000 rubles round trip – the flights are made by "Aeroflot".

From St. Petersburg to Helsinki ticket costs from 9000 rubles, but the cost of direct flight is slightly more expensive – from 12000 rubles in both directions (Finnair). From St. Petersburg it's cheaper to get to the capital of Suomi by bus – the prices are pleasant: the company Lux Express often arranges sales – it's possible to go for 500-1000 rubles one way! You can get to Finland by bus, but in Novosibirsk you can get to Finland by plane.
Perhaps, it will be useful for you to know how you can fly cheaply from Finland to Greece.
It is much more expensive to fly from the regions: for Ekaterinburg the cost of flights starts from 15 thousand rubles round trip, for Novosibirsk – from 20 thousand, for Krasnodar – from 17 thousand rubles, for Kazan – from 12 thousand.
Where to look for cheap tickets? Use the search engine Aviasails – it compares prices among all airlines. Read also the instruction on how to look for cheap airline tickets correctly.
How much does it cost to train to Helsinki from St. Petersburg
To get from St. Petersburg is possible by train "Allegro" – tickets cost from 29 euros per one way for cars 2 class and 60.6 euros for 1 class (if you buy in advance – at least 2 weeks before departure, from Monday to Thursday).
Holidays in Helsinki: food prices in 2022
Food and drink will take quite a bit of money from travelers going on vacation to Helsinki, but you can try to save money here as well. Avoid cafes and restaurants in tourist spots. Look for bistros, buffets, and canteens (like UniCafe) – they are much more budget-friendly! You can also eat quite cheaply in numerous kebab shops. In Kallio you can find a lot of interesting and inexpensive cafes there.
Where to eat cheap and delicious in Helsinki: a selection of budget cafes, restaurants and bars.
So, to begin with, consider the approximate prices of food in Helsinki for budget establishments. Breakfast costs about 4-7 euros per person (by the way, in many hotels it is included in the price), lunch – from 6 to 10 euros (note the business lunch), dinner – from 9 to 14 euros. A quick bite is always a kebab, sandwich or pizza. Beer is expensive in the city center – go for it in the bohemian neighborhood of Callio, where beer costs 6-8 euros (0.5 liters).
In restaurants, food in Helsinki is expensive: a dish at a cheap place costs on average 10 euros, a dinner for two with three dishes at a medium-price restaurant costs 60 euros. A beer (0,5 l) – about 5 euros, a cup of cappuccino – on the average 3,15 euros.
Approximate prices for food in Helsinki:
milk (1 l) – about 1 euro.
A loaf of bread (500 gr) – about 1.96 euros;
White rice (kg) – about 1,94 euros;
Eggs (12 pieces) – about 1,95 euro;
Local cheese (kg) – about 7 euros;
Chicken breasts (kg) – about 9,5 euros
apples (kg) – about 1,94 euro;
oranges (kg) – around 1,80 euro;
tomatoes (kg) – around 3,20 euros
potatoes (kg) – 0,90 euro;
water (1,5 l) – about 1,63 euro;
A bottle of wine – from 9,5 to 40 euros;
Local beer (0,5 l) – 2,43 euros.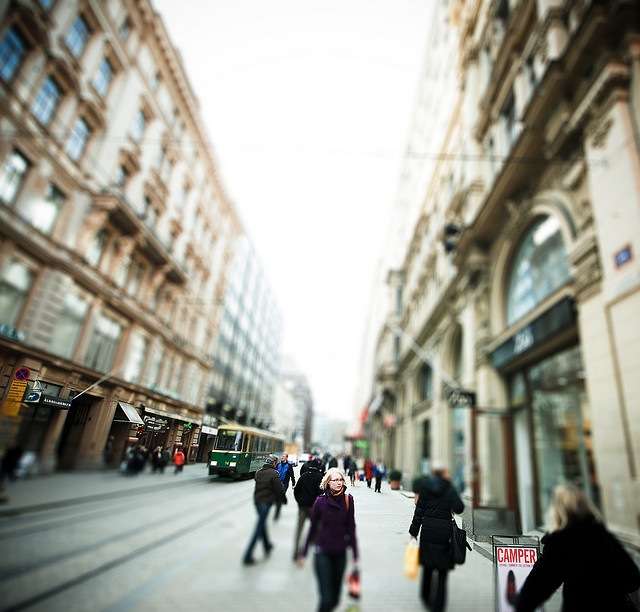 (photo by LaPrimaDonna / flickr.com)
Helsinki hotel prices in 2022
For accommodation in the capital of Finland, you must also be prepared to pay a decent amount. However, despite the fact that prices for hotels in Helsinki are quite high, almost all hotels meet international standards and by default correspond to "three" and above. It's the same with hostels – you'll pay a lot, but get a quality accommodation.
Price for a double room in a hostel in the center of Helsinki (Eurohostel) – from 49 euros per night, a hotel room – from 62 euros per night for two (for example, in Omena Hotel Lonnrotinkatu). A double room in a four-star hotel starts at 67 euros per night (Scandic Marski Hotel), and in a five-star hotel, such as Klaus K Hotel, from 116 euros per night for two persons. We recommend searching for hotels at the best price on Roomguru.ru – it compares the offers of various booking systems and finds the best. While searching you can adjust filters at your discretion: choose the "star" of the hotel, the distance from the center, the price, and so on.
A word of advice: book a hotel in advance, because the cheapest options are quickly sold out by enterprising travelers.
(photo © Miradortigre / flickr.com)
The cost of transport
You can explore the city by subway, buses, streetcars and trains. Prices for transport in Helsinki are as follows: 2.5 euros for adults and 1.30 euros for children from 7 to 16 years if you buy a ticket in the machine, slightly more expensive – from the driver. At night the cost is higher – 5 euros. Streetcar ticket costs 2.20 euros and ferry ticket – about 5 euros one way. It is noteworthy that the purchased ticket is valid for an hour – you can change from one transport to another.
Those who are planning a long vacation in Helsinki, is suitable to a single pass that applies to any form of transport (and even on the ferry to the fortress of Suomenlinna). Pass for a day will cost 8 euros, three days – 16 euros, a week – 32 euros (children – 4, 8 and 16 euros, respectively).
Cab in the city – not the most common way of travel because of well-established public transport system. Nevertheless we give the prices for acquaintance: a cab from the airport to the city center – from 30 to 40 euros for a trip, the starting rate – 6 euros, 1 km in a cab in Helsinki costs 1,55 euros.
An airport express train fare of 6.30 euros, a regular bus to/from Vantaa Airport costs 5 euros. Read more about how to get to Helsinki Airport and how much it costs.
Here you can read more about Helsinki transport timetables and prices in 2022.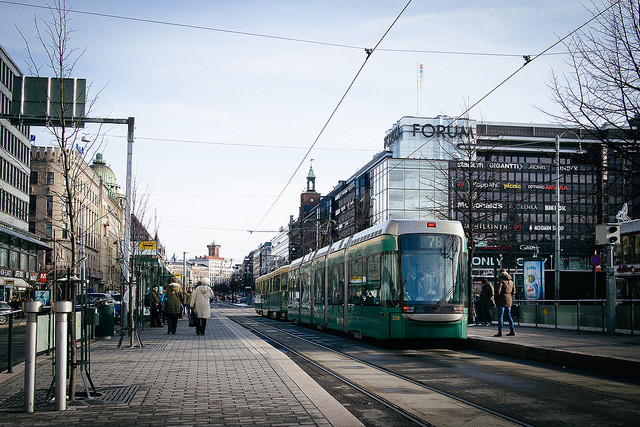 (Photo: beije / flickr.com / CC BY 2.0 license)
Sightseeing prices
Search for interesting tours on Tripster. Individual and group, without crowds of tourists and in Russian.
It is gratifying that there are free museums in Helsinki, and quite a lot of them – at least the sights in the capital of Finland can save. The same monuments of culture and architecture, which require a fee to enter, not too expensive: for example, a visit to the National Museum – 9 euros for adults, and children under 18 years of age enter for free. Entrance to the famous Suomenlinna fortress is free, but for the ferry you have to pay 5 euros for adults and 2.5 euros for children from 7 to 16 years old (round trip).
If you want to see all the sights of the capital at once during a vacation in Helsinki, we recommend you to take a streetcar number 4 or 6, the route of which runs so that you can enjoy the main monuments of the city.
For active tourists suits Helsinki Card, which allows you to visit the top 10 attractions of the city (the fortress, museums, amusement parks, Finnair SkyWheel etc.) for free, free public transport, receive discounts and more. The cost of the card: 24 hours – 41 euros for adults and 22 euros for children (7-16 years), 48 hours – 51 / 27 euros, 72 hours – 61 / 32 euros.