Prices in Indonesia.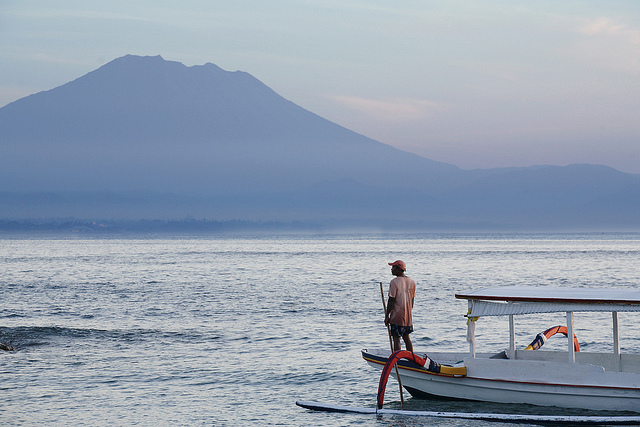 Systematize information about the cost of living in Indonesia: prices for food, housing, and transportation on Indonesian islands in 2022.
We have already written about how much it costs to live in Bali in a separate article. We allocated this paradise island because Bali is a popular and popular tourist destination – because of this prices there, of course, are higher. In this article we will highlight the prices in Indonesia in general: the islands of Java, Sumatra, Kalimantan, Sulawesi and others.
How much does it cost to live on Indonesian islands? The total amount is made up of the main criteria: the cost of visas, rent and utilities, transport and food costs. Everything else is optional and depends on your needs.
Exchange rate: 10 000 Indonesian Rupiah (IDR) ≈ 37 RUB.
Visa to Indonesia in 2022
Russian citizens do not need a visa to Indonesia in 2015 – you get a visa stamp on arrival (provided that tourists arrive only at certain airports, and will stay in the country only up to 30 days, this stamp can not be subsequently extended, as well as to do the visa within the country). We recommend you to read the article "Visa to Indonesia for Russians" – it has all the relevant information for 2022.
For citizens of Belarus visa costs $35 on arrival. It is valid for about a month. It can be extended for another month for about $ 28 (350 thousand rupees).
(photo © Peregrino Will Reign / flickr.com)
Rental prices in Indonesia – 2022
Housing prices in Indonesia vary by island, city/resort, season, location, type of accommodation (house/room/hostel bed) and size, and amenities. All of these things make up the price in one way or another. If you are going to live in Indonesia for a long time, the best option is to book a hotel for a week, and in the meantime look for an option that is convenient for you.
How much does it cost to rent a room/home in Indonesia in 2022? The average lodging rents for $15-20 a night (search on Hotellook.co.uk). If you walk around and search more thoroughly, you may find a cheaper place to stay. For example, on the island of Lombok near the sea in this range you can find a decent house.
As for hotels, the choice is huge – from ultra-cheap to luxurious. It is better to book a room at a hotel on Hotellook.ru – the service searches among all major booking systems. For example, in Kendari (Sulawesi) the cheapest hotel costs $6 (double room economy class)!
(photo © Nicolas Lannuzel / flickr.com)
Jakarta
Jalan Jaksa is a popular area among tourists in Jakarta, as there are many hotels, shopping malls, and museums and other attractions nearby. The Pusat district is also recommended.
It's easy to find accommodation in Jakarta. There are a lot of good places from $9 to $25 for a room in different parts of the city (both private homes and hostels) on Hotellook.co.uk. There you can also find a studio for $21 a night (East Jakarta), which is about $630 a month. If you consider the apartments on the outskirts, it will cost much cheaper – you can rent for $10-15 per day. A standard hotel room can be found from $12.
Food prices in Indonesia in 2022
Travelers in Indonesia in principle should not have any problems with food, because there is food for the budget tourists, and for those who are willing to spend a lot: here you can eat and soup with meatballs Bakso in a mobile tray, and in a cheap outdoor cafes (10-20 thousand rupiah), and in decent cafes, where the price range – from reasonable to quite modest European (from $20).
How much does it cost to eat in Indonesia?
In Jakarta and other major cities, you can always grab a bite to eat at food courts that are located in shopping malls (from $5).
A budget breakfast at local establishments will cost between $0.7 and $2.5.
Lunch at inexpensive cafes for two is $1.5 to $4, and dinner is $3 to $6.
Soup costs about 7,000 rupees, rice and vegetables 6,000.
A meal in a tray is 10-15 thousand rupees (within $1).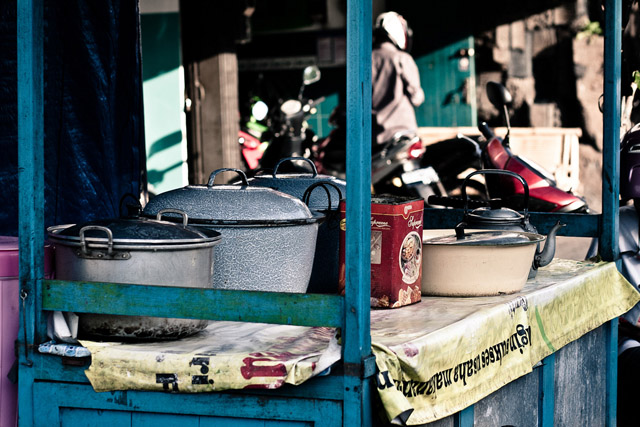 (photo © Mister. T / flickr.com)
As for food , prices in Indonesia in 2022 on average are as follows:
bread – from 10 thousand ($0.7);
eggs – from 17 thousand ($1.3);
vegetables – in the range of 5 to 25 thousand ($0.5-2); – in the range of 6 to 20 thousand per kg ($0.5-1.5)
rice – in the range of 10 thousand per kg ($0.7);
milk – from 13 thousand ($1);
water (0.5 liters) – from 1.5 thousand in a supermarket ($0.1);
alcohol: local beer – from 24 thousand (from $2), wine – from 300 thousand (from $23).
It is better to buy products at the market, as everything there is fresh and you can haggle a lot. On the other hand, in supermarkets a fixed price tag – no need to spend a lot of time and effort to haggle, which, in addition, is not always successful. Choose for yourself what is more convenient for you.
Prices for transportation in Indonesia: rent and cabs
Public transportation
A city bus ticket costs 3,500 rupiah (about $0.3). A cab in Jakarta costs about 20-25 thousand (from $1.5) per ride. Some advise using the state company BlueBird (also Pusaka), some, on the contrary, think other companies are cheaper (50-80 thousand rupiah – $4-6 per trip).
Bikes and bikes.
Many people are primarily interested in how much it costs to rent a scooter in Indonesia, because it is much more convenient to get around on your own than by public transport or cab. Well, daily bike rental costs about 50-70 thousand rupees ($ 4-5,5) – depends on the brand and condition of the vehicle. If you want to rent it for a week or a month, you can greatly reduce the price. A liter of gasoline ≈ 6.5 thousand rupees ($0.5).
For bike enthusiasts: renting costs ≈ 25-30 thousand rupees (from $2).
(photo © Lαin / flickr.com)
Intercity travel
You can travel between Indonesian cities by water, land and air.
Ferries connect Indonesia's major islands with each other (fares start at $3, depending on which ferry you're on and where you're going). In addition, the shipping company Pelni carries by water (from 250,000 rupiah), you can also use speedboats (for example, from Bali. They belong to a travel agency, so it costs a lot – from $ 19).
There are railroads on Sumatra and Java. Tickets cost from $150,000 to $300,000, depending on the class.
There are plenty of buses in Indonesia, but they travel slowly and constantly pick up locals.
There are many shuttles, which can be used both within the city and between cities.
Motorcycle rickshaws, bicycle rickshaws and motorcycle cabs are quite cheap.
Low-cost and fast flights between Indonesian islands are available on AirAsia, LionAir, GarudaIndonesia, etc. A ticket costs an average of $25, but the lowcosters often have promotions and sales. In addition you can fly for free with Bravofriends vouchers (we do it in Asia). In Indonesia, some airports have fees that travelers pay locally on departure in the local currency: for an international flight ≈ 100-200 thousand rupiah, for a domestic flight – 35-75 thousand.
The cheapest way to travel around Java, as it is the most populous island in Indonesia. Also quite cheap in Sumatra and Sumbawa. And Bali, as you know, is a very expensive and touristy island.
Moving to Bali for Russians for permanent residence in 2022 [relocation] – the pros and cons, what documents are needed and how to treat the Russians
Today's realities are increasingly less favorable for working and living in Russia: disconnection from SWIFT, closed airspace with most European countries, restrictions on some online services for Russians. This is just a small list of why remote workers decide to move from Russia to other countries.
In this article we will tell you about how relocate to Bali: what documents are needed, how much the tickets cost, how to get a work visa, open a bank account and much more.
At this time the relevance of information can change in a matter of hours, if you find outdated, irrelevant information – let us know in the comments, we will definitely correct it.

If you have trouble accessing sites from the publication – use a VPN service.
Bali – one of the best options for freelancers If your dream is to sit on the beach with your laptop, sip cocktails and work, then Bali is one of the best options. Many people don't just move there because of the climate and fresh fruit. In Bali, life is cheaper than in some Russian cities. This is especially true for housing. For example, a two-bedroom villa with a pool for $ 500-600 a month, and if you look for it locally, even cheaper.
Despite the fact that Bali has lifted the quarantine, the Russians need a certificate of vaccination. Of the Russian ones, only the Sputnik V will do. You will also need a Russian and foreign passports. Russians do not need a visa.
On the eve of travel, you must take a PCR test and print a certificate with a QR code. It is also necessary to fill out an electronic form on the website. Another PCR test is taken upon arrival. Covid restrictions are gradually being relaxed and a number of countries are already able to get a stamp of arrival at the airport in Bali, but Russia and the CIS countries are not included in this list. To travel to the island you will need a business visa. Since February 1, 2022 it is officially allowed to use it for tourism.
Be sure to follow the news if you are planning a trip to Bali, it is promised that visa restrictions will be lifted for other countries in the near future.
Updated 30.05.2022: The list of countries whose residents can obtain a tourist visa upon arrival in Indonesia has been updated. The list now includes 12 more countries, including Russia, according to a publication on Bali.com. The cost for obtaining such a visa is 500,000 Indonesian rupiah, the equivalent of about $35. You must have a passport, valid for at least 6 months and a return ticket. You can extend the tourist visa once for 30 days. In addition to the above documents, you need to take out health insurance with coverage of at least $25,000 and install the Peduli Lindungi app. And those who have been vaccinated against COVID-19 do not need to take a PCR test.
But the best way to get a KITAS is to get a work visa, which is issued for 6 or 12 months. Having KITAS will allow you to open a bank account. Many companies in Russia help arrange such a visa for a certain amount and annual payment of taxes.
The average cost of tickets is 50,000 – 55,000 rubles. If you buy tickets in advance and for Monday, you can fly for 39,000 rubles.
There are no direct flights. Also look carefully: some flights are not available to citizens of the Russian Federation. The fastest option and the most expensive is with one connection in Dubai. Cheaper tickets will have two or three connections, and the total travel time will be almost two days.
Finances The 10,000 rule you need to know:
When leaving Russia, only $10,000 per person, including children, can be taken with you;
Within six months in Russia, you can withdraw no more than $10,000 from your accounts. Above this threshold, rubles will be issued at the exchange rate of the Central Bank.
Not for advisory purposes, but because this is one of the money transfer options – cryptocurrency. We will talk about steibles, which are practically not subject to volatility. We have already written more about the choice of stabelcoins. You can't cash the cryptocurrency on the island, but you can do it in the capital, Jakarta.
You can open a bank account with a foreign passport, but if you have KITAS or by having a recommendation from a local resident who has an account in the selected bank.
The account is opened 5-7 working days. Judging by the reviews of those who have moved to Bali, no problems with the opening of a bank account: guests from Russia are well treated and served by the banks without problems.
The conditions for some banks:
Danamon – no problem opening an account with KITAS, without it there may be problems. Those who have opened accounts are advised to go to the office in Kerobokan. Open two accounts: in rupees and dollars, and give two cards. With these cards you can not pay on the Internet.
Permata – can be opened without KITAS, but will need a surety of an Indonesian with an open account. According to reviews, it's convenient online banking, and the cards are easy to link to PayPal.
BCA – only open by KITAS, but they open accounts quickly and without problems.
BNI – can be opened with a guarantor if you don't have KITAS, and in some branches you can try to open with any visa. You can get virtual cards in an unlimited amount.
Mandiri – you have to deposit a minimum of $100 if it is a dollar account or 50,000-100,000 rupees to open an account.
Citibank – will open an account with a deposit of 50 million rupees and you need to have KITAS.
OCBC – will open a dollar account with passport and license, you need to deposit 1,000,000 rupees, $100 or 1,000 EUR.
If you are ready to walk around the branches, you can find a bank that will open an account without guarantors and KITAS – such cases have been. In Bali, tourists are well treated and can make advances. You can also use Russian Union Pay cards there.
A warm island with cold taxes for business Bali has long attracted both ordinary tourists and IT nomads by its cheap accommodation and the beauty of the island. It is a pleasure to work sitting under palm trees. However, all is not so smooth when you decide to move to Indonesia for business.
The first thing the entrepreneur will have to deal with is the choice of company type. For IT, there can be two: a PT company and a PMA company.
Perseroan Terbatas is a small company in which, according to local law, the head must be a citizen of Indonesia. De jure, such a person will manage your company, but de facto, all business processes will be managed by you.
Penanaman Modal Asing is one step higher, and in this case the presence of a local person in the management is absolutely unnecessary.
However, whichever type of company you choose, according to the Indonesian law you will be obliged to hire local employees if you want your former team from Russia or any other country in the world to work for you. Simply put, for one of your employees, you are required to take one local employee.
If the rules don't scare you, go ahead. How to start your own company in Bali:
You have to get a business visa at the embassy to register your company;
Upon arrival in Bali, you will have to go to a notary, who will draw up the company's articles of association for you and the decision to set up in the local language;
We need a business plan, copies of passports and visas of the founders.
With this package of documents you need to visit the office of the Ministry of Foreign Investment Coordination, where they will register the legal entity in a couple of weeks. If Indonesian officials do not find any inaccuracies in your paperwork, you are halfway done.
The second important activity is registering for tax purposes. To do this, you need to go to the local tax office (Direktorat Jenderal Pajak) with the package of documents you already have and the office lease agreement. If everything is in order, then in a week or two you will receive a local TIN, with which you will need to visit the One Step Service (one-stop-shop) and get a license for IT activities.
About taxes. There is a progressive income tax scale for all companies on the island, which implies a 30% rate for IT companies with an income of $35,000 or more per year.
Residence permit The grounds for obtaining a residence permit in Indonesia are not very different from other countries. To get a residence permit, you need to:
Get a job in one of the official companies. Then issue a KITAS, which can be renewed twice in a row without leaving the country. The first time KITAS is issued for six months, and then for one year.
Open your own business. Few people dare to do so because of the size of the authorized capital and the payback period. Indonesia is a poor country, and many firms here simply do not pay off.
Buy real estate. The minimum transaction amount is $200,000. If the transaction amount is less than that, you will not get a residence permit, but not necessarily buy a residential property.
Education. If you plan to study in Bali, you can get a student KITAS for the duration of training.
Marriage. If a woman marries an Indonesian, she immediately gets citizenship. But if a man marries an Indonesian woman, he will first get a temporary residence permit, and then he can become a citizen.
Family reunification. You can only get a residence permit if you have close relatives in Indonesia. Residence permit is granted first for one year, then for three years.
The Immigration Department of the Republic of Indonesia is responsible for issuing the permit. The decision will take about two weeks, and as the state fee should be paid in the order of $ 500.
Accommodation The cheapest option is to look for accommodation from locals as soon as you arrive in Bali. You will be surprised, but according to reviews the difference in cost can be up to 10-20%. If you need a short term accommodation on a budget, you can look in the direction of gesthouses. The easiest way to rent an apartment for short term rentals is to rent an apartment in Bali for about 1.000 rubles per day:
Also in Bali there are many hotels for every taste and purse. For long term rentals you can look for Bali House Apartment Villa for Rent*, Bali house for rent* and House For Rent In Ubud Bali*. Prices for every purse – from $ 300 per month and above.
Russian Border Control According to the reviews, the border control for those who fly to Indonesia is easier and simpler than in any other country.
Feedback: how to really live in Bali We asked Pavel, a Telegram chat participant on relocating to this country and what advice he has for those going to Bali.
How long have you been living in the country? Five months.
Is there a big influx of migrants right now? How do the locals feel about them? There is always a large influx in Bali, so it's difficult to assess whether it has increased or decreased. Locals are very nice to Russians. They help you learn the language. Sometimes it seems there are more Russian speakers here than locals.
Is it expensive to live here? How much money does it cost roughly per month to live comfortably, for example, for two people? It depends on many variables: where to rent a place, how you're used to living, etc. We can manage within 100 thousand rubles. For example, bread costs 170 rubles. Local food is very cheap: fruit, vegetables.
Tell me a couple of words about what you like and dislike in the country? Maybe something you took a long time to get used to, or couldn't get used to. I really like the local culture, I don't have it anywhere else in Asia. I don't like the internet. Everyone here has it very bad.
Is there a problem with opening accounts, transferring money from other countries and cashing out? You can only open VISA cards and there are also problems with P2P transfers from Russia because of sanctions. But on the whole, the problems are not really felt.
Can you give any advice to people who are going to move in the near future? Don't take unnecessary things and take the necessary things. Double-check everything a few times.
FAQ from our Telegram Chat We have collected for you the most discussed topics from Telegram Chat on Relocation to Bali in Q&A format.
How to open a bank account? You can open a bank account in Indonesian banks if you have a long-term visa. You need a guarantor-customer of the bank. The documents you need are your passport, a long term visa and a recommendation from the guarantor. Some banks also require a phone number to send text messages and a copy of the guarantor's passport.
Where can I find a guarantor for my bank account? You can go to special agencies that are dedicated to helping you open accounts.
What do I need to know before I fly out? 1. A visa for entry into the country must be arranged in advance. 2. Money can be taken out no more than $10,000 per person (money counts in all currencies). 3. Required: PCR test, Sputnik-V vaccination certificate. 4. At the border control may ask for a return ticket and the purpose of the trip. You can say that the return ticket will be bought later.
Where to look for a place to rent? You can turn to special agencies that will help you with the search for housing or find your own on the local sites RumahDijual.com, Rumah123.com, Berniaga.com, Olx.co.id. Also on Bali is very developed communication between Russian-speaking people. You can search for apartments or houses for rent in specialized groups in social networks or on the Baliforum.ru website.
What visa to enter the country? You can enter Indonesia with a business visa (code 211) or a long-term visa. To obtain a business visa you need to prepare: a passport, health insurance, certificate of vaccination (in English) and a receipt of payment of the state fee for the visa. Business visa is issued for a period of 30 days, after which it can be extended 4 times for an additional fee. It is important to note that the business visa is disposable, it can not leave and come back to the country. Long-term visa (KITAS) has several options: work, student, freelance. It is issued for 1 year and allows you to leave and enter the country repeatedly. For its registration, you need to contact the agency, which will help with the paperwork for the visa.
Do Russian bank cards work? In Bali, the system of payment by bank card is not widespread and is not used in all establishments, it is advised to use cash.
Conclusion The living conditions on the island of Bali are quite pleasant, the locals are hospitable, and the prices for products are quite affordable. For those who plan to make a relocation to the warm island, we have created a thematic chat, which will help to solve various issues related to emigration to Bali. In it, everyone will be able to share useful information and just chat.