Profession: traveler. About our site and team
Hello, traveler! Welcome to MAKE-TRIP.RU and let's get acquainted. I am Alexey Sinitsyn, the creator of this site and a nomad of the XXI century. In this post I will talk about our site, philosophy and team of authors.
Content:
Our history
When I created this site back in 2013, I had two reasons.
The first reason was personal. I had always dreamed of traveling and decided to make this enjoyable endeavor my profession. The dream was strong, so it worked out for me.
The second reason is an ideological one. I have never believed people who hide behind excuses and do not travel because it is allegedly expensive and difficult. I myself began to travel around Russia and the world as a student, living on just a scholarship, so I do not believe in such fairy tales. Everyone can travel freely, explore the world and make their dreams come true. All it takes is a little determination and a little knowledge. I created this site to boost morale and to pass on my travel experience and knowledge to anyone who needs it. I think our team does a pretty good job of this: a million people read our travel guides and articles every month.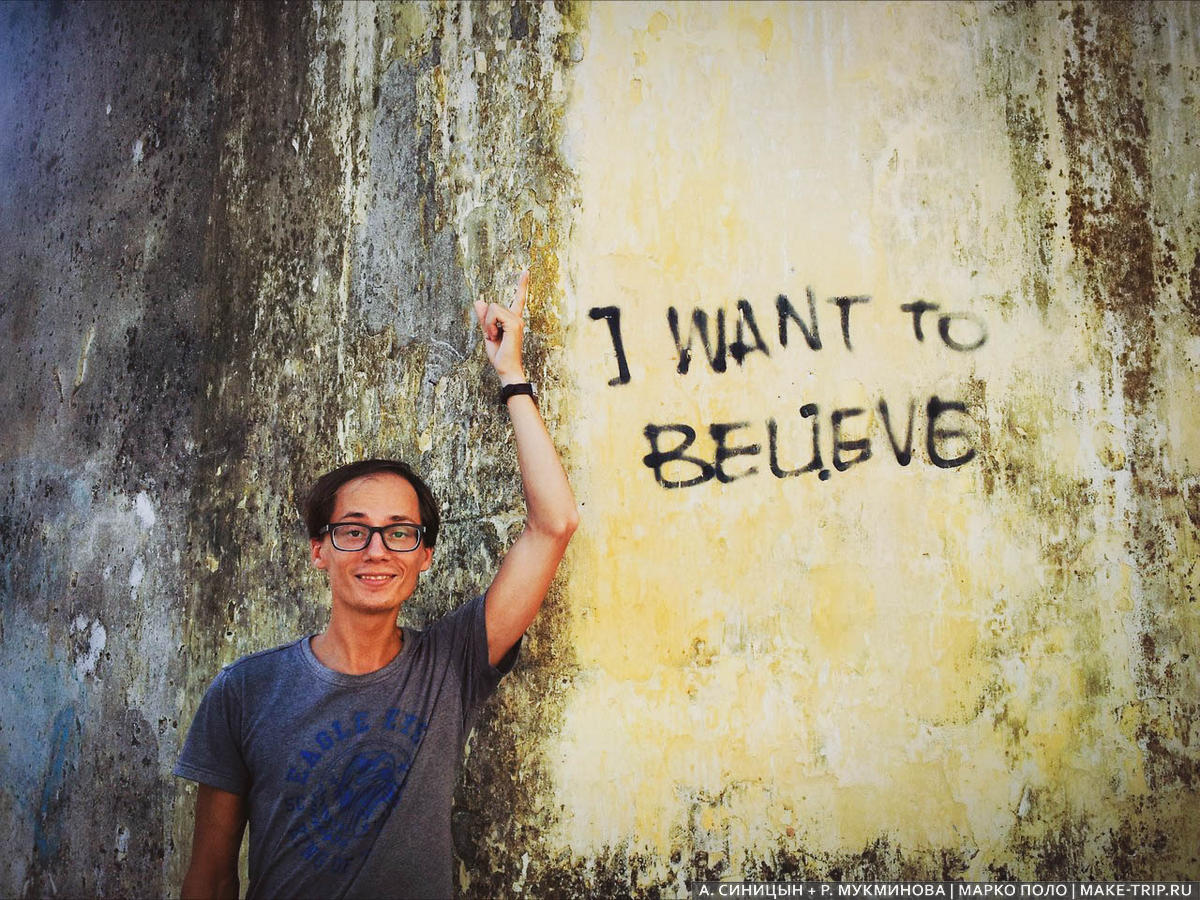 I believe in cheap airfare and budget travel! This is me on the island of Penang in Malaysia, my first winter stay in Asia.
Our Philosophy
We want to unite all travel lovers around us, whether they are travelers who are already on their way, or dreamers who are still only dreaming about distant countries. This site is for those who hear the ocean, the mountains, the roads and strange cities calling to them. For those who are ready to answer the call and hit the road. If these words are about you, then you are in the right place.
A journey is not just a trip to another place. A journey is a special state of mind, it is an openness to the world, it is overcoming barriers inside and outside, it is a strong desire to live and a willingness to change. Travel is a natural need of the human soul, and should not be neglected. So let's forget all the prejudices and limitations we put on ourselves. Let's travel, live and be happy!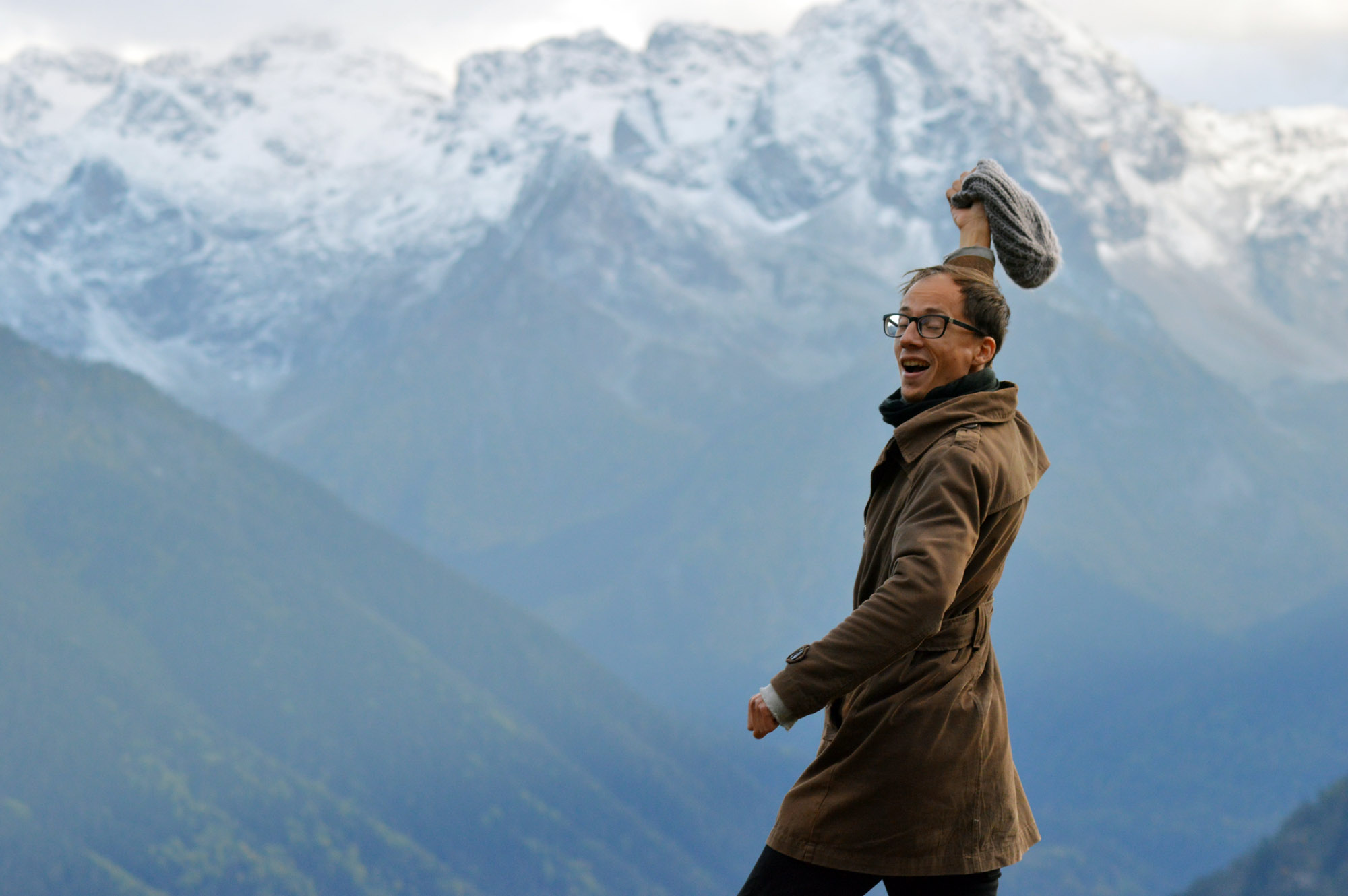 That feeling when you first came to the Caucasus and fell in love with these mountains. Arkhyz.
Our team
Seven years ago I was proudly lonely when I thought up and created this site, sitting up all night on my computer in my college dorm. Now my friends and like-minded people work with me in the team, and we are all big travel enthusiasts. Let me tell you about our core staff:
Alexey Sinitsyn , editor-in-chief and author . The creator of this site. He started traveling in pre-school age. Passionate cinephile and a bit of a movie buff. I like climbing volcanoes and riding motorcycles.
Renata Mukminova , editor and author . My life and travel companion, on 9 out of 10 trips we go together. She likes cruises, trekking, architecture and art nouveau. Ready to fly thousands of kilometers for delicious cheese, wine, and tropical fruits.
Julia Kozlova, author of articles. Experienced traveler. More than 25 years of organizing mountain hikes in the most remote corners of Russia. She is an author of books and guidebooks. She lived in Thailand for many years, and now she lives in Georgia.
Azat Agleev , bildreditor . Photographer with a degree in philosophy. Ready to spend every vacation in the Altai, the Caucasus, the Khibiny or any other mountainous area.
Our traditional composition in auto travel across Russia: Renata, Azat and me. It is necessary to go on journeys with like-minded people who will support you in any undertaking. On the photo me and Azat are swimming in the Arctic waters on Rybachy peninsula in Murmansk region.
Our content
I love contrasts in travel and life. I am equally excited and interested in walking through museums and temples of Rome, diving into the azure waters of the Maldives, wading alone through humid jungle on top of a volcano in Sumatra, searching for secret caves far away in the mountains of Dagestan and lazily traveling on a cruise ship. I love the ocean and the mountains, deserts and forests, ancient cities and ultra-modern metropolises, Europe and Asia, the far north and the hot tropics equally. I am interested in the whole world and every part of it.
We don't limit our travels and interests by regions, format or budget. So with the same love and sensitivity we talk about all sorts of things, from choosing the best all-inclusive hotel in Turkey to organizing a road trip through Mexico.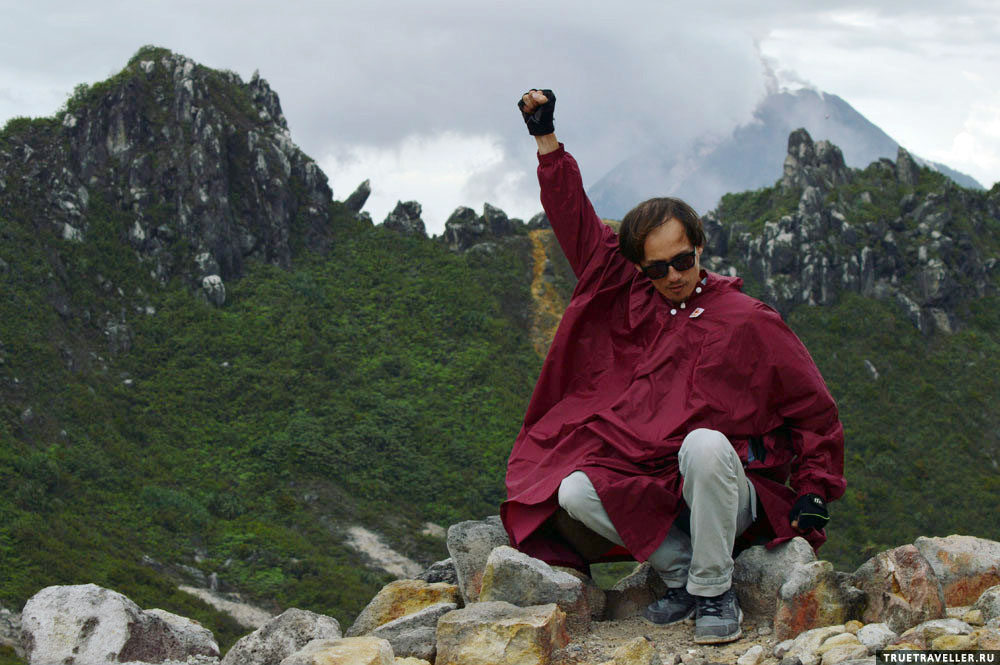 My first volcano climb. Sitting alone on the edge of the crater of Sibayak Volcano in Sumatra, with the nearby Sinabung erupting a few kilometers behind me. You can't imagine a better gift of fate!
The most important knowledge about how to travel a lot and inexpensively, we broadcast in the section TIPS. I strongly recommend you to study this section. We also can tell you a lot about cruises and auto-trips. And to choose the best place for a vacation we can help you in the articles from the section WHERE to GO.
In some countries, we have spent so much time and been so many times that we could not help but write many, many articles about them. Our most detailed guides are: Crimea, South of Russia, Altai, St. Petersburg, Karelia, Thailand, Vietnam, Indonesia, Maldives, Sri Lanka, Georgia, Turkey, UAE, Spain, Italy, Czech Republic, Dominican Republic, Cuba, Mexico.
And now about the actions on airline tickets and hot deals we write not often, because you have to go not where it is cheap, but to the place which calls from your heart. But the most interesting offers and discounts we sometimes tell.
And we also hold contests for travelers from time to time, but it takes so much time and effort that we've been lazy lately.
We love the mountains . . the sea . . and deserts equally.
Our blog
Renata and I travel a lot – it's our life. When we're on the road, I blog, and when we're at home, we try to write or update articles almost every day with all sorts of useful things for travelers. Join our VKontakte group to stay in touch with us, learn about new travel guides and tips and read our blog.
Enjoy your travels and new discoveries!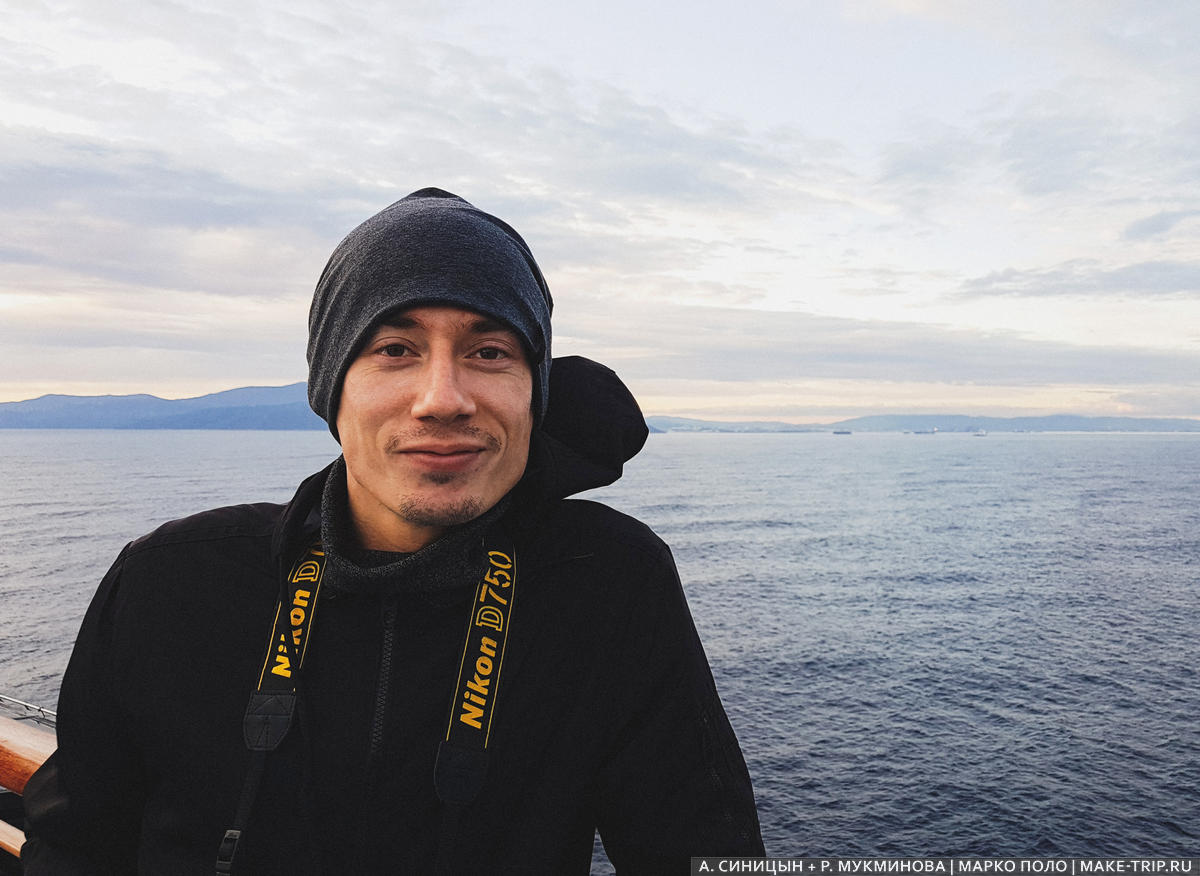 Have a great voyage, sailors!
Our responsibility
Our vocation is to travel and to write about it. We are not a travel agency or a store, we do not sell services or products, but we do inform readers about third-party offers. We advertise and recommend only those companies in the travel business whose services we use ourselves and whom we trust. Left-wing companies have no chance to be included in our lists of recommendations and advertising integrations. However, we are not responsible for the quality of services and products provided by third parties. Please write about your bookings to the support team of the site where you bought your tickets or tours.
All information on this site is current at the time of publication, but may become outdated over time. However, we try to constantly monitor changes and adjust our materials so that they remain current and useful.
For seven years now we have been writing free guides for you and sharing our experience and knowledge free of charge, which our fellows sell in the form of courses and guides for a lot of money. First of all, we work for the idea. It's worth bearing this in mind before reproaching us for a little outdated information or a missing comma. Intelligent readers understand this, and we do not care about the opinion of the stupid and self-centered.
Cooperating with us
Our team includes humanists, philosophers, and art critics by training, so we love to get creative. If you want to make a cool advertising project for your company, together we are sure to come up with something interesting, original and effective. Email us at: Email address is being protected from spambots. You need Javascript enabled in your browser to view the address.
The Traveler's Profession
Attentive look of deep set eyes, unusual clothing. Unhurried, nonchalant. Only forty minutes before the presentation of the first book by Alexey Kalinichenko "The Team 500". The event is unusual, and he is imperturbable. You think: "How to approach this, where to start a conversation? Polyglot, traveler, ayurveda specialist – I read in the business card. Here, it seems, ask him, and he'll tell your fortune. Robe. Suddenly his beaming smile saves the day! I'll begin simply…
-What a strange patronymic you have -Yasnodarovich.
– My grandmother made it up. Yasnodar means "clear gift". That was my father's name. My uncle's name was Vyacheslav, but my father got lucky. And me, too. My father was a detached man, impractical in worldly matters. He treated people, was a doctor of medical sciences. My patronymic, of course, made me stand out. I was teased because of it as a child.
– And years later, did you feel a clear gift in yourself as well?
– Perhaps. In my childhood and adolescence, everything was, in general, banal. After graduating from high school, I went to BITM. After graduation, I worked for three months as a design engineer and realized: it wasn't my thing… And then I was lucky: I was hired as the head of the sports and labor camp of the sponsored school. So I was employed at the plant, but I was engaged in education of young people. At the same time I entered the correspondence department of the Institute of Foreign Languages named after Maurice Thorez. I mastered English and Spanish. When the cooperative movement began to develop, I went to work for free bread. I earned money until 1992. Then everything changed drastically again and I started working as a translator for Moscow travel agencies. I was their representative in India, Pakistan, the United Arab Emirates, Malaysia, Spain and some other countries. This is how I began to travel.
A failed saboteur
– What is your book "The 500 Team" about?
-It's about my youth, about real friendships, about things that were considered secret for a while. Most of it is my biography, true facts, and only about a fifth of it is fiction. I was not imprisoned in Afghanistan and never married an Afghan girl. I did manage to go to Afghanistan, but on a peaceful mission. I and a few more people from Bryansk were in the 666-78/500 team. We were trained as diversionaries, like American commandos, who could go behind enemy lines and act as a contingent in friendly countries and repel aggression of those who made an attempt on these government regimes.
They began training me in 1981. The group consisted of 15-20 people: law enforcers, radio operators, doctors, interpreters. I was an interpreter, but I trained with the others: I jumped with parachutes, mastered martial arts, shooting, explosions… We were trained in different branches: landing, mountain rifle, engineering. Annual training camps were held in Armenia, near Pskov, in Tula, in Fergana.
– Alexey Yasnodarovich, did you use these skills? Were you "thrown" anywhere?
-We did not. In 1989 Mikhail Gorbachev changed the military doctrine of the country, and our team was disbanded. Had that not happened, I would have been sent to one of three countries: Angola, Ethiopia, or Mozambique.
-And that was the end of your military career?
– My paramilitary career was over.
– And you became a traveler?
– Yes, I guess so. I'm a traveler. I've wanted to travel since I was a kid. I always spent most of the money I earned on travel. I've counted the countries I've been to, 58! I have been to India alone 105 times, counting only the flights from Moscow. From India itself I flew to Africa and to Asian countries, but that does not count…
An affair with India
– I first went to India on a trip in 1983. At the end of 1993 I started working for a Moscow tourist firm and was its representative in India, living in Delhi. A popular guidebook to India says that anyone who comes to India for the first time gets a shock. Many want to go home immediately. But almost everyone who was there at least once, after some time again attracted to this mysterious country. India is not a geographical concept, it's something more …
– Have you also experienced a culture shock?
– No. I wasn't in a state of shock. I knew a lot about India from the third grade, when geography was my main subject. But there was one thing that really surprised me, something that wasn't usually written about in books or in newspapers. It is a mass of homeless people who sleep on the sidewalk and yet, unlike our homeless people, they are clean, do not exude an unpleasant odor. As soon as a homeless person wakes up, he immediately drags a bucket of water and washes himself. Then he brushes his teeth with a split tree stick and chews on it. And all the homeless people there have white and strong teeth. Anyone would envy them! And it takes them up to two hours to go to the bathroom in the morning.
On the other hand, I was very surprised by the habit of Hindus to go wherever they want. And this is considered the norm among them. In 1983, we tourists were brought to Varanasi, a sacred city for both Buddhists and Hindus. Early in the morning we went for a boat ride on the Ganges. Along the banks are ghats where the dead are burned; the remains, and they are not always just ashes (not everyone has the means for a full-blown, so to speak, burning), go down into the sacred waters of the Ganges. Downstream is a slaughterhouse: animal corpses, entrails and other waste products are also dumped into the river. And further downstream, the entire local population goes down to the Ganges every morning to perform ablutions.
But despite all this seemingly unsanitary conditions, not a single epidemic has occurred in India! The mystery was solved by scientists. They took soil samples from the bottom and found a high content of silver salts. They work as an antiseptic, killing all pathogenic bacteria.
– Did you bathe in the Ganges?
– Yes, I bathed at the source of the Ganges. It was near the sacred city of Rishikesh. That's where the Ganges flows down from the mountains to the plain. The sand there is like silver, I've never seen it anywhere else. The water is icy, but in the heat it is extremely pleasant to swim there. There are a lot of fish there that no one catches. The place is sacred and there are only vegetarians living there. On the menu of restaurants there is not even an egg.
– Do you like Indian cuisine?
-Indian food is not to my taste. I either bring my own food or eat Iranian and Chinese dishes. I think Indian food is not for us. For example, the Chukchi do not have an enzyme that breaks down alcohol, and we Europeans probably lack an enzyme that neutralizes the spice of Indian spices. The first time I tasted an ordinary pilaf there, I could not come to my senses for half an hour. My Hindu friends were very surprised: how could I not like such a delicious dish? And Indian cuisine is generally contraindicated for people with a weak heart. It is not even worth trying!
– India, in our view, is an absolutely fabulous country. I want to ask: and miracles happened to you?
-Miracles happened right away! That's it! It's zhechudo! Or volatile midges, which are called flying lice, they have a wingspan of about a meter. Amazing clothes of Hindus, painted faces, hands. Women decorate themselves with henna, the ornament is carefully applied by hand during the day, atoidvukh. It is true that the process has been simplified in recent years, the drawings are applied with stamps. I was also struck by the myriad of religions and different beliefs. And the peaceful coexistence of different religions. India is the second country after Indonesia where so many Muslims live – over 100 million. Although it is less than ten percent of the country's population, it is power! However, Indian Muslims, unlike Pakistani Muslims, are very tolerant. I have been to Pakistan and can compare. The country there is very tough and, unlike India, which attracts, Pakistan repels.
– You get the feeling that India didn't come into your life by accident, it's a conscious choice. You rush there again and again.
– It pulls you! I'm a very down-to-earth person; I don't fly in the clouds. I like life, like Hodja Nasreddin. And there I feel the fullness of life. Perhaps, in one of my previous reincarnations I was born in India. There I feel the climate, the air, the temperature… I get great pleasure from the fact that, for example, on the Andaman Islands I can sleep in bed without a blanket. Some will say that such exotic things can be seen on TV, but for me it is important to feel everything myself.
– Alexei Yasnodarovich, was there a turning point in your travels in India?
– Yes, when I realized that I had to study ayurveda-ancient Indian medicine. I got to know Tibetan doctors. I communicate with the Dalai Lama's personal physician, Dr. Dorji. I was very impressed by Dr. Kunga Gurmei, who, paradoxically, died of trivial food poisoning in the United States. He lectured there. So "for every wise man, there is simplicity. I still communicate with Tibetans, but I could not learn from them. I had to leave my home and my family for seven years. I couldn't afford it.
-Ayurveda probably didn't come into your life by accident either?
-Yeah, it's probably in my genes, because I come from a family of doctors. But the official domestic medicine didn't suit me, I rejected it subconsciously. What is the difference between Ayurveda and other Oriental practices? They treat the organism as a whole and not only the organism but also its energetic membranes. So if it's just a fingernail that's sick, you have to treat the whole person. In Faridabad I went to the Jiva Institute. I studied both full time and part time. I would listen to the lectures for two or three weeks, do my practice, then come back home and read all the literature that I had brought with me; after two or three months, I would come back to India again. And so it went on year after year. Eventually I got my specialist certificate in Ayurveda, but I keep on studying. I've been studying for six years now. It's impossible to cover everything. Besides, I started classes late, at a mature age.
– Alexey Yasnodarovich, do you have to have any extraordinary abilities to master Ayurveda?
-There is nothing extrasensory here. This is an ordinary science. And there are many branches in ayurveda. For example, vidya horn – diseases caused by evil eye, or nadipariksha – diagnostics by pulse.
I got interested in medicine. I started studying Hindi. I can't say that it's one of my favorite languages, I don't like it. But I use Hindi like our doctors use Latin.
– Do you believe in illnesses caused by the evil eye?
-How could I not? Ayurveda is five thousand years old and it still coexists with western (allotropic) medicine. And, by the way, there are more ayuverdic pharmacies in some Indian cities than those that sell patented medicines. But India has a well-developed pharmaceutical industry, and there are many drugs produced there on our shelves. Ayurvedic medicines are made from herbs, minerals and gems. This is what is known as Ayurvedic alchemy.
What else is the advantage of this medicine? Even those who know only the basics of Ayurveda can prepare medicine in any part of the world, literally, from whatever materials are at hand. This is purvarupa – "primary treatment." That is, according to the color, taste, smell and some other features, one can collect the medicinal composition himself.
Another amazing way of treatment. A mantra is chanted for the sick person by Dr. Vindus, which the person must repeat for 15 minutes twice a day.
I have witnessed how the mantra significantly improved the condition of a 24-year-old boy with multiple sclerosis. And yet this disease is considered incurable.
Ropes for Happiness
-I had the good fortune to know the legendary Dr. Paramahamsa, who is sadly dead. He used to make lucky ropes. You have to wear them on yourself. Usually they are tied on the wrist. One makes a wish and it comes true. What's the technology for making such a miraculous rope? You need information about the date, place of birth, name and wish. So the doctor cuts the rope and begins to recite mantras. He puts the thumb of one hand to his forehead and holds the string in the other. Swinging, he reads this incantation for ten minutes. That's it: it's done!
This, of course, seems like a fairy tale. I did not believe it for a long time. But once I accompanied a group of tourists from Bashkiria, not poor people. I was asked to take them to this legendary doctor. And, I must say, Paramahamsu was also visited by Jawaharlal Nehru and Indira Gandhi. He was a very popular personality. So my tourists ordered him these ropes, one costing a hundred dollars. Of course, I wasn't going to spend that kind of money on what I thought at the time was nothing. Three weeks after the trip, a lady from Bashkiria, Venera Mansurovna, calls me. "You know," she says, "I did it: what I wished for came true. I won a two-room apartment in Moscow. I had never bought lottery tickets, and then, as if someone yanked me, I bought it. I also won a Sharp system: a TV and a VCR. What could I do? I decided to give it a try. When I got home, about two weeks later, business "fell" on me. Of course, I did not expect such luck! However, scientists, too, seem to have found an explanation for such miracles. It's all about torsional fields, about vibrations that penetrate the whole world.
– And now you also nurture some wish, I see a string on your wrist?
-Well, it's safe to say now. It came true! The rope worked: I got a book.
– Alexey Yasnodarovich, will the impressions of a traveler someday be put together into a book?
– I hope so. I'll accumulate more impressions. In October I'm going to go to South-East Africa. It's Malawi, Zambia, Zimbabwe, Mozambique and Swaziland. In February I want to go to the Isthmus of Panama. Panama, Costa Rica, Nicaragua, Honduras, El Salvador, Guatemala, Belize.
Interviewed by Irina AZAROVA.
Photo by Igor REDKIN and from the personal archive of Alexey KALINICHENKO.