How to rent a car in Crimea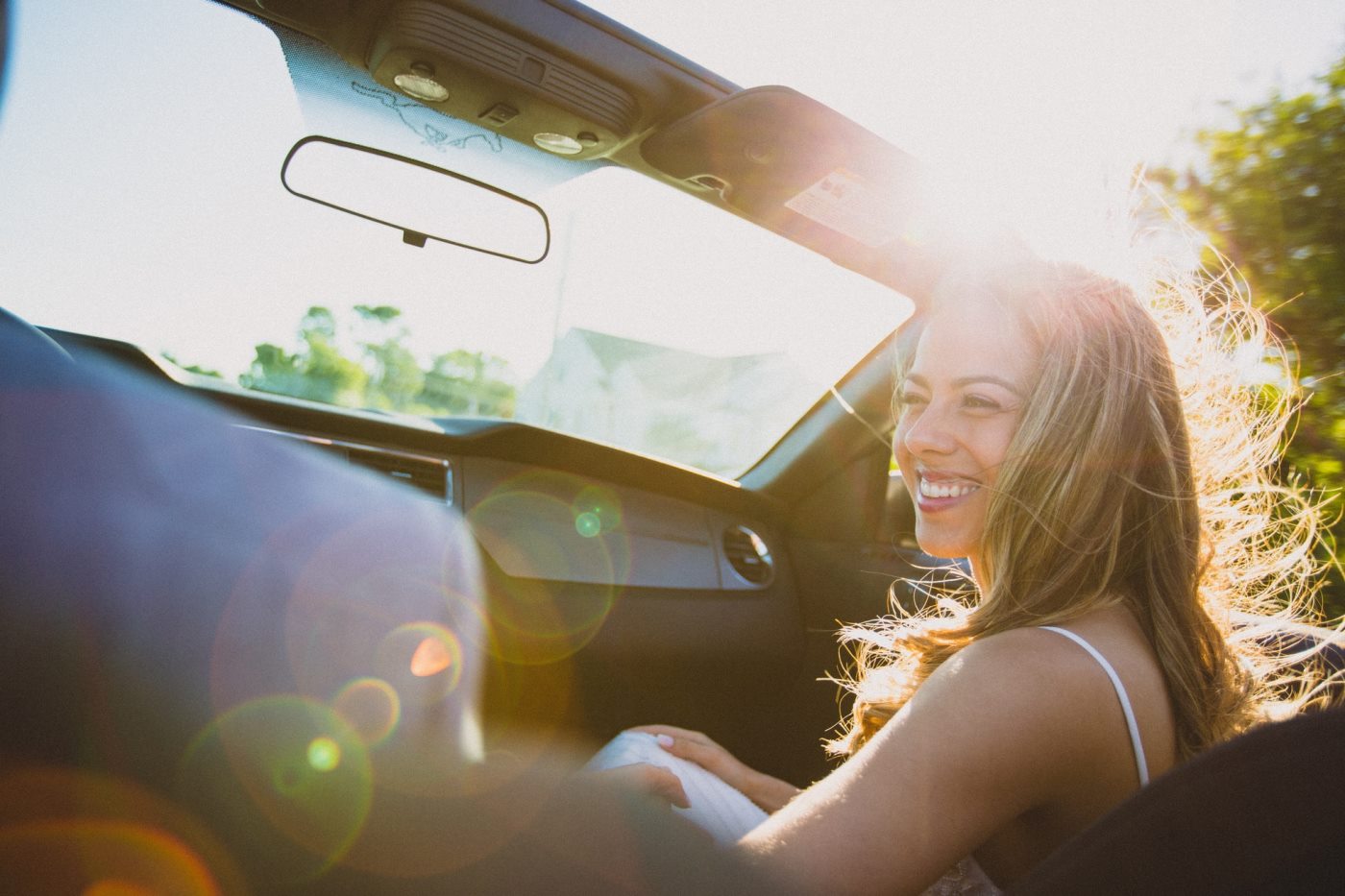 I always travel in the Crimea by car – it's much more interesting and convenient. Learn how to rent a car inexpensively and safely in the Crimea. I tell you about reliable rental services, car prices in 2022, rental conditions, types of insurance and finding a car without a deposit.
Content:
Do you need a car in the Crimea
Yes, you definitely need a car in the Crimea. Driving around the peninsula on public transport is terribly uncomfortable and tiring – I had that experience, it's hard. By car is much more pleasant: more comfort, more freedom, no time wasted waiting for buses, luggage is not a burden. Solid advantages! But most importantly – by car you can see any interesting places in the Crimea and go to a good wild beaches, and not jostling for elbows on the crowded city. Now I travel around the Crimea only by car. Traveling by car is convenient, inexpensive, safe and interesting.
We have traveled around the Crimea along and across the several times. As a result, wrote a bunch of guides and routes to the most beautiful places, beaches and resorts on the peninsula. We didn't do this work for nothing! So take your car, study our reviews and explore the Crimea!
Starfall of Memories. Many cool places in the Crimea can only be reached by private transport.
Where to rent a car in the Crimea
When traveling around the world, I often rent a car and usually use Rentalcars.com, an international service. But as you might expect, the Western sanctions had them pinned down and forced them out of Crimea – you will not be able to rent a car through this site. But that's okay, there are several other reliable services. I will in detail tell about two most popular and convenient, and you choose which one you like most.
My Car Rental is the largest car hire company in the Crimea. They have their own fleet of 350 cars. Only they have a 24-hour office at Simferopol airport, their own car wash, and the entire first line of parking belongs to them. There is a toll-free number 8-800 to call for any questions. They are very watchful of the quality of their employees, which is why they have the highest rating among car rentals on Yandex maps – a score of 5.0. Other pluses: new cars 2017-2022, a large selection of child seats, the second driver in the contract is free, have a branch in Sochi, so there is an opportunity for an additional fee to rent a car at the airport of Sochi or Anapa. All in all, this is a large company and, most importantly, modern – for the Crimea this is a great rarity. Use promo code AVTO2022 to get a discount.
Localrent.com is an aggregator of local rental companies, it compares offers from different rental companies so that you can get the best price and conditions. Often their prices are lower than the rental companies themselves – this is due to competition and discounts for selling cars in bulk. So you don't need to compare prices on different sites, the best prices will already be on Localrent. I like this service for its convenient design – it is easy to choose a car and all the conditions of the lease are clearly and transparently spelled out. In this way it beats even such an international giant as Rentalcars.com, which can be a pain in the ass. At the same time it is our Russian service. Well done! They already have more than 550 cars in Crimea. This service is also available in Sochi and neighboring countries. I have rented a car through them many times in Georgia, Turkey and Greece and have always been satisfied.
Both services have a great advantage – you do not book a class of car, but a specific car. When choosing a car, you know everything about the car: make, color, year of manufacture, availability of multimedia and air conditioning, engine power, and so on. Most cars have real photos. This is very convenient. Anyone who has ever booked a car abroad at sites like Rentalcars.com knows that they give any car in the chosen class.
The down payment on both sites is 15-20%. Localrent has a free cancellation option, and its terms were relaxed as much as possible last season. My car rental takes a small penalty (from 7% of the rental price) for cancellation, but you can buy a booking protection service for 350 rubles to make the cancellation free.
Which of these services is better to rent a car in the Crimea? Go to both sites, look at the machines on the dates you need and book there, where you get the best price and terms.
Also see my guide to renting cars around the world – there I told in detail about the franchise, deposits, insurance and all the nuances.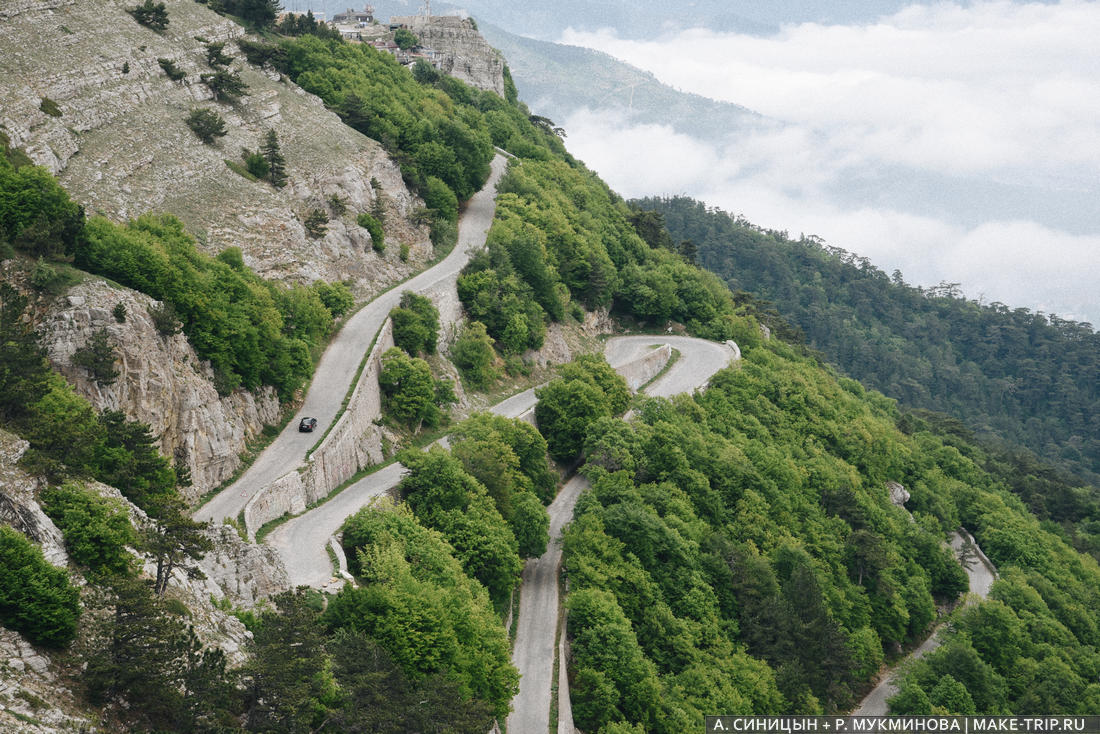 Serpentine on Ai-Petri in the Crimea. It is most convenient to go to the top by your car or by cable car, rather than by shuttle bus.
Prices for renting a car: 2022
The cost of renting a car in the Crimea strongly depends on the season: in summer it will be more expensive than at other times of the year. Also consider that the most favorable variants are sold out fast, so book a car as soon as possible, especially for summer! And especially for summer 2022, when half the country will be vacationing in the south again due to partially closed borders.
The lowest price I found in the Crimea was 750 rubles per day on the Localrent website. That's what it costs to rent a 2020 Datsun Mi-Do. Of course, you can rent a car for 1-2 euros in Europe, but for our country, and such a price is not bad. Why is it so cheap? Firstly it is the low season (November) and secondly it is still a long time until November and the car has not been booked yet. However, it is rare to find such a low price, so let's see what prices are usually found.
| | | |
| --- | --- | --- |
| Car class | Low season price | Summer 2022 price |
| Saloon and mini: Renault Logan, Lada Granta, Daewoo Matiz, Skoda Fabia, VW Polo and so on | 800-1000₽ | from 1,100₽ |
| Crossover or SUV: Niva Chevrolet, Lada 4×4, Renault Duster, Hyundai Creta, Mitsubishi Outlander and others | 1600-2500₽ | from 2200₽ |
| Lux : Toyota Corolla, Audi A3, Lexus ES 250 | from 2100₽ | from 2,400₽ |
| Cabriolet | 2500-5000₽ | from 3300₽ |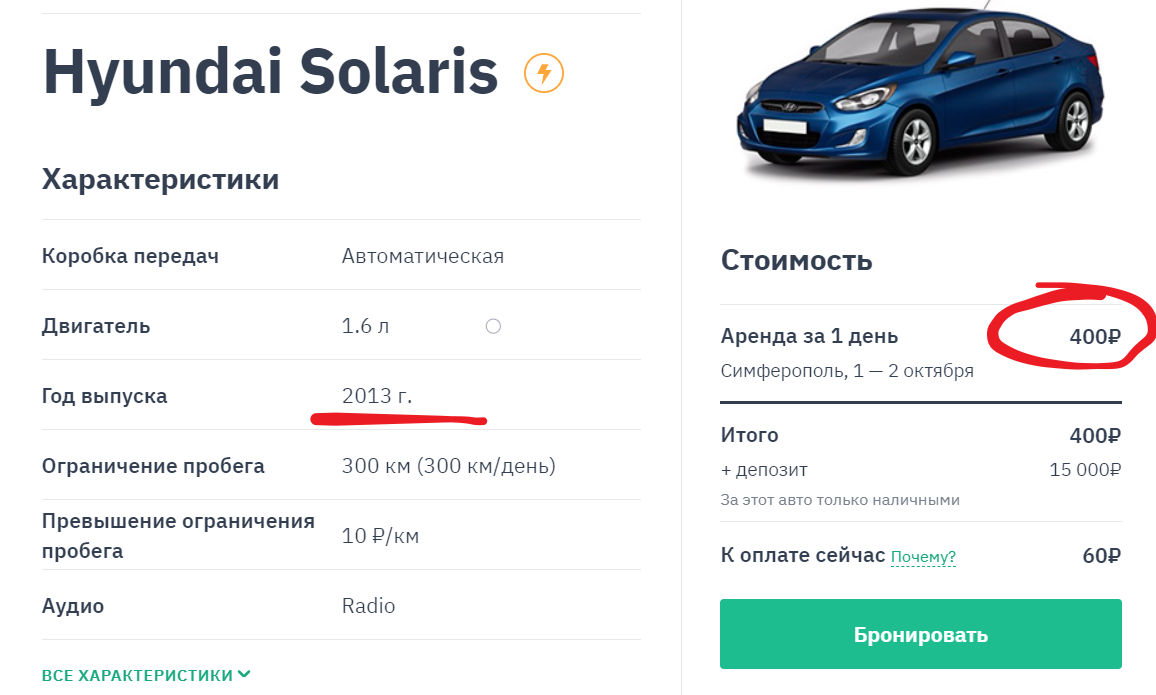 The price of manual and automatic is almost the same, but in high demand, all the inexpensive cars with automatic transmission are immediately taken apart, so there is only inexpensive manual or already more expensive automatic.
The cost of renting a car in the Crimea increases when you add additional services and advanced insurance: Casco, Super Casco, second driver, child seat, navigator, and so on. Some renters additionally pay for delivery to the place of pickup. The return of the car in another place is also a paid service. All paid services and their costs are clearly spelled out both on Localrent and My Car Rental, you can add them yourself if you wish.
You can rent a car on the site "My Auto Rental" at a discount with the promo code AVTO2022 .
Some cars have a limit on the daily mileage – 200-300 km. If the limit is exceeded, you will have to pay extra for extra kilometers. Such restrictions are rare, but check it out when choosing a car. My Car Rental has no restrictions on the mileage in the Republic of Crimea.
In Crimea you can rent a car in many cities, but the cheapest way is at the airport and the railway station of Simferopol, because there is the highest competition of car rental companies.
Actual prices for car rent in the Crimea:
Types of insurance
There are three types of car insurance:
OSAGO – compulsory insurance of your liability to third parties.
Hull insurance – insurance of your car against damages. It can be with or without a deductible.
Super Casco is full insurance for your car against damages, including the windshield, tires, and interior of the car. It can be with or without deductible.
Warning! If someone damages your car (for example, scratched it in the parking lot) and runs away, you will be responsible for the damage in the absence of the culprit. Remember that when choosing an insurance policy.
Another important point is the deductible. I have talked about it in detail here, but let me briefly explain this topic.
The deductible is the amount of your liability for the car and is usually equal to the deposit. With a deductible, you will pay a certain amount for any damage to the car, and the insurance company will pay the rest. For example, if the car was damaged for 50 thousand rubles, and the deductible was 10 thousand, you have to pay this 10 thousand.
In the Crimea the deductible for renting a car is usually 10-20 thousand rubles, but sometimes it is higher for expensive brands. I have not met any insurance without higher deductibles in the Crimea.
Hull insurance and Super Hull insurance are additional services, so the car rental with them will be a little bit more expensive, that is the price for your peace of mind. Choose the insurance that you feel more comfortable with.
On Localrent there are handy filters, check the box on the insurance you need to see only the cars with it.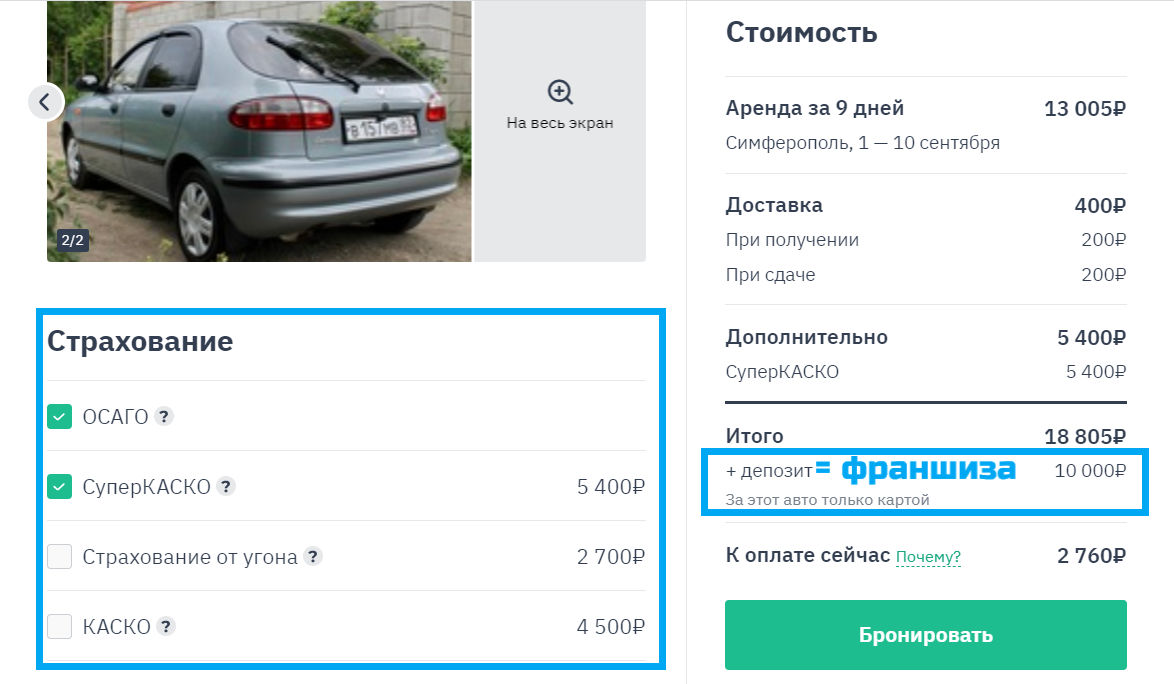 Rent a Car in the Crimea Without a Deposit
Almost always when renting a car you need to leave a deposit. Its amount depends on the class of the car. Some rent a car accept only cash, others block the deposit on a bank card (it is written in the rental conditions for each car). If you want you can rent a car in the Crimea without a deposit, but I do not see the point in this for three reasons:
Even if there is no deposit, the deductible is saved, so in case of an accident you will have to pay this amount.
The list of cars for rent without a deposit is much smaller, which means you limit your choices.
In the Crimea, the renters take a very small deposit – usually only 10-20 thousand rubles. For comparison, I leave a deposit of 70-100 thousand rubles on my credit card. I think it will not be a problem for anyone to leave 10-20 thousand rubles.
However, if you really need a car without a deposit, you should put a tick in the search filters on Localrent and the system will show you only such variants.
How to get and surrender a car
To rent a car in the Crimea you need these documents: passport, driver's license and voucher (they will send it to you by e-mail after making an advance payment). Come with these documents to the rental office at the resort or at the counter at the airport at the appointed time. There you will sign the contract and leave a deposit, if required.
Then in the parking lot carefully inspect the car for damage, fix it on photos and video, and ask the employee to put all defects on the inspection sheet. Check for a spare tire, a jack, a wheel wrench, and a first aid kit. Check the presence of fluids (antifreeze, washer, brake) and fuel level, as well as the work of wipers, turn signals and headlights. Now you can go!
Before you rent a car in the Crimea the car hiremen ask you to wash the car, otherwise they will fine you for 1000 rubles. An unusual practice that I have not seen anywhere else in the world. Probably the thing is that abroad the cars remain clean even after 5,000 km run, while in Russia they look dirty in a day. By the way, "My Car Rental" has its own car wash at the Simferopol airport, which greatly facilitates the task and saves time at the car delivery. In this case they make a 50% discount for their customers and a 10% discount for customers of other rental companies. Also, don't forget to fill the tank up to the same level you took the car with.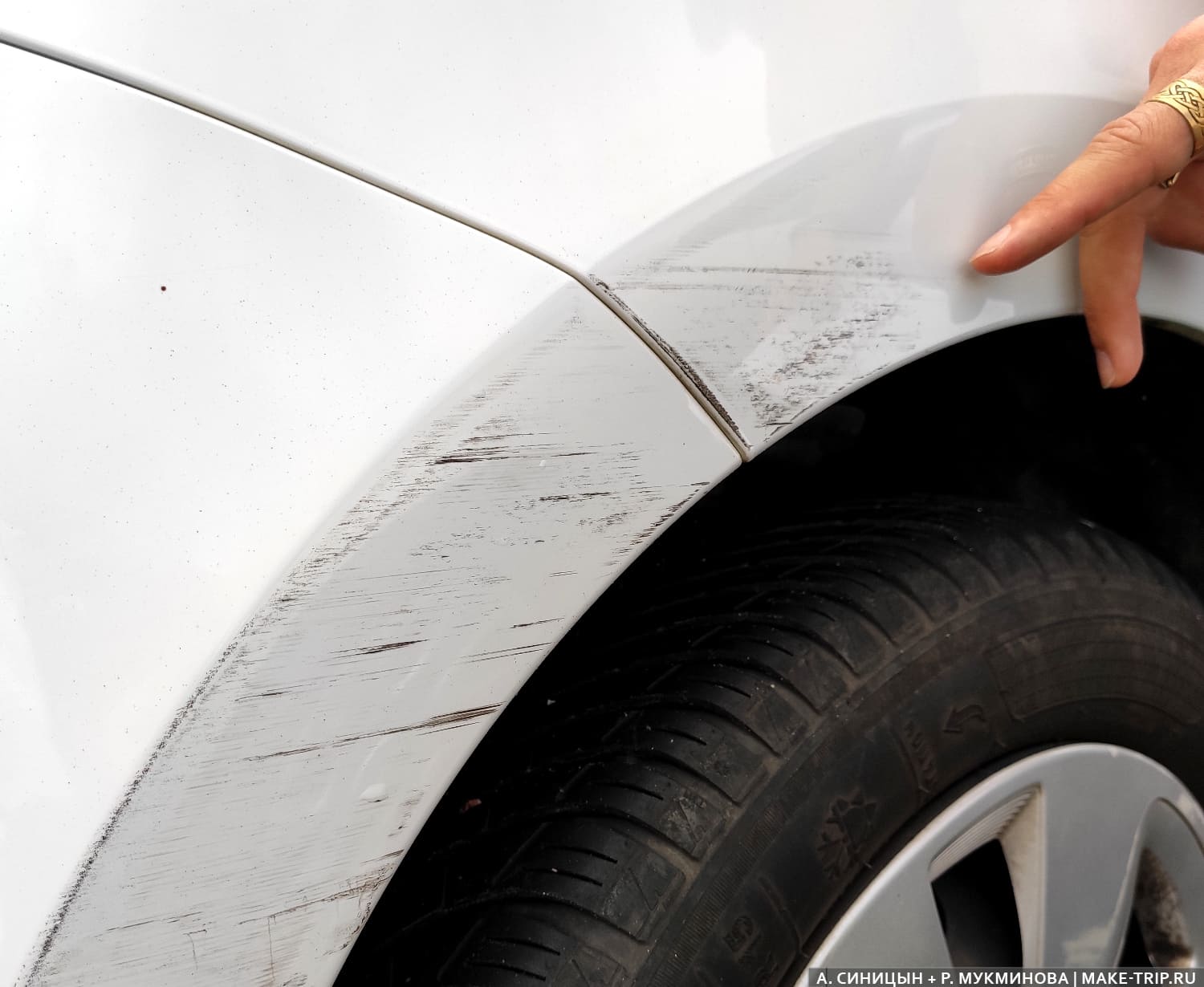 I always take pictures of any scratches or other defects when picking up the car.
Tips for Auto Tourists
In the Crimea you will not need an SUV, you can safely take a passenger car. The main thing that the engine was not too weak and the car is sure to climb the hill (there are plenty of them).
On the South Coast, there are a lot of narrow streets, steep turns and a problem with parking, so you will be more comfortable in a compact car.
Take your phone holder with you, and have Yandex.Navigator and Maps.me installed. In Crimea buy a local SIM card with Internet or connect yourself roaming, so you will always have the Internet and a navigator with up-to-date data.
On the site of My Car Rental you can book a car with their logo or without. I advise to overpay a little and take the second option, and then on vacation even beautifully will not be photographed with a car.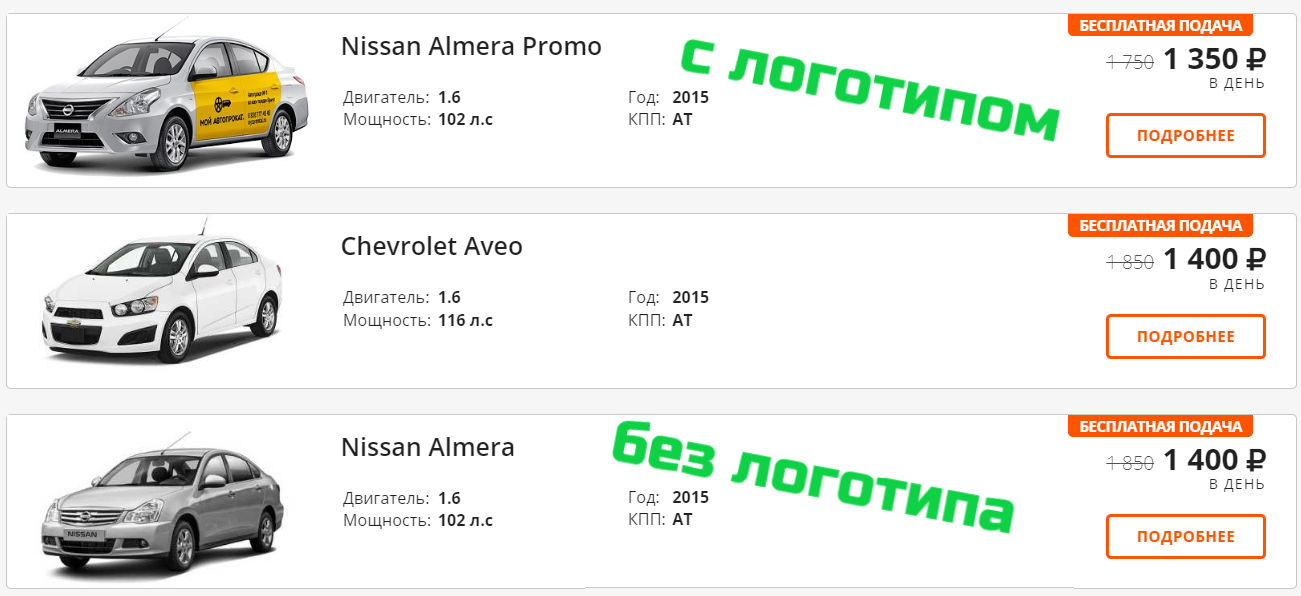 To get around the peninsula and show my friends all the coolest things in the Crimea, I wound up 2000 km in two weeks. If you plan a big trip, make sure you put about the same amount of time and mileage into your program. Read more about roads, gasoline, driving style, parking in the Crimea in this post.
Since you will have a car, then visit different resorts. For example, we like the most Sudak, Feodosia, Olenevka, and we do not like hyped and pathos Yalta.
Have a rest on wild beaches. On what the hell did you give these overcrowded in the high season city beaches? Get in the car and go to the city – there are plenty of good beaches in the Crimea.
Save money on lodging. If you have a car you do not need to settle near the sea – you can live farther from the coast, but half or three times cheaper. Look for hotels and guest houses in the Crimea on Hotellook, and apartments, houses and other private accommodations on Sudno.ru. Learn how to securely book accommodation in Crimea.
Rent a car in the Crimea in 2022
The best way to travel in the Crimea is by car. Indeed, you can't see all the sights by public transport, and you can't ride the mountains and beaches. The Crimean bridge was opened, now it is easier to go to the Crimea on your car, but not everyone is tempted by the prospect of traveling 1600 km (from Moscow). Moreover, some people come to the Crimea for 3-4 days, and nobody wants to lose 2 days on the road. That's why the Crimea without a driver comes to the rescue. The easiest way to rent a car in the Crimea in 2022 is to go to the airport in Simferopol (and it is cheaper) and in large cities like Sevastopol. Looking for a car in small settlements is difficult, so also you will have to pay for delivery of the car.
C 25.08-10.09 action lasts with a cashback of 20% for tours of Russia. You need to register a card MIR and book a tour at Level.Travel (promotional code for 1500 ₽ when buying from 70,000 ₽ – LT-SEPT-RU1) or Travelate (promotional code for 1000 ₽ when buying from 60,000 ₽ – AF1000travelinka). It's more advantageous with a tour, because that way you get cashback for everything – flight, hotel, transfers.
Documents
To rent a car in the Crimea without a driver need a license and driving experience of 2 years. In some offices there is an age limit – from 23-24 years old. Most often you rent a car in the Crimea for the company – it is much more profitable than buying tours.
Rent a car in the Crimea without a driver: where and how
You can rent a car in the Crimea in a large number of companies, when you start to monitor the market, the same question arises: "Are there so many rental cars in the Crimea?" In fact, several companies offer the same cars, so it seems that there are a million of them. But the conditions and prices are different everywhere.
Rent a car in the Crimea in international companies
In Crimea there are well-known "large" "Hertz", "Sixt", but their prices are such (I already understood it from other countries of the world) that I do not know, due to what they keep. Who wants to rent the car for 100-200 euros a day, and even leave a huge deposit and buy expensive insurance.
Local Crimean companies
It is different small office, at which from 10 cars in park, the prices at them really good, but the companies very much, about 100. To read all the conditions, to compare prices, to find the best option is very time-consuming. You have to call all the companies to find out where, what and how. It takes a lot of time. And again, the cost of rent a car in the Crimea without the driver can be very attractive, and then it turns out that you need obligatory insurance (in "their" company), a deposit, and if it is not present, the prices at once in 2 times higher.
Car rental from individuals
The cheapest, but doubtful variant. For example, you rent private accommodation, and the owner of the apartment or house kindly offers you to rent his car also. It seems like a great option, but of course, this grandfather will not make out any documents. In the insurance will not be able to include you ("that's expensive!"). And so it turns out, in case of what, there can be big problems. Not even in case of a traffic accident, but even if you are stopped by the traffic police for a document check.
Aggregator companies of local companies
In my opinion, the best option, not as expensive as in "Hertz" and "Sixt", all documented and legal. These companies value their reputation, so they try to do everything so that the customer was satisfied. Although, if you start reading the reviews about the companies, your head goes around. There's no such thing that somewhere will be 100% positive reviews. It's just that people who are happy with everything write reviews much less often than those who want to tell the whole world how "bad everything is".
The first option I liked was Economybookings. They have a lot of positive reviews, even my girlfriend has already rented a car from them. Their prices are normal, for example, the cheapest option Lada Granta costs 2100 rubles per day, Hyundai Solaris 2400 rubles, Renault Fluence 2500 rubles. That is if you rent a car in Crimea without a driver for 1 day. As you increase the number of days the prices decrease, for example, if you rent for 4 days it will cost 1650 rubles per day Lada Granta, 1900 rubles Hyundai Solaris, 2000 rubles Renault Fluence. And if you rent it for a week, it will be 150-200 rubles less per day. However, at this service you book the class of the car, and not a specific car of a specific model, year of manufacture, and color. In other words, you can get a similar car. The price includes unlimited mileage, and insurance against traffic accidents and theft. You can pay online.
Another good site is MyRentacar. me . They directly specialize in the Crimea including, they have a great choice. On each car at once specified the cost of delivery. It is better, of course, when it is 0 rubles. There are really a lot of such cars, again in large cities like Simferopol. Only good local rental companies from the Crimea are shown here. Their prices start at 1,390 rubles per day. But the same Hyundai Solaris, for example, is a little more expensive, 2700 rubles per day. But you can take another car for rent in the Crimea Kia Rio for 1750 rubles . Deposit them 10000 rub. The site is convenient, you can see everything at once, you can pay online.
How much does it cost to rent a car in the Crimea?
So, we came to the next question, how much does it cost to rent a car in the Crimea without a driver. Here you can clearly see the seasonality – low season and high season. The cheapest car in November you can rent for 1000 rubles per day. The same car in July-August will cost 1500-1800 rubles, because there is a great demand. This is the way it is for everything in the Crimea, for rent and entertainment, so don't be surprised. The average car in August will cost 3000 rubles (if to reserve for 1 day), 2500 rubles (for 2-6 days), 2400 rubles (for 7-11 days), 2300 rubles (for 12-30 days). For 7-11 days is the best option. If you are going to stay longer in the Crimea, you can also rent it for 12-30 days.