Lazarevskoe: all-inclusive hotels
In the article – an overview of all hotels and sanatoriums in Lazarevskoe (Sochi), where all-inclusive vacation is available, with a pool, by the sea and close to the beach. And also: the best hotels, clinics and resorts with three meals a day. Check the links in the description for the latest prices.
"All Inclusive" in Lazarevskoe
Prometheus Club (4 stars)
Prometheus Club is an all-inclusive four-star hotel in Lazarevskoye. According to the quality of service, well-groomed territory and a variety of menus, it is able to compete with the Turkish "four". All-inclusive is the biggest plus of the hotel, first of all because of catering: there are 5 restaurants, and the entrance to two of them, "Le Terrasse" and "VIP Lounge" is open from 8:00 to 23:00, rather than by the hour, as competitors have. Interestingly, the hotel lets you take food to your room. The menu is varied – over 45 dishes, alcoholic and non-alcoholic beverages. There is a children's restaurant, a grill bar and a sushi bar. Another bar is open on the private beach Prometheus. It serves drinks and ice cream from 10:00 to 23:00 and fast food from 12:00 to 14:00. There is a separate buffet for kids all day long.
Prometheus Club also pleases with a list of entertainments:
7 pools, including a water park, children's pool, saltwater pool;
children's room (from 8:00 to 22:00), a room with video boards, its own luna-park, slot machines, playgrounds;
tennis court, billiards, bowling, mini golf, show program for adults;
Daily evening performances with fireworks.
For children also works animation team, perhaps the best in Lazarevskoe.
Bright spacious rooms are equipped with air conditioning and TV, in the bathroom – hair dryer, free soap, shampoo, shower gel. Children under 2 years stay free of charge. On sites with reviews guests who lived in the hotel noted excellent service and high quality daily cleaning. But it is recommended to book a room in advance, because during the season it is almost unreal. On a side note: this hotel does not work in winter.
With so many advantages the disadvantages look insignificant: some guests complain about too loud evening program, interfering with rest in the rooms, and among all the variety of dishes of the boarding house sometimes it is difficult to find dietary products.
Read more about the Prometheus Club Hotel here:
Park Hotel Divny (3 stars).
Formerly Lake Divnoe.
"Divnoe" offers recreation in the bosom of nature with "all-inclusive", swimming pool, near the sea and the beach, away from the noisy center of Lazarevsky. Interesting eco-hotel is located near a picturesque lake with fish, birds and water turtles. On a vast territory of 70,000 square meters there are two-storey wooden cabins, pavilions, paths for walks. Very green, beautiful and spacious!
The price of accommodation in "Divnoye" includes three meals a day buffet. For extra charge – restaurant on the lake (download menu) and sauna complex with SPA procedures (download price-list). For children there is an area for outdoor games, a small pool and a detached wooden house with a game room. In summertime there are animation programs.
For swimming a frame pool, a depth of about 1.5 meters (open from 25.04 to 25.10). The sea is also not far – a public beach is a 3-minute walk away. For guests of "Divnogo" to rent sun beds on it at a discount. Standard and superior rooms, family rooms, studios, suites and two-story villas are available for accommodation.
Disadvantages of the hotel: paid parking, WiFi only in public areas, at check in a deposit of 2,000 rubles, poor noise isolation (they are working on it and turn by turn soundproofed building after building).
Lazarevskoe: hotels with three meals a day
Since in this region of the Black Sea is rarely found olinclusive, and that usually involves only three meals, it is also worth considering options with full board (breakfast + lunch + dinner). Below – the best hotels, resorts and boarding houses in Lazarevskoe, where there are three meals a day (buffet or à la carte).
Sanatorium "Biryuza" (3 stars)
"Biryuza" stands across the road from its own beach. The location is excellent: nearby – shopping center, dolphinarium, oceanarium, Aqua Park "Sea Star", cinema, bowling, train station. In addition to three meals a day, the sanatorium offers health treatments and entertainment events during the day. You can learn more about all this in this article:
"Odyssey" Wellness Resort (5 stars)
A large and solid complex on the basis of sanatorium. Has its own beach, warm pools, medical building and a spacious area. It was opened in 1997. It stands beside the sea, in a picturesque area, away from the center of the village. The highlight of "Odyssey" is its own arboretum with the area of 60 000 square meters with a greenhouse, where rare flowers and plants are sold.
The sand and pebble beach of "Odyssey" is excellent: there are paved paths along the shore, comfortable deck chairs, showers, a restaurant and water equipment rental (see the price list). By arrangement and appearance this is one of the best beaches in Lazarevskoe. Strangers to it are allowed only for money. From inhabited cases to walk to it 10-15 minutes, but there is also a free bus some times a day.
In "Odyssey" serious medical base. Treatment is not included in the cost of living, if you book a room on Ostrovok, but you can get it for an additional fee. Only for this you will need a sanatorium-resort card (Form 072/u), which must be obtained in advance in the home polyclinic. More on treatment here:
Odyssey guests also have access to:
gym, table tennis, billiard room;
two large heated pools (indoor and outdoor);
three restaurants and three bars (including by the pool and on the beach);
Playgrounds and tennis courts;
Animation and children's toys room;
Finnish sauna;
Spa and beauty salon;
parking lot;
evening movie screenings;
laundry (chargeable).
For the people, who have already lived in five-star hotels, in "Odyssey" the flaws in service and impeccable condition of the rooms will surely strike the eye. For example, the food is not the best way organized – the buffet is not replenished, the last visitors get less food. But in general, this sanatorium is a good choice for family tourists and fans of calm, measured rest with health benefits.
Grand Hotel & Spa "Priboy" (4 stars)
Modern hotel with a mini-aquapark, SPA, quality food and heated swimming pools. It is located in Lazarevskoe, 20 minutes walk from the beach "Salute". It will be opened in July 2020. Children's and adult pools with slides, saunas, jacuzzi, salt room, animators' performances and other entertainment await guests of "Priboy". Excursion bureau services are available for extra charge.
Guests can book a room with full board if they wish. Meals at the restaurant are of high quality and delicious, with a wide variety of dishes. Live music performances are regularly held.
One of the main advantages of the hotel is the SPA, access to which is free for guests. There are 5 saunas, 2 swimming pools and a phyto-bar in the SPA-area. In the outdoor pool the temperature is +30 °C all year round. The hotel will appeal to vacationers who prefer quality service and modern interiors. Disadvantages of "Priboy" – proximity to an industrial zone; poor soundproofing in the rooms; weak Wi-Fi on the upper floors.
Inexpensive sanatorium by the sea, in a quiet area Lazarevsky, with its own 200-meter beach, park and medical building. It was built in 1984, later was renewed, but the Soviet spirit did not come out up to the end – it is felt in catering, atmosphere, in work of employees. The condition of numbers is sad, with a food too all somehow sad. But there are pluses: to a beach of all 50 metres, round silence and beauty.
Better condition at the building "Ural" (2 stars), where in 2019 made repairs, updated the facade and interiors, brought in order the surrounding territory. It also provides treatment (for a fee, see price list).
With almost the same cost of stays, it is better to choose "Ural" rather than "Lazarevskoe". And in general, the only reason to go to this resort – low prices: the rest in it will be cheaper than in any hotel from this article.
Boarding house "Grenada" (3 stars)
Normal such boarding house, but not without lacks: is located in 15-20 minutes from the sea, and on the way back it is necessary to go uphill; food so itself – a choice of dishes in the menu is small, in the dining room all the time crowded; staff works without fire. There are, certainly, pluses: own beach, where according to schedule you are taken for free by bus; adult and children swimming pool; somehow organized leisure – animation, play and sport grounds, children room, evening disco, etc.; beautiful green territory of 74 000 sq.m.
Respiratory organs diseases, diseases of musculoskeletal and nervous system are treated in Grenada. Therapeutic procedures are not included in the price, but you can get them for an extra fee (download the price list). For treatment it is necessary to bring from home a sanatorium-resort card (form 072/-04).
A simple hotel for not picky guests. Located in the center of tourist life, close to the railroad, making the rooms a bit noisy. Rooms are furnished modestly, without any frills. Family tourists will be happy with spacious rooms for 3-5 people. No pool, to the sea – 7 minutes walk. Parking is paid.
The next hotel is located in the village of Yakornaya Schel, which is 30 km from Lazarevskoye (further Golovinka). In this hotel breakfast, lunch and dinner are included in the room price, so you do not need to worry about food.
A good three-star hotel on the beach, with a swimming pool and food. The beach is at hand, the sea is visible from the balconies of almost all rooms, but best of all from the suites. By the way, children under 12 years old are accommodated free of charge on available beds. Agama is far from the center of the village, where the guest houses of Anchor Bay are located. The hotel is best suited for those who have a car. Fortunately, Agama is located just along the highway (E97).
Alternatives
Other hotels and resorts in Lazarevskoe, where there is three meals a day:
Conclusion
This year in Lazarevskoye, you can rest in the "all-inclusive" format only in a small number of hotels, health resorts and boarding houses. Those who prefer an all-inclusive stay should hurry up with the booking – in the summer free rooms will be in short supply. Looking for accommodation for the right dates is easy on the websites:
Important: If after booking a room the hotel offers you to cancel the reservation, promising a guaranteed check-in without a voucher – do not agree, because it negatively affects the user history and prevents participation in loyalty programs (discounts, bonuses, etc.). But the request for an advance payment (without cancellation) is justified – the specified amount must be paid, otherwise the reservation will be cancelled.
Lazarevskoe Hotels All Inclusive
The southernmost winter track in the world is located in the UAE. They use 6,000 tons of artificial snow on the slope.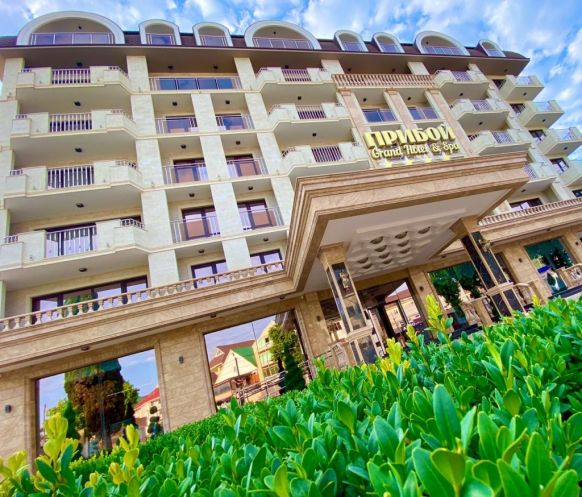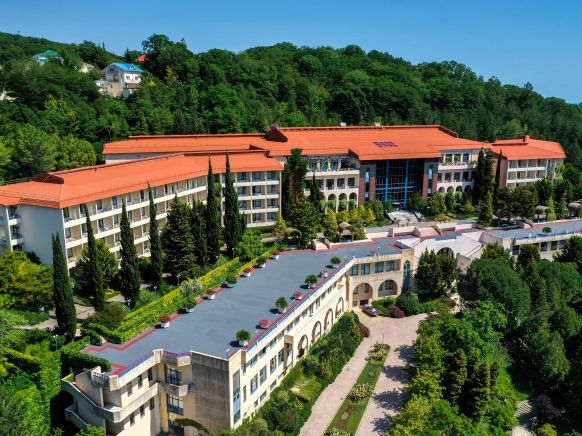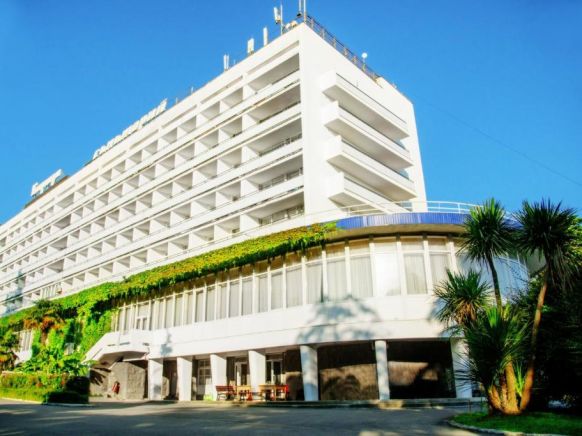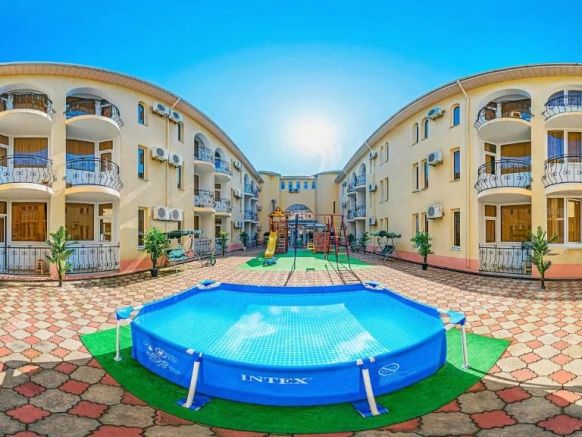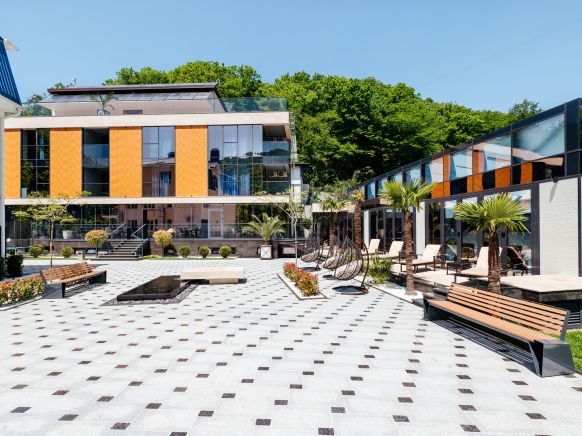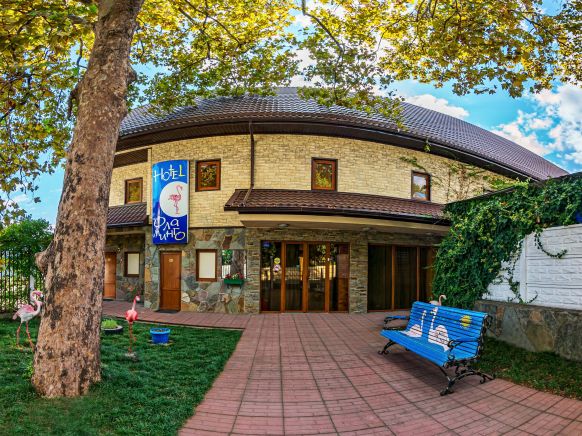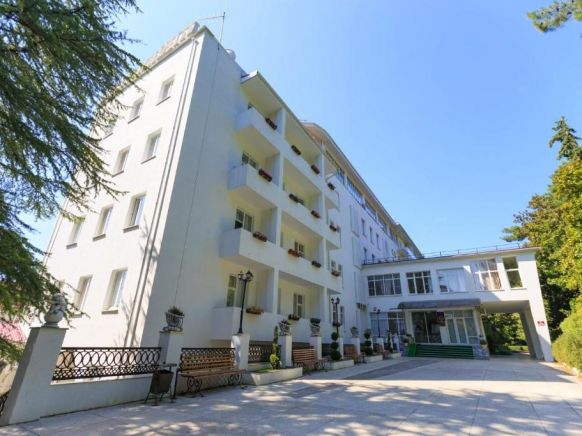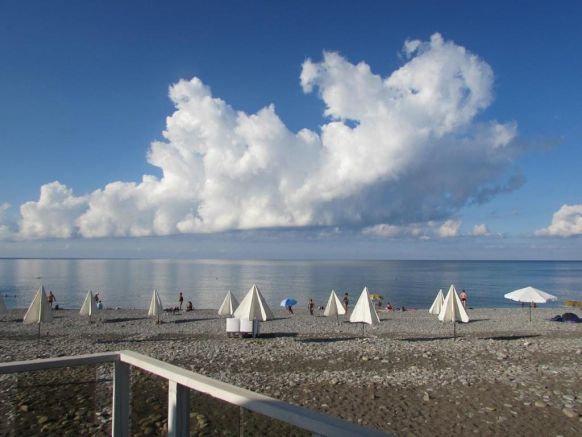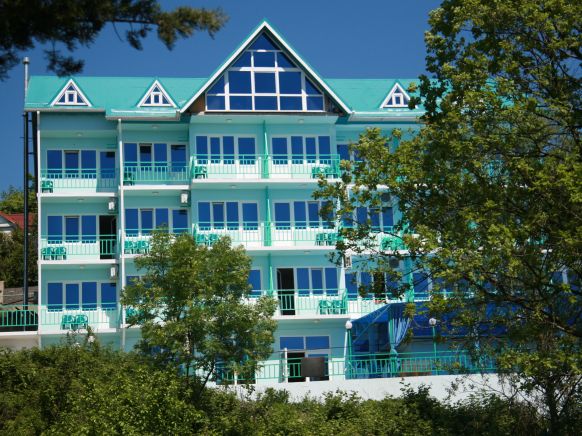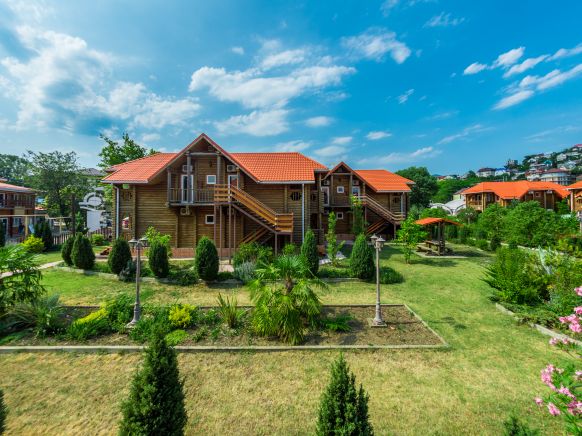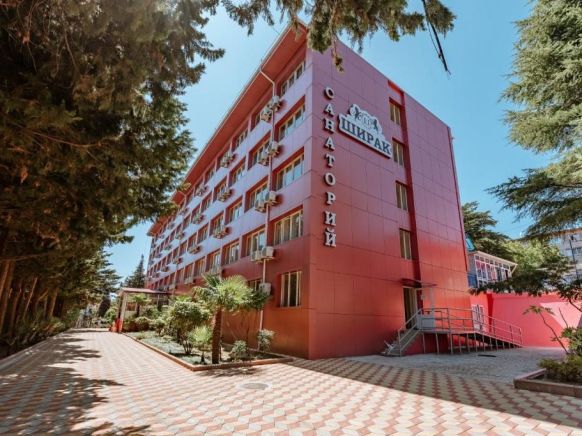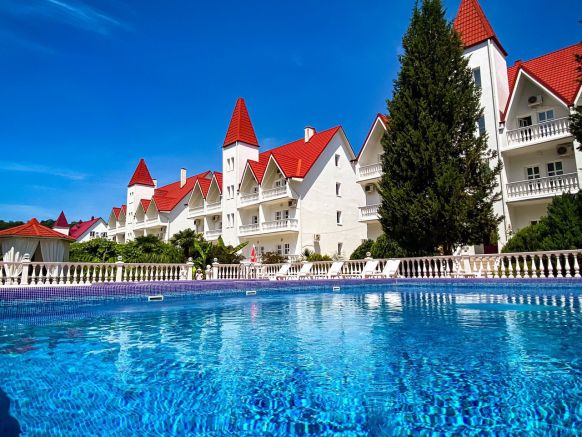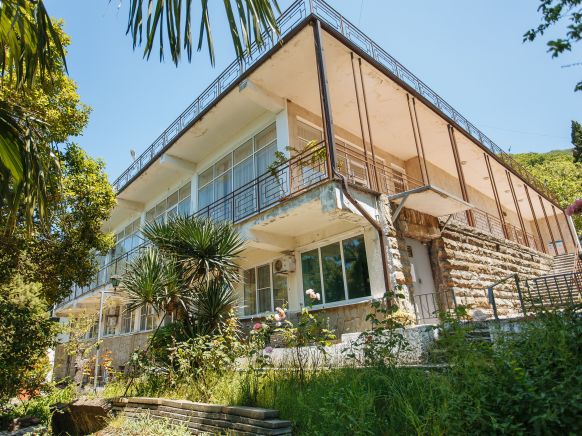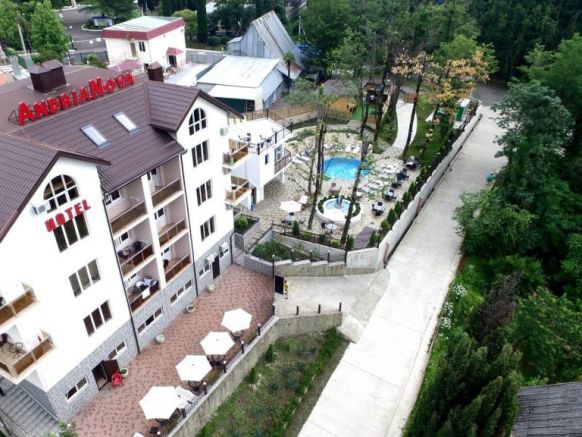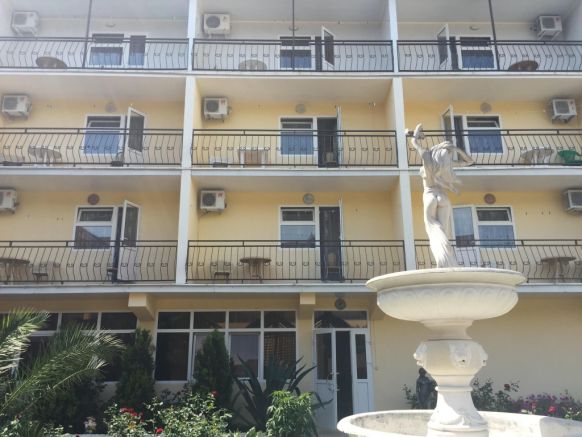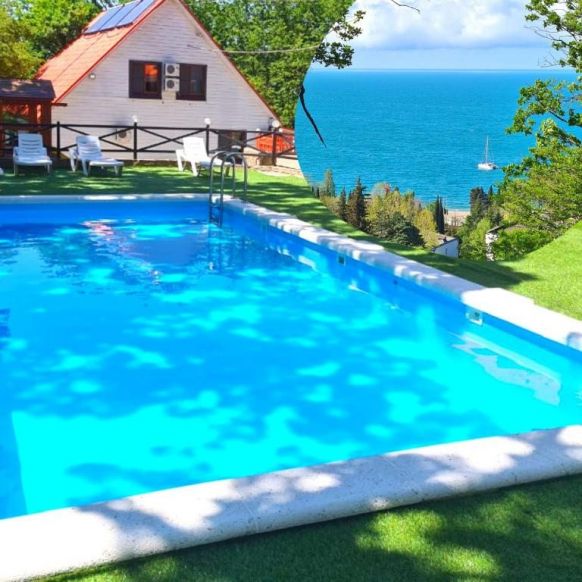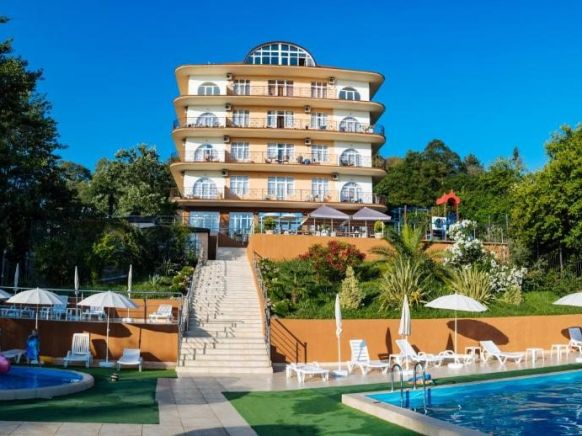 Here you can find hotels Lazarevsky offering holidays all inclusive. Each of the hotels in the cost of recreation included meal all inclusive or full board (three meals a day).
All-inclusive hotels have become an important criterion of a luxurious vacation. It seems that such a vacation is expensive, but is it so? Our site presents various accommodation options Lazarevskoye for any budget.
Choosing "all-inclusive" hotels, guests are no longer worried about force majeure in the form of hidden paid services. You can calculate a specific amount for the trip, so that accidentally do not go over the limit. Even if there is no money left over, meals are still guaranteed.
Such a system most often has weighty advantages:
Three meals a day buffet;
Swimming pool, hammam, sometimes even a water park;
Animation, children's corner and menu;
Beach facilities – sun loungers and umbrellas;
Areas for sports: gym with trainers, soccer field or tennis court.
In general, the need not to count the prices allows you to relax and focus on a good time. The main thing is to plan the destination, and our website will help make the right choice of accommodation!