Holidays in October in Russia – 5 ideas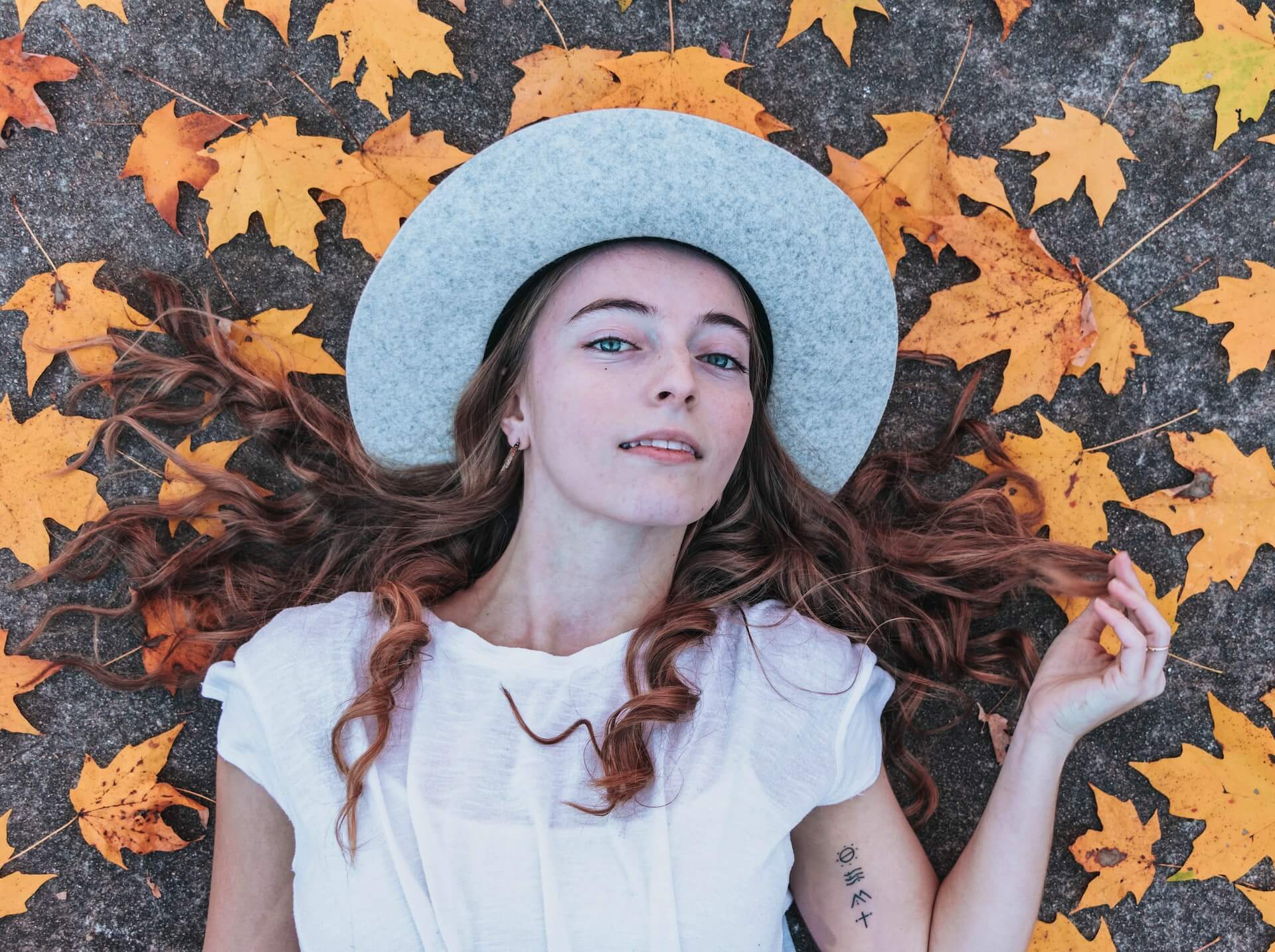 Ideas where to go on vacation in October 2022 in Russia. The best places for big and small trips. Find out where to find beautiful mountains, thermal springs, discounts at cool hotels and even beach vacations.
For travel in Russia, October is definitely not to be ignored! I like this month for domestic tourism, and almost every October I travel around our country, most often in the Krasnodar Territory and the North Caucasus. That said, the beginning of the month is even suitable for swimming! The water in our Black Sea resorts in warm weather stays at +23. +25 ° C. It is beautiful!
Especially for you I have selected places in Russia, where you can go in October 2022, both independently and by trip. Note that sometimes a tour costs less than a flight, and the price includes a flight, accommodation, transfers, insurance, and meals of your choice – for popular destinations this is really very advantageous. The prices in the examples I gave for departures from Moscow for one person: round trip airfare, and tours for 7 nights.
I buy tours only online – at Level.Travel and Travelate. So I find the best deals on all tour operators in a couple of minutes and don't waste time and money in regular travel agencies. Read my tips for buying inexpensive tours.
Content:
Where to go in October 2022 in Russia if you really want to grab the last warm days? To Sochi, of course! The city is well protected by the Caucasus Mountains from cold winds, and in general, it's a real subtropics. Of course, it never happens every year: in October it may suddenly rain and get cold, but sometimes tourists are lucky and in the beginning of the month you can swim and sunbathe. Learn more about the weather in Sochi in October.
In the first half of October 2022 in Sochi there is usually good weather: water up to +23 ° C, air during the day +20. +23°C, air at night +14. +18°С. So you can go even for a beach holiday! But there are other reasons to go to Sochi:
To visit Krasnaya Polyana. In October there is golden autumn and very good discounts on hotels, cable cars and entertainment, so in the fall you will spend much less than in winter. I think you will especially enjoy your vacation in hotels with a heated pool.
Stay in great hotels 3-5 stars and pay several times less than in summer and in September. For example, in the popular "Sochi Park Hotel" 3*, Bridge Resort 4* and "Bogatyr Castle Hotel" 4*. See also the best hotels with a warm pool in Sochi.
Go to the beautiful arboretum in Sochi.
Take a trip to Abkhazia.
Get a dose of adrenaline at Skypark. But be warned: the prices there are fierce!
To take interesting excursions around Sochi and its suburbs. Look at captivating and unusual programs on Tripster.
A jacuzzi at the Radisson Blu Resort hotel. Photo: Radisson Blu Resort hotel. A view from Mount Akhun in the outskirts of Sochi. Photo: Ilya Bunin / wikimedia.org / CC BY-SA 4.0.
Adygeya
Holidays in October 2022 in Russia can be very interesting if you choose a non-trivial destination. I advise you to pay attention to Adygea – the republic has many interesting places, beautiful mountains and gorges, as well as very few tourists compared to the resorts of Krasnodar Krai. Let's see what it is worth going to Adygea for.
First, for the beautiful mountains – this is the real Caucasus! There are many hiking trails here, and trekking is well developed. Still popular is the so-called "Thirty" or former "All-Union 30th route", originating in Kamennomostskoye, passing through the Lago-Naki plateau and reaching the Black Sea in the village of Dagomys. The route runs through the Caucasus Biosphere Reserve and allows you to see a lot of beauty.
Secondly, for the sake of numerous waterfalls, caves and dolmens, the largest of which is located in the village Guzeripl. Very popular with tourists Guam Gorge.
Third, in Adygea you can do active recreation: speleotourism, mountaineering, horseback riding, ride quad bikes or go on a jeep tour. You can stay at the campsite or at one of the tourist bases. The region's infrastructure is gradually developing, so you can easily find excellent modern hotels. Prices do not bite.
And finally, in Adygea go for the mineral springs, to both have a nice rest and be treated. See our selection of recreation centers in Adygea with thermal springs and similar in the Krasnodar region.
Adygea in mid-autumn will meet with warm and mild weather. In Maykop +18 ° C during the day, +8 ° C at night. There may be precipitation in mountain and foothill areas, but the sun shines most of the time. In mountains above 1500 m above sea level in the second half of October sometimes it can rain with wet snow, but usually air gets warm to +6. +12°С.
In the magical mountains of the beloved Caucasus! Adygeya, Lago-Naki.
Rest by the sea in October in Russia is possible in another place – in the Crimea. For this it is best to go to Yalta, it is the warmest there. Most often the first half of the month is warm and sunny, the second half is wet and cool. Usually during the first week of October it's +18. +22 ° C during the first week of October, then it can get cooler. The average temperature of water in the sea is +20 ° C, but if the autumn is late, it may be quite suitable for swimming at the beginning of the month – about +23 ° C.
However, even if you have not had a beach vacation, do not despair, because the middle of the fall – is a great time for excursions in the Crimea. There are so many beautiful places! For example, these are:
In Nikitsky Botanical Garden in October and November is "Ball of Chrysanthemums", such a number of species of this autumn flower is difficult to see anywhere else.
From Yalta it is convenient to visit other resorts, take a look at our route of the trip to the Crimea – they have already used hundreds of our readers and were satisfied.
The fact that prices at this time are going down dramatically is another advantage of this trip. For less money you can afford more. Check out the best first-line hotels and new hotels in the Crimea, and find out how much it costs to go to the Crimea.
Our hike to the Demerdzhi Mountain. Very picturesque rocks! This I decided to walk over the suspension bridge on top of Ai-Petri in the Crimea. A lion cub in the park "Taigan" in the Crimea.
Caucasian Mineral Waters.
If you want to combine a health program with sightseeing, but do not know where to go, then feel free to choose the Caucasian Mineral Waters. Essentuki, Kislovodsk, Pyatigorsk and Zheleznovodsk operate local health resorts and specialized sanatoriums. In October the weather there is wonderful: +18. +27°C during the day, and there are very few rainy days. I went to Pyatigorsk in October: the weather was overcast then, but even so it was no worse than in summer in Perm.
The main tourist attractions are Mashuk Mountain and the cableway in Pyatigorsk, the Resort Park and the remains of the fortress in Kislovodsk, the palace of Emir of Bukhara in Zheleznovodsk and the park in Essentuki. Tourists love to walk in Lermontov's places in Pyatigorsk: Lermontov Grotto, Lermontov's house, the Place of the Duel, Lermontov Square, Chinese pavilion, etc. You should visit the famous cave Proval with the underground hydrogen sulfide lake of natural origin.
In general, rest in the region is very quiet and more suitable for older people. Although for young and active there is also a lot of interesting things: quad bikes, horseback riding, travel on jeeps in the mountains. I strongly recommend to go to plateau Bermamyt (only by SUV) and medicinal springs Dzhily-Su (by any auto) in Prielbrusie. It is so beautiful there! I've been to each of these places twice.
The famous "Failure" in Pyatigorsk. This is how the road to Dzhily-Su from Kislovodsk looks at the beginning of October. I consider it one of the most scenic roads in the world.
Rest in the countryside
For a holiday in October in Russia, you can not go far – enough to go to the suburbs. Of course, this option is more suitable for residents of Moscow and the region, but in every region of Russia has its own recreation centers and resorts. Such a vacation has its advantages: there is no need to spend time on a long trip, there is no need to fear the consequences of possible acclimatization, and the risks of cancellation due to quarantine of such a short trip out of town are minimal.
Vacationing out of town in the fall is nice and pleasant: scarlet-golden trees, clean air and silence. You can still find late mushrooms in the woods, go fishing, take walks in the woods, do sports in gyms, play tennis and billiards. For children there are usually playrooms or small playgrounds on the territory. And in boarding houses and spa complexes you will find a wide range of therapeutic services: massages, inhalations, therapeutic baths.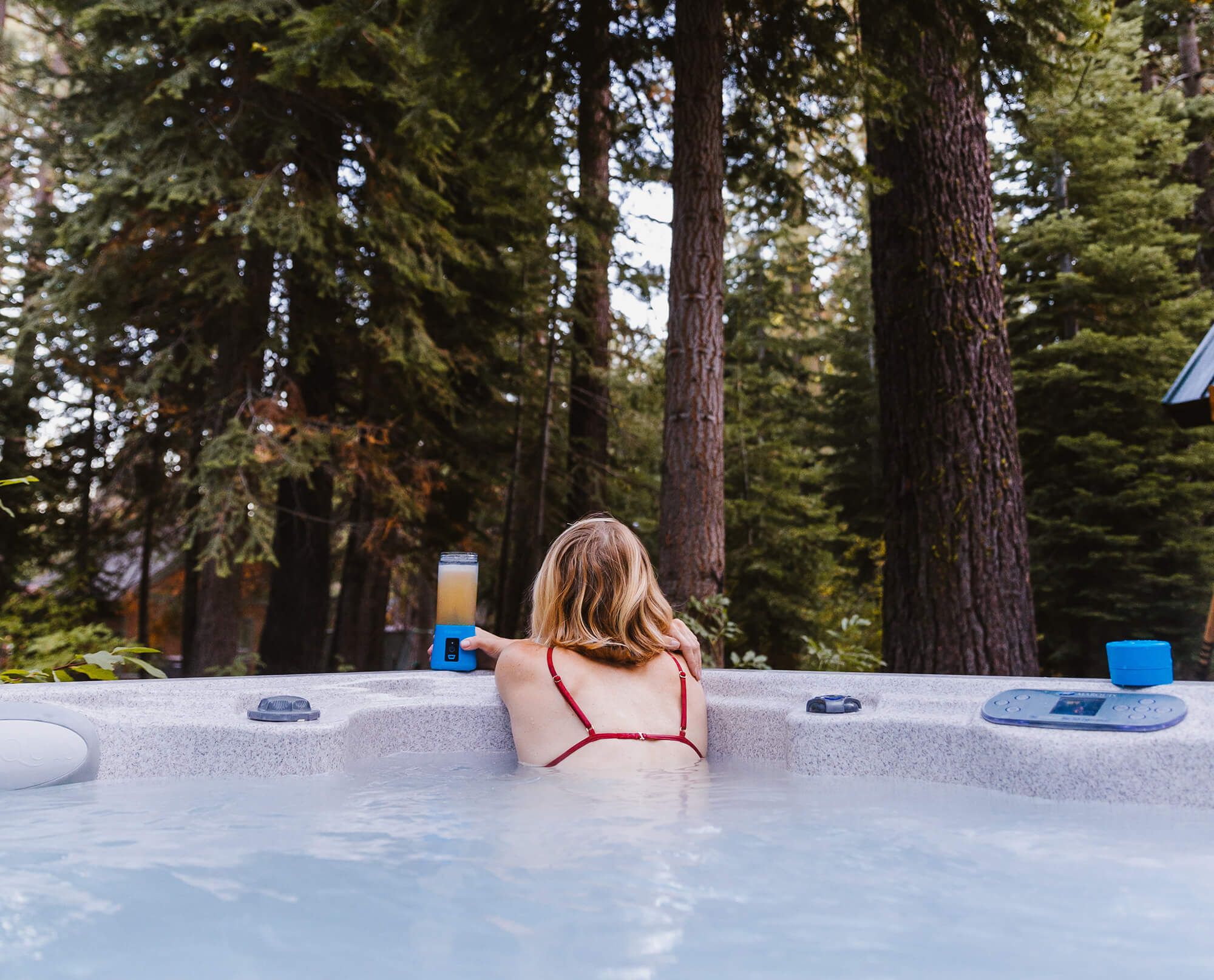 Comfortable and pleasant vacation out of town. Photo: blendjet / unsplash.com.
Where else to go in October 2022 in Russia
In general, there are enough places to vacation in Russia in October. For example, you can go on a tour of the Golden Ring, go to Baikal (at this time there are significantly fewer tourists, so prices are reduced) or enjoy the autumn sea and depopulated small resorts in the Krasnodar region. Very beautiful in the fall in the Altai, the Caucasus and Karelia. It is always nice to go for a couple of days to Kazan, St. Petersburg, Moscow and other beautiful and interesting cities of Russia.
Before traveling we recommend to read weather forecast and think about closet in case of cold weather and winds: take waterproof shoes, raincoats and warm clothes.
Where to go in Russia in October?
Where to go in Russia in October: places and prices 2022. Weather, water temperature, how to dress, can you swim? What to do, what to consider? A subjective selection of the best tourist destinations in Russia in mid-autumn from Eurotraveler.ru.
October is probably the most "dead" month of the year in terms of tourism activity. The period when the vast majority works, entering into an "iron" conveyor belt rhythm after the vacation season. And at the same time still trying to educate their own – often very unreasonable – offspring.
Saved on vacation money spent, new ones have not yet had a chance to accumulate in the account. And it would seem that it is necessary to prepare for winter: as a hedgehog to stockpile pickles and jams in the pantry.
It is believed that October is not the time to travel, even in Russia. Let alone overseas! Especially since it is not very accessible in 2022 – Western Europe anyway!
However, someone at this time does get out into the "world. Planning their trips only outside the high tourist season – even to the Russian sea.
And it makes sense, even if the weather will be distinctly worse than in summer. After all, the heat will not get to you! And the crowds of busy holidaymakers, literally hungry for new impressions.
Previously, we have studied the question of where you can go in Russia in November. And even made a rating of the best destinations for this, not too appreciated by the traveler month. At the same time revealing a number of interesting facts, destroying the established stereotypes …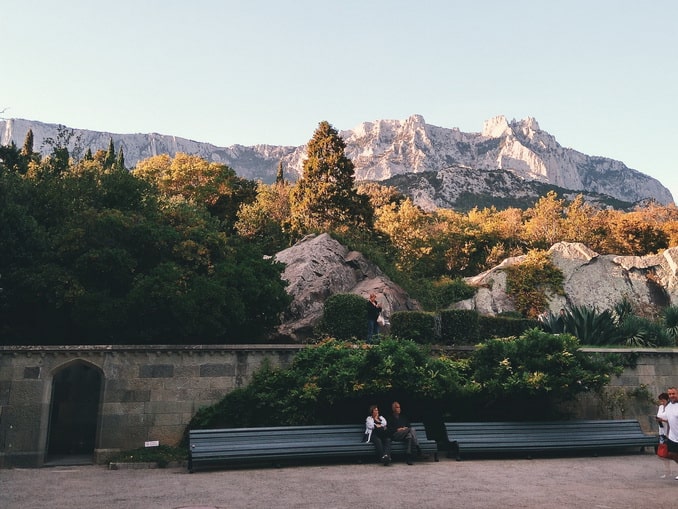 Where to go in October
We emphasize in advance that we do not pretend to be objective. And made a rating, based on our own ideas about the best time to go in a particular direction.
In general, your opinion absolutely should not coincide with ours! But some interesting ideas, we hope you get!
And we'll open the list with exactly the same – the famous resort peninsula, whose statehood is disputed by the international community. True, this will not affect the trip in any way – except that some foreign sites will be unavailable. Yes, you won't see signs of usual banks – only local ones.
But you don't come to the Crimea in October to look at them, do you? Immersed in the gold of the mountain forests, caressed by the rays of a surprisingly hot sun at times?
Walks away from the resorts, aromas of ripe autumn, wonderful panoramic views, the incredible blue sky – this heals the nerves better than the doctors. And if you buy something like a Grand Tour in the Crimea – will not be without impressions of a different kind.
Yes, and worry about hotels and food will not have. After all, the entire program has already thought out for you!
Independent travel – a separate topic. Requiring a careful approach and balanced decisions. And also non-standard way: why, for example, to overpay for Yalta, when the neighboring Alushta in October, well, very good! And many other resorts on the peninsula:
As a result, the trip will please almost anyone. Even those who are used to European service. And sincerely can not understand – why we can not do the same?
Because the nature and the air there can redeem almost everything. Not excluding the fact that even if you can swim in the sea, you can't rely on the summer conditions of the water. Maximum +20-+21! And that is a rare gift from nature!
Accommodation in hotels and guest houses, with the exception of those that consider themselves elite, is frankly inexpensive, even in Yalta: from 1500 to 2000 rubles per day. And it's for two!
Equally you can count on discounts when ordering tours. Which – let's be honest – in the high season everyone can afford not far away – peshkom-na-ay-petri.
Despite the fact that the coastal waters of the main Russian resort in the middle of autumn rarely allow to swim, in our rating it is again in second place. Why?
From our point of view the climate of Krasnodar resort area by all parameters loses to Crimea because it is almost always wet! And there are usually too many tourists here: it is a problem to stay in solitude and just be quiet.
We are not talking about the innovation of summer 2021, once cut off from the hotels and guest houses of the region those who have not vaccinated against coronavirus. But that's okay – the local private sector was happy to accommodate anyone and everyone.
But you will almost certainly be able to swim – only at the end of the month the water cools down to +19-20 degrees.
And you will have to put on warm clothes only in the evenings (not necessarily!) – the daytime temperature may reach +22-26!
In addition there is enough of active entertainment and sightseeing in Sochi. Arboretum, Olympic Park, museums, boat trips, hiking in the mountains, Krasnaya Polyana resorts – you probably will have no time for beaches at all.
We are not even talking about organized tours – in recent years, some of them thanks to the guides have become a memorable and very interesting performance. Often absolutely not tiresome, because you everywhere you can be taken by car – v-ritme-sochi-krasotyi-goroda-i-okrestnostey.
Again, always on the side and a separate interesting destination – Abkhazia. A short visit to it will significantly expand your worldview. Along the way you will enrich the memory of your smartphone with impressive pictures of the mountains – there are enough interesting places in Abkhazia.
S.K.I.D.K.I.
Excursions in Sochi and surroundings with 10-50% discount. City tours, trips and walks in the Caucasus Nature Reserve, Krasnaya Polyana and Abkhazia. At a price of 600 rubles per person.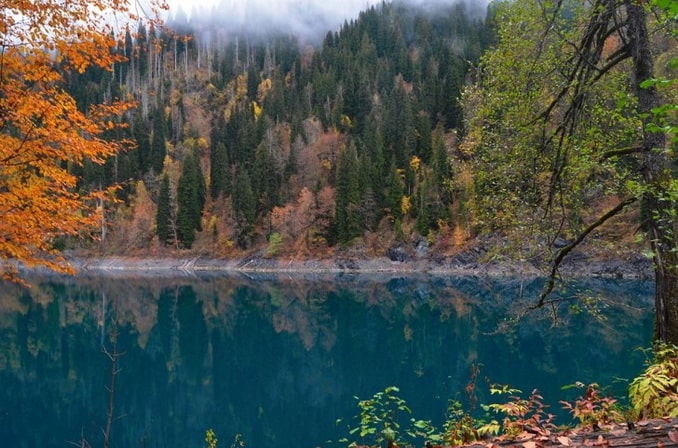 Prices in hotels are higher than in Crimea, they seem to be deliberately ignoring the fact that outside – autumn. However, if you book strongly in advance, for 2-2.5 thousand per day you can find a decent room with all conveniences. Not near the sea, of course. But also not in 5 km from it!
It is more reasonable to stay in Adler. After all, hotels and guest houses there are cheaper, there are plenty of attractions, and even closer to Krasnaya Polyana and Skypark.
Hotels in Marmaris, which is not on the "plane" bank of the river Mzymta, are a great option for your vacation. After all, for 3 thousand a day at your disposal will be not only complete with all necessary rooms, but also breakfasts (for two).
There is a great big pool. The beach is within 10 minutes walk!
Note that Sochi – one of the few Russian cities, which want to go not only in October. But all year round!
Although, it makes sense to pay attention to
Kislovodsk
One of the two most famous resorts of Caucasian Mineral Waters, we awarded the third place in our October rating of the best places in the country. And this is justified!
After all, the healing properties of the narcan and hot thermal springs, no one disputes. Good sunny weather will be an additional bonus during the specified period.
And also a small number of tourists – for the reasons mentioned above. As a result, Kislovodsk in October seems to be a sensible, if not outright winning option.
If you plan not to spend too much time in the city, you can buy a busy tour with visits to the main attractions of the region. But in general, nothing prevents you from organizing a trip on your own!
There are enough high level hotels in the city. However, not too cheap.
Consider, for example, the fashionable Grand Hotel, which is near the Colonnade and the Narzan Gallery – here they offer rooms for 6 thousand rubles per night.
There are also more modest options! For example, the hotel near the Colonnade near the famous entrance to the spa park will accommodate a couple of travelers "for only" 3.5 thousand per night.
Separate apartments, that is, apartments, go for less than 3 thousand per night. If you have time to book it in time…
Note that if you go to Kislovodsk by car from the same Moscow, you can easily visit the surrounding area. In particular, you can visit the Bermamyt plateau, the Elbrus region and Dombai, which is becoming more and more popular.
Yes, in the same Pyatigorsk in October the weather is exceptionally well conducive to the recovery of the body. And prices – it is natural – go down!
Kaliningrad
One more coastal direction, gaining force all last years. Why not? Because the local weather in October allows you to admire the Baltic Sea and the Curonian Spit, to pamper your lungs with fresh and clean iodized air.
Only few will risk to swim in the open water at this time of year. But there is a lot to see in Kaliningrad even without swimming. And there are a lot of places to see in the neighborhood as well: from amber factory to cozy green towns with many old Prussian Jugend-style buildings.
It's really cozy there! And this is the main reason to go and see for yourself. Moreover, the cost of such a trip will not be a death blow to the family budget.
And even today to find an apartment in the city for less than 3 thousand rubles per day – not a problem at all. You can also save on transportation – and go to the area by regular train.
Moscow
We won't invite you to St. Petersburg in the mid-autumn: it's too cold and rainy there. How you can enjoy the architectural monuments and the legendary atmosphere of St. Petersburg, when the most important thing is to change clothes in dry clothes – is unclear.
But in Moscow the weather is usually not so bad. At least not all the time – to see the main attractions of the capital will be almost for sure!
For even in the middle of the month the temperature sometimes reaches +12 – 15 degrees and it rains a little. In addition, foreign tourists in the fall of 2022 will not get underfoot.
And their, domestic, are unlikely to choose this time of year to travel. Naturally, those who haven't read our article…
So those who take the risk of coming "will" be able to enter even the Diamond Fund without queuing. We are not even talking about tickets to the Armory. The tour of the Kremlin churches without crowds and loud shouts in foreign languages.
It is worth taking the moment to visit the Tretyakov Gallery in Lavrushinsky Lane and the Pushkin State Museum of Fine Arts. Go to Kolomenskoye, Tsaritsyno, and visit the Arkhangelskoye Estate of the Yusupovs.
There will be plenty of offers in the hotel sector for about 3,500 rubles per day. You can also stay at the Izmailovo Delta. And be, as they say, in the thick of it – to the center of the capital can be reached by subway in 20 minutes.
Walking lovers will be gladdened as well, because Izmaylovo Park is a couple of minutes' walk away! In the rear of the hotel complex there is the reconstructed Kremlin of Tsar Alexei Mikhailovich. And also the largest Flea market in the capital.
Vladimir
Once in Moscow, not passing through, it is a sin not to take advantage of the chance to see old Russian cities like Vladimir or Suzdal. Even with traffic jams, it will take you no more than 4-5 hours to get there by car.
And by train – even an ordinary train, not to mention rapid "Strizhe" and "Lastochka" – even less. Ticket costs from 640 rubles one way, you will have to spend from 40 to 3.5 hours on the way.
As you know, there is a lot to see in Vladimir. Those who don't have enough will be shown Bogolubovo with the piercing Church on the Nerl and a visit to Suzdal. Moreover, these trips can easily fit in 1 day.
We recommend to visit personally half ruined Khrapovitsky manor in Muromtsevo village. If it were not for its history, it would be an iconic landmark of the region.
As for hotels or apartments, you can almost always find an inexpensive option – from 1.5-1.8 rubles per night for two. And relatively close to the center of the city.
And finally…
In September we called you to visit the Mountain Altai, the most beautiful place in the world. Disposing, though not excellent, but a relatively good tourist infrastructure.
And in particular, a sufficient number of tour operators and guides who can guarantee the safety of tourists, even when visiting wild places.
In October Altai is also very good in terms of weather. But we'll take you even further, to
Baikal .
Because on the shores of the largest lake of Russia in this period at times though frosty, but mostly clear. The air temperature ranges from +10-12 to 0 during the day, and the minus is registered only at nights.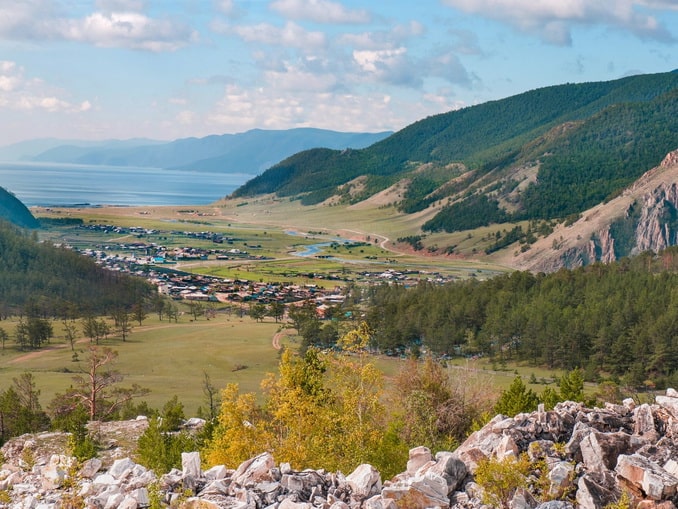 There are not many tourists, the prices drop, and bathing here in the summer is a dubious pleasure. The surrounding beauties, obviously, are not going anywhere. They only become even brighter and more penetrating in the fall. Falling in our souls for a long time. That is forever!
Listvyanka and Olkhon island, Khuzhir settlement, Shamanka cliff and Chersky stone, Circum-Baikal railroad… There are a lot of application points of interests. The main problem is to develop the route, allowing to see the main sights. Moreover, in the middle of fall local tour operators are cutting their activity.
A ticket from Moscow to Irkutsk and back in autumn 2022 will cost comparatively modest 25 thousand rubles per person. And Irkutsk hotels will gladly accommodate a couple of guests for 2 500 + rubles per night.
In much more money: 3.5-4 rubles a day will be equipped with all necessary room in guest houses and hotels. For example, you can find everything you like in famous Olkhon tourist camp in Huzhir village.
What you should remember
In autumn coronavirus will not leave Russia for good. In fact, even in summer 2022 it was still affecting daily about a thousand of our fellow countrymen.
Of course, the symptoms of the disease have generally become milder, which can't help but rejoice. But we still urge you to be on your guard. And when traveling, take reasonable precautions: do not get close to strangers unnecessarily, respect the rules of hygiene, wear masks in crowded places.
In short, remember that it largely depends on your attitude to what is happening, whether there will be a new surge of disease in autumn. Or the country will be able to breathe a sigh of relief, returning to normal life rhythm!