9 options, where to go with a child in February
In the last month of winter, tired of the cold and monotonous landscapes, Russians dream of escaping from snow captivity and take their family to the warm sea and hot sun. Going on holiday with children, choose the country of residence should be especially careful, paying special attention to the weather, safety and living conditions.
So, where to go with the child in February?
When traveling with children is an important question – how to get from the airport to the hotel comfortably and safely. If you are not going as a package tour, pay attention to the transfers from KiwiTaxi. You can choose a car in advance, which will be waiting at the airport after landing your flight and will comfortably take you to the right place at a fixed price, and without queuing.
Thailand
© linvoyage / flickr.com / CC BY 2.0
Most Russian tourists usually associate Thailand with the eternal holiday, active nightlife, Thai massage. In fact, the country is not only famous for the crowds. You can fly to Thailand with children and spend a piece of life on the white sand of the azure sea, away from the noisy parties.
The weather at this time of year is ideal for a beach holiday: 29-33 ° in the air during the day, at night no less than 20 °.
There are other advantages:
no visa;
warm sea – 28-29 °;
an abundance of fresh fruits;
Many attractions for children – water parks, zoos, boat trips, exciting excursions;
clean sandy beaches with gently sloping entrance to the water;
Excellent service, tailored to the needs of children of all ages.
Of the minuses:
A long flight;
acclimatization;
unfamiliar cuisine.
Holidays in Thailand with a child in February will cost you not cheaper than 100 thousand rubles.
Please note that in February in the country to celebrate the Chinese New Year, prices at this time soar. Dates of the New Year vary from year to year, so always find out in advance before you go to the Asian country.
Look for hot travel on the search engines Onlinetours and Travelata. With the help of these sites you can compare offers from more than 120 tour operators at a time. Read the secrets of finding the best deals on package tours.
Vietnam
© Quangpraha / pixabay.com / CC BY 2.0
Vietnam stretches from north to south for hundreds of kilometers. Tourists enjoy year-round carefree beach vacations on the white and golden sand coast, bays with quirky rocks, picturesque islets, and lush tropical nature.
When choosing a resort, rely on reviews and advice from your predecessors. Little travelers are perfectly suited:
– a paradise for a quiet family vacation, you can come even with an infant; – with clean white beaches and comfortable entry into the sea; – older children will love the water attractions, water parks, aquariums.
It's better to swim in the first half of the day, when there are no big waves.
The air temperature is 26-32 °, in water 25-28 °. It's warmest in the southern region. There are strong winds in Nha Trang.
Best articles on the topic
Pros:
comfortable weather;
great beaches;
No need to apply for a visa, if you go for up to 15 days, stamped in your passport at the airport;
A lot of entertainment at major resorts.
Cons:
Long flight – 6-11 hours by plane;
Children's animation is provided only in large hotels;
In developing resorts (Fukuok), it is better to take care of food for infants in advance.
The tours cost from 78,000 rubles for two guests in a budget hotel to 120,000 rubles in a 5* hotel.
Look for good hotels on Hotellook – the site compares prices of different booking systems (Booking too) and finds the best one. Read our guide on how to find a good and inexpensive hotel yourself.
© sackerman519 / flickr.com / CC BY 2.0
The Emirates in February is good for sightseeing or swimming in a heated pool. It is not comfortable for kids to swim in the sea – the water temperature is only 20-22 °, the air temperature is 21-25 °.
For tourists who come to Dubai in February with a child there are shows, amusement rides and theme parks for children at every step. On the beaches there are trampolines, play areas for children. In addition to shopping, shopping malls can plunge into the world of entertainment. For example, to walk through a botanical garden, where 3000 species of plants and animals create the illusion of a real tropical forest.
The advantages of recreation in February:
no exhausting heat;
the prices are lower than in other months;
advantageous shopping;
the high level of service;
crime – zero.
There are also disadvantages:
you need a visa;
the sea is cool;
alien culture.
Prices for the tour start from 48 thousand rubles.
Save on lodging by renting apartments from locals with Airbnb. Get 2100 rubles as a gift on your first booking.
Dominican Republic
© milesgehm / flickr.com / CC BY 2.0
If distance doesn't scare you, you can fly to the Dominican Republic. The country in the Caribbean has changed beyond recognition today. The level of service will please even the sophisticated tourist, and fantastically beautiful nature strikes the imagination.
Dominican Republic is famous for its clear sea of an amazing azure hue and wide beaches with white sand that does not burn your feet. Coral reefs fence off the coast from the ocean waves. And the low hotels and bungalows hidden from the hot sun in the shadow of palm trees and lush vegetation.
The weather in February is sunny, with 28-30° in the air and 26-27° in the sea.
Pros:
visa-free regime;
Most hotels are on an all-inclusive system;
comfortable conditions for recreation with children;
a rich excursion program.
Cons:
Long flight time;
the high cost of tours;
the language barrier.
Family vacation on the other side of the planet will not cost less than 100,000 rubles.
Best articles on the topic
Maldives
© scalino / flickr.com / CC BY 2.0
If finances allow, you can fly to the Maldives. For a holiday with a child is more suitable the first half of February, when the weather is hot and windless. Indian Ocean is as gentle and warm as fresh milk. The water is 28-29° and the air 29-31°.
From the middle of the month, the wind picks up, waves roll in, and surfing enthusiasts open the season .
Pros:
perfect beach vacation;
comfortable weather;
the high level of service;
does not require a visa.
Cons:
Lack of rivers and lakes and, consequently, lack of fresh water;
in the evenings there are bloodsucking insects, without repellent can not do;
expensive;
no children's entertainment.
The cost of the tour is high – from 154,000 rubles. But the financial cost goes into the background, when the lagoon with clear blue water, underwater caves and coral reefs. The kids are happy to splash in the sandy shallows, and older children are mastering boards for surfing.
India
© infanticida / flickr.com / CC BY 2.0
Fabulous India – a country of contrasts, where luxury and poverty, lush tropical nature and questionable ecology, diverse culture and the science of life – Ayurveda intertwine. Planning a vacation with a child at sea, do not take risks. Choose proven resorts with quality services.
Russians love the state of Goa on the Arabian Sea. In February here is stable hot weather – 31-35 ° in the air, 27-28 ° in the sea.
North Goa with the dancing under the moon and endless parties will be more suitable for young people. With children is better to go to rest in South Goa with its respectable hotels, clean sea and almost deserted beaches.
Pros:
Very beautiful nature;
dry, warm weather;
low prices;
unusual excursions;
simplified visa regime.
Cons:
Outside the resort area, unsanitary, theft;
very spicy food;
intrusive traders;
poor quality drinking water.
The cost of the tour – from 48 000 p. Inexpensive to travel with family will help last minute tours.
– Unusual excursions from local residents. – Inexpensive group tours.
Only Russian-speaking guides.
Philippines
© fruitsofkarma / flickr.com / CC BY 2.0
Lost among the seas, the state covers 7,000 islands, most of which are uninhabited. When traveling with a child, it is better to give preference to popular resorts with a high level of service.
In February the Philippine monsoon period ends and the long-awaited "coolness" – 28-31 ° C comes. But the chance of precipitation is still high, especially on the southern islands. The sea is warm – 26-27 °.
The authorities are caring for the unique nature. Tourists live in small bungalows, scattered among the flowering tropical trees.
The pros are obvious:
Amazingly beautiful nature;
low prices inside the country;
if you travel for less than 30 days, you do not need a visa.
There are also disadvantages:
long distance;
unstable weather;
slowness of the staff;
the same slow Internet;
outside the resort area is high crime rate.
To relax in an exotic country, prepare a minimum of 145,000 rubles.
© Afbeelding4 / commons.wikimedia.org / CC BY 2.0
The weather in Cuba in February is hot but bearable, especially on the coast . In the southeast of the country the thermometer rises to 27-31°. The northern region is cooler – 25-28 °. But at night it is quite fresh – only 17 °. So warm clothing is mandatory. It rains rarely, and nothing interferes with carefree relaxation on the white beaches. The sea temperature is 26-27 °.
You can diversify your holiday on trips to the islands of Iguana and Turtle. Kids will love the dolphinariums, crocodile and turtle farms.
Pros:
You don't need a visa;
the widespread system of "all inclusive";
holidays, including tours, are designed for children.
Cons:
Tiring flight;
underdeveloped transportation network;
a low level of service.
The price for the tour starts at 109,000 rubles.
Finland
© visitlakeland / flickr.com / CC BY 2.0
Not all parents are ready to dramatically change the climate and in the middle of winter to take a child to a distant hot countries. A great option – Finland, in February, with children can go skiing, sledding, dog and reindeer sledding.
In the Helsinki area it is windy and humid, -3° to 0° during the day and down to -9° at night. In Rovaniemi, where Santa Claus lives, you can feel the breath of the north – from -9° during the day to -19° at night. The sun above the Arctic Circle rarely appears, but there is a chance to see the northern lights.
Pros:
only 2 hours flight from Moscow;
familiar climate;
excellent service.
There is only one minus – it is cold, you need warm clothes.
The rest in a 4* hotel will cost about 49 000 p.
Best articles on the topic
Whichever destination you choose, your children will always remember the beautiful moments spent with their loved ones, loved ones.
Family vacations in February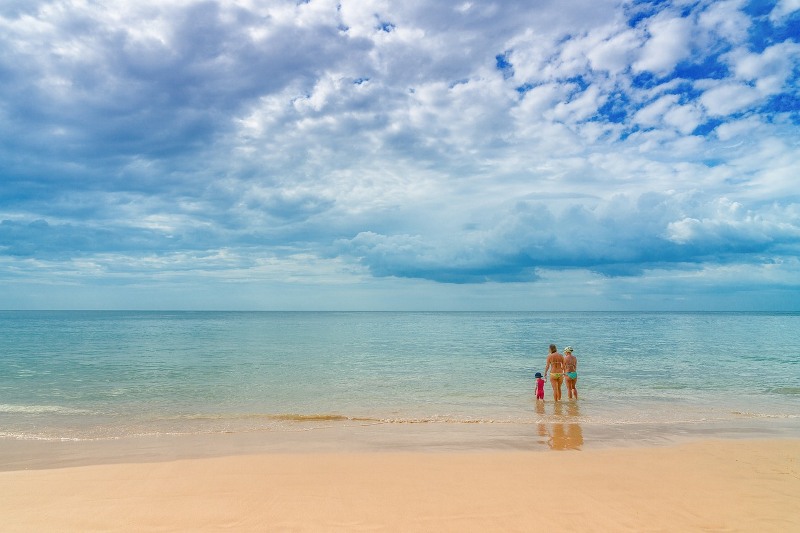 The best destinations for a vacation with your child in February 2022. You no longer need to puzzle over where to fly!
Coronavirus and Quarantine . This review is not about where to fly abroad now, but simply about the best beach destinations for this time of year. See the current list of open countries. The cost of the vacation in the review is for last year. When the borders open, we expect similar or even lower prices. See also where to vacation in winter in Russia – we know a lot of great places!
February is not as bad as it seems: in Russia it is not spoiling the weather, but in other countries it is a high season for holidays. So feel free to take your vacation and go with your kids to the places that are warm and sunny – to sunbathe, swim, eat fruit, and have a great vacation. Let's figure out where in February 2022 the best beach vacation at sea with a child?
Look for the best deals on Travelate and Level.Travel online services – they will help you find the best deal. Want to save money? Learn how to buy a cheap tour!
– search for cheap tickets on all airlines. – hotel search with discounts.
Content:
Thailand
Полететь в феврале 2022 года в Таиланд с ребенком — хорошая идея. Погода стоит шикарная! Каждый день ясное безоблачное небо, сухо и умеренно жарко — днем +30°С (погода зимой >>). Phuket, Samui and Pattaya are the best places to stay with children: the sea is calm and warm, the water is +29°C, and it rains less. Why choose these resorts for a vacation with a child? They have a well-developed infrastructure and easy access to them. Other places – Phi Phi, Phangan, Ko Chang, Samet – have beautiful nature, but the transfer takes time and money.
Thailand is very fond of children. Hotels are well suited for families: there are children's pools, slides and playgrounds. Choose the best hotel in Phuket.
Any major resort has amusement parks, zoos, aquariums, and entertainment centers. How to diversify your beach vacation? Go with the kids to a show with exotic animals, take an excursion, take a boat trip, or try water activities.
Vietnam
This is a great alternative to Thailand! In February a beach holiday with a child is advised to go to the resort of Phu Quoc, Mui Ne, Phan Thiet, where the daytime temperature is +32 ° C, and the water is +26 ° C. However, in Mui Ne and Phan Thiet to swim is better in the first half of the day, when there are no waves.
Nha Trang is nice: +27 ° C during the day, and the water temperature is +25 ° C. It's convenient that it's not far from the airport. The resort has democratic prices and nice hotels, aimed at family holidays. Especially tourists love Dream Beach. There are all the entertainment for children: park, aquarium, oceanarium, playgrounds and rides, swimming pools, cafes and restaurants. And go to the Wynperl – experience guaranteed for the child!
Vietnam has all the Asian exotics: snake and crocodile farms, elephant rides and other attractions. Children's animation in hotels is not too well developed, but you can find babysitting services. In developed resorts there is no need to worry about baby food for the very young – stores have everything. But in Fukuoka it's not so easy, since the island is still under development.
Maldives
Despite the magnificent scenery and excellent service, these exotic islands are rarely recommended for holidays with children. Although in February there are excellent weather conditions: daytime +30 ° C, night +25 ° C, water temperature +28 ° C.
Why did it turn out that way? Because it's expensive. There is another big minus – the islands do not have the usual children's entertainment like water parks, amusement rides and large entertainment complexes. Instead, palm trees, clean white sand, clear ocean, feeding the fish and stingrays, riding on boats. Therefore, in the Maldives is better to rest with older children.
Some hotels have a children's club with standard entertainment, sometimes sports competitions and children's parties are organized. Choose where to rest in the Maldives.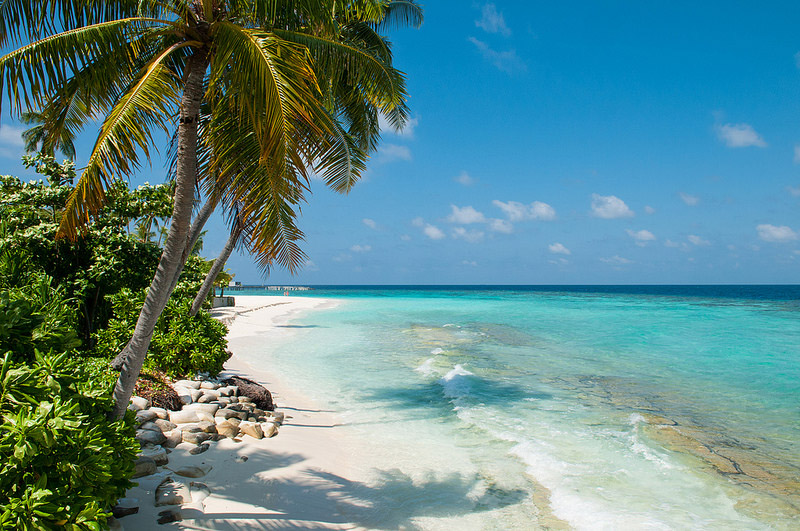 (Photo: Ben & Gab / flickr.com / CC BY 2.0 license)
Cuba is a good choice for a vacation with kids in February 2022. However, flying to Cuba with a small child is a serious step, because the journey takes about 12-14 hours from Moscow. But you will be rewarded with dry and cool weather: +25. +27 ° C during the day, +20 ° C at night. Water in the sea +26 ° C.
For a vacation with children, tourists advise the gentle beaches of Varadero with fine sand. Another plus of this resort – it is located near the capital with all its attractions. There are enough all-inclusive hotels, but the level of service is slightly lower than in Europe.
How to entertain yourself? Visit excursions with children: to the Turtle or Iguana Islands, dolphinarium, crocodile and turtle farms. In February, you can visit the famous Havana Carnival. With older children, explore the architectural monuments and natural attractions. Fear of predatory animals and poisonous plants in Cuba, sharks, too, but you can meet sea urchins and jellyfish.
(Photo: gabrielmbulla / pixabay.com)
Dominican Republic
As in the case of Cuba, to vacation in the Dominican Republic with children will not dare everyone because of the long flight. Plus the vacation itself is not budget-friendly. However, what a sandy beaches with coconut palms and clear turquoise water with fish! And you can make a cheap vacation by catching a cheap last minute tour.
The weather in February is fine: day +30 ° C, night +22 ° C, water +28 ° C. Tourists often choose the resorts of Punta Cana and Bavaro. For the little ones, the shallow waters of Boca Chica are perfect. Here all hotels are equipped with "paddlers" and are located near the sea, the sea entrance is sandy and does not require special shoes. There is a special children's menu and entertainment program.
How to have fun? There is a large amusement park near Punta Cana – a real joy for children. There you can watch animal shows and swim with dolphins. Sea walks and sports games are popular. All excursions are an introduction to architecture and visits to national parks and nature reserves.
(Photo: ronsaunders47 / flickr.com / License CC BY-SA 2.0)
Other resorts.
Did the countries listed above not interest you? Then here are more places to go on holiday in February 2022 with children: Goa, Mauritius, Jordan, UAE, Mexico and Jamaica. Everywhere in February the weather is great – you can have a relaxing and pleasant holiday with your child at the sea.