Jordan – traveler reviews
Is it worth to go to Jordan and what is it famous for? Is it safe to travel alone in the country? Is it suitable for a family vacation? Jordan – reviews of the country, its cities and attractions, pros, cons and personal impressions, as well as advice on getting a visa and other tips and tips from experienced travelers.
My trip to Jordan.
A couple of weeks ago we returned from Jordan – or the Hashemite Kingdom of Jordan, the official name of the country. It took a long time to figure out where to go and to be honest, Jordan was a fallback option if all else didn't work out. And just a couple of days we decided to go there, which I did not regret at all and got a great pleasure from the trip! We spent 8 days there, but it was not enough time and I wanted to stay at least another couple of days! We stayed at a hotel near Aqaba. Aqaba is a resort town in Jordan, located on the northern shore of the Red Sea Gulf of Aqaba near the Israeli city of Eilat. We flew into King Hussein airport and since Aqaba is a free economic zone, we did not pay any customs / consular fees / duties.
We went to Aqaba a couple of times, just to walk around the city, go to the local markets, experience the atmosphere of the city and its people.
In and around the city there are remarkable places associated with history (Mamluk fortress or Aqaba Castle, is considered the main symbol of Aqaba; Flagpole; Archaeological Museum, etc.), but we did not get to them, unfortunately, so there is a reason to come back and do it).
The inhabitants are friendly, unobtrusive, it is possible to go in any store or shop without fear that you will be cheated for the unnecessary goods. On the contrary, when you go to a shop, they can offer you tea or sweets.
I still regret that I bought few sweets as a present ((.
In terms of weather it was not quite the season (end of January – beginning of February), it was quite cool, especially in the evenings, although it is believed that due to the mountains surrounding the city, in Aqaba special microclimate and water temperature does not drop below +20 ° C, even in winter! The water is clean, very clean, the coast, however, not so much (they have the same problem with trash as we do, there is a lot of it, and not only on the coast).
On the beach we went to a local, where also bathed, tanned, relaxed locals. Naturally, holidaymakers in bathing suits attract attention, but no one with an acquaintance or any offers did not stick, maybe because, as a rule, the girls alone on the beach did not come. In general in terms of clothing, of course, it was necessary to observe the "dress-code": nothing provocative, no super mini, no super deep cleavage. This is understandable in principle, after all an Islamic country. By the way, some hotels on the coast have their own beaches, more "groomed", where you can avoid the attention of local people.
Local people, as it seemed to me, in the evenings at home especially do not sit: spend time with the whole family on the beach, both old and young: "roasting kebabs", smoking hookah, children run around, play or something build from the sand, at least during the evening walks along the sea, we often observed them.
As for excursions, we chose 3.
The first is of course Petra ! Words can not describe, you need to see with their own eyes – the beauty, grandeur, scale, the uniqueness of the city. just the spirit of capturing, is still impressed by what he saw. so just a few pictures)
local four-legged residents)or maybe the same tourists?)
Photos a lot, but it is better to see everything with your own eyes! Unfortunately, the time of the tour was limited, I would have liked to spend there much more time, it is impossible to look at everything in just a few hours, you need a few days!
Our second tour was the Jordan River and the Dead Sea.
р. Jordan is a place of baptism of Jesus Christ, a special place for believers, many believe that an ablution in the river will heal both body and soul. The place where we were and where those who wished could take a dip in the river was not very wide, the water was muddy because of the clay and sand at the bottom of the river. For an ablution we needed a special shirt, you could buy it in advance, you could also buy it right there, but they sell them there at an order of magnitude more expensive. The shirt after ablution can not be washed or rinsed, just dry it, because it is believed that this shirt later helps if a person gets sick or has any other problems in life, and not only him but his family.
The area is very beautiful, well-maintained. It is quiet and peaceful, being there is very calming.
Then we went to the Dead Sea. To be honest, after what I saw in Petra and visited the Jordan River, it did not impress me that much.
And lastly, our trip to the Wadi Rum Desert or Moon Valley ! These Martian landscapes, these rocks, these sands, that's all. never would have thought that the desert can be so . picturesque)
And the sunset there is just magical!
The journey is very pleased, I got a lot of unforgettable emotions and while writing this review, I realized that I would like to go to Jordan again).
I wish everyone only positive emotions and an unforgettable travel experience.
Very cool! And what a delicious sweet on the photo)) I think I would not take any of them home as a souvenir)))
Eh, recently saw such a good trip to Jordan, and missed it somehow. Now reading your review and so sorry!
Land of red sands
The trip to Jordan was quite spontaneous, but left a lot of impressions. In fact, this is what trips are the most colorful. A quick crossing of the border with Israel in Eilat – and you get into an entirely different reality. But first things first.
Getting there
I entered Jordan by land. It turned out that I also had to pay a fee to leave Israel, and not a small one, 102 shekels at the time! In addition, they stamped my passport, which they do not normally do. That could have caused problems on later visits to some Arab countries, but luckily my passport had already expired. But there were no queues at the Jordanian border crossing, just portraits of some local politicians, smiling border guards in colorful arafatas, and a cheerful radio. It's hot outside, but I am entering a Muslim country, so I put on a headscarf and a light jacket with long sleeves. Of course, a long skirt. Aqaba, a city perfectly visible from the beach in Eilat, is located in a free economic zone, which is why visas are free, easy and without problems – the Jordanians love the fact that you're going to spend some money with them. From the border to the city – a few miles, which for some reason can not be overcome on foot, only a cab. Cabs are abundant at the exit of passport control. You can and should bargain.
Overall Impressions
Jordan has a lot of attractions, Petra alone is worth it, but for me, as always, the most interesting thing is the local color. I love the Arab countries, but three weeks in the Israeli reality has already tired me out. Everything here is quite native and familiar to my eyes: dust and noise, minarets of mosques, bizarre stone ligature, curious children watching you with huge eyes, women in dark Abaya to their toes… Traffic is frantic and totally chaotic – no rules, only beeps. The locals are terribly friendly (several times we got to the right place by hitchhiking, every time we were invited to visit, without fail treated to strongest tea and sweets, told about their families, the local traditions, about what and how they grow). After Israel can not help but please and the price level – everything seems much cheaper, and the food at a roadside cafe – much tastier and more natural. I'm not a fan of Israeli cuisine, not at all, even though it has a lot in common with Arab cuisine. And yet, in Arab countries it tastes completely different and costs a lot cheaper, especially in the evening of a hard day. Needless to say, you will not find any alcohol here. But the roads are excellent all over the country. Maybe a little more broken in the small town streets, but the intercity roads are fine. Yes, I've noticed that the worst bargaining is in Jordan. Seriously, I always thought that bargaining is an integral part of the Arab mentality, but here the price reduction is very reluctant and insignificant. Subsequently, in many sources I read similar observations of other travelers.
Beaches
A beach resort in the full sense of the word in the country only one, and it's Aqaba. It is beautiful here: the city is surrounded by a chain of mountains, the underwater world is mind-blowing, the beaches are quite clean, although the infrastructure is a little easier than on the Israeli side. Of course, there is no hiding from the azan: nearby is sure to be some mosque, and you will certainly hear the call to prayer in the process of rest. In the evenings, locals gather on the beaches, drinking lemonade, chatting. There are resorts on the Dead Sea, but it's not so much the beaches as the spas, much more budget-friendly than, again, on the Israeli side.
As for accommodation, the main choice of hotels, not counting the capital, of course, is in Aqaba and along the Dead Sea coast. Moreover, Aqaba has both municipal beaches and hotel beaches, and the latter are more comfortable. Well, at the Dead Sea almost all plus or minus decorated beaches are private and belong to some hotels. Even such European thing, as hostels, has reached Amman – well, that is if you are quite a backpacker. Although in general the level of prices for housing is quite acceptable, certainly cheaper than in Israel. Actually, diving can be done only in Aqaba – the Red Sea is famous for the beauty of its inhabitants. There are corals and coral, and fancy fish and other beautiful underwater creatures. Dive centers in Aqaba probably ten pieces, all have the appropriate equipment for rent and normal instructors, but not such a mad pandemonium, as in Egypt, which, by the way, is also close at hand.
Martian scenery
My most vivid impression of Jordan is the desert of Wadi Rum. I've seen a lot and not much can surprise me, but here I experienced a real culture shock. Imagine a vast desert with bright red sand, with bizarre mountains that are painted in many different patterns. Endless dunes, boundless red expanses. Truly another planet! All of this is the Wadi Rum Desert, which is not very far from Aqaba. It is incredibly beautiful at any time of day. You will be quite insistent to be offered a tour service – accommodation in equipped tents (there's even alcohol on the menu, can you imagine??), off-road vehicle rides, tours on which you can explore the entire desert, and it's quite extensive. Honestly, it's not very easy to get rid of this intrusive service, and maybe a jeep safari (well, or riding a camel) will really impress you – how many interesting things you can see and photograph! I preferred to get away from all the guides, set up a tent right in the desert under some rock, and then take a four-hour hike. Wadi Rum is, without a doubt, now in the top five most beautiful places I've ever seen. And even the night here is incredibly beautiful, although not much can be seen in the starlight. And what a divine sunrise here… All in all, it's a must-visit! Better to skip Petra than such…
Safety
In general, I have the impression that Jordan is one of the safest countries for tourists. The locals are open and kind, there are enough policemen, but all of them are busy, apparently, with prevention, not with fighting a particular crime. Of course, there are no drunkards on the streets, and I have never met a thief. There are reasonable rules of etiquette and safety – dress according to local traditions, do not drink water from unknown sources, but rather buy bottled. Of course, protect the skin from direct sunlight, especially the head – well, for women it goes without saying, because, most likely, there will be a scarf on her head. Yes, it's very important, if you're going to do some diving or even snorkeling in the Red Sea, keep in mind that some of the fish and jellyfish can be poisonous.
What do tourists think about Jordan?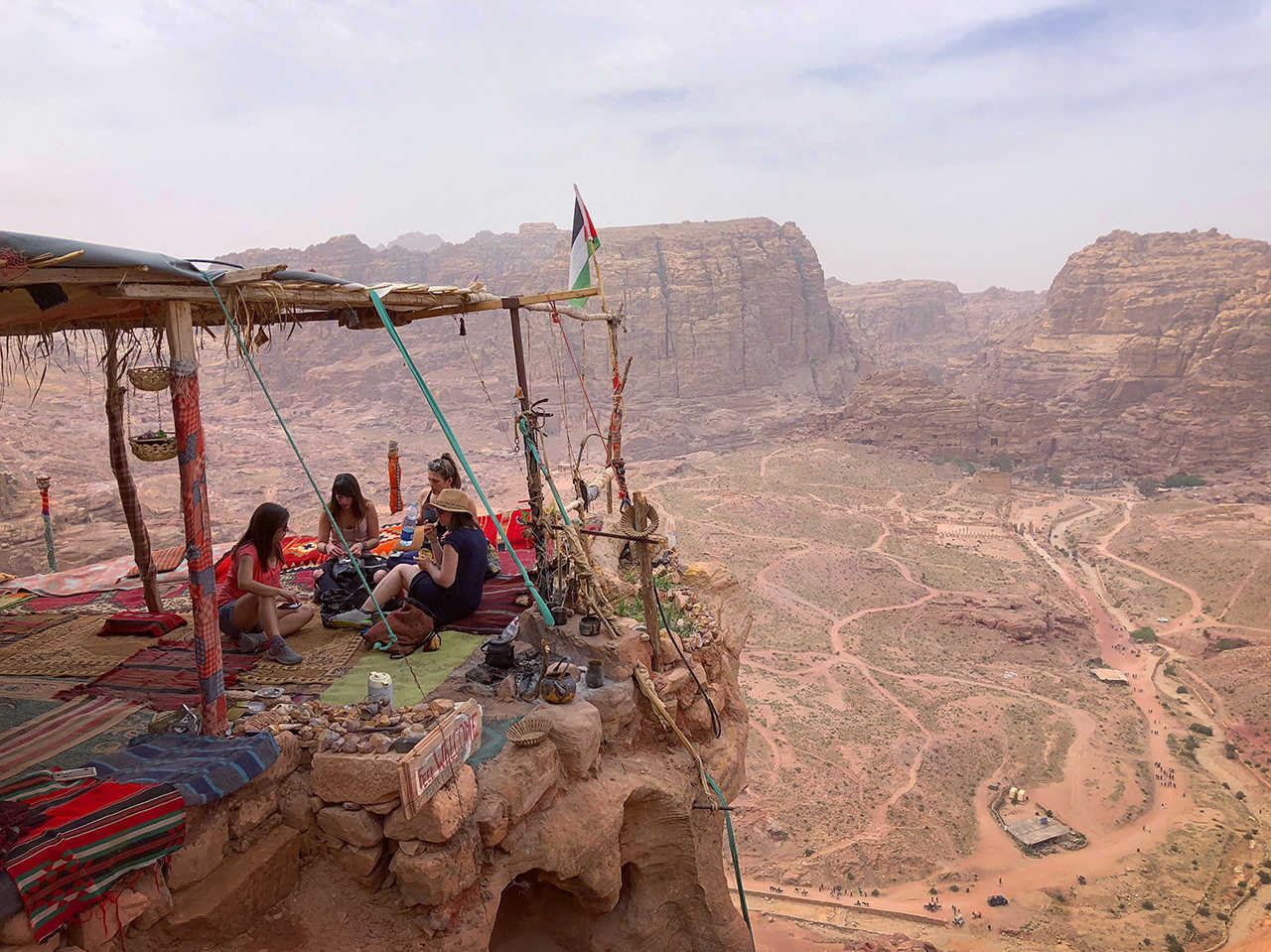 Read the reviews about Jordan. What are the pros and cons of vacationing in 2022. How people rate the weather, hotels, beaches, tours and entertainment at the country's seaside resorts.
Content:
Jordan weather reviews
The western part of the country has a subtropical maritime climate, while the eastern and southern regions have a dry desert climate. Precipitation is scarce. Near the Jordan River their level reaches 400 mm per year, and in the deserts – less than 100 mm. The north-west of the country receives more moisture, so there is plenty of greenery.
Winter in Jordan is quite cool. In Amman it is +4. +12 ° C. Sometimes it snows. In Petra it is up to +13 ° C, and in the resort of Aqaba – up to +20 ° C.
People come to the Red and Dead Sea throughout the year. Many people like to vacation in the spring.
Yury98: "Weather in May – the air +30. +35°С. Sometimes light wind, one day it rained a little. The water is +24. +25°С".
The high season begins in summer, during the vacations. According to tourists' reviews, holidays in Jordan are particularly good in June. During the day the thermometer rises to +30. +34 ° C, but in the evenings it drops to +26 ° C. The big difference in temperature allows to take a break from the heat, so the resorts feel comfortable.
Lera111: "In June the weather is hot. You need sun protection, hats, panamas, thin shirts with long sleeves on excursions."
In July and August in Jordan there is a lot of heat: up to +34. +37 ° C – at the Dead Sea and up to +40 ° C – in Aqaba. The temperature of sea water is +27 ° C. Tourists who can not stand the heat and parents with children prefer a holiday in the spring – from mid-April or autumn.
Natalia D.: "At the end of October the weather was great. During the day to +33 °С, at night to +29 °С. We swam a lot and got a tan. We often went for walks in the city.
According to tourists, it is pleasant to come to Jordan in November. Late autumn is mild here – no heat, aggressive sun and cold. The warm weather is ideal for beach holidays and excursions. The only downside – in the northern areas in November, it may rain.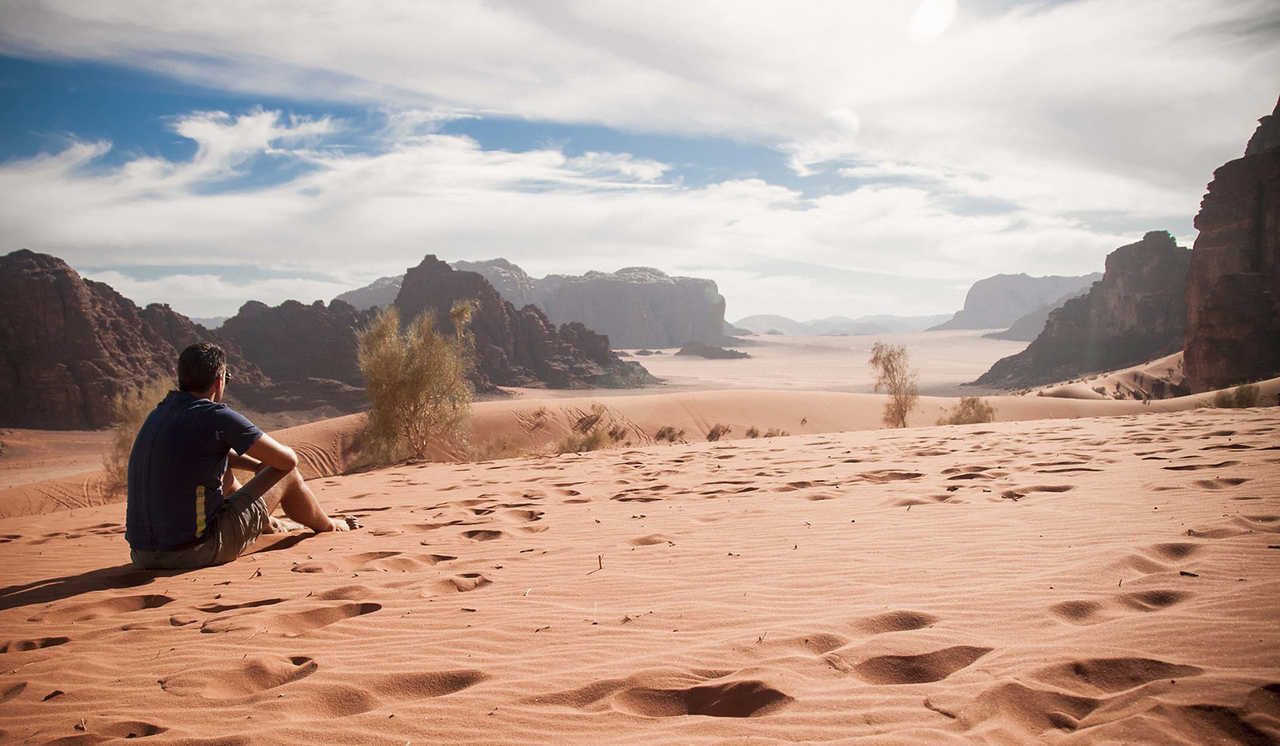 The desert near Aqaba (Photo: Karel Lampaert / flickr.com)
Hotel reviews in Jordan
Search for last minute tours at Level.Travel and Travelata, which will find the best deals among different tour operators. Want to save your money? Check out our 7 rules for buying tours online.
There are good 3-5* hotels, hostels and apartments in Jordanian resorts. According to tourists' reviews, the level of service in them is high. At the Dead Sea resort receives one 4* hotel and four 5* hotels. On the Red Sea coast there are many more hotels. They are located in Aqaba and Tala Bay tourist area.
On the front line are comfortable hotel complexes 5 *. In Jordanian hotels take a deposit at check in – about $ 300. All 5-star hotels and most 4-star hotels have children's clubs.
To make your vacation in Jordan in 2022 a success, read the reviews of tourists about the hotels. They describe the nuances of rest, which will help you make the right choice.
Anna L. In January I spent 40 000 for one week with 4 people. I stayed in Mina Hotel 3* with breakfast. For that money it was just a great hotel and vacation. ,
Ninel B. Ninel B. : "The overall impression of the Intercontinental Hotel Aqaba 5* is very good. For a city hotel with a private beach this is perfect.
Sabina Z. I stayed in Swiss Belhotel Aqaba City 4* and liked everything.
Intercontinental Hotel Aqaba (Photo: booking.com / Intercontinental Hotel Aqaba)
Reviews of beaches and the sea in Jordan
According to tourist reviews for 2021, a vacation in Jordan at the Dead Sea is suitable for those who want to heal, live in comfort and visit excursions in the north of the country. The saltiest body of water on the planet has rocky shores with characteristic salt deposits.
Each of the hotels here has an equipped beach. In addition, the city beach area of Amman Beach, the most popular municipal beach on the Dead Sea, is located 10 km from the hotels and is equipped with changing rooms, showers, sun loungers and umbrellas. A visit to Amman Beach costs 6 JOD for adults and 3 JOD for children.
Anjelik: "To understand what the Dead Sea is, you have to touch it with your hands.
According to tourist reviews, resorts on the Red Sea in Jordan are chosen by families with children and lovers of outdoor activities. Because of the rich underwater world and beautiful coral reefs, diving and snorkeling are well developed here.
The water in the Red Sea is very clear, and there is no algae at all. The beaches are covered with sand and gravel. They have a gentle entrance to the sea and developed infrastructure. Most of the beaches belong to the hotels.
Julia T: "If you like snorkeling, the choice of South Beach is justified. The sea is clean, beautiful corals and fish."
Oleg Z.: "City Beach is a beach for locals. It's dirty and it's expensive to take off your shoes. The entrance to the sea is stony. There is a lot of garbage floating around".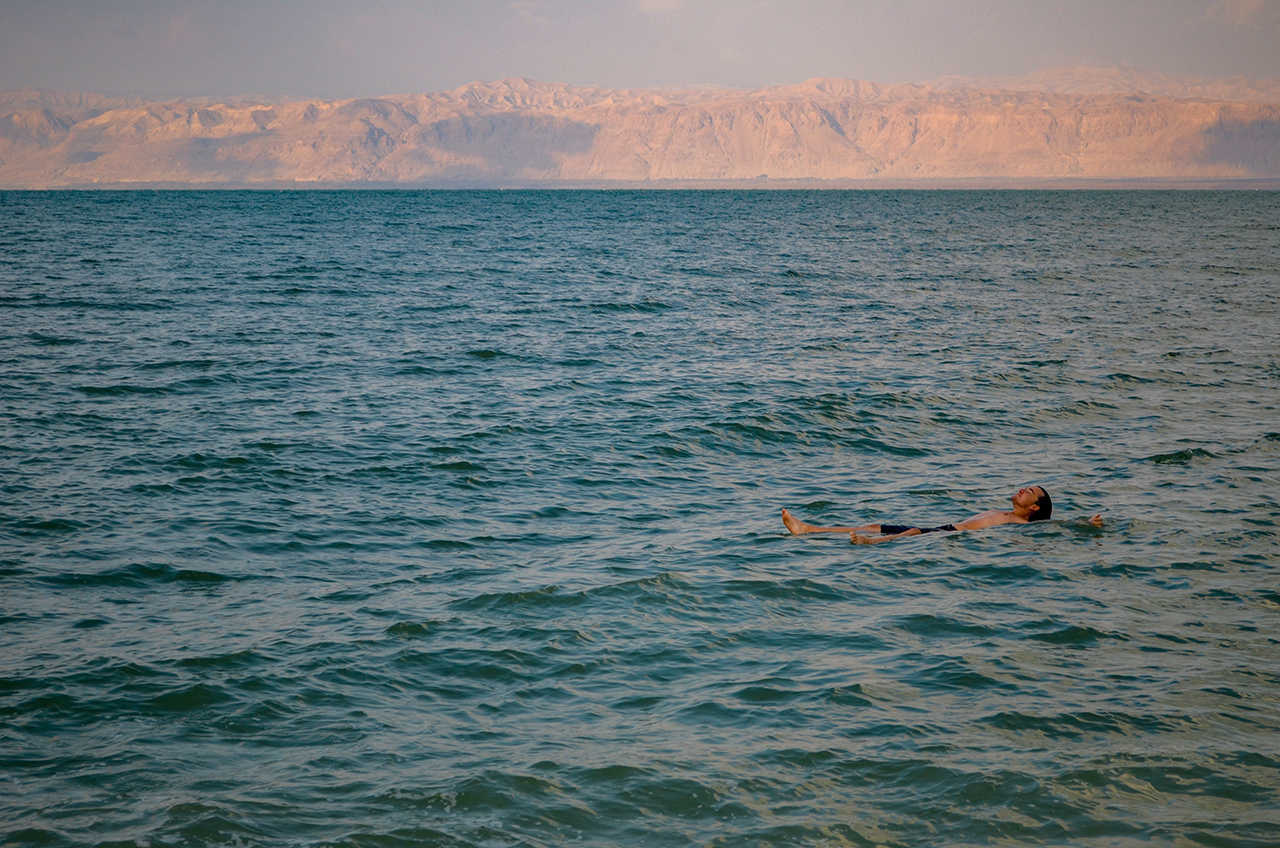 Dead Sea (Photo: unsplash.com / @ricardofrantz)
Tourist reviews of excursions in Jordan
Search for interesting excursions on Tripster. Individual and group, without crowds of tourists and in Russian.
Popular activities in Jordan include excursions to the stony desert of Wadi Rum, archeological sites of Jerash and Petra, Mujip Nature Reserve and Hammamat Ma'in hot springs.
Many people like pilgrimage tours. Tourists are taken to the site of the baptism of Jesus at Jordan River and the ancient city of Madaba, mentioned in the Bible. One of the most popular tours is to Mount Nebo, where, according to legend, the prophet Moses died and was buried. Interesting bus trips with a Russian-speaking guide in neighboring Israel – Jerusalem and Bethlehem.
The capital of the country – Amman – we recommend to see on your own. In the center of the city there is a Roman theater. In this ancient building the theatrical performances are still held. Beautiful views of the streets of Amman from the ancient citadel of Jebel Al Qalaa. Visit the Royal Automobile Museum, see the ruins of the Temple of Hercules and drive to the restored Can Zaman complex of ancient stables, residential buildings and warehouses, 12 km from Amman.
To plan a vacation in Jordan in 2022, read the reviews of tourists about the excursions.
Marina: "The strongest impression of the country we got on the excursion in Wadi Rum. Everyone is fascinated by the colorful sand, dunes, vastness and vastness of the desert." Read more about the tour →
Capitolina : "The treasure house, the story of the Nabataeans and the Romans is amazing, as is the lost city of Petra itself. You can compare it to Angkor Wat, also mystical and unexpected." Read more about the tour →
U3923AV_: "The exposition in the museum is not very large, but interesting enough. Allows you to visually explore the history of the royal family on the example of cars."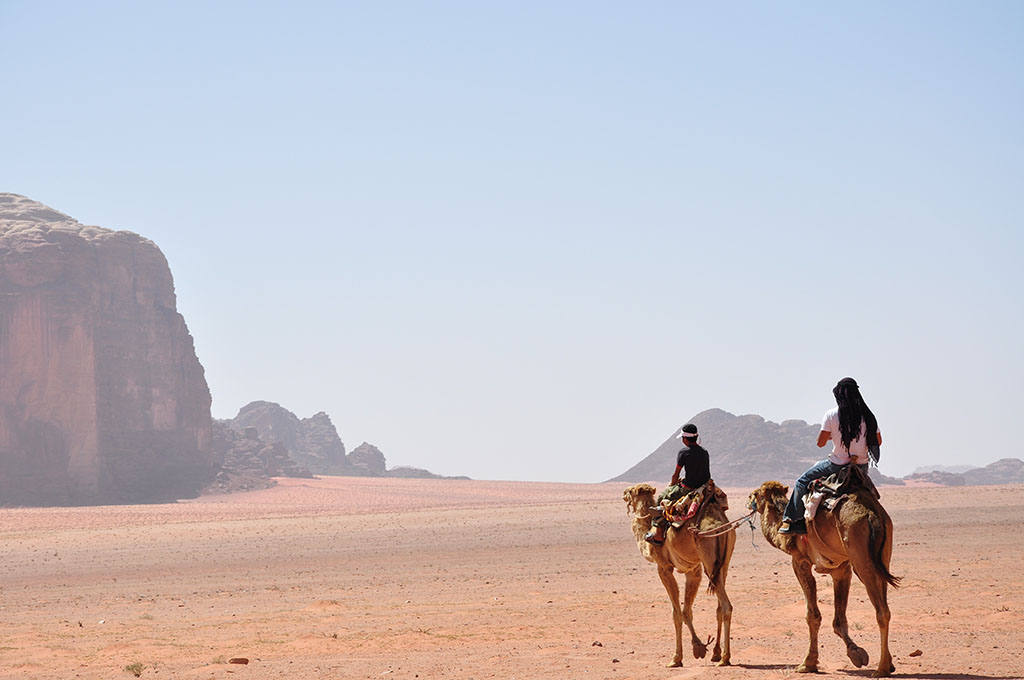 Wadi Rum Desert (Photo: unsplash.com / @_sebastien)
Tourist reviews of the attractions
Jordan attracts history buffs, art lovers and pilgrims. Tourists enjoy seeing the ancient city of Gadara, the stone Ayyubid castle in the village of Ajloun and the Greco-Roman ruins of Pella.
Holidays in Jordan do not leave indifferent diving enthusiasts. The visibility in the Red Sea reaches 35-40 m. According to reviews of tourists, while diving you can admire the picturesque corals, fancy shells, sea turtles, moray eels and small colorful fish.
There are six dive centers in Aqaba. Dives start at $70. Experienced divers are offered fascinating diving to wrecks and spectacular underwater safaris.
If you like an active holiday, fly over the Jordanian desert in a hot-air balloon, ride horses and go hiking in the mountains. With kids, visit the Amman Zoo and go to Petra.
Valerii53: "The El Khazneh Treasury is a good trip. Canyons, crypts, palaces, amphitheater – it's fascinating."
Nstarikov: "When climbing the mountains, I advise you to realistically assess your strength and not to overdo it. Words cannot describe the excitement of the trip.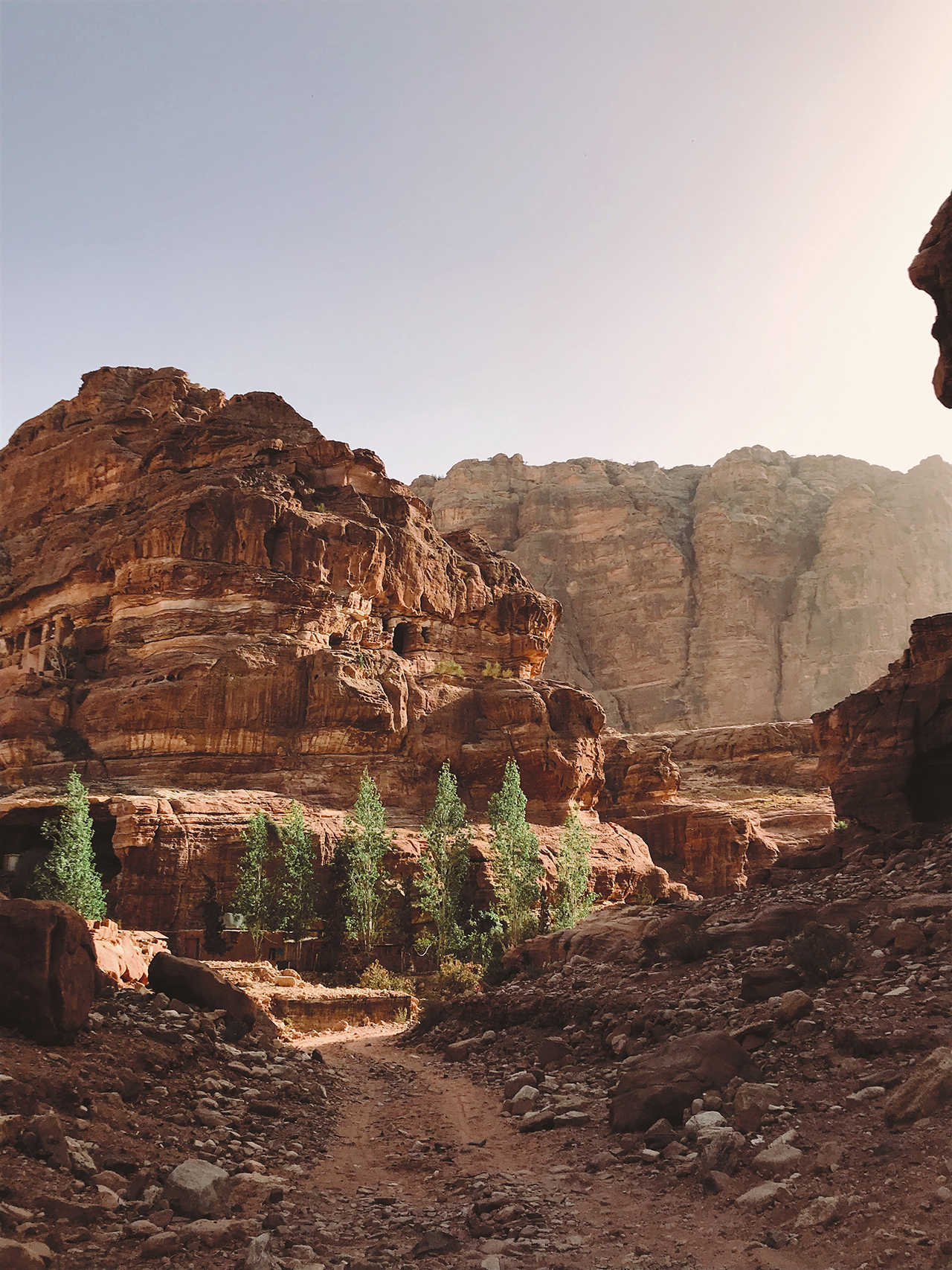 Petra (Photo: unsplash.com / @agustinafuror)
Pros and cons of vacationing in Jordan
Most tourists who have been to Jordan in 2021 were satisfied with the trip and would like to return here again.
The pros of vacationing and Jordan in 2022, according to the reviews of tourists:
Fast flight.
For Russians – free visa on arrival for 1 month.
The high level of security.
Unique historical and religious monuments.
Interesting excursions.
Comfortable hotels.
Warm climate.
Therapeutic salts and muds of the Dead Sea.
Excellent spas.
Delicious oriental cuisine, dried fruits and sweets.
Diving.
Good beaches.
Anastasia : "Holidays in Aqaba. The water in the sea is like fresh milk, swimming is a pleasure. The beaches are very nice. Everywhere is sandy and clean.
Cons:
Small hotel base.
Little entertainment for children.
Expensive tours, flight, accommodation, food and shopping.
SoniaS : "The prices are inhumane. Not only for cosmetics, but also for other standard tourist purchases: t-shirts, stoles, etc.".
Salt formations on the shore of the Dead Sea (Photo: robysaltori / flickr.com)
The finer points of Jordan holidays and travel advice
Jordan uses the local currency – dinars. Money can be easily exchanged at the airport, in cities and hotels. Friday and Saturday are days off in the country, so not all exchange offices are open.
Aruna: "I advise you to learn Arabic numbers before the trip, because the coins we know well are written in microscopic letters.
For independent travel around the country we advise to rent a car. Rent a car for a day costs about 75 JOD, 20 liters of gasoline – 17 JOD. It is more advantageous to rent a car for a long term, then the rent will cost 25-35 JOD per day. The best rental agencies are located at the airport. The roads in Jordan are not bad, with many speed bumps.
The problem of self-driving tours around the country – the style of driving the locals. The Jordanians easily run red lights, overtake each other from all sides and make maneuvers without turning on the turn signals.
As in all Muslim countries, drinking alcohol in public places is forbidden in Jordan. Hard drinks and beer are sold in special stores.
In the Arab country they pay much attention to the safety of tourists. At resorts you can see police cars patrolling around the hotels. On the roads there are often checkpoints, where they check documents.
In June and late summer, southeasterly winds, called khamsin, blow over the country. The hot, dry, sandy wind begins suddenly and lasts several days.
To avoid poisoning, drink only bottled water. In restaurants, order food that has been heat-treated. For the same reason, do not buy drinks with ice. It may be made from unclean water. Ask the waiter to bring the drinks chilled.
The water in the Dead Sea is saturated with salts and irritates the mucous membranes. Wear protective goggles while swimming to prevent accidental splashes from getting into your eyes. Children under five years of age must not swim in this body of water.
The Gulf of Aqaba is home to poisonous jellyfish and fish. Be careful when diving! To avoid feet injury on sharp corals, swim in special shoes.
If you plan a trip to the desert, bring a supply of drinking water and warm clothes. The vast temperature differentials in the desert areas of Jordan can be chilly in the evenings.