Holidays on the island of Djerba
Collected reviews of tourists about holidays in Djerba – Island of a Thousand Palms in Tunisia. How they evaluate the weather, beaches, hotels, tours and entertainment? Pros and cons of holidays in Djerba in 2022.
Look for last minute tours on Level.Travel and Travelata services – they will find the best deals among different tour operators. Want to save your money? Explore our 7 rules for buying tours online.
Content:
Reviews of the weather in Djerba
Due to its proximity to the Sahara desert, the climate on the island is very mild and warm. Tourists leave positive reviews about holidays in Djerba in any season. You can sunbathe here all year round. Especially many tourists come to the Mediterranean resort from April to November, when the sea water is heated to +21. +26°С.
"We flew to Tunisia to the island of Djerba in August for 12 days all inclusive. The Mediterranean sea was nice, the sand is clean, the waves are small, the bottom is sandy, without depth differences", mrBruss . Source: otzovik.ru
"People are always happy, and the climate is the best for me – breeze and sunshine", NastyaTym , Source: otzovik.ru
In winter the sea is colder than +17. +20°С. The air temperature during the day does not rise above +15. +17 ° C, it may rain, so take with you warm clothes.
"We were in the off-season. Winter in Tunisia, winds. What was most memorable for me was the sea! Its color was milky blue, against the dark sky and white sand. Only for the sake of such beauty, I am ready to return here permanently, "olikakov . Source: otzovik.ru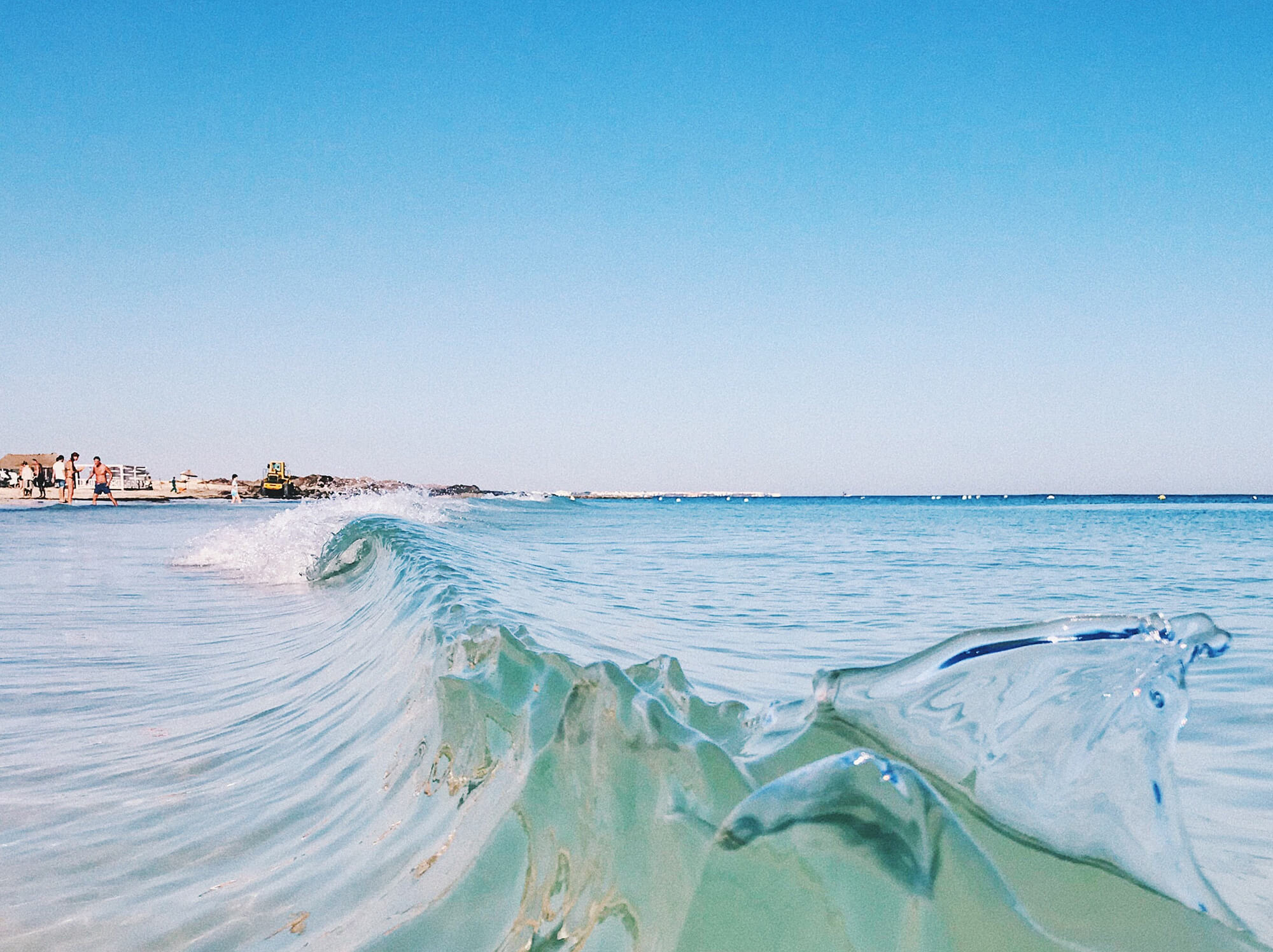 Due to its proximity to the Sahara Desert, the climate on the island is very mild and warm. Photo: dariasha911 / unsplash.com.
Hotel reviews for Djerba Island
Most of the hotels are located on the northeastern coast of the island. Tourists like the fact that almost all of them are on the first line from the sea. The level of service and prices vary. Many hotel complexes take guests on an all-inclusive program, have their own beaches, swimming pools and entertainment, including good SPA centers. If you like only beach vacation, go beyond the territory of hotels is not necessary.
According to reviews of tourists, excellent service in the hotel Djerba Holiday Beach, 4 *.
"The overall impression of the hotel is good. Composition of holidaymakers: 50% French, 20% Germans, 20% Russians, 9% Europeans, 1% Tunisians. The attitude to Russians, French and Germans is the same – very good. The bartenders and waiters work very fast, they do not queue anywhere and do not ask for tips.
Many people like the resort hotel chain Sentido Djerba Beach, 4*:
"Had a great vacation! Tasty food, all the infrastructure is close, lots of activities! The staff does not speak Russian, only French and English.
Good reviews leave tourists about the hotel El Mouradi Djerba Menzel 4*:
"You quickly feel the atmosphere of relaxation on the island, especially if you don't focus your attention on the little things in life, and if the animation at the hotel is good. At our hotel El Mouradi Djerba Menzel the animators worked to their utmost. They entertained us from morning till night.", Raduga-duga33 . Source: otzovik.ru
Some hotels of the beach resort did not leave a pleasant impression and received a low rating from tourists. Here are reviews of the hotel Alcantara Thalassa, 4*:
"The hotel is the very last on the shoreline, you will end, well and start the transfer! The food is so-so! Little choice and hot food was rarely hot! The beach is all algae that stinks!", Elena E .
"The food at Alkantara Thalasso is a separate conversation. All the same taste, and if you are a foodie, this hotel will not suit you. The beach is spacious, a little dirty because of algae and mud on the shore, but every morning a tractor goes and picks them up", Victoria S .
Many hotel complexes take guests on an all-inclusive program, have their own beaches, pools and entertainment, including a good SPA. Photo: jonnysek / Depositphotos.com.
Reviews of the beaches and sea in Djerba
There are good sandy beaches all along the coast. Resorts await white fine sand and perfect rows of umbrellas. The beaches are wide, so there is enough space for everyone. In places of rest work animators, tourists go on water skis, "bananas" and engaged in parasailing.
Part of the coastline belongs to the hotels, next to wild beaches and picturesque bays for lovers of secluded recreation. The water entrance is gentle, the sea is clean. The disadvantage – algae, but hotel workers clean the shore every day, so there are few complaints. If in mainland Tunisia in late July and August there are a lot of jellyfish, on Djerba there is almost no this scourge.
The most popular beaches are located in the northeast of the island. According to tourists' reviews, the best beaches in Djerba are considered Sidi Mehrez, Ras El Mar, El Ashen, Seguya, Yeti Beach, Agir, Sidi Djimur and Lalla Hadria.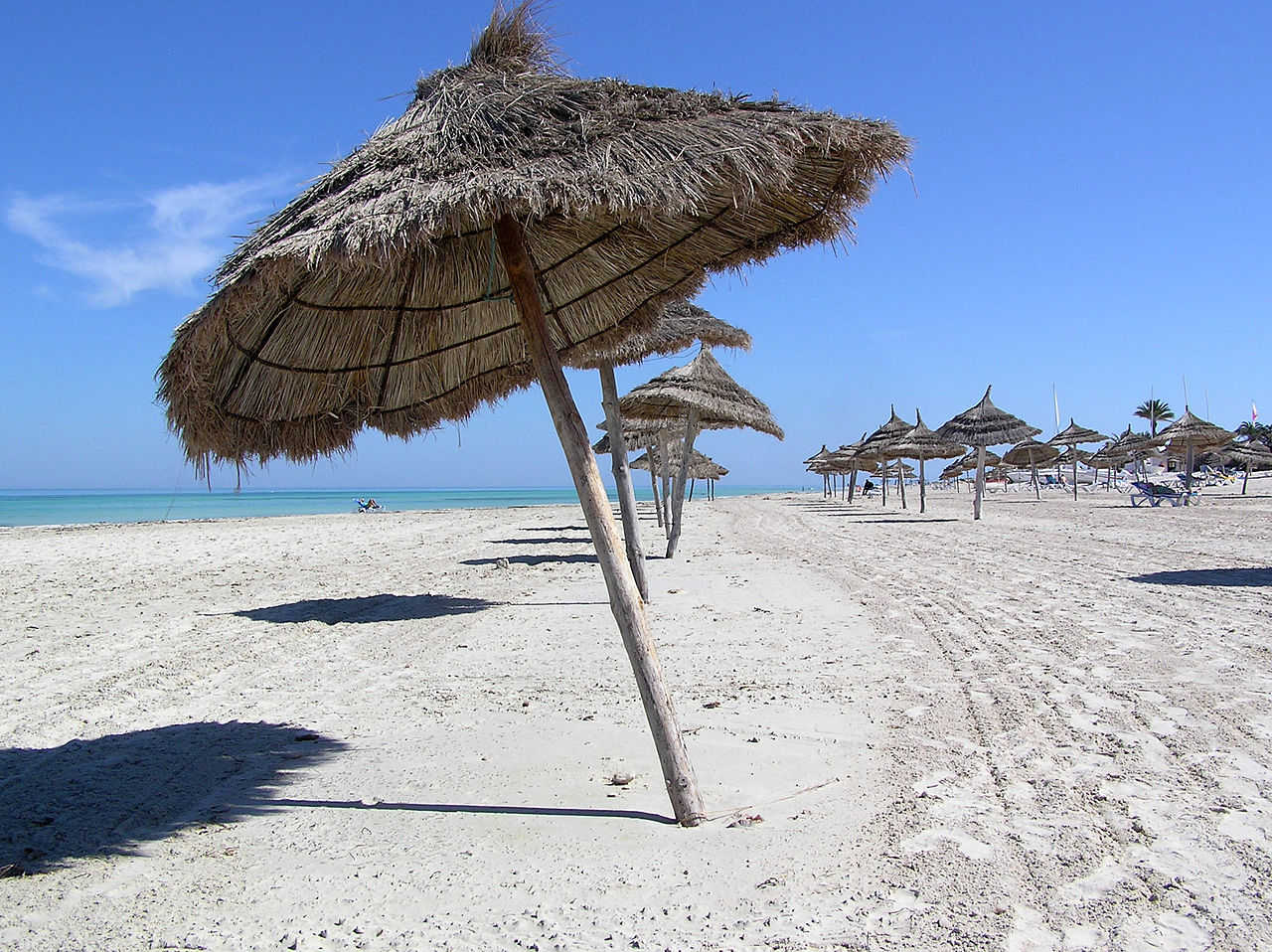 Yeti Beach (Photo: wikimedia.ru / Henning Leweke)
"Holidaying on the island completely met my expectations – great blue sea, palm trees, white as flour sand! I thought beforehand that it would be purely a beach holiday, maybe with a couple of excursions and trips outside the hotel, so it worked out that way", Belka 008. Source: otzovik.ru
"Stunning Mediterranean Sea, sandy beaches, shallow, very suitable for holidays with children!", Kevin DeBruyne . Source: otzovik.ru
"The clean and clear sea is so close that you can hear the melody of the waves at night. It is very easy to fall asleep to it. This is a very romantic place", ZeeeBra . Source: otzovik.ru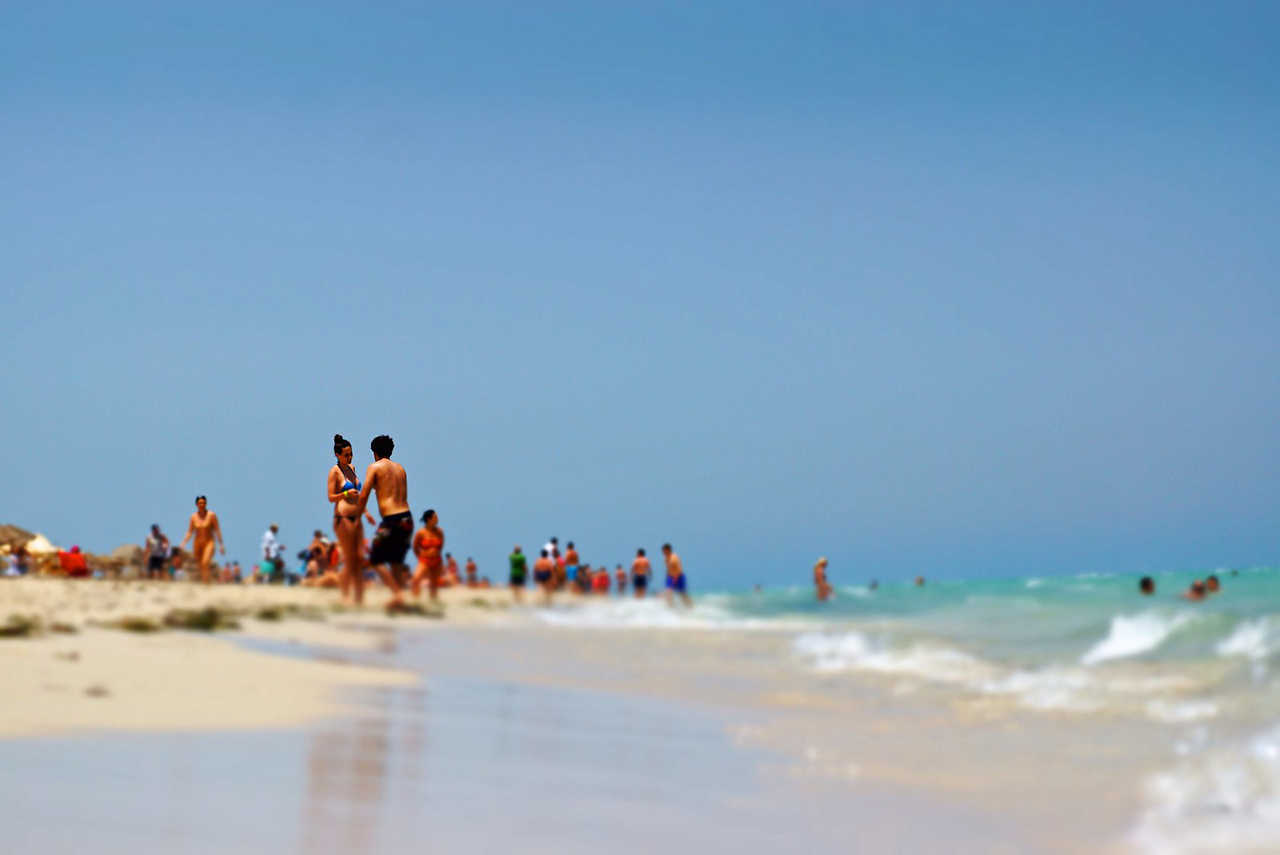 Beach in Djerba (Photo: Nanagyei / flickr.com)
Reviews of excursions in Djerba
According to tourist reviews, there are few excursions in Djerba and they are all inexpensive. Take a trip to the desert, see the mosques and the Algabids fortress. You can also go on a boat trip and visit museums.
"I suggest a trip to the Sahara Desert. A professional driver will drive you dashing around the dunes in jeeps. The 2 hour drive to the desert is worth these very beautiful views. The temperature in the Sahara is about 10 degrees higher than on the island of Djerba", Vanya Fomin . Source: otzovik.ru
"Once in Djerba, be sure to take a tour of the Crocodile Farm. It is an amazing place that deserves special attention. The farm is home to over 400 crocodiles. You can see three-meter monsters literally one meter from you. Do not worry, everything is safe! The crocodiles are fenced in," Basanti . Source: otzovik.ru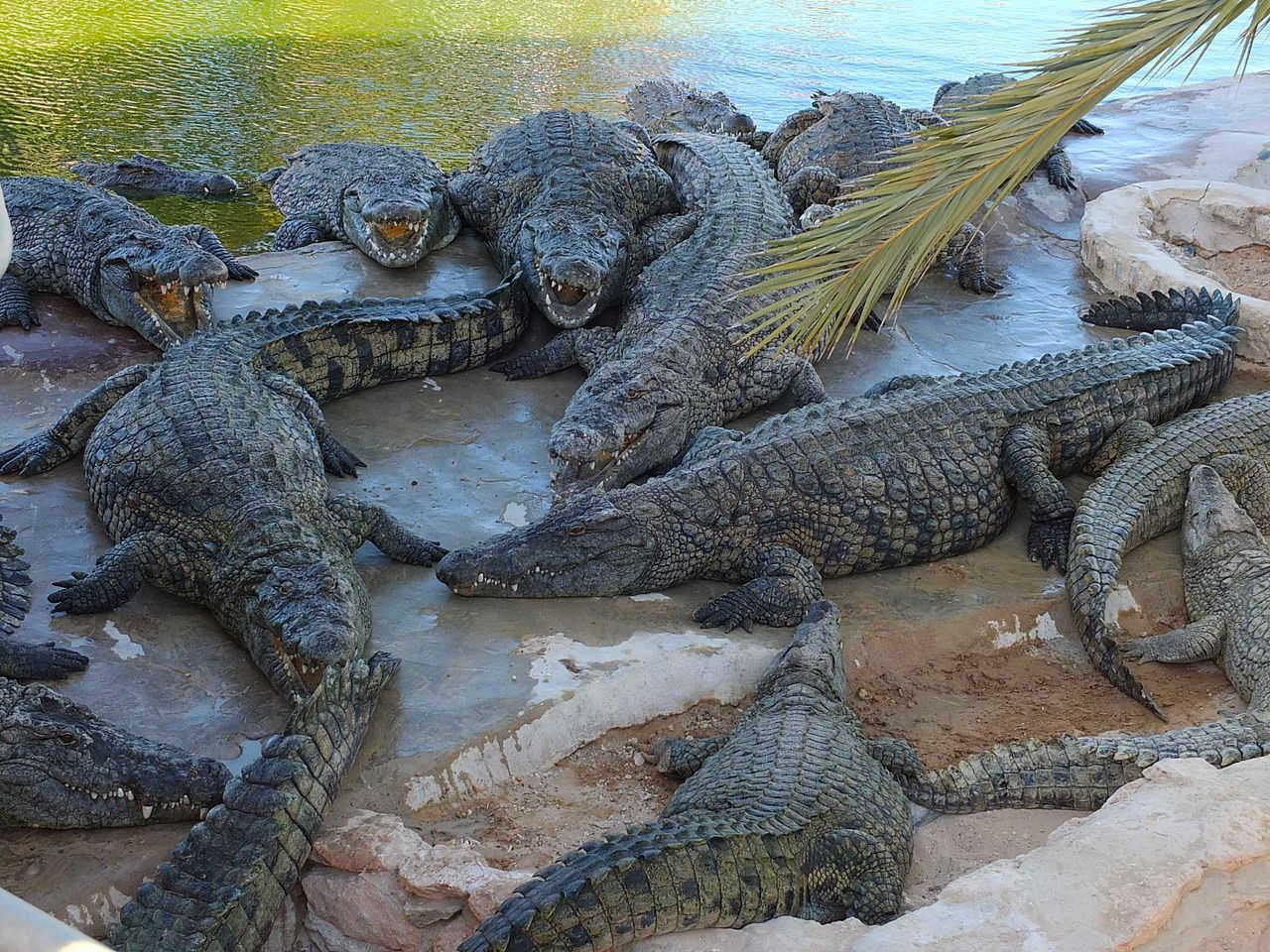 Crocodile Farm in Djerba (Photo: wikimedia.ru / Ad Meskens)
Entertainment Reviews
The Tunisian resort is known as a great place for beach holidays and thalassotherapy, but that doesn't mean there's no entertainment on Djerba. Tourists are offered a folklore program with tasting dishes of national cuisine and a sailboat ride to Flamingo Island. If you come with children, visit Djerba Explore Park and Guellala Potter's Village.
"We rode horses, which are in Djerba instead of cabs. We fed crocodiles in the reserve. So many wild animals in the open, contact zoo – just super! . Plus there is a museum of Tunisian life on the territory. Were at the local fish market, ate real oysters", oleg7777 . Source: otzovik.ru
"There are many water sports. The casino, a place where you can play golf. Many people know that the first part of the movie "Star Wars" was filmed here, and the scenery still remains", kristina123 . Source: otzovik.ru
Shakshusha is an omelet of fried eggs and vegetables with local spices. (Photo: adaenn / flickr.com)
Pros and cons of holidays in Djerba
According to reviews, holidays in Djerba have many pluses :
Pleasant climate and warm sea.
Short flight time.
Most hotels take guests on an all-inclusive program.
Inexpensive products.
You can swim all year round.
In addition to beach holidays, on Djerba do windsurfing, diving, snorkeling, horseback riding and go on excursions.
"Tunisians are wonderful people. Everyone is very smiling, polite, will help in any way they can. In general, you will not be lost. The cities are neat, very nice and beautiful. They are just like eastern cities should be: with small streets, mud houses and grazing camels", katerina 1806. Source: otzovik.ru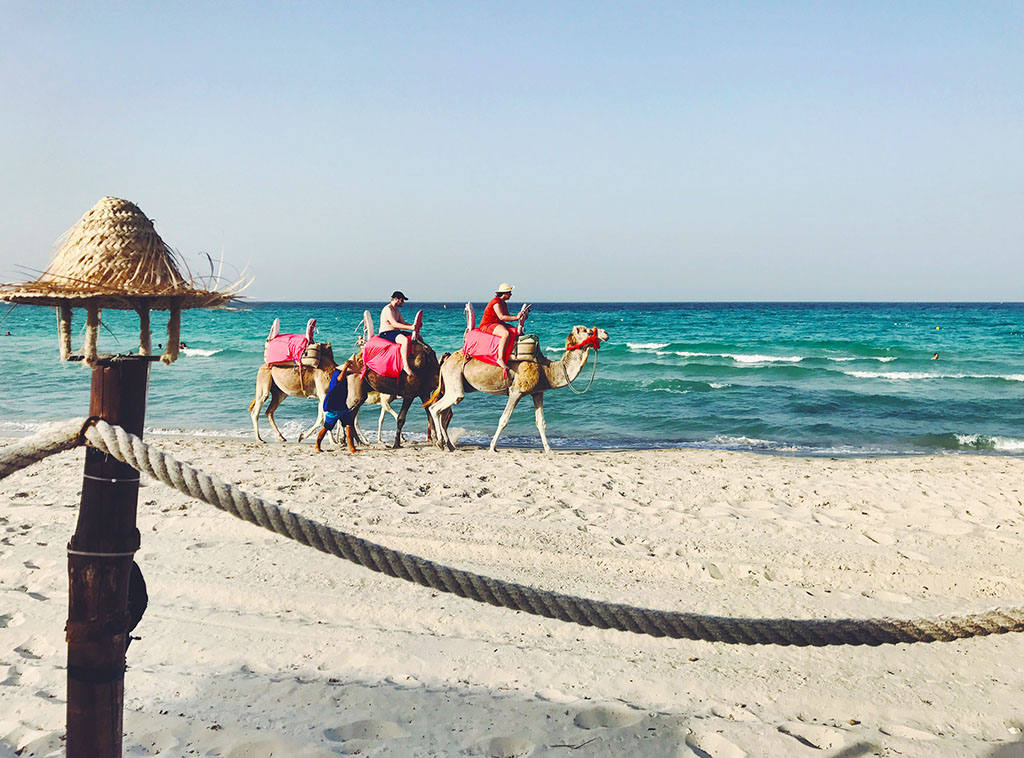 Camel ride, Tunisia (Photo: Pavel Simek / flickr.com)
There are tourists who were dissatisfied with their vacation in Djerba. Disadvantages of the holiday, according to the reviews:
Algae accumulates on the beaches.
A lot of trash outside the hotels.
Fans of educational tourism in Djerba are bored.
"The local attractions can be counted on one hand – two ethnographic museums, a crocodile farm, a small market in the town of Hum-Suk, a synagogue (by the way, one of the oldest in the world) and, perhaps, everything. That's enough for one or two days of active tourism, and then remain only a hotel and the beach," coldshower . Source: otzovik.ru
Comment on Djerba vacation
Nuances of holiday in Djerba in 2022
The popular resort in Tunisia is a reasonable inexpensive alternative to Egypt and Turkey. To rest in 2022 in Djerba not to disappoint, listen to the reviews of tourists.
There is a lot of sun on the island, so take a cream with a high degree of protection, a hat and light clothing with long sleeves. On day excursions, cover the exposed parts of the body, so as not to get burned.
It is more profitable to go to the resort with dollars. Do not change much currency into local dinars, as they are not accepted back in exchange offices and cannot be taken out of the country.
"Liquor on the island is sold only in a supermarket, I can't remember the name, but every driver knows it for sure. If you say the cherished word "bukha" :))), they will bring you there, there's simply nowhere else :)) Bukha is Tunisian vodka", Raduga-duga33 . Source: otzovik.ru
Hotel reviews in Djerba
Good hotel. The staff was amazing the room service, reception, and the beach. Gorgeous food, varied delicacies. Everything was clean and tidy. The beach was clean every day. Read more
What a great holiday! Especially the animators, didn't let us get bored! There was a lot of variety in the food, and the waiters were very attentive. The sea is warm, though when the wind blows it catches a bit of algae. The beach has white sand. Everywhere. Read more
Good beach for all the family, clean and white sand, sea is clean when there is no wind but with waves, plenty of umbrellas and sun loungers at reasonable prices, there is a bar where you can buy ice cream and beer and it's delicious. Read more
Nice, cozy hotel. It's a nice hotel, nice rooms, daily cleaning, nice maids. The hotel is a great place to stay and it's a great place to stay. Read more
I stayed at the hotel for a weekend, from Friday to Sunday. The hotel is in my opinion the nicest and cosiest, homely Egyptian style hotel. The hotel is extremely well run and the food is extremely good. Read more
We had a holiday with my mother and two children (1,7 and 5 months) for 14 days in August-September 2021….Drove from the airport pretty quickly, although the hotel was almost the last one on the list… Helped unload everything, with myself. Read more
HOTEL WAS AWESOME! We stayed at Al Jazeera Hotel from July 14 to 25, 2019 with a big family: myself, my wife Lena, three kids 9, 5 and 2 years old and my wife's mom. Flew to Djerba early in the morning, at half past four, drove to. Read more
Stayed at the hotel for two weeks in mid september 2021. The sea was amazingly warm and had a smooth sandy bottom. The beach is the best part of the hotel. The beach is the best part of this hotel. Read more at
Be careful, they steal money! We went to the manager, but he did not care, no reaction! The food is average, I got everything. Read more
I did not think there was anything wrong with the food. Read more
Good day all, we had a family stay with 2 adults and 2 children (14 years old and 5 years old). I can say that it will leave a lot of positive emotions and memories! I can say that the hotel has left a lot of positive emotions and memories. Read more
I was at the hotel in the second half of October from 10-17, the impressions are on zero to say the least. 1, Whether it is the end of the season or the hotel is considered normal, but the pool was always with filtration. Read more
I stayed at the Odyssey in autumn 2021. I never stayed in Muslim countries before and went to Djerba due to helplessness, so to say, just to have warm sea, sun, and air. But it was wonderful. Read more
I stayed for 2 weeks, the room was great on the 3rd floor overlooking the sea, everything was fine except the lack of variety in the restaurant. The staff on the beach does not help guests with accommodations. Read more
Food was excellent, not inferior to 5ke (prawns every day, different fish, meat, fruit, etc.) All fresh.Local alcohol worthy! Beaches cleaned. Rooms are clean. Read more at
Add Review
Places where myths and legends live: Top 10 Even in our time, when you can get to the other side of the world in a few hours, there are still places on earth that do not fit into the modern world. For centuries, they've been fringed with legends like Manhattan with skyscrapers.
Tips for travelers during Ramadan Mubarak Ramadan! In 2015, the Islamic holy month of Ramadan fell between late June and late July, in 2016 from early June 6 to July 5 (for 2017 and beyond, you can check the wiki). If at that time.
Top 12 tourist attractions in Tunisia Tunisia is often seen as an exclusively beach tourist destination, but even away from the sandy shores there are many surprises for the tourist. This North African country also has huge sandy beaches.
Tourists
The company
Popular Destinations
Where to buy
Discount Travel Shop ® Saletur.ru (2005-2022) – the website is for information purposes only and is not a public offer, as defined by the provisions of Article 437 (2) of the Civil Code of the Russian Federation. Up-to-date information including the cost of the tourist product can be obtained from the managers of the company on the telephone numbers indicated on the website. Any reprint or inclusion of advertising information is allowed only with a written permission of the site's editorial board. Privacy agreement