Montenegro: tourist reviews – 2022
Looking for reviews of tourists about holidays in Montenegro in 2022? We have analyzed opinions about Montenegro resorts, reviews of beaches, sea, excursions, weather and prices in the country.
In general, tourists have a good assessment of holidays in Montenegro. However, before the trip, it is worth finding out what holidaymakers like in this country, and what they remain dissatisfied with.
How to find cheap tickets? It's easy to do with the service Aviasales. It is recommended to look for tickets for different dates and subscribe to notifications about price changes.
General impressions about holidays in Montenegro
Tourists go on vacation to Montenegro to see the gorgeous landscapes of local nature and to get acquainted with the medieval architectural monuments. Holidaymakers in Montenegro leave the best reviews just about the sights and nature.
To relax on the beach, too, but in this respect Montenegro loses to other resorts.
To vacation in Montenegro with children is better to choose cities and towns on the Adriatic Sea, where the beaches are sandy and pebbly with a gentle entrance to the water.
The best time for a vacation is June and September. In July and August in Montenegro, too, can rest, but some tourists leave negative reviews because of the influx of people and crowded beaches.
You can holiday in Montenegro all year round, but those who come to the country in the winter, are often dissatisfied with the lack of central heating in the houses and hotels.
Accommodation in Montenegro in 2022 deserves good reviews of tourists: rooms in hotels are of good quality, level of service, and the owners of private apartments are usually welcoming and happy to help in any matter.
Among the disadvantages of Montenegro is often called the lack of entertainment, noisy nightclubs, parties. Young people can be bored at the resort.
Photo: coast of Montenegro © ecl1ght / flickr.com
Reviews of the beaches and sea
The bathing season in Montenegro begins in late May and lasts until mid-September. The exception is the southernmost resort of the country Ulcinj – you can swim there from April to November.
Water in the resorts of Montenegro is clean and warm, which tourists often note in their reviews of Montenegro. The average summer water temperature is 26-27 ° C. Water in the Bay of Kotor is usually a couple of degrees warmer than in the Adriatic Sea.
Beaches in the country are municipal, in season they are cleaned twice a day. All Montenegrin beaches are equipped with deck chairs, showers. According to the laws of the country, only half of the territory is allowed to have a deck chair. On the rest of the area tourists can rest with towels for free.
Rental of beach equipment costs about 10-20 euros. Prices for food beaches are 10-20% higher than in the city.
Montenegrin beaches are mainly pebble and concrete. This is especially true for resorts on the Bay of Kotor – most tourists are dissatisfied with a beach holiday in such places.
For a beach holiday is better to choose the sea coast – Budva and its suburbs (Becici, Rafailovichi), Ulcinj.
Video about the sea and beaches of Budva:
Weather reviews
In summer
Having visited Montenegro tourists advise to go on holiday in July and August – at this time the weather is the most favorable for bathing.
However, in the high season there is an influx of tourists, which remains unhappy for some vacationers: the beaches are overcrowded, the prices of food and services go up.
Autumn
In early autumn in Montenegro comes the velvet season. The first weeks of September are the best time to travel, as many tourists say. In September, the resorts are no longer overcrowded with holidaymakers, and the sea, warmed by summer sunshine, is still warm.
In October and November at the resorts begins to rain, which pours, sometimes several days in a row, at this time to vacation in Montenegro is not so great.
In winter .
Some tourists go to Montenegro in the winter months. Winter is mild, with temperatures rarely dropping below 10 degrees. This is a great time to see the sights, as there are few people and the prices of admission tickets are reduced.
Spring
Spring is still cool in Montenegro. By the end of April the air warms up to +23 degrees. During this period in some resorts are already open swimming season, although the water is still cool.
From the pluses – a small number of tourists, the ability to safely tour the sights, and low prices. From the disadvantages of recreation in Montenegro in the spring tourists in their reviews often call the cold sea. In addition, many tourists write that in the spring in Montenegro is boring and uninteresting.
Photo: view of the Bay of Kotor from Mount Lovcen © SarahTz / flickr.com
Reviews of Montenegrin resorts
Becici
Tourists like to vacation in Becici, as it is quiet and calm, there are few people, but at the same time the resort is close to the center of tourist life (Budva). Many people come to Becici with children, as the village has an excellent water park. Holidaymakers are happy with the local beaches (sand mixed with pebbles). The water in the sea is slightly warmer than in Budva.
Herceg Novi
Most often, holidaymakers in Herceg Novi note the beauty of this resort. It is rightly considered the greenest and most picturesque in Montenegro. Many people like to vacation in Herceg Novi, because the prices here are much lower than in Budva.
Of the disadvantages of the resort can be allocated concrete beaches and confusing streets. A large number of steps and stairs can spoil the holiday for elderly people and tourists with small children (with strollers).
It should be noted that the resort is located away from many tourist routes, so there is no possibility to get to all the excursions. In Herceg Novi they are not held regularly, but only on a set group.
Budva
Many people choose a holiday in Budva, because here are some of the best beaches in Montenegro, developed infrastructure, a lot of attractions and entertainment. In addition, the transfer from the airport of Tivat to Budva takes only 25 minutes.
In reviews about Montenegro the disadvantages of holidaying in Budva are often called a large number of tourists in high season, as well as high prices (compared with other resorts).
Photo: lake in the mountains of Montenegro © amira_a / flickr.com
Kotor
The old town of Kotor, along with the Kotor fortress wall, are among the top 10 most popular attractions in Montenegro on TripAdvisor. Tourists come here to see the sights as well as to enjoy the views of Boko Kotor Bay.
Among the drawbacks are the lack of beaches, high prices for food, souvenirs, food and lodging. Since the city is a port city, the water around Kotor is not very clean.
From the pluses of recreation in Bar, you can highlight the presence of attractions, low prices for goods, excellent conditions for shopping.
The drawback is the lack of sandy beaches – there are only pebble, and those in the season are overcrowded with tourists.
Petrovac
Judging by the reviews of tourists, Petrovac resort for recreation in Montenegro is chosen by lovers of peace and quiet. The main part of holidaymakers are Russians. It is not suitable for young people, as there is almost no entertainment.
In Petrovac there are many cafes and restaurants where you can eat at reasonable prices. Tourists like the nature around the resort. The beaches here are sandy and pebbly without large stones.
Of the disadvantages can be identified a small area of beaches and high prices for accommodation.
Video review of the resort of Petrovac:
Ulcinj
In summer (July-August) in Ulcinj is very hot, the best reviews this resort of Montenegro gets for vacation in June or September.
Vacationers like the local beaches covered with black healing sand and developed infrastructure. The entrance to the sea is gentle, which is especially enjoyed by tourists with children. The coastline is very wide. It is necessary to walk to the buoys to plunge into the depths.
In Ulcinj there is a real resort atmosphere, the locals are very friendly. Fans of active recreation note the opportunity to do windsurfing and diving.
Tivat
Tivat likes tourists because of the low prices and the availability of interesting sights. Promenade Porto Montenegro is one of the ten most popular attractions in the country.
Of the disadvantages of holidays in Tivat in reviews most often note the concrete beaches in the city. For this reason, many tourists prefer to swim in the vicinity of Tivat.
Rafailovichi .
A small village near Budva, perfect for vacationers with children.
Tourists like the well-developed infrastructure and affordable prices of housing. It is quiet and peaceful, although during the season at the resort comes a lot of vacationers.
Photo: coast near the town of Perast © SarahTz / flickr.com
Excursions and attractions
There are plenty of excursions in the country. Most resorts in Montenegro have sights to see.
Many sights can be seen as part of excursions, but experienced travelers advise to rent a car and see all the interesting places on their own.
Tip: Read about all the nuances in our article Rent a car in Montenegro.
From Budva you can go to all the excursions – they are regular, on a schedule, not on the set of the group. Through the city of Tivat pass the main routes.
If you are planning a sightseeing holiday in Montenegro, as the main place of residence, it is better to choose a resort in the center, where it is easy to get to the sights.
In Montenegro there is an opportunity to order individual excursions – for example on the website Tripster (car is not included).
Vacationers advise the following attractions:
Ostrog Monastery
Tara River Canyon
Blue Cave
Boat trip on the Boko-Kotor Bay
In their reviews of holidays in Montenegro tourists write that in the summer months it is difficult to make long sea and hiking, especially with children. In addition, you should always take a sunscreen to avoid getting burned.
In high demand are trips to neighboring countries – Bosnia and Herzegovina, Croatia, Albania. Very popular trip to Dubrovnik.
Photo: lake in the reserve Durmitor © SarahTz / flickr.com
Price and food reviews
In 2022, prices in Montenegro are moderate, much lower than in other European countries. It is believed that holidays in Budva and Kotor are more expensive than elsewhere in Montenegro.
The range of products in Montenegrin stores is quite usual, the prices of food are low. The cost of fruits and vegetables depends on the season. Normal tea in Montenegro is impossible to buy, so it is better to bring it with you. Alcoholic beverages are inexpensive.
Tourists advise to buy products in the supermarket chain Mega Market: there are lower prices, more variety, and products are always fresh.
The average cost of a dinner in a tourist restaurant in Montenegro is 25-30 euros, although you can easily find an inexpensive cafe with food from 8 euros – the main thing is to look further from the waterfront.
The menu in cafes and restaurants in Montenegro is not very diverse. Usually there is a choice of 2-3 soups, several salads, 5-6 kinds of main courses, 3-4 kinds of desserts and a few drinks. All dishes are quite simple, but delicious.
Tourists advise to definitely try the local meat dishes:
Reviews about holidays with children in Montenegro
According to tourist reviews, Montenegro is well suited for holidays with children.
If you are planning a trip with a child in 2022, pay attention to the resorts of Becici and Rafailovichi. They are popular because of the small number of tourists and good beaches with playgrounds for children.
In the village of Becici is a large water park, one of the best in Montenegro. Also in these resorts are concentrated family hotels, working on an all-inclusive system.
Photo: mountain scenery © amira_a / flickr.com
There's plenty to do for children in Budva too, but it's best to go there in June and September – at the height of summer (July-August) the city is overcrowded with tourists and the streets are noisy even at night.
Tourists also note Petrovac. Holidaymakers like the fact that the town is small, and the beaches here are sandy and not crowded, the sea is shallow and safe for holidays with children.
Are you going on vacation to Montenegro with children? Before you travel, it is recommended to read about how to get from the airport of Tivat to Budva.
Of the advantages of a holiday with children in Montenegro in the reviews of tourists can be highlighted the following:
Short flight
Mild climate, no strong heat, no winds
Clean water and clean mountain air
In supermarkets there are goods for children of all ages.
Easy to rent an apartment or house with its own kitchen, washing machine and other amenities.
Quiet environment in the resorts, which is conducive to family holidays.
The disadvantage of Montenegro some parents call a small number of activities for children . Each resort has a playground, and in Budva and Becici are located water parks. However, some tourists feel that this is not enough.
Video about vacations in Montenegro:
Useful information about Montenegro
Image in header: © Trish Hartmann / flickr.com
Travellata – search for inexpensive tours
Related Posts
Rent a car in Montenegro – 2022: conditions, prices, companies
Prices for holidays in Montenegro – 2022: food, tours, transportation
How to get from Tivat airport to Budva and resorts of Montenegro
Read also
Holidays in Montenegro with children – 2022: the best resorts and hotels
Share in VK Telegram OK Twitter Discounts on tours Turkey – 2000 ₽ .
6 Comments
After reading reviews about Montenegro, I stopped at the Villa Medin M in Petrovac. And I just came back with a feeling of deep disappointment. Unfriendly hosts. And in general, not much goodwill was noticed towards us. Although, no one goes there except us and the Serbs. High prices. Especially in restaurants. But even the fruit is cheaper here. The beaches are overcrowded. Two sun loungers and an umbrella 12 euros. And space for free accommodation is so limited that you have to occupy it at 7 o'clock. The sea in the morning is clean, good, and in the afternoon all sorts of garbage is nailed to the shore. In a word, I won't go there again.
I was in Montenegro, from September 20 to October 3. It was out of season, and weather was cooler than usual +21 … +24, but the sea was +23 … +24, excellent, clean, transparent, from blue to turquoise, and with sand and colorful pebbles, with pleasure I bathed.
I am not a fan of beach rest, therefore the cost and availability of deckchairs to me a little worried, but the prices were from 3 to 6 euros, and the part was already removed, therefore for free place was enough. The people on the beaches at this time are different, it depends on the city and vacationers and the sun. In the season, I think that very much on beaches crowded and crowded, so it is necessary to be prepared for it.
Montenegro very much liked the sea, the nature and the sights. We walked a lot and went on excursions, we ate igalitsa (zinzula), grapes and pomegranates from the branches, hanging down on the road from the local gardens.
We lived in Budva, also for reasons of economy, it was easy to go in all directions of Montenegro by regular buses and to walk to the beaches of Mogren, and to the nearest Becici. Fruits and vegetables in stores are almost all imported, so the prices are expensive. But he who seeks, he will always find – found both local near the bazaar, and on the street next to the beach. And there are stores where you can immediately prepare both meat and fish on the grill.
In the supermarkets the usual range of European products, so if expensive in restaurants, you can eat yourself, especially since most apartments are rented with a stove and utensils. On vacation I like to try the products that I do not have at home: I liked very much the shrimp, local young cheeses, kaimak, olives. Mostly Montenegrins are really meat-eaters, we did not feel a big variety of fish. When I was preparing for the trip, having read reviews on the food issue, I was ready: in general it was okay.
More attention was paid to bathing, "salting in the sea water" and the joy of nature, from the views of the mountains and the sea, the adrenaline of the mountain serpentines. I visited almost all the cities on the coast, bathed on different beaches, everywhere you can find a place to sit and enjoy the view of the sea, bays, old cities, olive groves. Wandered through the cobbled narrow streets of old Budva or Kotor, plunged into another era, the Venetians left their mark on the architecture there. I liked Montenegro, left pleasant memories.
We chose the hotel by chance, it was in Melina, at the entrance to Herceg Novi. Off season prices were 60 euros per night, which suited us fine. Great European service, a chic restaurant and an amazing spa (massages, masks, saunas, jacuzzi, exclusive inhalation facilities, and much more). Food is excellent. Holiday impressions – quite comparable with Europe, but much cheaper.
I forgot to tell if anyone is interested – the hotel is called ACD. It is new and modern, very comfortable and beautiful. And the rest there was just unforgettable. )
Montenegro is simply magical! This summer I had a wonderful holiday in Budva!
What clean beaches, what scenery around… I'm impressed! And I was surprised that you can rent very cheap apartments in Montenegro.
What do tourists think about holidays in Montenegro?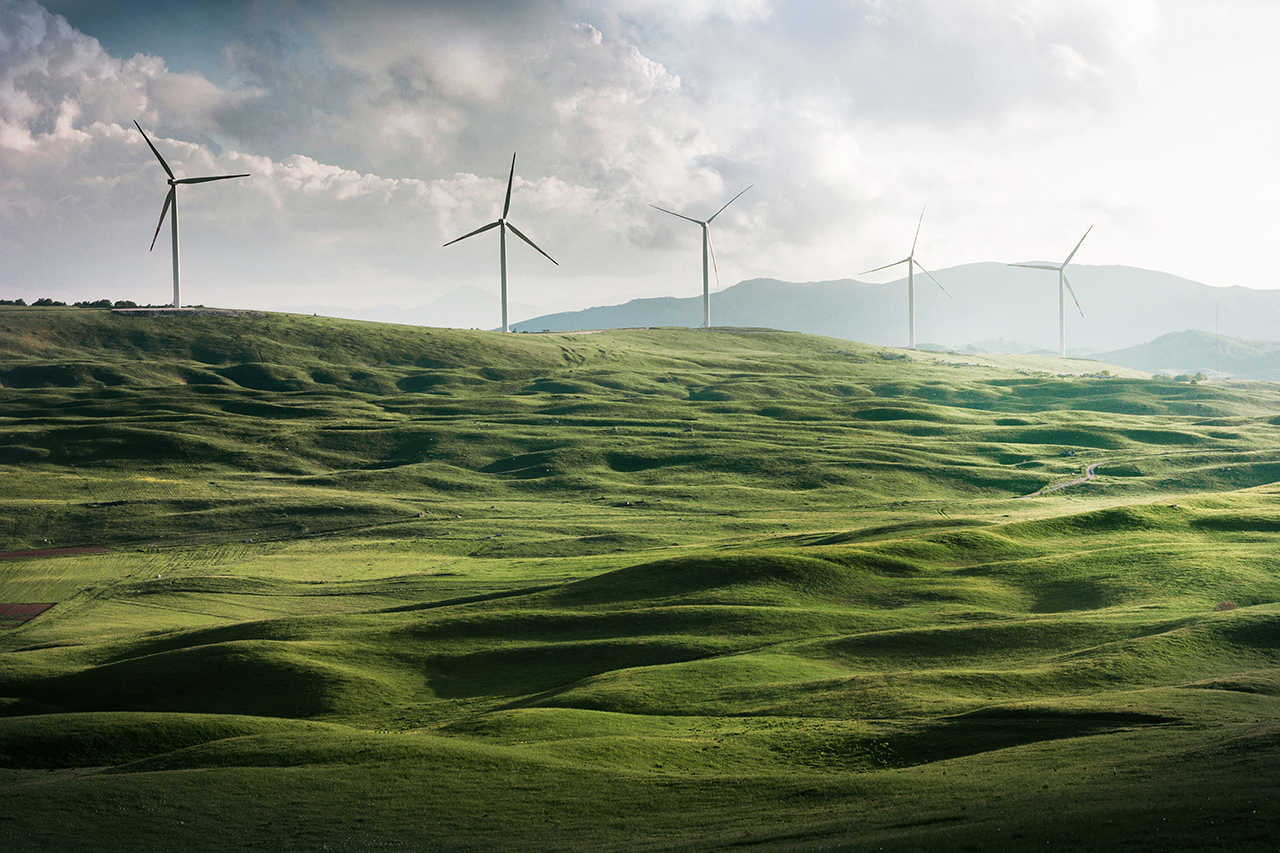 We have collected reviews of tourists about Montenegro – a small and friendly country on the Adriatic Sea. The pros and cons of vacationing in 2022. Find out what they write about the weather, beaches, hotels, excursions and entertainment.
Content:
Reviews of the weather in Montenegro
A temperate continental climate prevails in the central areas of the country, while the Adriatic coast has a Mediterranean climate. Bathing season begins in May, when the sea water is heated to +19. +20°С. Learn when to vacation in Montenegro.
Resorts who do not like the intense heat, try to visit in June or the first half of July.
According to reviews of tourists, holidays in Montenegro in the second half of July and August are chosen by those who can tolerate high temperatures well. During the day the thermometer rises to +28. +33°С. The sea is very warm +24. +25°С.
Many people like Montenegro during the Indian Ocean season.
According to feedback from tourists, the holiday in Montenegro in October does not suit everyone. They noted the changeable weather. The air and sea water is +20 ° C, and it rains more.
In winter, travelers from different countries come to the country to celebrate Christmas and New Year holidays and to travel on excursions.
Olga: "For vacation I chose the last days of June. The water temperature was +23. +24°С – comfortable to swim. The air temperature during the day was only +22. +25 °С during the day and at night time it went down to +18. +19°С. It is even cool".
Nadezhda: "I was on vacation from September 15 to the beginning of October. The weather was wonderful, we swam and sunbathed. It was not hot, quiet and calm on the beach.
Svetlana, Eugene: "On January 30 and 31, the weather was fine, the temperature was about +17°C. We did not wear warm jackets in Montenegro at all".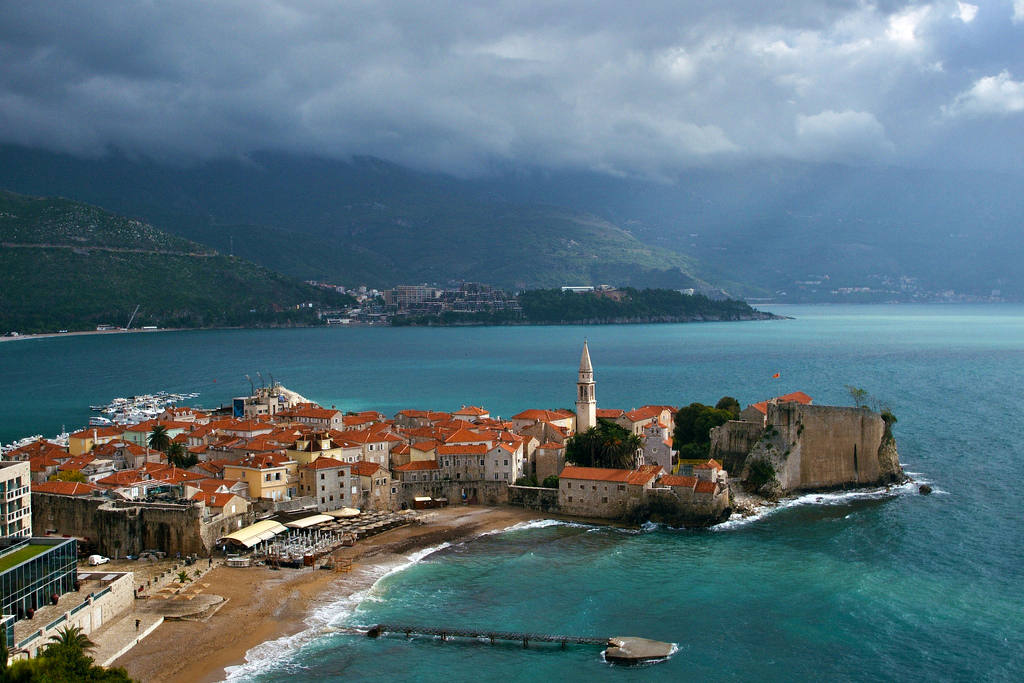 Old Budva (Photo: varfolomeev/ flickr.com)
Hotel reviews in Montenegro
There are few luxury 5* hotels in Montenegro, and they are expensive. According to reviews of tourists, popular budget apartments, campsites and cottages by the sea. Double rooms in 3* hotels at sea resorts cost 45-60 € per night.
– bargain tours – look for discounted hotels – you can book a tour or hotel from a tour operator
Read tourists reviews of hotels in Montenegro.
Oksana : "The hotel Splendid Conference & Spa Resort 5* has a wonderful room, wonderful beach, cleanliness everywhere, great concierge work.
Albina : "The staff at Hotel Park 3* are incredibly nice! Beautiful views and its own comfortable beach. Well the jacuzzi and saunas on the roof were just a sight to behold!
Svetlana : "At Hotel Kerber 3* everything worked. The breakfast was good. The value for money is excellent. Very responsive and friendly staff, there is a Russian-speaking girl at the reception."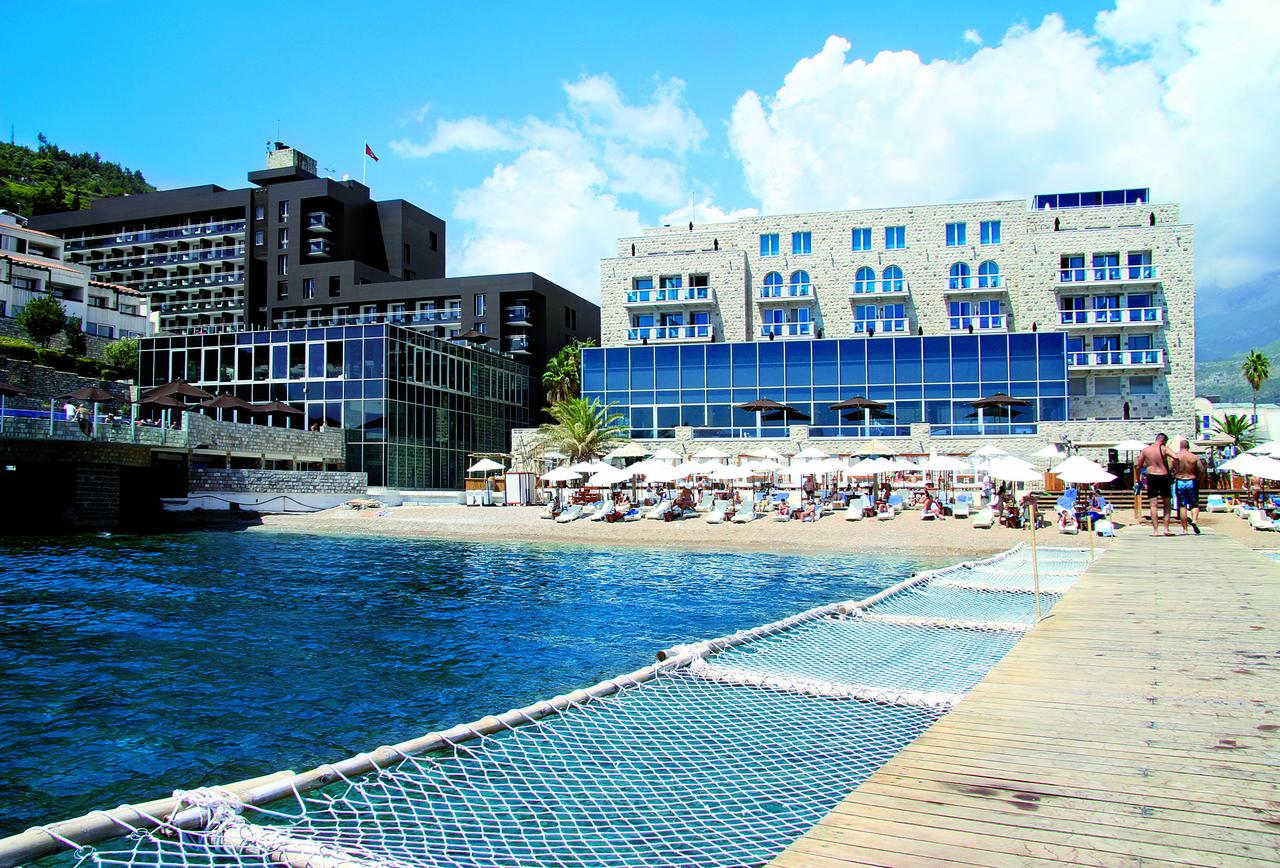 Avala Resort & Villas grounds (Photo: booking.com / Avala Resort & Villas)
Reviews of the beaches and sea in Montenegro
There are very few sandy beaches on the Adriatic coast. The largest – Velika plaza – has a length of 13 km and is located in the town of Ulcinj in the south of the country. If you like sandy beaches, choose Becici, Rafailovichi, Igalo and resort towns in the suburbs of Tivat – Donja Lastva and Selyanovo.
In Montenegro there are concrete beaches and beaches with imported sand. It is poured at the beginning of the season, but by July and August the sea waves completely wash away the sand and expose the native shore. Most popular vacation spots by the sea are covered with pebbles or a mixture of pebbles and sand.
The entire coastline in the country belongs to the state – access to the sea is free. On any beach there are paid sunbeds and places where you can sunbathe on your towel. The shore is cleaned often – 2-3 times a day.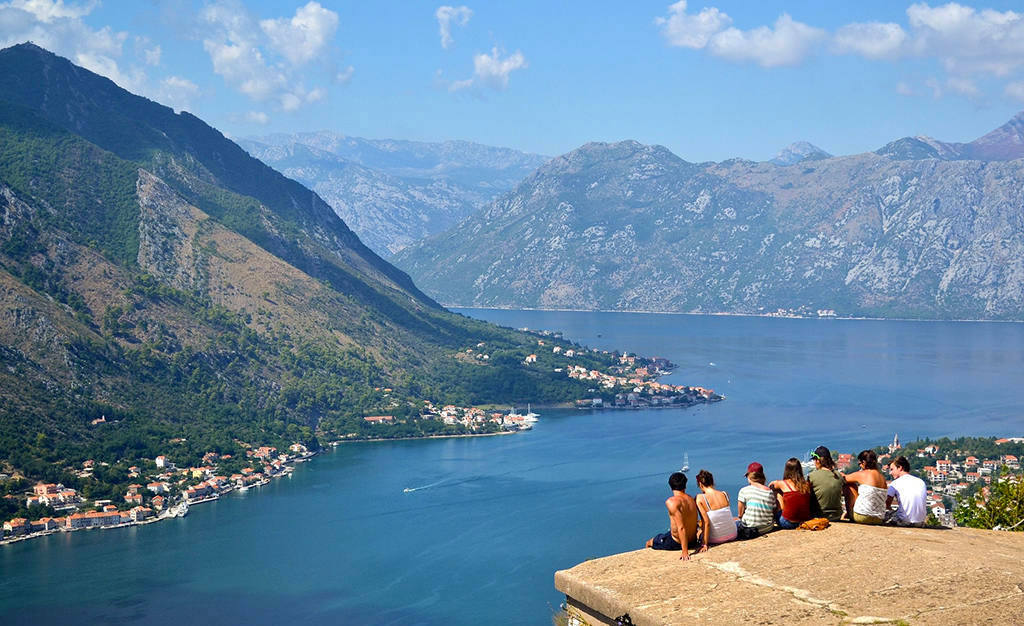 View of the Bay of Kotor, Montenegro (Photo: yakovlevmax0 / pixabay.com)
To have a successful vacation in Montenegro in 2022, read the reviews of tourists about the beaches.
Vygovskaya E.: "The beach in Becici is great, fine pebbles! A lot of cafes, you can eat without going to the room. Various entertainments.
Elena: "The entrance to the sea is different on all beaches in Budva, at Sveti Nikola, don't risk without the slippers – there are only stones.
Elena Khvostikova: "The beaches here are made of pebbles, which is hard for our feet. It is very hot during the day. Water +22 ° C at a heat of +35. +40°С. It is cold to enter, but you quickly get used to it.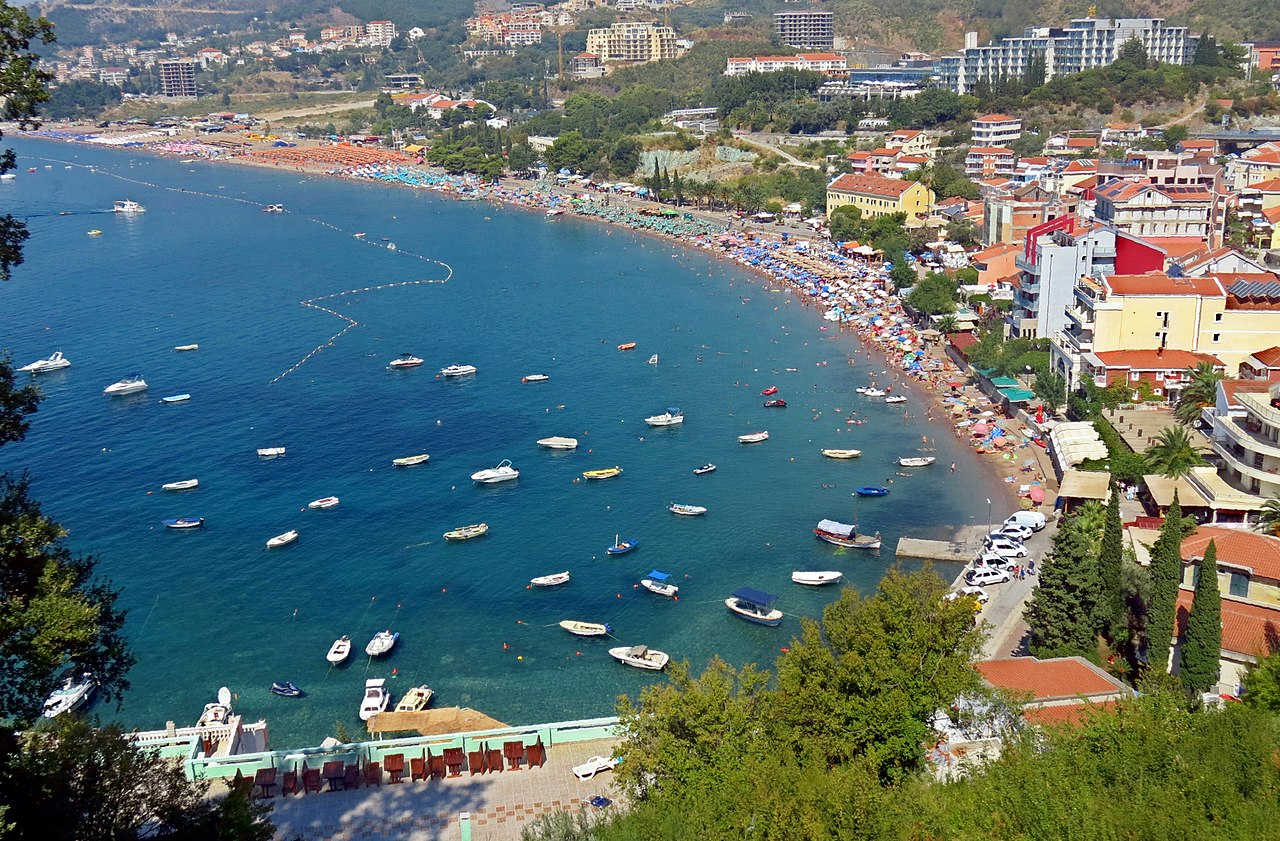 Beach Becici in Budva (Photo: wikimedia.ru / Natalia Semenova)
Reviews of excursions in Montenegro
Look for excursions on the Tripster website – there are unique author's tours that will show the country from a new side.
Most of all excursions with Russian-speaking guides are from Budva. Tours in Russian are also offered from Bar, Kotor and Tivat. According to reviews of tourists on holidays in Montenegro popular trips to monasteries of Budva Riviera, Lake Skadar, on wineries, ancient forts, the picturesque Bay of Kotor and gastronomic tours.
katyarkada: "We took a tour of Montenegro – Canyons! The beauty is indescribable.
Darya : "The old town in Budva is very beautiful and there is a lot to listen to about it. Would have liked a little more walking, the whole tour came out only an hour, quickly." Read more about the tour →
Eugenia : "If you want to see Montenegro from a completely different perspective, the excursion to the canyon of the Tara River and the Douromir Park is for you. Throughout the route, the nature, the landscape change, and there are unreal views everywhere." Read more about the tour →
Entertainment Reviews
Active tourists enjoy diving, windsurfing, rafting on mountain rivers, trekking through national parks and climbing. Lovers of evening entertainment have a great time in nightclubs and bars in Budva. In small resort towns, entertainment facilities are located near the waterfront.
If you come with a child, go to the water park in Budva, Becici or Igalo. Children will be interested in playgrounds on the beaches and boat trips.
To make sure that your holidays in Montenegro in 2022 will not disappoint you, read the reviews of tourists about the entertainment.
my-capitan: "To come to Durmitor and not go up to Zabljak is simply unseemly. Two important tips: rain gear and hiking boots are a must at any time of year. Stock of water – at least 2 liters per person.
Buzik: "Budva Water Park is just a water paradise for children. The staff are watching for safety measures. At the children's attractions mostly girls worked, so the children were in good hands.
Elena: "The water and underwater world are amazing! We came with a mask and snorkel, my husband spent hours swimming. There were a lot of fish, urchins, almost no algae."
Durmitor National Nature Park (Photo: unsplash.com / @dejan_kide)
Pros and cons of vacationing in Montenegro
Almost all tourists who came to Montenegro in 2021 were satisfied. They left positive reviews about their holidays on the Adriatic.
The plusses of vacationing in Montenegro in 2022:
Visa-free entry for Russians.
Non-tiring flight.
Friendly locals.
Clean and warm sea.
Inexpensive hotels and food.
Tasty national cuisine.
Natural and historical places of interest.
Interesting excursions.
Possibility to combine beach rest and treatment.
Kateglad: "It was our first vacation abroad with a child, so we planned it very carefully. Montenegro was chosen because of the favorable climate, the lack of visas and the relative affordability of the European resort.
Minuses :
Few sandy beaches.
There is garbage in the streets.
Hotels "all inclusive" for Montenegro – a rarity.
Compared with Europe, Turkey, the UAE and Egypt – a low level of service.
In summer there are a lot of holidaymakers.
Elena: "In the high season, there is nowhere to eat on the beaches. This is not a good place to stay if you are looking for a peaceful holiday. Cleanliness is very poor".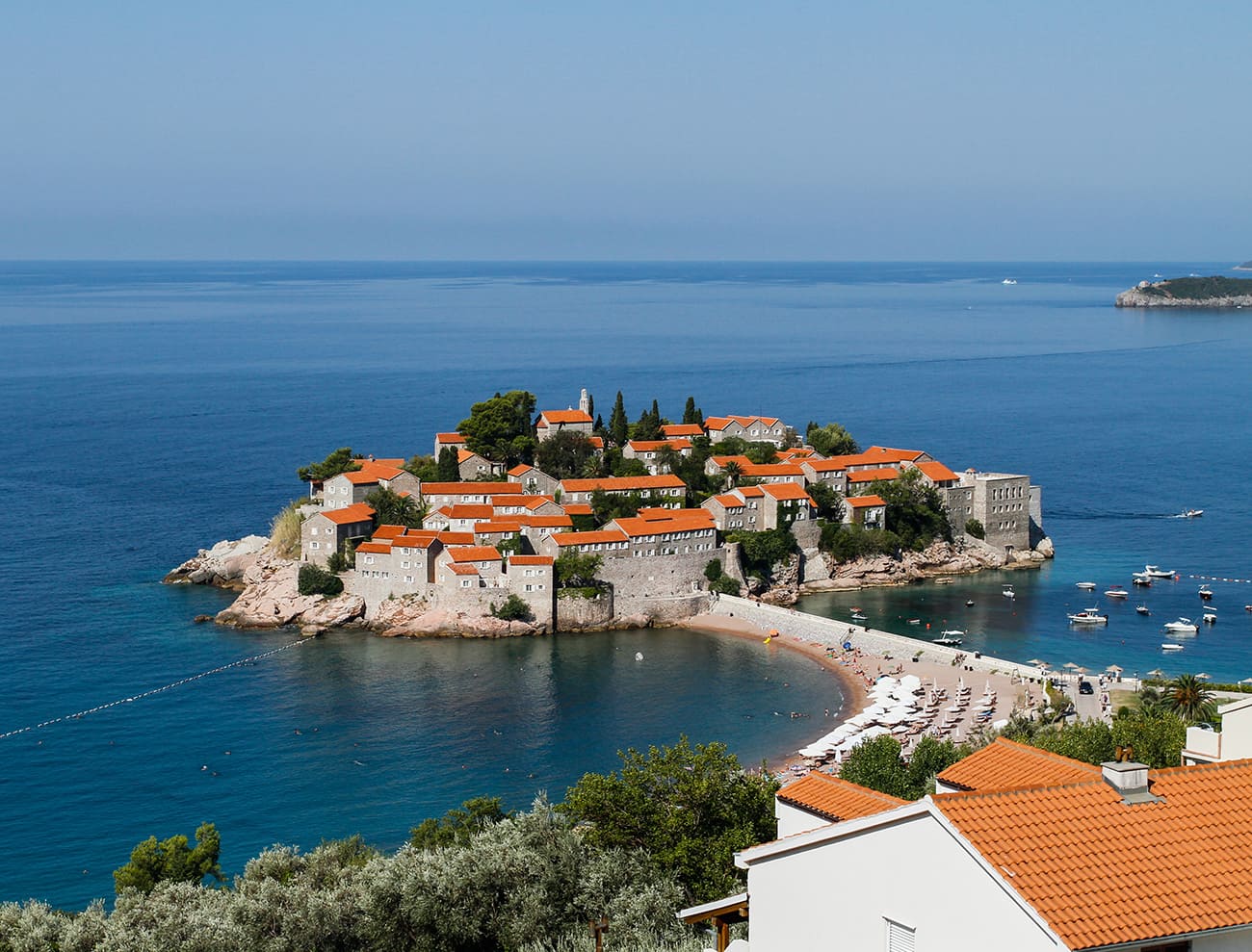 Sveti Stefan Island, Montenegro. (Photo: nakedst / flickr.com / License CC BY-NC-ND 2.0)
The nuances of holidays in Montenegro and tips for tourists
In resort towns and villages, many people speak or understand Russian well. Languages are similar, so it is easy to communicate with Montenegrins, and signs are intuitive.
For a budget holiday by the sea, get an apartment with a kitchen and cook for yourself. Depending on the location and comfort level, they cost 50-110 €.
For a trip with a small child, choose September. In early autumn there is no heat on the coast, the sea is warm and there are few tourists. In addition, in the velvet season there are a lot of cheap fruits and berries on the shelves.
Anastasia Yefimova: "In early autumn, many fruits ripen: different varieties of figs, grapes, mulberries, melons, watermelons, nectarines".
According to Montenegrin laws, the prices for tourist services are regulated by the state. In all agencies the cost of tours is almost the same. There is no reason to save money!