Saranda – traveler reviews
Reviews about Saranda, based on personal experience. Pros and cons, personal impressions, what you liked and didn't like about the trip. Who should pay attention to this city, whether (Albania) is suitable as a place for family or youth vacation. The main attractions and entertainment, what the city of Sarande is famous for. Tips and tips for those who plan to visit the city for the first time.
The main Albanian resort.
Once I came across a small selection of photos from the series "top 10 places to go right now". That's when the thought of a trip to Albania was firmly planted in my head. And, you know, these places are really underrated. I was intimidated before my trip, discouraged, suggested I consider other options, all for nothing. Albania is beautiful in every detail: it is insanely beautiful, very tasty, inexpensive, warm, hospitable and just good. I turned out to be absolutely thrilled!
Saranda is a beautiful resort town in the south of Albania, on the border with Greece. Here, sitting on the beach, you can easily see the island of Corfu. Saranda pleasantly surprises with its development, hospitality of the locals, the quality of recreation and, of course, the nature: azure sea literally sparkles in the sun, and the towering mountains around mesmerizing. It would seem, why in such a "wild" Albania developed resorts? But being here, you realize how far from the truth are the stereotypes.
By the way, Saranda has long been fancied by the Italians, of whom there are many – the more wealthy buy hotels or open restaurants, while the rest just relax. Hence the corresponding level of comfort.
How to get here:
– You can fly to Tirana and drive to the coast by local bus or by rented car. The drive from the capital can take about 5 hours.
– You can get from neighboring Montenegro by rented car, then there is an opportunity to drive along the entire coast through the scenic mountain passes.
– Another option is to take a ferry from Italy (from Bari or Brindisi).
– Or – by ferry (catamaran) from the island of Corfu. Most likely, this will be the fastest option.
The advantages of a vacation here:
1. it's budget-friendly.
Albanian prices are a paradise for budget travelers. Here without problems in the high season you can rent an apartment for 25 euros. A hearty meal in a restaurant with seafood for two will cost 10-12 euros, breakfast for two will cost 5-7 euros (including coffee). Separate coffee in a cafe costs about 50-70r per cappuccino, croissant – 30-40r, a bowl of soup – 100r. Of course buying products in shops/bazaars is the most budget-friendly solution. For example, 1 kg tomatoes will cost 50 rubles, bread – 10-15 rubles, dozen eggs – 60-70 rubles, a bottle of beer – 40-50 rubles. You must understand that the prices depend a lot on the euro exchange rate on the day of the trip, but in general, food in Albania is very cheap.
2. it is very beautiful
Everyone who is madly in love with nature – definitely need to get here. First of all, it's the sea. It is unnaturally blue, like in a swimming pool. Here is the Ionian Sea, it is more salty relative to the neighboring Adriatic. Secondly, there are mountains. And not small hills, but high, real mountains, with picturesque passes and gorges, with small mountain lakes and fast rivers. And also – the stars. What a bright sky here at night. Cities are poorly lit, so at night you can climb on the roof of the hotel and have a good hook up, and if the star fall – you can easily make a wish for the year ahead.
3. it's quality
Saranda is a largely Italian resort and the quality of services provided here is at a good European level. This fact is wonderfully complemented by the innate hospitality of the local population. Here are the most comfortable conditions for tourists.
4. it is secluded.
The resort itself and its city beach, of course, is saturated with vacationers, especially in high season (although it is in any case not like in neighboring Montenegro). However, scattered along the coast is an insane amount of completely deserted beaches, where you will only have a couple of people in your neighborhood. To find each – simply. And if you have a car – you can get there in a few minutes.
5. it's delicious.
Each dish is an individual work of art. Yes, they may not look like the Michelin restaurants, but here you want to try everything. And even when you're full, you want to keep eating.
6 It's friendly.
The local population is very hospitable. Everyone is happy to start a dialogue, will prompt something, no problem to help, explain where it is more profitable / tastier / nicer. And they are insanely warm to Russians, memories from friendship with the Soviet Union remain. When they find out that you are from Russia, they invite you to their house, treat you, smile and say a lot of nice things, conduct an excursion and tell you where you should visit. The older generation has no problem speaking Russian, because many of them studied at Soviet universities.
Minuses are also, for me, they are insignificant, but keep in mind:
1. It is not easy to get here, in any case it will be some kind of composite route
2. Albania has poor transportation links. If from the capital you can find some local bus, on the coast – only a cab or a rented car
3. it is not suitable for vacations with children.
4. Most of the beaches are fine white pebbles.
Who should go here:
– Those who want to be at a quality European resort by the clear sea for ridiculous money
– Who needs a visa-free vacation (Russian citizens do not need a visa during summer).
– Those who want to combine a beach holiday with an active holiday (trips to the mountains, horses, boats, and so on).
– Those who'd like to travel all over Europe and are looking for something new, but not too far away.
– For those who would like to get away – Albania is not yet in a massive tourist flow, and to be here without a million tourists around in the high season is quite real.
What to do here:
– It's a great beach vacation on the shores of the Ionian cleanest sea, so here – swim, lie in the sun, relax, explore all the local beaches
– Walk in the evenings along the promenade with palm trees
– You can reach the karst spring Blue Eye. You can swim in it, but it is very cold. There is a wonderful observation deck where you can take good pictures.
– Go to museum-reserve Butrinti and on the way back to have dinner at restaurant Guvat – here they cook dorado perfectly, and it costs about 4-5 euros.
– Meeting sunrises and sunsets on the Lekursi fortress, which is located above the city.
I really highly recommend to visit Albania It is desirable to come here for a long period, because you will not want to leave. And I, probably, will come back here for sure.
Saranda is a picturesque and lively resort.
Meet the pearl of the Albanian Riviera – Saranda! We have collected reviews about the popular resort on the Ionian Sea. Find out what they write about hotels, beaches, entertainment and food prices in 2022.
Content:
Impressions of the resort.
The small town is located in the south of the country, opposite the Greek island of Corfu. Saranda is a lively and picturesque resort. Tourists are delighted by the clean azure sea, good beaches, noisy and cheerful promenade, democratic prices for hotels and food. Gourmets will be delighted as Saranda has a great variety of fresh fish and seafood!
Greta: "Saranda is more suitable for youth and not very good for children. There is no shallow sea for kids. The sea itself is cool in some places because of the falling in mountain rivers.
Balyshev D.: "A beautiful embankment. Not a bad place to walk and relax. Prices in cafes are overpriced. With the arrival of the cruise liner, the promenade is crowded.
Saranda is a lively and picturesque resort. Photo: raagoon.gmail.com / Depositphotos.com.
Best Hotels
Although Saranda is not a big city, tourists can stay in budget apartments and good 2-5* hotels. A minimal knowledge of English is enough to explain yourself to the hotel staff. In the center of the resort is noisier, and prices for accommodation are higher. Search for tours in Albania on Travelate.
The best hotels in Saranda, according to reviews and ratings of tourists:
Casa Noste Apartments – comfortable apartments with a kitchenette 300 meters from the sandy beach.
Seaside Artist 3* – A hotel with a panoramic elevator and a terrace with stunning views of the coast.
Illyrian Boutique Hotel 4* – stylish new hotel on the first line.
Blue Sky 4* – comfortable hotel with a great view to the Ionian Sea and Corfu Island.
Asi Rooftop 5* – luxury apartments near the best beaches of the resort.
Butrinti 5* – fashionable spa hotel 100 m from the pebble beach.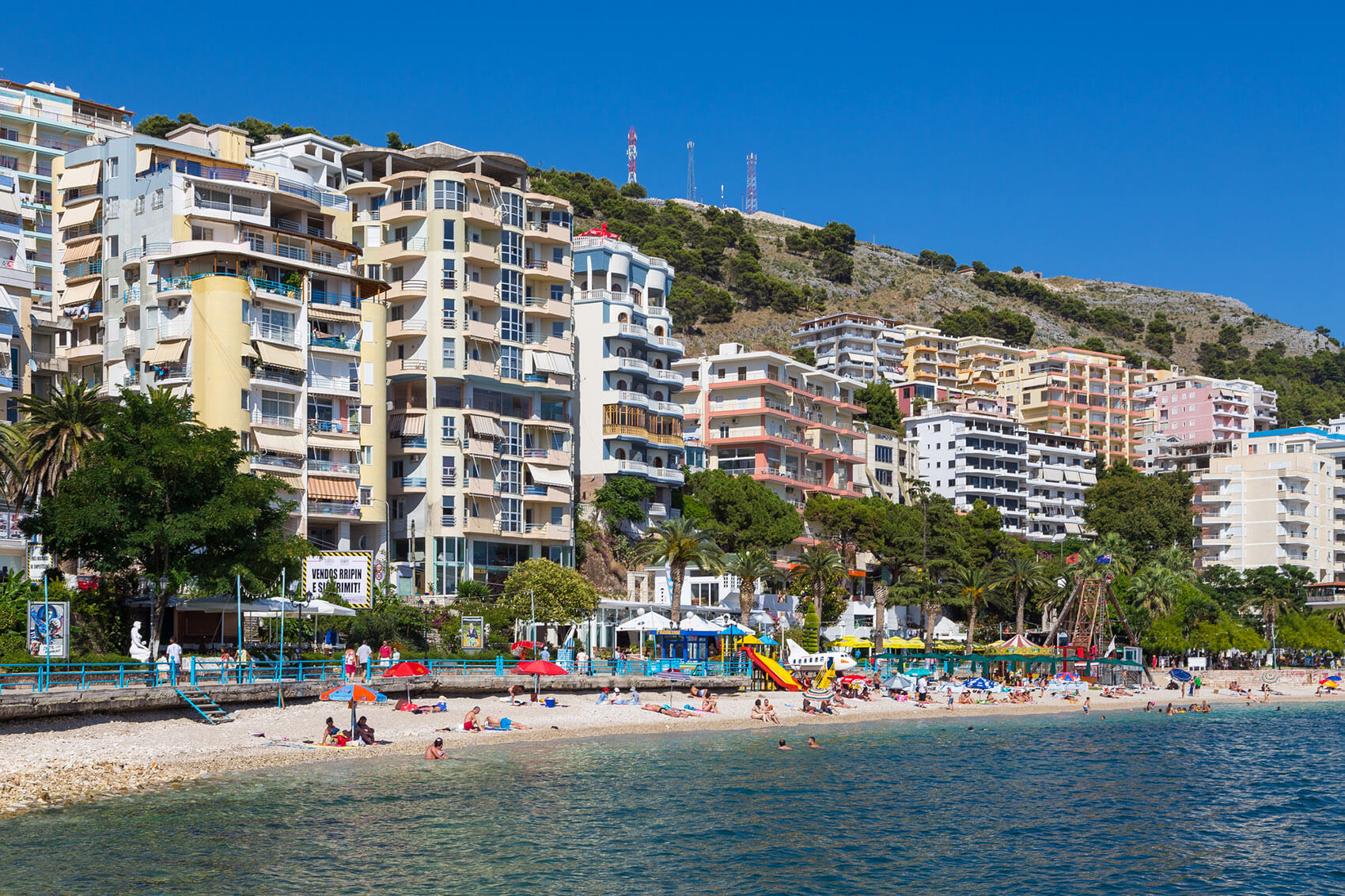 Saranda is not a big city, but there is a choice of apartments and good hotels. Photo: raagoon.gmail.com / Depositphotos.com.
Saranda Beaches.
The sea at the resort is so clear and calm that, even if you swim far away, you can see the rocky bottom. The beaches of Saranda are located in a bay that protects the shore from strong winds. The longest central beach is next to the waterfront.
Most beaches are covered with fine and medium pebbles. There are concrete slabs and beaches with sand. The entrance to the water is almost everywhere smooth.
Julia: "In whatever weather you come, Monastery Beach always has beautiful waves, even if there is absolutely no wind in town. The beach is pebbly but nice for your feet. You can have a great time, taking amazing photos against the rocky shores and waves. Especially beautiful here at sunset. It feels like being in another dimension.
Yulia: "Pulebardha Beach is a beach between Saranda and Xamil. During the season it is a little less crowded than the other beaches. Very good restaurant with a panorama of the sea. The pebbles are quite smooth, we did without special shoes. The sea is clean and clear. Definitely recommend for travelers in cars, as it is a long walk there. We came by small boat".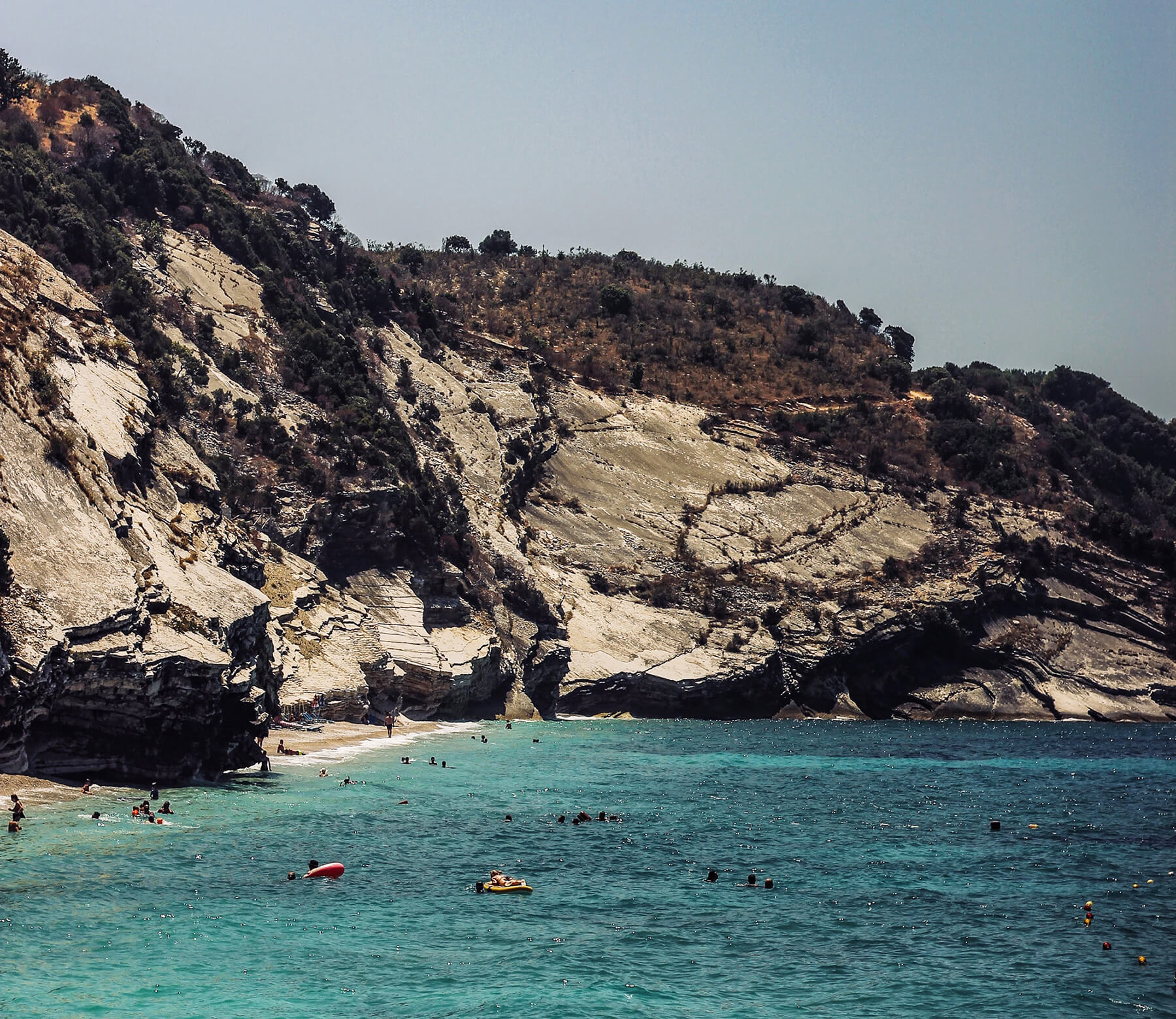 Mirror Beach. Photo: elionj / unsplash.com.
Food prices
Tourists write that food prices in Saranda are almost half as much as in Montenegro. The average bill for a hearty lunch for two without liquor is $10-$15, and for dinner with a glass of wine, $18-$22. In tourist restaurants, delicious set lunches with drinks cost $5-6, risotto – $5, seafood dishes – from $6, pizza – $2-2.5, and a cup of cappuccino – $1.4-2.
If you are planning to rent an apartment with a kitchen and want to cook yourself, we advise you to buy food at the local market in the city center, in the supermarkets Spar, Big Market, Alfa, Market Vellezerit Myrtaj and Conad. Fish, crabs, shrimp and mussels are advantageous to take in fish stores.
vradvinsa: "If you want to eat good and cheap, go a little further away from the center. The portions are huge, and most importantly, delicious. I highly recommend the restaurant Mamas kitchen. Prices in Albania are reasonable, for example, a large fish with vegetables will cost 950 Lek (about 500 rubles). It is worth going to The mussel house for mussels. A kilogram of delicious mussels costs 400 Lek".
What to do
There are enough sights in Saranda and around it! In the center of town, near the waterfront is the Orthodox Church in honor of the holy martyr Harlampi and St. Nicholas. A few miles off the coast is Greek Corfu. The way to the island by ferry takes an hour, and by boat – 30 minutes. According to reviews of tourists, from Saranda are popular excursions to the ruins of the ancient polis Butrinti, the ancient city of Foinike and Byzantine fortress Lekursi.
Serzhantova: "From the excursions we recommend to visit the city of Gjirokastra, Butrinti National Park and the spring "Blue Eye". All the rest – jeep safaris, boats with barbecues on islands – everything as everywhere else for tourists, if you have financial possibilities and desire".
When it's better to go
The bathing season at the resort begins in May and ends in late October. From mid-July to the end of August the weather in Albania is hot and dry. So many people come to Saranda that there is no room for apples on the beaches! If you can't stand the summer heat, come to the Ionian coast in June or early autumn.
Natalia Yuvchenko: "In September the sea is beautiful, the water is about +25 ° C. Of the 6 days, three days were quite strong waves".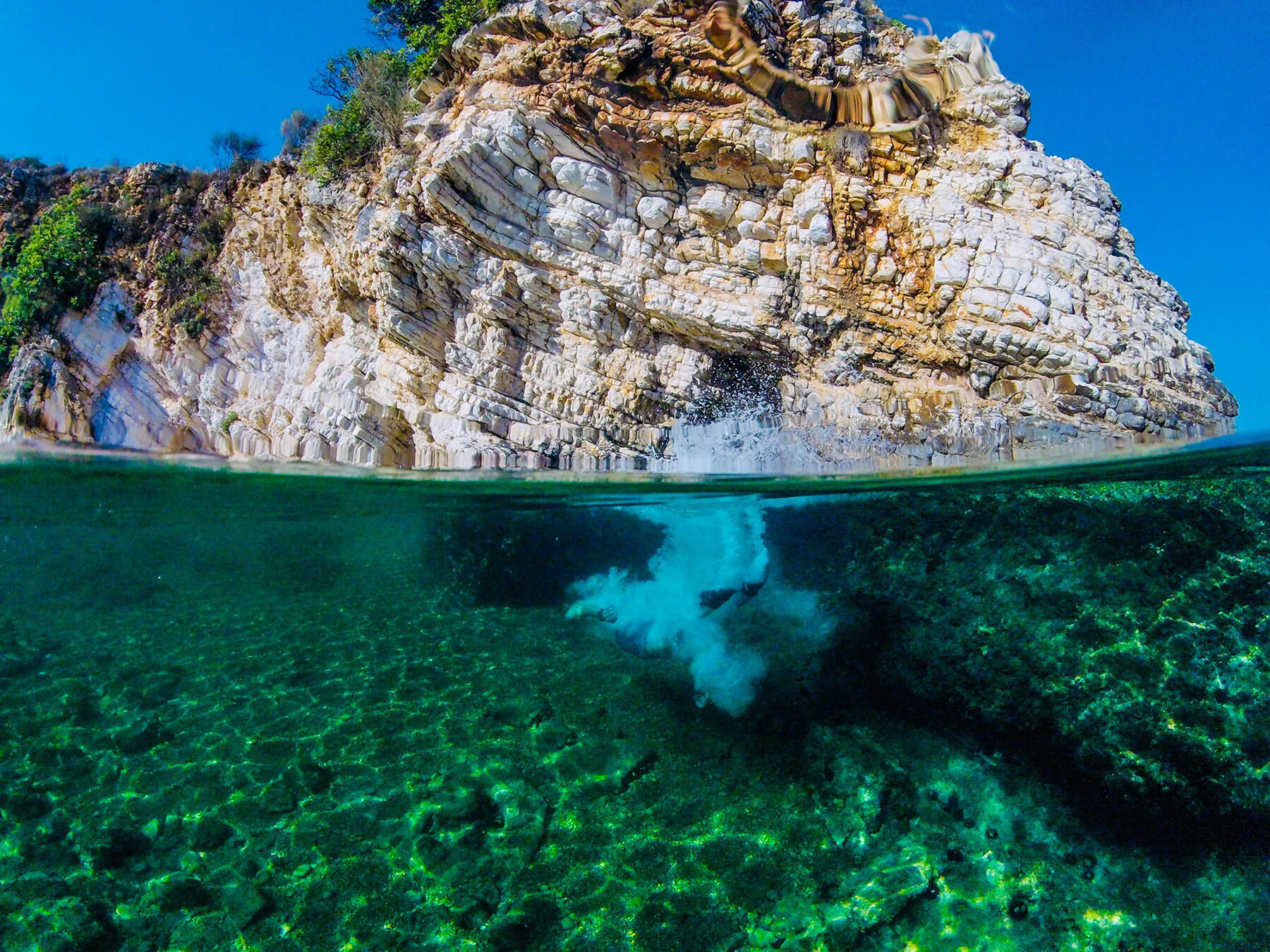 Bathing season at the resort begins in May and ends in late October. Photo: elionj / unsplash.com.
Conclusions: is it worth the trip
According to tourist reviews, the resort Saranda in Albania has excellent beaches, beautiful sea, picturesque nature, pleasant atmosphere and friendly locals. Holidays here can be recommended to young people, couples and tourists in age. Please note that from the airport of Tirana it's 200 km to Saranda, the bus takes 5-6 hours along a serpentine road. The disadvantages of the resort are not too clean streets and clingy gypsies.