Holidays in Sochi in November
We tell about rest in Sochi in November 2022. What the weather in the off-season and how best to dress. Where in Greater Sochi can rest inexpensively. Tips and reviews of tourists.
Content:
Air temperature
In late autumn, the climate of the Russian subtropics is unpredictable. At night it can be quite cool, and during the day by the sea in the sun the thermometer rises to +18. +20°С. It is too late to sunbathe.
In Krasnaya Polyana it is already snowing. When the snow cover becomes larger, in the middle or end of the month starts the ski season. When vacationing in Sochi in November 2022 you can get very bright impressions: from palm trees and cypresses on the coast to snowdrifts in the mountains it takes only half an hour to get there.
The air temperature in November, day and night:
| | | |
| --- | --- | --- |
| When | t by day | t at night |
| Beginning of November | +16°С | +14°С |
| Middle of November | +14°С | +12°С |
| End of November | +13°С | +11°С |
Victoria Gertseva: "November weather in Sochi. Sometimes it is sunny and +20 ° C, sometimes stormy showers and temperatures of +12 ° C. The climate is not typical for late autumn".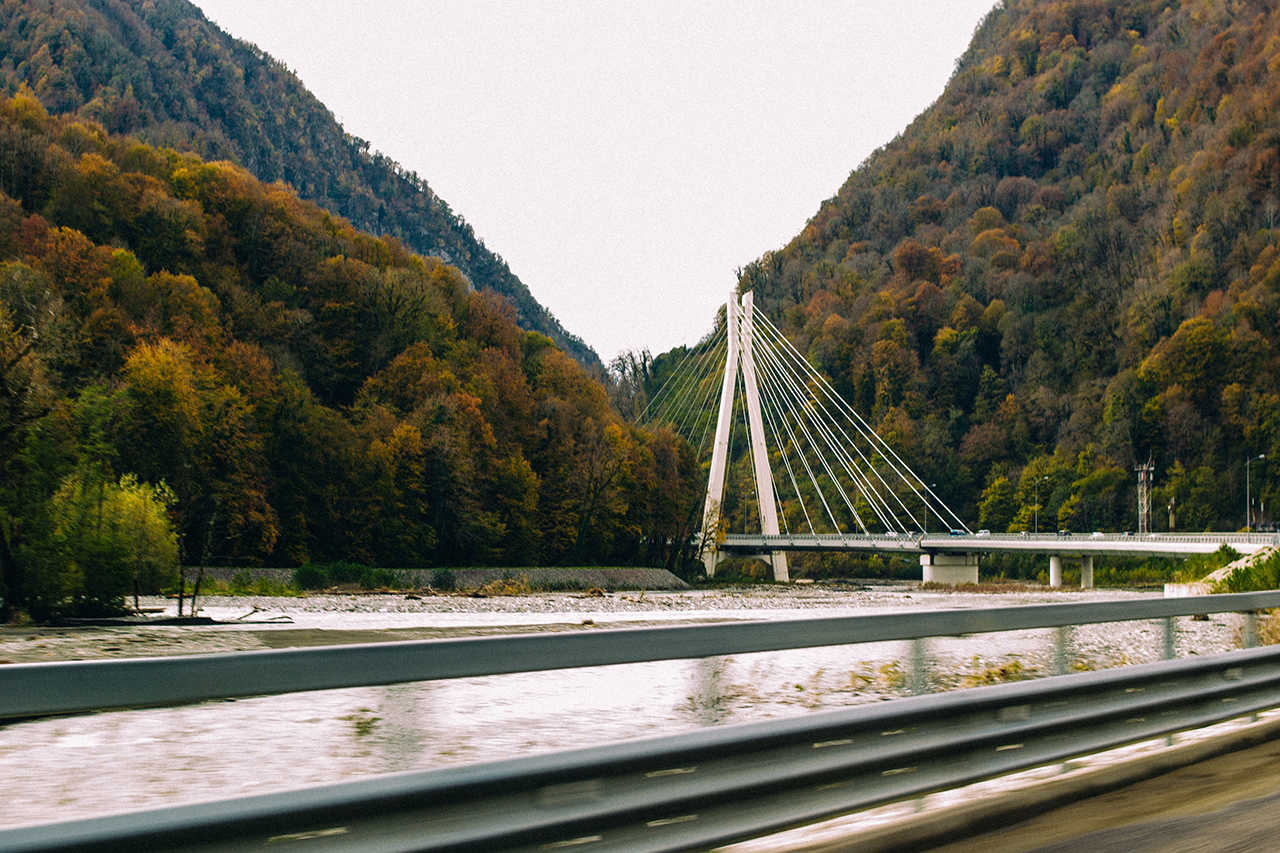 Sochi in the fall. Photo: unsplash.com.
Water temperature
In the Black Sea in the off-season it is impossible to swim. The water temperature in November in Sochi does not exceed +12. +18°С. Tourists who like to swim go to indoor swimming pools of sanatoriums and resorts and visit water parks in Loo and Krasnaya Polyana.
Water temperature in Sochi in November:
| | |
| --- | --- |
| When | water t |
| Beginning of November | +18°С |
| Middle of November | +16°С |
| End of November | +15°С |
Elena: "Surprisingly sunny days in Sochi. The beach season is over, but it is still nice to wander on the beach. It is too cold to swim, but the mood is great and I don't want to leave at all".
How to dress
Optimal for the weather in Sochi in November – demi-seasonal clothing. Dress like cabbage! When the sun gets hot, you can easily take off the excess and feel comfortable.
The most unpleasant thing on the beach in November is the wind from the sea. With high humidity and a temperature of +10 ° C it blows through the bones. Ideal set of clothes on holiday in Sochi in November, if the weather forecast is bad: thermal underwear, fleece jacket, windproof waterproof jacket. For hiking suit durable waterproof shoes with warm socks. Raincoat and umbrella are useful.
Misha: "It's cool in the evening and very warm during the day. There's no need to carry warm clothes.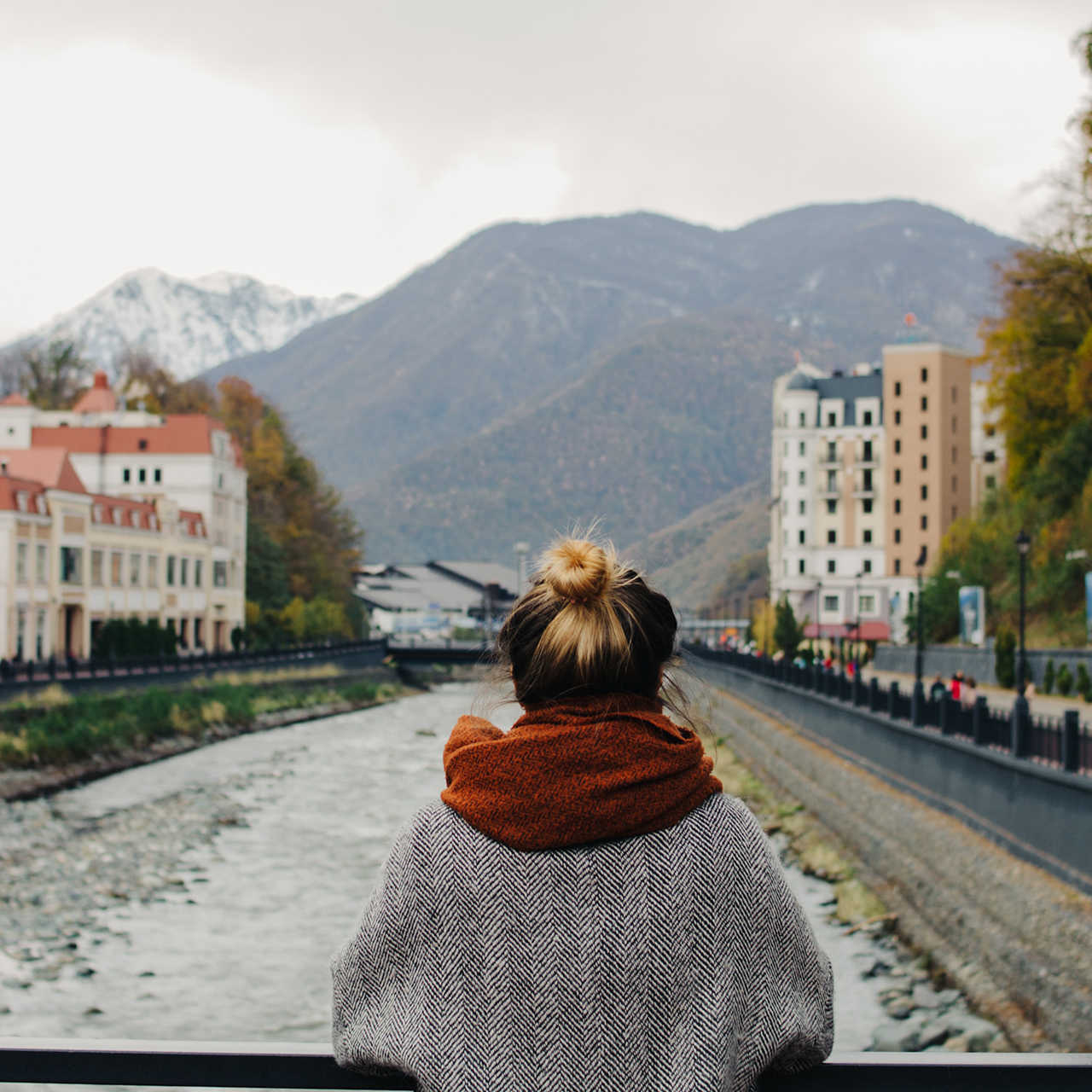 Rosa Khutor in the fall. Photo: Olia Nayda / unsplash.com.
Precipitation and hurricanes
At the end of autumn, the Black Sea coast has more sunny days than inclement ones. There are 11-15 days of rain in November. This is 10% of the annual norm. At the end of the month the amount of precipitation increases, and the coast becomes windy.
Residents of Sochi are well aware of the weather signs for November. If in the morning the sky is covered with gray clouds, but there's no rain, you can leave your umbrella at home. If there are cumulonimbus clouds coming from the sea, it will be raining heavily.
The resorts of Greater Sochi lie on the border of two elements – the sea and the mountains, so hurricanes and water tornadoes occur here at any time of year. Strong storms can destroy embankments, and wind gusts can bring down large trees. When vacationing in Sochi, listen carefully to weather forecasts and warnings from weather services.
A storm in Sochi. Photo: InessaTokmina / pixabay.com.
Where to rest inexpensively in November in Sochi
Rest in Sochi in November 2022 will please fans of cheap tours. Couple tours for a week in Adler with a flight from Moscow and St. Petersburg are selling for only 15000 rubles. Tours of Red Glade or Central Sochi are only slightly more expensive. You can buy such advantageous tours in Sochi on Travelata and Onlinetours services. Read our tips for buying low-cost tours.
In low season in any area of Sochi you can rest inexpensively. There are not many tourists, so cheap accommodation is rented in the center of Sochi, Adler and Hosta. In November, the demand for holidays in Sochi falls heavily, so even the most popular and cool hotels offer accommodation at a discount. Read our reviews of three very popular Sochi hotels: Sochi Park Hotel 3*, Bridge Resort 4* and Bogatyr 4* – in October, their prices for a vacation will go down several times! In November you can get the same room for 2,000-3,000 rubles which costs 15,000 rubles per night in summer.
Keep in mind that the small seaside villages die out in November. In the off-season many hotels, guest houses, restaurants, cafes and excursion bureaus close for a break. If you like a more rowdy party vacation, book accommodations in Sochi itself in November.
Find accommodations in Sochi at the best price will help convenient services:
– search for hotels, guest houses, boarding houses and resorts with discounts. – rental apartments and houses in the private sector. – Search and comparison of sanatoriums.
Prices for tours 7 nights in Sochi in November 2022:
| | | |
| --- | --- | --- |
| Resort | Price for two persons | Example |
| Adler | From 15 000 ₽ | Find tour → |
| Krasnaya Polyana | from 18,000 ₽ | Find tour → |
| Sochi | from 22,000 ₽ | Find tour → |
Holidays with children in Sochi in November
During the autumn vacation, many parents try to take their children to the sea. Change of scenery and get some fresh air is always nice and useful. For a vacation with children in November in Sochi, book a hotel that has a swimming pool with heated water. Not bad programs for parents with a child offer boarding houses and resorts.
Wait out the bad weather in interesting places under the roof. Go to the largest oceanarium in Russia in Adler, an art gallery "Plastic in wood", an ethnographic museum in Lazarevskoye and museums in the Olympic Park. Visit the theme park "Sochi Park" and the monkey kennel in Veseloye.
julietta0707: "We went together with my fourth-grade son. We were really lucky during the vacations. All days it was even warmer than predicted, the sun was even hot during the day.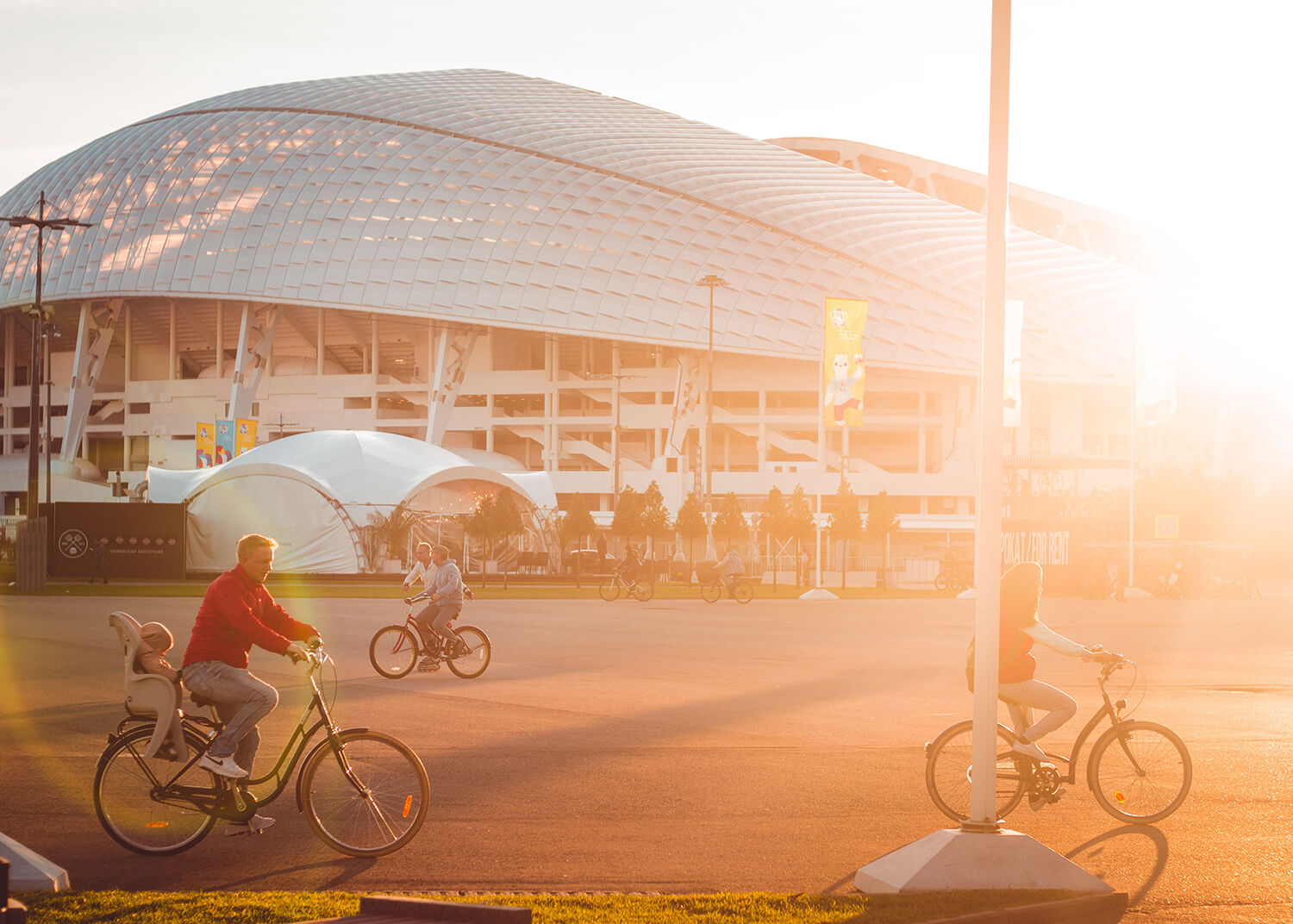 Fisht Olympic Stadium in Sochi. Photo: dvnil / unsplash.com.
Is it worth to rest in Sochi in November
On vacation in Sochi in November come not for beach entertainment. It is cold to swim, but it is very pleasant to walk along the coast and breathe the fresh sea air. Wet weather is not very suitable for fans of active tourism in the mountains and at sea. However, vacation in the south will suit all who want to go on excursions and be treated in Sochi resorts.
In November in Sochi held a celebratory opening of the ski season, and on the last Saturday of the month celebrates City Day. Throughout the year there are sporting events, circus performances, plays and concerts, so you won't be bored!
Please note that during storm warnings Sochi airport works according to the weather. In bad weather may be delays and postponements of flights.
Adler in November – 2022: weather, our review and prices

I am sitting here writing this text in November Adler. Yesterday there was a storm at sea, clouds, wind – ugh, I think the winter has come. The next day I go out in a jacket, and it's summer outside! It's a good idea to wear a dress and sandals!
This Adler in November is ambiguous, as are the reviews of the holiday and the weather… But it is absolutely the best place in Russia in the fall. While other regions are blooming with slush, gloom and rain, here – sun, palm trees and snow-covered mountain tops on the horizon.
Content
November weather in Adler and Sochi
As a side note, it is the same in Sochi as in Adler – there is only 30 km between them.
The first rule how to understand such a changeable phenomenon as weather in Adler in November: never trust the weather reports and do not cancel your trip because of "oh my God, look, it rains all the time! The first week of November in 2021 promised downpours every day, and what happened? It poured like a bucket of rain for a couple of days, but only after sunset as the sun was shining during the day. The number of rainy days here does not exceed three or four at all.
It's interesting that a few hours before a downpour, everything literally "breathes" with rain. And it's not about the clouds. The humidity jumps up, to the point where the railings and bike seats are covered in water droplets.
The beaches close in November, but that doesn't mean you can't encounter incredible sunsets on the beach
The second rule: do not be afraid of the predicted +18 outside. From the outside it seems that it's cold, but the sun is warming so decently that you want to undress to a T-shirt. The velvet season has passed, but the warmth remains.
The third rule: do not be deceived by the heat of the day, and always take a warm thing for the evening! At night it gets noticeably colder, the temperature drops to +10 … +12 after sunset.
Is it possible to swim in Adler in November? Naked bodies in the Black Sea you will see, of course. But will you see it again?) The water temperature in November drops to +19, and it is below the lowest limit of comfortable swimming. Besides the beaches are closed – lifeguards and sun beds leave their posts exactly on November 1, and holiday-makers use the beach mainly for contemplation of the sea and sunsets.
Water and air temperature
Again, this is very average – as weather forecasts suggest. In fact, in November there are more than ten days when the temperature outside is above +20 ° C, less than five rainy days and about twenty totally sunny days. By the way, last year it snowed in the mountains in early November!
The average temperature of water and air in November in Adler:
Air, ° C
Water, °С
Beginning of November
end of November
Beginning of November
end of November
ADLER
+18
+15
+19
+17
Tour prices in Adler in November 2022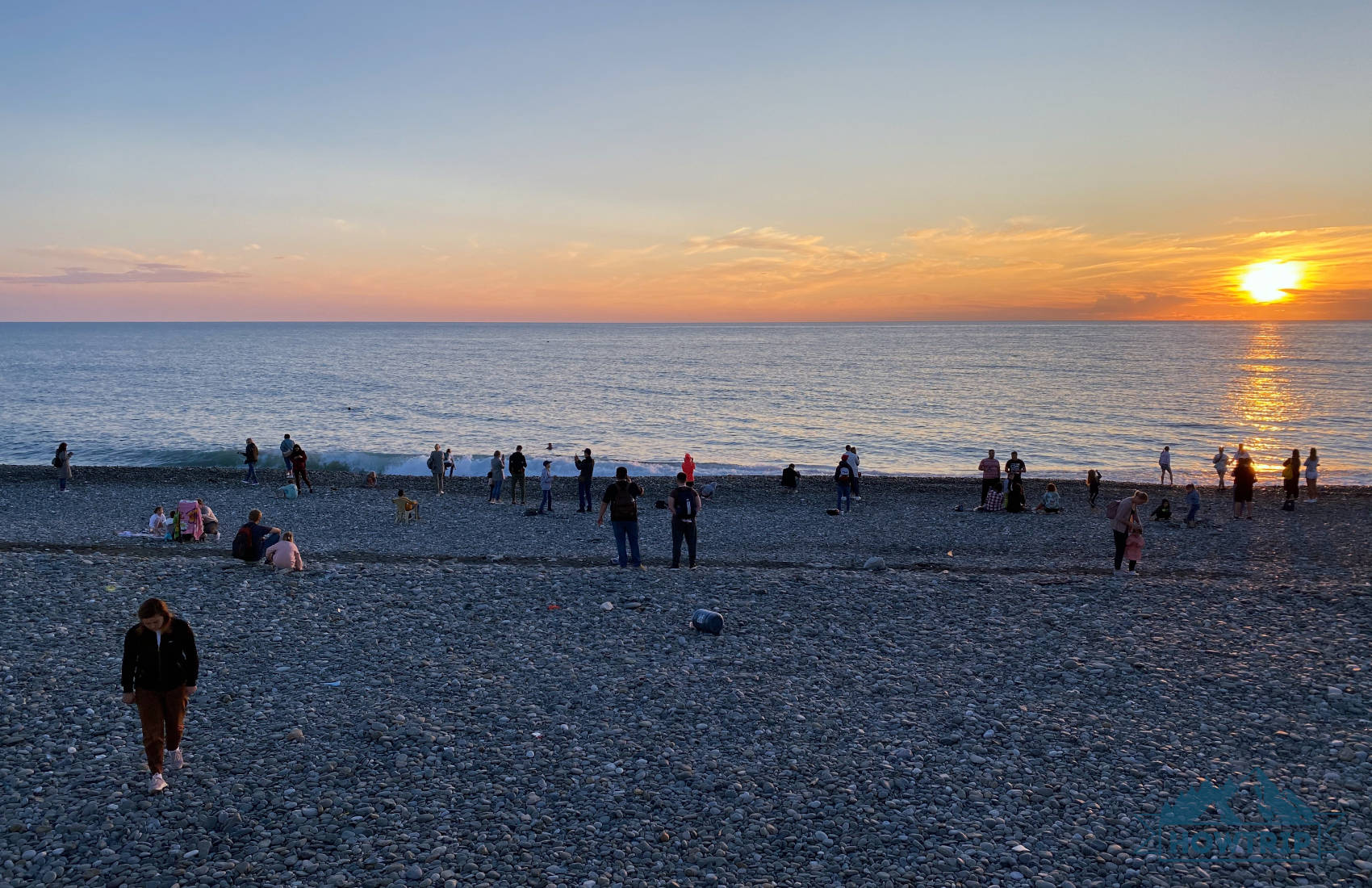 Now, from August 25 to September 10, 2022 action from Rostourism "get 20% cashback for a holiday tour in Russia" – you probably have heard about it. Moreover, you can spend your vacation not only in the resorts of the Krasnodar region, but also in St. Petersburg, for example. The conditions are simple, and holidays in Adler in November just right: Mir card payment for the tour, the purchase until September 10, 2022, and the trip itself from October 1 to December 25, 2022. There are still mandatory nuances like card registration, if interesting – read here.
Personally, we buy tours online at aggregators – there are prices directly from tour operators. You see a complete database of hotels on the screen, as if you own travel agent. They are all approved by Rostourism and participate in the cashback program:
Another service – Onlinetours – is different in that there you can choose the option "only accommodation" without airfare (a note for those who want to fly on their own).
How much does it cost to fly to Adler in November? Pleasantly inexpensive:
– Minimum tour for 7 nights costs from 15,000 rubles for two. – To the direct hotel-hotel and with good reviews – from 25,000 rubles for the same duration. – Tour for a family (mother, father and child) – from 22,000 rubles. – Hotel tour with three meals a day – from 30,000 rubles for 7 nights, and all inclusive – from 70,000 rubles. – Available and mountain Krasnaya Polyana: tours in Esto Sadok – from 20,000 rubles, and right near the elevator at Rosa Khutor – from 40,000 rubles.
These prices are for departures from Moscow, but to fly a tour to Adler and Sochi in November is possible from many cities in Russia. Specify yours on the aggregators above to find out the exact cost.
Prices in November
Prices in the "bakelnaya" on the beach / persimmon grows right on the street!
As much as we would like to make some extra money from tourists – and there will be plenty of them in 2022 and late fall! – Local businessmen lower prices in November. For accommodation, tours, car rent, entertainment. In short, for everything except food and catering.
That's where we'll start. Groceries in Adler are sold nowhere else than in Pyaterochka, Magnits and Perekrestki. Nothing interesting. Moreover, the prices are the same as in the regions, I went to buy for two or three days, and left a thousand rubles:
Bananas, 1 kg – 90 rubles.
Eggs, 10 pieces – 70-90 rubles
Potatoes, 1 kg – 30-40 rubles
A pack of dumplings – 150-200 rubles
Almette cottage cheese, 150g – 120 rubles
Avocado, 1 kg – 400 rubles
Lavash – 50 rubles
Water, 5l – 50-70 rubles
In markets in November – a season of persimmons (80 rubles per kg), pomegranates (80 rubles), Abkhazian tangerines (70 rubles) and churches (well, this is eternal), even figs can be found somewhere (250 rubles). You can also find sweet tomatoes (150 rubles per kg), which are much better than in the stores.
The average bill in the dining room per person: 300-400 rubles, there are a lot of them. The average bill in a cafe-restaurant: from 400 rubles and up to infinity (you never know, suddenly you will go to Novikov's Cheese Factory:)).
I do not take into account in detail the food costs, because our site already has a great article about prices in Adler – you can read it and be counted.
Where did we stay in Adler? + a selection of hotels
Our rented apartment for a month
I conditionally divide Adler into 3 parts:
Lower Imeretinskaya Bay – all the tourists come here, it is noisy and lively all year round, you can stay in a hotel, and you can rent accommodation in the private sector (two-, three-storey houses).
The area from Imereti port to the Mzymta river is quieter and calmer, with mostly independent tourists, dominated by multi-storey residential complexes with apartments for rent.
The area after the bridge over the river Mzymta is half touristy, half "local", on this side there are many large stores and municipal institutions.
We stayed in the second one, near the Southern Culture Park. We found apartments near the places we needed (a coffee shop to sit to write this and other texts, big grocery stores and the sea nearby) and decided to spend November here.
Apartments and the private sector. During the season (June-September) it is unreal to rent a house in Adler for less than 3500-5000 rubles/day, but during the off-season (October-May) the same studios, one-room apartments, and houses cost 1500-2000 rubles/day. Where to look? Daily.ru.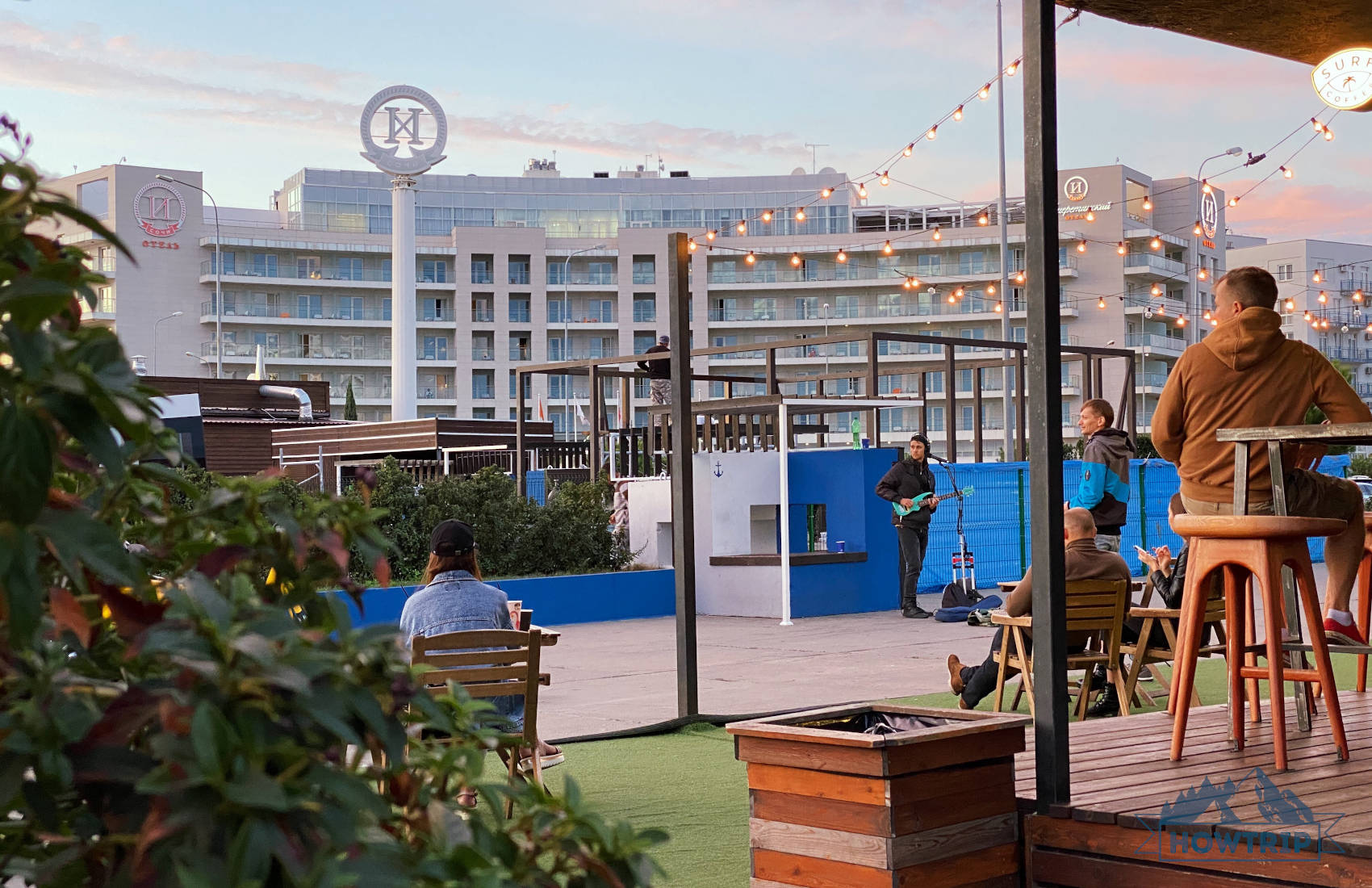 Hotels. Hotels are also getting cheaper, and a striking example is the pricing for the two most famous hotels in Adler:
– 4* Imeretinsky is a modern hotel with spacious rooms and excellent service (you rarely see that in Adler). A large outdoor pool in the hotel – during the cold season it is heated, and for November this is a plus – compensates for the short distance to the beach. To the sea runs a frequent shuttle bus. Price in November: from 3800 rubles per day; price in season: from 7000 rubles
– 5* Radisson Collection Paradise Resort&Spa is a Turkish hotel in Adler with a huge private territory, animation for children, palm trees and sand on the beach (but not golden and not at the entrance to the sea). True, without "all inclusive" – but the assortment of food for breakfast and dinner includes red caviar. Heated pool, spa – all at him. The price in November: from 9700 roubles a day; the price during the season: from 14 500 roubles.
If without the "expensive-rich" and champagne, the following hotels are quite good, popular and cost adequate:
3* Grace Cypress – a nice option on the first line and with a heated pool. Yes, in the style of Adler – not a hotel, but rather a guest complex with a slight touch of southern luxury. But there is an option of 3 meals a day with a buffet. Price in November: from 1600 rubles per day; price in season: from 7500 rubles
3* Aparthotel Imeretinsky (Coastal Quarter) – a closed residential complex, which shares the territory with the Imeretinsky hotel from the list above. Many families with children settle here – there are both typical hotel rooms and apartments with a kitchen. Located in a quiet part of Adler, away from the beach, but the free shuttle to the sea. Price in November: from 3200 rubles per day; price in season: from 5000 rubles
4 * Apart-hotel Imeretinsky (Sea quarter) – another complex built for the Olympics and belonging to a network of Imeretinskiy, only the basic rooms – twice the size of three and equipped with a kitchen and a washing machine. There is a heated pool, shuttle service to the beach – too. Price in November: from 4700 rubles per day; price during the season: from 6000 rubles
Where to look for hotels? If you are going alone, you can find it on Yandex.Travel or Ostrovok. If a tour, on Travelata.
What to see in Adler in autumn?
There are huge waves in Adler in November
To see in Adler in November you can do all the same things as in any other month. Nothing is closed, all the attractions are waiting for tourists all year round.
Where to go first if you are a newcomer here:
Olympic Park and all its sites – take a walk, see the evening Singing Fountains (in November they sing from 6:00 to 7:00 p.m.).
The promenade for pedestrians and with a bicycle lane – stretches from the border with Abkhazia to the Imereti port.
Sochi Park – an amusement park with rides, dead loops, performances, fun to all. From November 9, tickets are 1500 rubles for an adult, 1300 rubles for a child.
Autodromo Sochi – here are the races of Formula 1. Riding in a racing cab – from 3500 rubles
Park Arboretum "Southern Cultures" – thickets of bamboo and very mature trees. Tickets – 300 rubles in the daytime, evening show – 600 rubles
In November we caught the following events: the November Sochi Marathon (called Sochi, and held in Adler) and the music festival Sochi Sirius (tickets from 400 rubles).
This time none of the above we went anywhere, except the promenade. We have fun in our own way: we ride bicycles (2 rubles per minute) or scooters (3-5 rubles per minute), spend sunsets on the beach, sit on swings and watch the sea – in general, swings, of course, are paid, but in November there is no one to watch them.
And here's more of an activity: a yacht trip! In the Imeretinsky port you can take a boat with a captain from 7500 rubles per hour for a company of 6-7 people.
Excursions in Adler
This is me at the top of Rosa Khutor – Stone Pillar. Somewhere you can already see the snow!
There is no one who would not be pestered with offers of excursions on the street in Adler. Even in November.
Local top 3 sightseeing trips is as follows:
Abkhazia – from 1600 rubles per person.
Krasnaya Polyana – from 800 rubles per person, but it does not include a climb to Rosa Khutor
Sochi sightseeing tour – from 1000 rubles per person
Sea walks – from 1500 rubles per person
You can take from a woman on the street – there are such, the most standard tours on buses and in groups. You can overpay a little and take on the service ↓ Tripster – with an individual program and only for your company / family:
Another option of the same excursions is to use public transportation or rent a car and drive everywhere on your own. Except for the boat trip, of course.
About renting a car: before I arrived* I saw that there was Yandex carsharing in Sochi and Adler. But it turned out that it is not like in Moscow or Kazan – you can rent a car for a period of 2 days (cost about 5000 rubles + kilometer). Not very profitable, so the old-fashioned car rental service Localrent wins again.
*After my arrival I published very detailed material on car rental in Adler, with all the tips, nuances, and typical "tricks" of the tourists from local traffic cops.
Watch the video on our YouTube channel about an independent trip to Rosa Khutor (how to buy a cheaper ticket and what to see):
Holidays with kids in November
Oh-oh, if you knew how many families with children – both big and small – are there in November in Adler… Ideal environment for making new acquaintances and making friends.
But if with older children come for school vacations, with preschoolers – winter. Lodging on unseasonably inexpensive (an apartment can be found for 25-35 thousand rubles a month), the climate is pleasant, the stores are familiar. Add a long embankment on which it is so good to walk the child in a stroller or on a scooter, a pebble beach where pebbles to collect-not to re-collect, and the sea – you receive a place favourably differing from other Russian cities.
Как минимум, для детей вдоль набережной разбиты игровые площадки. Как максимум и венец ребячьего веселья — открыт парк развлечений Сочи Парк. Можно забронировать отель или апартаменты с «движухой» на территории (вроде подогреваемого бассейна или детского клуба) и просто отдыхать, выбирайте >>
And I want to warn, be careful with children on the embankment. There are two zones: a pedestrian and a bicycle lane. They are not made by brains, you can easily get mixed up or not pay attention, and find yourself in the way of a dense stream of bicycles, scooters and electric cars.
Is it worth going to Adler or Sochi in November? My experience and tourist reviews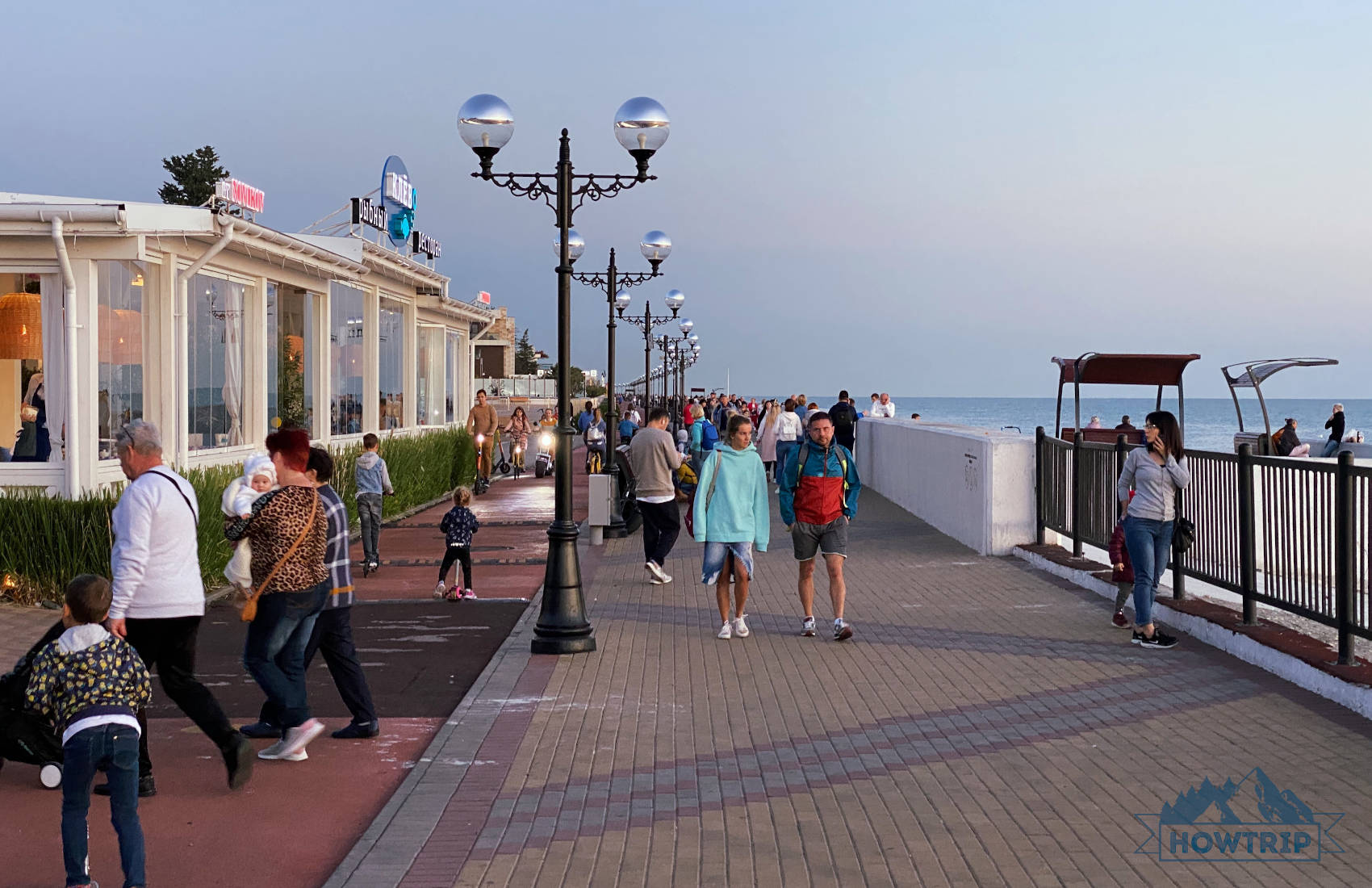 Look at how people are dressed in November
Yes! It's so nice here that my mood went from the typical November Kazan "not so much" to a daily "hey, new day, you're going to be awesome!" I blame it on the sun, or rather, its overabundance. I think that my text will replace any reviews of tourists about Adler in November – because I am writing it, spending here all this very November.
What clothes to bring? Optimal set: a few T-shirts, jeans, sweatshirt, sneakers. But you can bring the whole suitcase – in principle the weather here is for any "look", except the winter one:). Here's a photo above, see what people wear in November.
Pros and cons of the holiday
+ Great weather for walks and sea air + Stormy sea – very beautiful and exciting + Sun, sun and sun again + Cheap air tickets – see on Aviasales + Cheap tours – see on Travelata + Accommodation in Adler in November is half as much as in summer season, you can even rent for long term + Tickets to Sochi Park also get cheaper + Less tourists – more space + Snow falls in the mountains
– Swimming is not possible, the sea in Adler in November, not only stormy, but also freezing – Some institutions are closed, but this concerns the embankment – Occasionally, cool nasty days in the spirit of St. Petersburg (only 3-4 for the entire month, but I must warn)
Copying materials are allowed only with the mandatory indication of a direct, active and open to indexing a hyperlink to howtrip.ru.