Rest in Adler or Sochi: which resort to choose
The most difficult dilemma that every tourist faces is where to go, when, and where to rest better and cheaper. Even more difficult to choose, if the resorts are adjacent to each other and are located in the same climatic zone.
Take, for example, Adler and Sochi: the geographical location, weather and nature are the same, the infrastructure is well developed in both places, and according to other criteria they are not inferior to each other.
But then how to make a choice when the conditions are so equal, if both resorts are oriented to a comfortable stay and families with children, and seniors, and youth companies. The only way to identify the "winner" is to compare Adler and Sochi on several indicators, which we will try to do in this article.
Which resort is more popular among tourists?
Adler is the southernmost district of Sochi, located on the border with Abkhazia. Its population is 111 thousand people. The mountain-climatic resort Krasnaya Polyana is part of the Adler district. Tourist flow in these places does not dry up neither in summer nor in winter, so rest in peace and quiet here is unlikely.
From May to October tourists come here to swim in the sea, improve their health and explore the local attractions. From December to February winter sport enthusiasts flock to Adler, and in the off-season there are international events, forums and symposiums.
Sochi is the unofficial tourist capital of Russia and the most popular resort in the country, permanently inhabited by just over 500 thousand people. The city stretches between the Black Sea coast and the ridges of the Greater Caucasus for 150 km, covering the territory from the river Psou in the south-east to the river Shepsie in the north-west.
Sochi is not empty even in off-season: tourists come here to breathe in the healing air of the Colchis forests, walk in the picturesque corners of the resort, renovated after the Olympic Games, improve their health in sanatoriums and resorts. The busiest period in Sochi is from late May to early October, when the beaches, restaurants and hotels are filled to capacity.
Adler and Sochi on the map
Where is easier and cheaper to get to
The convenient location of Adler is one of the biggest pluses of this resort. Getting here is easy, because there is a modern railway station and the main international airport of the Sochi region.
Moreover, you can easily get to Krasnaya Polyana and neighboring Abkhazia from Adler, and there are buses, cabs, and high-speed trains to the ski resorts, slopes, and elevators. A minus of the airport's proximity to residential areas is the noise from constantly taking off and landing "steel birds".
Sochi-Adler airport. Photo from Wikipedia
The air route to Sochi runs through the same airport of Adler, from which you can reach the resort city by cab or bus in 25 minutes. The train station is located in Sochi itself, so fans of traveling by train will get straight to their final destination.
Sochi railway station. Photo from Wikipedia
Transport links between Sochi and Adler are excellent: you can get from the resort to the resort by
by minibus №124;
by bus №124 (direct flight) or №24P (you may call at Khosta and Kudepsta)
By electric train "Lastochka".
Where is the best climate
The climate of Adler is subtropical, hot and humid. The sea, which gives coolness in summer and "gives back" heat during autumn and winter, as well as the mountains that protect the resort from the piercing northern winds have a significant influence on the resort's weather.
Summer in Adler is long and lasts from mid-April to early October, with a bathing season begins in May and ends in late September. After a hot summer comes a velvet autumn, and then comes a short winter – time to enjoy the ski resorts located on Krasnaya Polyana.
In contrast to Adler, the daily temperature differences in Sochi are lower, and even if the cold masses break through the Caucasus Mountains, the thermometer in Adler shows two or three degrees higher. In all other respects the climate in the southern capital is identical to that in Adler: the same humidity and the possibility of proper bathing from May to September.
The summer temperature of the water and the air on the coast of Sochi and Adler are also similar: on average the sea gets up to +26 ˚C, while the temperature of the surrounding area is between +26 and 36 ˚C. However, there is no room for fresh sea breezes, because of the dense buildings in the city, which makes it hotter and sweltering.
A comparison of sea and beaches
On 17 kilometers of Adler coast most of the beaches are pebble, sandy and shingle-sand. The entrance is flat, "grown up" depth is increasing gradually, the bottom is plain, without big stones.
The resort is oriented on comfortable summer rest and there are far fewer unequipped areas than the well-appointed ones. That is why lovers of "wild" recreation every year it is becoming harder to find places untouched by civilization.
The beach in Adler in high season. Photo: adler.su
There are 130 beaches in Sochi, most of them are pebble beaches. In mid-summer, the free sections of the coast are overcrowded, so tourists prefer paid beaches, more comfortable, comfortable and less crowded. Both on municipal and sanatorium beaches there are medical and lifeguard stations, cafes, massage rooms, rentals for deck chairs and umbrellas.
Big waves at the Sochi coast can not be afraid: the beach strip is equipped with wave cutters. Entering the water smoothly, without sudden drops, here and there descending to the sea equipped with wooden walkways, which is easy to move children, seniors and people with disabilities.
The beaches of Sochi. Photo: rusunion.com
Where is the variety of entertainment
Despite the fact that Adler is a microdistrict of Sochi, the attractions and entertainment in it are not less than in the resort metropolis. The list of leisure and excursion sites in Adler is really impressive and is represented by such interesting places as:
Sochi or Adler – where to vacation? Our review

Sorting reviews of tourists on the topic – Sochi or Adler? – is not easy, so I decided to write a small, but clearly explain the difference between the resorts text.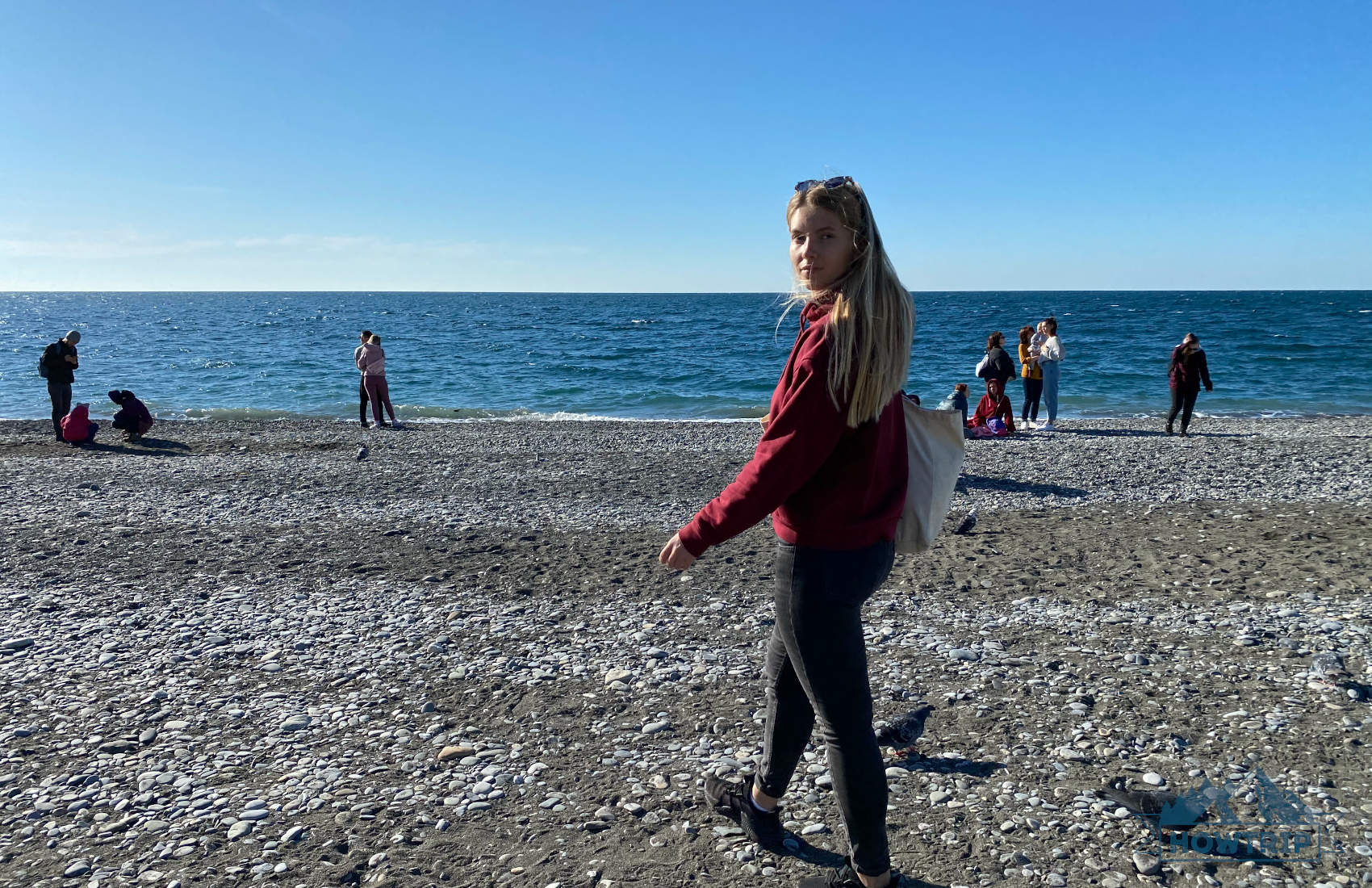 And let me start right from the beginning? If you do not want to spend an hour, or even through traffic jams, to get from Sochi Airport to your hotel or apartment, you should choose Adler.
Then you will find more comparisons, distributions of who goes here and who goes there, and attempts to solve the unsolvable problem: Sochi or Adler – where to go to vacation in 2022.
We know Sochi and Adler as tourists and residents – we used to spend winter here and a short 10-day vacation. Use Russian Yandex.Travel to replace Bucking service for hotels, or Suto for private sector.
Content
Weather at the resorts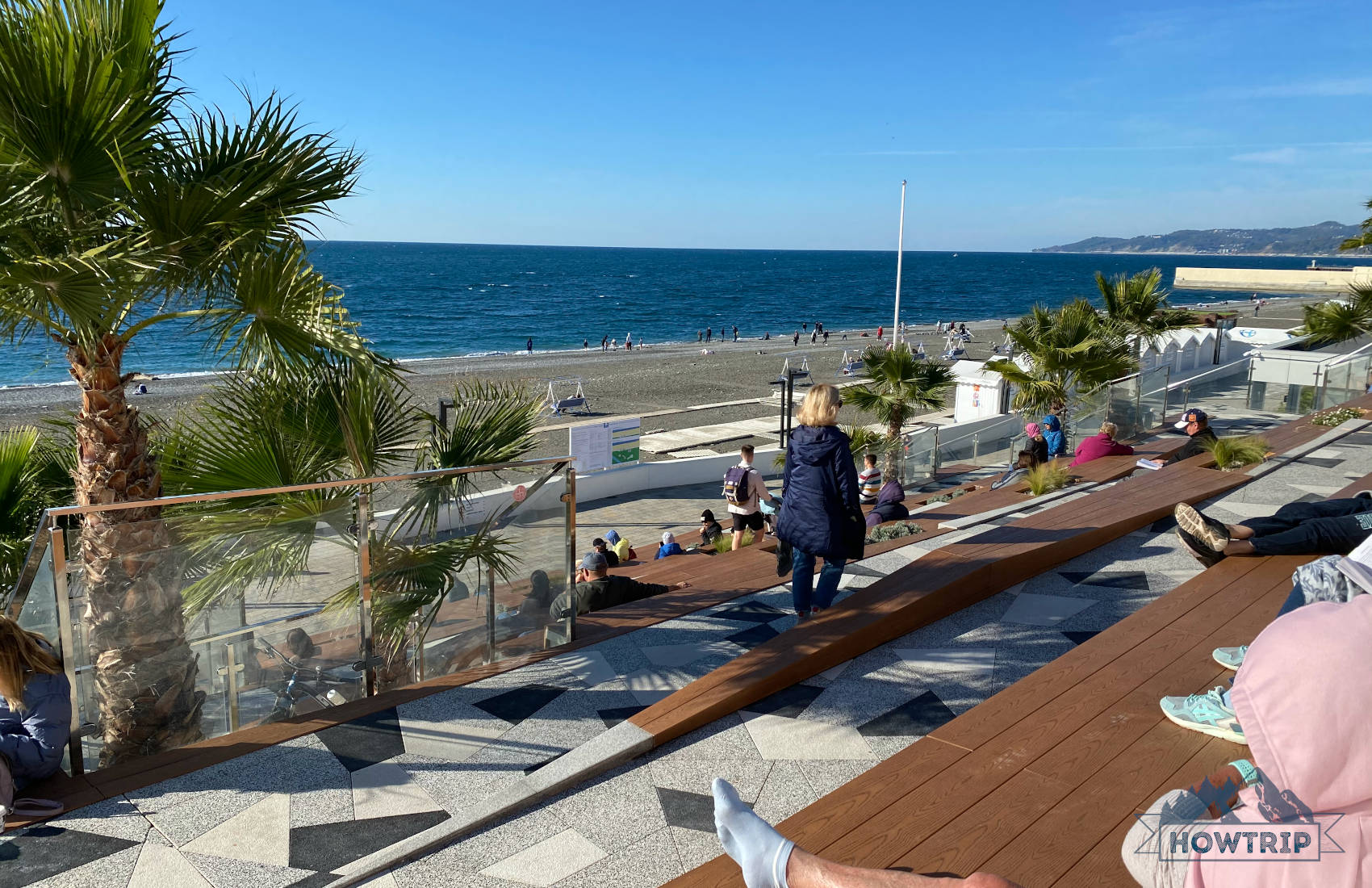 This is how you can sit on the central beach of the Riviera in Sochi
If there is something that unites the two cities, apart from the sea, advertising and self-build, it is the weather. Well, the climate may not be different if the distance between Sochi and Adler is only 30 km. The question "where it is warmer" is not even considered here.
The resort season starts in June and finishes in October – when it is hot, the Black Sea is warm and the beach is crowded.
In winter it is better than anywhere else in Russia: there is no snow (only in the mountains), the temperature doesn't drop below zero even at night, and the sun shines 15 days a month – more than in Moscow in summer.
Average temperature of air and water, ° C
Summer
Autumn
Winter
Spring
Sochi
+25,5 / +25
+20 / +21,9
+9,3 / +11
+14,6 / +13
Adler
+25,5 / +25
+20 / +22
+9,3 / +11,5
+14,5 / +13
Prices for vacations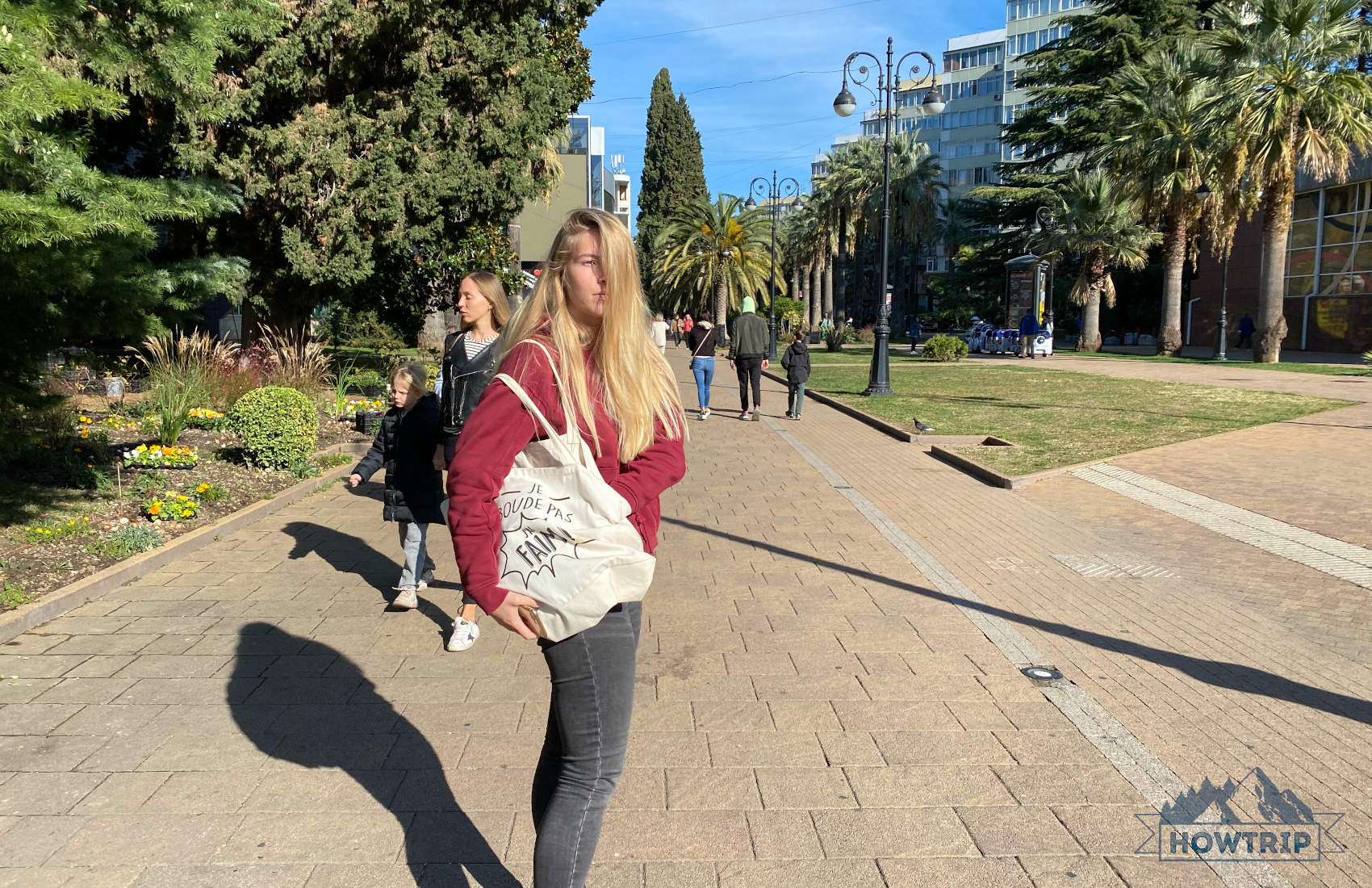 Central Navaginskaya Street in Sochi
Another question, where is cheaper – in Sochi or Adler? There must be a difference. Let's make a financial comparison of the four main elements of a trip to the sea: how to get there, accommodation, tours and food.
Prices for tours, air tickets, train.
I do not consider the option "ourselves by car, and the cat in the trunk," because I have no experience in this. I do not know, fortunately or unfortunately:)
№1. How much is a summer vacation for two in 2022? (flight + accommodation + transfer)
Sochi: from 42 000 rubles for 10 nights
Adler: from 45 000 rubles for 10 nights
Where to look for tours from your city: Travelata or Level.Travel
№2. Ticket prices.
To Sochi and to Adler (there is only one airport): from 8000 rubles per person round trip from Moscow during the season.
We flew back and forth from Kazan in late October for 5,000 rubles.
Where to look for airline tickets from the city you want: Aviasales.
№3. Train costs. (I take a standard parlor train)
To Sochi or Adler: from 5000 rubles for a round-trip ticket from Moscow. On the way – a day or more. I remember the "glorious" 48 hours in a Kazan-Adler train without air conditioning…
Where to look for tickets: Russian Railways site.
Conclusion. The first element did not make it clear, the budget for transport plus or minus the same, go further.
Lodging
On the left side of the hotel Marriott, the room in which we rented on Krasnaya Polyana.
Sochi or Adler – where to live? You can answer based on the price tag and subjective impressions of the atmosphere. First about the first one.
Prices for staying in Sochi and Adler per day: (if you go on your own during the season)
Sochi
Adler
Private Sector (apartments, apartments, cottages)
from 1500 rubles
from 2000 rubles
Guest house
from 1500 rubles
from 1000 rubles
3 stars hotel
from 2,300 rubles
from 2000 rubles
4 Star Hotel
from 3800 rubles
From 4500 rubles
5 stars hotel
from 14 000 rubles
from 13 000 rubles
Despite the fact that Sochi is a bigger town, the number of Sochi and Adler apartments for rent is almost the same, as you can see on the service of daily rent apartments in Sochi.ru (for short vacations we look at the apartments here).
Concerning hotels. There are 5 hotels of international chains (Hyatt, Pullman, Park Inn) and in general there are more "five" and "four" hotels in Sochi. There are only two internationals in Adler. Sanatoriums and resorts as a class seem to have died out or are available to a limited number of people – that's how you can find literally 1-2 variants in each city on hotel search engine Yandex.Travel.
By the way, past seasons were so rich in tourists and high prices, that I`m afraid that Sochi and Adler landlords could not get used to "the gold" which they got for these three months.
For the 2022 season we have prepared a selection of the best options for hotels by the sea – both in Sochi and in Adler; both 3 and 5 star hotels.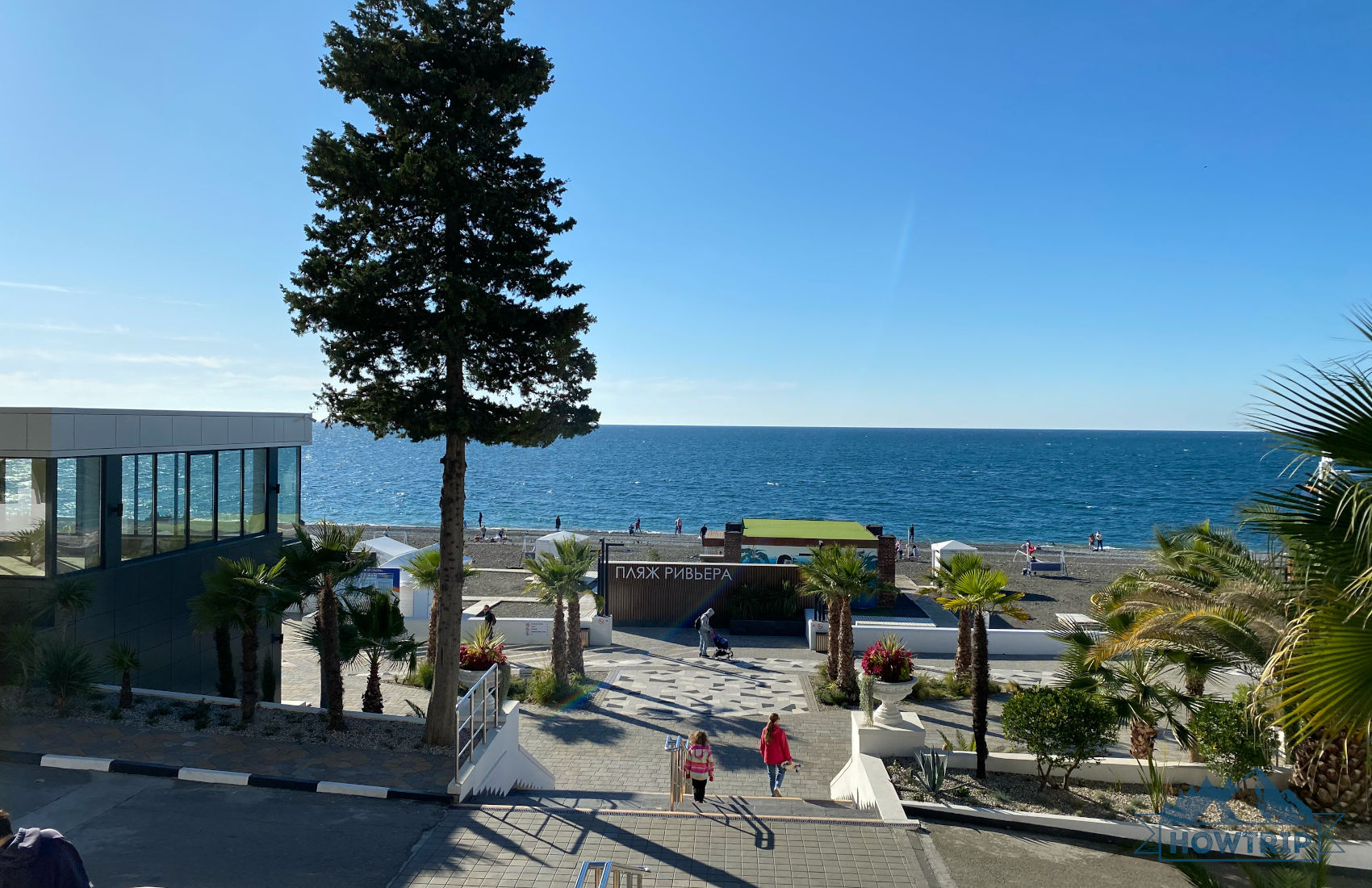 The view of Riviera Beach
About the atmosphere. I like the city with the letter "A" better. After a month of "country life" in Adler in Sochi I got a headache from the turmoil. It's noisy, narrow, traffic lights at intersections don't work!
Sochi is a big city, and there are advantages: there are more institutions, parks, and stores. But on top of that comes a huge number of people, dirt, and parking problems.
Sochi is a hilly and green city, this can not be taken away, but I do not want to imagine what it is like to go up and down in the heat.)
In Adler, on the other hand, there is flat land, space, silence (as compared to Sochi, there are a lot of tourists here, too), and you can see the mountains from the beach. Those vacationing for 7-10-14 days often choose the Imereti Bay. And the best area for a long stay, in my opinion, is the Imereti port area, even despite the noise of planes coming in to land. In what area of Sochi is better to rest – soon there will be a link with a separate article.
Conclusion. In the matter of housing with the financial side of the city are equal – there, and there you can find a room for 500 rubles a day, and a quality hotel (but for a lot of money). In terms of suitability for life Adler will appeal to those who are nervous about the sounds and elements of the big city: car horns, heavy traffic on the road, flea markets, and a lot of tasteless advertising – everything that is in excess in Sochi.
Excursions
From the port of Adler we went on a yacht / And in Sochi we rented a small car
Conclusion at once. In the context of excursions to focus specifically on Sochi or Adler makes no sense – they cost the same, regardless of the place of departure. I was convinced of this by comparing excursion brochures.
The usual cost of excursions:
Krasnaya Polyana – 800 rubles + surcharge for cable cars
Abkhazia – 1500 rubles.
Fishing for 3 hours – 1300-1500 rubles
Sailing on a yacht – 1500 rubles for 1.5 hours
Akhun Mountain and Agur Gorge – 700 rubles
Horse walk – 1400 rubles.
You can see the same price tag on Tripster – there are all the same excursions (finally they go online!).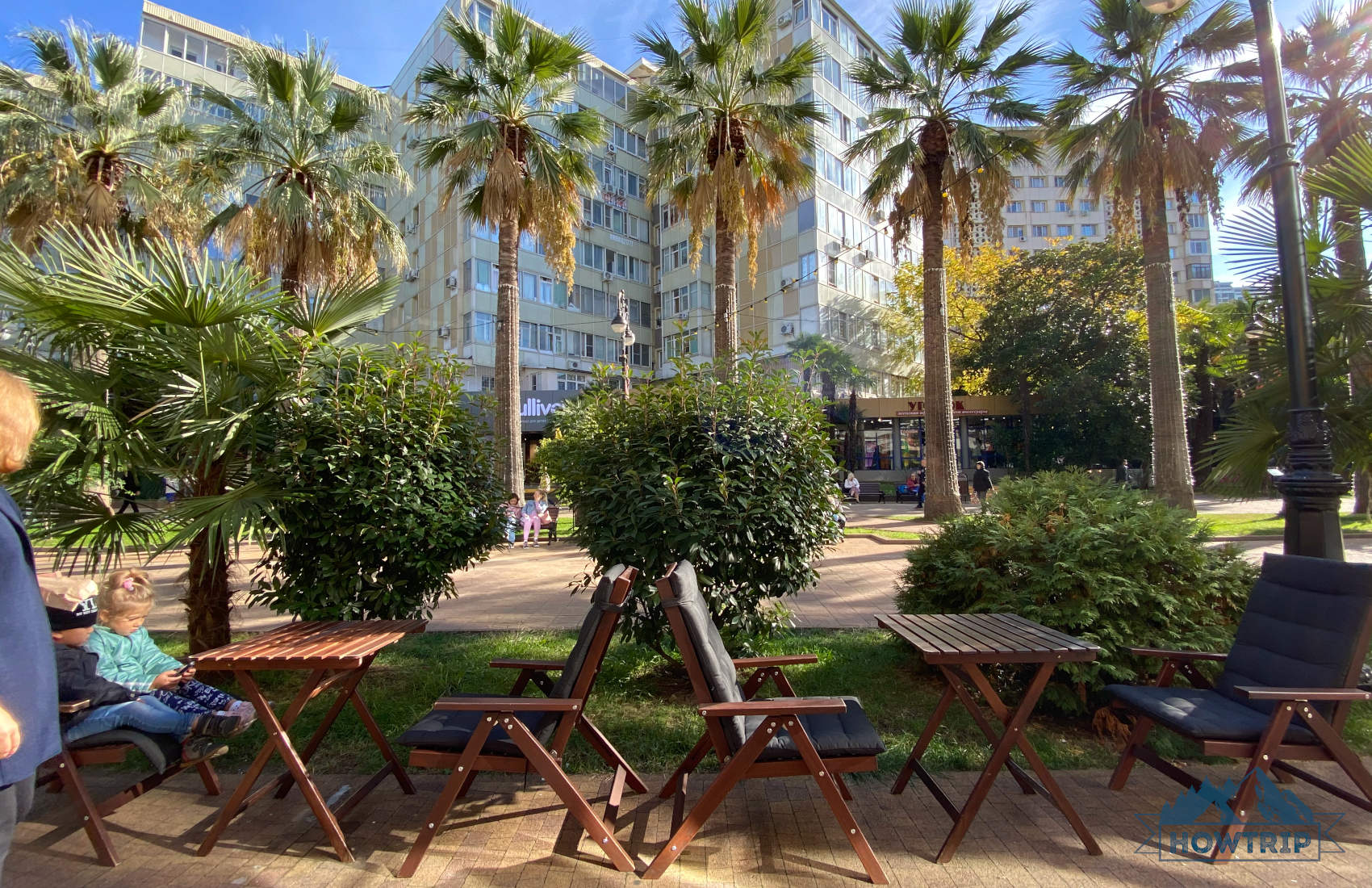 LA coffee shop on Navaginskaya Street
By this section you've probably already guessed that the two resorts don't differ in terms of food either. The only thing I noticed, coffee in Sochi is cheaper – probably because there is no monopoly of the Surf chain (two coffee houses for the whole Adler).
Lunch for two in the canteen – 500-600 rubles
A cappuccino, 0.4 from a coffee shop – 210 rubles
A trip to a cafe for two – 1000 rubles
Prices in stores are slightly higher than in regions, but do not reach Moscow.
And, of course, there are more facilities in Sochi. Besides, if vegetarians and vegans in Adler must choose dishes for themselves in traditional cafes, there are enough places in Sochi with veg cuisine. For example Plants&Friends – I really recommend it, or desserts in Namelaka (the latter is in Gastroport food mall, where there are a lot of excellent places). And coffee, don't forget about coffee at LA Coffee! In Adler I advise to drink coffee in Surf or Karma – it's an inexpensive cafe with modern cuisine, but the food was not to my taste, only coffee. Good burgers – in Burger-room, and buns, which is not shy to eat even two at once, in Bakloochaya.
Beaches and sea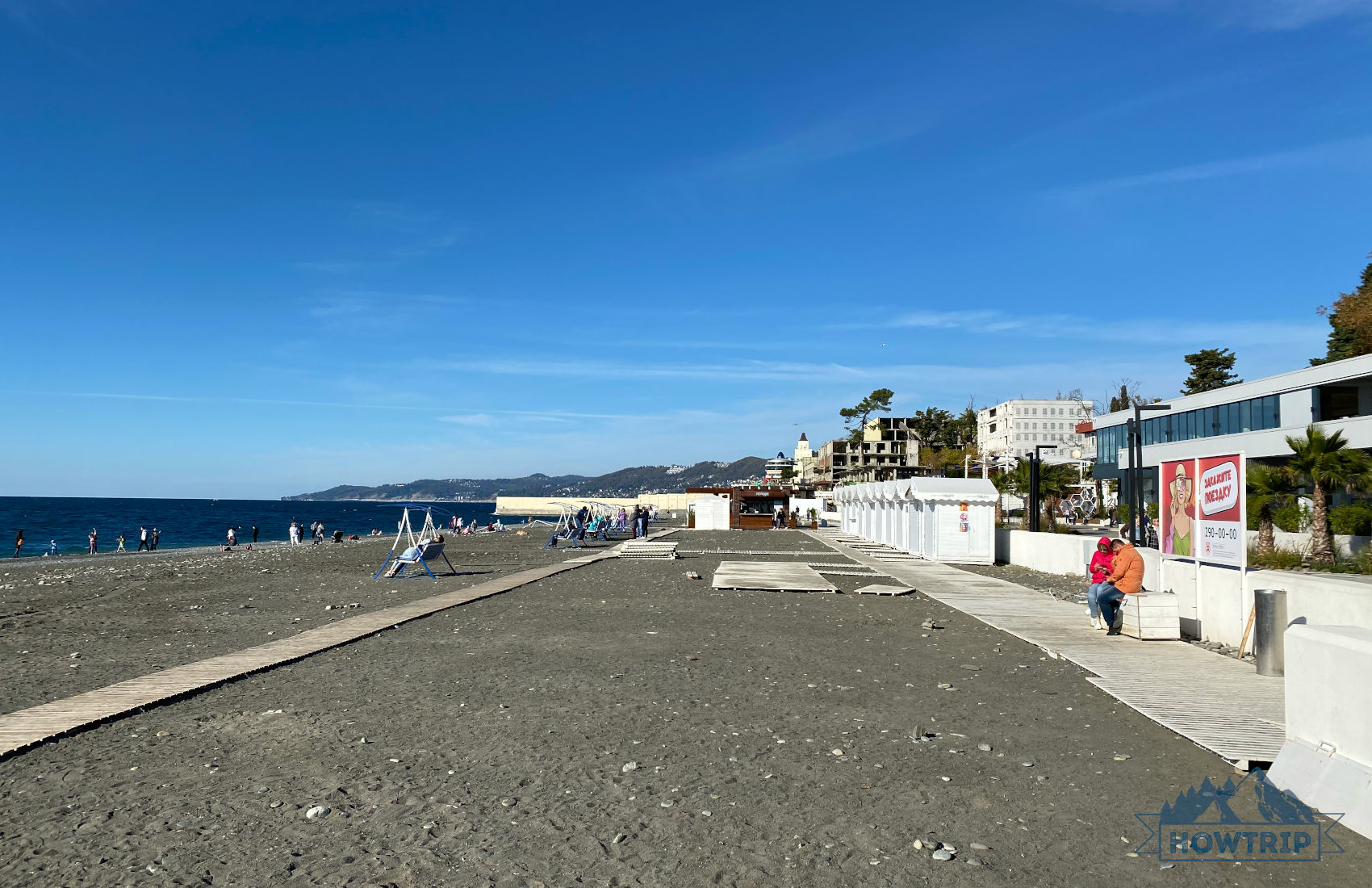 Central beach in Sochi is not very different from a beach in Adler (near shopping center Mandarin).
Where is the best beach – in Sochi or Adler? A-a-a-and, yes, they are similar too!:) Everywhere the beaches are GALES and free, and the pebbles are coarse. Some areas get sand, not golden, but black or gray, but the entrance to the water is still rocky. And I must say that the sandy layer strongly spoils the transparency of the water and creates turbidity. One more general scourge of beaches – sharp depth, I do not know why many people write, that here the entrance is flat.
To estimate the quality of Adler beaches, here is a video on youtube, which was shot by Igor this season:
In general, the beaches of Greater Sochi (which includes Adler) came to a new level, they are finally taken care of: rent chairs and umbrellas (200-300 rubles per day), along the embankment with cafes, there are free showers, changing rooms, toilets. In Adler there are playgrounds for children, in Sochi there are sports grounds and cool public areas (for example, on the beach Riviera).
Prices for water entertainment:
Sap-boards – 700-800 rubles per hour.
Walking to the dolphins – 500 rubles
Conclusion. Everywhere there are stones, somewhere black sand. Pure-pebbly beaches on the beauty of the water clearly win, and in this vein are good beaches Nizhneimertinskaya bay Adler. The big advantage is that they are not marred by breakwaters that are often found in Sochi.
Where is the best place to have children?
I noticed that families with children still choose Adler. So if you have a need for new acquaintances, and a child – in daily small talk with other little ones, then you should go to the beaches here.
To stay on Adler, I believe, parents are helped by the following facts:
– There are no stairs, no descents, no climbs and easy access to the beaches = not having to agonize with a stroller or "I want to handle, I don't want to climb". – There's more modern accommodation close to the sea and fresher rooms in the hotels (in Lower Imereti Bay), because basically everything was built for the Olympics. – It's quieter and calmer here, there are fewer taverns with "Accountant, my darling…" all night long. – Sochi Park and Singing Fountains are here, after all! – The road from the airport takes 15-30 minutes by cab. – The sea is clean.
Sightseeing .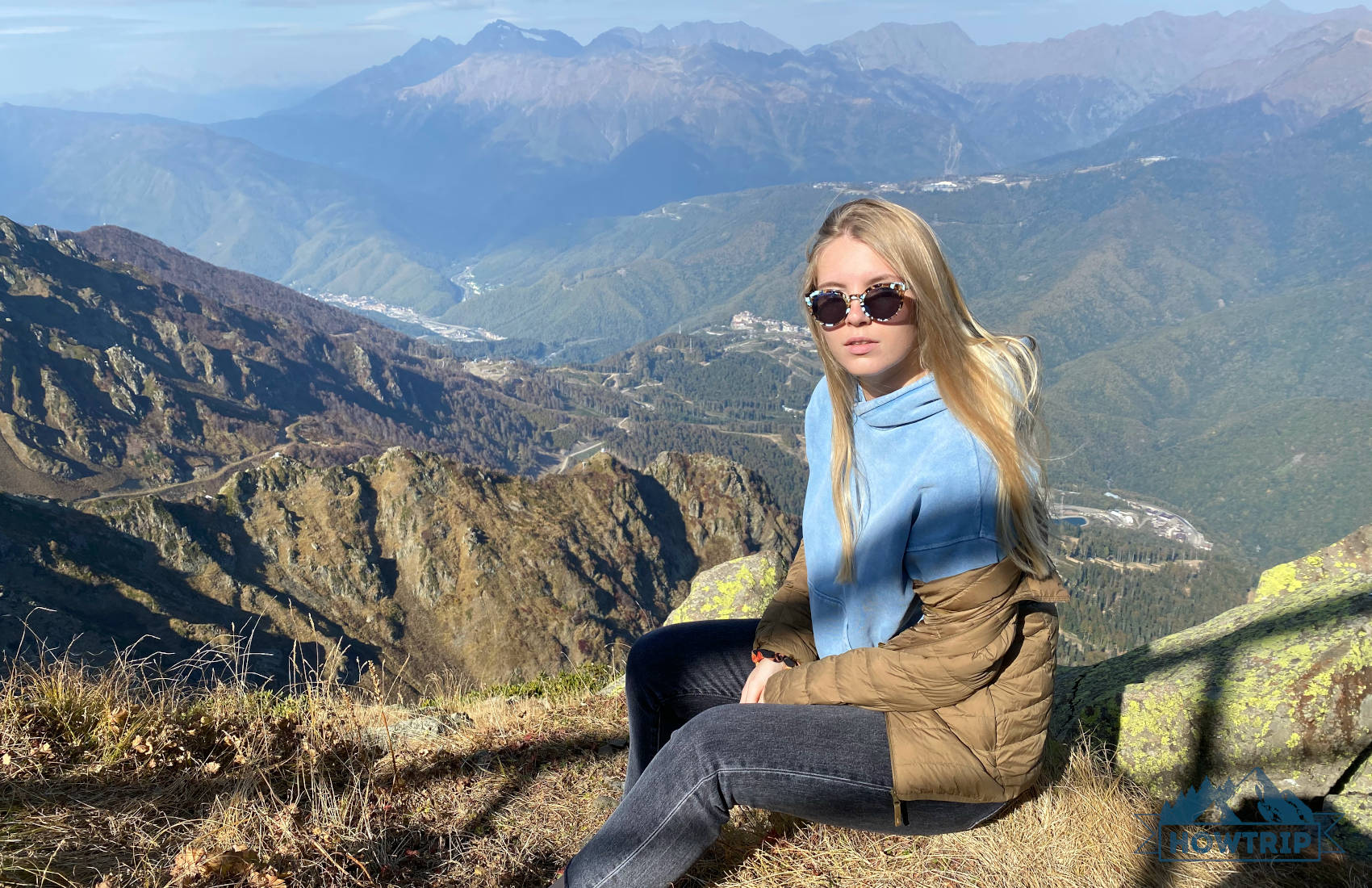 We were going up to Rosa Khutor (the view from the very top of Stone Pillar).
Where is more interesting – in Adler or Sochi? Well, the leisure will be more varied in a big city – that is, in Sochi. At least, there are large malls with all the popular stores. Variety of cafes and restaurants is also on the side of Sochi.
Adler
Adler advantage is in its proximity to Abkhazia (it literally borders) and a direct route to Krasnaya Polyana (40 minutes by car and you are there).
Of the valuable places for tourists:
Olympic Park, its facilities and the Singing Fountains
Formula 1 track
Sochi Park
Southern Cultures Park
The embankment along the sea – from Abkhazia to the port
"Nearby" – Abkhazia and the mountains
Even if you schedule one point per day, you'll get bored quickly. So, by the end of vacation vacationers notice every new pebble on the embankment and know all the traders of chacha by name.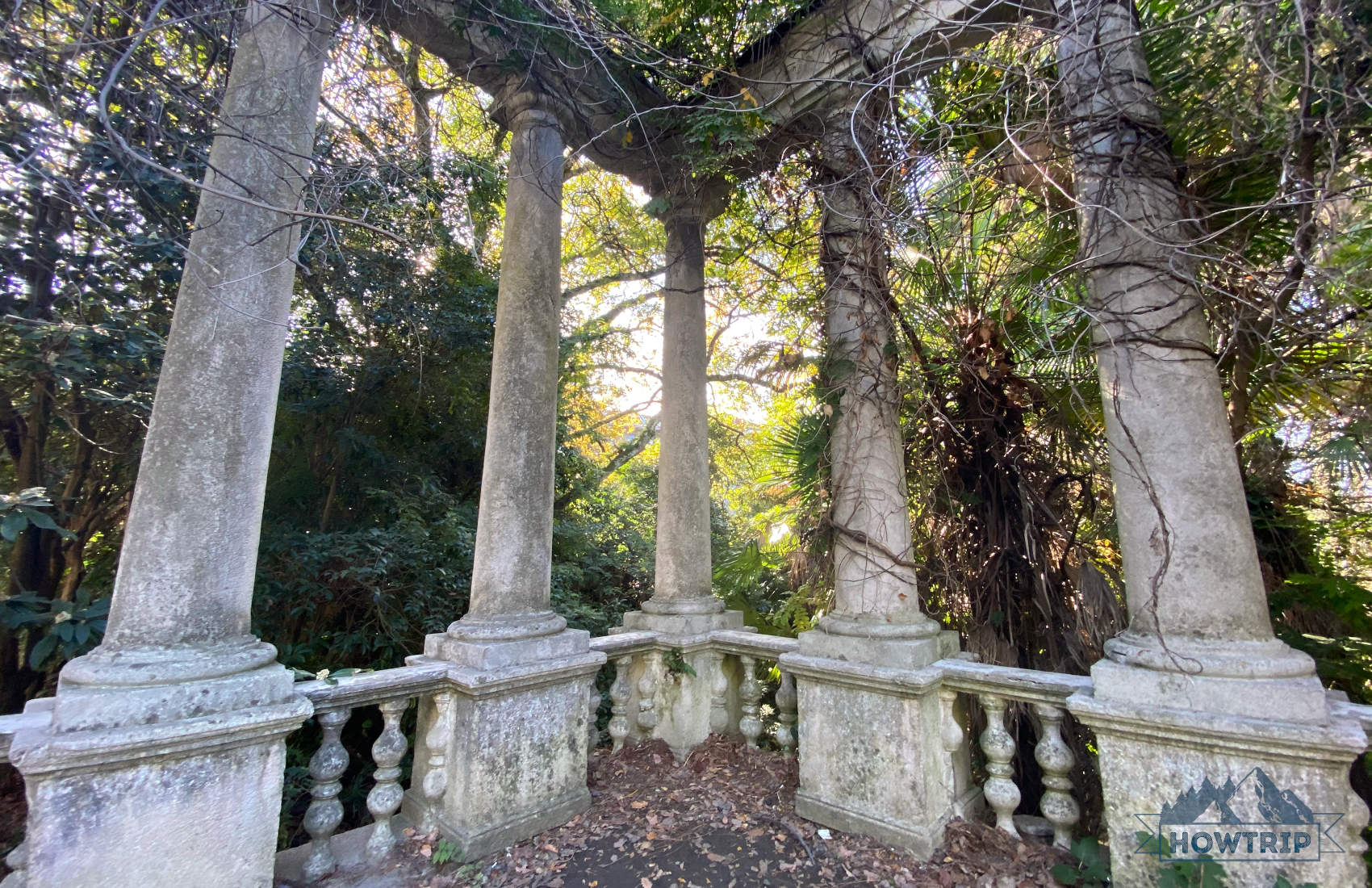 What to see in Sochi?
Abandoned sanatorium Ordzhonikidze
Arboretum with a ropeway.
The main pedestrian street Navaginskaya.
Riviera Park.
Embankment along the sea and the sea port with the station building.
And in general, there are a lot of areas for walks.
In the neighborhood, 30-50 minutes by car, you can get more interesting things – Orekhovsky waterfall, Stalin's dacha, Agura Gorge.
Bottom line: where is better – in Sochi or Adler?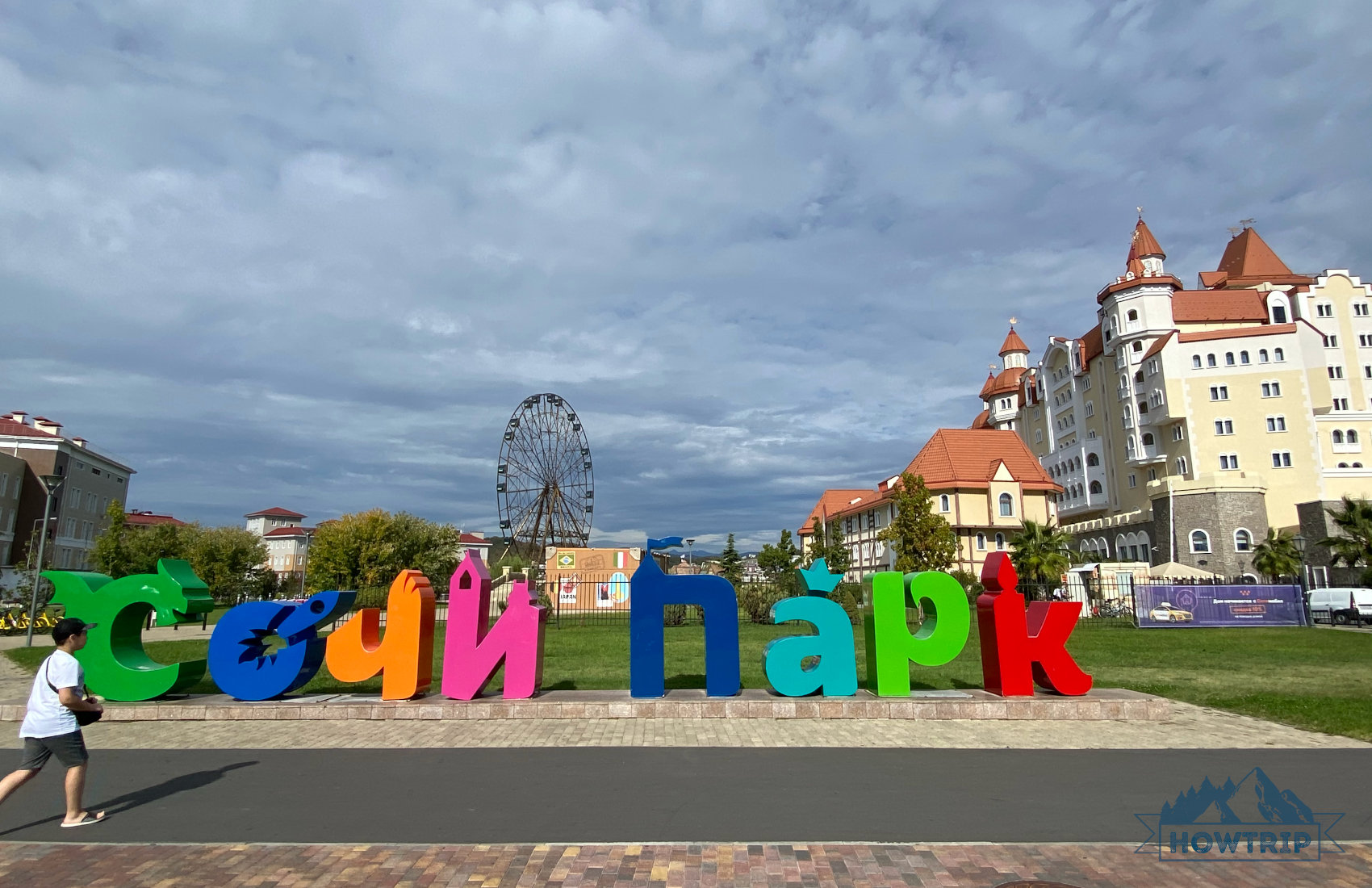 Here we get to the glorious part of the text, when the pros, cons, disadvantages, and advantages are all sorted out. All that remains is to summarize. In my opinion, it is better to go to the sea in summer in Adler. But, as one person says, you draw your own conclusions, and here are objective facts.
Sochi or Adler – where is better to rest?
…I want an active city rest.
…I want a nostalgic flavor of the USSR and a more mature contingent of holidaymakers.
…Lots of walking in the parks and spending the heat in the shade of dense trees.
…Plan on a new institution every day.
…come out of vacation trim and physically hardened – steps and hills will help.
…Need a quiet vacation, as much as possible in the high season in the summer.
…It is important to have access to beaches and no tedious climbs and descents.
… the trip to the airport should not take more than half an hour.
… Travel with a child.
… want to see the mountains around the clock.
Use the helpful links block below to go from reading and thinking to taking action!:)
Copying materials is permitted only with the mandatory indication of a direct, active and open for indexing a hyperlink to howtrip.ru.