Tanjung Benoa – the long beach in Bali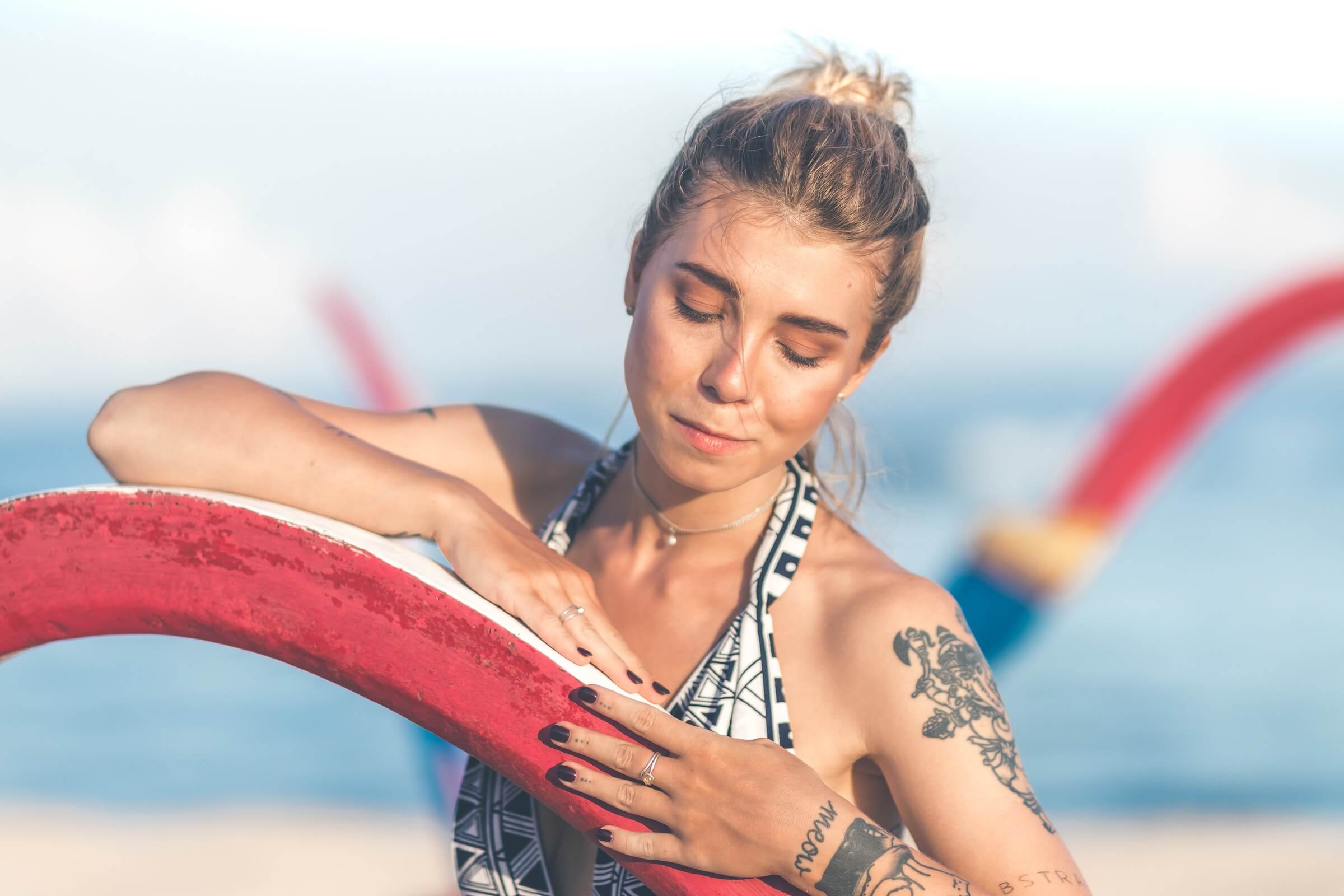 Read reviews of Tanjung Benoa, one of Bali's newer resorts. What do they write about the seasons and weather, beaches, sea, hotels and excursions? We tell you about the pros and cons of vacationing on the picturesque cape in 2022. Tourist tips.
Content:
Pros and cons of vacationing in Tanjung Benoa
One of the most beautiful resorts in Bali is located on a long sandy spit, which is located on the Bukit Peninsula, in the southern part of the island. Tanjung Benoa attracts lovers of beach activities, snorkeling, diving, and water sports.
According to tourist reviews, rest in Tanjung Benoa has many pluses:
A short drive from the airport.
You can quickly get to the entertainment of Nusa Dua and Kuta.
Good beaches with fine, light sand.
Quiet, peaceful vacation.
Interesting historical sites.
Comfortable accommodations.
Thalassotherapy centers.
A lot of inexpensive Balinese restaurants – varung.
Olisia M: "The sea is clean, the water is clear. There are corals, but only at the entrance to the sea and they are few. The depth is good."
Minuses :
Hot humid climate.
Apart from water sports, no other activities.
After storms – garbage on the shore.
Strong tides and high tides.
Maria Glazunova: "Tanjung Benoa beach is long, but because of the high tides is less suitable for swimming than in Nusa Dua.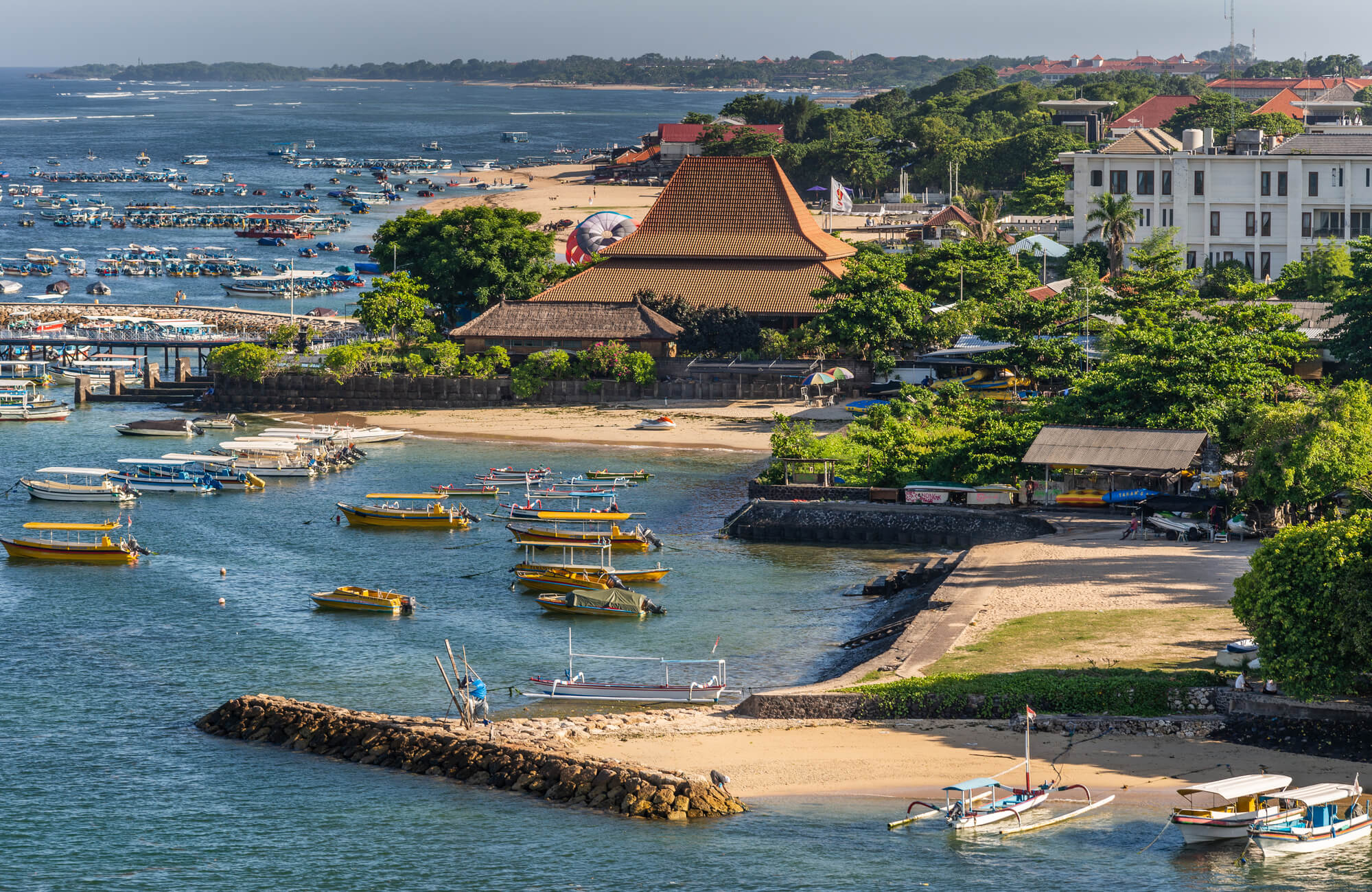 Tanjung Benoa Beach. Photo: Klodien / Depositphotos.com.
Beach and sea reviews in Tanjung Benoa
The length of the spit is 3.8 km and the maximum width is 1.2 km. The beaches of Tanjung Benoa in Bali are covered with fine coral sand. The hotel staff keeps them clean. There are always a lot of fishing boats on the shore and in the sea.
The sea water is clear and clean. The approach to the sea is gentle. Shallow lagoons are fenced off from jet skis and boats with buoys. Bathing with children is pleasant and safe!
Alex A: "We had a look at 4 different beaches and we chose Geger beach. We had a restaurant and massage on the beach. Two sun beds and an umbrella cost 100.000 IDR".
Panorama of the beach at Tanjung Benoa
Tanjung Benoa Resort on the map of Bali
Tanjung Benoa hotel reviews
Search for last minute tours on Level.Travel and Travelata – they'll find the best deals among different tour operators. Want to save your money? Check out our 7 rules for buying tours online.
Tanjung Benoa is preferred by tourists looking for comfortable but not too expensive accommodation. There are several 4-5* hotels on the spit, most of which are all-inclusive. Accommodation is cheaper than in Nusa Dua.
In reviews, tourists have praised the service in hotels Tanjung Benoa:
Tanjung Benoa Weather Reviews
Like all of Bali, Tanjung Benoa has two distinct seasons. Most tourists come to the resort from May to October, the dry season. According to tourists, the best months for vacation are July and August, when the temperature stays around +30°C and humidity does not exceed 60%. In November, the monsoons come, and the weather deteriorates. The rainy season ends in April.
Throughout the year, there is little change in temperature. Both winter and summer temperatures in Tanjung Benoa are +27. +32 ° C, and the sea water is heated to +25. +28°С.
Alex A: "In November, the temperature is +31. +32 ° C, because of 90% humidity even in the evening and at night you can feel the heat. If there is no breeze, even at 20-21 hours it is impossible to be stuffy.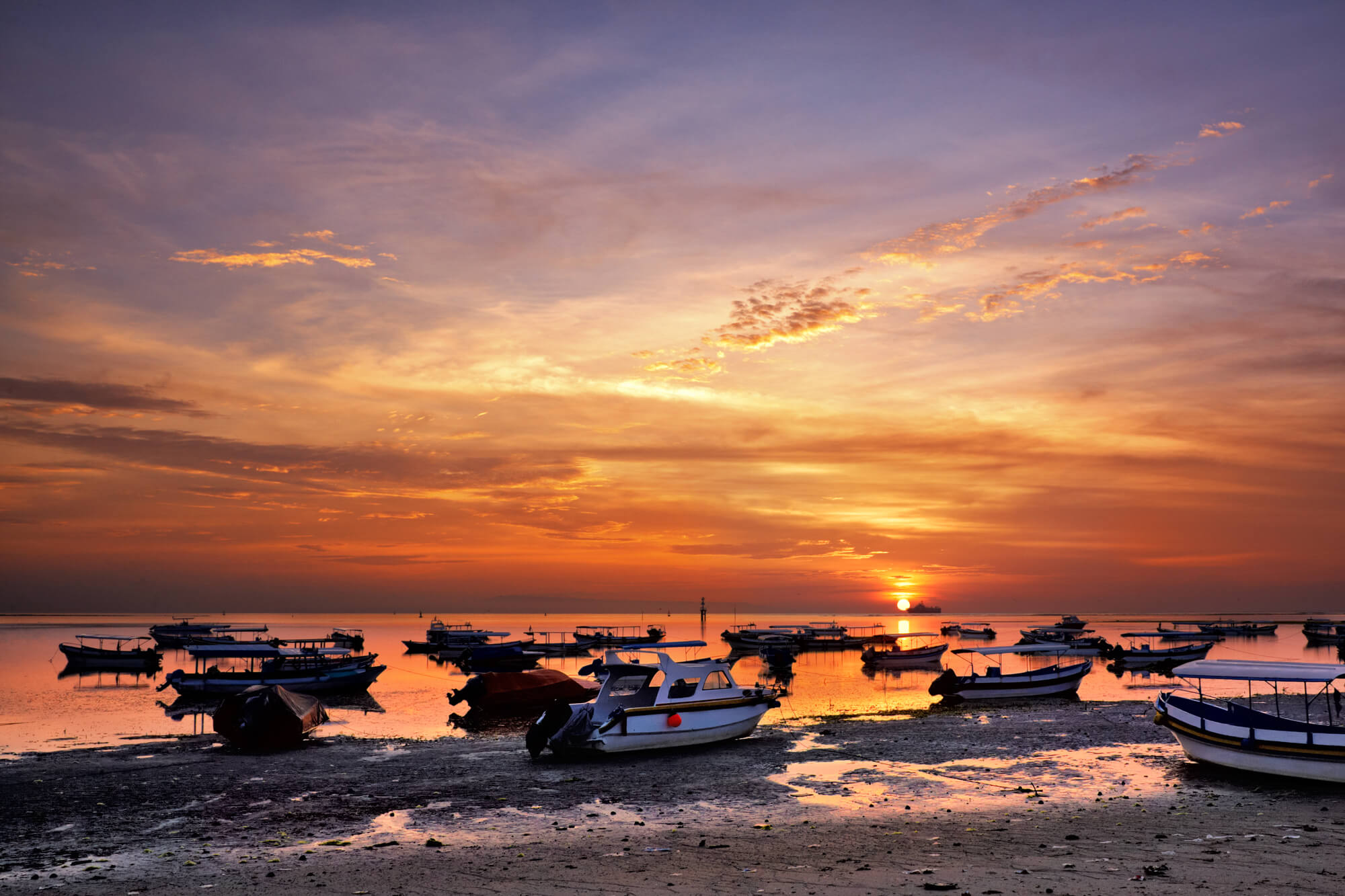 Sunrise in Tanjung Benoa. Photo: zhuzhu / Depositphotos.com.
Reviews of tours in Tanjung Benoa
Look for author interesting tours on Sputnik and Tripster sites. Individual and group, without crowds of tourists and in Russian.
The resort is liked by fans of sea fishing, diving and snorkeling. On the north spit Tanjung Benoa is a center of water activities, where they offer to swim with a mask and flippers, ride an aquabike and dive to the bottom in a spacesuit. In addition to water sports, paragliding is popular.
In Tanjung Benoa is not boring connoisseurs of cultural and excursion tourism. In the fishing village, 100 meters from each other are a mosque, a Chinese and Buddhist temples. Go to the seafood market and attend cooking classes held by local restaurants. They will teach you how to cook delicious Indonesian food!
Tourists love excursions from Tanjung Benoa:
But the boat ride with a glass bottom is not advised by tourists to take:
SergeySD86: "The boat with a glass bottom is ridiculous. The glass is 40×100 cm, apparently, homemade. Everything is green, you can't see anything through it."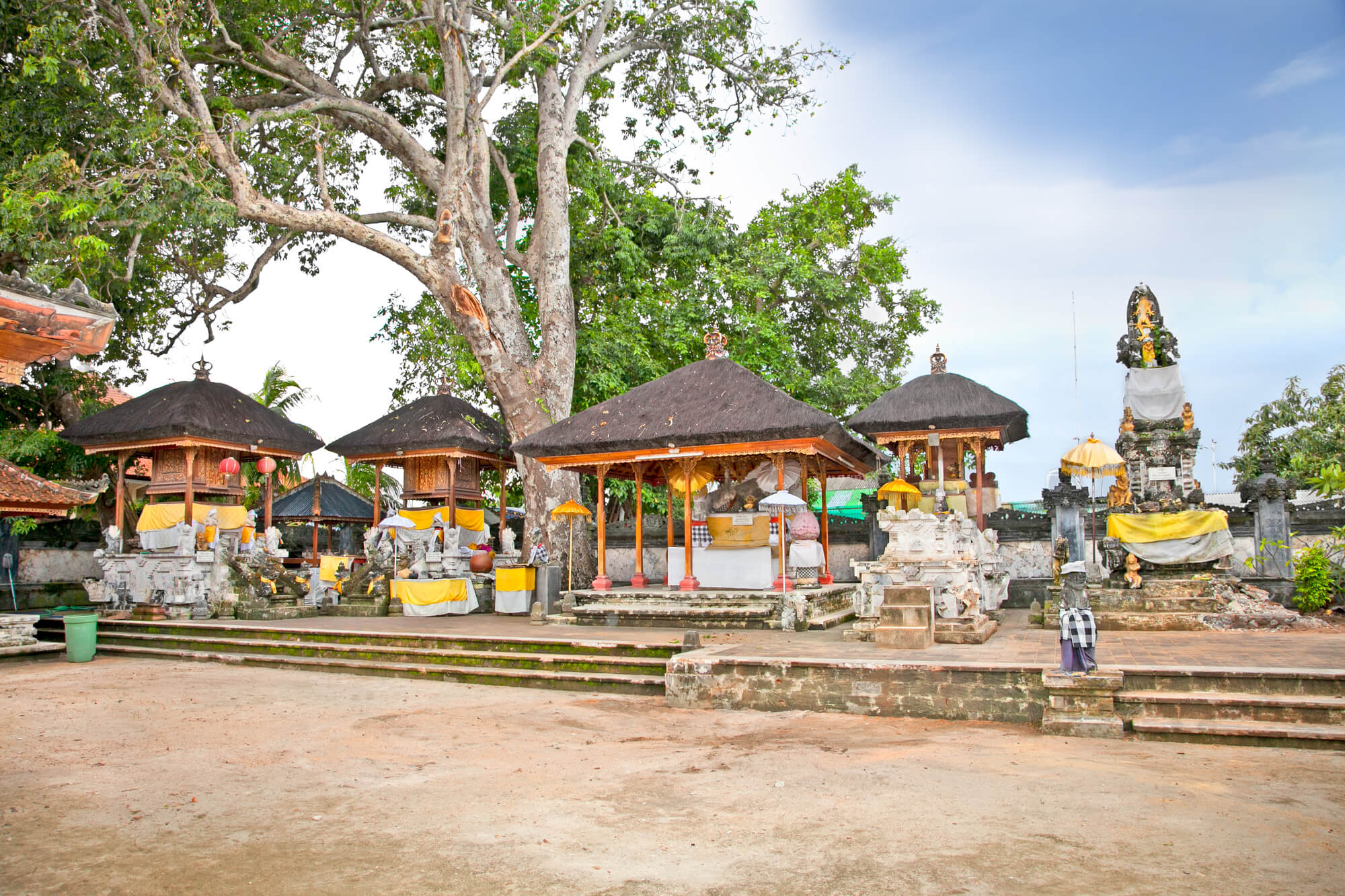 Pura Dalem Nin Temple in Tanjung Benoa. Photo: master2 / Depositphotos.com.
Tips for vacations in Tanjung Benoa
Tourists who want to combine a beach vacation with wellness stay in hotels that have spa facilities. The Grand Mirage Resort & Thalasso Bali 5* offers thalassotherapy with algae, sea water and massage. Go to the Baliwis Spa, Mahalaya Spa or Jari Menari wellness centers.
If you want to try authentic Balinese food, dine at local Varungas. Small, family-run restaurants do an excellent job with fish, seafood, vegetables, and chicken. The main food of the Balinese, boiled or fried rice, is served unleavened with a variety of sauces. Most of the varungas are along the main coastal road Jalan Pratama.
RexZ: "Responsive, helpful staff, just like everywhere else in Bali.
Check out the local coffee and aromatic ginger tea. Coffee lovers are advised to buy a couple of packs of coffee with ginger.
For religious reasons, the islanders do not drink alcohol. The ban on alcohol does not apply to tourists. Try rice and palm vodka and rice wine.
Tipping is not customary, but if you like the service, leave the waiter 5-10% of the order amount.
Parasailing in front of Tanjung Benoa Beach. Photo: Klodien / Depositphotos.com.
A serene vacation at Tanjung Benoa
Bali is Indonesia's leading tourist destination. In addition to the unique nature, the island attracts a large number of diverse resorts. Among the best is the famous Nusa Dua. Few people know that an extension of this resort area is the beach strip Tanjung Benoa. This narrow stretch of land is a succession of areas for recreation and swimming and a string of hotels. What is interesting about rest in Tanjung Benoa, what is the quality of the beaches and what attractions nearby, this article will tell.
Location and Climate
Tanjung Benoa is a kind of offshoot of the peninsula of Nusa Dua – the southern tip of the island of Bali. These parts of the island's coastline are washed by the Indian Ocean, and Tanjung Benoa's beach strip extends to the bay of the same name.
The area of the entire island is 5,780 square kilometers. The time difference with Moscow is +5 hours.
Tanjung Benoa on the map
As for the climate on Tanjung Benoa, as well as the island as a whole, its main characteristic is the stability of temperatures throughout the year. Daytime temperatures rarely drop below 30 degrees, while on the coolest nights, the thermometer reads +23.
The wet season in Bali is from late October through March. Precipitation is usually torrential rain, most often coming as darkness falls. During the day, however, the weather in the resorts is suitable for beach and sightseeing holidays.
The sea throughout the year is heated, as a rule, 1-2 degrees below the daytime temperature, which provides a comfortable stay in the water.
Worth knowing! Bali coasts are very subject to tides, and the departure of the sea is felt, the water in some places can go for tens of meters. The coastal area of Benoa Bay has one of the highest degree and frequency of tides on the island.
How to get there?
The airport, which receives flights from Russia and other foreign countries is located within 30 km from the recreation area near the town of Denpasar.
It is worth considering that there are currently no direct scheduled flights from Russia to Bali. However, in high season, from many cities on the island you can go on a charter flight, flight to which is usually available as part of a package tour.
From the airport to the place of rest
The peculiarity of Tanjung Benoa is that it is connected by bus service exclusively to the resort area of Nusa Dua, small shuttles operate in this direction.
Therefore, from any other parts of the island, including the airport, you have to first go to Nusa Dua and then directly to Tanjung Benoa. A more comfortable option is to take a cab or pre-booked shuttle service.
A cab ride from the airport to the hotels at Benoa Bay will cost from $25.
If you plan to travel independently through Nusa Dua, the following route options are available:
Shuttles are special comfortable air-conditioned buses that take tourists to hotels on the Nusa Dua Peninsula. Fares start at $15. The difficulty is that the tourist must know exactly where to change to the next bus to Tanjung Benoa, and tell the driver the name of the nearest hotel in Nusa Dua.
A cab to the peninsula will cost at least $14.
The most economical option is the colorful bemo shuttle, which is used by locals. However, the route is so complex that it is worth weighing the real desire to save money and the thrill of the trip immediately upon arrival on the island. Remo does not start from the airport, but from the station Tegal in Denpasar, the next change will be in Kuta, and only then the transport will go in the direction of Nusa Dua. The exact cost of the trip depends solely on the driver and, as a rule, is rarely less than $5 for the entire trip. Locals, by the way, for the same route will give around $ 1.
Where to stay?
Tanjung Benoa, like the rest of Nusa Dua, has a wide range of accommodation options, varying in proximity to the beachfront, comfort level, range of services and, of course, price.
It is worth bearing in mind that not all of the coastline is suitable for swimming. The beach of Tanjung Benoa is located closer to the tip of the resort area. Another beach strip is already placed on the territory of Nusa Dua.
It is worth checking the map to see if you can walk from your chosen hotel to the bathing area or if you will have to find a vehicle. By the way, some hotels provide free shuttles to the beach.
One of the economical accommodation options, characterized by excellent reviews from guests, is the Frangipani guest house. A 40-square-meter double room can be rented for $30 a night. But "Frangipani" is just the case when you have to get to the sea on their own transport, as the nearby beach swim is not possible.
A 5-minute walk from the beach of Tajung Benoa, you can choose the hotel with the same name The Tanjung Benoa Beach Resort – Bali, distinguished by a decent price-quality-location ratio. A spacious double room in it will cost $85.
Other options in close proximity to this beach have a higher price level.
Beaches
We can say that the whole resort is a beach. More precisely, a succession of beaches that are located on one line. The longest of them stretches for three kilometers. All beaches without exception are suitable for snorkeling. There is practically no waves, and the shallow water is ideal for families with children.
The only drawback of Tanjung Benoa's beaches can be considered the ebb and flow of the tides mentioned above.
All beaches are well equipped. Each has cafes, restaurants, surfing centers and youth clubs. Despite some seclusion, Tanjung Benoa has a very busy nightlife. Young people come to this part of the island from other resort areas to have fun.
What to do and see?
Tanjung Benoa is essentially a place for a relaxed vacation. In addition to various hotels and restaurants and several entertainment venues, mostly with water rides and sports, the Chinese temple, an Islamic mosque, and a Hindu religious center can be visited.
Tanjung Benoa is connected to the resort area of Nusa Dua by a 7-kilometer walkway. Its starting point is the Grand Mirage Hotel, and the promenade can end at the Ayodya Hotel. Throughout the promenade, there are many massage and spa shops, as well as cozy restaurants.
Tanjung Benoa, despite its young age compared to other resorts, acts as a center for Balinese thalassotherapy.
Nearby attractions
Not far from the resort area are such interesting sites as:
The Wave Punch Natural Landmark, a place where waves crash on a rocky ledge to form a pillar of water dust and millions of refreshing splashes;
"Bali Collection," a picturesque, rather shady area where a large number of shopping pavilions, restaurants, souvenir shops and spa complexes are assembled;
Museum Pacifica, adjacent to the "Bali Collection", will plunge into the world of painting, the exhibition halls showcase the paintings of famous artists (Gauguin, Meyer), as well as local painters;
Turtle Island – Serangan. Its main attraction is, of course, the turtles, which have taken a fancy to Serangan as a place to lay their eggs. In addition to them, you can find a variety of reptiles and representatives of many species of birds.
Considering the size of Bali, it is possible to see all of its major attractions, no matter what part of the island you are vacationing in. The difference in this case Tanjung Benoa will only be the higher cost of cab or shuttle service due to its remoteness from the center of Bali.
There are several ways to book a tour in Tanjung Benoa:
Almost every major hotel has its own tour desk offering a wide variety of excursions;
Contact individual travel agencies;
Arrange with a cab driver, who for a fee will take the tourist around all the sights of Bali.
It is worth noting that in the first two options, the traveler will have a guide who speaks good English or Russian, which, incidentally, is not uncommon in Bali. A trip by cab will not be as informative as with a guide, but will certainly be cheaper.
Active Recreation
All kinds of water sports are represented at the resort:
parasailing;
banana boating;
diving;
snorkeling;
surfing;
jet skis;
Flying Fish attraction and a number of others.
Boat trips are very popular on Tanjung Benoa. They can be quite varied. There are boats, yachts and motorboats that take tourists to small uninhabited islets. They usually hold picnics and various festivities. Of great interest is a boat with a transparent bottom, it allows you to observe marine life. It is worth noting that the marine world here is very rich. Literally by the shore you can observe more than fifty species of fish and other tropical creatures.
Fans of fishing in Tanjung Benoa is also not left without a job. For this purpose, you can rent a boat, everything you need (fishing rod, bait, etc.) will provide the tourist company organizer. Efficient fishing is possible in the nearby reefs or far in the ocean. You won't have any problem what to do with the catch, because all the caught fish will be cooked on your return to the shore, on one of the nearby islands or directly on the boat.
Where to eat?
The Tanjung Benoa area is literally teeming with restaurants for all tastes and wallets. Budget-friendly establishments include:
Atlichnaya Bar – Asian and European cuisine, cocktails at modest prices, suitable for unpretentious visitors;
Chef's Room Bali – stylish serving of dishes, a lot of variants for vegetarians, cocktails.
Medium price category:
Bumbu Bali – Serves Indonesian cuisine and neighboring countries;
Mr Bob Beachfront Bar & Grill – European cuisine, grilled dishes;
Ketut's BBQ Kitchen – barbecue, Italian and Chinese cuisine.
Fine dining establishments:
Sakala Beach Club – elegant atmosphere serving European and Asian cuisine;
Eight Degrees South at Conrad Bali – specializing in seafood dishes.
What else is worth knowing about vacationing in Tanjung Benoa?
Transportation in the resort area: The main way to get around in and out of the resort area: cabs and shuttles to Nusa Dua.
Car rental: There are many rental agencies in Bali, renting a small car will cost about US$25 for 12 hours of use, but a motorcycle costs about US$5 per day.
Telecommunications: Tanjung Benoa has the same phone rates as the rest of Indonesia. Not a bad tourist option – tariff plan SimPATI, from the 20,000 rupees spent on the purchase of the "sim card", 5 thousand will be credited to the client and can be used to make calls. A call to Russia costs from Rs 3,000 per minute.
Shopping: Directly in the resort area Tanjung Benoa interesting shopping centers are absent. The closest is "Bali Collection," but in general, for a wider range of products should go to Kuta. Or to Ubud, if you are interested in the products of island artisans and craftsmen.
Safety. The Balinese are mostly friendly and peaceful. However, Europeans to them are rich people, which means there is an opportunity to "cash in" on inexperienced travelers. How to be safe on the island, you can read here.
Holidays in Tanjung Benoa – a great way to spend time among the beautiful scenery, enjoying the sea, water sports and unique spa treatments in an atmosphere of relaxation and peace. That said, Bali's excellent accessibility and wide variety of sightseeing opportunities mean you can turn a lazy vacation into an educational one. And thus find something to interest almost any guest of the resort.